*Please note that this article contains affiliate links and we will get a small commission from any purchase you make by clicking on one of these links
When it comes to blue skies, it's all about hitting the patio.
And when it's your own patio with your own comfortable furniture, even better.
All-weather wicker furniture is today's top choice for chic outdoor décor. And if you need some design inspiration for your outdoor spaces, we've got you covered. 
We're taking a look at how to do high-end seating outside, and the importance of buying modular pieces from a reputable brand.
The benefits of using wicker furniture outdoors
When it comes to choosing outdoor furniture, it's not just about the aesthetics. Durability matters.
And when it comes to well-made wicker pieces, it's all about sustainable pieces designed to withstand the elements.
All-weather wicker is made from resin, a plant matter that is resistant to mother nature's harshest conditions. In fact, water will simply bead off all-weather wicker.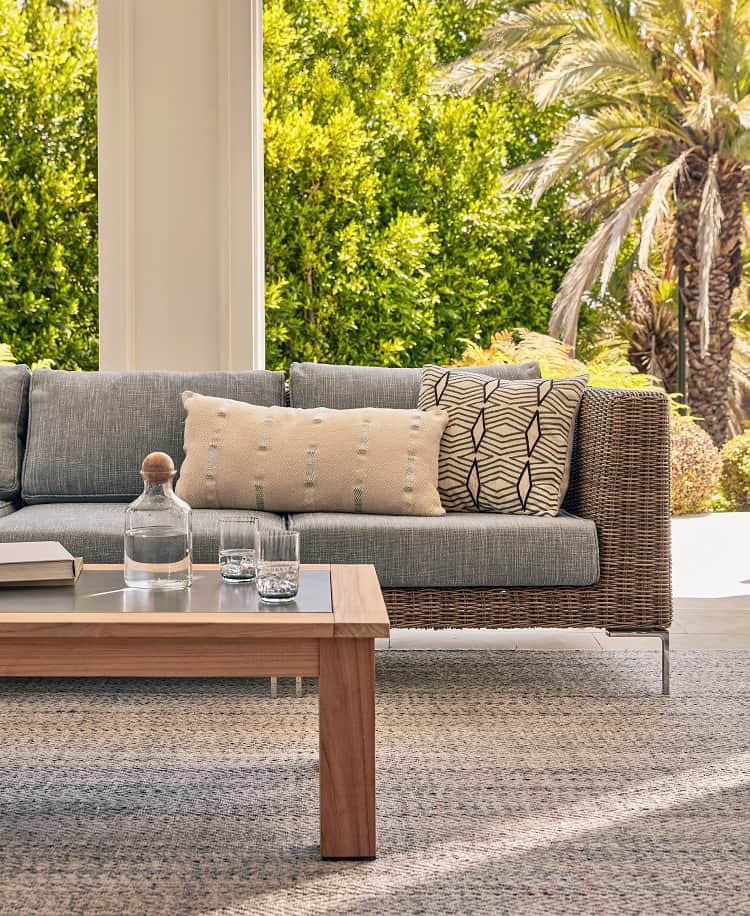 Resistant to mold and mildew, all-weather wicker is easy to clean with an everyday garden hose.
But one of the other major benefits of choosing wicker for your outdoor furniture is that it requires little to no maintenance. It might require a little wiping every now and then, but that's about it.
The resin coating on all-weather wicker also makes it resistant to sun damage, ensuring it will retain its original shape and color.
Not to mention, all-weather wicker is lightweight and easy to move.
Which also speaks to its safety. Households with children often opt for outdoor wicker chairs and loungers to address safety concerns with their little ones.
Kids often climb furniture and tumble off of it, sometimes bringing the chairs down with them as they go. So instead of opting for bulky or heavy pieces, choosing wicker furniture for your outdoor spaces minimizes the risk of such incidents.
The aesthetic appeal of outdoor wicker furniture
There's nothing better than outdoor spaces with indoor comfort.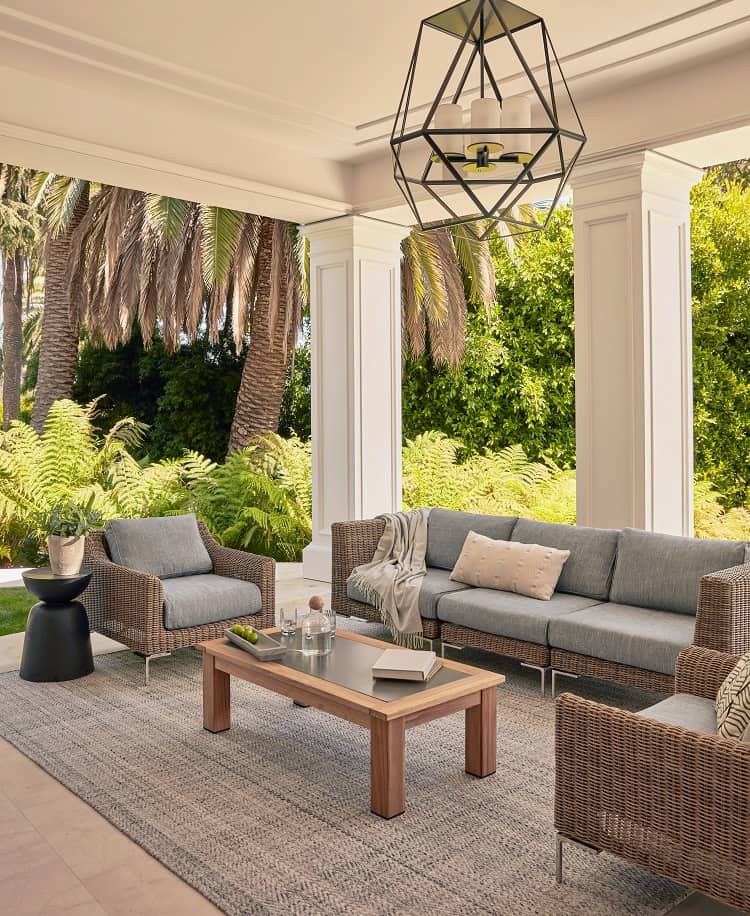 With the right all-weather wicker pieces on your patio, cozy and relaxing is a given. And it's trendy too!
When it comes to chic and comfortable wicker options, your outdoor furniture can be just as stylish as your indoor pieces.
Dating back to 3,000 BC, the earliest wicker furniture boasted woven seats. And today, that classic look is still a staple.
One of the benefits of buying wicker for outdoor spaces is the timeless beauty of those woven lines.
And for today's savvy homeowner, outdoor wicker furniture offers that stylish and seamless flow between indoor and outdoor spaces.
The modular nature of wicker furniture also gives it a leg up on the competition.
You'll easily find options for patios, backyards, and terraces of any size, ranging from regular chairs to four-seat outdoor sofas with matching armchairs.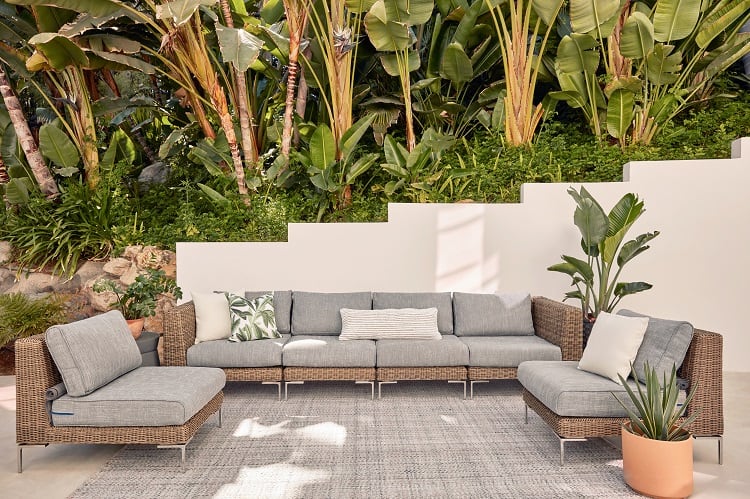 This gives you the freedom to pair them based on your own needs — and the size of your outdoor space.
The importance of buying from a reputable brand
Not all wicker is created equal.
When it comes to investing wisely, all-weather wicker is the way to go.
That's why we recommend Outer as a reputable and reliable option. Their all-weather wicker furniture features all the bells and whistles you want on your outdoor spaces.
Outer's weave durability, comfort, craftsmanship, and sustainability are woven throughout each and every one of their pieces.
With their all-weather wicker furniture crafted from recycled bottles, Outer offers a variety of pieces to suit any outdoor space with elegance and durability.
Offering an industry-leading warranty, Outer guarantees years of enjoyment on their outdoor pieces.
Their eco-friendly performance fabric will withstand the elements, regardless of what the kids or pets spill on it.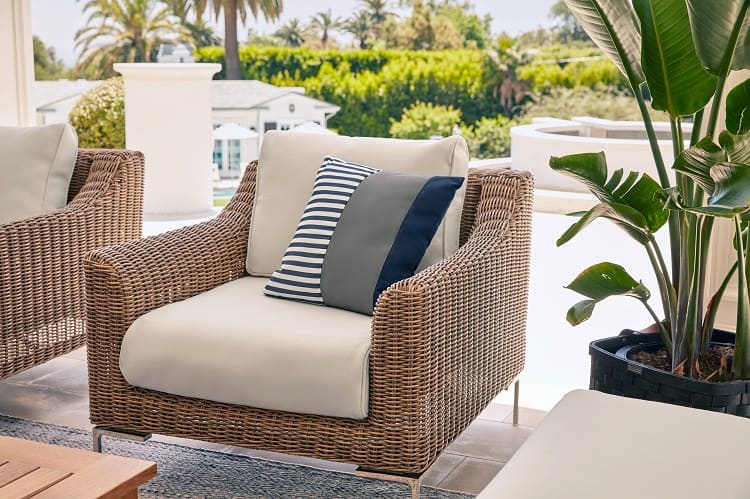 Outer offers all-weather wicker wraps around powder-coated alloy atop rust-proof stainless steel legs. A simple hose down will easily clean their pieces.
And they're quite cozy!
Constructed from three layers of memory foam, Outer's cushions gently form to your body for tailored support.
With a wide variety of options of modular pieces, Outer offers furniture that can be arranged and re-arranged in many configurations for patios and backyards of all sizes.
It's worry-free buying at its best.
Outer's wicker is handcrafted by skilled artisans, not machine-manufactured. Each steel frame is hand-welded to guarantee that it's durable and the bead welding is aesthetically clean.
A master weaver assembles each chair with our synthetic wicker, a process that can take up to 11 hours and use 1/2 mile of wicker.
Their proprietary all-weather wicker is made of a 5mm round core combination of high-and low-density polyethylene.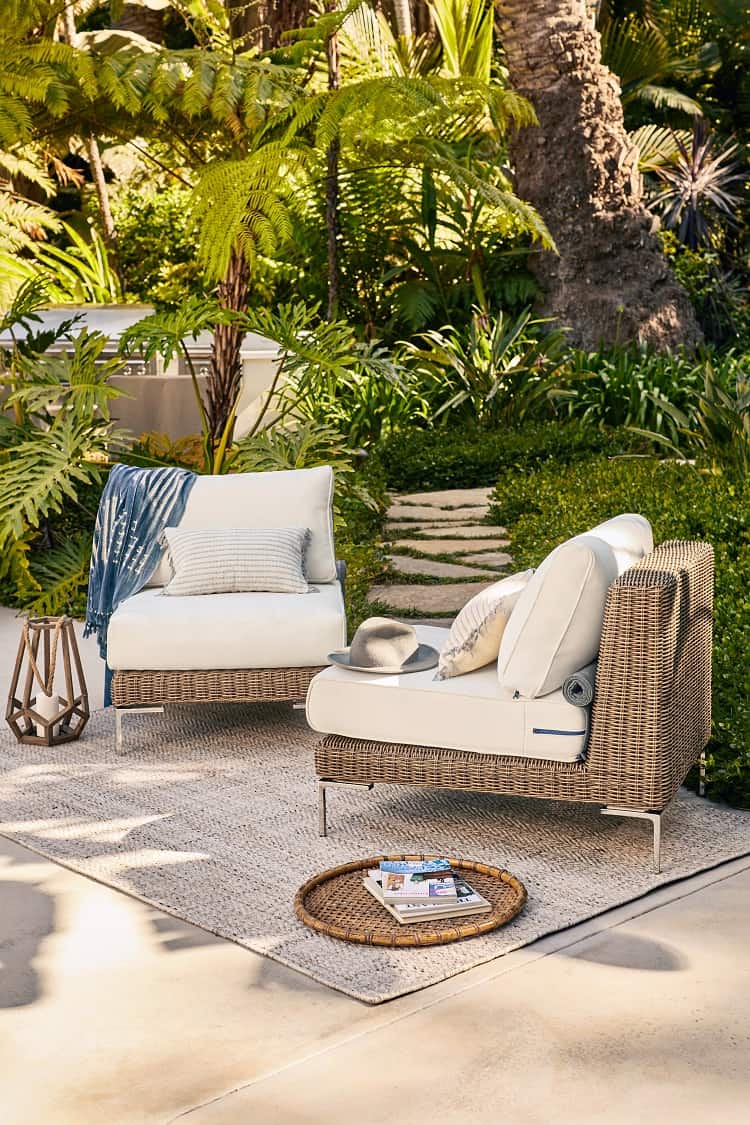 Shop their outdoor wicker furniture collection here.
More stories you might like
What's the difference between faux leather and real leather sofas?
These 12 Mid-Century Modern Bar Stools will Take Your Kitchen to the Next Level
The 6 Best Hot Tubs You Can Get On Amazon — Without Breaking the Bank
What is biophilic design? Definition and examples