If you've ruled out winning the lottery as your chance to become a millionaire, you must have considered real estate investing a viable opportunity.
And if you haven't, this article will plant the seed.
Real estate data firm PropertyShark took a closer look at how many property owners have made a good profit off of selling their homes since the turn of the century. More specifically, they looked at homes bought before 2001 for less than $1 million, later to be sold by their owner for $1+ million.
They then grouped the data by city, to give us a clear picture of the thriving real estate markets where investing in property can take us one step closer to becoming a millionaire. Here's how they map out: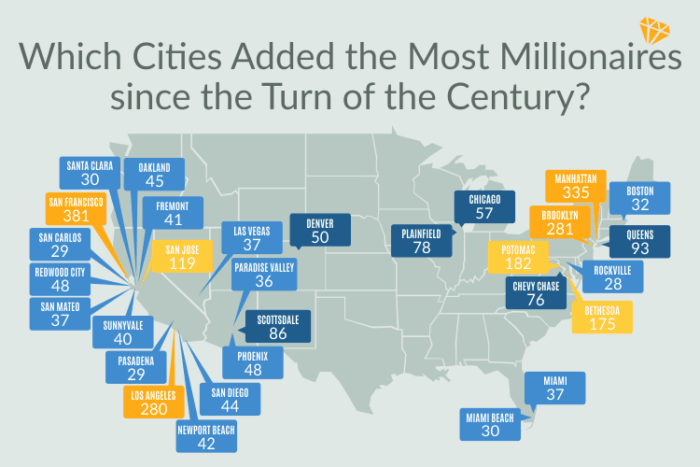 The city to land first place is — unsurprisingly — San Francisco, which minted 381 million real estate millionaires as the market skyrocketed in the past two decades. That puts it ahead of Manhattan, which, despite being double the size of San Francisco, only saw 335 people become millionaires off of selling their properties.
A more unexpected finding was that the Los Angeles market lost the third spot in favor of Brooklyn; the New York borough came in on #3, with 281 people making a good profit off of selling their homes for over $1 million.
Trailing closely behind, "the city of Los Angeles, with a population of more than 3.9 million, made 280 people millionaires since the turn of the century," Robert Demeter reports for PropertyShark, adding that "L.A. isn't as expensive as some of the neighboring cities in the county, but being spread out with a large number of residents, it's no surprise it made it so high on our list. Affluent neighborhoods such as Bel-Air, Venice Beach and Brentwood most certainly paved the way for homeowners to become millionaires after selling their properties."
Other notable markets where people achieved millionaire status by selling their homes are Potomac, MD (182 millionaires), Bethesda, MD (175 millionaires), San Jose, CA (119 millionaires), Queens, NY (93 millionaires), Scottsdale, AZ (86 millionaires), and Plainfield, IL (78 millionaires).
Out of the top 25 "millionaire cities", 7 are located in the Silicon Valley area, where the median home price regularly goes over the $1 million mark.
It's worth noting that the study only looked at the profits made off of selling homes in these markets with a sale price over $1 million.
It doesn't take into account other financial holdings, investments or net worth of these individuals, who may have already been millionaires before selling their homes.
However, it's a great indicator of markets that are most likely to mint out millionaires after buying local real estate.