The newly completed 66-story luxury high-rise soaring above Lower Manhattan at 130 William Street has already started welcoming its first residents.
This means we get a chance to peek inside the first completed residences at the architecturally distinct tower whose exteriors and interiors were both designed by acclaimed architect David Adjaye.
An elegant addition to the New York skyline, the 130 William Street building features 242 residences ranging in size from studios to four-bedroom condos. 
With prices going from $1.6 million to $6.9 million, the condos have a unique and upscale design, framed by oversized arched windows and fitted with luxurious interior finishes, each showcasing painstaking attention to detail.
Adjaye himself designed all the fixtures and hardware throughout the residences in a beautiful, burnished bronze finish — to complement the architecture of the building in a most flattering way.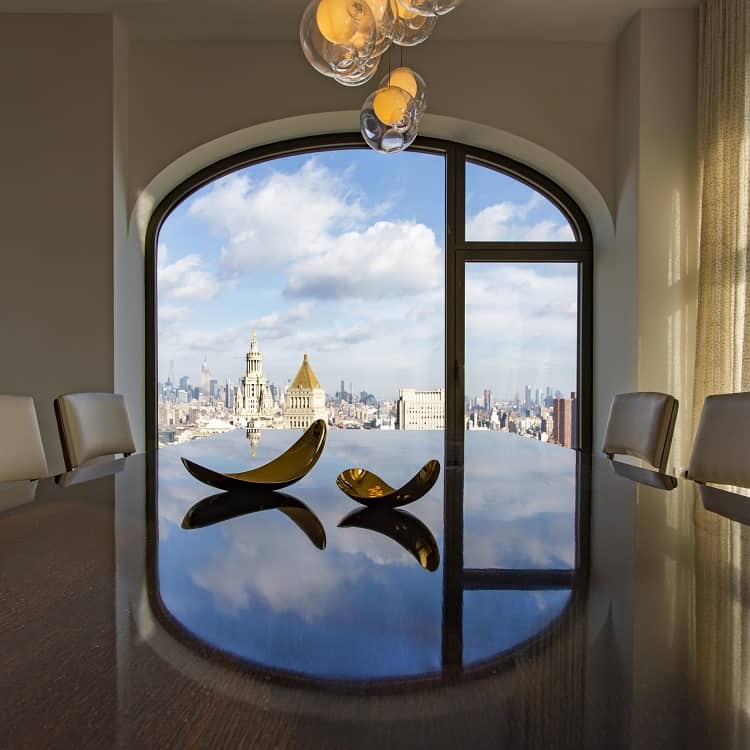 The apartments at 130 William Street: luxury interiors with designer furnishings and dramatic city views
The recently-unveiled model residences give us a good idea of what 130 William Street offers its residents: open, bright floorplans, dramatic views of the city, and designer furnishings coupled with painstaking attention to detail.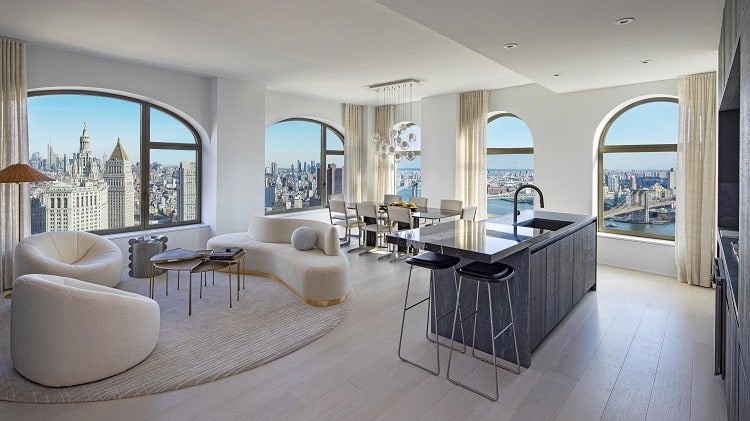 In fact, Adjaye custom-designed all the finishing touches, including faucets, showerheads, accessories, and door handles.
Select living rooms features a Pierre Frey custom-curved armless sofa with a brass base to offer elegant sitting along with two round "pumpkin" lounge chairs by Pierre Paulin in the same neutral cream color — where residents can lounge comfortably while enjoying the sweeping city views.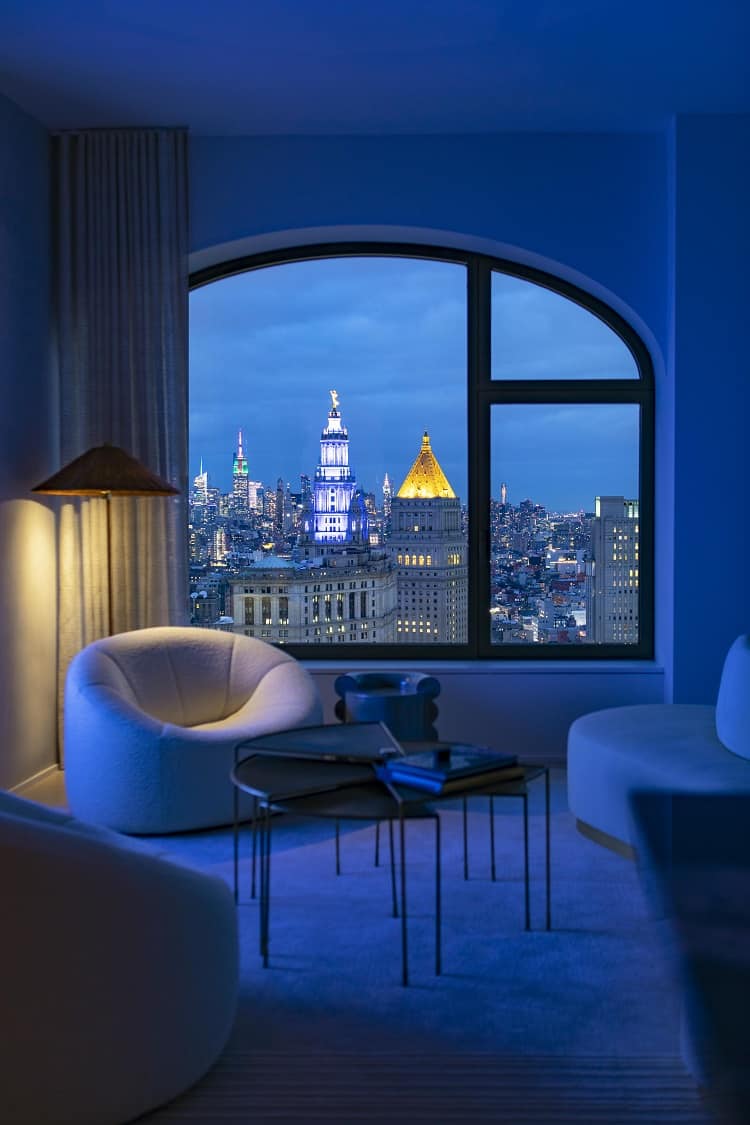 The kitchens are no less impressive, having been fitted with custom Pedini Italian millwork cabinetry, state-of-the-art Gaggenau appliances, and hand-selected Italian Pietra Cardosa stone countertops sourced directly from Tuscany, Italy.
Other unique design details include Spanish Nero Marquina marble cantilevers which offer additional counter seating.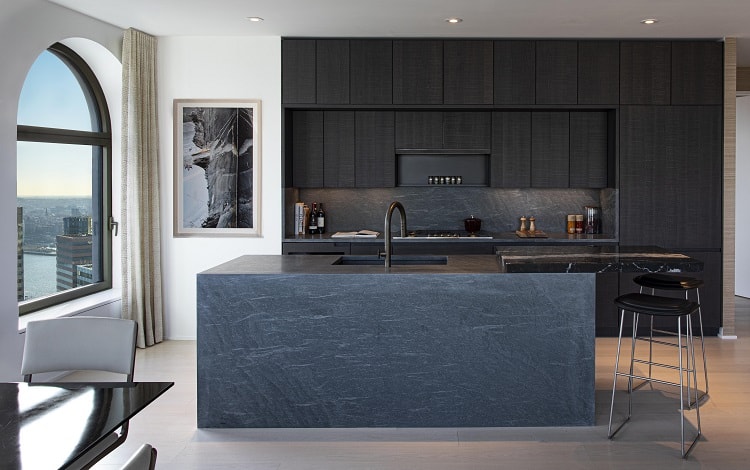 SEE ALSO: 'Only Murders In The Building': Is the Arconia Apartment Complex Real?
The bedrooms and bathrooms pair comfort and style, with select bedrooms featuring a luxurious upholstered platform king-size bed with a 96" headboard — that faces a wall-mounted console with gold leaf sliding doors.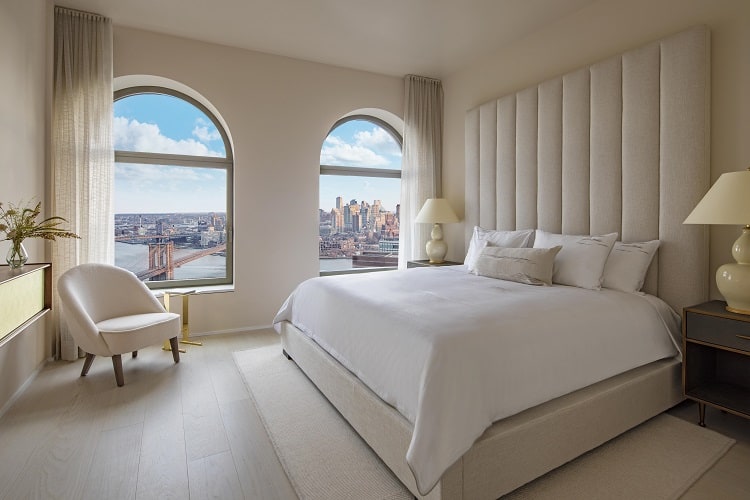 A curved low lounge chair by Pierre Frey, upholstered in Holly Hunt royal alpaca and walnut legs, ties the room together.
The bathrooms are dressed in textured Italian marble and come with spacious walk-in showers, soaking tubs, custom vanities, and specially designed (by Adjaye himself) illuminated medicine cabinets.
Just like the kitchen counters, the bathroom marble is hand selected from the Apuan Alps in Tuscany, Italy.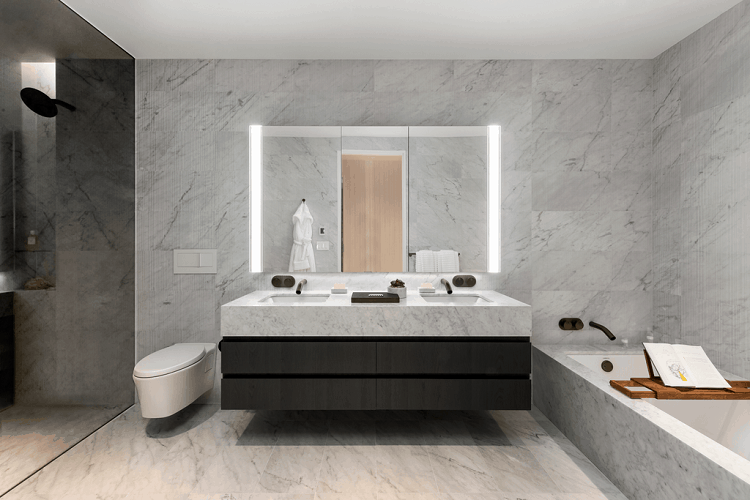 The building pays tribute to the city's history
130 William Street's design is a refreshing change from the typical glass-clad towers that line the Manhattan skyline, and instead embraces New York's history of masonry architecture. 
Designed by Adjaye Associates in collaboration with Hill West, and developed by the Lightstone Group, the skyscraper's façade evokes old New York City's urban fabric.
The 66-story condo tower has large, dramatic arched windows and textured hand-crafted concrete panels reminiscent of the beloved lofts that once populated the area.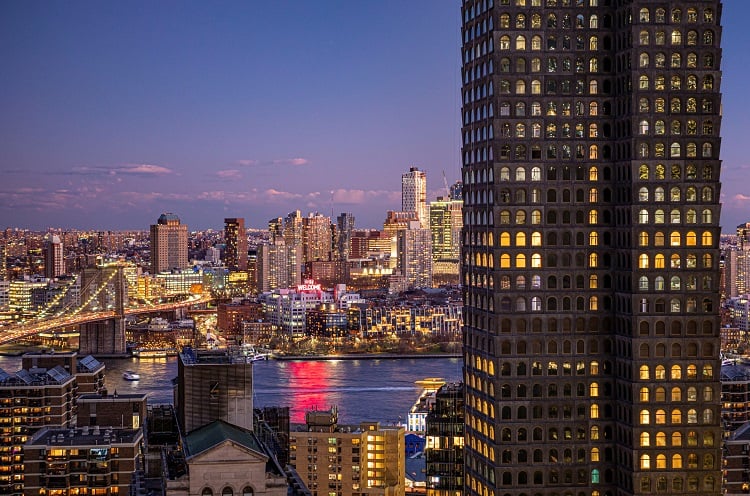 "In defining the design for 130 William I not only sought to celebrate New York City's heritage of masonry architecture, referencing the historical architecture once pervasive upon one of the city's earliest streets."
"However, and more importantly, 130 William has been crafted to focus on the new possibilities of urban, vertical living," says Sir David Adjaye, who founded Adjaye Associates in 2000.
Since then, the visionary architect put his stamp on many iconic buildings, including the Nobel Peace Center in Oslo and the Smithsonian National Museum of African American History and Culture in Washington, D.C.
Residents who enter 130 William Street will pass through a beautiful new plaza park, which provides a transition between the bustle of urban life to the respite of the residences.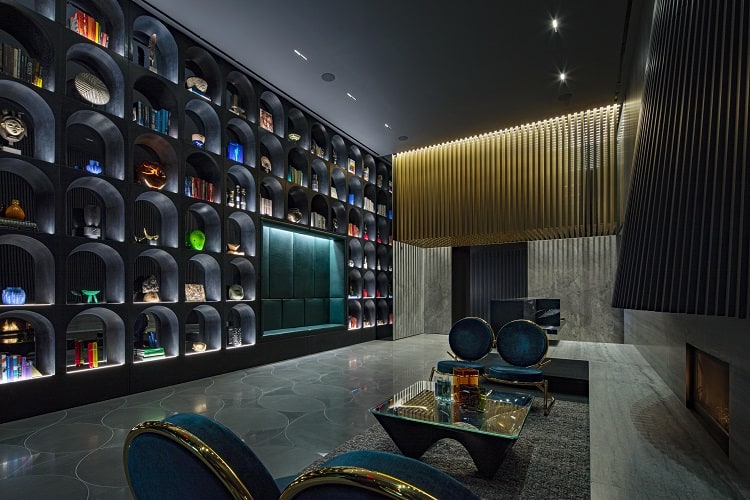 Inside, they will find over 20,000 square feet worth of amenities including a health club with a full spa, infinity-edge spa pool, cold and hot plunge pools, dry sauna and massage rooms, as well as a state-of-the-art fitness center with cool-down terrace, yoga studio and basketball court.
There's also a private IMAX movie theater, golf simulator, resident lounge, club and game room, chef's catering kitchen with a private dining area, children's activity center, pet spa, outdoor terraces, and private rooftop observation deck located at the top of the building — nearly 800 feet in the air.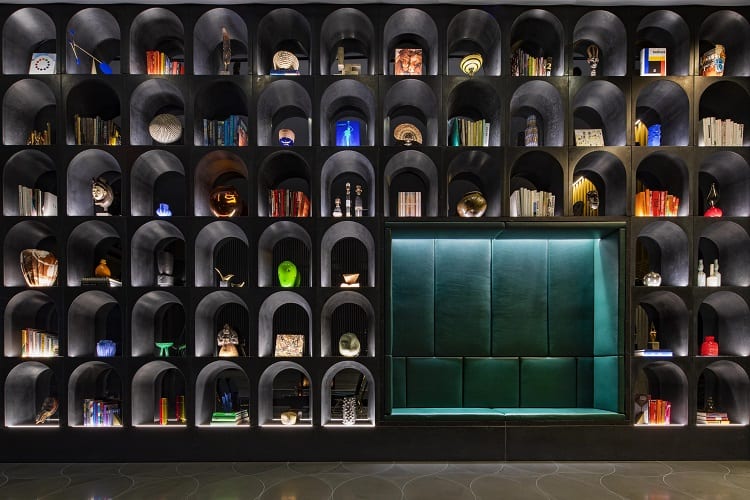 *Editor's note: This article was initially published on March 20, 2021, when the first renderings were released showing how the apartments inside the new 130 William Street building in New York City will look like. It was later updated to reflect new information as the building's development was nearing completion.
More luxury homes in the sky
The Dakota building in New York & its many celebrity residents
443 Greenwich St. building & the 12 biggest celebrities that lived here
The San Remo, NYC's First Twin-Towered Building
The chic apartments in 'Uncoupled' and where to find them in real life