With an all-star cast including Alan Arkin (Bill), Dianne Wiest (Peg), Winona Ryder (Kim), and Johnny Depp as the titular Edward, Tim Burton's Edward Scissorhands tells the story of an artificial man constructed by his scientist 'father' (Vincent Price), who passes away literally moments before making his 'son' complete.
As he presents Edward with an early Christmas gift, a brand new set of hands, he suffers a heart attack leaving Edward all alone in their sprawling gothic mansion on a hilltop without a friend in the world.
Sometime later, a plucky, desperate-for-clients Avon representative, Peg, shows up at his door.
Climbing the epic staircase after letting herself inside, she discovers Edward hiding in the attic. Afraid, still alone, and covered in scars.
When he asks Peg not to leave, she kindly invites him to stay with her and her family. Though Peg accepts Edward instantly, her nosy, gossipy, busybody neighbors have other ideas…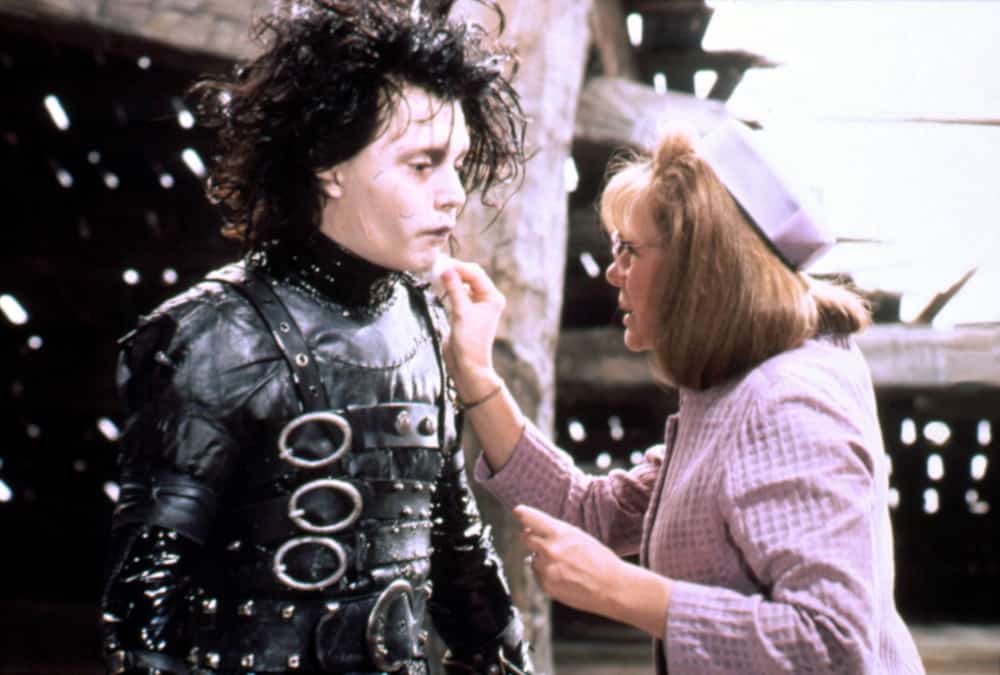 Whilst the movie received a positive reception upon its release, over time, it's become a true cult classic.
Now utterly beloved by Burton fans and considered a staple of the holiday movie genre, one question still remains every time I put it on. (Okay two questions because I still can't understand why anyone let alone a super-smart, humanoid-building scientist could ever think giant blades were a good placeholder for fingers? God forbid poor old Ed ever gets an itchy eye!)
Are the homes, the castle, and the town all real? After years of wondering, I finally know the answers…
"Edward… I think you should just come home with me."
Was the town in Edward Scissorhands real?
If like me you've always been utterly convinced these perfect pastel homes had to be the work of Hollywood's finest set builders, well, you'd be absolutely – wrong!
Believe it or not, the houses are real — you'll find the Edward Scissorhands neighborhood in Tinsmith Circle in Lutz, Florida — and only looked the way they did thanks to heaps of paint and even more creative vision from Burton, production designer Bo Welch, and art director Tom Duffield.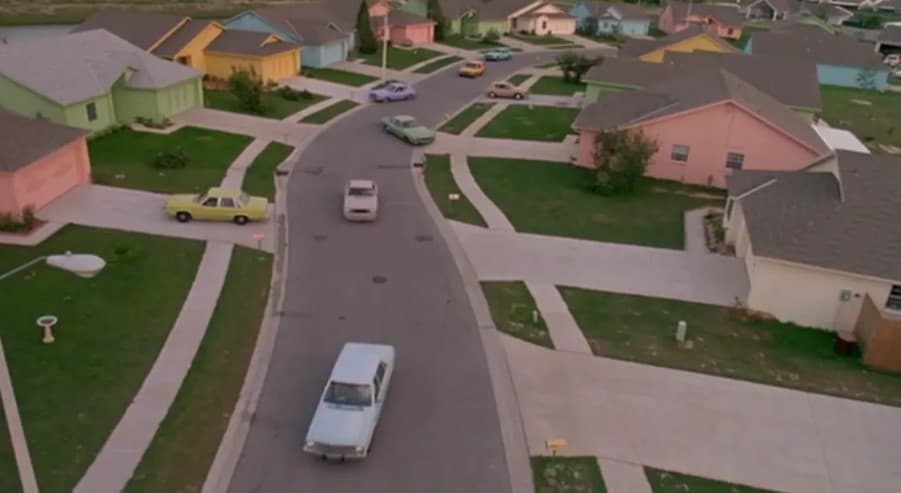 According to theringer.com, Burton had previously collaborated with both Welch and Duffield on his 1988 smash hit comedy, Beetlejuice.
Therefore, he knew they could easily take on the challenge of bringing this enigmatic set design to life. Meanwhile, screenwriter Caroline Thompson worked tirelessly to bring Tim's wild story about a man with blades for hands to fruition.
Having grown up near to, but not as part of, a similarly quaint and uniform-looking housing complex she knew just how to incorporate this type of sickly sweet yet somewhat darkly fated town into the story.
After searching everywhere from small Texas towns to army bases, location scout Bob Maharis discovered Tinsmith Circle in Lutz, Florida.
A perfect new 50-home development with single-story bungalows and blue skies above.
Unfortunately, as reported by hookedonhouses.com, half of the homes were already privately owned. But, after much negotiation with the homeowners, each being offered monetary compensation in varying amounts depending on whether they needed to vacate fully or not, the neighborhood was secured, painstakingly landscaped, and painted.
Even the cars were sprayed to correspond to the color of the house they came from!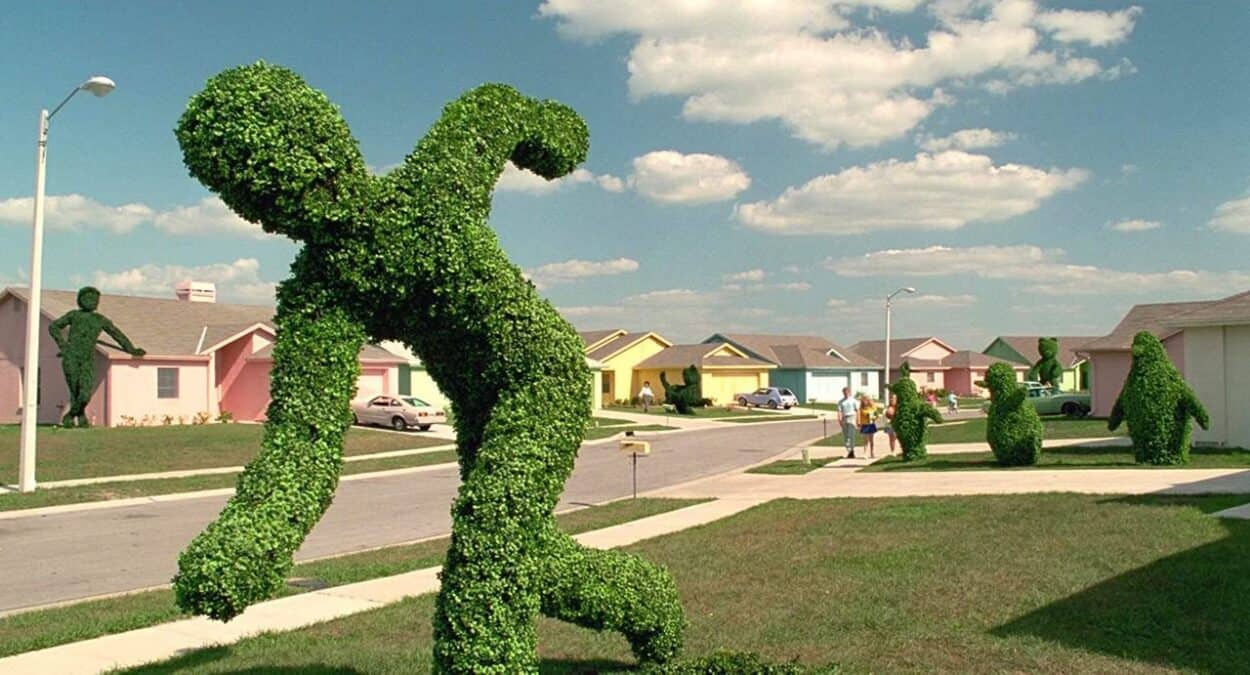 Nowadays, as you might imagine, the houses have been returned to much more modern-looking shades, and (to my great dismay) there's not a dinosaur or family-of-four-shaped bush in sight!
Is the Boggs' house real?
Amazingly, unlike many other movie productions that shoot exteriors in one location and interiors in another, all of the scenes that take place inside the Boggs family home were also shot in Tinsmith Circle. Inside number 1774 to be precise!
The Edward Scissorhands house is located at 1774 Tinsmith Circle, in Lutz, Florida — and it looks just like it did in the movie.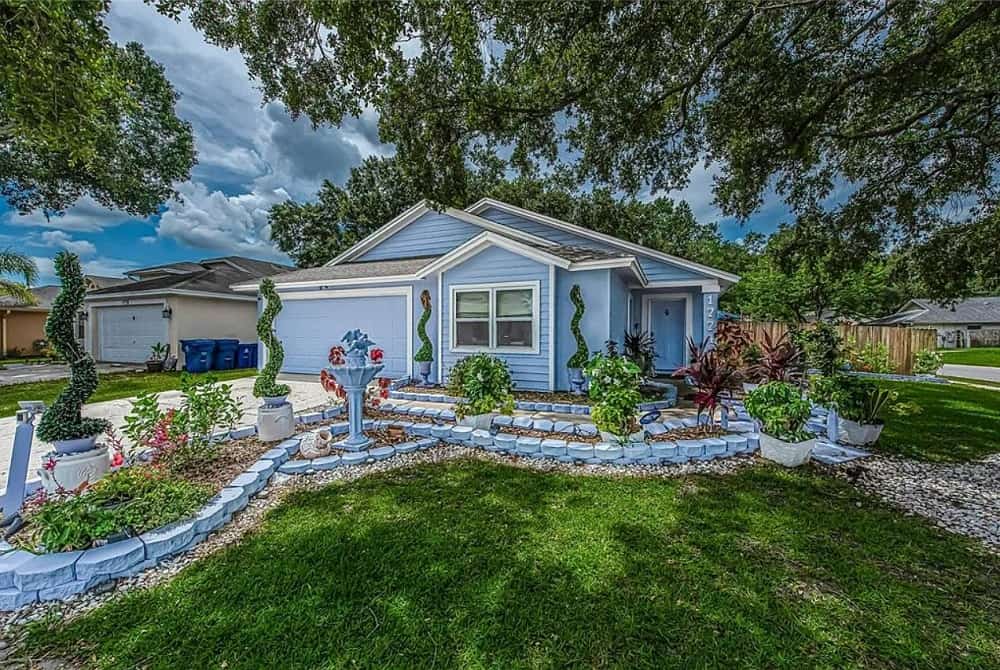 Built in 1989, this 3 bed, 2 bath family home was, coincidentally, put on the market for $700,000 in 2022, meaning we all got to take a closer look inside.
To my absolute delight, the owner at the time, Joey Klops, has decked out the living space with wall-to-wall Edward Scissorhands memorabilia.
Meanwhile, in the rest of the house, era-appropriate wallpaper gives the home a decidedly Boggs-inspired feel whilst a life-sized Edward mannequin stands proudly in the corner of the kitchen. There's even some decorative shrubbery and mini animal-shaped topiary in the backyard!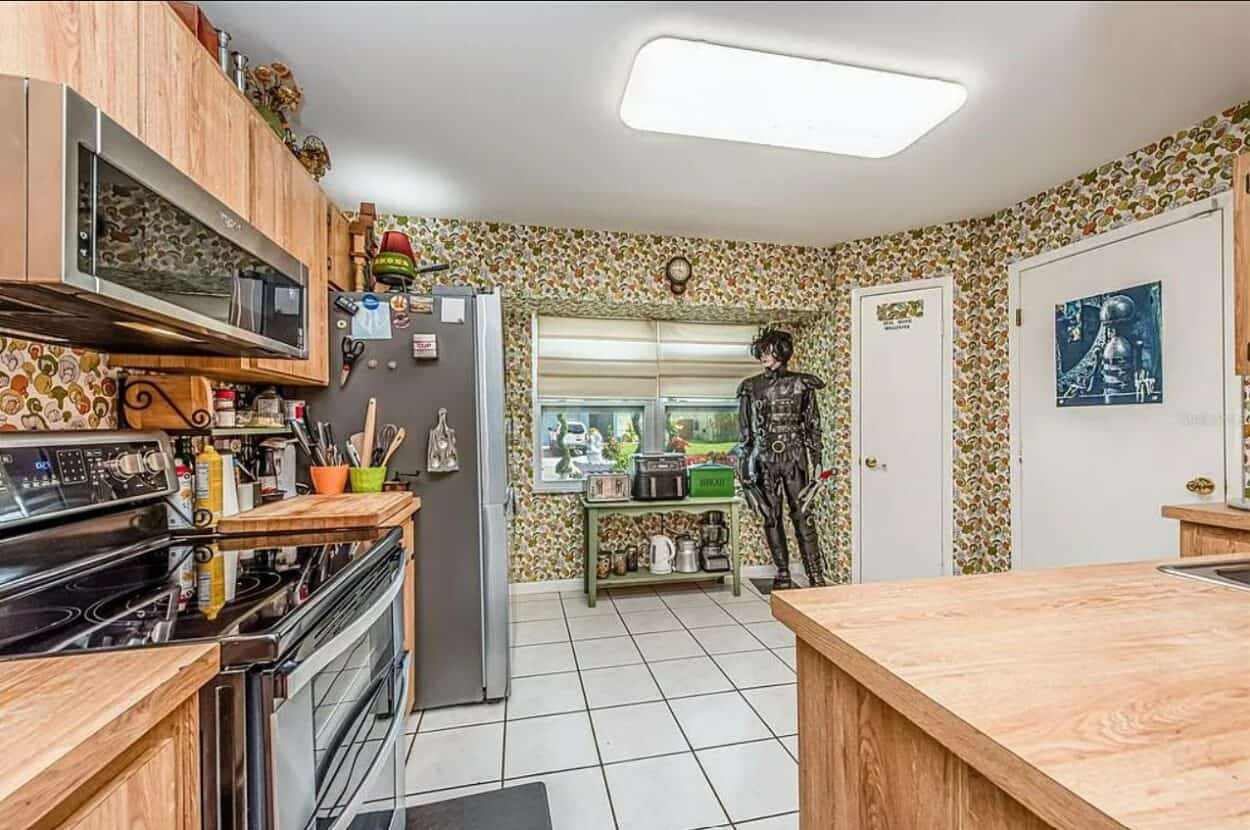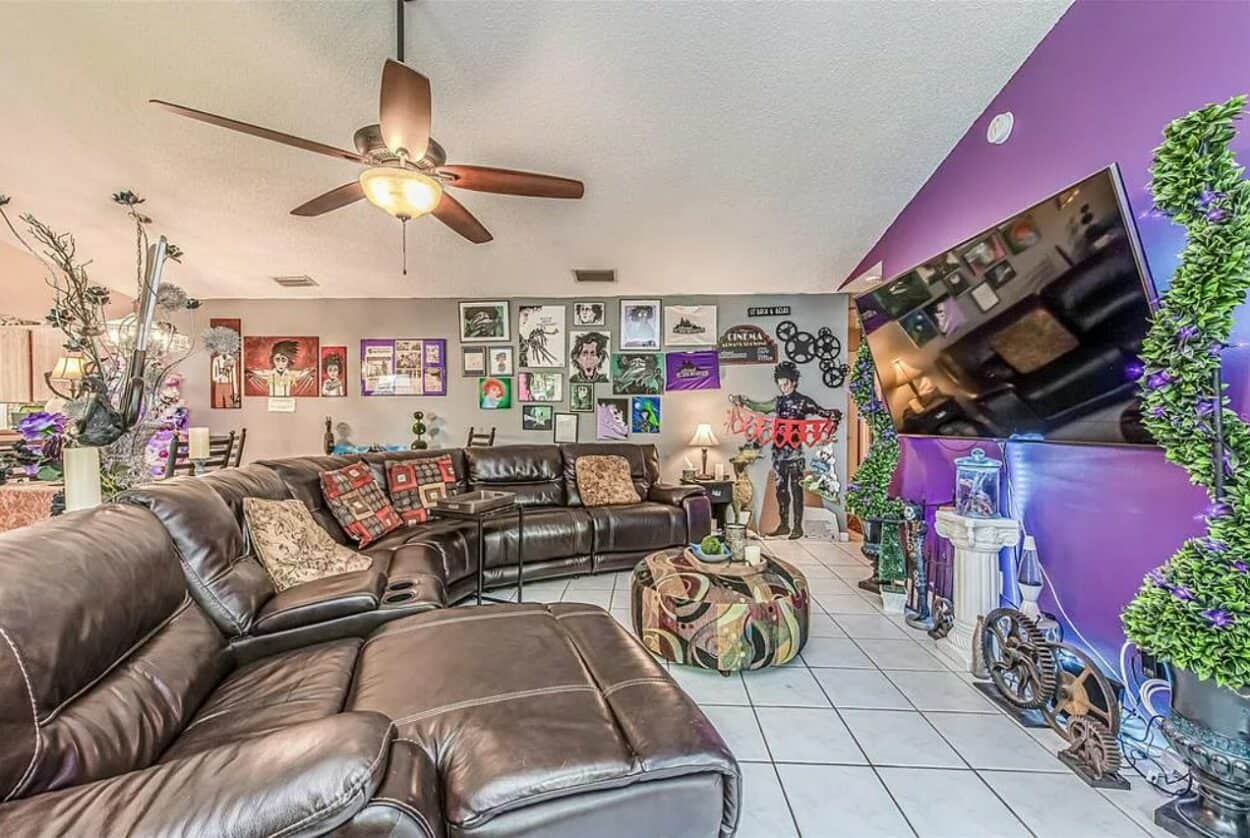 While the Edward Scissorhands house gained national attention when it was listed for sale — landing extensive coverage in magazines and newspapers across the country — the property seems to have been later taken off the market.
Public records for the property show a string of price changes for the property (initially listed for $700k, only later to have its price raised to $1 million, followed by a streak of price drops, the lowest being $449,00) but no sale.
In fact, the Edward Scissorhands house seems to have been taken off the market one month after its last price drop. While we don't know whether the owner changed his mind about selling, has other plans for the property,
Is the Edward Scissorhands castle real?
Okay, time to be seriously shocked because as it turns out, Edward's castle is also real! Or rather, it was real, for a limited period of time.
Here I was being totally sure the exterior shots were created using miniature models and the interiors built on a set.
All the while, the production team had found the only hill in Florida located in Dade city and built a full-sized castle on it — it was even featured in a Fox 13 news story!
That being said, this extraordinarily large set was just a façade with scenes on the staircase, in the lab, and the emptied-out attic shot on a separate set.
Much like the Practical Magic house, the castle was promptly torn down after filming wrapped so you can't go visit *sigh*.
Guess I'll just have to watch the movie for the 30th year in a row to relive the magic instead!
More stories like this
The Cullen house in Twilight and where to find it in real life
Mrs Doubtfire's house is real – and we found it
The wonderfully witchy Hocus Pocus Houses
Bilbo Baggins' hobbit house, straight out of the Shire