Can you believe it's been well over 20 years since Sex and the City first hit our screens back in 1998 and we first set our sights on the now-iconic Carrie Bradshaw apartment?
This whirlwind series gave us a glimpse into the chronically busy social lives of Manhattan's socialites and oh-so-relatable dating dramas, and was the favorite go-to for just about any single woman in the late 90s and early 2000s — and, arguably, still is today.
Especially now, when a new chapter of the story was released in the form of a much-hyped sequel, And Just Like That… that brought back our favorite characters: Carrie, Charlotte, and Miranda (minus one Samantha).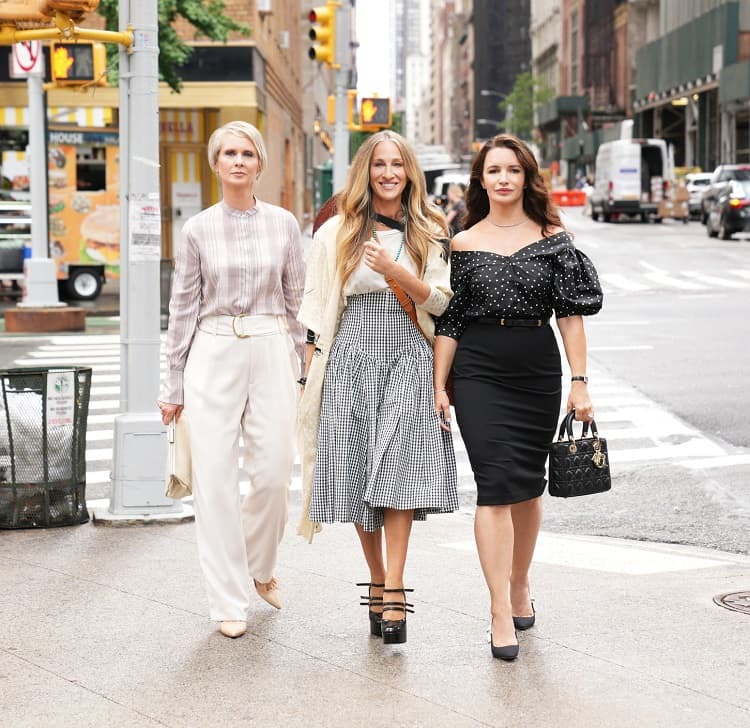 And while we'll refrain from commenting on whether the new show lives up to the original, we certainly were glad to see many of our favorite characters return.
Same goes for the familiar locations.
As we've mentioned in our article covering all the fabulous houses and apartments in And Just Like That… there's comfort in the familiarity of the characters, the locations, the traditional lunch chats, and of course, the backdrop tying all of it together — New York City. 
Carrie's apartment on the Upper East Side makes its glamorous return too, and we're here to answer any questions you might have about it.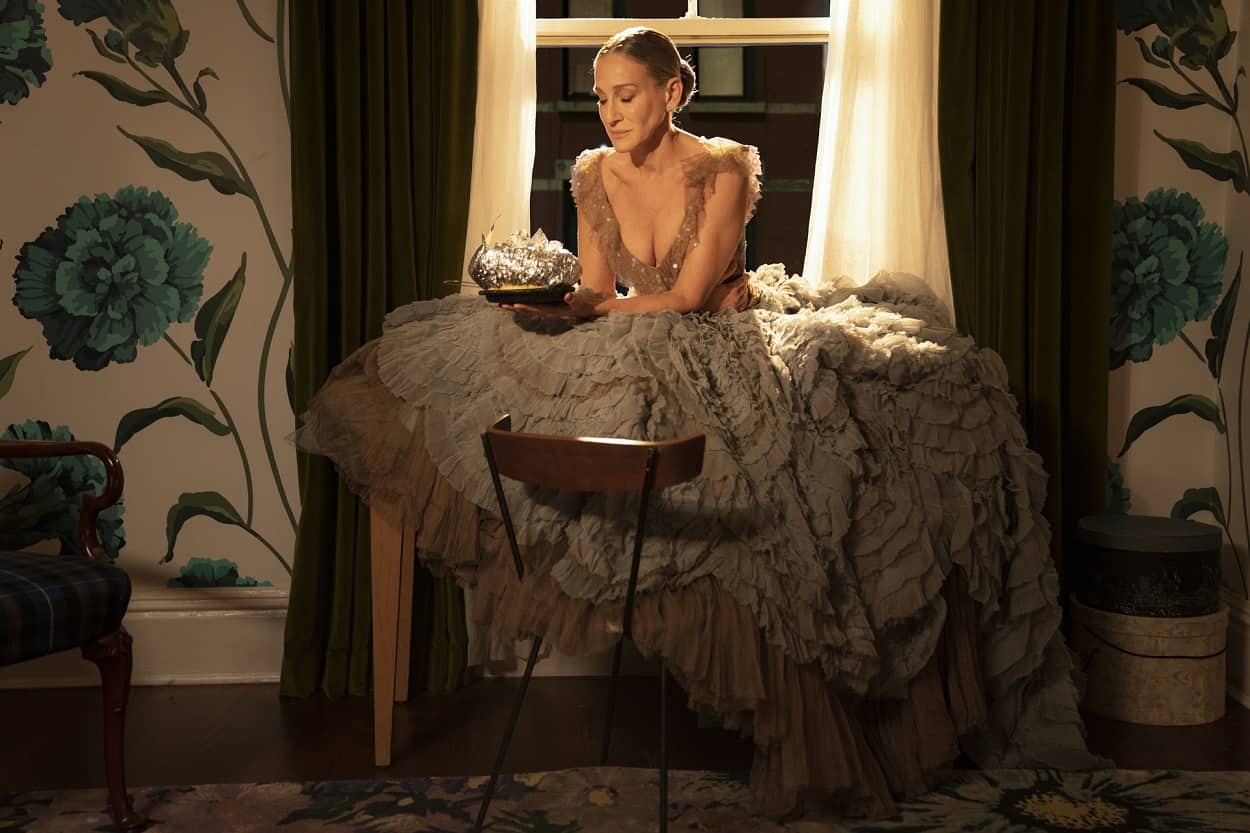 We get it. We'd like to live a Carrie-esque lifestyle too, even if it's just pretending, and the New York apartment plays a big role in that.
But before you get too excited, we should probably mention that Carrie's apartment doesn't actually exist — at least not in the traditional sense.
The interior was built on set and has since been deconstructed, but you can see the apartment's famous steps where she and her suitors shared many a goodnight kiss.
Oh, and did we mention that Sarah Jessica Parker herself lives just a few blocks away from it? Bonus!
Carrie Bradshaw's apartment on the Upper East Side
Carrie Bradshaw's home was any single girl's dream apartment and we bet there's not one of you who hasn't wished they could live out that dream, even just for a second.
Unfortunately, the warm and familiar interior of Carrie's apartment was only a figment of set designer, Jeremy Conway's imagination and it bloomed to life in Silvercup Studios in Queens just for the duration of the series. It had to be rebuilt for the subsequent movies.  
Conway has explained in various interviews that he wanted to portray the personality of each much-loved SATC character – Carrie, Miranda, Charlotte, and Samantha – through their individual homes.
Carrie's house, therefore, was a rough-and-ready apartment designed to illustrate her creative side.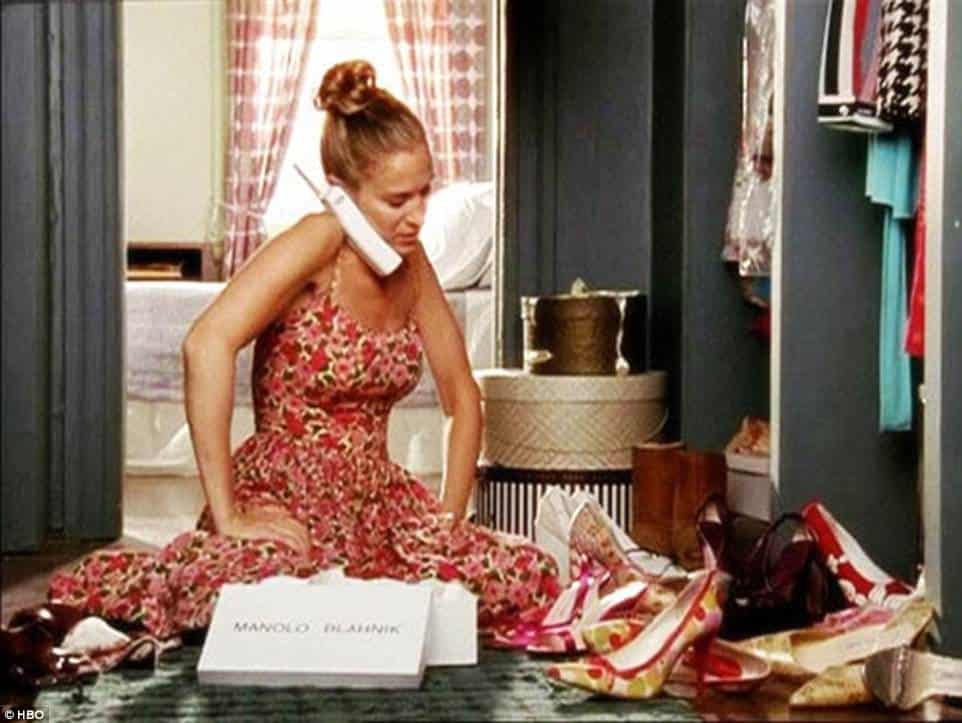 It was lived-in, messy, and real; a mix of styles and second-hand furniture that also reflected her budget — she was a sex columnist after all and not a multi-millionaire.
And, of course, the walk-in closet to show her commitment to fashion was just the cherry on top.
The Sex & the City apartment in real life
Carrie Bradshaw's apartment is unfortunately another situation of reality versus fiction, where fiction takes the trophy.
Most scenes were filmed on set, with only exterior shots being taken on location at 64 Perry Street in the heart of New York's West Village landmark district. The main filming location was later changed to the neighboring 66 Perry Street.
In total, no less than five properties were used as Carrie's apartment throughout the series' six seasons, none of them close to the sex columnist's fictional address.
In the much-loved series, Carrie lived in a fairly spacious rent-controlled apartment at 245E 73rd Street — an address that doesn't actually exist.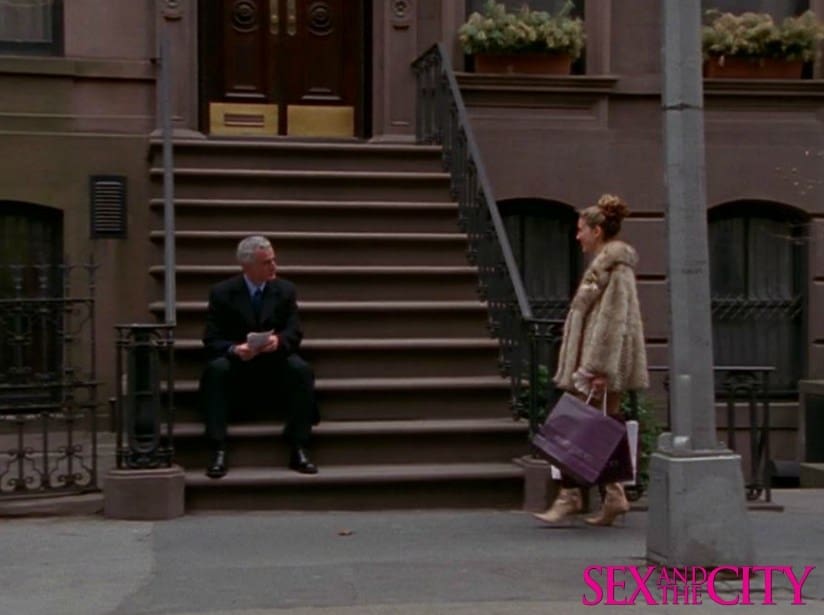 She was supposedly paying just $700 a month, but in today's standards, an apartment of its size on the Upper East Side would cost well over $3,000 a month. Thank god for poetic license.
Instead, the Sex and the City apartment used for filming is located down leafy Perry Street in Manhattan's West Village — so it's not even on the Upper East Side. (We know – gasp!)
Exterior shots were first filmed outside number 64, before moving on to number 66 Perry Street for season three, supposedly because of its 'more glamorous' staircase.
The move did the trick, as the 66 Perry Street brownstone with its memorable steps became a genuine tourist destination, with thousands of fans stopping by each year to take a picture in front of Carrie Bradshaw's apartment.
How much does Carrie's apartment cost nowadays?
While Carrie's apartment was definitely the goal of any single gal living alone, the house behind the façade is far, far grander.
Definitely way beyond Carrie Bradshaw's budget.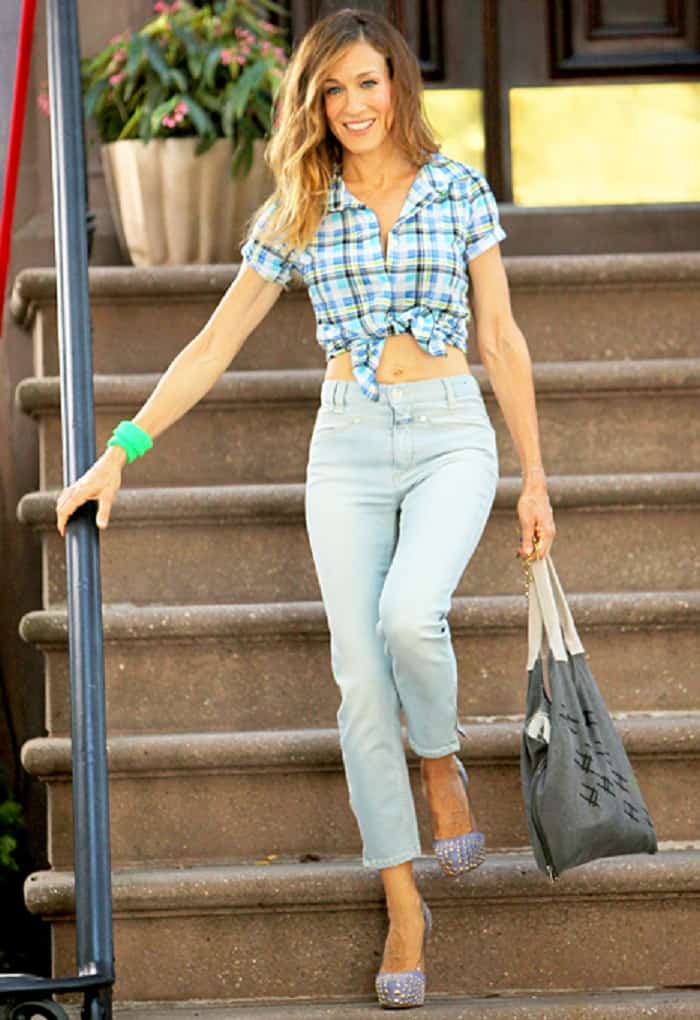 Sarah Jessica Parker's character famously paid only $700 in rent, but that likely wouldn't cover renting a single room in the sprawling browstone at 64 Perry Street.
Inside its 4,000 square feet and five impressive floors, you'll find no less than five bedrooms, three bathrooms, and an enormous south-facing backyard.
Built in 1866, the house was designed by architect Robert Mook, who also built most of the Italian-style townhouses on the block.
The interior is about as impressive as it gets with original herringbone wood floors, crystal chandeliers, ornate crown and ceiling moldings, high ceilings, striking arches, and no less than six fireplaces.
The brownstone at 64 Perry St. was last sold in 2012 to an anonymous buyer — whose family is now only the third one to share Carrie Bradshaw apartment address since it was built — for an impressive $9.85 million, $200,000 above the asking price.
The neighboring townhouse at 66 Perry Street, used from season 3 onwards, does match Carrie's living situation a bit better, consisting of three rental units.
But they too would be out of her budget; studio apartments in the building were being rented for $3,300 to 3,600/month, with a larger 1-bedroom, 1-bath unit last being listed in 2019 for 5,500/month.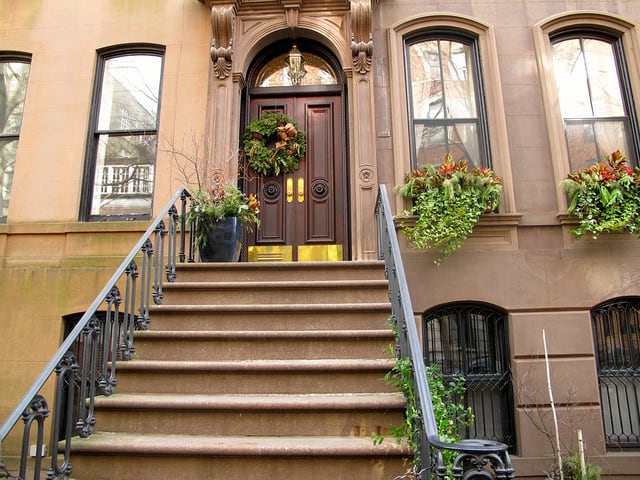 Its famous front stairs, as well as the ones two houses down at 64 Perry Street, are some of the most recognizable landmarks in the Big Apple, on lists that include the Empire State Building and the Statue of Liberty.
What's more, Carrie Bradshaw isn't the only celeb to have lived – either fictionally or literally – at this address.
The building was also home to Tim Gunn from the hit series Project Runway who lived on the top floor for 16 years. It was also used as part of the set for Woody Allen's Alice in 1990.
Can you rent Carrie Bradshaw's apartment on Airbnb?
In November 2021, in a PR stunt meant to promote the Sex and The City sequel And Just Like That…, Carrie's apartment was briefly available for rent on Airbnb for only $23/night — but that was a limited-time offer.
Only two one-night stays were offered to die-hard fans of the show, with Sarah Jessica Parker herself greeting the guests.
"The Carrie Bradshaw character is near and dear to my heart, and revisiting her world for the continuation of the Sex and the City story has been such a joy," said Parker.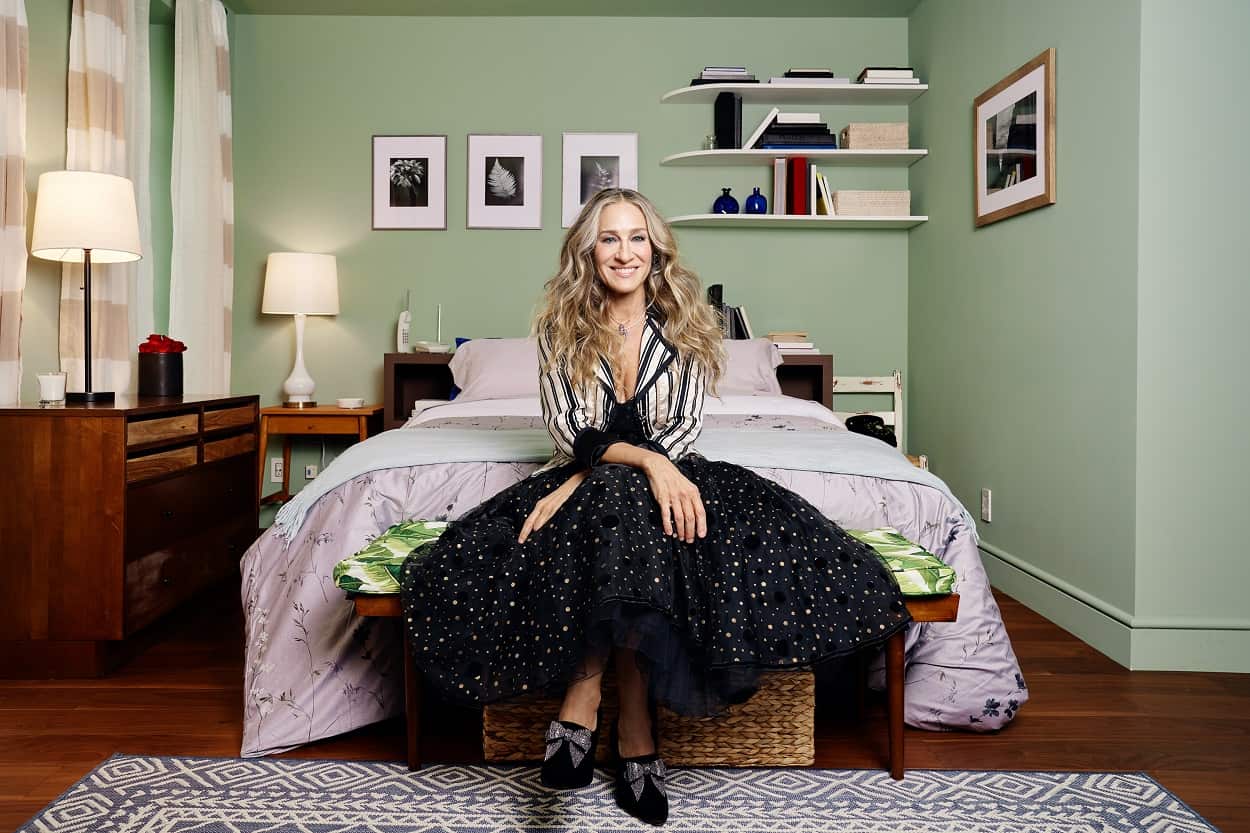 "I'm excited for our audience to experience Carrie's New York like never before and walk in her shoes, quite literally, for the first time."
The apartment isn't otherwise available for rent.
But Airbnb often partners with filmmakers for limited-time rentals of iconic movie and TV homes: the Home Alone house got the same treatment in 2021, as did the Fresh Prince of Bel-Air house when the reunion episode ran in 2020, and the Hocus Pocus house when the 2022 sequel was released (also starring Sarah Jessica Parker).
So you can't rent it, but can you visit the apartment?
Of course you can. Well, the exterior, that is.
You can visit the apartment exterior on your own — Perry Street is just a six-minute walk from the subway — or you can join an organized group tour that visits all the famous spots from Sex and the City, including the Magnolia Bakery, Charlotte's gallery, and Jimmy Choos.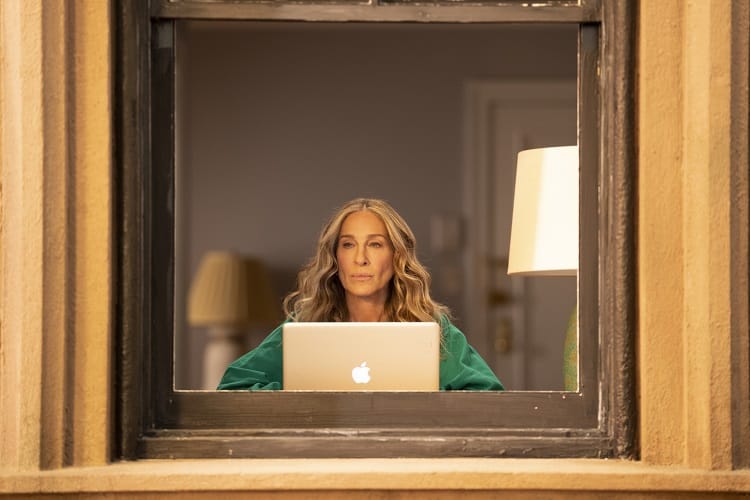 But when you visit the Carrie Bradshaw apartment on Perry Street, make sure you respect the privacy of the residents who actually live here.
Hundreds of tourists visit the apartment every week for a glimpse of the film set and the novelty has definitely worn off for residents.
They have erected a chain and sign that reads "Do NOT go on the staircase please" to stop tourists from getting too close to their homes.
They also petitioned — and won — to stop Sex and the City tour buses from stopping directly outside of the building.
In fact, they are so set on privacy, they've even had the Google Street View image of the apartment's exterior blurred out on Google Maps! They don't do things in halves, that's for sure.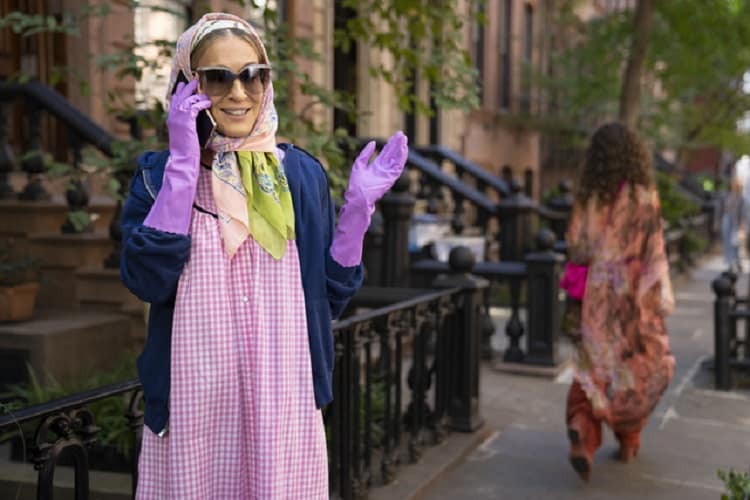 Despite the fact that the Carrie Bradshaw apartment doesn't exist as it does in the series, the exterior is still worth a visit — even if only to join the ranks of drunks girls declaring their undying love for Big and to admire Perry Street residents' increasingly imaginative measures to stop tourists from dancing on their doorsteps.
If not, you might just have to settle like the rest of us with the charming interior shots forever etched in our memory after watching the show over and over again throughout the years.
And add some new visual memories to the vault thanks to the sequel series, which gives a rightful central role to the iconic New York apartment that we've always associated with Sarah Jessica Parker's most memorable character.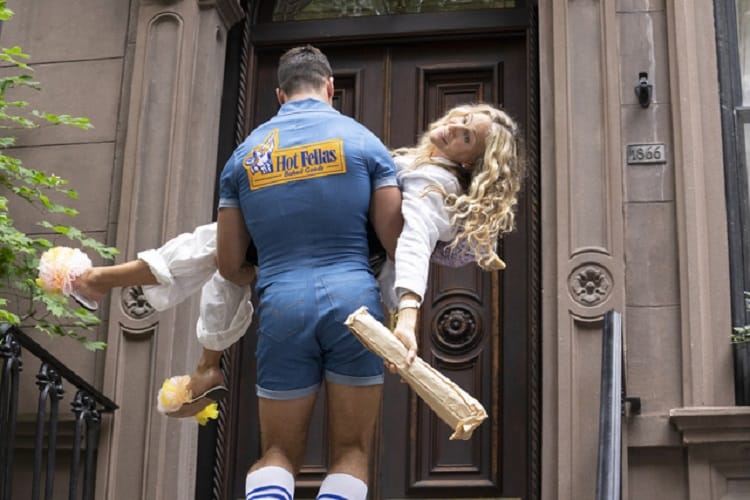 More iconic TV homes
Monica's Apartment in Friends — The Place Where Friendship is Forever
Meredith Grey's house on Grey's Anatomy
The New Girl apartment in real life