And just like that, the girls are back. Well, at least three of them are.
Yes, we're obviously talking about And Just Like That…, the HBO series that serves as somewhat of a sequel, or follow-up, if you will, to the beloved Sex And the City show.
Carrie, Charlotte, and Miranda – minus one Samantha – are back in our lives, two decades after Sex and the City 2, which marked the last time we saw our beloved characters on-screen. 
Now, people have a lot of mixed feelings about this series, and so do we. It's exciting and great to have these characters back, but there are some pretty big characters missing, if you know what we mean.
But there is comfort in the familiarity of the characters, the locations, the traditional lunch chats, and of course, the backdrop tying all of it together — New York City.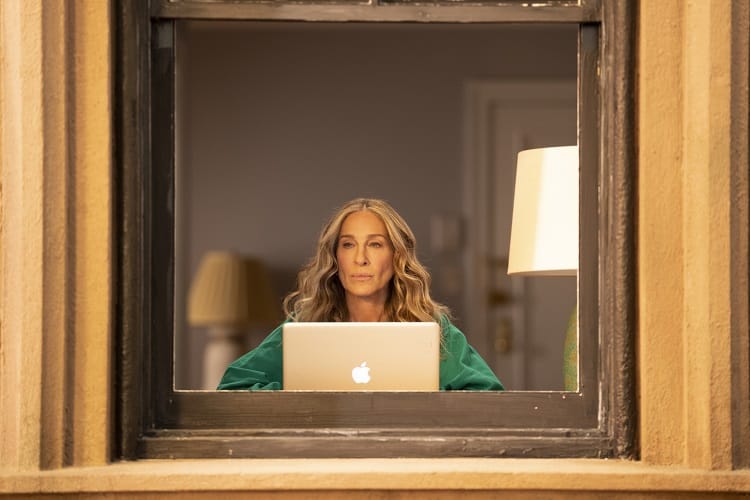 Carrie, Miranda and Charlotte all experience some life-changing events and issues throughout this series, and it's definitely not all fun and games. But some familiar things are there: the fashion, the sex, the funny scenes, and last but not least, all the luxury NYC pads. 
And while we don't yet know what glamorous apartments will be gracing our screens in Season 2 of And Just Like That…, we wanted to take a moment to look back at all the fabulous homes our characters were living in during the first season of the show.
As the series debuts, all the girls still live in the same homes as when we last saw them.
Carrie still lives at her and Big's fancy Fifth Avenue apartment, Charlotte shares her classic Park Avenue suite with Harry, while Miranda and Steve still live in their beautiful Brooklyn townhome.
So, we thought, why not revisit these locations, which basically feel like home to us viewers at this point? Time for a quick stroll down memory lane.
Carrie and Big's Apartment on Fifth Avenue
As And Just Like That… gets started, we find Carrie in the same place she was when we left her in Sex and the City 2: in love, living in a luxurious apartment on Fifth Avenue.
If you remember, in the first movie, Big bought Carrie a light-filled penthouse and built her the best closet ever. Unfortunately, they didn't really get to live in the glamorous penthouse, because, well, Big gets cold feet.
But no worries, they managed to snag an equally stunning apartment just a few floors down, and that's where they began their life as a married couple.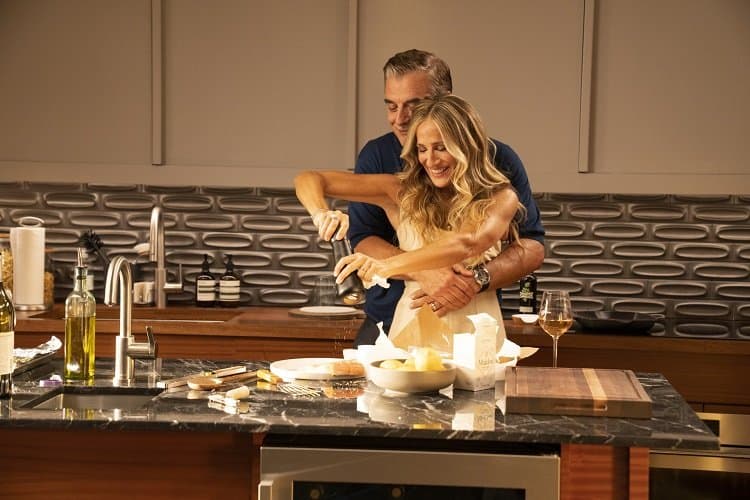 Needless to say, the apartment is gorgeous, and the highlight? The massive walk-in closet that's basically the size of a real store.
The apartment is a seamless mix of Carrie's and Big's styles, combining the classic with the modern and fashionable. The result is timeless elegance, in every room.  The kitchen, while we don't get to see very much of it (as we know Carrie doesn't really cook and keeps sweaters in her stove) is a stunner.
The dining room and living room are cozy and classic, complete with a bar that harks back to the golden days of Hollywood, and a cozy couch for Big to lie on and read the paper. 
The bedroom is intimate and chic, featuring a huge bed and a vanity that ends up housing a big screen TV where the two can watch classic black-and-white movies.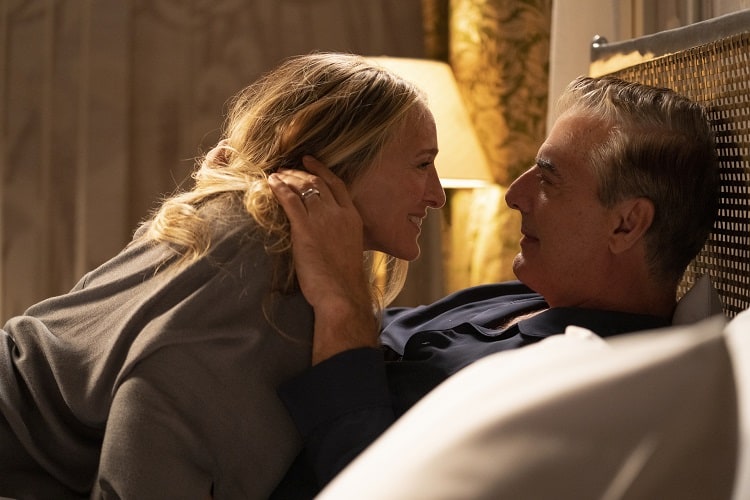 From the bedroom, you can walk right into the jaw-dropping closet, where you'll find Big's neatly organized wardrobe on one side, and Carrie's messy-chic wardrobe on the other. 
Carrie's apartment in the Sex and the City sequel is much smaller compared to the giant penthouse that she and Big initially went for, and features just one bedroom and one bathroom.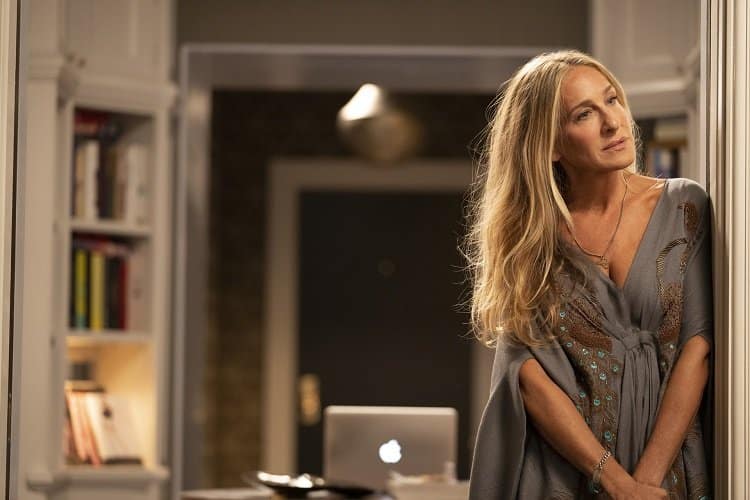 However, it makes up for it in other areas. There's the huge closet, of course, but there's also a spacious, ornate lobby and a beautiful library stacked wall-to-wall with books. There's even room for a Peloton, but we won't go into that…
Carrie's (Almost) New Loft in Tribeca
Unfortunately, Carrie and Big's marriage is cut short in Season 1 of And Just Like That…, and Carrie finds it difficult to continue to live in her former love nest as she grieves.
So, she enlists the help of her new friend and realtor Seema Patel, played by the gorgeous Sarita Choudhury. In no time, Seema finds Carrie a new light-filled, bright, ultra-modern apartment in Tribeca, and she makes the leap and buys it without thinking it over too much.
Unfortunately, rash decisions aren't always the best choice when one is going through a hard time, and this proves true for Carrie, as well.
As someone who's lived her entire life on the Upper East Side, making the move to Tribeca is a big leap. Not to mention that this beautiful loft-style apartment is a complete departure from Carrie's lived-in, cozy-chic style. It was clear it wasn't going to last, and it didn't.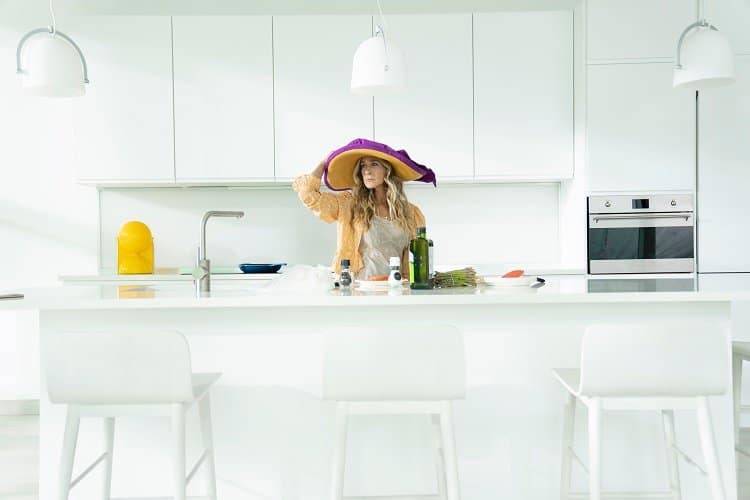 After just one day spent in the blindingly-white apartment overlooking the Hudson River, Carrie decides that it's not her style.
The brightness, the empty space, the cold openness — and the strange beeping sounds keeping her awake at night — take a toll, and Carrie ends up putting the loft on the market. 
Carrie's Home Sweet Home on the Upper East Side
Ah, now we're getting to the good part. After Big's tragic death in the first episodes of And Just Like That…, Carrie retreats to her old home on the Upper East Side, on East 73rd Street (in reality, Perry Street in the West Village).
The iconic brownstone is the one we associate with Carrie the most, and who can forget the charm of her cozy studio (we've written extensively on Carrie's Sex And The City apartment here) and all the iconic scenes that took place there during the six seasons of Sex And The City?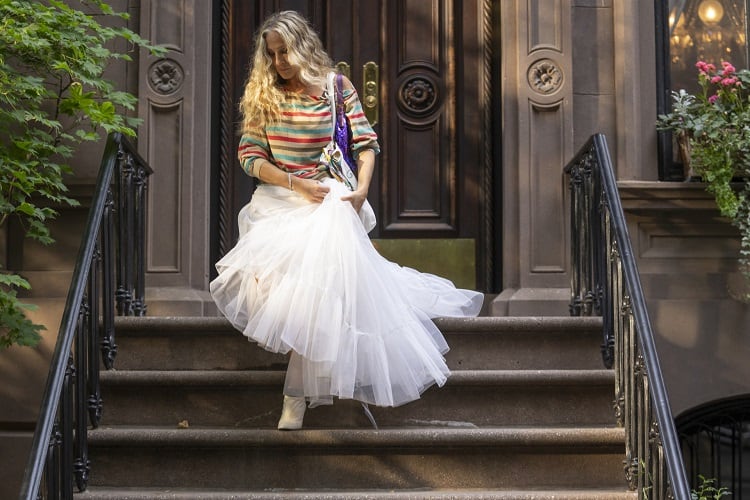 Of course, Carrie's apartment, which she used to rent, has changed drastically over the years.
The first renovations and repairs started when she and Aidan decided to get married and live there together, however, that didn't exactly work out. But it turned out to be a positive thing, forcing Carrie to buy her own apartment and finally say goodbye to the renter life.
After Carrie and Big decide to (finally) get married and move to their fancy Fifth Avenue penthouse, Carrie decides to keep the studio, but not before fully renovating it.
She goes there every once in a while to write and visit the clothes. After Big's untimely death, the UES apartment becomes Carrie's escape, and she ends up moving back to where it all started.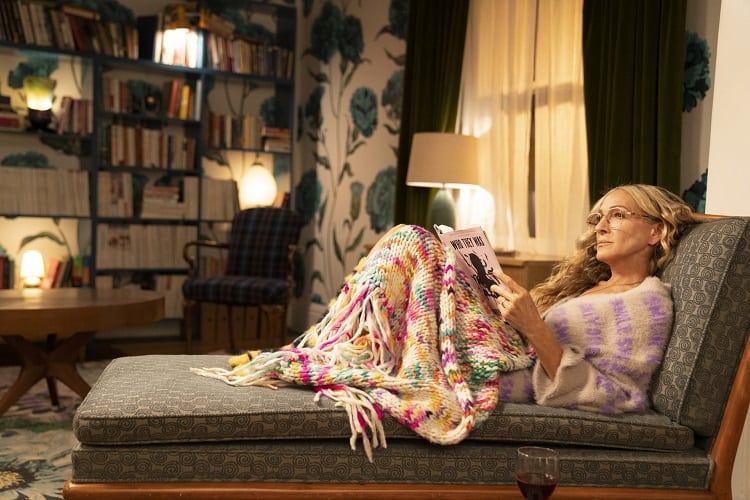 Charlotte's Apartment on Park Avenue
Charlotte's apartment features the only real address in the series, 930 Park Avenue.
The luxury residence, where Charlotte now lives with her second husband, Harry, and their two daughters, is the same one from the original Sex And The City show.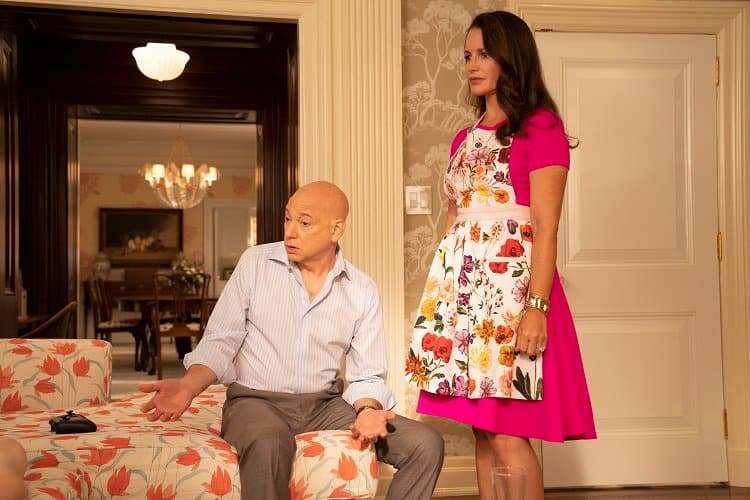 Who can forget the mallards that decorated every corner of Trey MacDougal's Park Avenue apartment in Sex And The City?!
When Charlotte first moves in with her new husband, their Park Avenue home is a reflection of Bunny MacDougal's style. Remember Bunny? Trey's super-uptight, Chanel-suited mother? She made all the decisions for Trey, and even picked the couple's new mattress.
But Charlotte decides to stand up to Bunny, and goes on a mission to completely renovate the three-bedroom apartment to match her taste, and the result is pure WASP, featuring creamy and beige colors, floral decor, and classic understatement.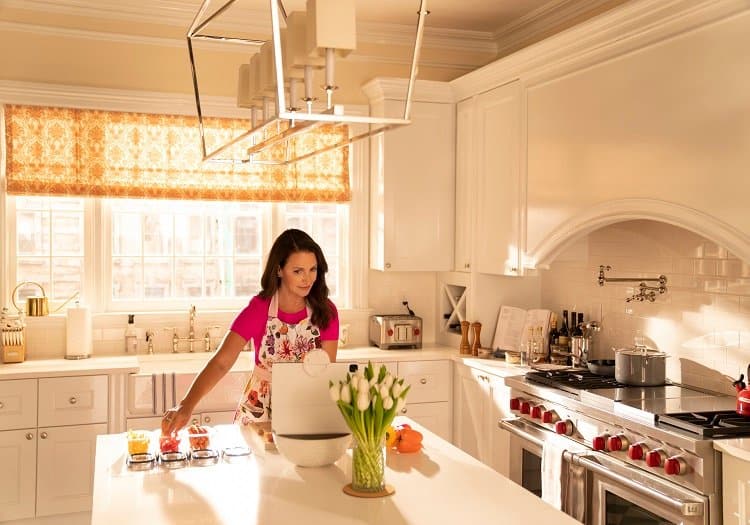 The penthouse suite, which Charlotte got in her divorce settlement with Trey, now reflects her personality 100%, and it's probably the most luxurious home in the series.
An apartment of this size on Park Avenue, featuring three bedrooms and three bathrooms, would be worth about $6 million. Way to go, Charlotte!
Miranda's House in 'And Just Like That'…Is Still in Brooklyn
When Miranda announced to the girls that she was moving to Brooklyn in the sixth season of Sex And the City, the decision was met with shock. How could she leave Manhattan? For Brooklyn? Even cabs won't go there!
Eventually, Miranda did go there with Steve, and ended up building a wonderful home for their new family.
They bought a centuries-old townhouse in Prospect Heights, and invested in extensive renovations, which Miranda took full control of, of course.
Giving up Manhattan came with benefits, as it turns out. Lots of privacy, a spacious backyard, a cozy fireplace, and a charming staircase, to name just a few.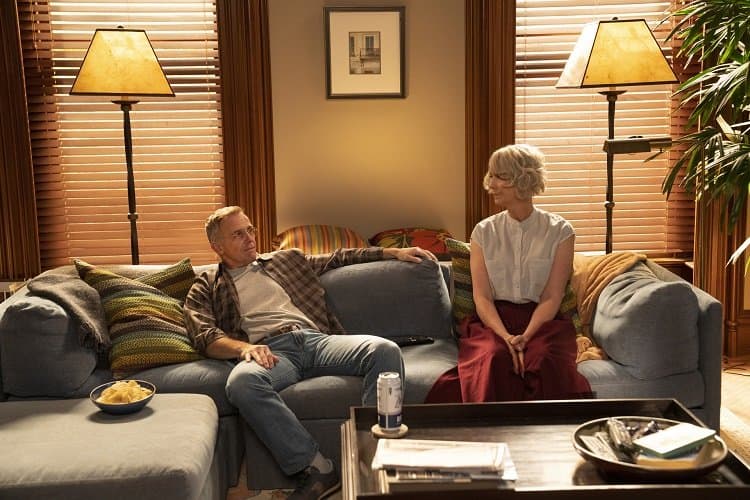 Miranda was always the rebellious one in the series, decidedly against all the romantic cliches — after all, she asks Steve to marry her over $5 beers. So it's no surprise that she's the first of the group to leave the island and move to a different borough.
Fast forward 20+ years later, and Miranda is in the same place, geographically, sharing the same townhouse with Steve and their son Brady, but emotionally, she's somewhere else entirely.
Her character probably undergoes the biggest shift in the new series, a shift that some fans were not too happy about.
Her marriage to Steve seems to reach a sad end as Miranda falls for Che Diaz, a podcast host and stand-up comedian that she meets through Carrie.
At the end of the season, Miranda announces that she will be moving to Los Angeles to be with Che, so it's safe to say that she's leaving her Brooklyn home behind.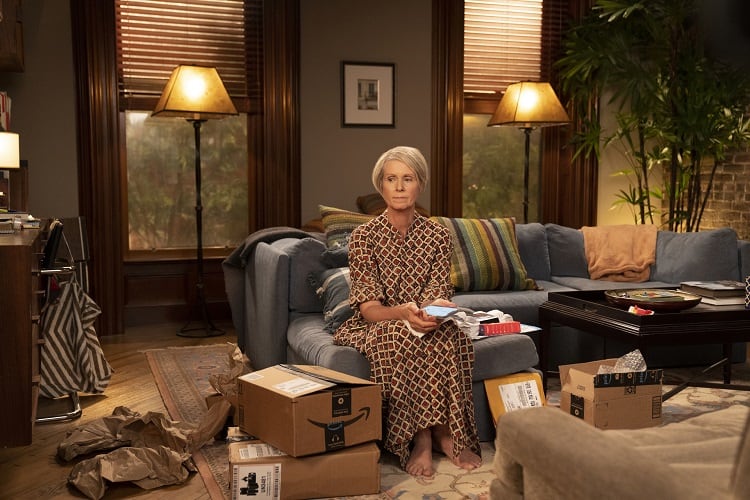 More stories you might like
Tracking Down Emily Cooper's Apartment and All the Other Swoon-Worthy Locations From 'Emily In Paris'
Where is the House from 'Firefly Lane'? Tracking Down Kate's Waterfront Mansion and Tully's Posh Penthouse
Is the 'Gilmore Girls' House Real? Lorelai And Rory's Cozy Stars Hollow Home