In a time long before Thanos wiped out half of the world's population, one of the most memorable movie scenes in the Marvel Cinematic Universe saw Iron Man's house crumble down to the bottom of the ocean.
And while Tony Stark was (rightfully so) busy saving Pepper from the wreckage, we just sat there, looking at his futuristic mansion being wiped out from the face of the Earth.
Which naturally got us thinking: Is the Iron Man house real? Did someone actually built that modern cliffside mansion that was used to film scenes of Tony Stark's home?
Sadly, the answer is no. Tony Stark's house is not real — and there is no futuristic mansion at the address Stark gives to the Mandarin in the movie, 10880 Malibu Point in Point Dume, Malibu. In fact, if you take a closer look using Google Maps, you'll see that there's nothing there (nor would zoning laws allow anyone to build a house there).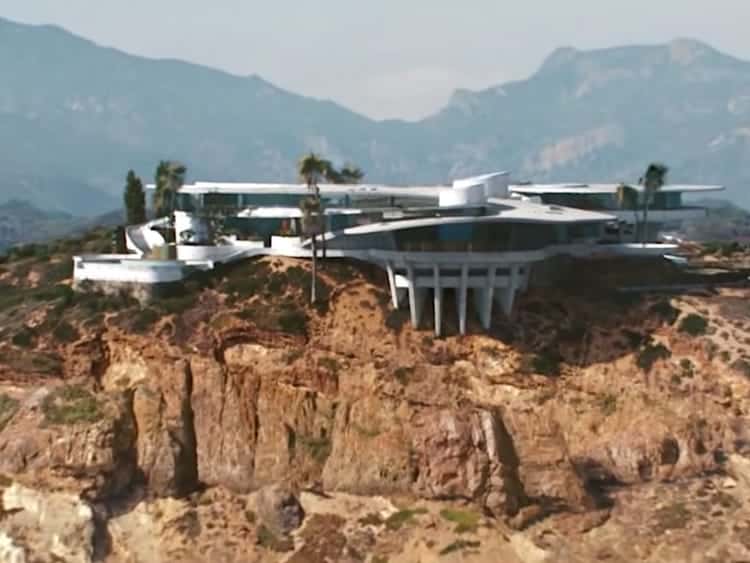 And while many have speculated that the real Iron Man mansion is the ultra-modern Razor House (now famously owned by none other than singer Alicia Keys), no actual scenes have been filmed there.
Sorry, fans, you won't get to see this one in real life. But if you do want to step in Tony Stark's shoes, know that his Avengers: Endgame cabin is as real as it gets — and you can even book it on AirBnb.
But even though Stark's Malibu mansion isn't real, it's worth taking a moment to look at how the production crew brought it to life on-screen.
Tony Stark's house in the Iron Man movies – The Storyline
The initial private residence of billionaire philanthropist — and everyone's favorite superhero — Tony Stark, is a massive, futuristic mansion set on a seaside cliff along the coast of Malibu, in the celebrity-packed Point Dume area.
Featured heavily in Iron Man 3, the property is an advanced and modernized mansion created and owned by Tony Stark. It's where he lives with his personal assistant-turned-girlfriend, Pepper Potts, as well as his personal friend Happy Hogan.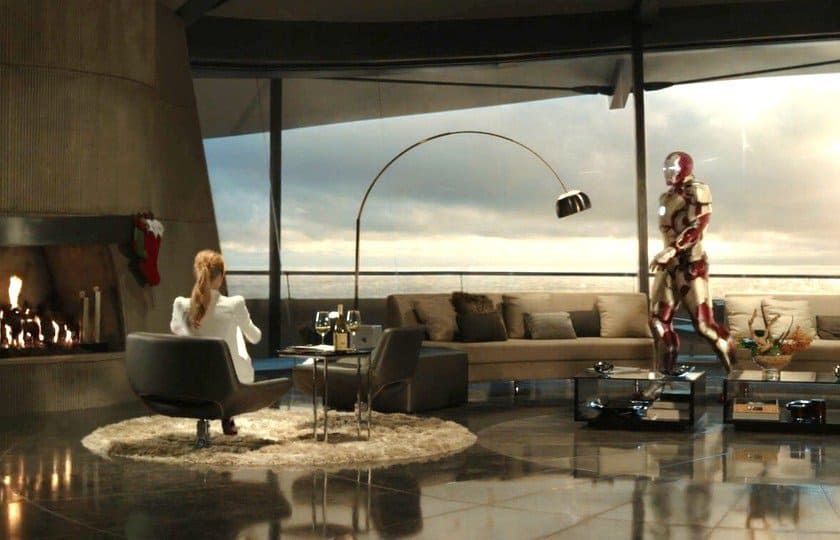 The high-tech house came with an integrated artificial intelligence system initially created to help out around the house (among other, more famous purposes) that Tony Stark named "Just a Rather Very Intelligent System", shortened J.A.R.V.I.S., after his childhood butler Edwin Jarvis.
And while the choice in tech setup is all Tony, in terms of decor, the Stark mansion bears the signature of on-screen love interest Pepper Potts.
Who do you think decorated in the first place? And now that I live here, I can make sure he doesn't ruin the Feng Shui by sticking a suit of armor in the middle of the living room."

Pepper Potts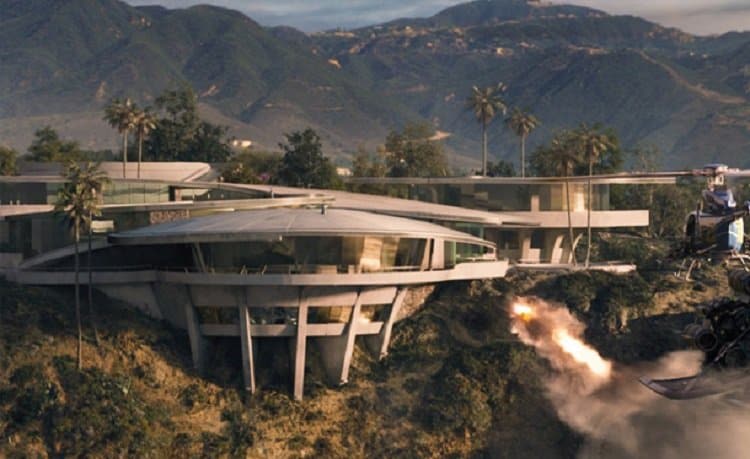 The house is completely destroyed in the movie, a scene that took quite some work to put together.
The crumbling house itself was filmed in a hydraulic-powered giubo platform that could bend and split into two pieces. All the interior footage had practical effects, including debris and explosions, with computer graphics used only to add exteriors and Iron Man's armor.
How Iron Man's Malibu mansion came to life
While many have claimed that the Razor House in La Jolla, San Diego (now owned by Alicia Keys and husband Swizz Beatz) is the real-life Iron Man house, the Stark Malibu mansion is not real. Nor were any scenes in the movie shot at the San Diego mansion.
Visually, Tony Stark's home was the digital creation of conceptual artist Phil Saunders, who was asked to envision a Malibu cliffside home in the vein of John Lautner's signature organic cast concrete & glass homes.
Phil Saunders said that they first looked at taking existing homes that they could upgrade to Tony Stark levels, but "nothing we scouted looked like a billionaire's home."
So I came up with this design and perched it in the most decadent location I could think of, right on top of Point Dume, a California State Park. Who else but a billionaire could get those building permits?"

Phil Saunders said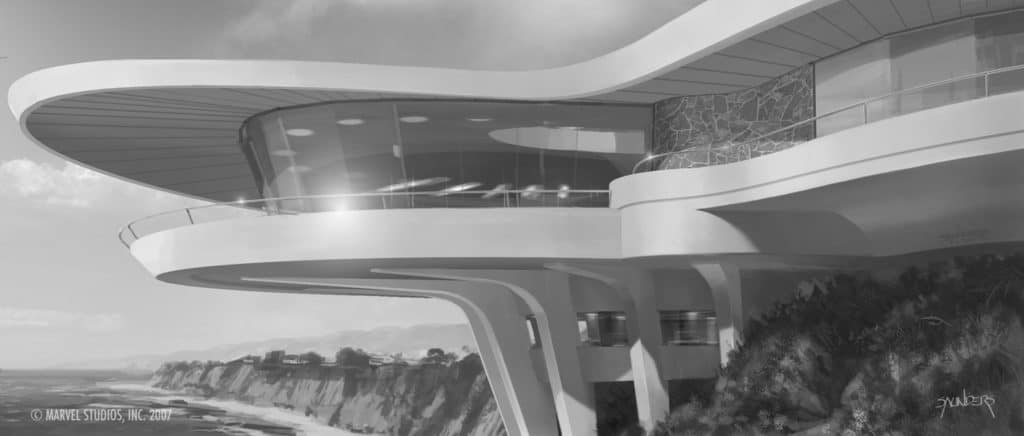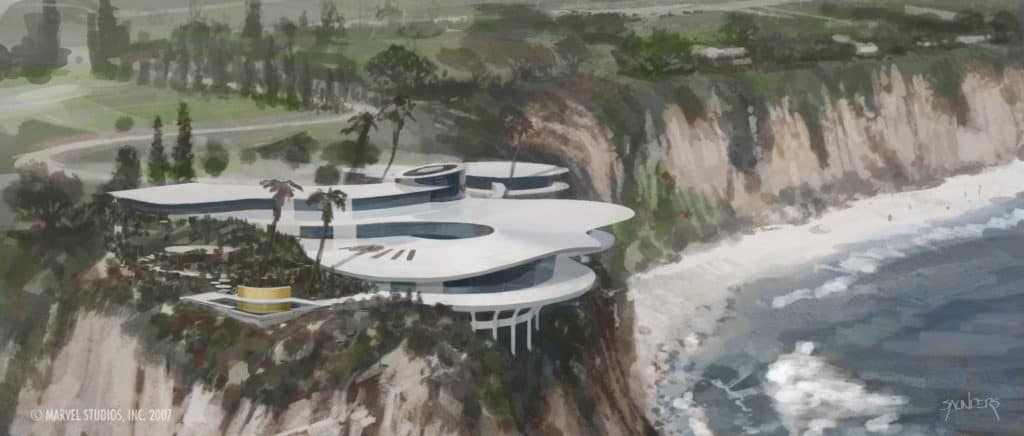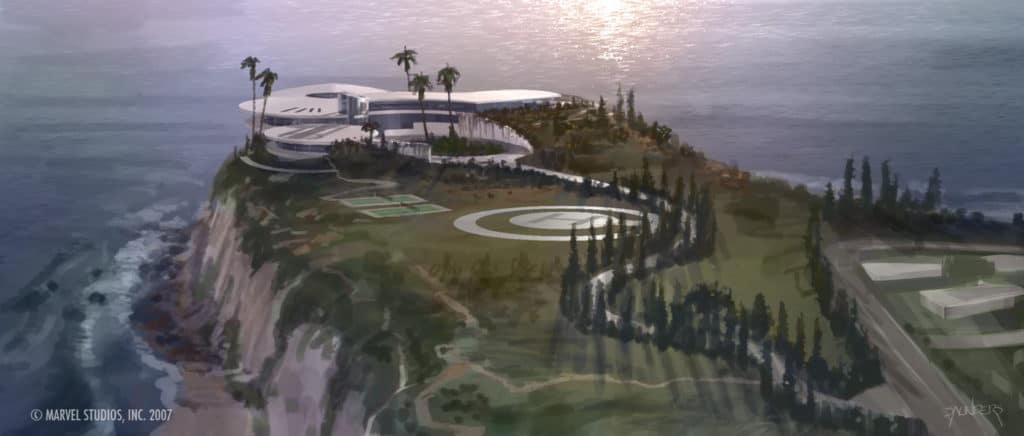 Designing the interiors of Tony Stark's house
As with the exterior, the interior design owes a stylistic debt to John Lautner's famous Malibu homes.
According to Saunders, they went through a lot of variations of set dressing for the interiors. The floor was originally cut stone, the area within the cylindrical glass waterfall/ spiral staircase was originally an arboretum, and there were creeping vines on the balconies (which you can still see in the east view.)
The staircase started out as glass, supported by cast aluminum cantilever arms of graded heights fanning out from the glass, but structurally it wasn't feasible, so cast concrete steps were used instead. And even Saunders admits that this actually makes the center a little cleaner.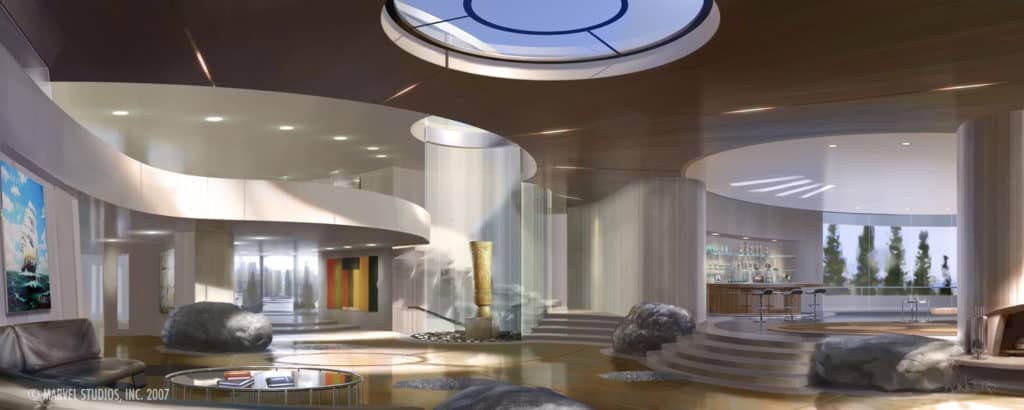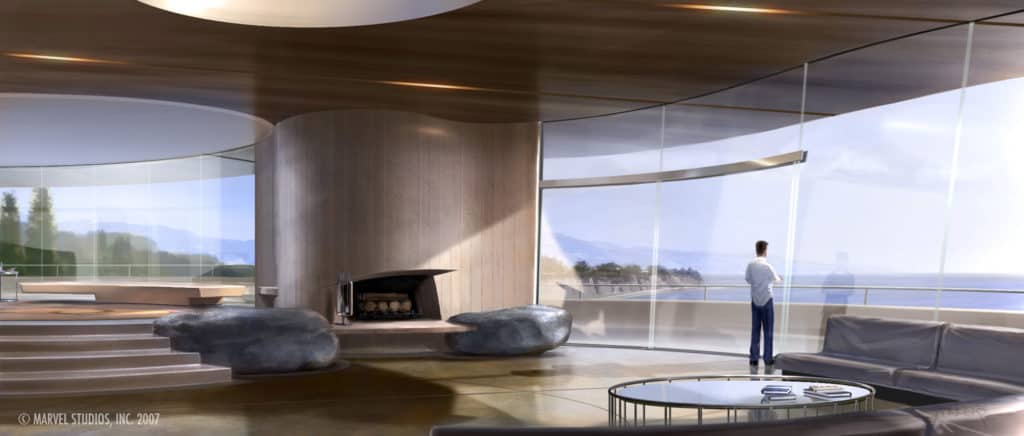 When it came to Tony Stark's bedroom, what they aimed for was to create a 'stark' designer environment, something that reflected a complete absence of personal touch.
And that's because, as Saunders rightfully pointed out:
"Anything that reflected Tony's personality would be in his basement garage/workshop." Really can't argue with that argument.
How much would Iron Man's house cost?
Now, while the Malibu house isn't real, that doesn't mean we can't estimate its worth. In fact, real estate website Movoto did the math for us a while back, putting the value of the Iron Man house at a whopping $117,250,000.
Considering its highly desirable location, unmatched ocean views, more than generous square footage, and high-tech features, the price makes sense (especially since there are no actual comps for such a property).
And while that may sound completely bonkers for any reasonable human being, Robert Downey Jr's iconic character wouldn't even flinch when spending such an exorbitant amount of money.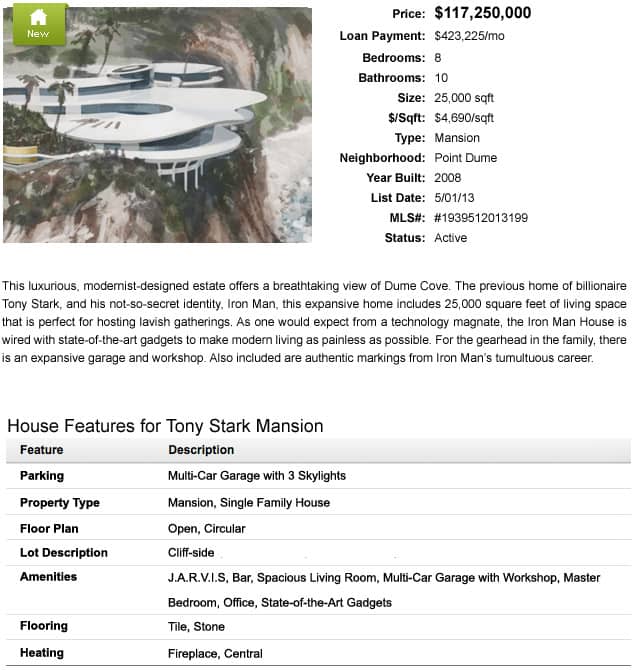 Now that's you've seen it in the making, time to watch Iron Man's house crumble:
Please note that the following section contains affiliate links, and we may earn a small commission if you make a purchase.
Fun fact: If you want to recreate the attack on Tony Stark's Malibu mansion yourself, check out this nifty LEGO set that includes everything from figurines of the people in the house (Tony Stark, Pepper Potts, even the Mark 42 armor suit), as well as a section of the house, and the Mandarin's helicopter.
More superhero homes
Placing the Avengers Tower on the NYC Skyline: The Real Building that Stands in its Place
The Ever-Changing Vision Residence: Magical Interiors Through the Decades
Does the X-Mansion — Charles Xavier's Ancestral Home — from X-Men Exist in Real Life?