Very few on-screen locations have been chosen as carefully as the picture-perfect houses in ABC's hit sitcom, Modern Family.
With the homes serving as backdrop for most of the scenes, it only makes sense that real-life properties were used in the making of the show — even if it was mostly outdoor shots that were filmed on location, with the interiors being created on studio sets.
And the homes had to be just right.
Because each and every one of them was chosen as a mirror image of the family that lives inside, as they embarked on a decade-long journey alongside the Pritchetts, Dunphys, Tucker, and Delgados in a wildly successful 11-season run on ABC.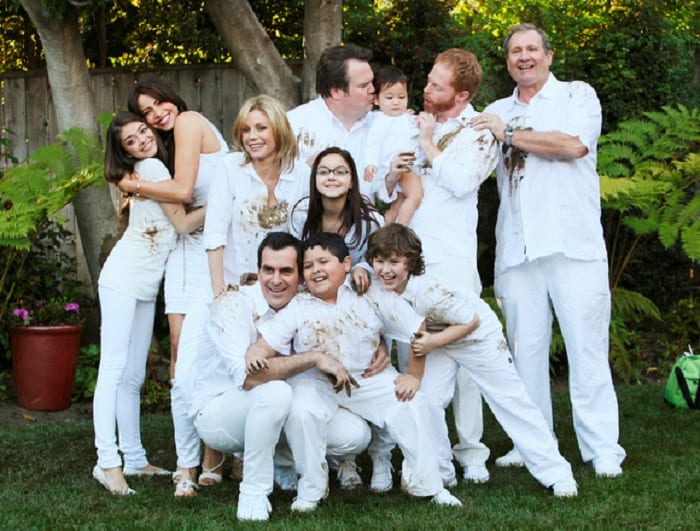 The houses themselves speak volumes about the characters, making it easier for the viewers to get into the story without much further context.
The successful patriarch of the family, Jay, lives in the nicest house — which just so happens to reflect his status and wealth, as well as the new life he's embarked on alongside his new family.
Mitchell lives in a most quaint and beautiful duplex, while his sister, Claire, owns a spacious, traditional family home (no doubt bought at a good price, if her Realtor husband had a say).
Now that we know the houses are real, let's take them one at a time, pinpoint their location, and see how well they fit with the narrative of the show, shall we?
Jay and Gloria's house: the modern mansion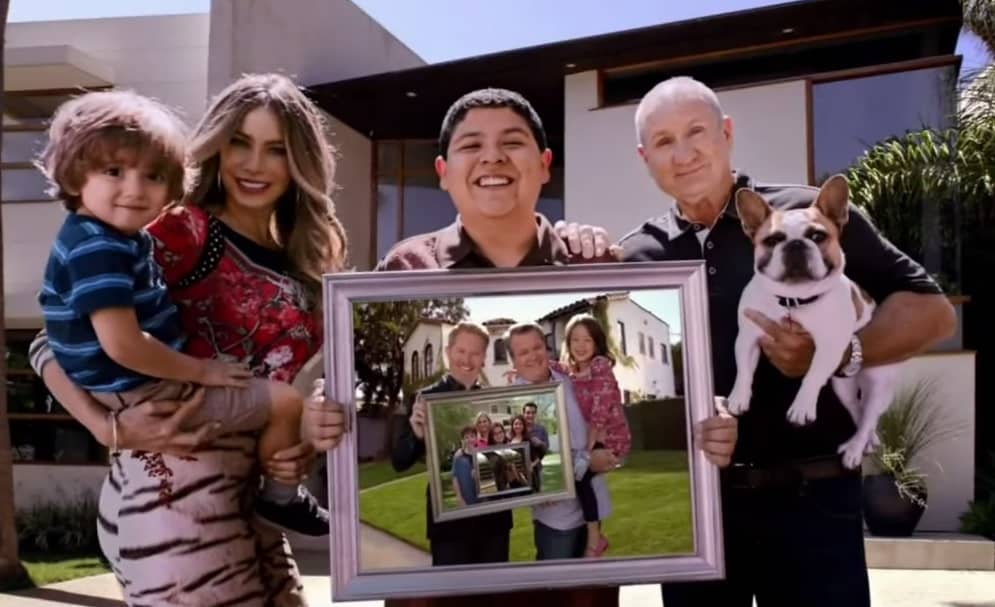 The two-story contemporary home of the Pritchetts is by far the most opulent property on the show.
Evocative of Jay Pritchett's cool demeanor (with a clean, modern design throughout, punctured by colorful decor elements, to signal Gloria's influences), the modern mansion is a symbol of status.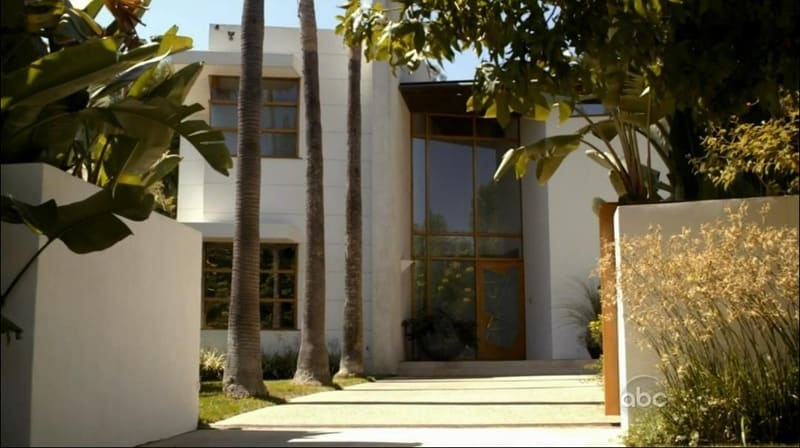 The status is reflected even in the choice of location, as the real-life Pritchett house is located 121 S. Cliffwood Ave., in Brentwood, California.
In reality, the property that serves as Jay's home is much bigger than what we see on the show; exterior shots only captured parts of the Brentwood property.
It only figures Jay's house is set in the quiet, upscale neighborhood of Brentwood — home to some of the most elegant and architecturally distinct mansions we've featured on our website.
Since it's one of the wealthiest areas of Los Angeles, many celebrities have called it home over the years, including Harrison Ford, Cindy Crawford, Marilyn Monroe, Travis Scott, and Arnold Schwarzenegger, to name just a few.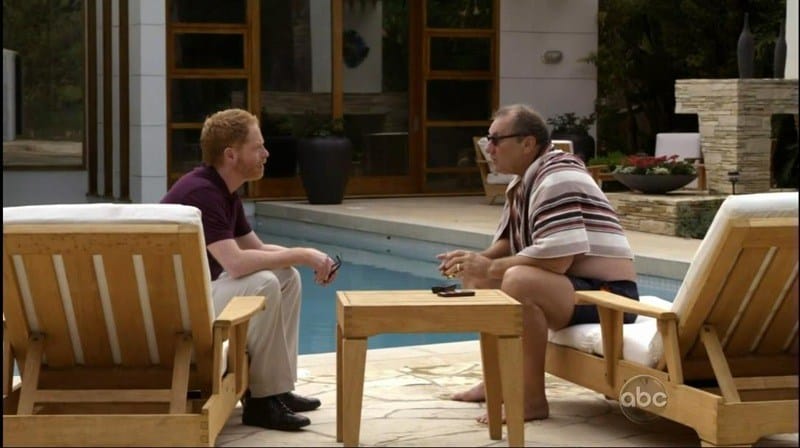 Fittingly, Jay's house is the only one to have a pool — which serves as location for many of the show's most memorable episodes.
However, that gave the set creators a little bit of extra work; since the makers of the show picked the Brentwood home after some of the sets had already been created in a studio, they had the re-imagine some of them to fit with the newly found mansion, including the outdoor fireplace.
The real-life property that serves as Jay's house was built in 1992 and features 5 bedrooms and 6 bathrooms across its 6,359 square feet of living space.
The house last sold in 2013 for a whopping $$7,430,074 (which amounts to $1,168/sqft), but its value has increased significantly since then (and a longtime screen presence as the flashiest house on Modern Family didn't hurt).
It's now worth well over $10 million, with real estate portals like Zillow.com estimating its value around $11.5 million, while Redfin.com places it at around $12.7 million.
Mitchell and Cameron's house: the trendy duplex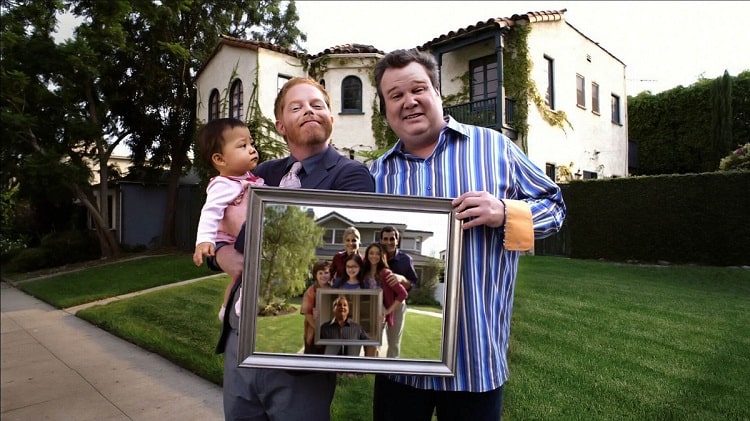 After years of writing about TV homes, I have yet to find a more charming fictional abode than Mitchell's house in Modern Family.
And it couldn't be a better fit for the couple that calls it home, with its perfectly appointed interiors, artsy decor, and lovely little rose garden outside.
The Pritchett-Tucker house is in fact part of a duplex, as we learn in the season 2 episode Slow Down Your Neighbors, which reveals that the upstairs apartment is available for rent.
Later on in the show, the couple ends up buying the apartment upstairs and renting it out for a while.
But throughout the show, Cameron (played by Eric Stonestreet) and Mitchell (Jesse Tyler Ferguson) occupy a single floor, consisting of one living room, a kitchen (that we already know Cam hates to clean), a bathroom, two bedrooms, and a garage.
Before Lily came into the picture, the second bedroom served as Mitchell's office.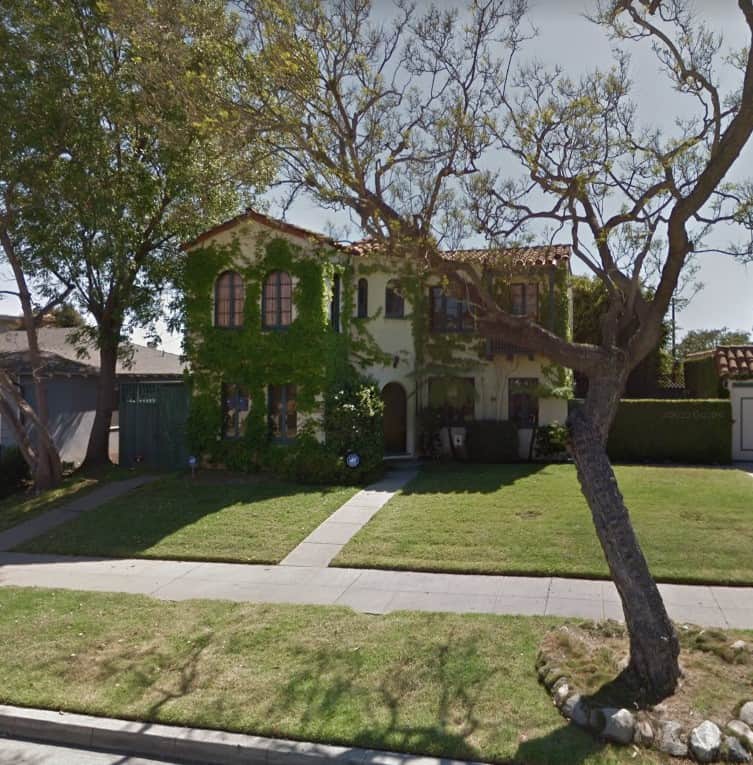 In real life, the charming two-story that served as Mitch and Cam's vine-covered home on Modern Family is located at 2211 Fox Hills Drive, in Century City, CA.
It's set down the street from the studios where the show was filmed, and fairly close to the Dunphy house.
The 4-bedroom, 2-bathroom duplex is almost a century old, having been built in 1929. While there are no recent sales on record, the multifamily property is worth around $2 million.
There's also another duplex that appeared on-screen as the couple's home. For the show's pilot episode, a different property was used as the home of the Pritchett-Tucker family.
The Dunphy house: the dream family home
How much space do you need to fit a family of 5, comfortably? The Dunphy family home seems to answer that question perfectly.
The detached single-family home comes with two living rooms, a kitchen/dining room, two bathrooms, four bedrooms, and a garage. Oh, and a staircase with a broken step (sorry, Phil, we couldn't leave that one out).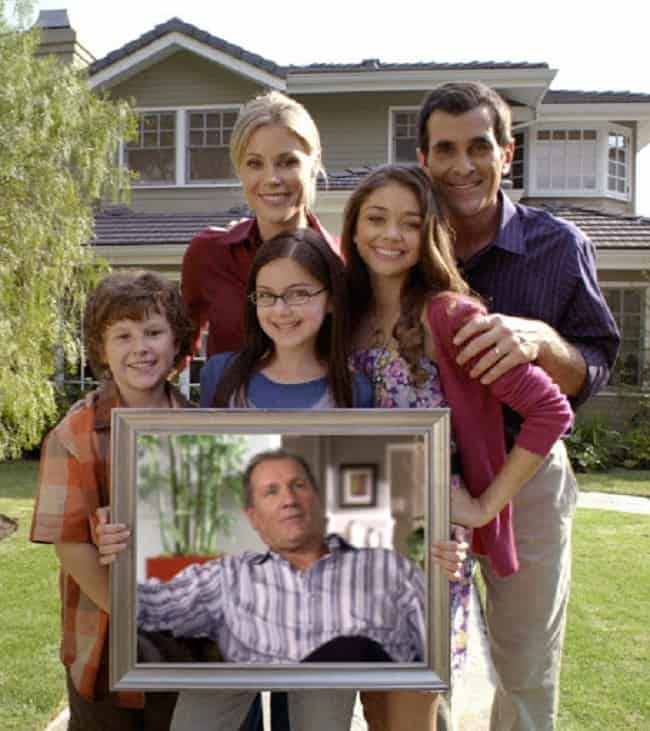 And you'll be happy to hear that this Modern Family house is just as real as the others.
While on the show Claire and Phil's house has a distinct suburban feel, the real-life Modern Family house is actually located at 10336 Dunleer Dr., in Los Angeles, CA — less than two miles from the studio where the show taped.
The two-story traditional that served as home for the Dunphy family was built in 2006 and has a total of 2,792 square feet of living space — including a living room with a fireplace, a gourmet kitchen, and a family room with French doors leading onto an outdoor patio.
It last sold in 2014, fetching a nice $2.14 million, after initially being listed for $2.35 million. One can't help but wonder whether Phil Dunphy, a skilled Realtor himself, would have sold it at full ask.
A fairly traditional American couple, Phil and Claire's characters and tastes are very much reflected in their living space.
In fact, the show's producers have taken extra measures to ensure that that's the case, with the Dunphy's home interiors basically screaming 'catalog-order finishings'.
Nevertheless, despite the often messy accidents that take place inside the home, the Dunphy house is always spotless, inviting, and seemingly a great place to live for all members of the family.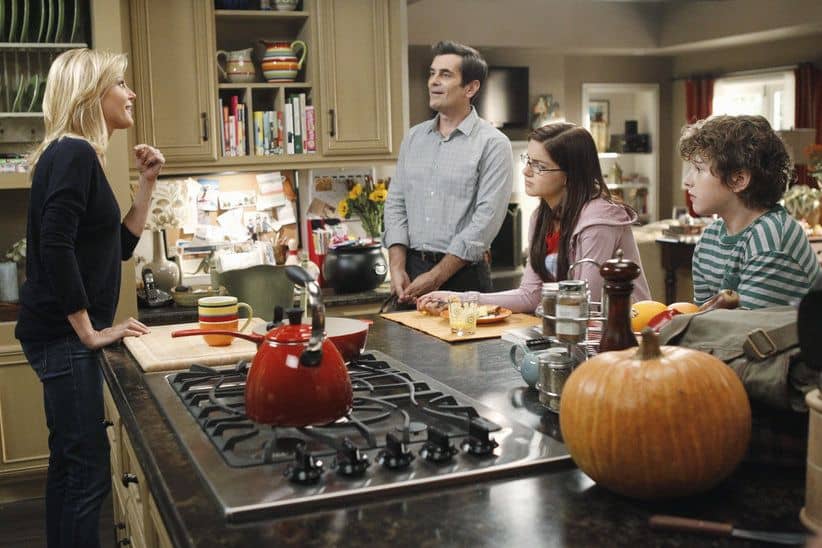 Where does Modern Family take place?
While it's not often mentioned on the show, Modern Family takes place in suburban Los Angeles, California.
The action of the show is set in L.A., and filming took place here too, primarily in the city's Westside.
The Cheviot Hills neighborhood has been heavily featured (this is where the Dunphy house is set), as has Brentwood (Jay's house), and Century City (Mitch's house).
Another prominent location that's made its way to our screens is the Palisades Charter High School, which has been used for the exteriors of Luke and Manny's school.
But for most of the scenes, filming took place on dedicated sets at the 20th Century Fox Studios located at 10201 Pico Boulevard, Century City, Los Angeles.
Jay's country club is also a recurring location, but as far as we can tell most of the scenes that take place here have also been shot in the studio, with one notable exception.
For the fifth season finale — Mitch and Cam's eventful wedding day — Trump National Golf Club Los Angeles plays the role of Jay's country club.
More homes from popular TV shows
The Dream House Derek Built for Meredith in "Grey's Anatomy"
Is the 'Gilmore Girls' House Real? Lorelai And Rory's Cozy Stars Hollow Home
We Are the Ones Who Knock — on Walter White's Fictional Door in Breaking Bad
The Picture-Perfect Houses of Wisteria Lane in 'Desperate Housewives'