When we think of the 'perfect' place to live, few TV locations measure up in the way the houses of Wisteria Lane do in the long-running American comedy-drama series Desperate Housewives. And although this famous street and its residents saw more than their fair share of drama and tragedy over the years, (we'll forever miss you, Mike!) we'd still swap houses with them in a heartbeat.
Yes, those incredibly pretty pastel-painted suburban homes nestled into the picturesque town of Fairview are still on my mind, even if almost a decade has passed since the show wrapped.
Because who could resist Susan's adorable Dutch colonial barn-style home or Gabby's Victorian-style mansion? Not to mention, all of the interiors left very little to be desired, from breathtakingly grand marble washrooms to kitchens fit for a Michelin-starred chef.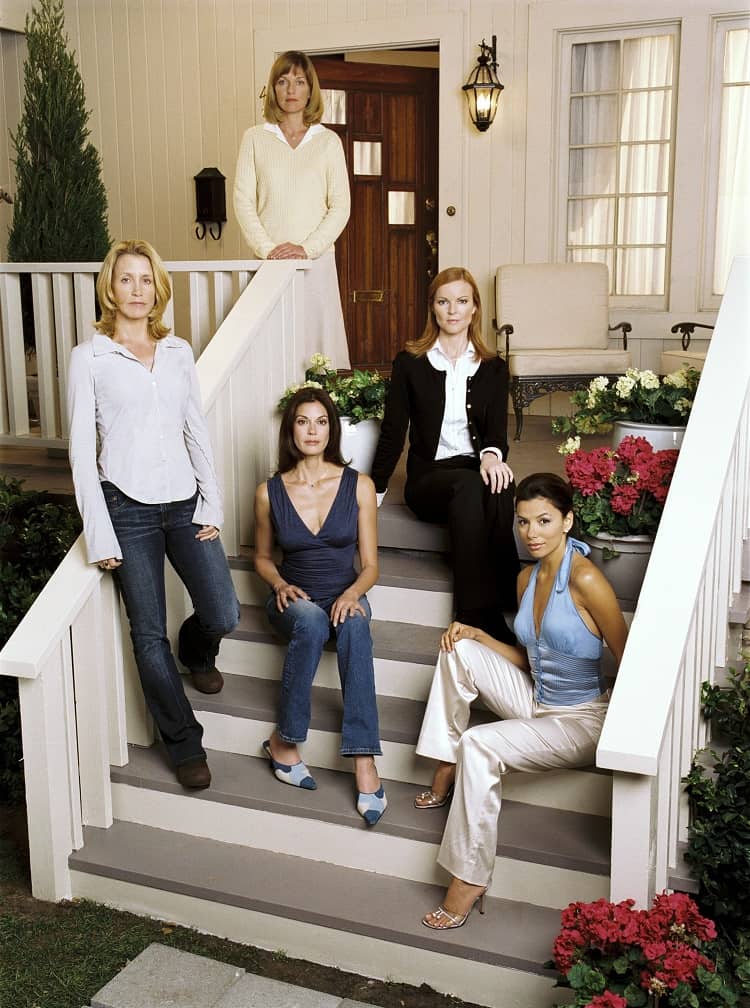 Let's take a closer look at these suburban dream homes…
4353 Wisteria Lane — Susan Mayer's Yellow Dutch Colonial Barn Style Cottage
If you adore homely interiors with a touch of shabby chic, Susan's house was likely your favorite of them all. Right from its welcoming, pale yellow exterior to those bright, open plan indoor spaces filled with cheerful white cabinetry, butcher block countertops, to the light oak accents throughout. 
Susan's home, much like her character, was undeniably adorable yet still managed to reflect her artistic side. Multiple bunches of flowers in vintage vases provided pops of color whilst her earthy-toned lampshades and scatter cushions gave the space a truly lived-in feel.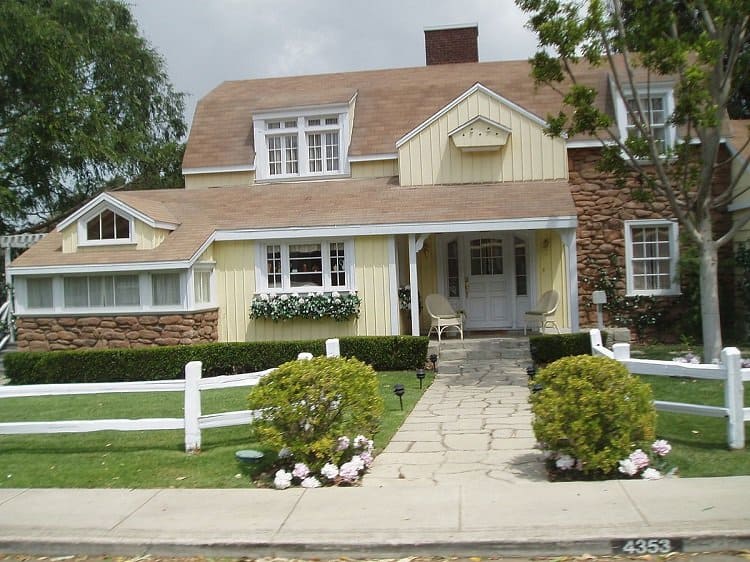 4349 Wisteria Lane — Gaby Solis' Bright Yellow Victorian Style House
In stark contrast to Susan's house, Gaby's luxurious 4 bedroom property was enviably grand with interiors designed to truly impress! Her bathroom alone featured a free-standing bathtub on a raised platform, stunning marble floors, twin sinks, and plenty of gilded mirrors.
Downstairs, the house was flooded with natural light thanks to its multiple floor-to-ceiling arch top windows. These worked perfectly to highlight Gabby's grand staircase, countless framed artworks, and crystal chandeliers. Not to mention, we'd give anything to sleep in that ultra-glamorous four-poster bed complete with draped tulle curtains!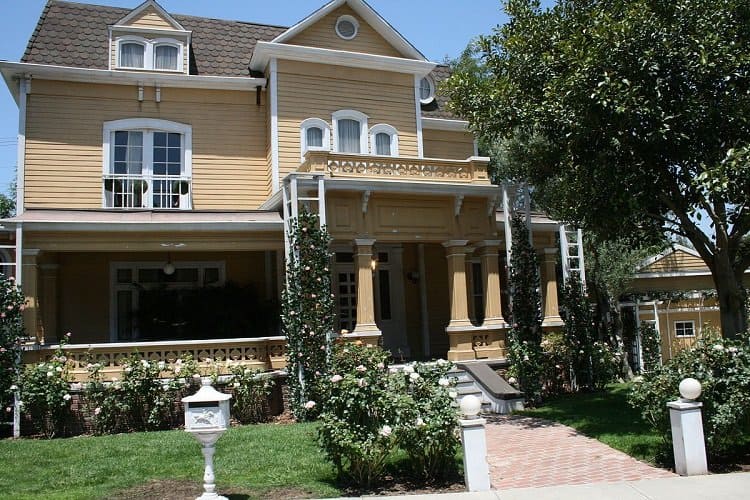 4354 Wisteria Lane — Bree Van de Kamp's Beautiful Blue Colonial Style House
When it came to class and refinery, no home could rival Ms. Van De Kamp. Bree's tasteful home was filled with exquisitely made, dark wood furniture pieces upholstered to perfection. And who could forget that lavish dining room complete with a fine china collection, or her gorgeous kitchen that I'm certain was large enough to make a hundred baskets of muffins per day?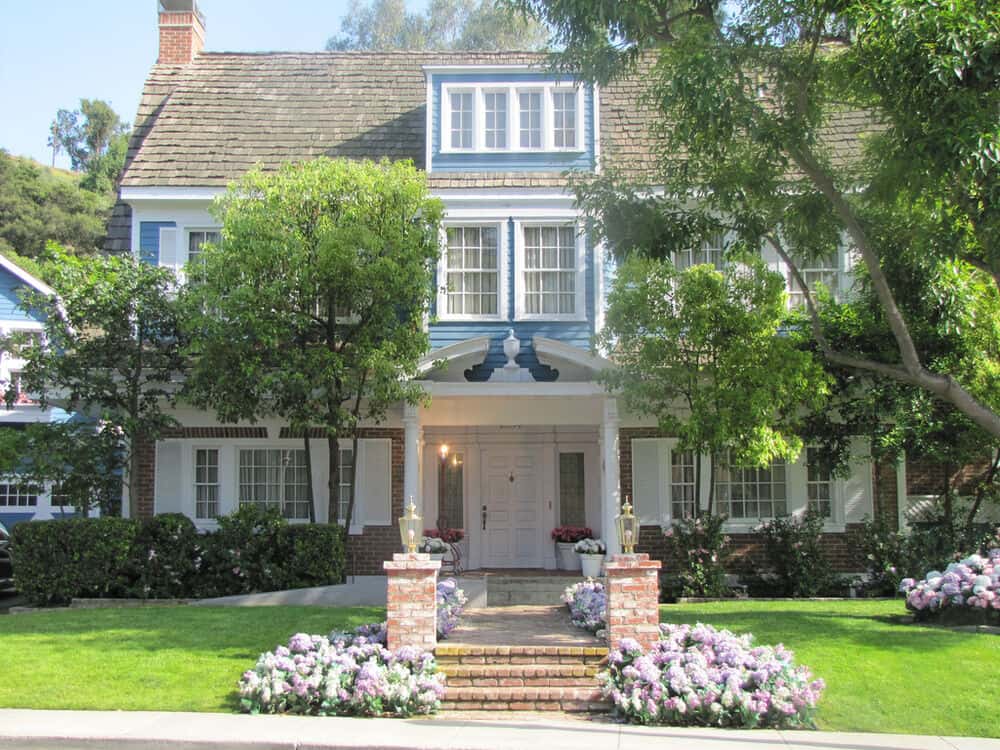 4355 Wisteria Lane — Lynette Scavo's Gorgeous Green Dutch Colonial Style House
Last but by no means least, Lynette's sweet green colonial was the perfect family home. Complete with a powder blue interior, hardwood floors, and an open plan living space ideal for a family of six. I'd move in tomorrow despite the fact I could never quite work out that incredibly imposing staircase?!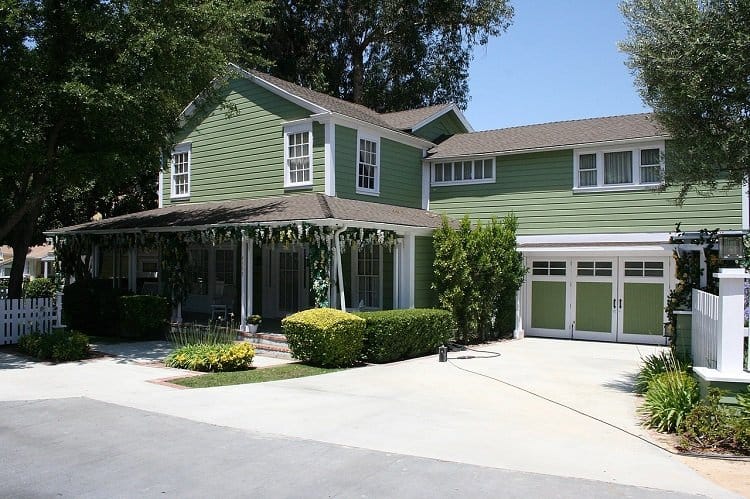 Are the Homes of Wisteria Lane Real? Sort of…
Now, I know what you're wondering. Could your dream of living in (or a least visiting) these homes actually become a reality? Or are they simply sound stages made to look like the real thing on the show?
While the town of Fairview and, therefore, Wisteria Lane is fictional, the street we see in the show actually exists on a full-sized set within Universal Studios in Hollywood. Its real name is Colonial Street and, though you may not have realized it before, you've probably seen it in some of your other beloved TV shows and movies over the years.
Which ones, you ask? As far as television goes, Matlock, Murder She Wrote, Leave It To Beaver, Buffy The Vampire Slayer, and so many more have filmed scenes there. Meanwhile, movies that used the street include The Burbs, Deep Impact, and Why Him?. There have even been a few music videos shot on the street including Michael Bublé's It's a Beautiful Day, and All Star by Smash Mouth.
As for the houses themselves, you might be surprised to know that many of them actually have fully working interiors that were used to film scenes within Desperate Housewives.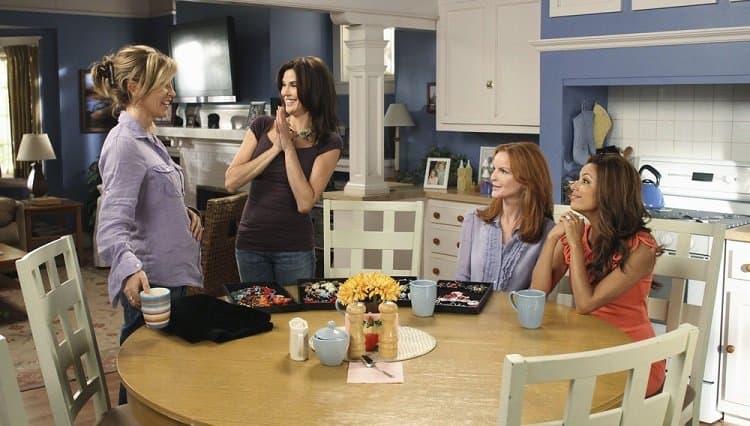 For example, Susan's kitchen/dining room and Gaby's living room, dining room, and entryway interiors are totally real! The rest of the shots within their homes are filmed on a sound stage. Meanwhile, Lynette's home is, as is usually the case with major productions, just an exterior shell with all interior scenes filmed on a set.
The funniest fact I came across? While scenes from Bree's house are also all filmed on a studio sound stage, the shell of her home actually houses the cast and crew's restrooms during filming!
Can You Visit Wisteria Lane/Colonial Street?
Yes! You absolutely can. Since it's still a stop on the famous studio tour at Universal Studios Hollywood, you can book to see the exteriors and idyllic street for yourself next time you're in the area. I can honestly think of no better way to spend an afternoon… aside from watching all my favorite episodes through again for what could literally be the hundredth time of course. 
More homes from popular TV shows
Where to Find the Real Carrington Manor from 'Dynasty'
The Beautiful Beach House in 'Grace & Frankie' Is As Real As It Gets
The Byrde Family House in 'Ozark' is Actually in Georgia
Is It Real? The Creepy Mansion in 'The Haunting of Hill House'