With Drake's house in Toronto serving as filming location for one of the rapper's videos, Toosie Slide, we got to see far more of the Grammy Award-winner's home (and his actual awards, for that matter, as they're all lined up proudly at the beginning of the music video).
The custom-made mansion is the unintentional star of Drake's viral hit, with each room of the house grabbing our attention for completely different reasons.
The Kobe jerseys on display, the full suite of awards in the trophy room, Andy Warhol's Mao painting casually sitting in the background, everything in Drake's house seems to have a story behind it, and we'd love to hear the tales. Until then, we'll be happy to at least catch a glimpse of them.
The rapper started building his dream house in 2016
Ever since Drake bought a two-acre plot of land in Toronto's ultra-lux Bridle Path neighborhood back in 2016 and revealed plans for a palace-like mansion to call home, he's been keeping us hooked on Instagram with little snapshots from the construction site.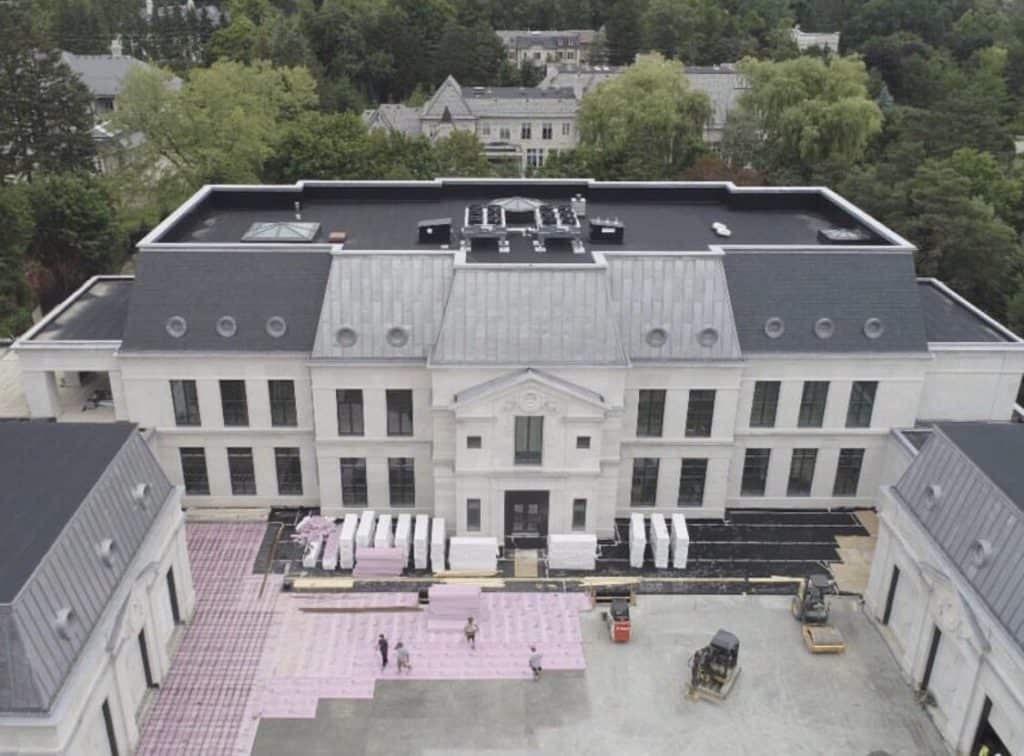 After the massive 35,000-square-foot manse was finally finished, Champagne Papi didn't shy away from inviting his fans on a tour of the opulent home.
Naturally, said tour took place on Drake's Instagram profile, as the Canadian-born artist made sure no uninvited guests get to see inside the property by erecting 4.4-meter high walls (double the maximum height allowed for the area, but he got the city to make an exception).
Now, the mansion serves as both retreat and filming set for the Grammy winner, and will likely be featured more heavily on Champagne Papi's Instagram as the lockdown continues.
Drake's mansion in Toronto — luxury at its best
The In My Feelings rapper purchased a $6.7 million piece of land in North-East Toronto's exclusive Bridle Path area in 2016 — which he later turned into a $100+ million estate, lavishly decorated by celebrated Canadian designer Ferris Rafauli.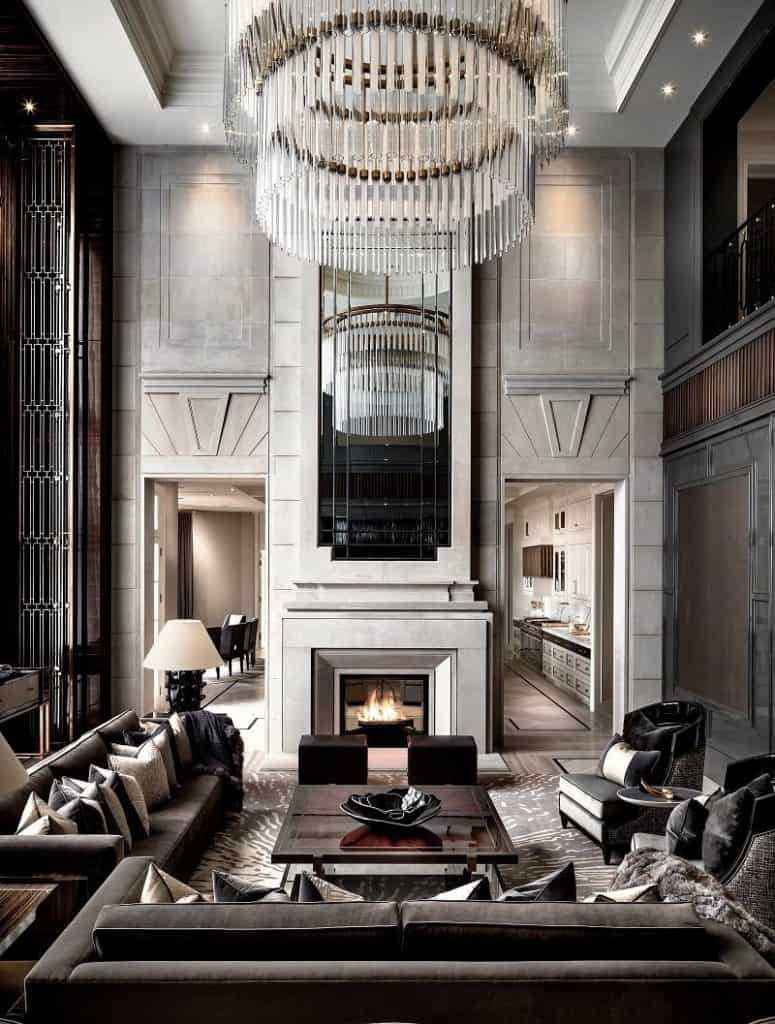 The area is a lavish neighborhood set in North York, Toronto, lined with dazzling mansions owned by celebrities like Celine Dion or Robert Herjavec.
Even Prince bought a home here back in 2001, after marrying Toronto native Manuela Testolini. In fact, Regina George's house (for those of us old enough to remember the meanest of the Mean Girls) was right around the corner from Drake's house.
Drake had big plans for the Bridle Path lot; and he soon started putting them in practice, with his palatial 35,000-square-foot manse starting to take shape. And since Champagne Papi is a sharer, he constantly kept us up to date with the progress, sharing videos on Instagram of the construction work underway.
Luckily, he didn't stop sharing after the home was finished. After a few IG stories touring the house, the 34-year-old rapper decided to invite the pros in for an official tour and opened up the doors to Architectural Digest for a photo session.
He showed off his expansive living room, home to a roaring fireplace with a tall mirror hanging above it. Here, huge chandeliers scale the high ceilings and a grand piano sits in the corner of one of the rooms.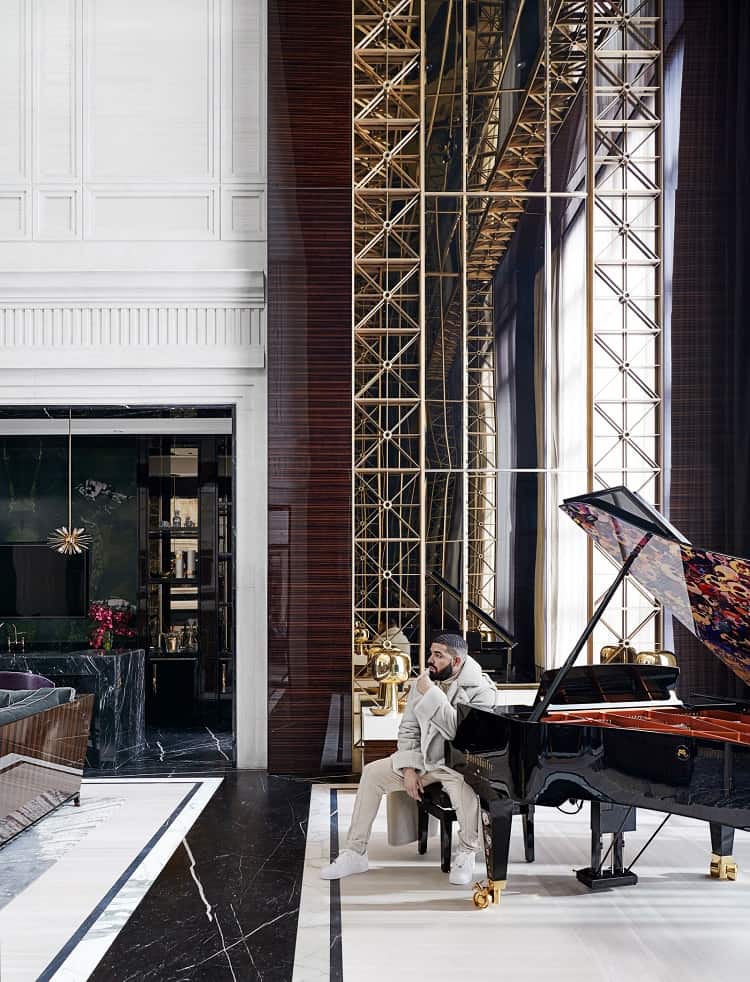 Drake also gave fans a glimpse of his mega kitchen, which boasts an opulent marble island and rows of navy blue chairs for his guests to casually dine at.
In tune with the maximalist décor, huge chandeliers adorn the ceilings — but don't think for a second that they're limited to the living areas. In fact, the stairs (uniquely made out of suspended cantilevered block marble) are peppered with striking chandeliers that create a dazzling effect.
Oh, and did we mention the toilet? The rapper's home comes with a rather unique toilet that plays soothing music to relax you while you, ahem, do your business. Not to mention it projects colorful lights and the lid lifts automatically, so even going to the bathroom can be quite the experience.
Previous coverage reported that the master suite alone is twice the size of a regular apartment and features two covered decks, a hot tub, a dressing room, a kitchenette, and a steam shower, among other things.
The crib also features an NBA regulation-size basketball court, which couldn't be a better fit for the Toronto Raptors global ambassador — exceeept when it's branded with Drake's own brand logo, OVO.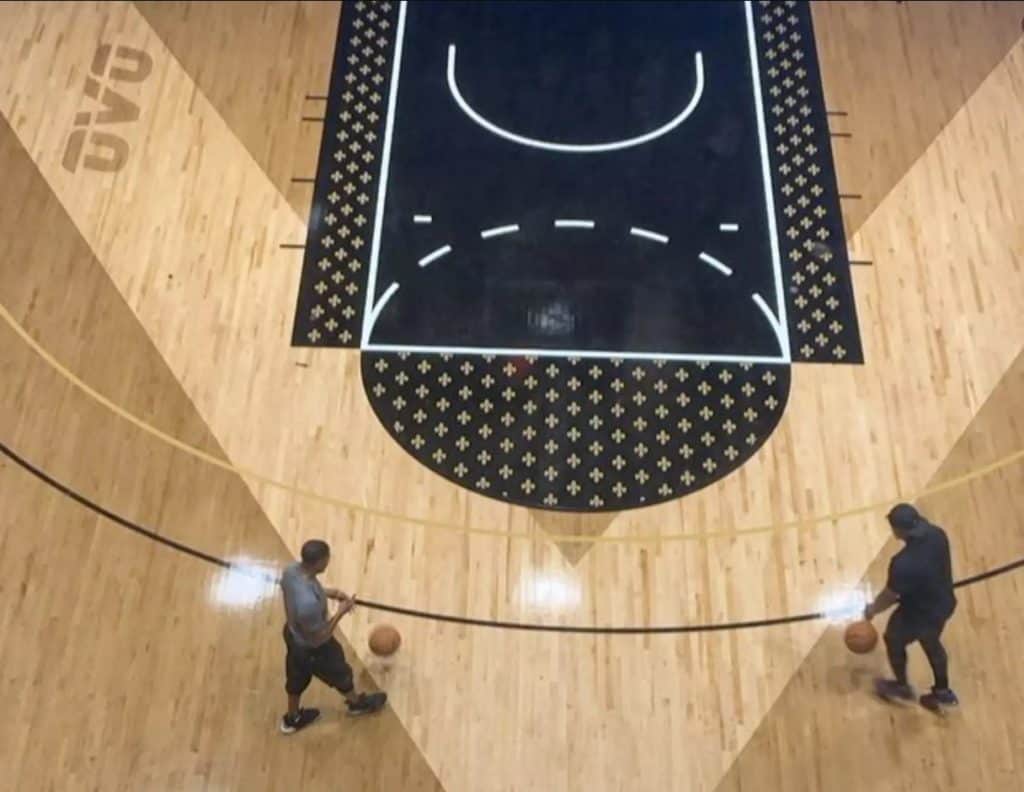 Taking an official tour of Drake's mansion
If Toosie Slide left you wanting to see more of Drake's house in Toronto, the rapper shared a bunch of details with the Architectural Digest team, after giving them a full tour of the mansion.
When asked what his favorite room of the house is, Drake shared that his favorite spot is his 3,200-square-foot master-bedroom suite — which comes with an additional 1,100 square feet of covered terraces.
"The bedroom is where I come to decompress from the world at the end of the night and where I open my eyes to seize the day," he told AD.
"The bed lets you float, the shower lets you escape and gather your thoughts, and the closet makes you want to talk to yourself while you're getting dressed." And after catching a glimpse of the bedroom, we can totally see why this room would be the artist's top choice.
Drake's mansion was designed by Ontario-based luxury home designer and builder Ferris Rafauli, and personalized to suit Toronto's favorite son like a glove!
And since there are so many rooms of the house left for Drake to 'gram, we're looking forward to seeing what else Drake's Toronto home has to show.
A recurring star in Drake's music videos
It's worth noting that Toosie Slide is not the only music video the mansion has been featured in.
Drake's house — and its new branding, as the rapper dubbed it The Embassy — made its debut in the artist's first two solo songs of 2020, unveiled in one single music video, "When to Say When/Chicago Freestyle".
The two songs, each a tribute to a different artist (Jay-Z for the first, Eminem for the latter), had very different settings, with the Chicago Freestyle part being actually set in Drake's hometown of Toronto, and seeing the rapper drive out of his actual home.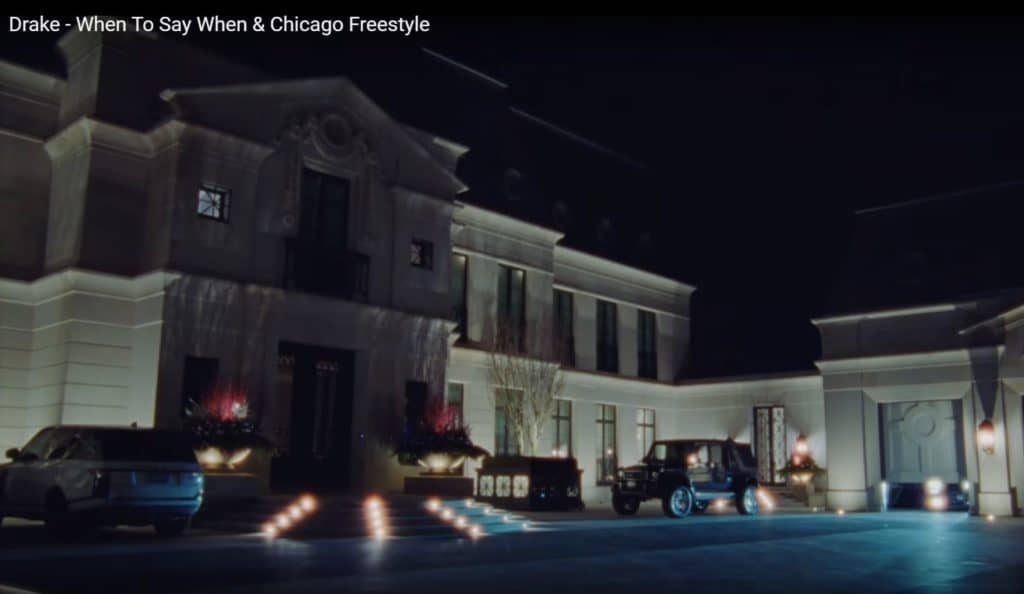 More celebrity homes
12 most expensive rapper houses: Drake, Jay-Z, and Kanye in the lead
Jay-Z and Beyoncé Live in a Bel-Air Mansion Fit for Royalty
Alicia Keys' house is a modern architectural masterpiece
See Inside Travis Scott's Houses: From LA to Houston