If there's one thing rappers are known for, it's their appetite for all things opulent, extravagant, and larger than life.
We're talking bling, watches, cars, and fabulous homes of course.
When it comes to their houses, no price tag is too high, no amenity too lavish, and no dream unachievable.
Just check out these super expensive rapper houses that will give you major #homegoals and leave you wanting more…
Drake's $100+ million estate in Canada
Champagne Papi may have started from the bottom, but he rose to the very top.
Not only is Drake one of the biggest names in the industry, but he's also the proud owner of the most expensive home in hip hop, a massive 35,000 sq. ft. mansion set in his hometown of Toronto, Canada.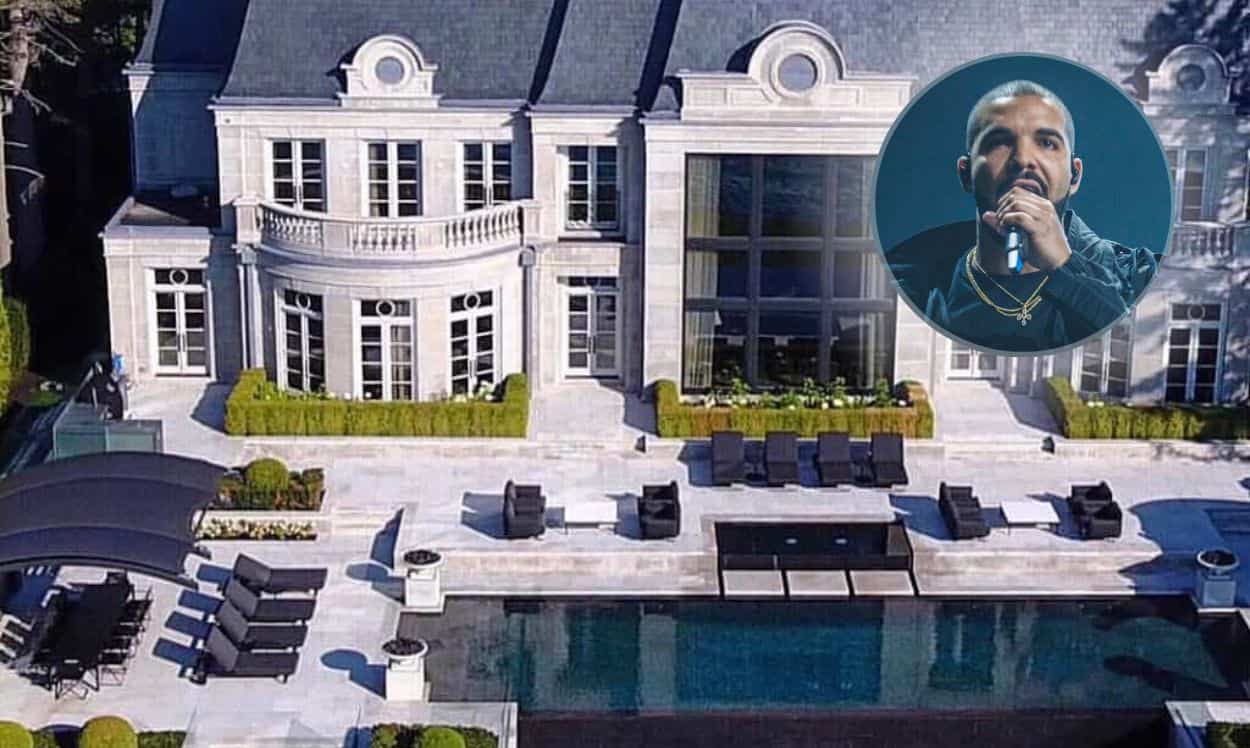 Fans first got a glimpse of his Toronto mega mansion in the viral Tootsie Slide video and couldn't wait to see more of it.
Drake of course obliged by giving us a virtual tour of the 35,000-square-foot property that is spread across two acres, followed by an official Arch Digest Open Door house tour.
The Grammy Award-winning rapper purchased the land for $6.7 million in Toronto's exclusive Bridle Path area in 2016. He then slowly transformed it into the unbelievable home that it is with the help of Canadian designer Ferris Rafauli.
Read all about Drake's sprawling mansion here (and take a peek inside).
Jay-Z & Beyonce's $90 million mansion in Bel-Air
When it comes to Hollywood's original power couple Jay-Z and Beyonce, the glitz and glamor go far beyond their stage life.
We're talking about their $90 million mega-mansion in Bel-Air. The duo spent over three years trying to find the home of their dreams and it was quite the struggle but hey, all's well that ends well.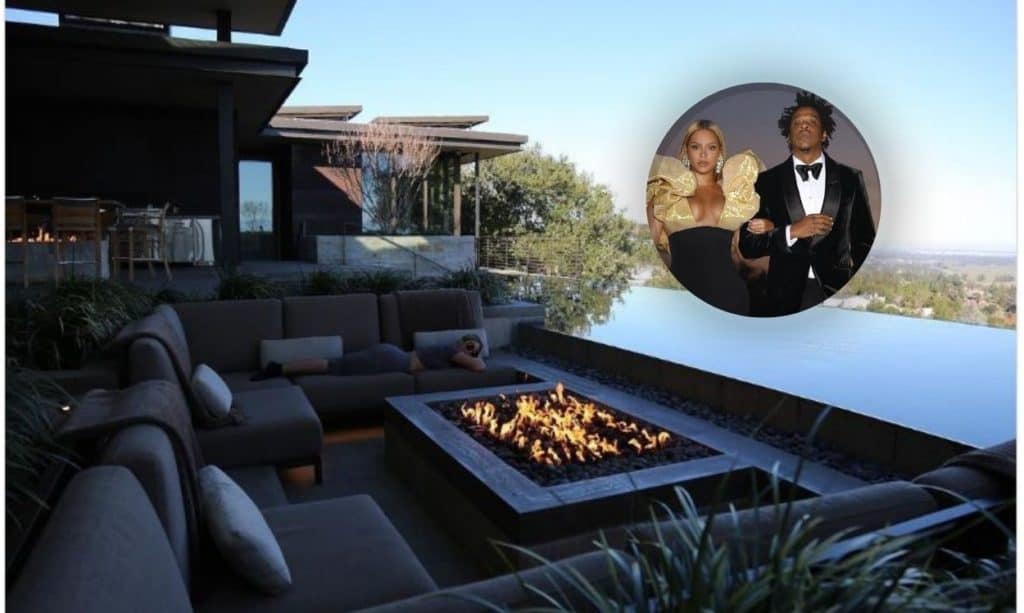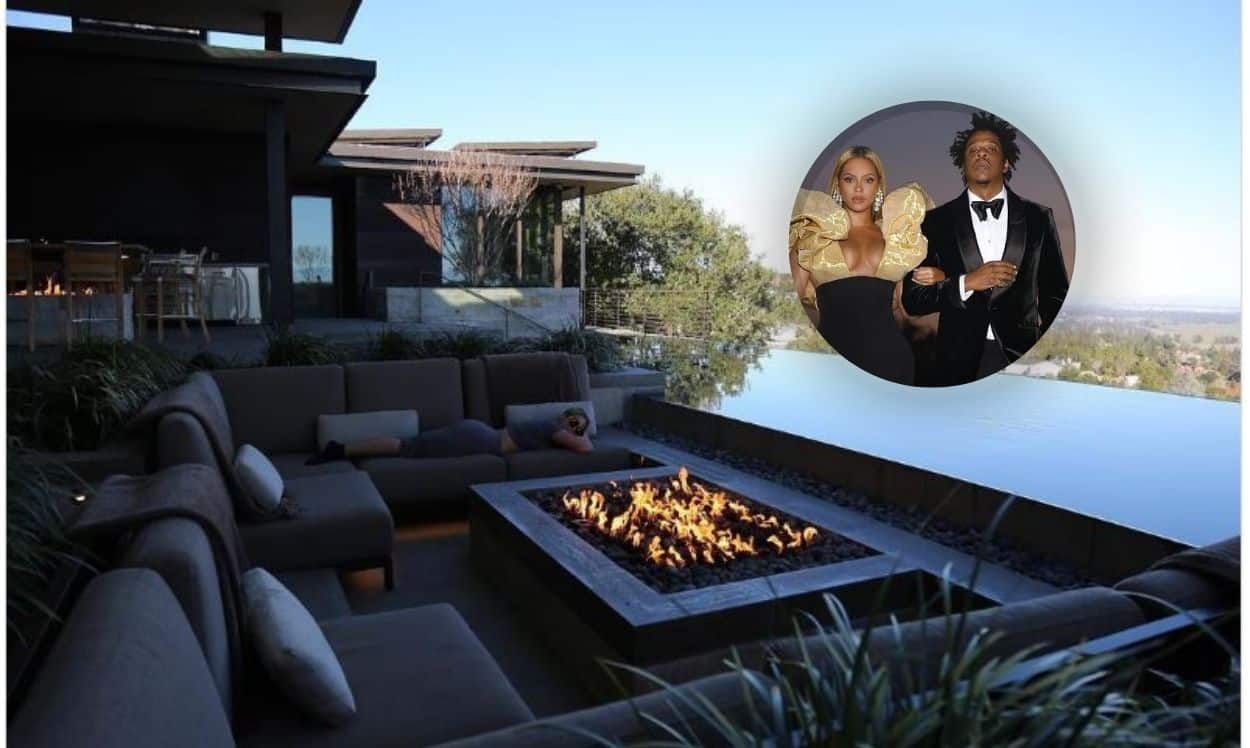 The mansion sits on 1.5 acres of land, spans over 30,000 square feet, and comes with 8 bedrooms, 11 bathrooms, a spa, 4 pools, a 15-car garage, a home theatre, a recording studio, and a personalized basketball court.
The home was designed by Paul McClean and features steel, glass, and marbled limestone all over.
The couple spent a whopping $750,000 on renovating the place before moving in with their children, Blue Ivy, Rumi, and Sir Carter.
Now, this is the kind of place that's perfect for Hollywood royalty!
Kanye West's house in Malibu, worth $57 million
Whether it's fashion or real estate, Kanye West's choices are truly one-of-a-kind.
The minute Ye visited Naoshima, the Japanese "art island" designed by architect Tadao Ando, he was obsessed! So, when a property designed by Ando popped up for sale, he knew he had to have it.
Kanye paid a whopping $57 million for the residence that's best described as part house, part sculpture.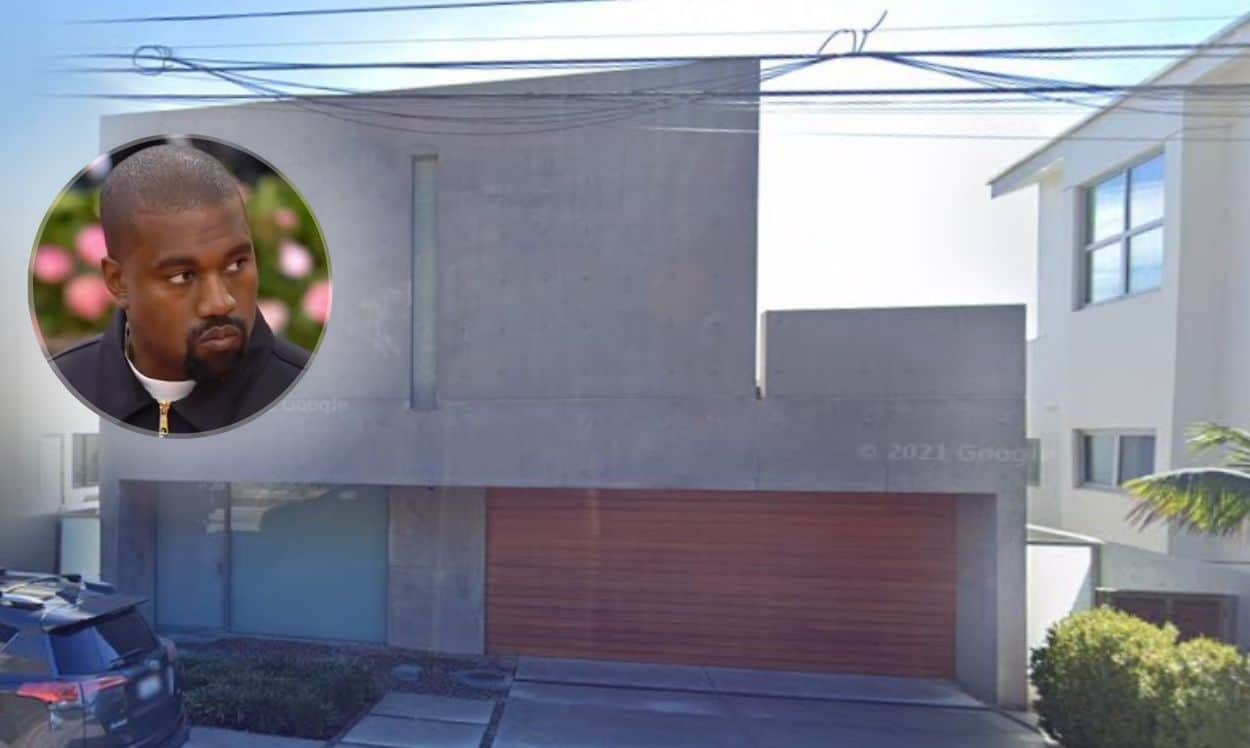 Kanye's house is truly unique: the nearly 4,000-square-foot house resembles a military-grade bunker and required 1,200 tons of concrete, 200 tons of steel reinforcement, and 12 pylons to keep it from sinking into the sand.
The property has direct access to the beach and offers stunning views of the ocean. It has three levels with the ensuite guest rooms on the lowest floor, the living room and kitchen on the middle floor, and the master bedroom and rooftop terrace on the topmost floor.
Latest pictures show that Kanye West's house is being completely stripped and renovated. We wonder what the music and fashion mogul has in mind.
Word is that he's taking advice from American businessman James F Goldstein who owns one of the most unique pads in the country, the Sheats-Goldstein Residence.
One thing that we can be sure of is that the end result is going to be a Kanye masterpiece!
Dr. Dre's house is a $40 million modern-day castle
Considering Dr. Dre has been in the music industry for over three decades, it's not surprising to see him rank so highly on this list.
The rap icon owns quite a few luxury properties but the most notable one is his $40 million Brentwood property that he purchased from Tom Brady and Gisele Bundchen.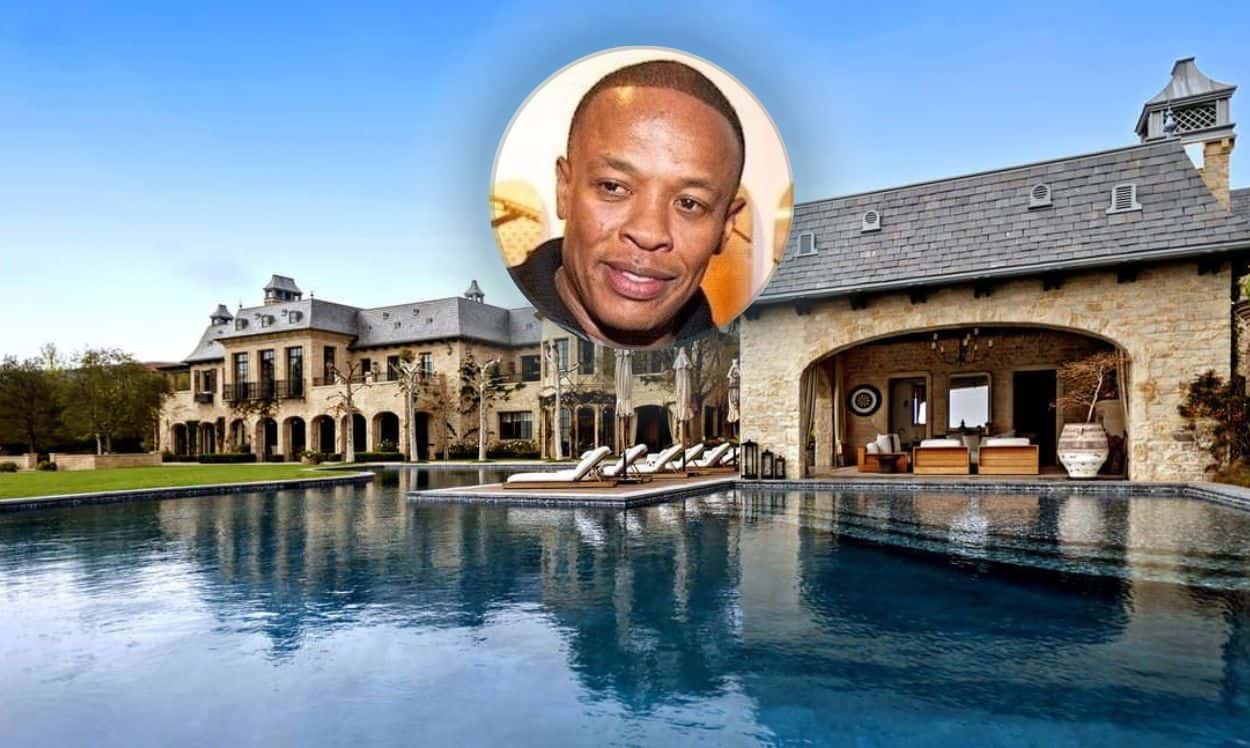 The 18,000-square-foot modern-day castle sits on 4 acres of land and is surrounded by a moat. Dr. Dre's house has five bedrooms, nine bathrooms, a gym, a massive kitchen, a sauna, and a six-car garage.
The master bedroom also has a balcony with an outdoor bathtub and there are seven fireplaces throughout the house. A property like this would be incomplete without an infinity pool, a pond with a waterfall, a cabana, and a large green space for the kids.
Recently, Dr. Dre also added a basement studio to the home. Each room is decorated to perfection and the entire space has high ceilings and tons of natural light.
Travis Scott's $23.5 million yacht-inspired home
Rapper Travis Scott's biggest flex after Kylie, Stormi, and Wolf has got to be his lush mansion in LA.
In June 2020, the "Sicko Mode" artist bagged the massive Brentwood mansion for $23.5 million and he supposedly paid for it in cash. Yep, you read that right!
The almost 17,000-square-foot hilltop house resembles a modern yacht with many levels of balconies and open plan areas — see more of Scott's striking modern abode here.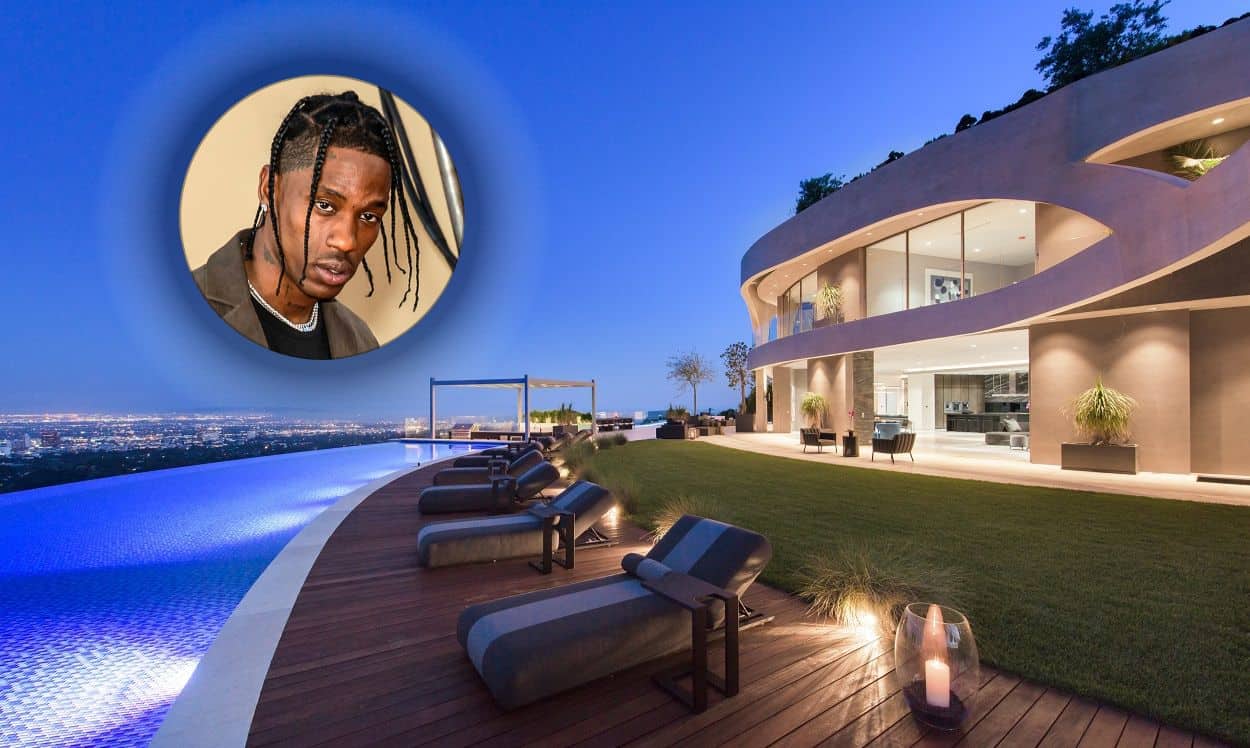 There are 7 bedrooms, 11 bathrooms, a 15-seat home theatre, a gym, a sauna, a wet bar, an outdoor kitchen, a poolside cabana, a game room, and a 75-foot infinity pool with an underwater sound system.
The party-ready mansion also has a jacuzzi, a zen garden, and a water wall designed by Mario Romano. There's even a temperature-controlled, glass wine room that can hold up to 650 bottles of wine.
The best part about the property is that it offers unobstructed views of Los Angeles. Word is that Travis has also bought the property next door and plans on expanding his existing home soon.
Swizz Beatz & Alicia Keys' $20.8 million architectural wonder
It's not every day that you can claim to own a home that inspired Tony Stark's house in Iron Man but that's exactly what Swizz Beatz and Alicia Keys can do.
Their stunning cliffside mansion known as "The Razor House" also known as "America's coolest home" was designed in 2007 by San Diego-based architect Wallace E. Cunningham and was bought by the couple in 2019 for a whopping $20.8 million.
The 11,000-square-foot concrete and glass mansion sits perched on the edge of a cliff overlooking the Pacific Ocean (take a tour of the spectacular home here).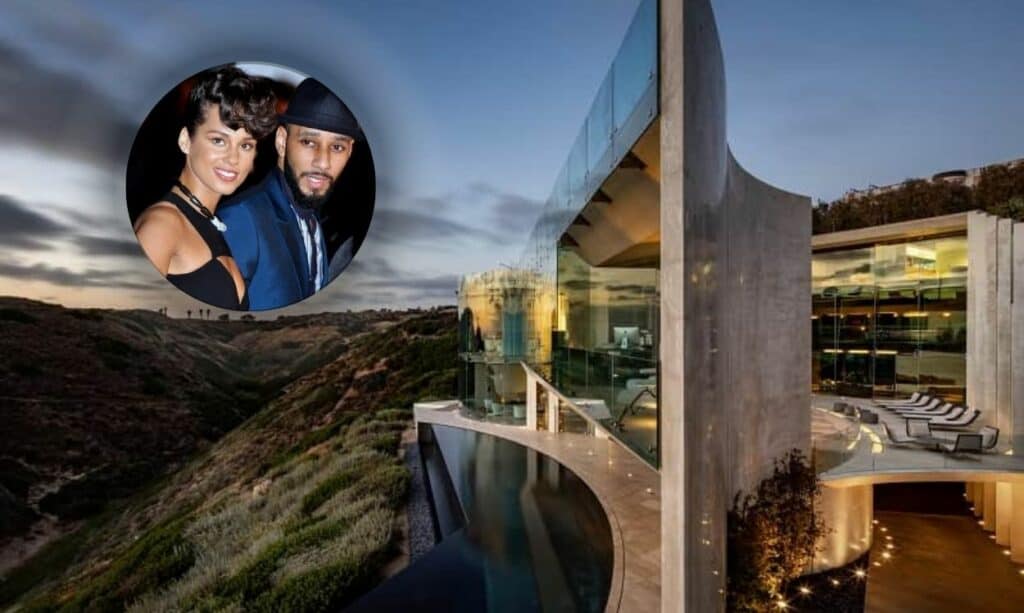 The house has three levels, 6 bedrooms that open up to gorgeous views, 6.5 baths, a state-of-the-art kitchen, several outdoor lounge areas, a gym, two steam rooms, a theater, a library, and an infinity pool that stretches out over the cliff's edge.
While the modern architectural wonder has not appeared in any blockbuster movies, it can be seen in a VISA Black commercial as well as a Calvin Klein ad.
The superstar couple prefers to call their home "Dreamland" and we can see why. This is definitely a real estate dream come true!
Lil Wayne's house in Hidden Hills, worth $15.4 million
Influential rapper and music producer, Lil Wayne's $15.4 million mansion in Hidden Hills is rather special as it is his first real estate purchase on the West Coast.
The modern farmhouse-inspired structure was built in 2019 and is quite the luxury abode.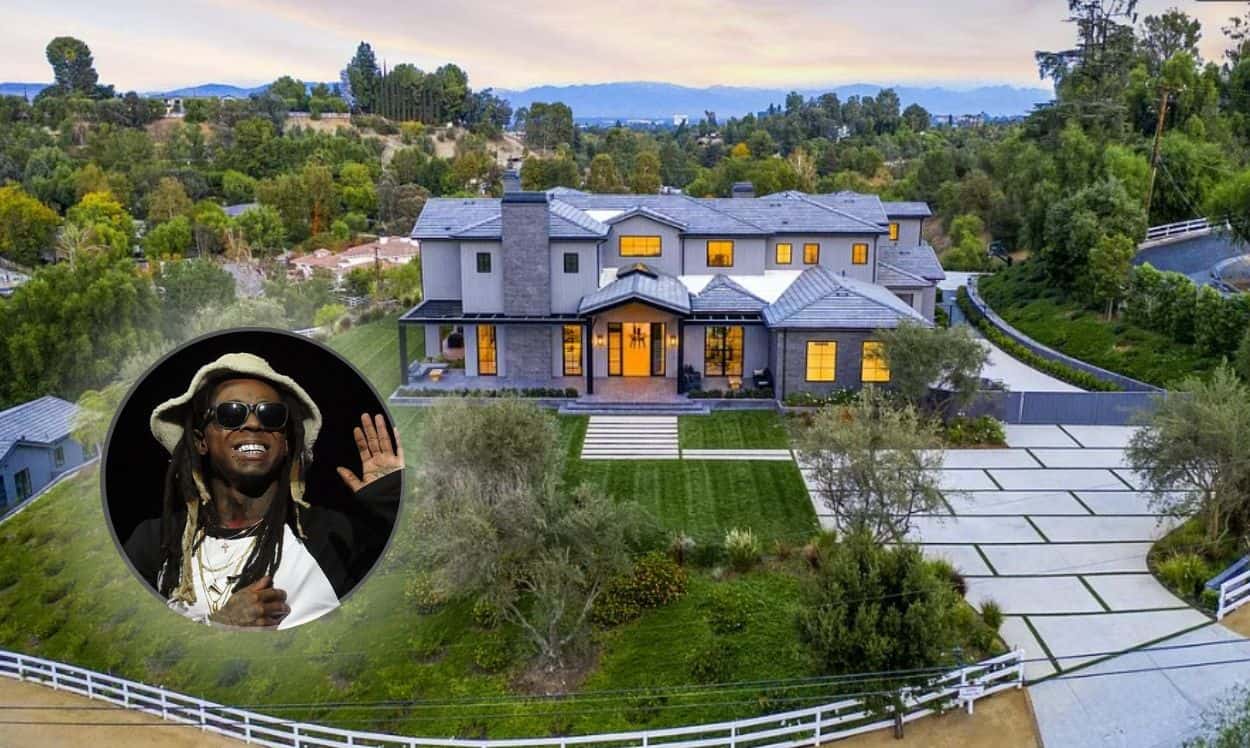 Located next to Kylie Jenner's home, the property sits on three acres of landscaped land that includes rolling lawns and stunning olive trees.
There's a main house as well as a smaller guest house bringing the total space to a little over 12,000 square feet. Between the two residences, there are 7 bedrooms and 8 baths.
Other features of Lil Wayne's house include an open floor plan, a chef's kitchen with two large islands, a huge breakfast room, a glass-encased wine display, a piano area, a home theater, a fitness studio, an entertainment lounge with a wet bar, and gorgeous views all around!
Kendrick Lamar's house in Manhattan Beach, worth $10 million
Pulitzer Prize-winning "poet laureate of hip hop," Kendrick Lamar is best known for making history with his music.
When he's not mesmerizing fans with his performances, he's busy relaxing in his $10 million Manhattan Beach mansion in L.A.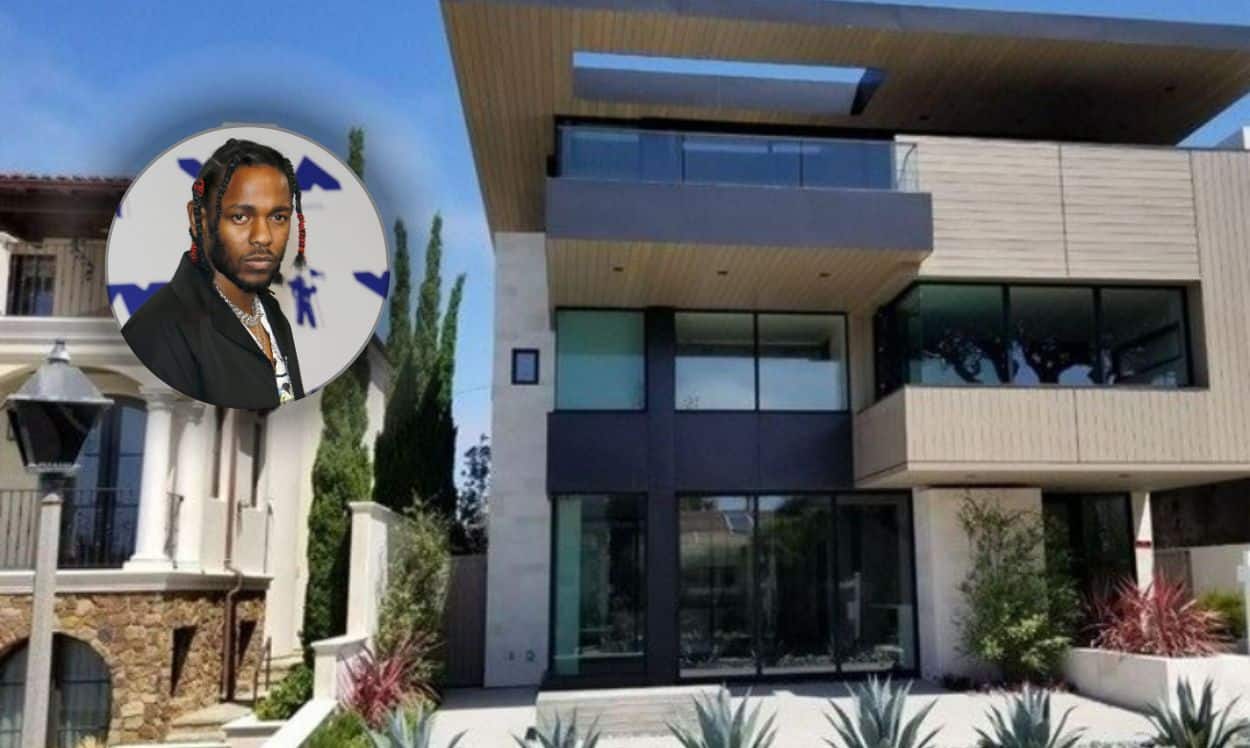 Since it was an off-market deal and the property was never publicly listed, not much information can be found about it. What we do know is that the mansion was built by luxury homebuilder Powers Development.
Kendrick Lamar's house is three stories tall, and the 5,350-square-foot mansion includes 4 bedrooms, 7 full bathrooms, a kitchen with designer appliances, a resort-style master room, and one or two wet bars.
The mansion may not be oceanfront but it does have gorgeous sunset water views from the topmost level. Additionally, it includes a three-car garage, a front yard with a patio, and floor-to-ceiling walls made of glass.
Nicki Minaj's house in Los Angeles, $10 Million Home in Los Angeles
Nicki Minaj may be the Queen of rap but despite being one of the most popular celebrities of our time, she still prefers to keep her family life private.
The "Super Bass" star reportedly has an estimated net worth of $80 million which is why it's not surprising that her lavish home in the Flats area of Los Angeles cost her $10 million.
Nicki shares the space with her husband, Kenneth Petty, and their son "Papa Bear." Nicki Minaj's house spans 7,000 square feet and comes with 6 bedrooms, 8 bathrooms, a living room with high ceilings and large windows, and an outdoor pool with plenty of sun loungers.
The best place to take a closer look at her mansion is actually on Nicki's Instagram account where she often posts amazing pictures of her enviable life. But if you'd like to get the gist of things quickly, we've written extensively on Nicki Minaj's house here.
Big Sean's house in Encino, bought for $8.1 million
After selling his $11 million home in L.A's coveted Mulholland Estates, Grammy-nominated rapper, Big Sean doled out $8.1 million for a French Normandy-style mansion in a gated community in Encino.
The property was originally built in 2005 and was completely renovated around four years back.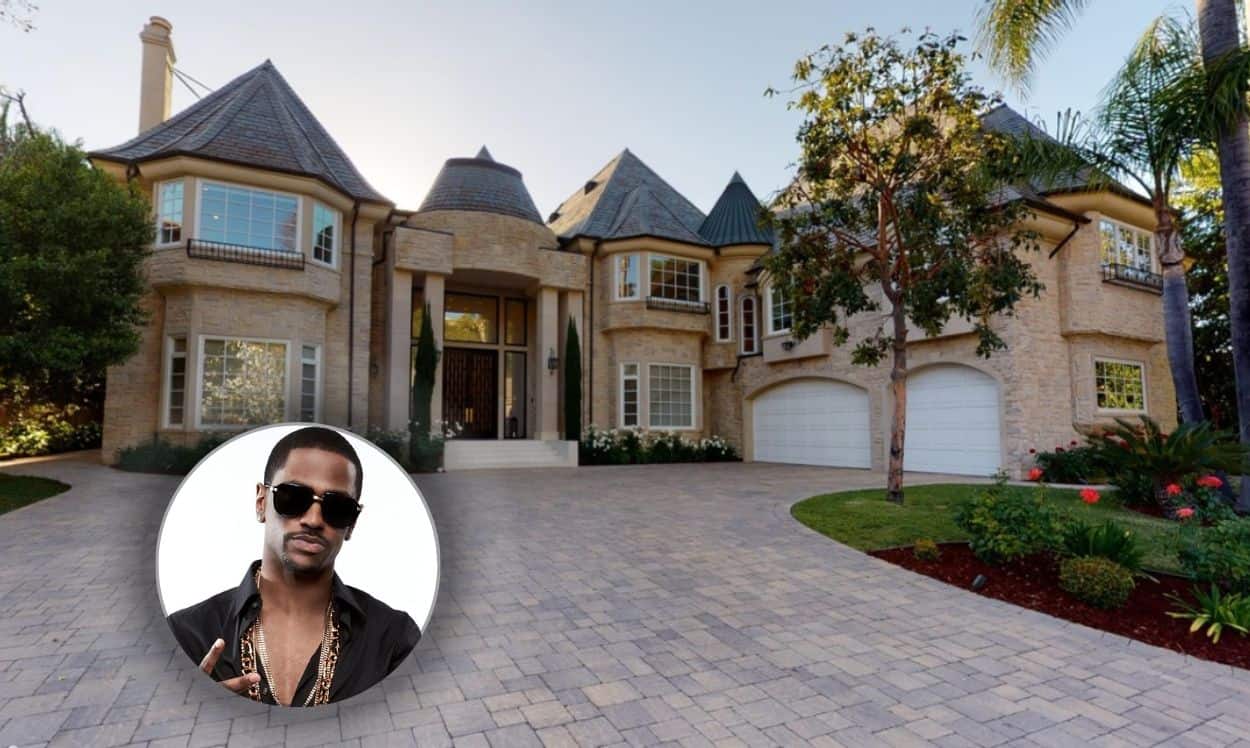 Big Sean's house sits on a half-acre lot and consists of more than 10,000 square feet of living space spread across three floors. It has 6 bedrooms, 9 bathrooms, a sleek gourmet kitchen with two islands, a breakfast nook, and an outdoor loggia with a built-in barbecue.
The living room features dome skylights as well as a library wall and the house even has a spa area complete with a sauna and massage room.
Of course, there's also a movie theater, a wine cellar, and a game room. It's safe to say that this European chateau has it all!
Tyler, the Creator's house in posh Bel-Air, worth $7.9 million
The most significant aspect of Tyler, the Creator's house in Bel Air is that it was originally built in 1965. The gorgeous home has gone through quite a few renovations over the years and is now a perfect amalgamation of mid-century exteriors and contemporary interiors.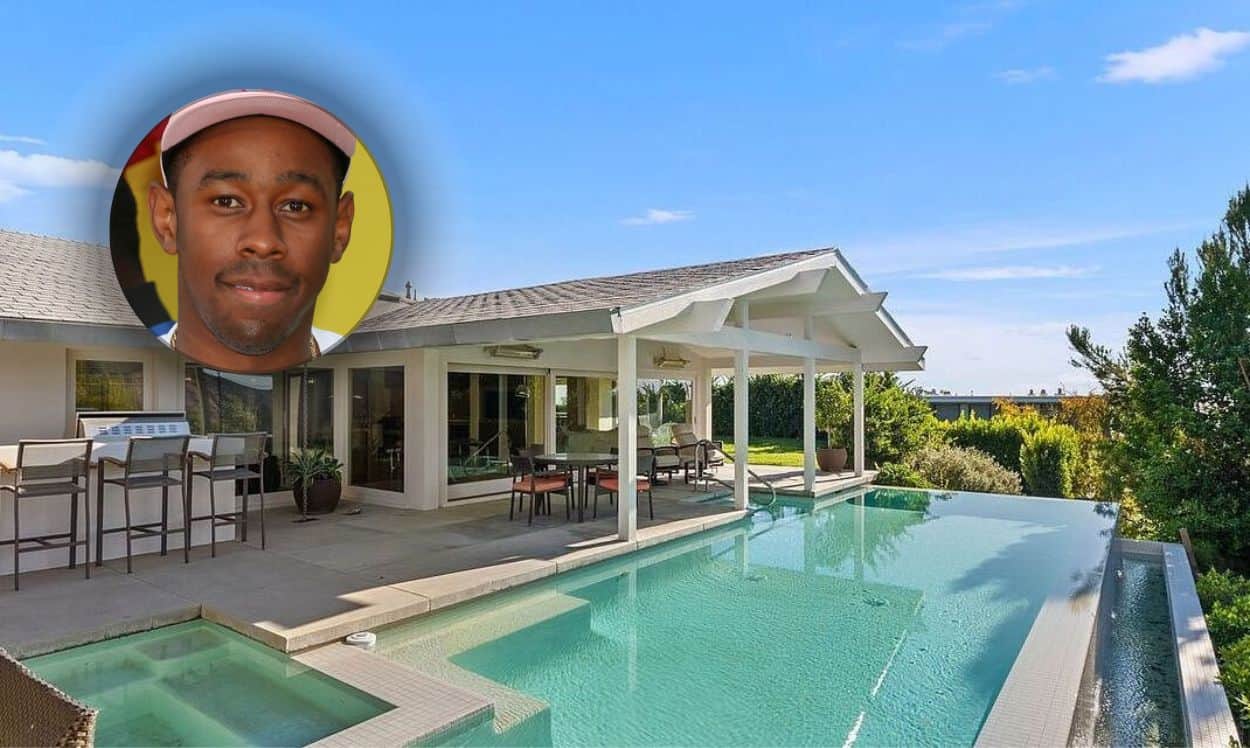 We're talking walls of glass, high ceilings, travertine floors, and more. The stunning property boasts 6,000 square feet of living space with 4 bedrooms, 5 bathrooms, a media room, an office space, and two huge walk-in wardrobes.
Other notable features of Tyler, the Creator's house include an alfresco drinking space, a home gym, an infinity pool and spa, and an outdoor fireplace.
All in all, the mansion defines luxury and is perfect for a hip-hop star like him.
Machine Gun Kelly's $7.5 million mansion in Encino
Last but not least, we have Machine Gun Kelly's beautiful L.A mansion.
Ever since he started dating Megan Fox, the duo has constantly been in the limelight. Now that they're engaged and soon to be married, Colson Baker aka Machine Gun Kelly seems to have found the perfect future home for them.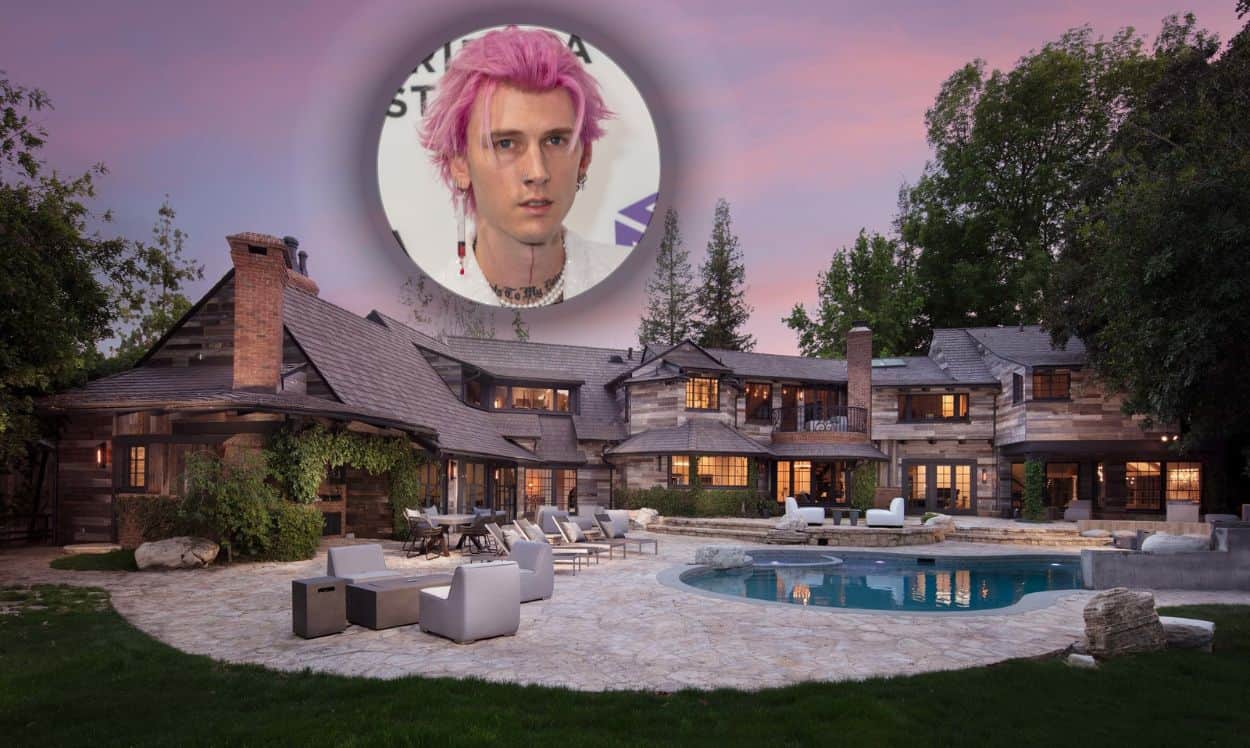 Kelly bought the property off his friend and Youtube star, Logan Paul. The mansion was originally built in the 1970s by Robert Byrd but has since undergone multiple renovations.
The almost 9000-square-foot structure sits on one acre of land and boasts 7 bedrooms, 8 bathrooms, a custom wet bar, top-of-the-line kitchen appliances, an oversized backyard pool, and a sprawling patio.
There's also a one-bedroom, one-bath guesthouse for whenever the couple has visitors. The quirky mansion is beyond perfect for MGK and Megan!
More rapper homes you might like
Celeb Spotlight: Cardi B's House in Atlanta is Pure Old-World Luxury
See Inside Rapper Polo G's House, a Stately Mansion Worth $5 Million
Post Malone's $3 Million Utah Compound Doubles As a Doomsday Bunker
'Cash me Outside' girl Bhad Bhabie is the proud new owner of this $6.1M Florida mansion