Who amongst us hasn't wondered at some point what it would be like to live in a castle?
Whenever we visit a castle, we think of what it must have been like to live there, and imagine ourselves as king (or queen) of our domain.
Then we unfortunately snap back to reality and go about our lives, always dreaming of that old stone castle perched atop a cliff overlooking a quaint English village…Right, back to our story here.
When you think of castles, your mind immediately goes to Europe. The dreamlike, fairy tale castles in Germany, England, Scotland, or France can make your jaw drop and your imagination run wild.
European countries are rich in history, and there are countless jaw dropping castles to visit, including Neuschwanstein in Germany, Alhambra in Spain, Corvin Castle in Romania, Kilkenny Castle in Ireland — the list can truly go on and on, and that's not an exaggeration.
But what if you don't have the means, the time, or the desire to travel across the ocean to visit these castles in Europe?
Well, if you live anywhere around New York, you'll be glad (and perhaps even surprised) to know that there are various castles worth visiting right here in the Empire State. Don't believe us? Keep reading to see what your own backyard has to offer.
1. Boldt Castle
First on our list is Boldt Castle, a landmark tourist destination located in the Thousand Islands area.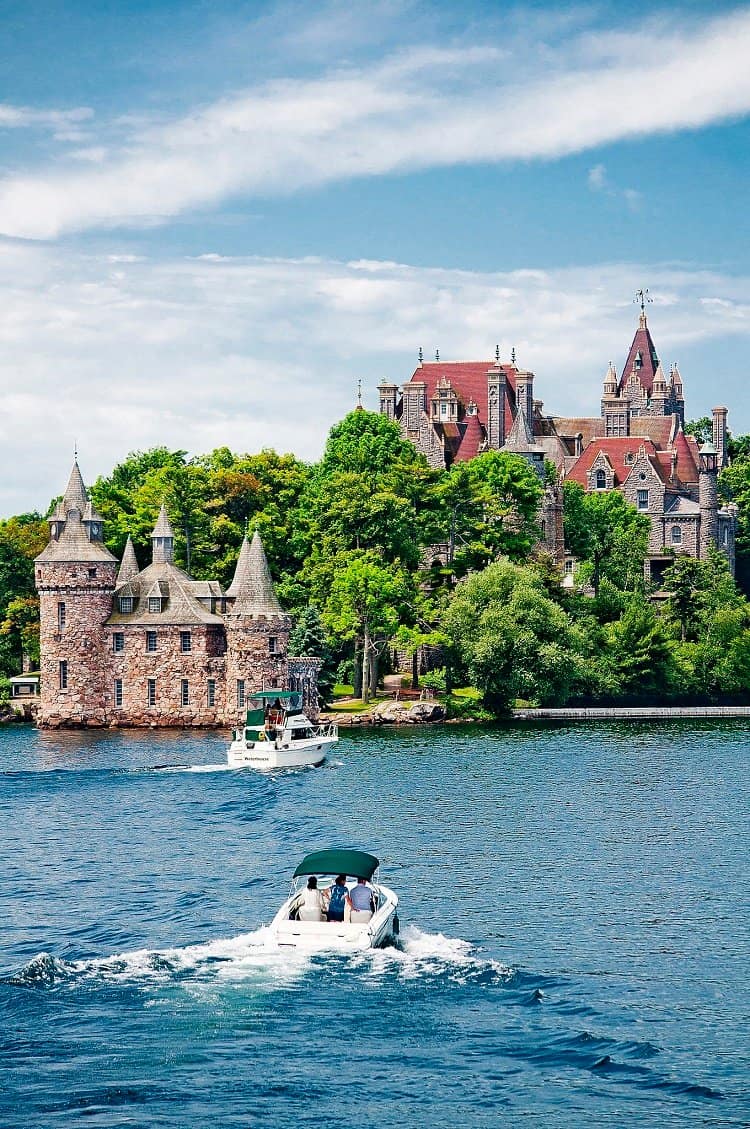 The castle was originally built as a private mansion for millionaire George Boldt, the general manager of the Waldorf-Astoria Hotel in NYC and the Bellevue-Stratford Hotel in Philadelphia.
Boldt and his family used to enjoy spending their summers at the family cottage on Hart Island (now Thousand Islands), and the businessman decided to build a bigger home for them there.
However, work on Boldt Castle came to a sudden halt in 1904, when George Boldt's wife passed away. Heartbroken, Boldt gave up on the project, for good, and the castle was left vacant and in disrepair for 73 years.
After being purchased by the Thousand Island Transit Authority for just $1 in 1977, the castle was restored and renovated, and is now a popular tourist attraction, open to visitors from May to October.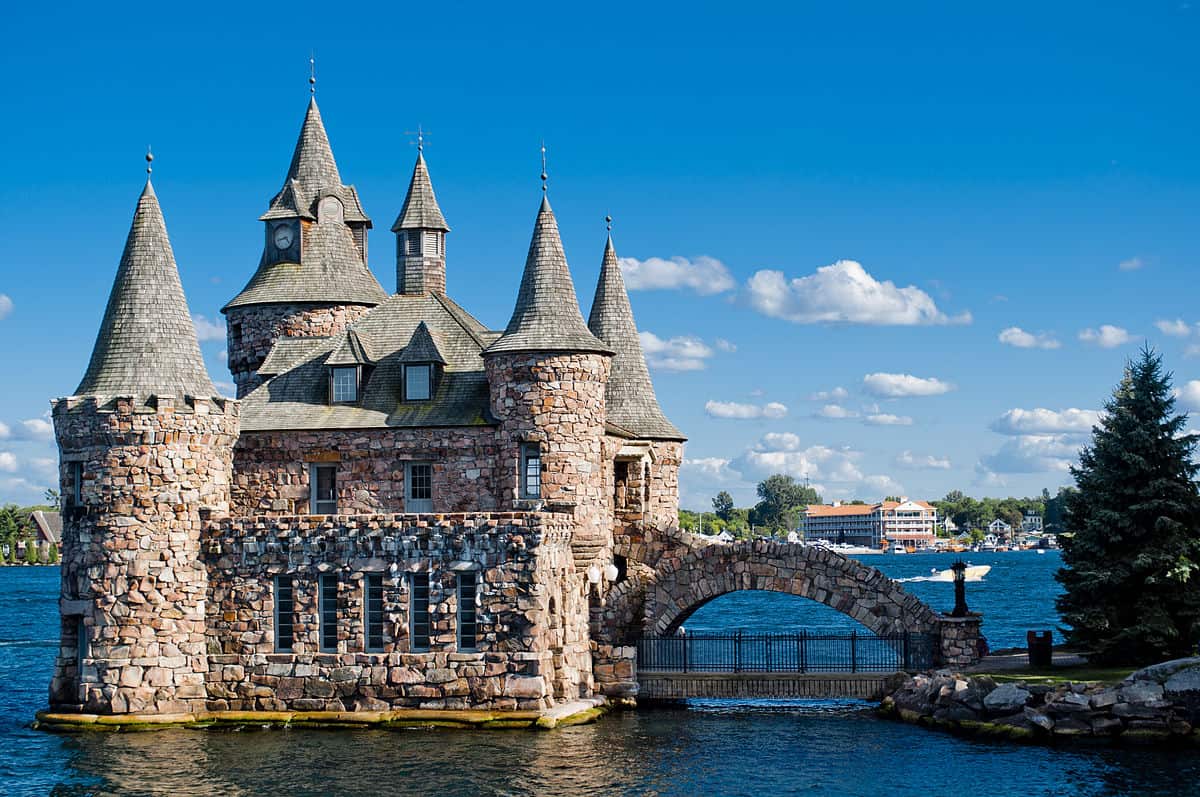 It's only accessible by water, either from the U.S. or Canada, and despite this fact, it's one of the most visited attractions in Upstate New York.
If you want to visit a property that was truly built out of love, and later lovingly restored, be sure to pay it a visit.
2. Singer Castle
On the rocky, wild shores of Upstate New York lies another historic estate reminiscent of the quaint castles of Europe, namely Singer Castle.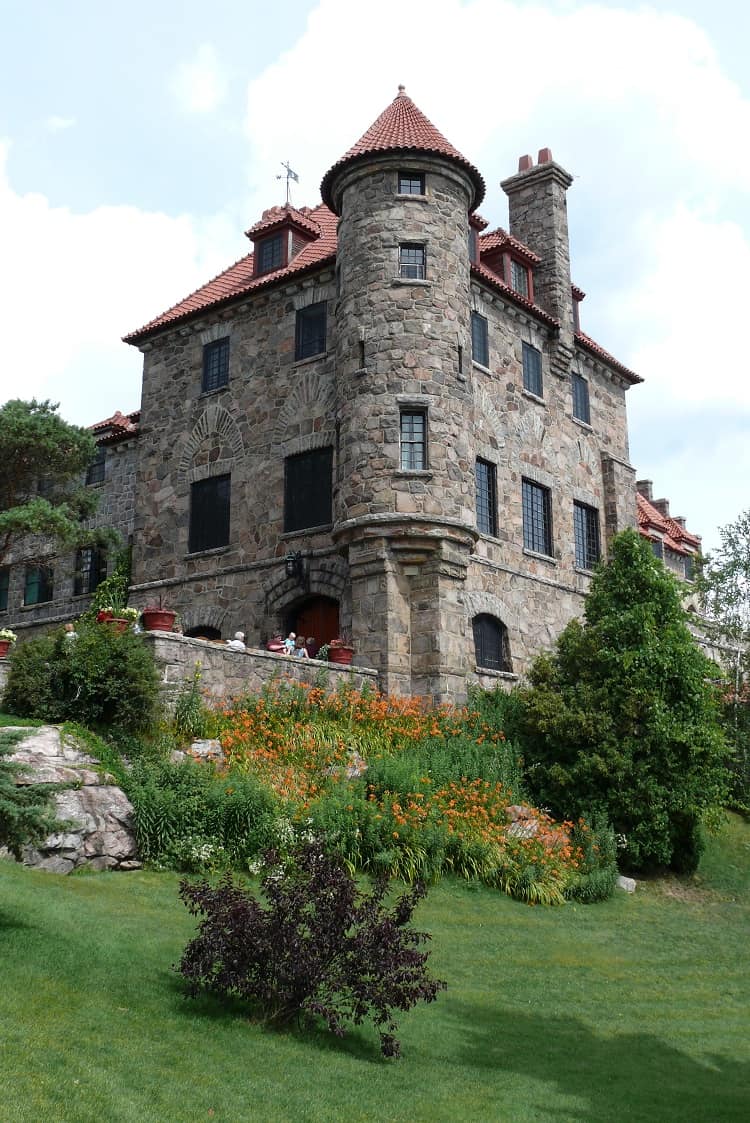 Located on Dark Island, Singer Castle was completed in 1905 by Frederick G. Bourne, the president of the Singer sewing machine company. If you're a fan of Gothic architecture and/or literature, then you simply have to visit Singer Castle.
The medieval-style fortress is your quintessential Gothic castle, featuring things like secret passageways, hidden buttons, wrought-iron chandeliers, huge fireplaces, and (just) 28 bedrooms.
Nobody knows why Bourne decided to include all these unusual features in the construction, but we're definitely intrigued.
For instance, one of the panels in the library can be opened by pulling a specific book from the shelf, thus providing access to a secret passageway leading to the wine cellar. That's something you've probably seen many times in mystery or crime movies, but this one is for real.
There's also a secret dungeon accessible only via a hidden passage located in Bourne's former office.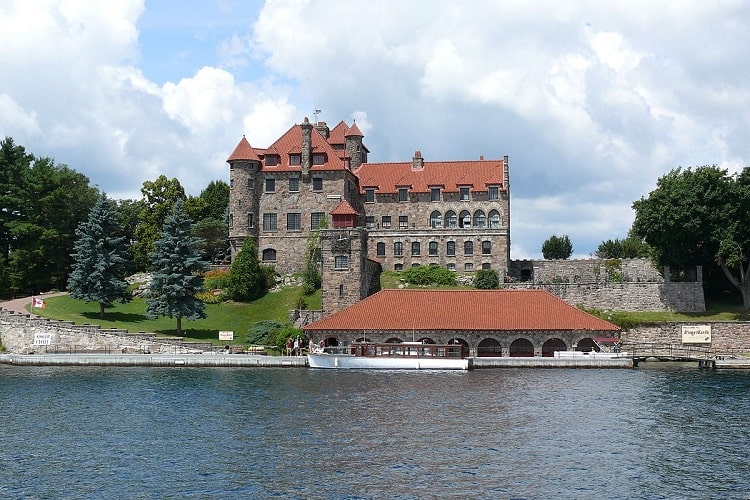 If this charming and mysterious property has piqued your interest, you might want to start planning a weekend getaway and get away from the hustle and bustle of the city.
You can book the Royal Suite for up to six people, and explore all the secrets of Singer Castle as if you're characters in an Agatha Christie novel. Fun!
3. Highlands Castle
Looking at Highlands Castle, you'd be tempted to think it's a medieval-age structure that's housed many generations throughout the decades.
From the outside, the castle looks like it's been plucked right out of a Game of Thrones episode – nevertheless, Highlands Castle was built in the mid-1980s, by a loving father.
"Someday I'll build a house where we both will live. A place where you can bring your friends and create special memories… Someday Jason, I will build you a castle."

John Lavender, the man who built Highlands Castle
John Lavender once made a promise to his young son that one day he was going to build him a castle. Parents make all kinds of grand promises to their kids, but Lavender actually kept his.
John Lavender invested years of his life building this grand castle for his son. He did a great job picking the location, in Bolton Landing, overlooking Lake George in the Adirondacks.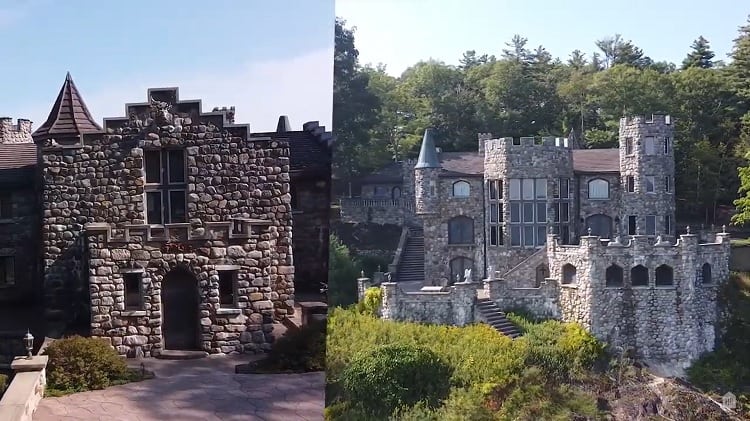 It was a huge undertaking; builders reportedly used more than 800 tons of stone to construct the property for Lavender, and included a 2,000-foot-long driveway leading to a stone wall with iron gates guarded by lion statues.
The interiors are equally impressive, and stepping inside, you'd think you're on a movie set, filming the New York version of Downton Abbey.
The good news is that you can rent the castle and enjoy the views for yourself; prices start at $5,700 per night, but they're well worth it, if you ask us.
4. Belhurst Castle
Located on the shores of Seneca Lake, Belhurst Castle was built in 1889, designed by Fuller & Wheeler in a Romanesque Revival style.
All the materials used in the construction were imported, mainly brought over from Europe, which is one of the reasons why the construction took roughly four years.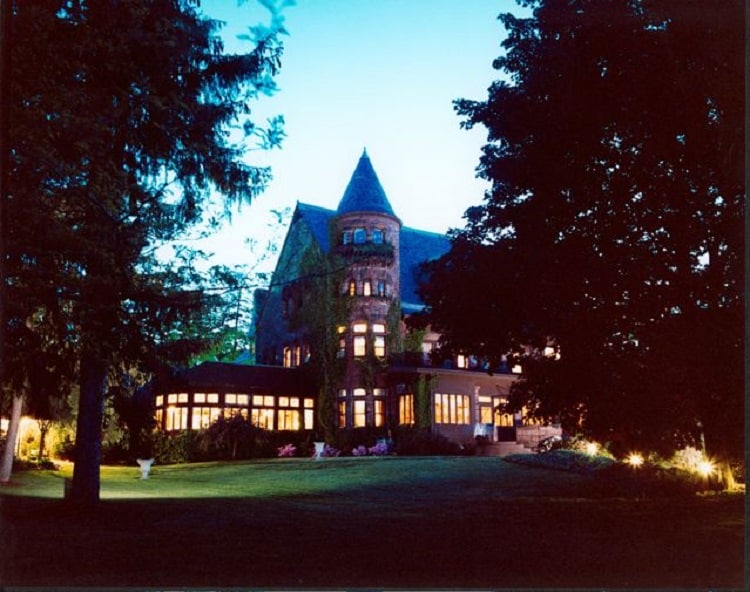 The castle was used as a private residence until 1932, when it was sold to businessman Cornelius J. Dwyer. The new owner transformed Belhurst into a popular entertainment and leisure destination, turning it into an upscale restaurant and adding a speakeasy and a gambling casino.
The restaurant was reportedly highly popular during the prohibition era, when liquor was brought down from Canada using the canal system.
Nowadays, Belhurst Castle is a top-class, resort-style destination in the New York area. Guests and visitors can enjoy fine wine and craft beer, delicious steaks at the Edgar restaurant, various best-in-class services at the on-site salon and spa, and more.
Those who want to spend the night can do so at the off-site Vinifera Inn and White Springs Manor, or they can book one of the 11 rooms available inside the castle.
5. Lyndhurst Mansion
A National Historic Landmark, Lyndhurst Mansion is one of the finest examples of Gothic Revival architecture in the country.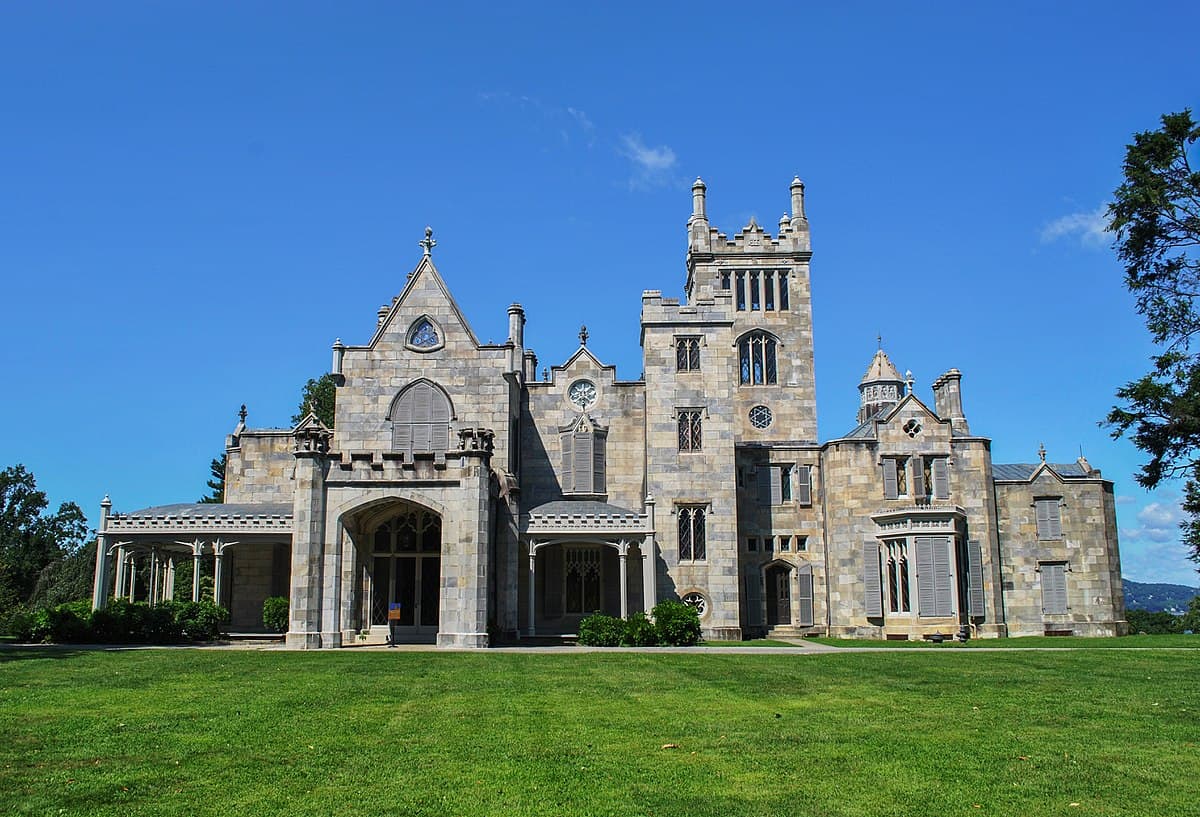 Sitting on a massive 67-acre lot close to the Hudson River in Tarrytown, the imposing castle was completed back in 1838, with a design by renowned American architect Alexander Jackson Davis.
Its first owner was New York City mayor William Paulding Jr., but the property was expanded and nearly doubled in size under the helm of its second owner, businessman George Merritt. He was also the one to rename the property 'Lyndenhurst,' after the linden trees on the property.
Merritt added a new four-story tower to the castle, as well as a new porte-cochere, a servants quarters, a new dining room, and extra bedrooms.
The third – and final – private owner was American railroad tycoon Jay Gould, who owned the property until his death in 1892. Eventually, the castle was donated to the National Trust for Historic Preservation.
Lyndhurst mansion is now open to the public, and Gothic architecture fans can explore the grounds as they please, either on their own or via guided tours.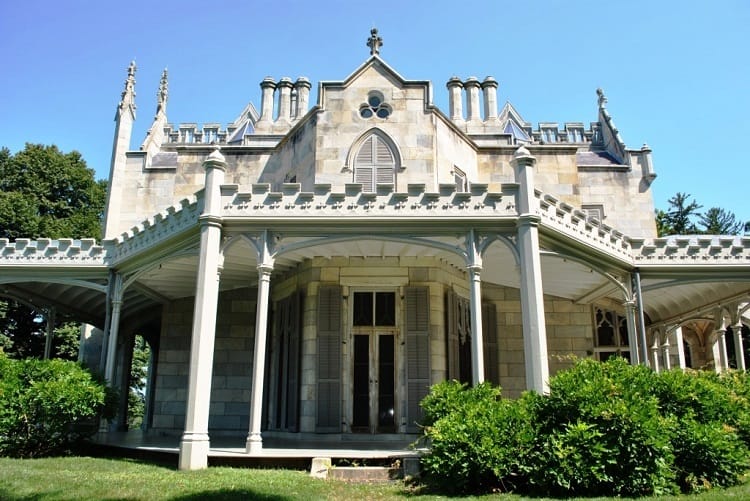 Depending on the tour you choose, you can visit the first and second floors, the observation tower, the kitchens, the gardens, and the swimming pool building.
And, if the estate looks somewhat familiar, then you might have already seen it on your screen. Lyndhurst Mansion was featured in numerous movies, TV shows, documentaries, and even housed a 2017 episode of Project Runway.
More palatial estates
The Thrilling History of The Breakers, the Vanderbilts' Iconic Summer Estate in Newport
In Colorado, $20 Million Will Buy You a Real-Life Castle Steeped in History
Winfield Hall, the Historic Woolworth Mansion in Glen Cove
Richie Rich's House is Actually the Biltmore Estate, America's Largest Home