Podcasting has its privileges. 
After sealing a deal for over $100 million with Spotify, Joe Rogan has become the most popular — and best-paid — podcaster on earth. 
The Joe Rogan Experience host first rose to fame in the 1990s sitcom NewsRadio and went on to host stunt/dare game show Fear Factor, followed by forays into martial arts, where he is a renowned commentator for the UFC.
And while nowadays his name is tied to his immensely popular podcast (which was the most popular podcast in the U.S. for much of 2020 and 2021, reaching an estimated 11 million people per episode), the former Fear Factor host has had an extensive stand-up comedy career, which he started in back 1988 and continues to the present day.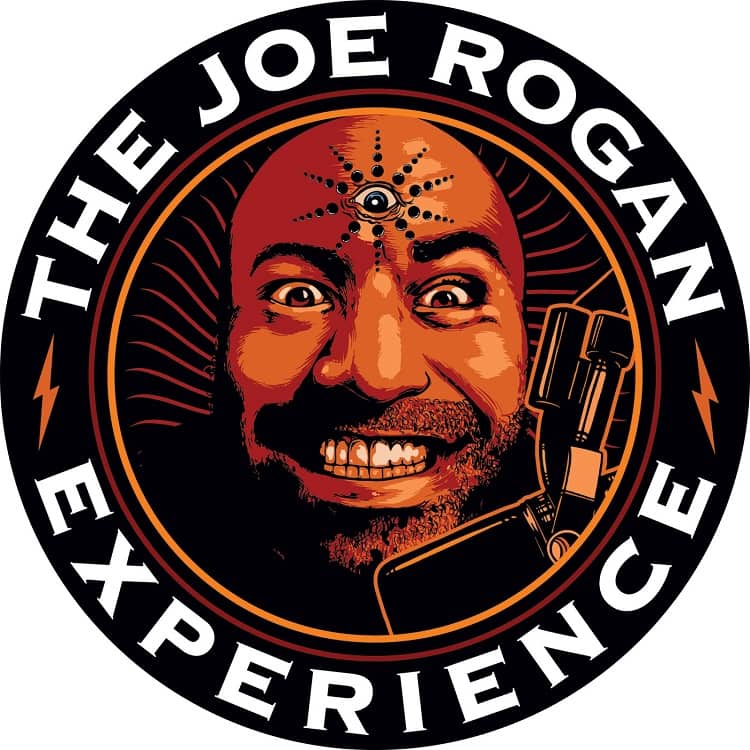 Cashing in his podcasting pennies, Joe and his family recently took up residence in a multi-million dollar mansion. Below you'll find all the details we could find about Rogans' $14.4 million property in Austin, Texas.
Joe Rogan's house upgrade from California to Texas
While his former 7,500-square-foot home in California was cozy, the comedian moved his family into a much larger estate in Austin, Texas. 
The Joe Rogan Experience host and his family of five became part of the "mass exodus out of California" due to the Golden State's lockdown rates and COVID-19 responses, lack of rain, homelessness epidemic, overpopulation, and increased taxes.
According to the father-of-three, the Lone Star State — and the multi-million dollar dream house he found there — is a far more appealing alternative and the perfect place to call home. And plenty of other prominent A-listers agree, with many other celebrities now living in Texas.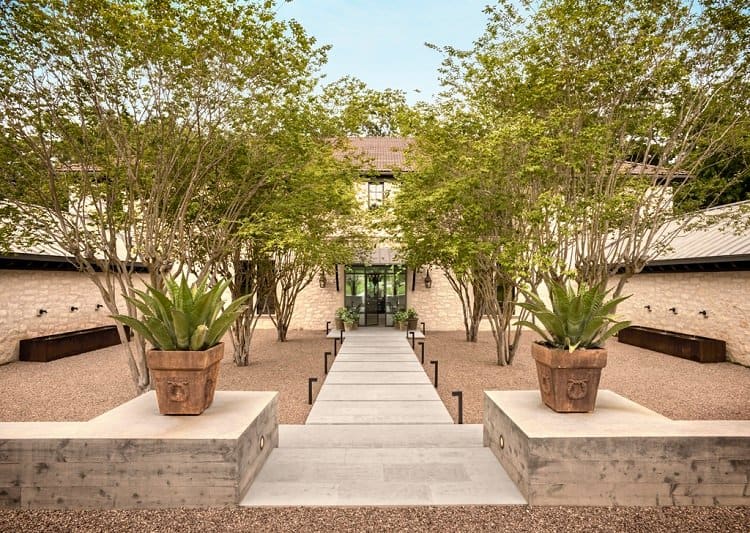 Rogan's house in Austin, Texas is one of the most exclusive properties in the area and puts the podcaster in proximity to some other well-known celebrities that reside in the state's capital — including Supernatural actor Jensen Ackles, who also lives in a lovely lake house in Austin.
Reportedly worth four times more than his home in California, Joe purchased the Texas estate for $14.4 million.
Nestled in the outskirts of Austin, the massive spread is outside the chaos of the city, but close enough for everyday conveniences.
With A-list neighbors such as billionaire John Paul DeJoria and Academy Award-winning actress Sandra Bullock, the podcast king created his castle in this southern slice of heaven.
Inside Joe Rogan's Austin house, a million-dollar property fit for the world's leading podcaster
Purchased in an off-market deal, Joe and his family of five recently moved into their lakeside home in the second half of 2020.
Although not many details have been leaked online about their sprawling new digs, it seems that Joe and his wife Jessica have plenty of room for their three daughters: Lola, Rosy, and 26-year-old Kayja Rose. 
According to Dirt.com, the massive lakeside mansion boasts 10,980 square feet and features 8 bedrooms and 10 bathrooms.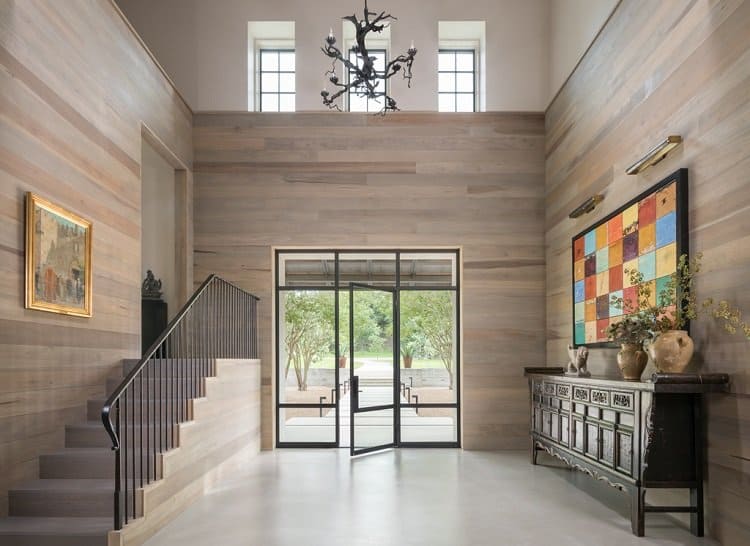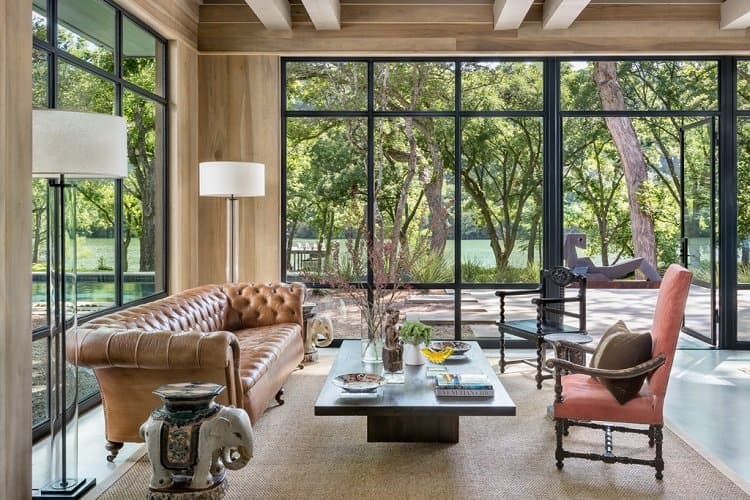 Located on Lake Austin, the Tuscan-style estate was built in 2006 and was last listed (publicly) for $7.25 million in 2015. 
Since The Joe Rogan Experience host purchased the property in an off-market deal, and Texas is a non-disclosure state (meaning we can't see the prices for sold properties), we've combed all available public records to give you as much information as possible about Rogan's house in Austin:
Key facts & figures
Location: Lake Austin in Austin, Texas
Bedrooms: 7
Bathrooms: 9
Square footage: 10,980
Year built: 2008
Lot size: 3.92 acres
Amenities: podcast room, outdoor pool, 300 feet of waterfront with 3 boat docks
Purchase price: $14.4 million (October, 2020)
Previous list price: $7,250,000 (July, 2015)
It was previously owned by an interior designer (and it shows)
According to Realtor.com, architectural designer Benjamin Wood and his philanthropist wife Theresa Castellano Wood are the former owners of the elegant abode.
The two gave the whole place an extensive makeover, transforming its dated Mediterranean design and unpractical layout into a sleek, Texas-inspired modern farmhouse with just a dash of Mediterranean influence, while also incorporating Wood's decidedly English aesthetic.
They're also the ones who added the Asian-inspired and modern upgrades, which add a wow factor to the already impressive home.
Rogan's house includes an open floorplan with the dining room, living room, and library all sharing one space. Painted deep blue, this shared living space is accented by rustic wooden pillars and light wood feature walls.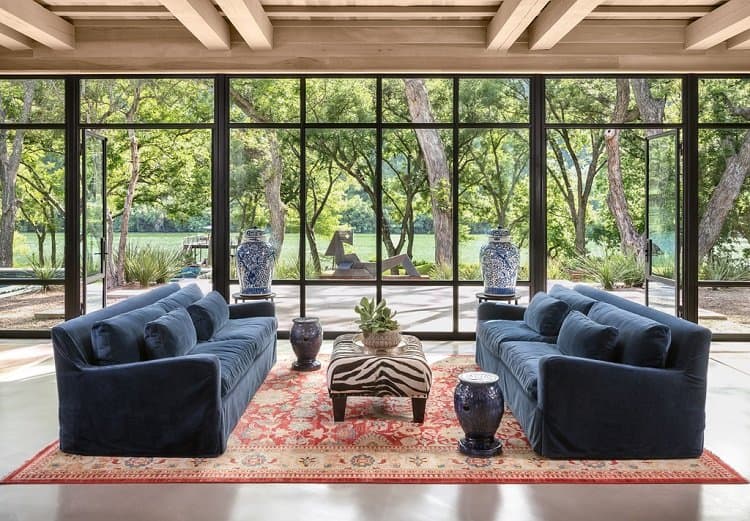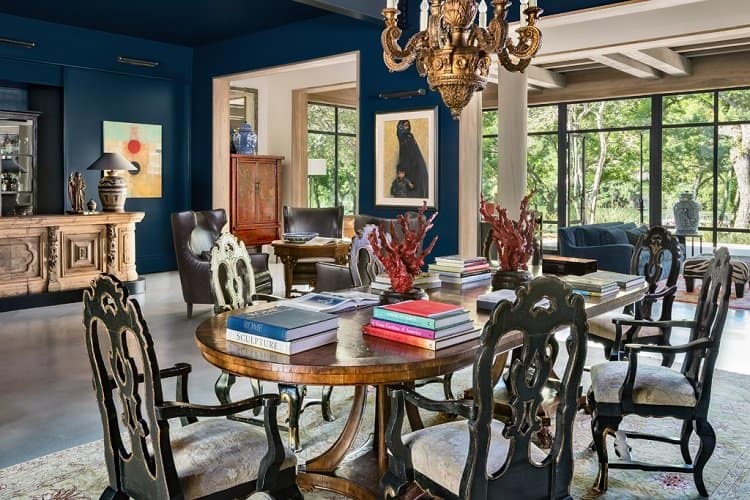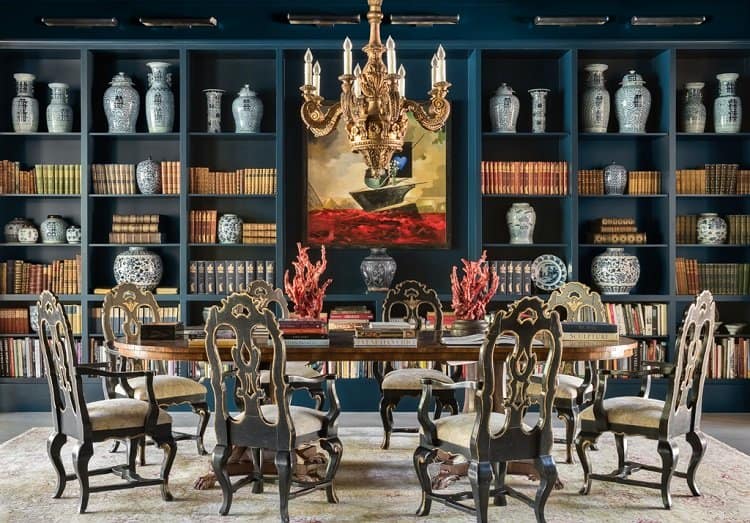 With rustic farmhouse vibes, the beautifully open kitchen includes two islands, antique cabinets and plenty of room for Joe's favorite wild meat meals.
With floor-to-ceiling glass walls, the family of five can couch it while glancing out at the four acres of spectacular views on their private property.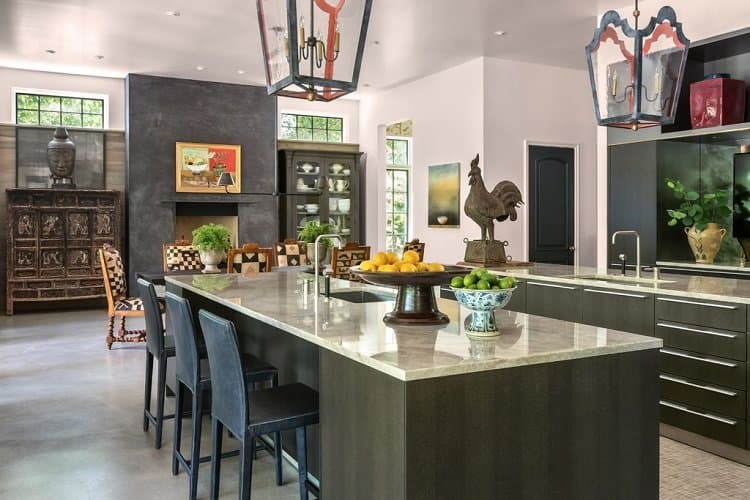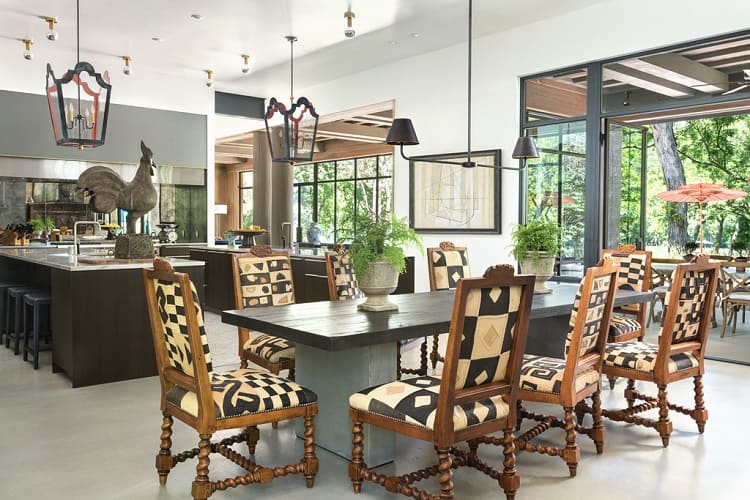 Of course, the UFC commentator has a customized home gym with all the bells and whistles. And did we mention his fully-equipped podcast room?
The lakeside mansion features a large back porch and deck, alongside an impressive mezzanine featuring a large Buddha statue. With over 300 feet of water frontage, the Rogans are sure to enjoy the property's party deck on Lake Austin.
After their lake adventures, Joe and his family can jump in the outdoor pool which includes a stonework patio and plenty of shade for those hot Texas summers.
The house Joe Rogan left behind
In 2003, Joe and wife Jessica purchased their Bell Canyon, Calif. home for $2.33 million. After living there for 17 years, the Rogans made a handsome $1.12 million profit when they sold it for $3.45 million in March 2021.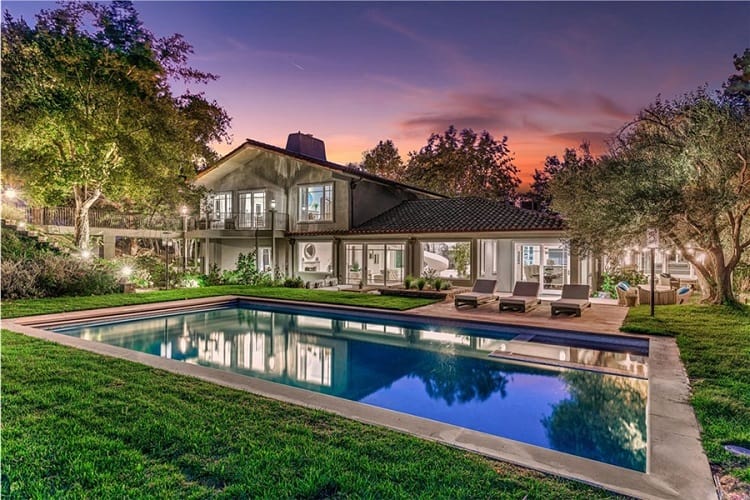 With 7,500 square feet and 5 bedrooms, the family home included 5 bathrooms and 2.14 acres of outdoor space. Their former California home featured a pool and backyard deck, but nothing in comparison to their palatial Austin estate.
For now, Joe Rogan's experience seems to be fit for a king.
From the overpopulation of the Golden State to the laid-back vibes of the Lone Star State, it seems like Joe's choices in terms of real estate went from lovely to luxurious.
>> Follow us on Google News for more stories like this, in real-time
More celebrity homes
Tour Andrew Rea's (Binging with Babish) House in Brooklyn
Impact Theory's Tom Bylieu Bought the Striking $40 Million Mansion from 'Selling Sunset'
Where Does Trevor Noah Live? A Closer Look at the Daily Show Host's Penthouse in Manhattan