Comedian, best-selling author, and former late-night host Trevor Noah had an extra busy year last year.
After seven years at the helm of one of the most popular late-night shows — The Daily Show, which he's been hosting ever since Jon Stewart's departure in 2015 — Noah stepped down from his long-running TV gig last December.
Talking to The Hollywood Reporter about his surprising decision, the former The Daily Show host shared that "Maybe this comes with not being raised in America, but I believe that everything should end," Noah said.
"A lot of American business and American media is just like, 'Keep it going as long as possible,' but I think it's healthy for things to end when they're still in a good place. I want to leave before I'm burnt out, because there are many other things I'd like to do."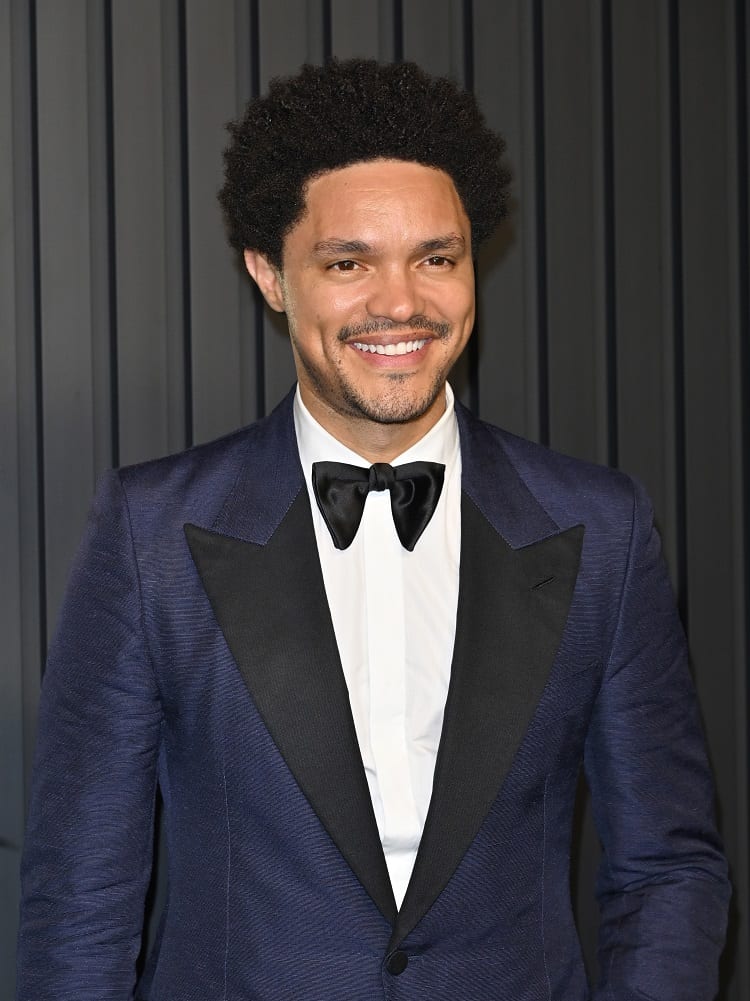 His life was just as eventful off-screen, with high-profile romances with actress Minka Kelly and pop star Dua Lipa holding headlines. But we're not here to gush over his romantic conquests; instead, we'll do what we do best and take a look at Trevor Noah's house — which he almost parted ways with in his whirlwind year, 2022.
In late 2022, just as he was preparing for his The Late Show exist, the South African comedian also brought his New York City penthouse to market, listing it for $12.95 million (with Compass agent Nick Gavin holding the listing).
A few months later, in February 2023, Noah's elegant two-story penthouse was taken off the market, only to resurface in late April with a slightly revised asking price of $12.5 million.
Noah has been calling the Hell's Kitchen penthouse home since he bought back in 2017, after he spent half a year renting a different apartment in the same building.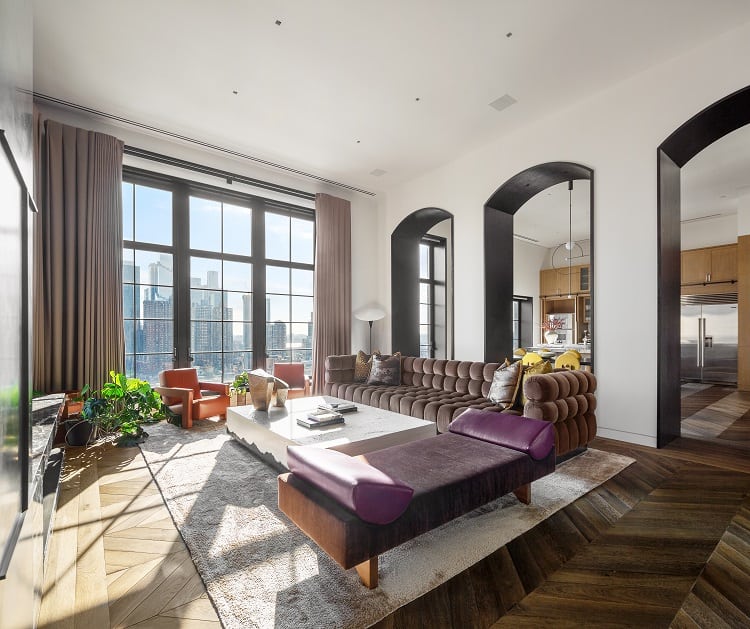 The penthouse sits atop the 1927-built Stella Tower, previously known as the New York Telephone Building, before CetraRuddy converted the Art Deco building to make room for 51 upscale residences.
And Noah's apartment — a two-story penthouse on the 17th and 18th floors — is the crown jewel of the building. So let's take a closer look, shall we?
Inside Trevor Noah's home in New York, now listed for $12.5 million
In March of 2017, Trevor Noah paid a whopping $10 million for the never-lived-in-before, two-story penthouse in the sought-after Hell's Kitchen neighborhood in Midtown Manhattan — which had initially been listed for $12,995,000.
He's now listing it for close to the property's initial ask, even though he made considerable improvements to the penthouse during his ownership.
The beautiful residence comes with 3 bedrooms, 3 full and 1 half bathrooms, and an extra-generous wraparound terrace with killer skyline views.
Following a multi-year renovation, Trevor's apartment oozes style and comfort — while also providing some killer features worthy of its multi-million dollar price point.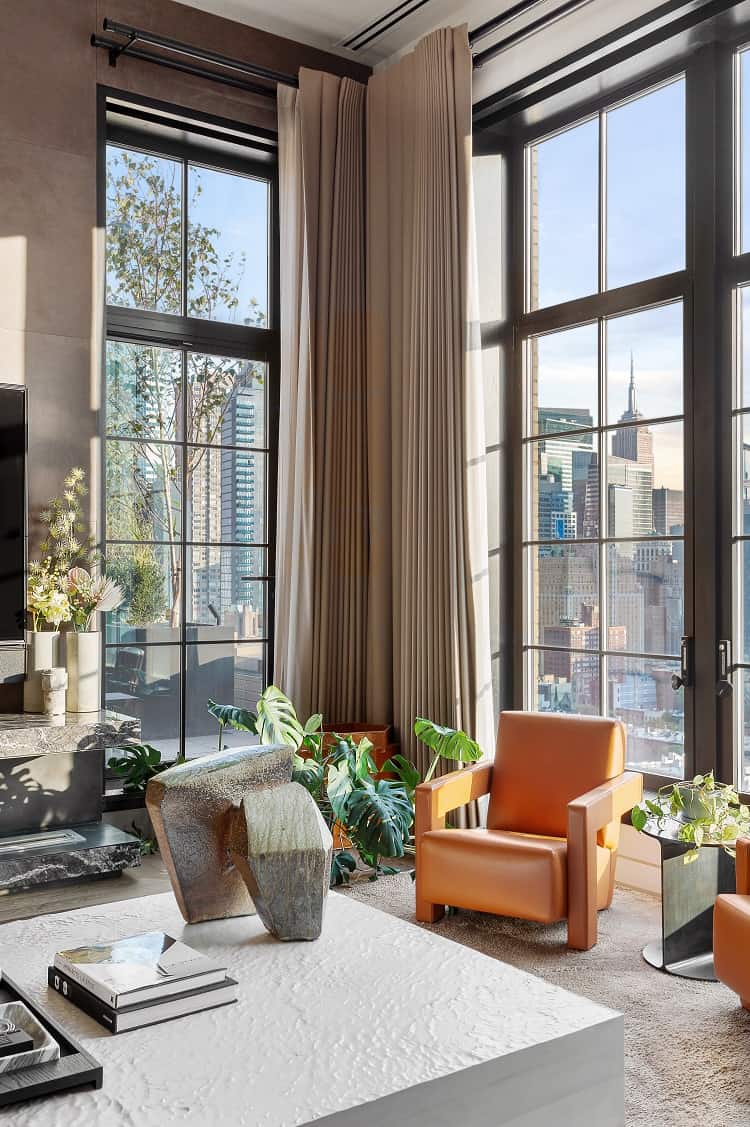 Among the most attractive features in Trevor Noah's apartment: a floating staircase that leads to the unit's upper floor, where 15' ceilings and floor-to-ceiling casement windows bathe the space in light; 2 guest bedrooms with en-suite bathrooms; and a sun-flooded 1,000-square-foot terrace with a heated plunge pool.
SEE ALSO: Stephen Colbert's house in New Jersey, the former 'set' of 'The Late Show'
Better yet, look for yourself: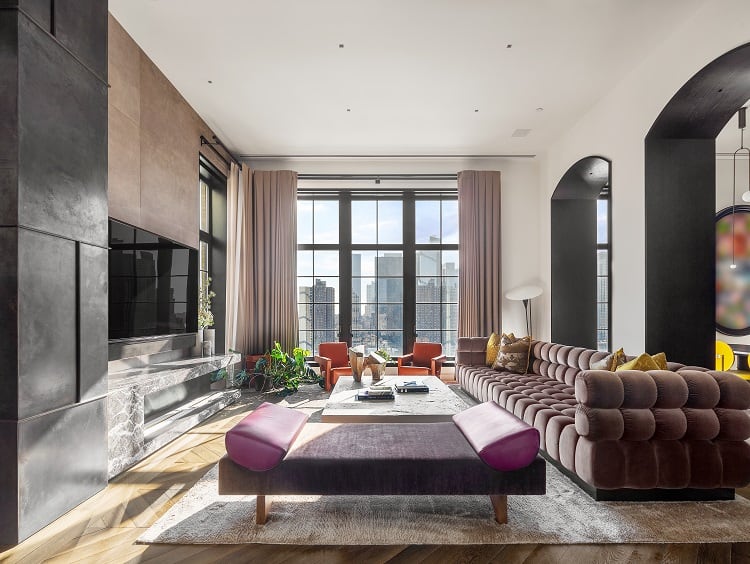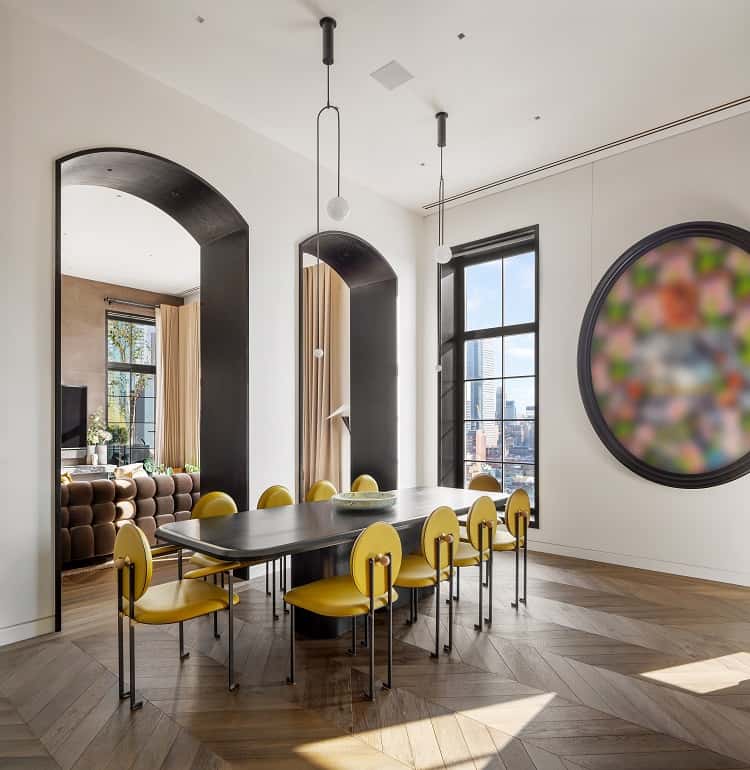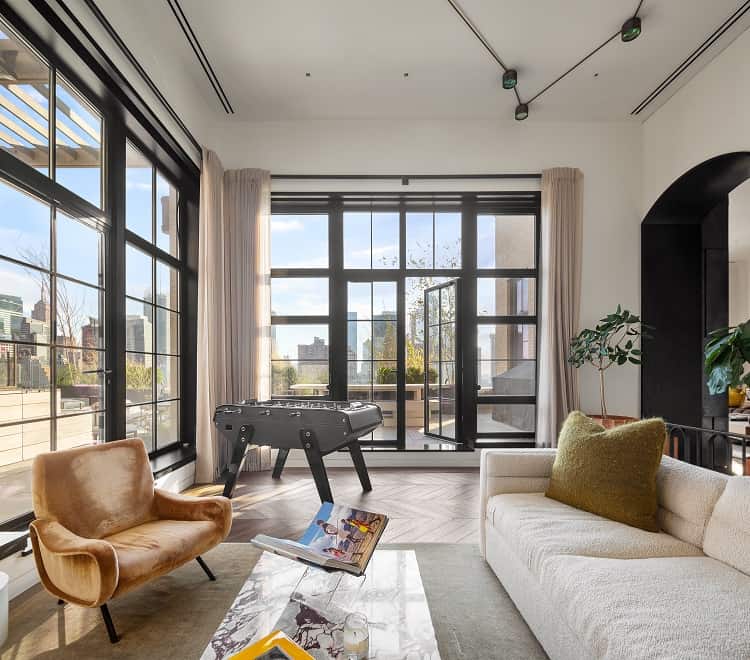 The custom chef's kitchen features an open layout and pristine finishes, including polished marble slab countertops, a Sub-Zero refrigerator, a Wolf range and induction stove top (plus pasta spout), two Gaggenau dishwashers, steam oven and microwave, Amuneal and Waterworks fixtures, and a walk-in pantry.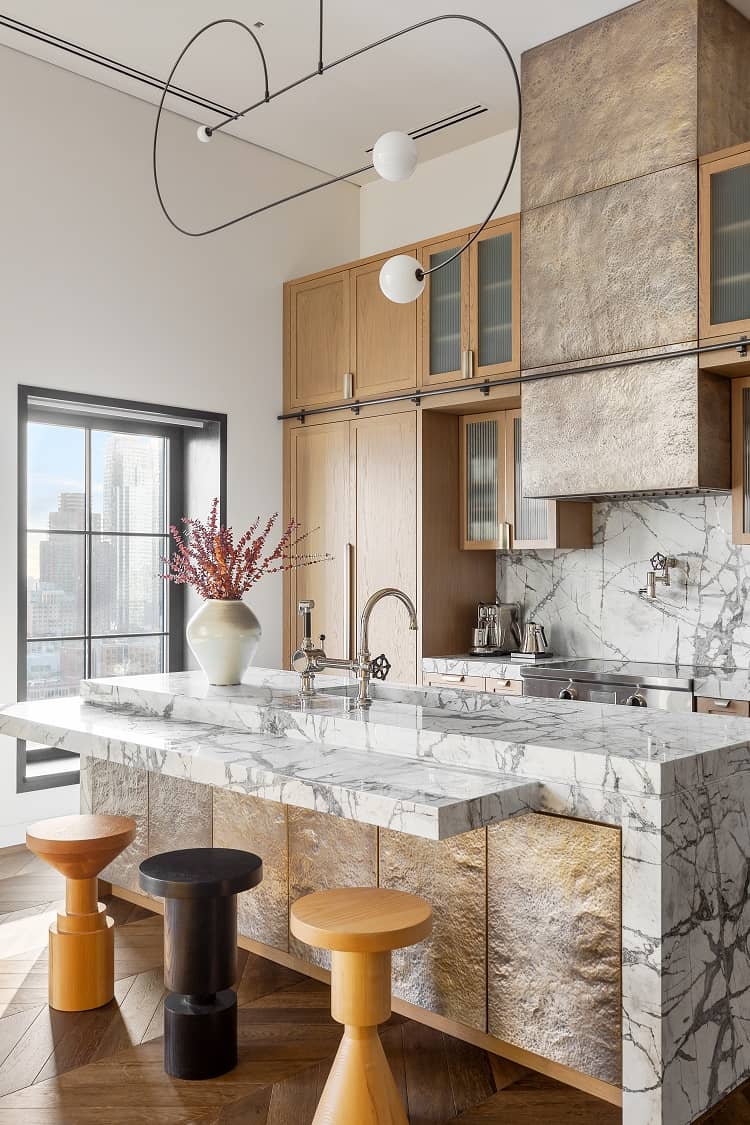 The entire north wall of the kitchen is set up as a bar, with a Sub-Zero wine refrigerator featuring a built-in four-spigot tap, additional space for mixology, and more storage.
The lower floor houses three full-bedroom suites, one currently configured as a state-of-the-art home theater.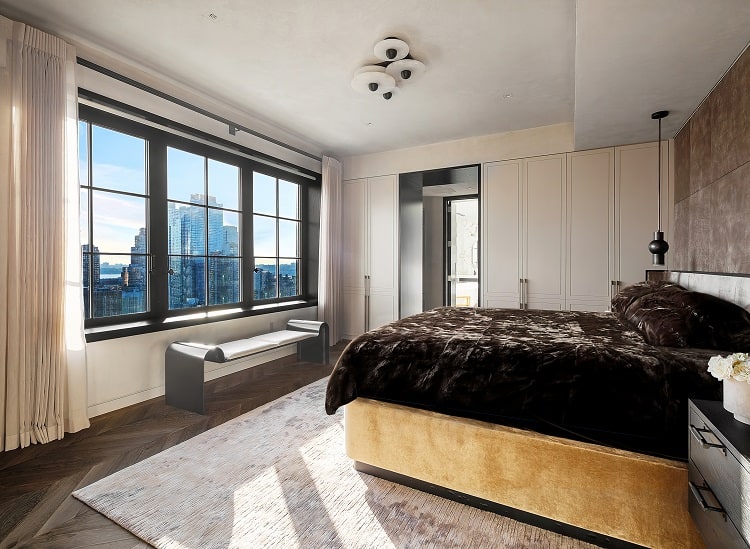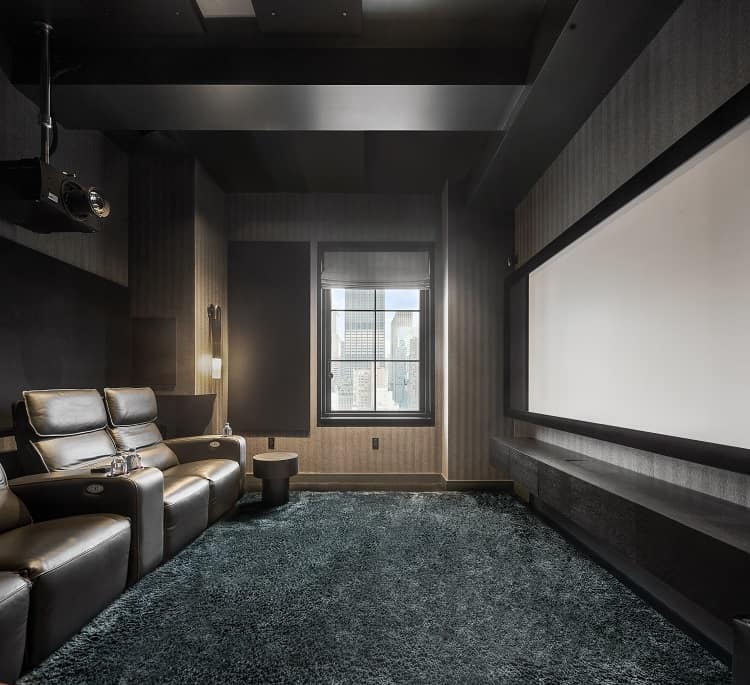 Per the listing, the principal suite is a haven of luxury featuring a private foyer, a hand-rubbed cortina leather wall, Kamp Studios lime-washed walls, dual dressing rooms – one of which is windowed – and additional built-ins with automatic lighting.
Occupying both the 17th and 18th floor of the building, the penthouse gave the comedian/social commentator a total of 3,600 square feet to pad around as he processed the news for his politically-charged show.
And if that didn't trigger any good ideas, he could always step outside for some fresh scenery.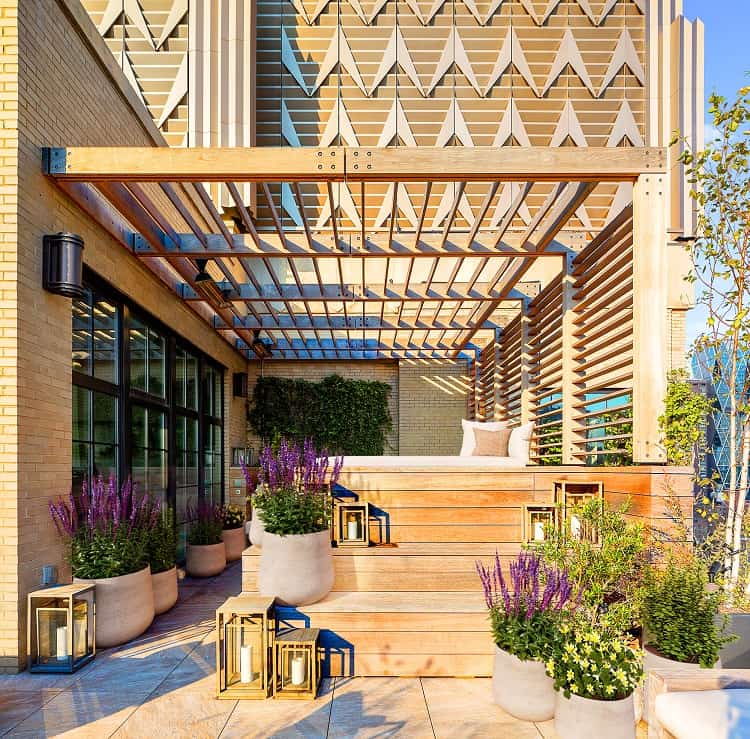 The penthouse has an extra generous 1,000 square feet of wrap-around terrace space, complete with some pretty stunning city views.
There's also a custom teak pergola and plunge pool on the landscaped terrace, as well as a black granite wet bar with multiple fridges, and plenty of room for a large dining table make.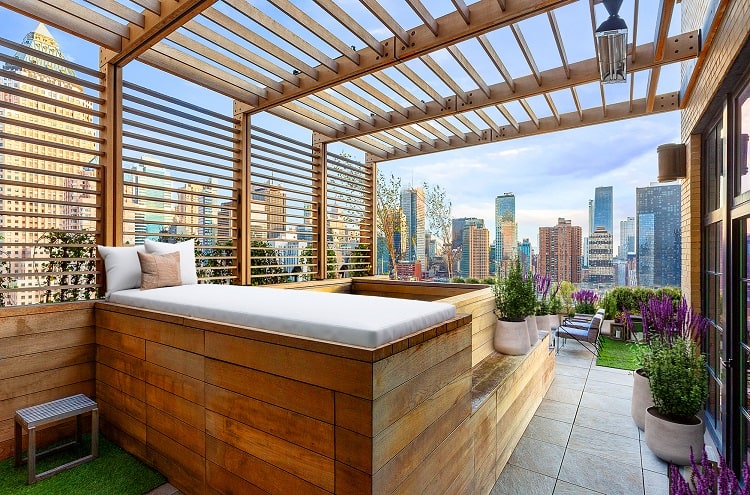 Noah's penthouse is listed with Compass agent Nick Gavin, who's well-versed in dealing with million-dollar celebrity homes.
According to our sources, he represented the biggest downtown sale in New York City in 2021, selling famed Formula One driver Lewis Hamilton's NYC pad — a showstopping penthouse inside the celebrity building at 443 Greenwich Street — for $49.5 million.
During the pandemic, 'The Daily Show' was filmed inside the apartment
Trevor Noah's Manhattan penthouse is more than just your regular celebrity home. It's an on-screen star in its own right.
When social distancing rules went into effect in 2020, the late-night host started filming his nightly show — rebranded as The Daily Social Distancing Show — inside his Stella Tower penthouse.
The new format followed the example of other late-night hosts like Jimmy Kimmel, Stephen Colbert, or Jimmy Fallon, who all started recording segments from inside their homes.
But Trevor's apartment won fans over with its impeccable interior design, with people all over the country gushing over the zig-zag bookshelves in the den.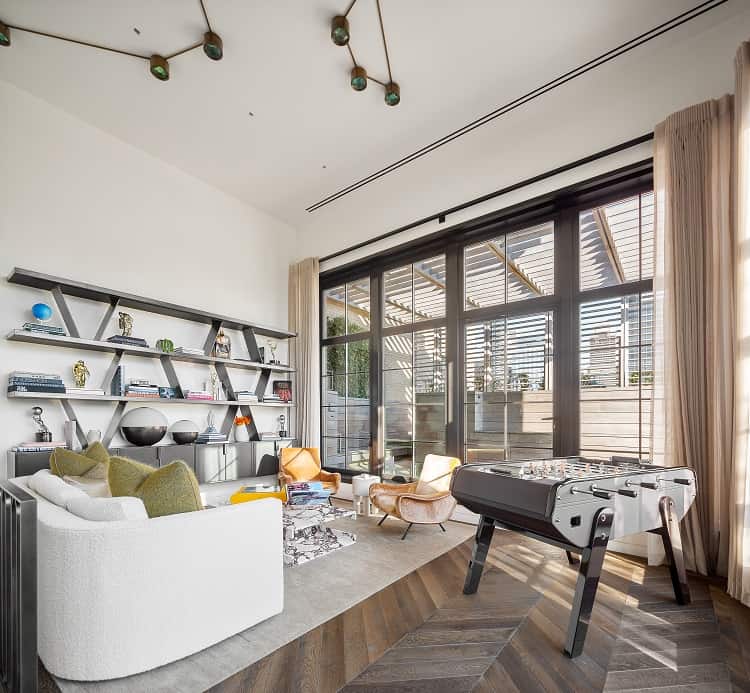 Trevor Noah's apartment sits atop a striking prewar building
Noah's penthouse is located in the historic Stella Tower, a gorgeous building that combines the best of pre-war architecture with modern, stylish NYC living.
Designed in 1927 by pre-eminent Art Deco architect Ralph Walker — who named it after his wife — Stella Tower was converted into condos in 2014 by JDS Development Group and Property Markets Group in partnership with Starwood Capital Group.
With conversion architecture by CetraRuddy and design work by Jarvis Studio, Stella Tower's ornamentation, handcrafted brick facade, entryway, terrazzo lobby floor, and remarkable crown have been carefully restored to reflect the brilliance of Ralph Walker's masterpieces.
Now home to 51 upscale units, the pre-war building features a fitness center, a residents' lounge with a pantry and bar, and an outdoor garden and lounge.
According to StreetEasy, Trevor rented a different apartment in the building before he swooped in and bought Stella Tower's crown jewel, the two-level penthouse on the 17 and 18th floors.
More stories you might like
The Dakota building and its many celebrity residents
Where does Pete Davidson live?
Hype House, the TikTok mansion home to some of the internet's biggest stars
Where do the six sharks on 'Shark Tank' live?