While the South African comedian/late night host is no longer filming his show inside his New York City apartment, that doesn't mean we're any less curious about where Trevor Noah lives.
In fact, his time as host of The Daily Social Distancing Show — a new format he switched to during the first year of the pandemic, when he and other late night hosts like Jimmy Kimmel, Stephen Colbert, or Jimmy Fallon, all started recording segments from inside their homes — only made fans more eager to learn more about his living arrangements.
Especially since his time filming inside his apartment didn't show us much beyond his sofa (and the sleek bookshelf behind it) and his home office. But there's so much more to see and love about Trevor Noah's home.
And while Noah also owns property in California, given the fact that he's taping The Daily Show in New York it only makes sense that the Primetime Emmy Award-winner continues to set up shop in the Big Apple.
In fact, Trevor Noah lives in a swanky two-level penthouse in Hell's Kitchen, New York, which he bought back in 2017, after he spent half a year renting a different apartment in the same building.
The comedian paid $10 million for his Manhattan penthouse
In March of 2017, Trevor Noah paid a whopping $10 million for a never-lived-in-before, two-story penthouse in the sought-after Hell's Kitchen neighborhood in Midtown Manhattan — which was initially listed for $12,995,000.
The beautiful residence comes with 3 bedrooms, 3 full and 2 half bathrooms, and a generous wraparound terrace with killer skyline views.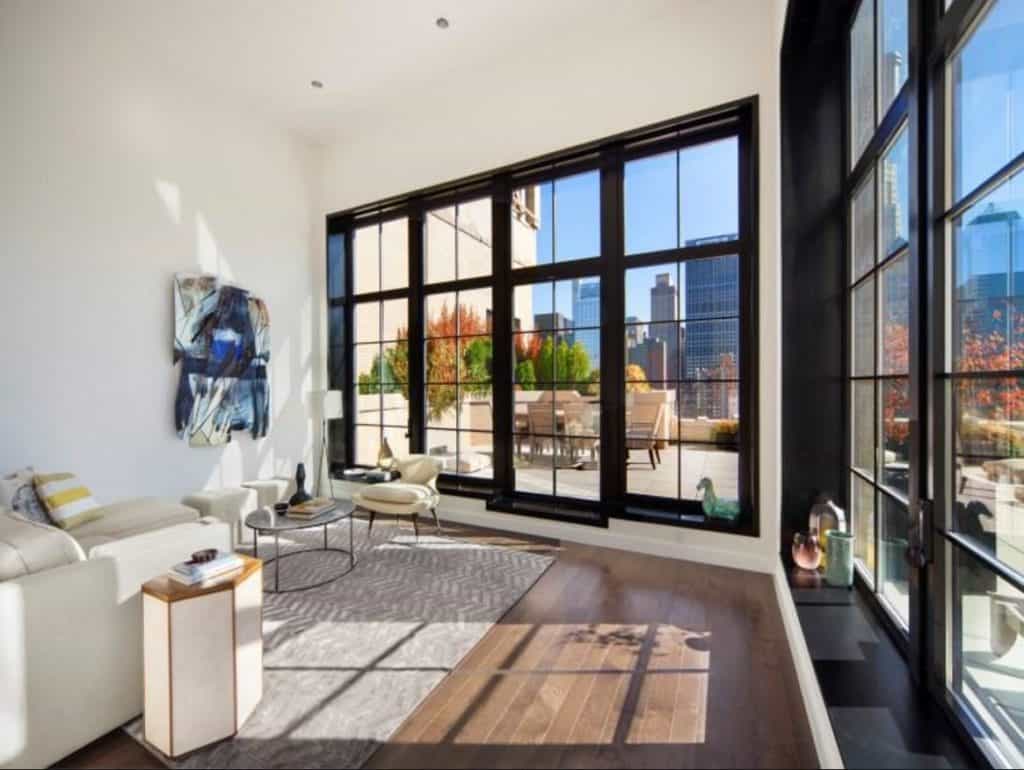 Now, past the aforementioned bookshelf-clad living room and home office sporting select books and trophies, both pictured on the show during the time he recorded his episodes here, we don't know much about how the comedian decorated or partitioned the space.
But since we covered the purchase when Trevor first bought the apartment, we can give you an inside look at the the penthouse, which oozes style and comfort — while also providing some killer features worthy of its multi-million dollar price point.
Among the most attractive features in Trevor Noah's apartment: an 29-foot-long open living room that connects to an eat-in kitchen (with polished concrete countertops and designer fixtures), 2 guest bedrooms with en-suite bathrooms; and a sun-flooded den with a soaring 14-foot ceiling. Better yet, look for yourself: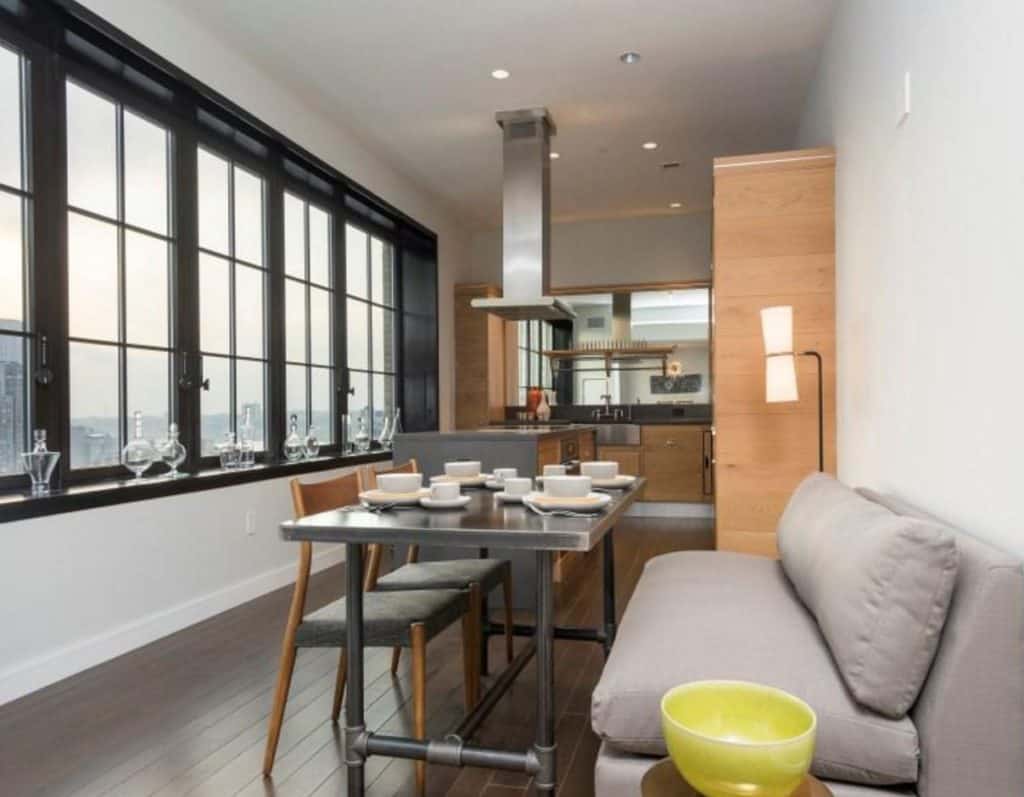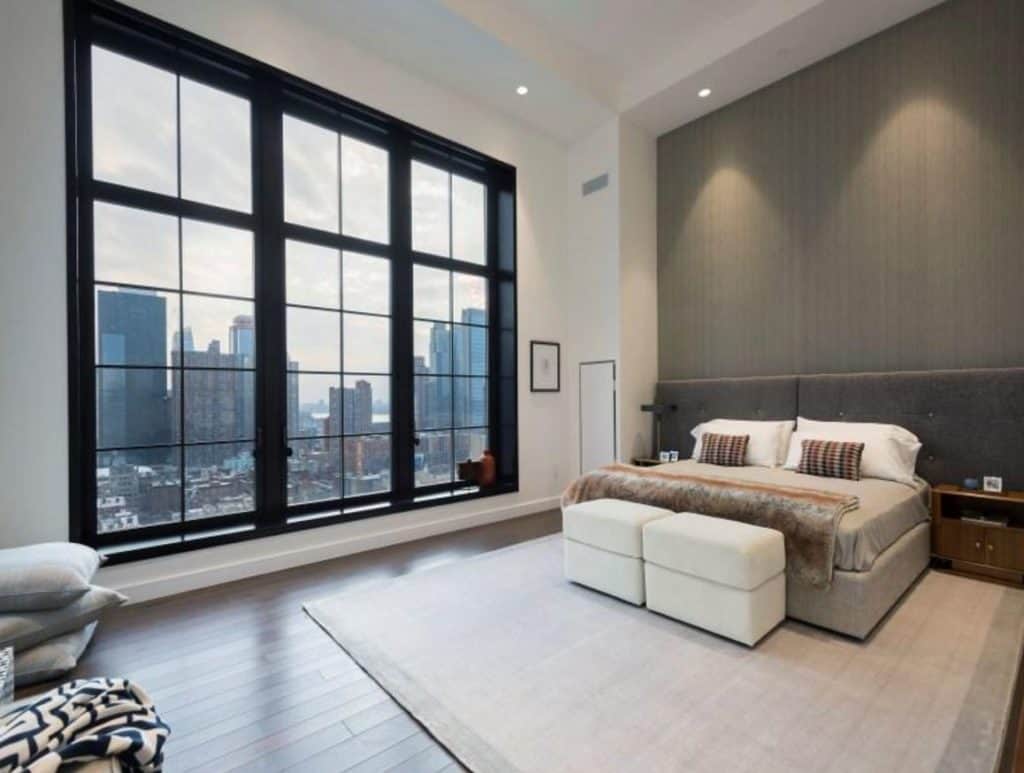 The apartment occupies both the 17th and 18th floor of the building and gives the comedian/social commentator a total of 3,600 square feet to pad around in as he processes the news for his politically-charged show.
And if that won't trigger any good ideas, he can always step outside for some fresh scenery. The penthouse has 930 square feet of wrap-around terrace space, complete with some pretty stunning city views from the heart of Midtown West.
Trevor Noah's apartment sits atop a striking prewar building
Noah's penthouse is located in the historic Stella Tower, a gorgeous building that combines the best of pre-war architecture with modern, stylish NYC living.
Designed in 1927 by pre-eminent Art Deco architect Ralph Walker — who named it after his wife — Stella Tower was converted into condos in 2014 by JDS Development Group and Property Markets Group in partnership with Starwood Capital Group.
Stella Tower's ornamentation, handcrafted brick facade, entryway, terrazzo lobby floor, and remarkable crown have been carefully restored to reflect the brilliance of Ralph Walker's masterpieces.
Now home to 51 upscale units, the pre-war building features a fitness center, a residents' lounge with pantry and bar, and outdoor garden and lounge.
According to StreetEasy, Trevor rented a different apartment in the building before he swooped in and bought Stella Tower's crown jewel, the two-level penthouse that sits at the 17 and 18th floors.
Other million-dollar homes Trevor Noah bought over the years
The wildly successful comedian, late night host and bestselling author (thanks to the smashing success of his autobiography, Born A Crime) has made quite a few notable real estate purchases over the years.
Back in 2019, he dropped $20.5 million for a contemporary mansion in Los Angeles' posh Bel-Air neighborhood — home to some of the biggest A-listers, including the likes of Beyoncé and Jay-Z.
He quickly sold that home at a profit — to Bird founder Travis VanderZanden — cashing in $21.7 million for the 5-bedroom, 7-bath spread, midway through 2020.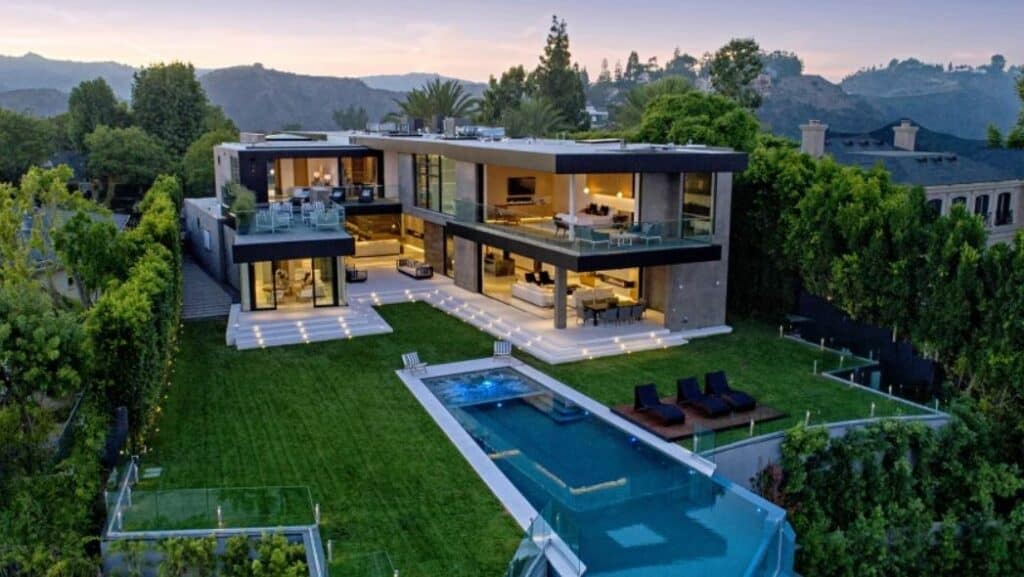 But before the year ended, he set eyes on another striking contemporary mansion (also in Bel-Air), this time shelling $27.5 million for the property.
Designed by architect Mark Rios, the striking residence spans 11,000+ square feet, and has 6 bedrooms, 11 baths, a private/gated motor court, and a pavilion with outdoor kitchen and infinity pool.
Noah likely wasn't planning on calling this LA property home either, as the comedian has already listed it for sale less than a year after he purchased it. The Daily Show host is looking to flip it at a profit, bringing it to market with a whopping $29,750,000 asking price — which is $2.25 million more than what he paid for it in late 2020.
More celebrity homes
'Biggest Loser' Host Bob Harper's Industrial-Chic NYC Pad Is On the Market for $2.3 Million
Robert Downey Jr. Lives in this Charming Windmill House in the Hamptons
Everything We Know About Adam Levine's House in Los Angeles
Celeb Spotlight: Cardi B's House in Atlanta is Pure Old-World Luxury