When it comes to brilliant business ideas, the 'sharks' of Shark Tank know what it takes.
And if it's deemed worthy of investment, the sharks will take a bite.
Premiering in 2009, the popular reality television series showcases entrepreneurs giving a product pitch to a panel of six investors (a.k.a. sharks) who decide if it's worthwhile.
And the sharks have seen it all!
From heat-free hair rollers to ugly Christmas sweaters, to wearable blankets with hoods, to a reusable super sponge, these are just some of the brilliant business ideas that have earned millions of dollars thanks to the sharks and their generous investments.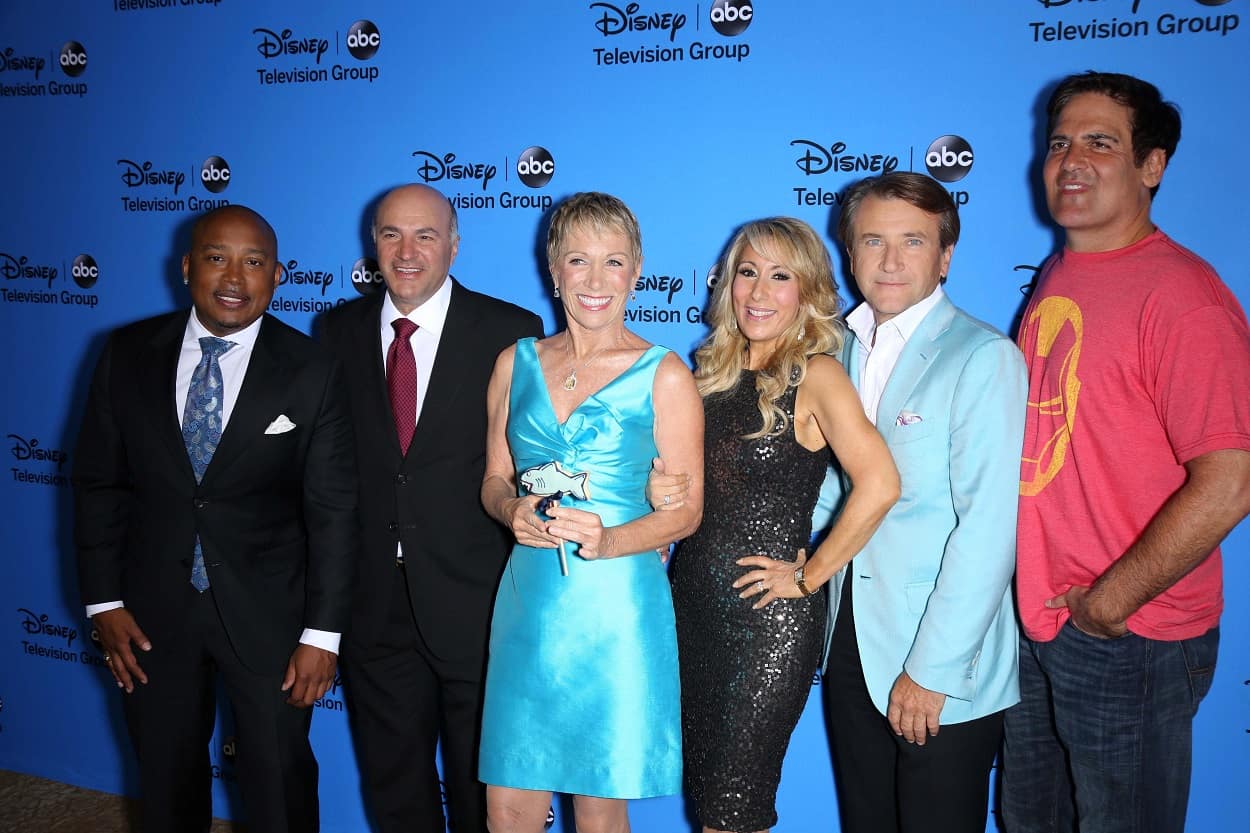 While the business presentations are fun to watch, we love learning from the savvy sharks. And call us nosy, but we couldn't help but wonder where these six wealthy sharks live.
Continue reading about the sharks' dope dens. From Mark Cuban's mega-mansion in Dallas to Robert Herjavec's swanky suite in Manhattan, here's the full scoop on where the six sharks live.
Daymond John's home
Daymond John, founder of apparel company FUBU, invested in the most successful product (ever!) on Shark Tank.
With more than $225 million in lifetime sales, Bombas (a company that sells comfort socks and T-shirts) is the greatest success story from the reality show.
And Daymond John is laughing all the way to the bank.
The business magnate and wife Heather are raising their daughter Minka in a luxurious high-rise apartment in New York City.
Heather's Instagram page often showcases their NYC home, featuring a large playroom for Minka, a stunning fireplace, and a beautiful master bedroom.
On weekends, the Johns often travel north to their cabin in Dutchess County. The property in rural New York sits on several hundred acres, New York Times reports.
And it sounds like life is better at the lake.
"I'll wake up at 5:30 because the fish don't wait for anybody," Daymond said of life at the cabin.
"When I look on my lake, the fog is generally very, very thick. I know then that I'm on time to catch the fish. It's summertime, so the air is decent. Hopefully I'll usually catch maybe 15 largemouth bass. That's a great day. Let's say eight — let's average it off at eight."
Barbara Corcoran's home
With sales over $150 million, Barbara Corcoran invested in one of the show's most successful products: The Original Comfy.
The real estate entrepreneur got herself a 30% stake in the company that makes wearable blankets with hoods. And with all that cash — adding to her incredible net worth estimated at $100 million in 2023 — she's certainly comfy in her crib. 
Barbara Corcoran and husband Bill Higgins live with their children Tom and Katie in a stunning NYC penthouse set in Manhattan's posh Upper East Side.
According to Hello!, Barbara bought the home in 2015 for $10 million. 
Featuring four bedrooms and seven bathrooms, the penthouse has its own games room, a 16-foot glass conservatory, and a rooftop terrace with sweeping views of the city.
The self-made millionaire opened up to People about her stunning penthouse.
"Years ago I was trying to get my old business, the Corcoran Group, through some hard times, so I took a second job as a messenger. I was delivering an envelope to the woman who lived here, and when she opened the door off the elevator, I saw that terrace," she said, pointing to the spectacular outdoor space with views across Central Park.
"I said, 'Excuse me, ma'am, but if you ever sell this place, will you call me first?'"
She added: "But what do you think happened 25 years later? I got rich. I sold my business. She knew who I was, and she called me first."
Robert Herjavec's home
Among many other savvy money moves, shark Robert Herjavec invested in Tipsy Elves, holiday-themed apparel in the form of ugly Christmas sweaters that generated over $125 million in sales.
As it turns out, that was quite a lucrative bite for the Canadian shark.
According to Financial Post, the Canadian entrepreneur bought a luxury condo in New York City in 2021. And it sounds like he got a 'great deal' on the swanky suite.
Robert paid $34.5 million for the condo located in the building known as One57 in midtown Manhattan. Reportedly, the home was listed for $45 million one year prior.
Featuring four bedrooms, the 6,200-square-foot apartment Robert Herjavec calls home spans across an entire floor of the 75-story building on West 57th Street, with a grand salon that overlooks Central Park.
It sounds like the self-made millionaire and wife Kym Johnson are raising their twins Hudson and Haven in NYC for now.
In 2021, they sold their home in Hidden Hills for $17 million. Prior to that, Robert sold his multi-million dollar mansion in Toronto for more or less the same amount. But don't let that fool you into thinking a man of Herjavec's means doesn't retain a second residence on the West Coast.
In January 2023, Robert and Kym paid a whopping $26 million for another 7.4-acre estate in Hidden Hills, a celebrity-favorite area in the Santa Monica Mountains region of Los Angeles County.
According to sources, the Shark Tank host's newest real estate purchase, a 6-bedroom, 8-bathroom modern farmhouse, has an extra generous 15,000 square feet and features a glass-walled gym, sauna, and a master suite that includes two bathrooms. It also boasts a batting cage, pool, koi fish pond, and multiple golf greens, as well as 11 parking spaces.
Kevin O'Leary's home
Known as Mr. Wonderful, Canadian entrepreneur Kevin O'Leary and his wife Linda have raised their children Savannah and Trevor at their main home in Toronto, Ontario.
But the O'Learys love their additional properties as well.
When looking at his sharkalytics, we see Kevin has invested over $8 million on Shark Tank, with 40 deals across 131 episodes.
Indeed, he can afford a few fabulous homes!
Besides their Toronto estate, the O'Learys own additional properties in Muskoka, Boston, and Geneva in Switzerland.
The O'Leary Canadian cottage located on Lake Joseph features a stunning waterfront view.
During some downtime, Kevin took to Instagram while vacationing with his family, saying:
"I call this the "Wedge" it's [a] natural phenomenon of nature located where our lake house home is situated," Uncle Kevin captioned the stunning shot. "Just beautiful!"
Lori Greiner's home
Lori Greiner knows a thing or two about good hair.
Not only does the savvy businesswoman have lovely locks of her own, but she's also helped millions ease their daily hair routines.
Lori invested a considerable amount for a 25% stake in Sleep Styler, which has turned out to be one of the show's greatest success stories. The heat-free hair rollers created from memory foam are worn while sleeping, and they've produced more than $100 million in sales.
That beautiful blonde hair of Lori's rests comfortably in her stunning estate in Chicago.
The businesswoman and her husband Dan both live and work in Chicago.
The author of Invent It, Sell It, Bank It! often shares glimpses of the couple's home via Instagram.
While sharing on Stories, Lori is often seen sitting on the couple's bed featuring a large cream button-back headboard, and white and cream bed linen with metallic silver embellishment.
Mark Cuban's home
Last, but certainly not least, the show's wealthiest shark is none other than Mark Cuban.
The billionaire and his wife Tiffany are raising their three children in a mega-mansion located in Dallas, Texas.
Not to mention, they also own a swanky vacation home in California.
Both of Mark's mansions are so spectacular, we just had to cover all the details. So to read all about the stunning Cuban family estates (and to take a peek inside) here's our full coverage. 
Despite his vast wealth, the Shark Tank host likes to keep things simple. He recently shared that, when it comes to luxury spending, the billionaire draws the line at yachts, butlers, and cleaning services.
His family usually does their own chores, like washing clothes and cooking meals. Clearly not out of necessity, but rather out of a conscious decision to keep their home life private.
'I try to be the same person I was when I was poor', Mark Cuban told The Really Good podcast, adding that "I've been around people who hire somebody to do everything for them, and that's just, like, no privacy."
More stories
Where Does Warren Buffett Live? The Modest Home of the World's Tenth Wealthiest Person
Everything You Need to Know About Bill Gates' House, Nicknamed Xanadu 2.0
Grant Cardone's Houses: A $40M 'Castle on the Sand' and a Wildly Colorful Main Residence in Florida