Highlights
Grant Cardone shelled out $40 million

on an oceanfront Malibu home previous owned by an Ukrainian business tycoon

The deal

marks the author and influencer's return to California, after moving to Florida in 2012

The home features

9,508 square feet, 6 bedrooms, and 10 bathrooms

The pièce de résistance

: an oversized lap-lane swimming pool facing the ocean

Grant Cardone has bought over $4 billion

worth of real estate over the years

His main residence

in Florida is Tommy Hilfiger's former house, which he bough for $25 million
---
If the name Grant Cardone doesn't ring a bell, then you must have been living under a rock. The social media influencer-slash-motivational speaker-slash-bestselling author is a very busy figure, both online and offline.
Born and raised in Louisiana, Cardone started his career as a salesman but soon found his passion as an influencer and motivational speaker on social media.
He's authored several books on business and motivation, including The 10X Rule, The Millionaire Booklet, and Sell or Be Sold. Cardone has also recorded various audiotapes, training classes, and online speeches advising people on how to become successful in business — and real estate.
Turns out, Grant Cardone is not just a motivational guru or celebrity businessman — did we mention that he appears on Discovery Channel's Undercover Billionaire series? He's also a very successful real estate investor, who's accumulated assets worth over $2 billion.
Cardone's latest real estate venture was a special one for him.
Years ago, his eyes and heart landed on a 9,508-square-foot Malibu beachfront house, and he was determined to one day call it his own.
In early 2022, that moment finally arrived. The 2005-built property owned by Ukrainian oligarch Vadim Shulman hit the market with a $50 million price tag.
After a couple of months on the market, Grant Cardone emerged as the buyer, shelling out $40 million for the Cape Cod-style Malibu property.
There and back again: Grant Cardone's California comeback
The Malibu property was special enough to convince Grant Cardone to return to California.
Not too long ago, the social media and real estate mogul used to live in a massive mansion overlooking the Sunset Strip that used to belong to Lionel Richie.
But then in 2012, he sold the home to Walmart heiress Sybil Robson Orr and left the City of Angels.
Cardone moved to Florida that same year for tax reasons and continued to expand his business there. His primary residence is currently a $28 million mansion in Miami that was previously the home of fashion designer Tommy Hilfiger.
Cardone's new $40 million Malibu digs is not a permanent home, but more like a vacation home where he and his wife Elena will spend roughly six months a year, according to The Real Deal.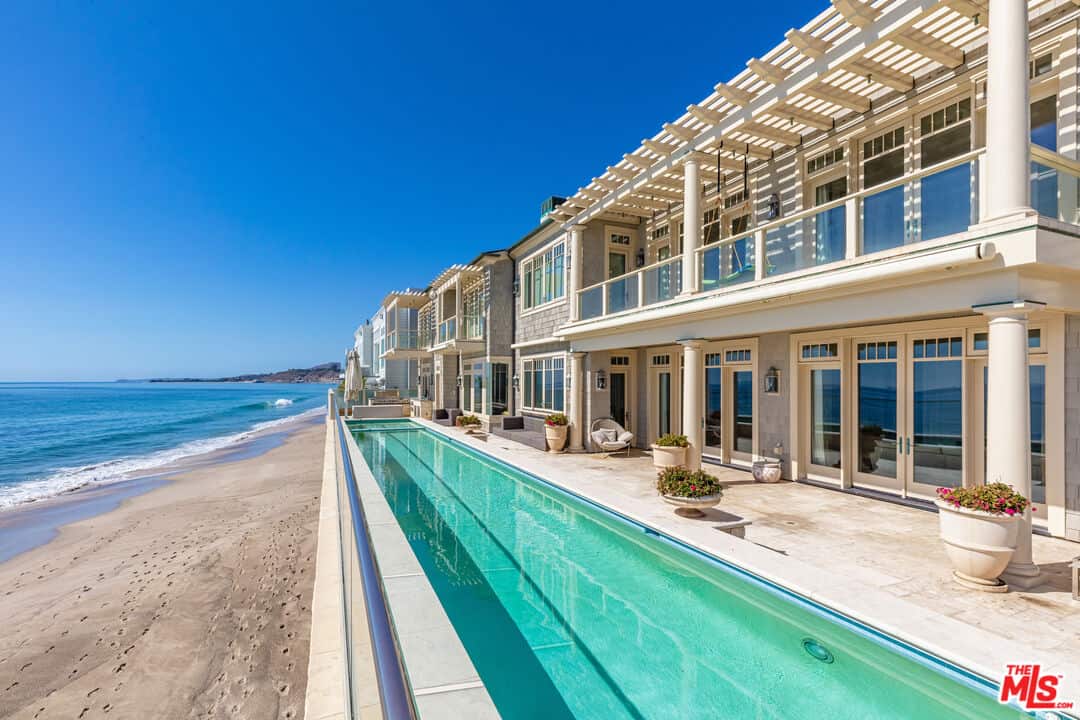 Cardone told the publication that "it's good to be able to go someplace to sink your feet in the sand, get in the ocean and check out for a second — Malibooyah-style!"
He first fell in love with the house during a break from shooting an episode of Undercover Billionaire, 'Wake Up Pueblo.' It's clear that Cardone did miss California a little bit — all it took for him to return was the right property.
So, what's so special about it to be worth a $40 million price tag?
What's so special about Grant Cardone's house in Malibu?
Firstly, the six-bedroom, 10-bathroom mansion has something that most oceanfront Malibu homes lack: a grassy lawn and a lap-lane swimming pool with stunning ocean views.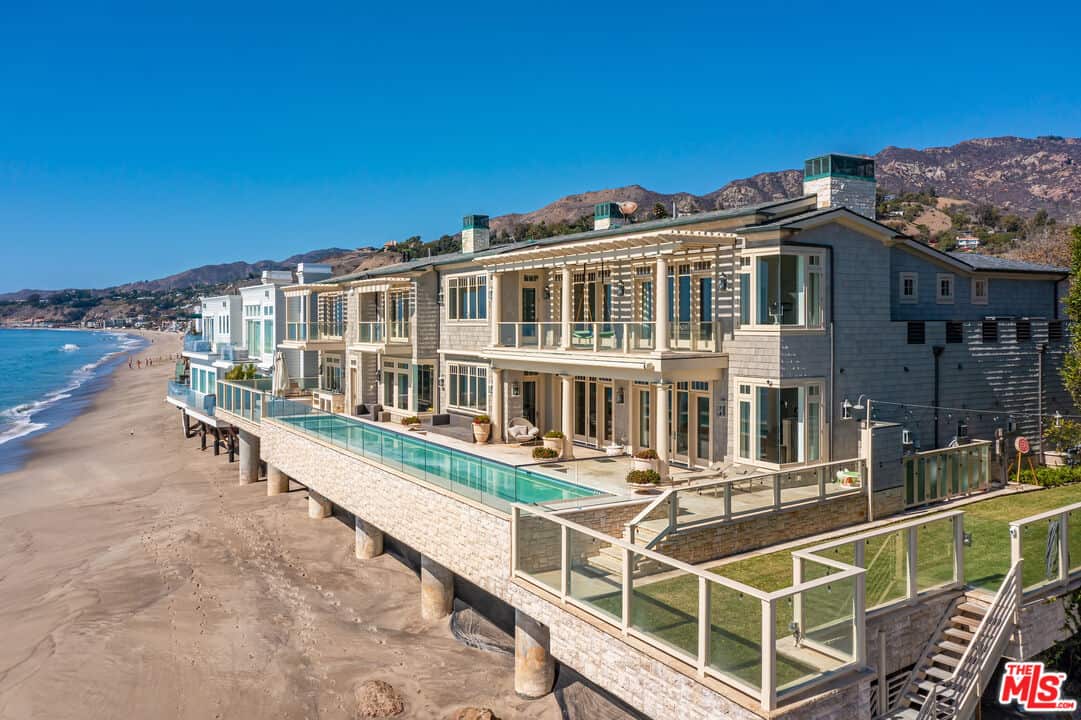 Then there's the location along the famed Carbon Beach, also known as 'Billionaire's Beach.'
This ultra-exclusive strip of land is home to various other high-profile celebrities entrepreneurs, including Oracle co-founder Larry Ellison and former Walt Disney chairman Jeffrey Katzenberg.
The half-acre estate is just as stunning on the inside as it is on the outside (though Cardone will likely transform it to better fit his vision for the home, and he's already asking his Instagram pose for recommendations for contractors to take on the job).
Interiors feature elegant Aremberg hardwood floors, a formal dining room, a gourmet kitchen, and floor-to-ceiling windows that showcase the 3,800-square-foot oceanfront deck.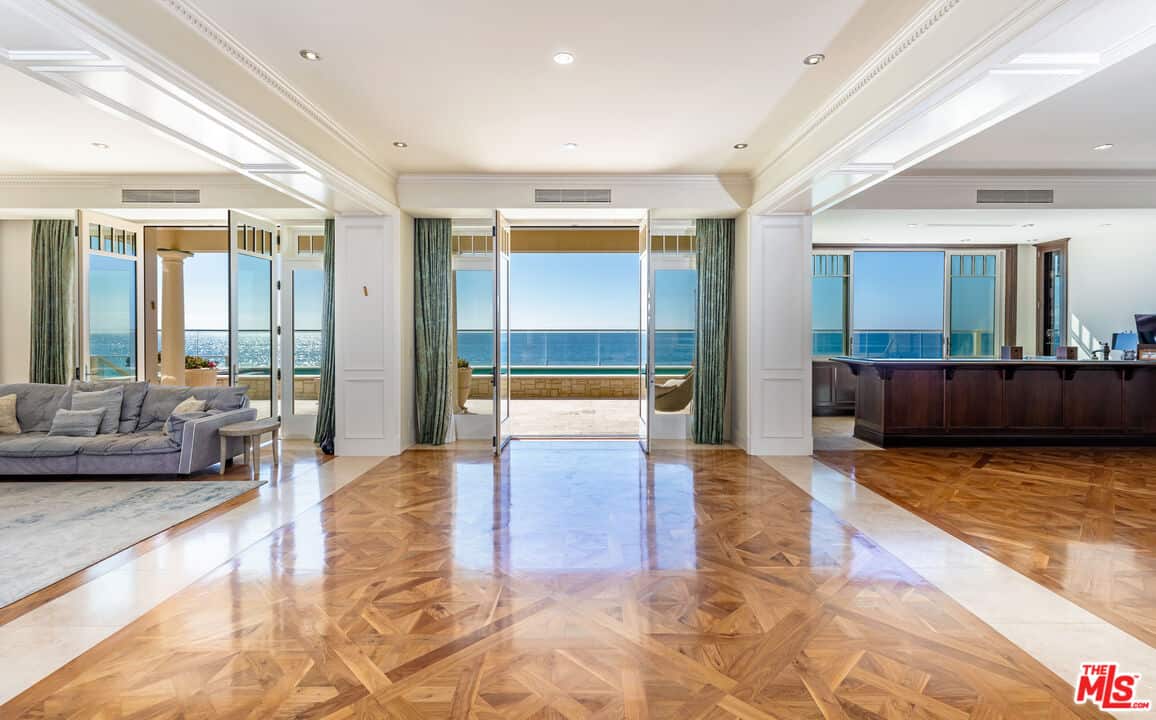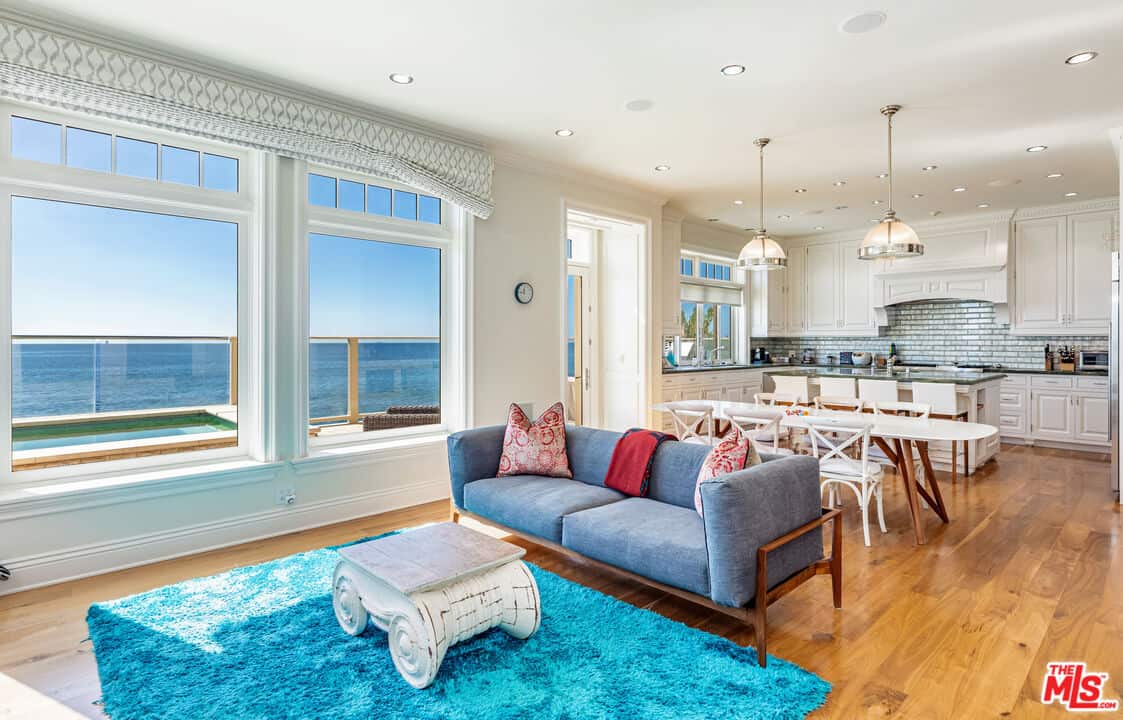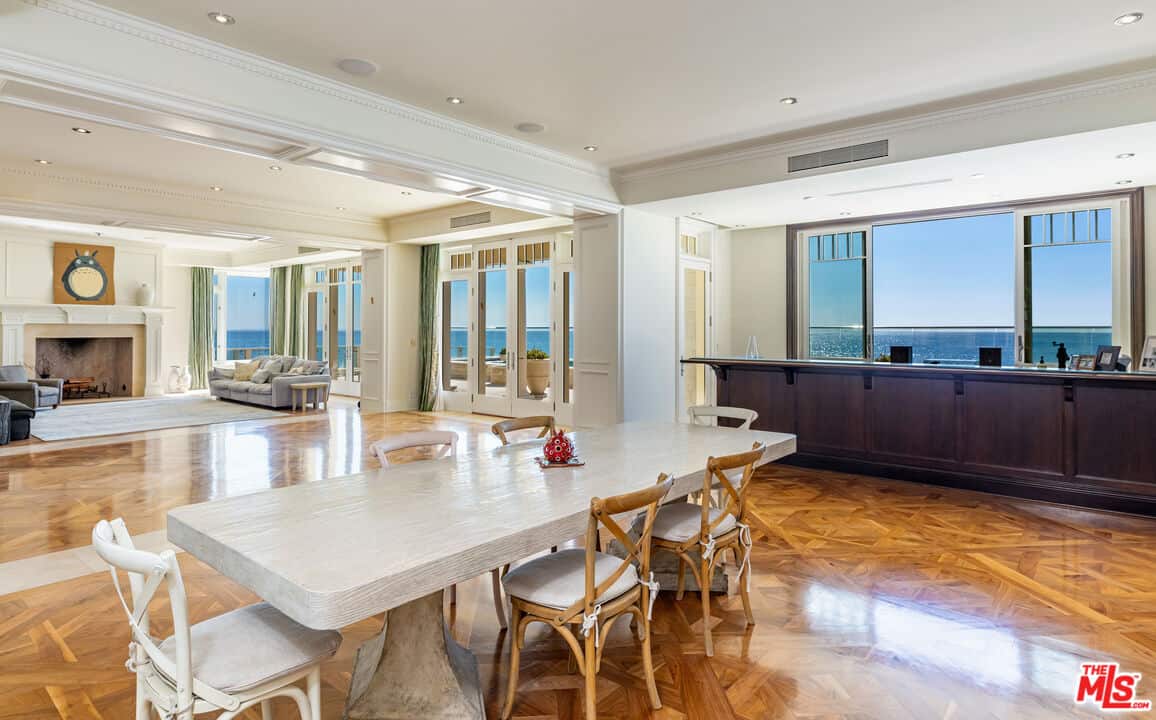 The views are probably what attracted Grant Cardone to this luxury property.
The Malibu manse offers stunning, 180-degree ocean views, covering the entire Santa Monica Bay, from Point Dume to Palos Verdes. The oceanfront deck is equipped with an outdoor kitchen and provides access to the pièce de résistance, aka the lap pool.
Upstairs, the Cardones get to enjoy two massive fireplaces, an ocean-view terrace, elegant walk-in dressing rooms, and a spa-style bath with a marble shower and a soaking tub.
Additional amenities include a media room and a movie theater, a beautiful library, and of course, a wine cellar.
How many properties does Grant Cardone own?
Grant Cardone's Malibu home is just the latest addition to his real estate portfolio.
Cardone told TRD that real estate is probably his most passionate business and that he bought over $4 billion worth of very exclusive real estate.
The portfolio reportedly includes a 346-unit multifamily community in Delray Beach, Florida, a 501-unit building in Sunrise, Florida, and an office complex in Aventura, Florida.
The Main Residence: Grant Cardone's house in Florida, bought from fashion mogul Tommy Hilfiger
The real estate guru and his wife Elena purchased a famous Miami-area mansion in 2021 for $25 million, and that serves as his primary residence nowadays.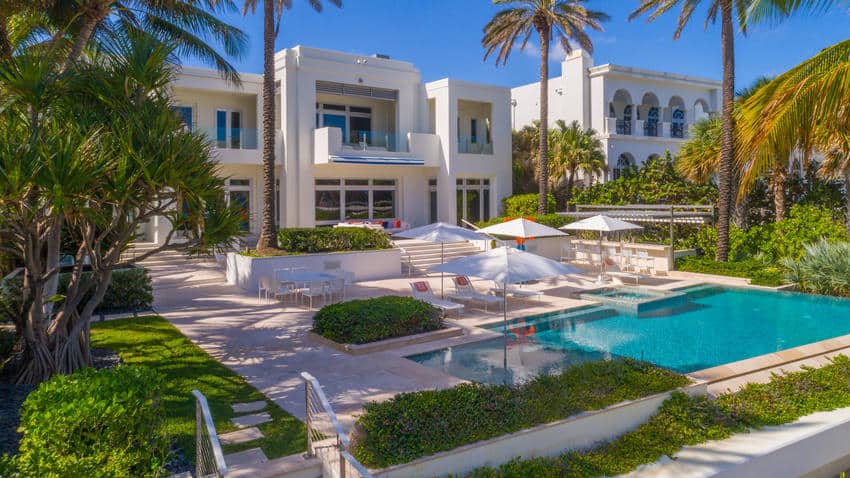 Grant Cardone lives in Tommy Hilfiger's former house, a sprawling estate in Golden Beach — which is a small, wealthy town sandwiched between Broward County and Sunny Isles Beach.
The eccentric 2007-built property features an infinity pool, access to a private beach, seven bedrooms, eight bathrooms, and last but not least, scratch-and-sniff fruit wallpaper in some of the bathrooms.
Fashion mogul Tommy Hilfiger, the previous owner, made sure the home is quite extraordinary before passing the keys along to the Undercover Billionaire star.
The house, which was featured in Architectural Digest and quite a number of other design magazines during Hilfiger's ownership, had patterned ceilings, colorful walls and floors, quirky sculptures, bright carpeting and more.
We don't know how many of Hilfiger's fun designs Cardone kept, but even if he toned down the interiors, the house is still quite a feast for the eyes.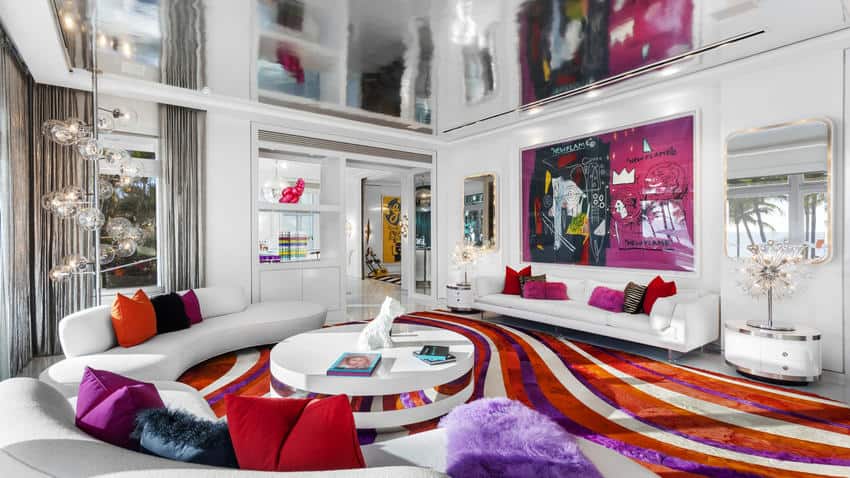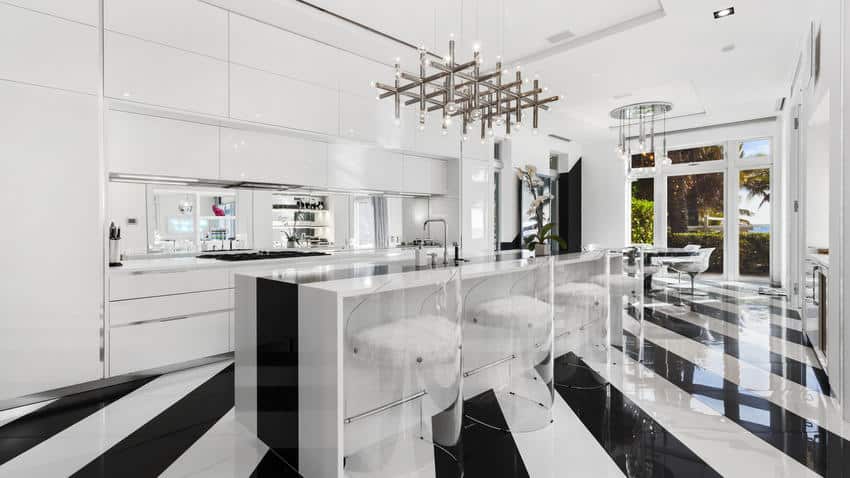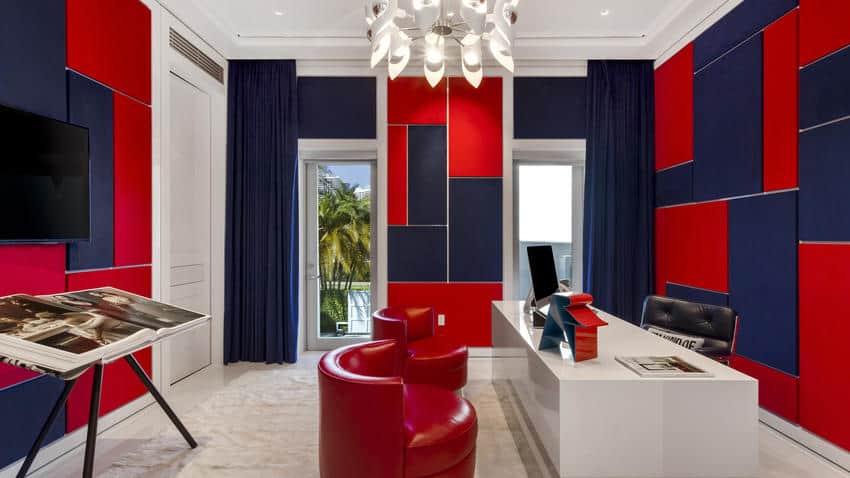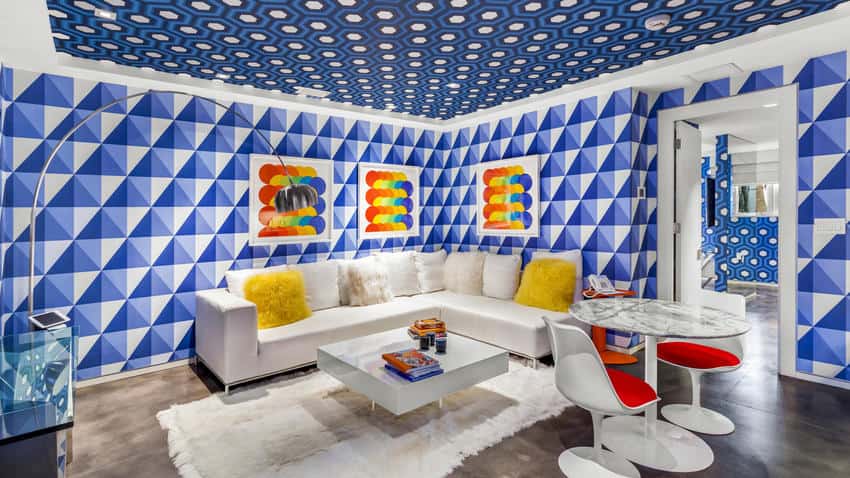 Tax considerations aside, it only makes sense for Cardone to live in Florida. The social media guru makes most of his real estate moves through his own company, Cardone Capital, based in Aventura, Florida.
According to the website, Cardone Capital operates roughly 11,500 apartment units across 35 multifamily properties, as well as over 225,000 square feet of commercial office space.
The company has raised over $750 million across 18 funds since 2016 and has more than $4 billion in total assets under management.
More stories you might like
Joe Rogan's Real Estate Experience: Living a Luxurious Lake Life in Austin, Texas
Tim Ferriss Reportedly Puts Florida House on the Auction Block; Turns Out He Never Owned a House in Florida
Where Elon Musk Lives Since Declaring He "Will Own No House"
See Inside the House Dan Bilzerian Grew Up In, Now on the Market for $6 Million