The months of spring might have thrown all of our plans to the bin, but we can still be grateful for what we did have: a decent internet connection and access to a Netflix account.
With a fresh season of Better Call Saul ready for us to binge on, it only makes sense for die-hard fans to want to revisit the iconic series that prompted the successful spin-off.
So I don't know about you, but for me, watching Saul Goodman in action again has definitely made me kind of nostalgic, so I recently rewatched all five seasons of Breaking Bad.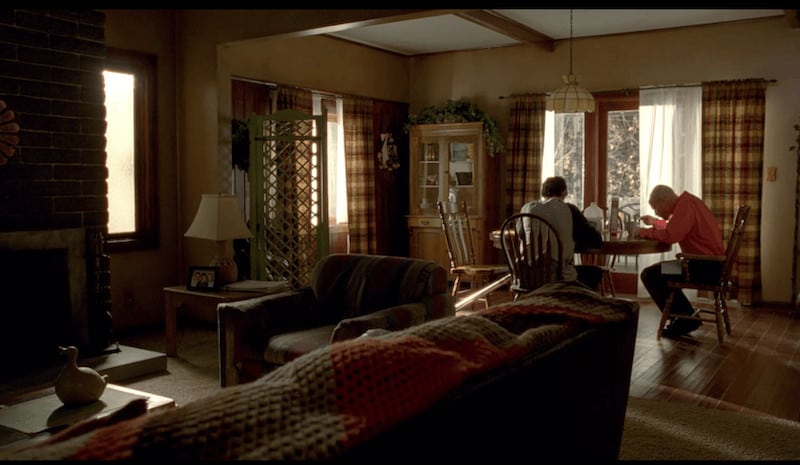 We've been writing about real estate for many years now, so naturally our eye goes straight to the homes that show up on screen, and we become increasingly interested in where the action is taking place.
More often than not, movies and TV shows are filmed on set, and a lot of Hollywood homes are purely fictional and built on a production lot. 
As it turns out, Walter White's house in Breaking Bad is an actual home in Albuquerque, with real people living in it.
The production team managed to convince the homeowners to let them use the property to film the show — a decision they definitely regret now, as we'll find out later. For now, let's dive right in and check out the infamous White house. Walter White house, that is.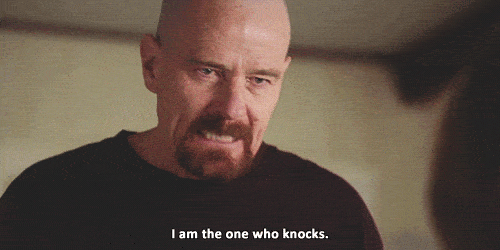 'My name is Walter Hartwell White. I live at 308 Negra Arroyo Lane, Albuquerque, New Mexico.'
These are the very first words uttered by Walter White's character in the first episode of Breaking Bad. As he himself states, the fictional address of the White house is 308 Negra Arroyo Lane, Albuquerque, New Mexico.
However, out of privacy concerns, we're not going to provide you with the actual address, as the owners of the house are beyond sick of unwanted visitors by now, as you're about to find out.
There's really nothing too impressive about the three-bedroom house where Walter, Skyler, Walt Jr. and later little Holly live.
The Breaking Bad house is a reflection of quintessential American living.
It has a two-car driveway and an unassuming exterior, an open living room/kitchen/dining room with plush carpeting throughout, a long hallway that leads to the bedrooms and bathroom, a boiler room, garage, and so on. 
The house is really non-luxurious, but it does provide plenty of living space, privacy from neighbors, and even a backyard swimming pool with a barbecue/lounge area.
Not too shabby, if you think about the dire financial condition that the White family finds itself in during the first few episodes of the show.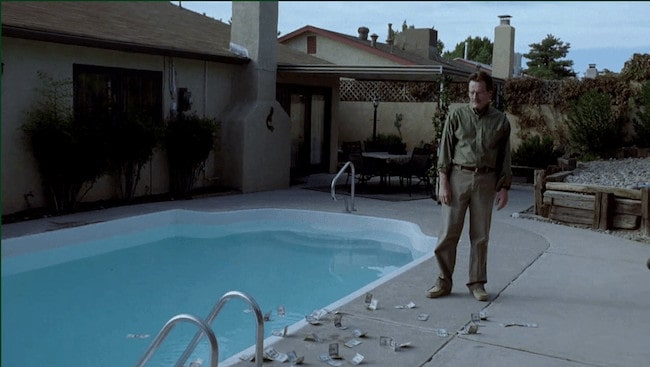 Which leads us to the question of how the Whites ended up with this rather spacious home in a quiet neighborhood of Albuquerque.
The answer comes later in the show, when we're offered a flashback to the time Walter and Skyler first laid eyes on the house. 
A very pregnant Skyler tours the house with a much healthier Walter, as she tries to convince him that three bedrooms are more than enough for their growing family.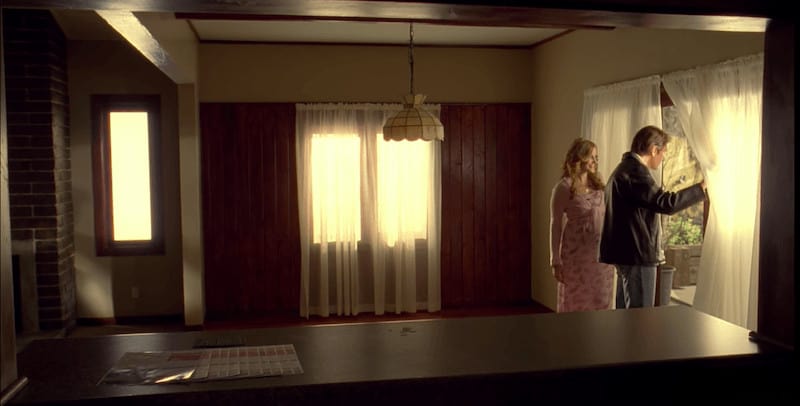 Walter, who at the time was a successful businessman working for Gray Matter, a startup he founded with a couple of friends, insists they need a much bigger home; luckily, Skyler convinces him to stick to the house at Negra Arroyo Lane.
If you've watched the show, you'll know that was a smart move, as Walter wouldn't be working at Gray Matter for much longer. 
The 9 Lives of Walter White's House
The White home goes through a lot, and we mean a lot, over the course of five seasons, much like the characters who inhabit it, if you think about it.
First, the water heater is broken, and is eventually replaced by Walter later in the show, as he embarks on an increasingly complex home improvement project. 
While installing the new heater, Walter finds that the structure beneath the house is plagued by extensive rot.
He becomes obsessive in his quest to fix it, so he actually creates a crawl space right below the water heater. In the end, that crawl space becomes a hiding spot for Heisenberg's drug money.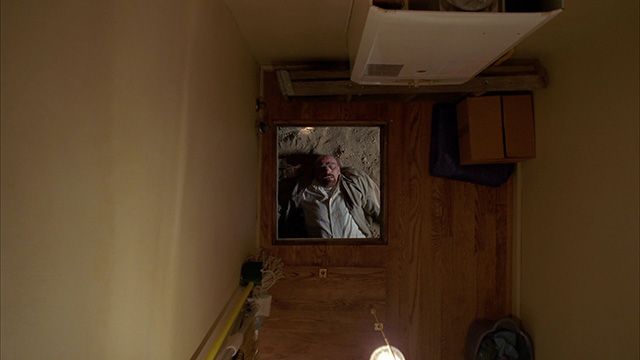 A bigger tragedy to (literally) strike the White residence takes place when two airplanes collide in mid-air, hitting the entire neighborhood with debris and causing a lot of casualties.
Walter and Skyler's home is particularly damaged by the Wayfarer 515 disaster, which is ironic since the collision is ultimately the result of Walter's actions.
You know what we're talking about; Jane's death is a moment from the show that we're not really keen on reliving, so we'll move right on.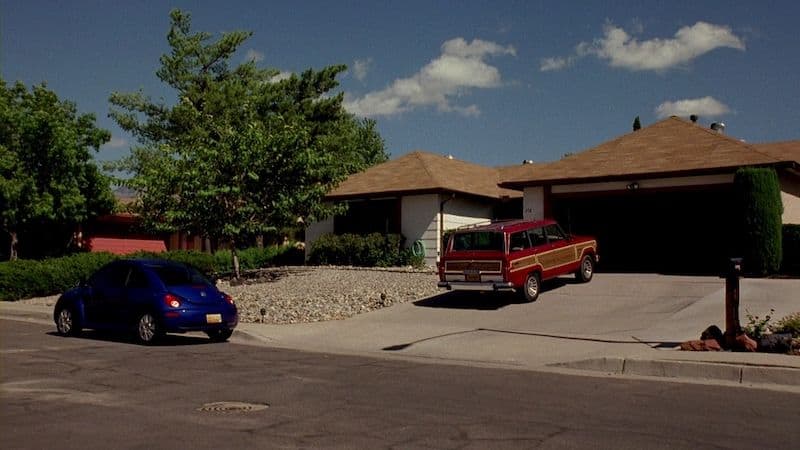 Eventually, Heisenberg's actions catch up to him, when brother-in-law Hank realizes that Walter is the meth kingpin he's been after (while sitting on Walter's toilet, might we add).
We don't want to get into where this discovery leads Hank either; let's just say there are a lot of heart-wrenching deaths on this show. Everything unravels fast after this moment, and soon enough, everyone and their mother knows about Heisenberg's true identity.
Skyler and the kids are forced to flee the house for their own safety, abandoning their small yet cozy family home, and the place soon becomes a wasteland, trashed by trespassers who spray-paint 'Heisenberg' on the living room wall.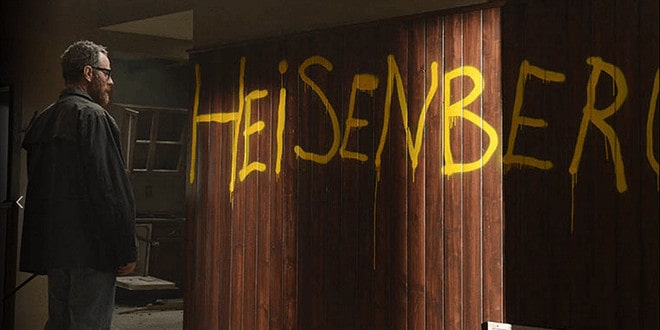 Walter eventually returns to retrieve some super-deadly poison hidden in the bedroom wall socket, and finds the house in total neglect and disrepair.
The dark and gloomy house is now a far cry from the modest-yet-inviting family home we first saw in season one. And there's no one else to blame but Heisenberg himself. 
The real-life White home is now off-limits for Breaking Bad fanatics
The real-life home where Breaking Bad was filmed has a much less controversial and eventful history. Joanne Quintana — the owner of the iconic house — and her mother were living a quiet life at their Albuquerque home, until they agreed to rent it out to the AMC film crew in 2008. They moved out for the duration of the show to allow the crew to do their thing, a move that they surely regret now.
Over the years, the show gained a cult following and became a true modern-day western classic that has a lot of die-hard fans.
These fans obviously want to see the Breaking Bad house for themselves, so they flock to Joanne Quintana's property on a daily basis.
The constant influx of Breaking Bad fans became too much for the homeowners to handle, so they ultimately decided to install a 6-foot-high, wrought-iron fence around the yard.
Installing that fence was probably the best idea, as people continue to discover Breaking Bad, especially since the show is available on Netflix in full.
The show's popularity is also boosted by its successful spin-off Better Call Saul, which revolves around Walter and Jesse's 'criminal' lawyer Saul Goodman. The show has reached its sixth season already, and it's a worthy successor to the original show. 
El Camino: A Breaking Bad Movie also dropped in 2019 starring Aaron Paul, and it too is available on Netflix. If this goes on, the show's popularity will never dwindle, so it's understandable that Quintana wants to keep avid fans out of her driveway.
Now, how about you grab a slice of pizza and get ready for a Breaking Bad or Better Call Saul marathon?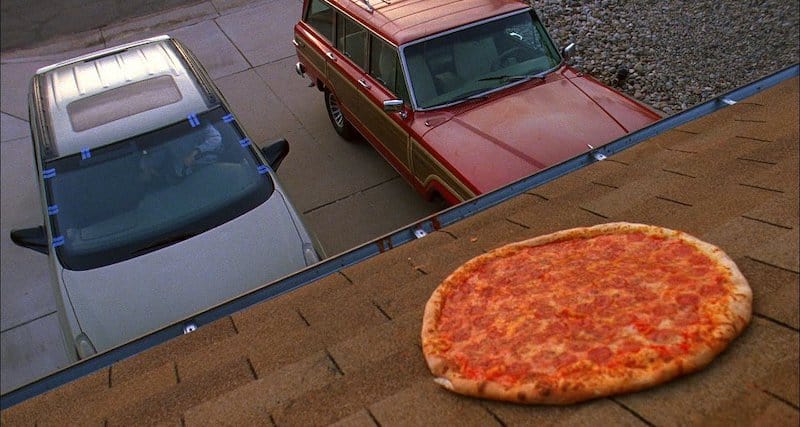 More memorable homes on TV
Tony Soprano's House is a Real-Life Home in NJ
The Byrde House in 'Ozark' is Actually in Georgia
Lucifer's Den of Sin & Luxury Penthouse at Lux
The Desperate Housewives Houses on Wisteria Lane