You may recognize the Rosenheim Mansion, more commonly known as "The Murder House" as the spooky setting behind the pilot season of American Horror Story, a series so successful it nabbed 17 Emmy nominations. Keep reading to discover some weird and wonderful facts about this real-life mansion in California.
If you're a crime-lover, you've probably already binged all seasons of American Horror Story. But one of the most memorable seasons yet has to be the very first with its creepy setting in the spookiest of places — the Harmons' own home. 
We're taking a closer look at the American Horror Story Murder House, the infamous setting of this much-talked-about FX series. Join us as we ask and answer the burning question — is it real? And where can we find it in real life?
The story of the eerie Murder House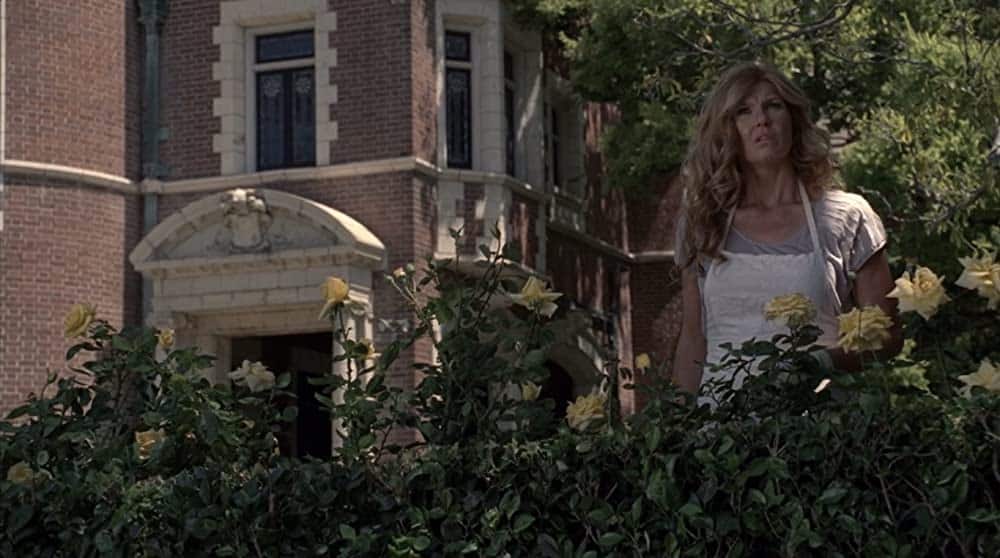 It's believed to have been haunted since the 1920s, but the Harmon family move into the beautiful (read: eerie) Murder House oblivious to the sordid secrets that lie within it. By the time it's featured again in the show's eighth season in "Return to the Murder House", there are over 30 people who have reportedly died in the house, their angry souls trapped forever within its walls. 
"You're going to die in there" 
The house itself feels as though it's been purpose-built as a horror set. When asked about the location, creator Brad Falchuk said "This house is just bricks, stone and glass but it's more than that – it's got a personality. The moment we saw it, we realized it was going to be the star of the show. I can feel that energy when I walk into that house. There is no [actual] malevolence in there but you can feel its sense of history."
When asked about what the house was like in person, actor Even Peters who played Tate Langdon in the series said:
"It's terrifying. It's a real house in L.A. that's old and creepy and there's actually a chapel connected to it. The whole atmosphere there is really terrifying. We heard some noises and stuff shooting but that's to be expected in a three-story house with an attic. It's just a creepy house, it's so terrifying, with that wood everywhere. I would never, ever want to live in that house."
But while American Horror Story surely got the most press, there are a whole host of other TV shows that have been filmed here too – CSI Miami, Buffy the Vampire Slayer, X-Files, Criminals Minds – sensing a theme here? 
So tell us, does the American Horror Story murder house really exist?
Yes, it does! The real-life mansion used for filming is actually called Rosenheim Mansion and it's located in Los Angeles, California, in the Arlington Heights area. It was built in 1902 by an architect as his private residence in Country Club Park (an area then known as "Billionaire's Row" in its hey-day) and it reportedly took five years to complete.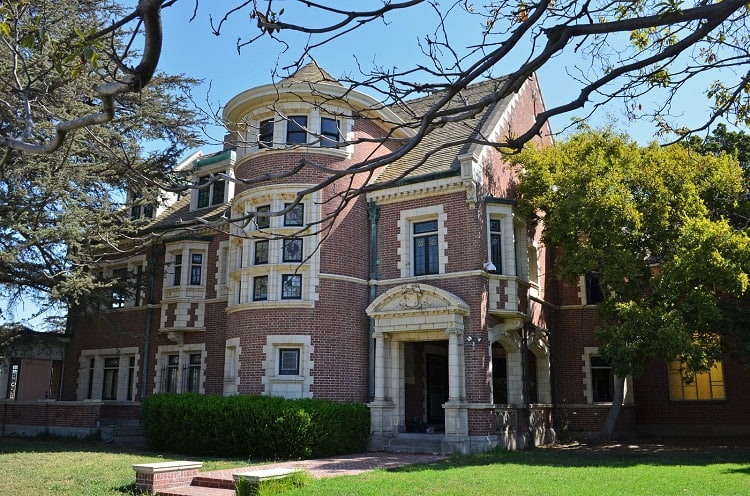 It last sold in 2015 for $3.2 million, a massive price drop from its initial ask of $17 million. Before that, the Tudor-style home had been on and off the market for years, and lending it to serve as filming grounds for the series created by Ryan Murphy and Brad Falchuk must have been a great source of cash flow for the previous owners, while they were waiting for a buyer to emerge.
Crafted out of Italian brick and expensive woods that range from African Oak to Peruvian Mahogany, the mansion is truly beautiful despite its hair-raising reputation.
In reality, the house isn't much different from its on-screen version
There are plenty of notable features to this majestic mansion, such as the porte-cochère where Violet Harmon can be seen smoking during the series and the turreted stair hall lit by Tiffany stained glass windows that add to the frightening atmosphere.
Inside, most of the original house was kept intact for filming — only the kitchen and the kids' bedrooms were redecorated for the series. The rest of the set kept the furniture and décor of the real-life Rosenheim Mansion.
We're talking the dining room that served as Ben's office which boasts a gold leaf ceiling with Japanese-style motifs and a semi-circular library with its fireplace and built-in Tiffany glass doors.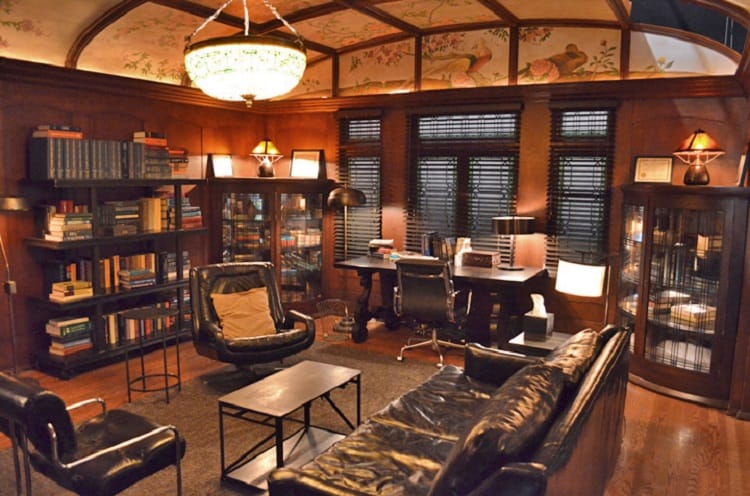 Fast forward over a century and the Murder House is the location of a modern-day legal battle.
In 2018, the current residents – Doctor Ernst von Schwarts and his wife Angela – sued the previous owners as well as the real estate agents for keeping it quiet that the house had been used to film a very well-televised horror show.
The von Schwarts weren't actually concerned about the potential haunting though – they were more concerned about the number of fans trespassing to catch a glimpse of the infamous horror house. So, if you're in the area and want to capture a moment in time at the Murder House, be sure to keep a respectful distance. 
More stories like this
Behind the Evil Eyes: The (Real) Story of the Amityville House
Is It Real? The Exorcist House, Fact vs Fiction
The Sharon Tate Murder House on Cielo Drive and Its Sordid Past
The Haunting of Thornewood Castle – Where Stephen King Filmed the Rose Red Miniseries
Owners of House that Inspired 'The Conjuring' Say It's Really Haunted