This article contains affiliate links and we will get a small commission from any purchase you make by clicking on one of these links
Lighting is without a doubt one of the most important elements of interior design. The right lights don't just accentuate the best features of your home but completely transform it as well.
Whether you're looking to create a warm atmosphere or a cozy ambiance, it all comes down to the kind of lighting you choose for your place. Of course, there are plenty of options out there, but one of my all-time favorites (and one that you just can't go wrong with) is the Tiffany-style lamp.
An icon of the Art Nouveau movement, the humble Tiffany lamp was originally thought to be designed by Louis Comfort Tiffany, son of Tiffany & Co's Charles Tiffany in the late 1800s.
He started his career as a painter and then went on to set up his very own glass factory in Queens, New York. Louis also dabbled in interior design but glassmaking was his forte. He created and trademarked 'Favrile glass' which involved manipulating the impurities in glass to create unique patterns and colors.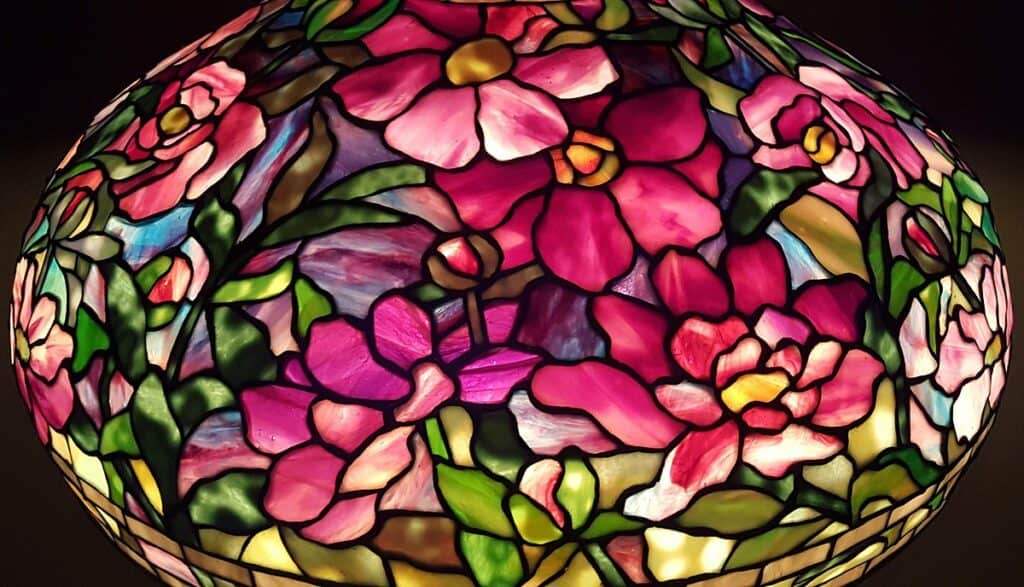 As for the famous Tiffany lamps, it later became known that an artist named Clara Driscoll actually designed them for Louis' company.
Each piece was meticulously handmade by skilled craftsmen using the copper foil stained glass technique. What stands out about them are the lavish ornamentation and intricate patterns inspired by nature.
The base of the lamps was mostly made of bronze but some were also enameled or made of glass and mosaic. They first caught the public's eye in 1893 at the World's Fair in Chicago and quickly became a coveted piece of home décor. 
Like with most trends, Tiffany lamps also fell out of fashion and the company even ceased production by 1913. They made a reappearance in the 1950s and have since become collector's items that are often seen in fine art museums and auction houses.
Before you get too invested in the idea of grabbing an original, let me just set the record straight. These prized antiques can sell for anything between $4000 to over $1 million! In fact, the famous and rare 'Pink Lotus' 'Pond Lily' lamps sold for $2.8 million and over $3 million respectively. Yep, you read that right!
Thankfully, there are more pocket-friendly alternatives available on Amazon that look as good as the real deal. Here are some of our favorites.
JONATHAN Y Multi-Light LED Tiffany Floor Lamp
A reading nook is simply incomplete without the perfect luxury floor lamp. And how fabulous would the JONATHAN Y Tiffany lamp look next to an elegant wingback chair?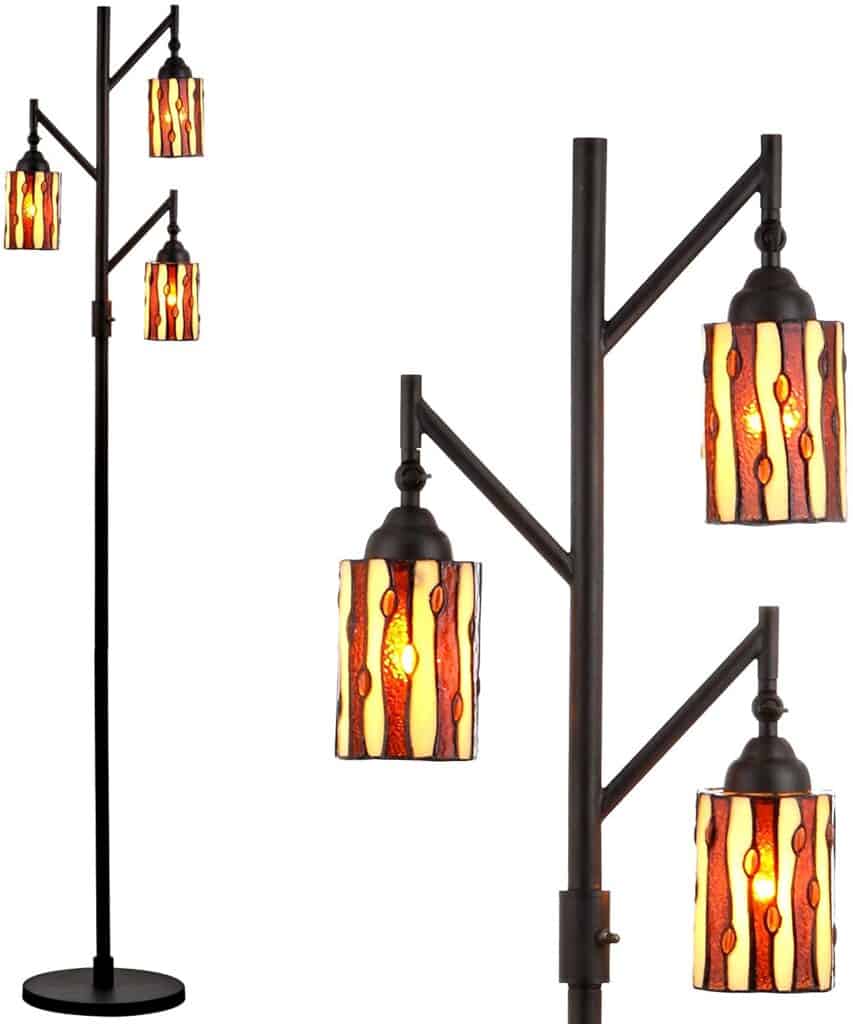 Created by Soho-based designer, Jonathan and his team, this bespoke lamp features three shades in ivory and amber, an easy foot-step switch, and a sturdy base.
It also comes with eco-friendly LED bulbs that use 90% less energy and have a lifespan of 25,000 hours. No matter where you place this stunning beauty in your house, it's sure to make a stylish statement! Make it yours by finding it here.
Green Stained Glass Tiffany Floor Lamp
If you're looking to add a dash of elegance to your space in true Art Nouveau style, this green stained glass lamp is the one for you.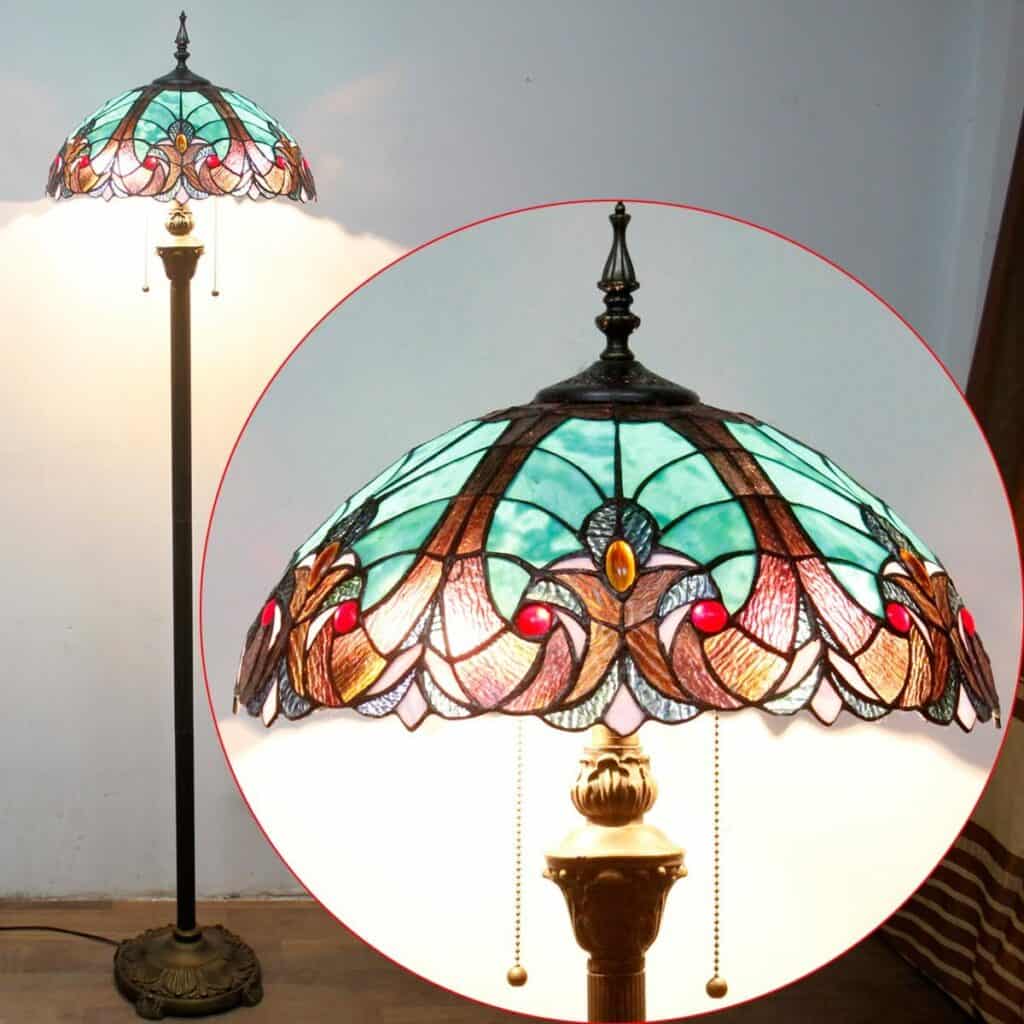 The delicate scalloped-edge details, the rich colors of the lampshade, and the fact that it is made of stained glass make it look like the real deal.
This lamp would look great next to a sofa or in a corner that needs jazzing up as it's almost like a piece of art. It would also make an amazing gift for anyone who loves vintage décor. Go here to buy it.
Werfactory Boho Tiffany-Style Floor Lamp with Roses
Nature has always been the best artist and flowers are without a doubt one of its most beautiful creations.
Back in the day, floral Tiffany lamps were among the most popular and with good reason.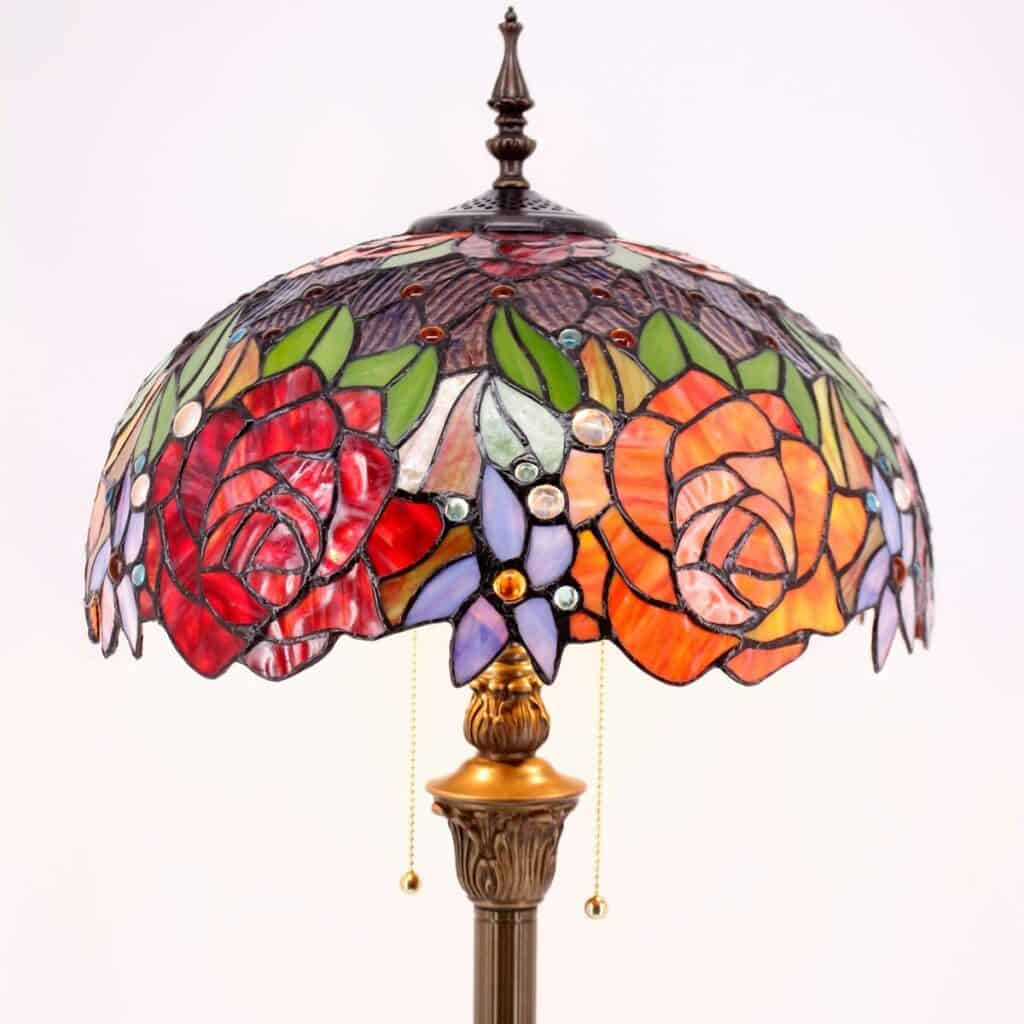 If you're looking for something that will blow everyone's breath away with its wow factor, check out this beautiful floor lamp with an intricate glass pattern shaped like roses.
The rose details are delightful and the unique shape of the lampshade will take you back to a glorious era every time you bask in its warm golden glow. Buy this beauty here.
Amora Torchiere Tiffany Style Floor Lamp
If you love the stained glass style of Tiffany lamps but aren't too fond of bright colors, this handcrafted Amora lamp has your name written all over it.
While it's not as dazzling as some of the other choices on this list, it has a simplistic allure about it that makes it stand out from the rest.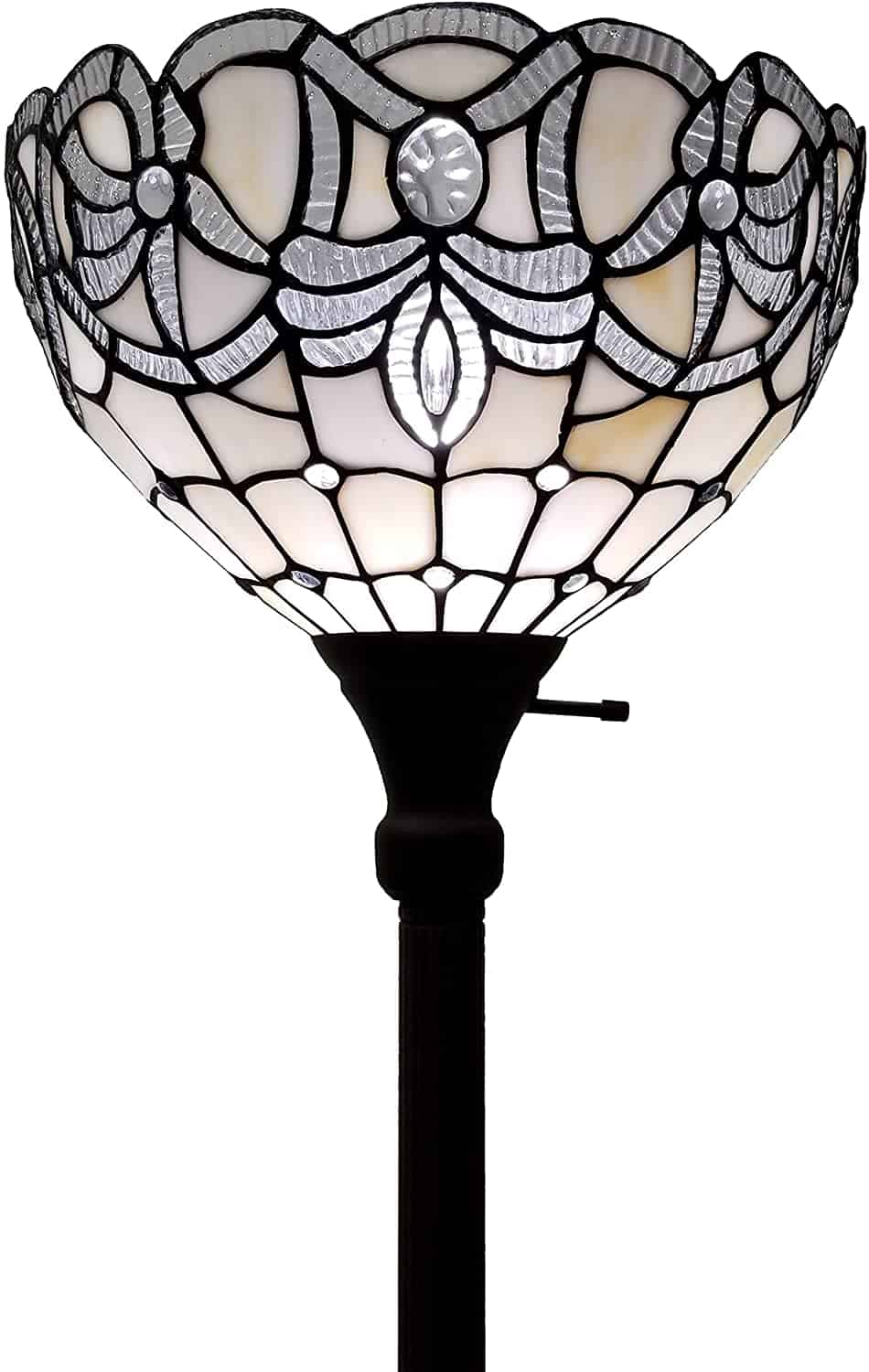 You can use either a 60-watt E26 incandescent bulb or an LED bulb. It also comes with a turn knob at the base for ease of use and the stained glass is protected with mineral oil.
The ivory color along with the torchiere design makes the Amora perfect for both modern as well as traditional homes! Get it here.
Tiffany Torchiere Floor Lamp
Mathematics may not be everyone's cup of tea but take a look at this one-of-a-kind Tiffany Torchiere Floor Lamp and you will agree that there is beauty in geometry.
The contrasting colors, geometric panels, and interesting shape ensure that this accent lamp will look elegant in just about any room.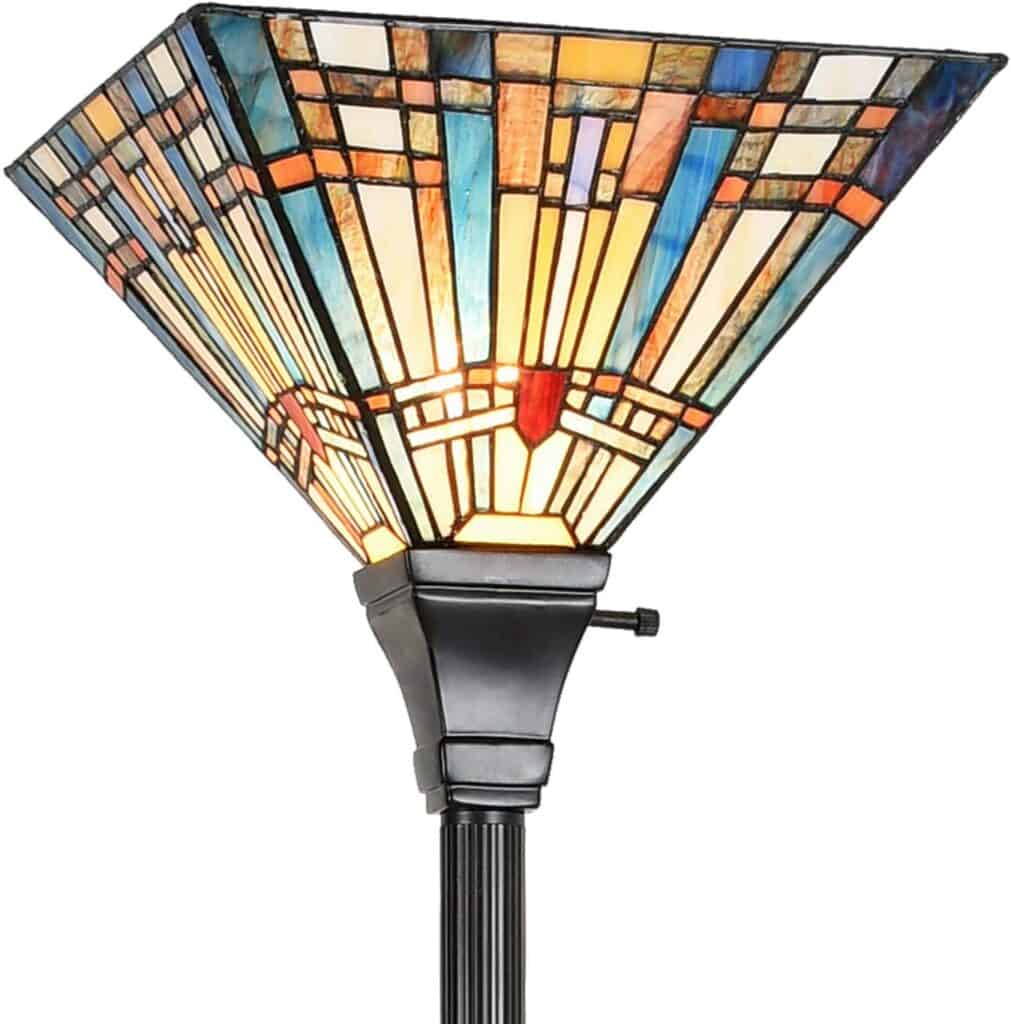 The best part is that it is made of 100% real stained glass in almost the same way that Louis Comfort Tiffany's craftsmen did back in the day.
So, it's as close as you can get to the original Tiffany lamps. Doesn't that sound wonderful? If you nodded yes, click here to purchase it.
Turkish Moroccan Mosaic Floor Lamp
Get ready to be transported to the Grand Bazaar of Istanbul with this gorgeous Turkish-inspired mosaic floor lamp.
If you're a fan of stained glass lamps but don't want to get a traditional Tiffany one, this is an awesome alternative.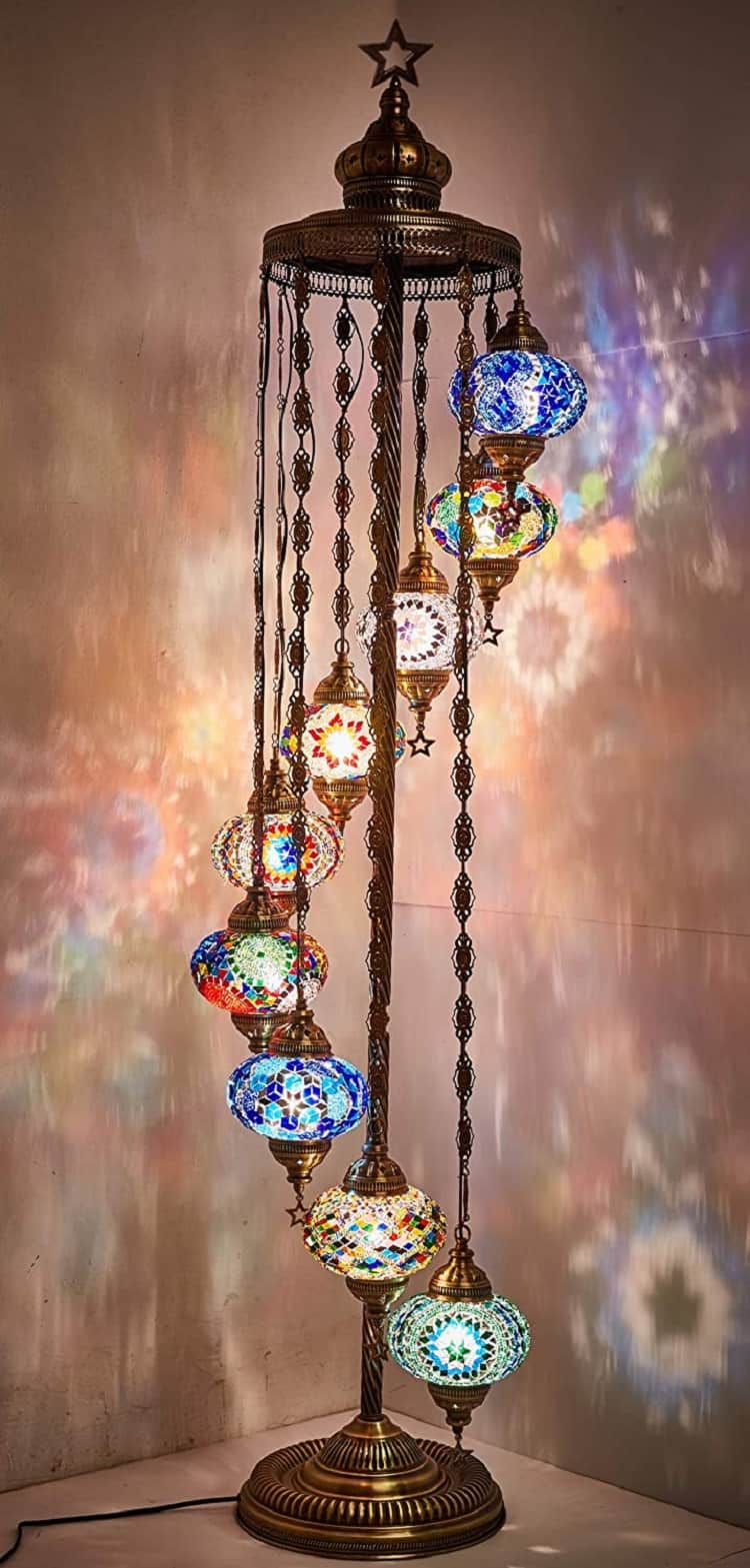 Handmade in Turkey, this stunner features nine unique globes with intricate designs. There are also decorative hanging stars at the base of each globe.
With all the patterns it creates on the wall as soon as you turn it on, this is one piece that's sure to mesmerize all your guests instantly! Can't wait to own it? Click here to buy it asap.
Blue Stained Glass Dragonfly Tiffany Floor Lamp
Sometimes all you need to bring a space to life is the right lamp and this Dragonfly Lamp will do that and more.
Inspired by the original dragonfly lamp designed by Louis Comfort Tiffany and Clara Driscoll, this stunning replica will add an element of early 20th Century American style to your home.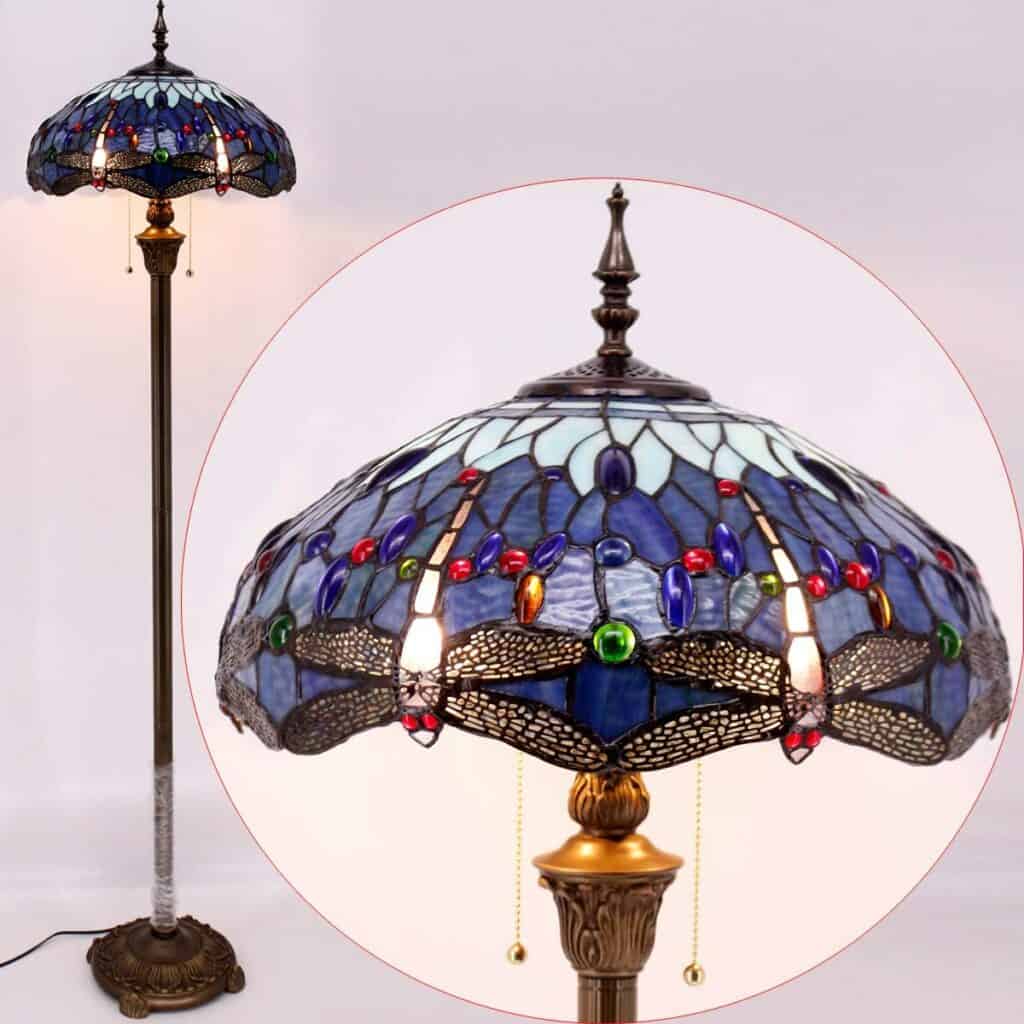 It is sturdy, comes with two LED bulbs, and is super easy to install. Don't be surprised if this distinctive lamp becomes the focal point of your room. Make it yours by clicking here.
JONATHAN Y Peacock Style Torchiere LED Floor Lamp
If you ask me, nature-inspired designs always bring out the best in a Tiffany lamp.
Just take a look at this lovely creation that features exquisite renditions of peacock feathers on a torchiere floor lamp.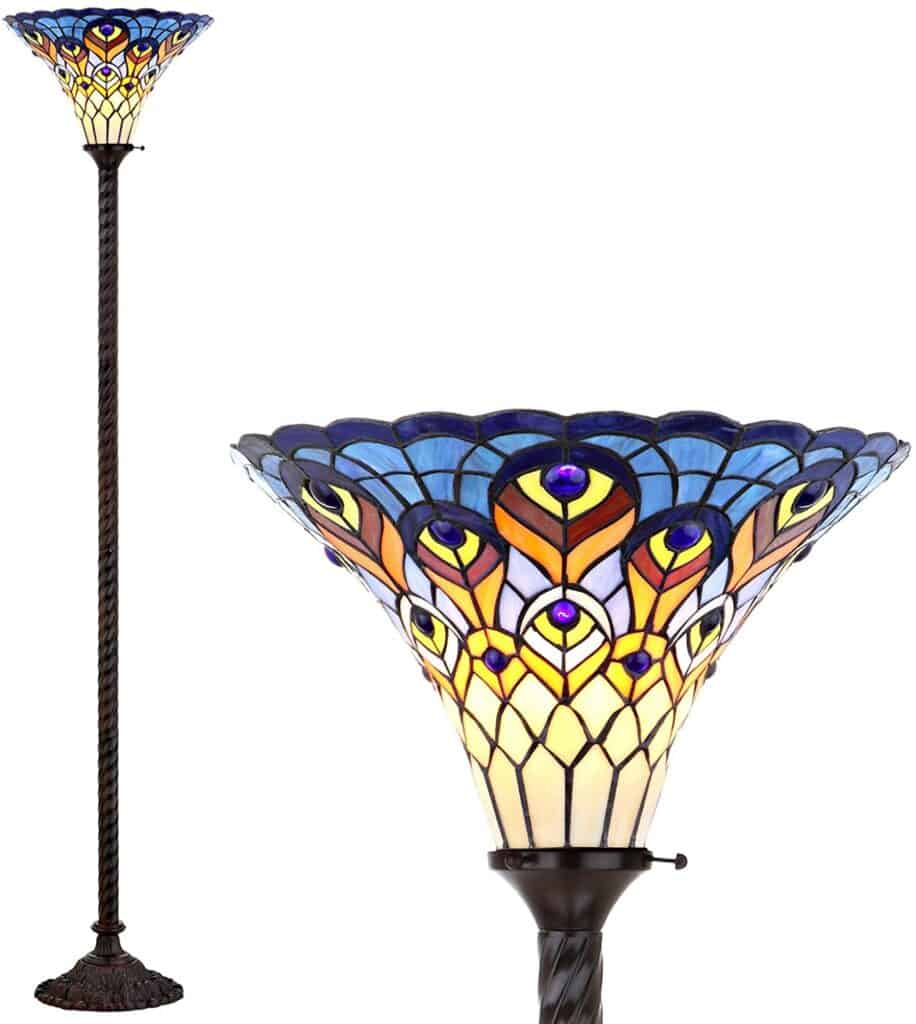 With a step-on on/off button, LED bulb compatibility, and a silk-wrapped cord, this lamp combines the classic beauty of the iconic Tiffany lamp with modern functionality. Each shade is handcrafted by skilled artisans so no two pieces are ever going to be the same.
If it's affordable luxury you're after, look no further. Just click here to become the proud owner of this masterpiece.
Blue and White Baroque Tiffany Floor Lamp
Tiffany lamps are strikingly beautiful no doubt, but sometimes the colors and details can feel a bit excessive if that's not your aesthetic.
This blue and white baroque-style lamp is perfect if you're looking for something simpler that doesn't steal the limelight.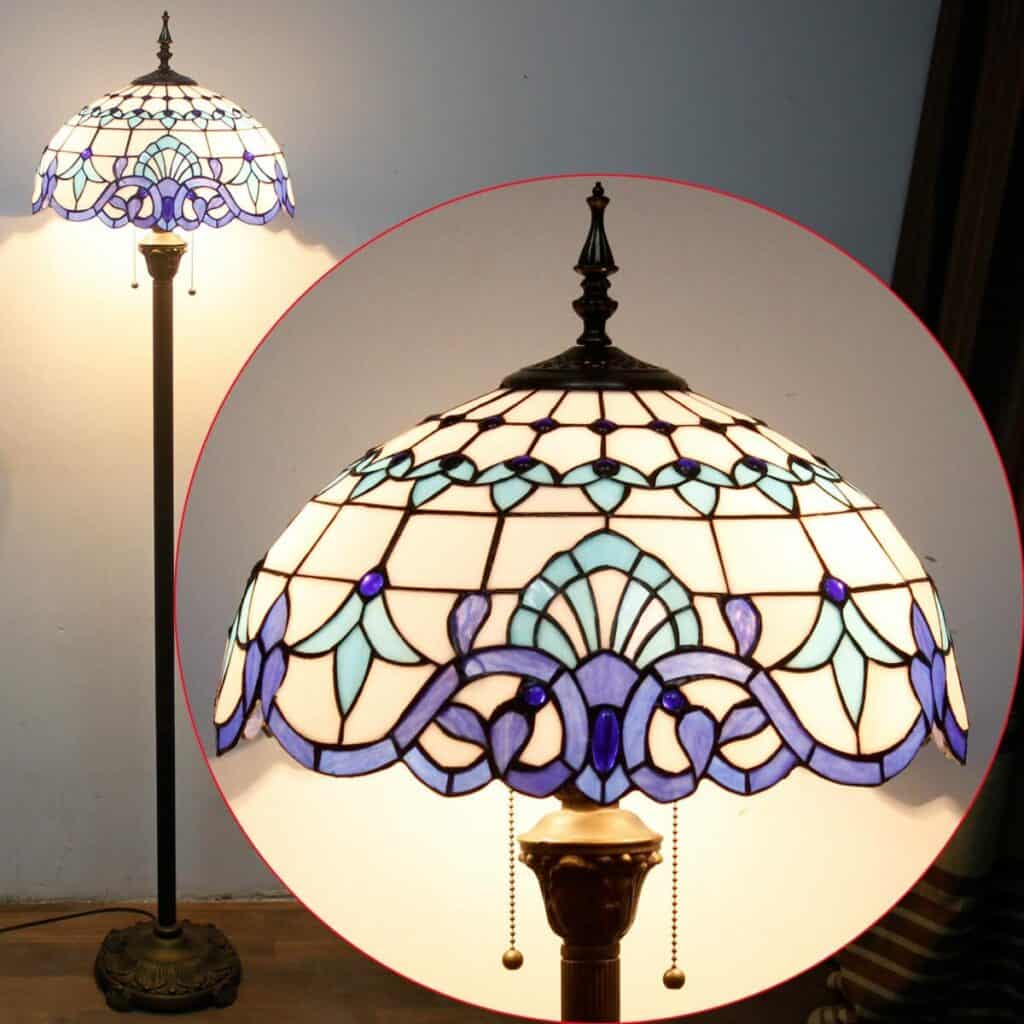 It comes with 2 LED bulbs and the best part is that it works wonderfully in both a modern and vintage setting. So, what are you waiting for? Buy it here.
Makernier Parrot Tree Branch Tiffany Style Floor Lamp
There are regular lamps and then there's this one-of-a-kind gem that you just don't come across every other day.
While it's unlike a typical Tiffany lamp, it still features the same intricate stained glass details that we know and love.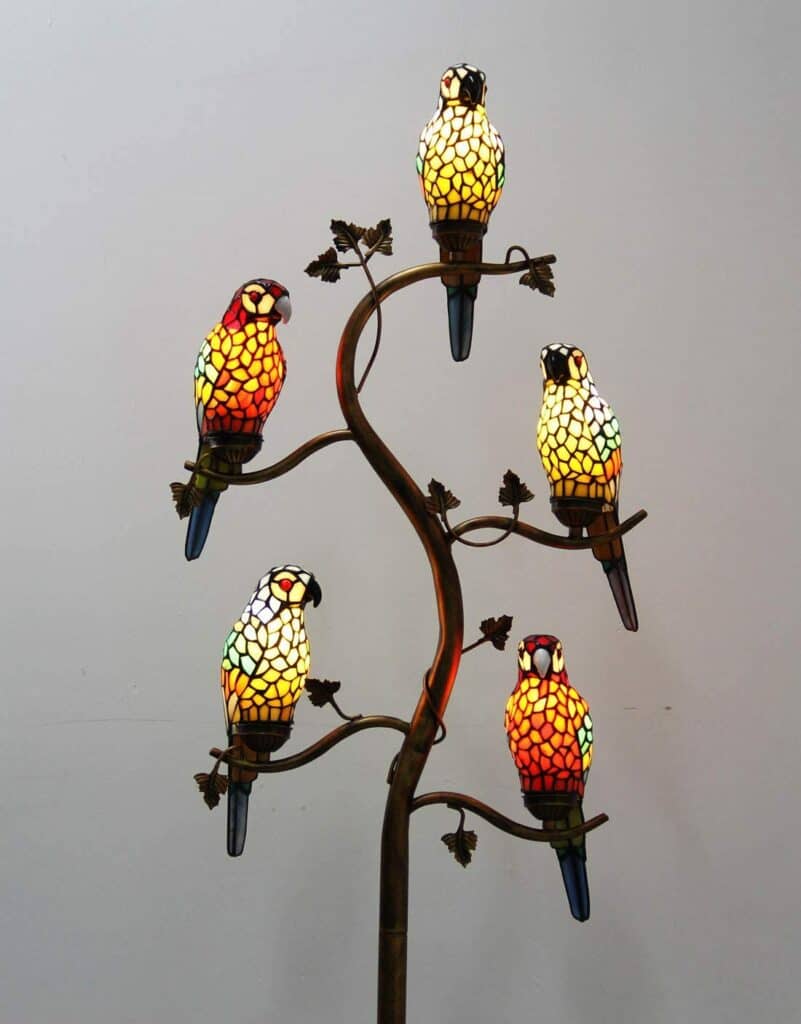 What really sets it apart from every other lamp on this list are the five parrots on the tree branch of course! It is compatible with LED, CFL, and traditional E26 bulbs as well.
This unique vintage beauty is definitely one of those pieces that will make heads turn and become an instant conversation starter. Get your hands on it by clicking here.
More shopping for the home
The 15 Best Luxury Candles on Amazon to Brighten your Home & Complement your Decor
The 6 Best Hot Tubs You Can Get On Amazon — Without Breaking the Bank
These Luxury Bar Stools will Take Your Kitchen to the Next Level
The Cutest Cat Condos You Can Get on Amazon