*Please note that this article contains affiliate links. If you make a purchase clicking on one of the links below, we'll receive a commission.
Having a bar at home has always been a cool feature.
But in the past few years, we've seen it surge in popularity, and morph into all sorts of new forms and uses (just think about the growing popularity of dab bars, like the one in Wiz Khalifa's house).
Along with the surge in popularity came a dizzying array of options to outfit home bars and kitchens, with décor styles ranging from opulent, Gatsby-era speakeasies to fresh, minimalist spaces that block out the noise to let you spend quality time with your guests.
One of the hardest choices though is finding the perfect stools to complete the look.
Bar stools nowadays do far more than just offer a butt seat. They're a great way to add an element of style to your décor, and can easily act as accent pieces.
And if you're aiming for that cozy-meets-elegant vibe of mid-century modern design, bar stools can do wonders to help you achieve that look.
So we thought we'd help you navigate the many, many options available online, and bring together some great contemporary bar stools and some modern counter stools to complete the look of your kitchen.
People seem to be going nuts for luxury designer bar stools because they literally elevate the overall style of a room. But luxury stools are not the only ones to get you that wow effect, and we've found some treasures for every budget.
Dare to accessorize your place with some comfortable high stools and your friends will thank you later.
Whether you want to give your kitchen a café vibe or simply need some extra seats for your guests, we've got you covered! (Please note the article contains affiliate links and we might get a commission from any purchase you make).
Here are our top 14 mid-century modern bar stool suggestions to take your kitchen to the next level:
Signature Design by Ashley Bellatier Mid-Century Modern Bar Stools with Curved Back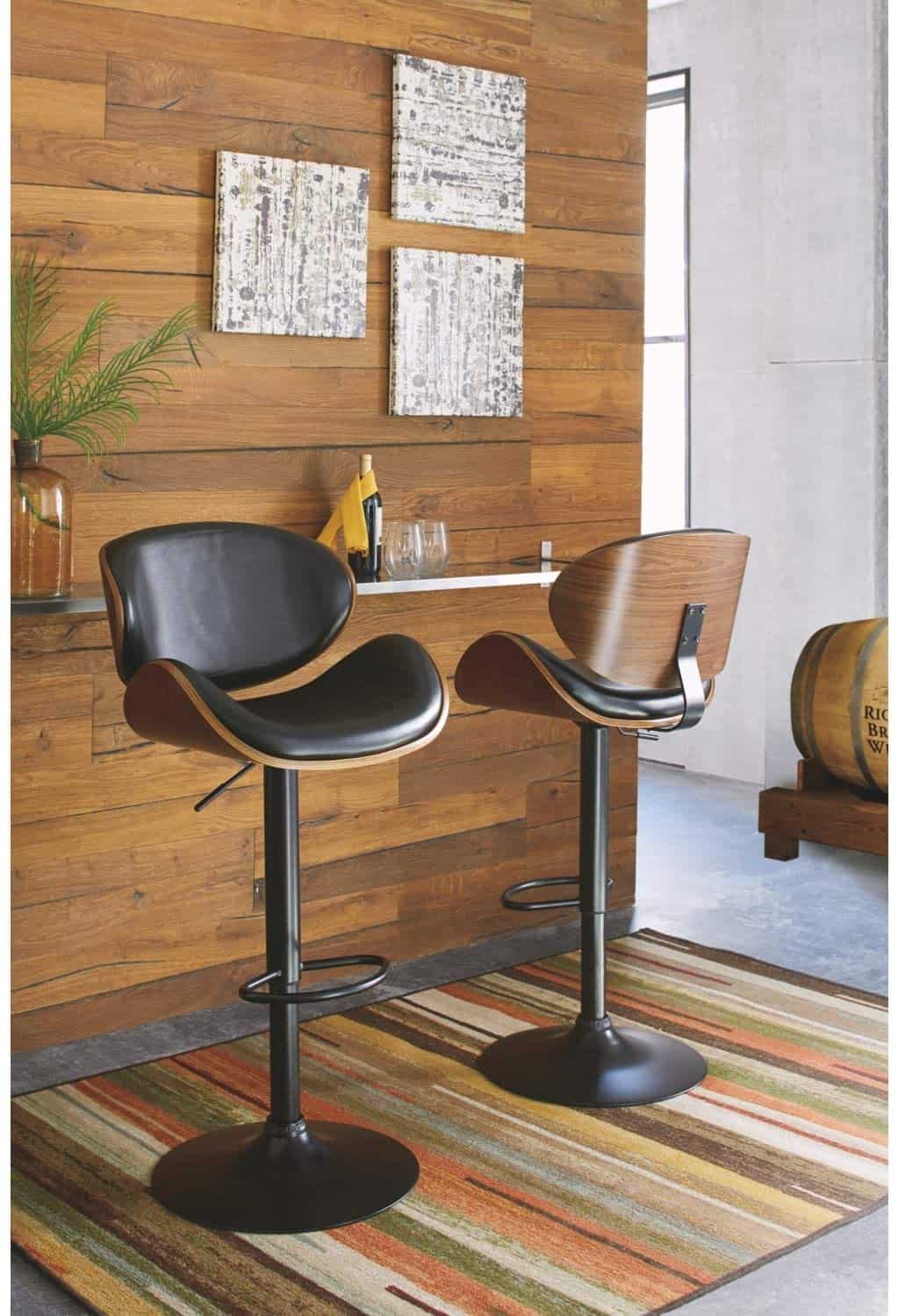 If you're going for the mid-century modern look with a slight contemporary spin, it doesn't get much better than this.
The Ashley Bellatier-designed chairs sport a cushioned seat upholstered with faux leather and they're adorned with a weighted matte black metal base with adjustable counter to pub height seating.
They're also a great fit for rooms that have a predominantly masculine feel to them — you know, the types that are incredibly difficult to accessorize? — while also being sleek enough to complement more elegant spaces. Talk about versatility.
---
Armen Living Jayden Mid-Century Counter Stools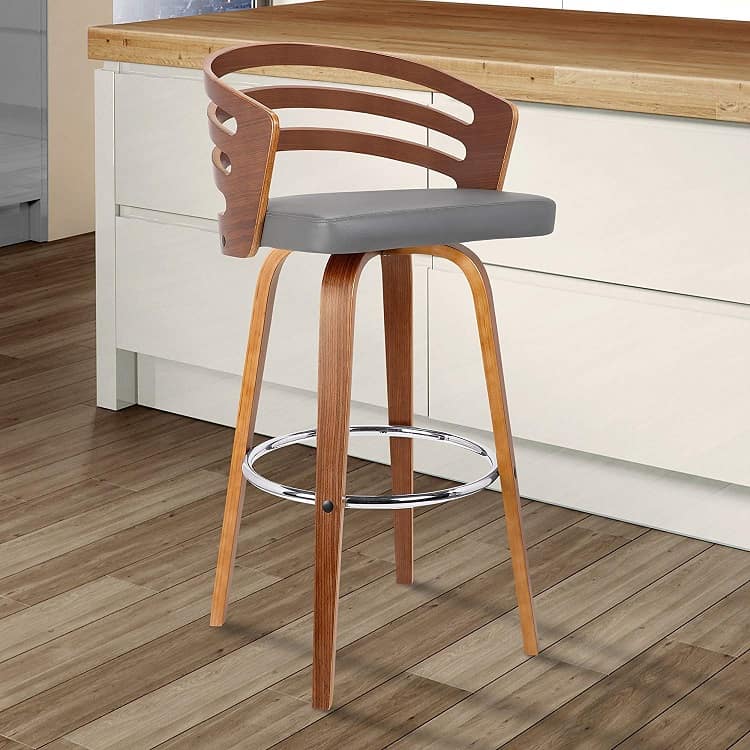 If your place is not all that spacious, these kitchen bar stools are perfect for you.
While you might think that stools without a backrest would be a better choice since they'd make your space look neater, you definitely need a bit of comfort for your back as well.
These stools are stylish and designed in a way that makes them adapt easily to any interior design style.
---
Armen Living Tyler Counter/Bar Stool with Brown Faux Leather and Walnut Wood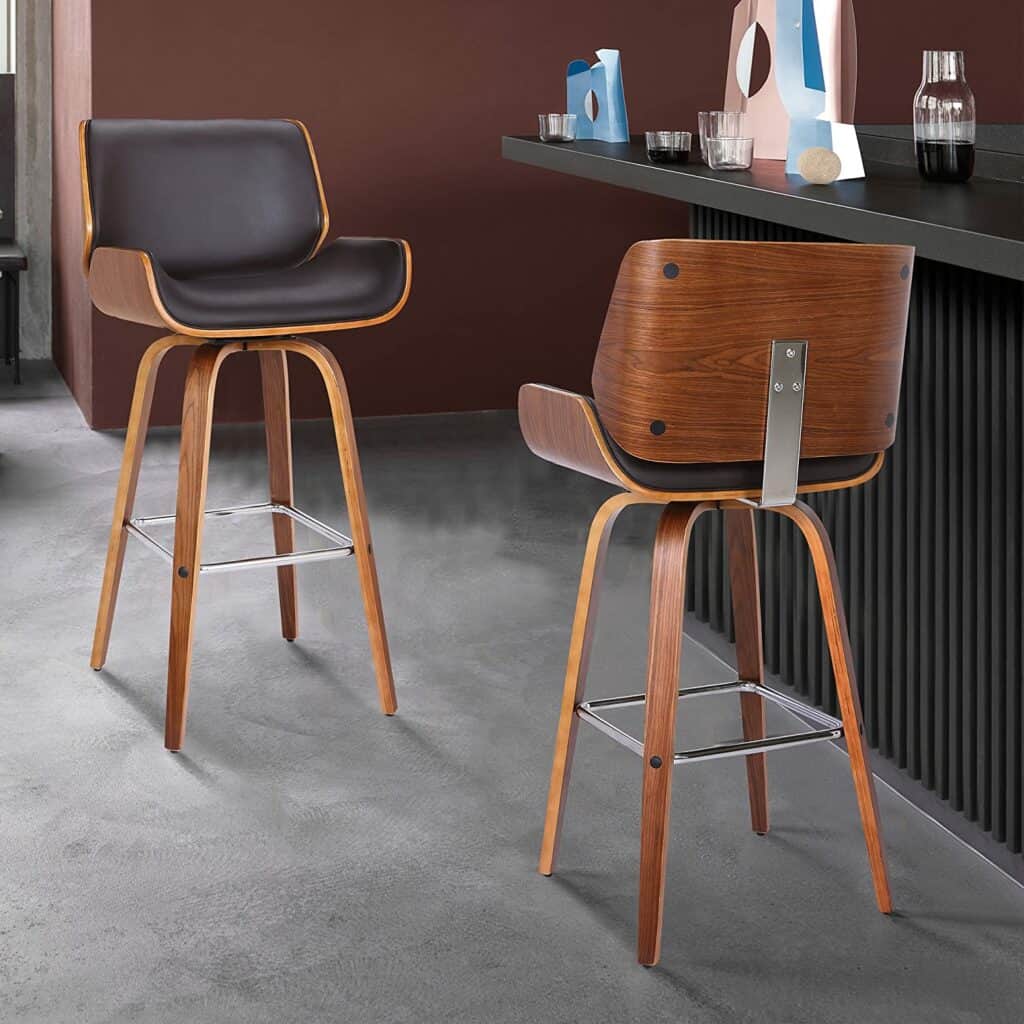 If you want to add a pop of natural color to your kitchen or bar area, go with these faux leather, walnut wood counter stools.
They're available in multiple colors (including cream and brown leather, but the overall mid-century effect is most evidenced by the walnut wood option), and you can also choose the height that best suits your counter.
---
Zesthouse Armless Mid-Century Modern Bar Stools with Gold Metal Chrome Base and Upholstered Boucle Fabric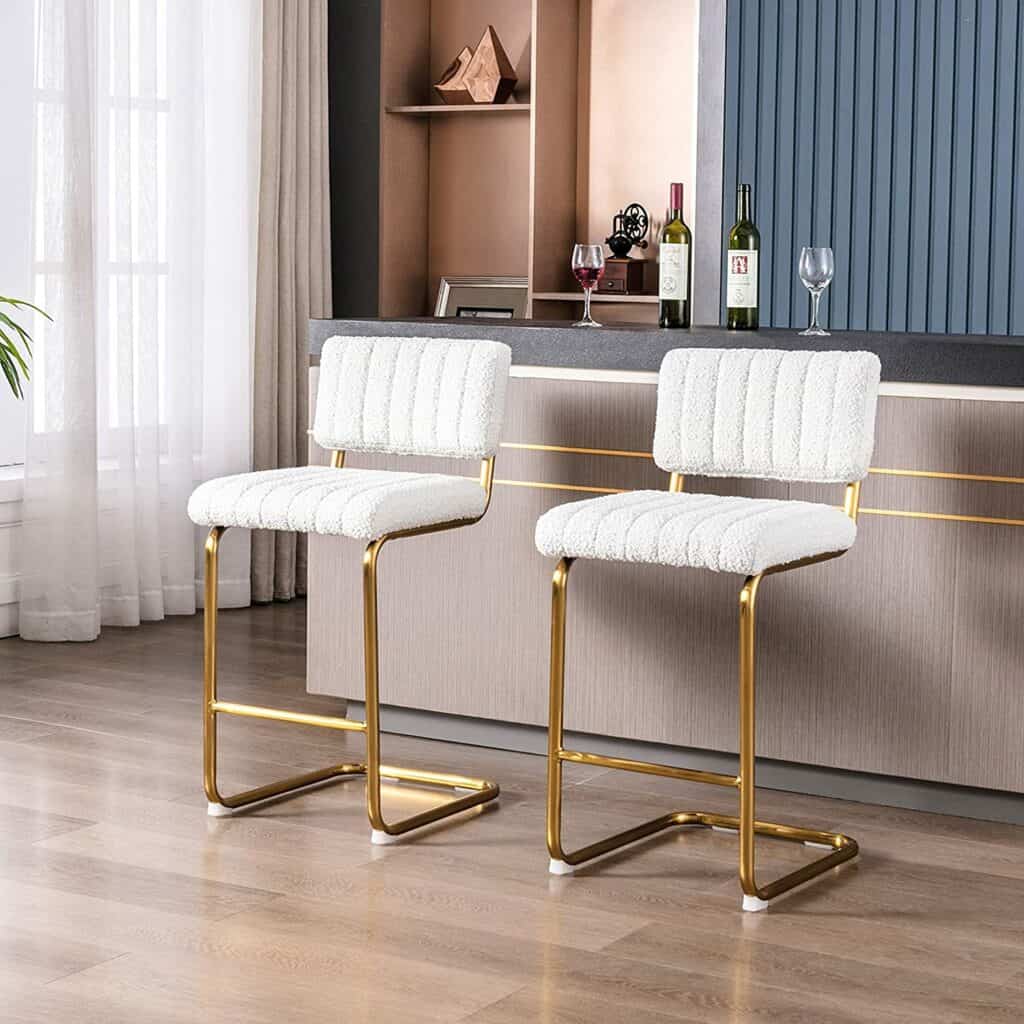 There's only one word that can best describe these luxury bar stools – elegance!
Featuring golden metal frames and a white fuzzy seat and backrest, these stools pair clean line aesthetics with the timeless elegance of gold.
Besides making your place look stunning, they're also arguably the most comfortable chairs on our list.
---
Volans Velvet Upholstered Modern Kitchen Stools with Gold Metal Legs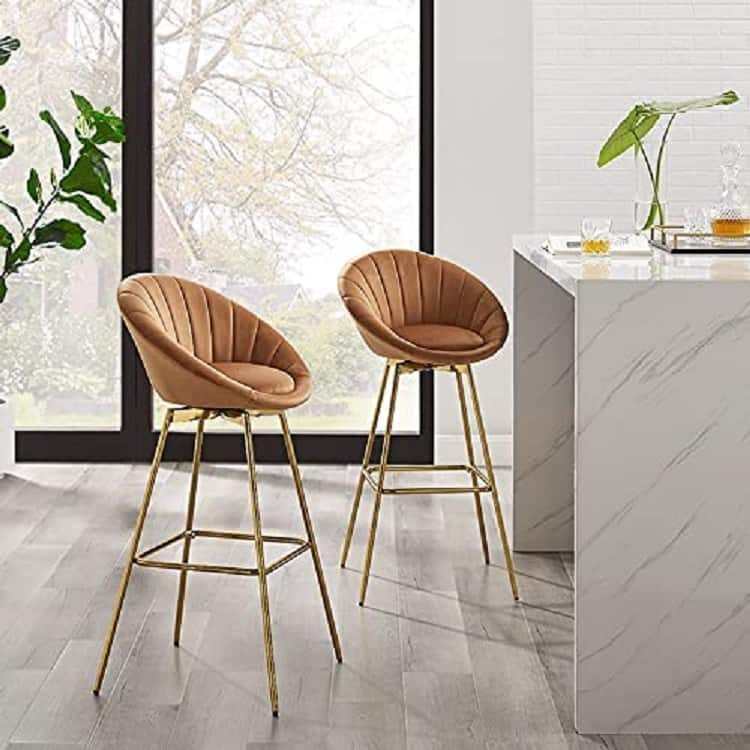 Just imagine sipping on a Cosmo while sitting at your own fancy bar. Yeah, the good life!
If you want to relax in style, then these sophisticated stools with gold legs are the ones for you. Featuring a luxurious polished golden metal base frame with a soft velvet tufted fabric seat, they're bound to stand out in the best possible way.
---
Amazon Brand – Stone & Beam Alaina Contemporary High-Back Swivel Seat Counter Stools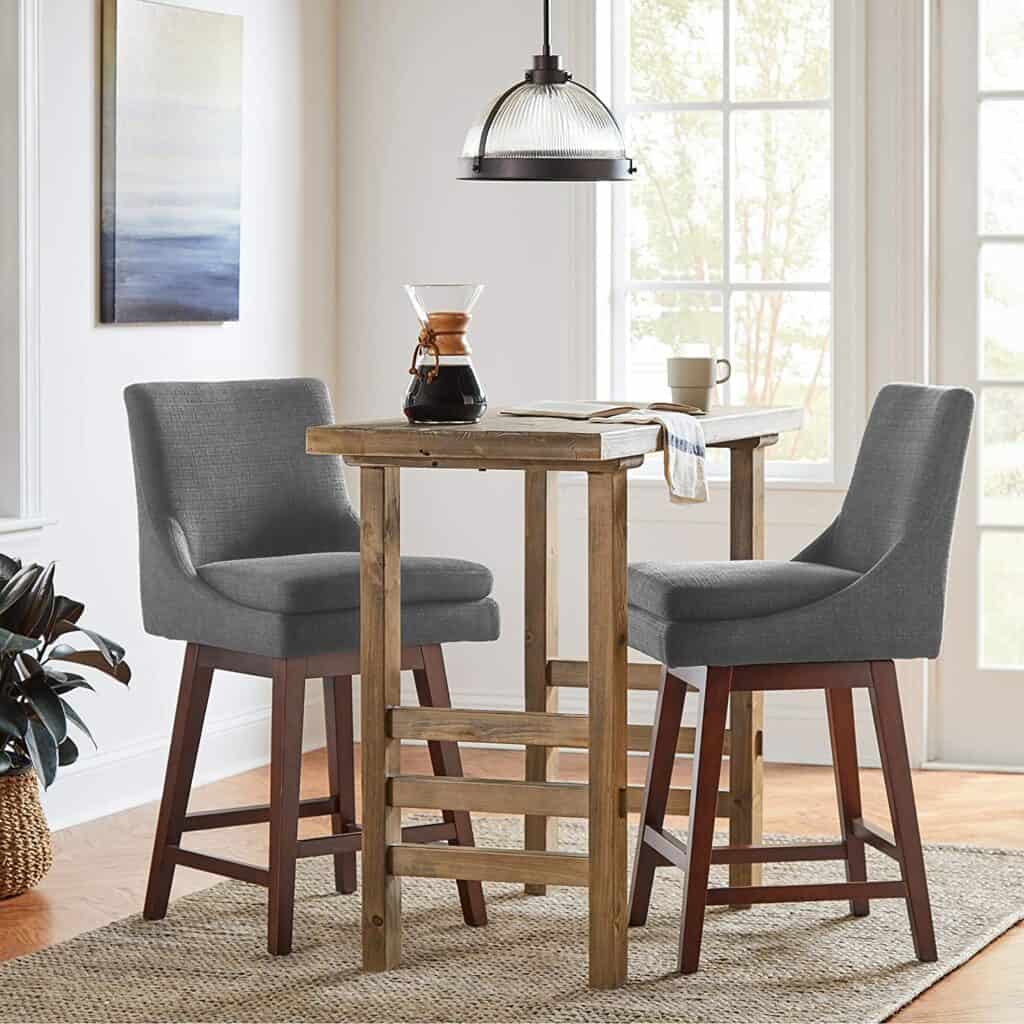 It's nearly impossible to go wrong when you're keeping it classy.
And that's exactly what these contemporary bar stools do: infuse a note of mid-century style to your interiors, through both clean, classic design and a wise pick of colors and materials.
The perfect addition to your kitchen island, these counter stools provide comfortable seating around the bar or kitchen island for daily meals or social gatherings. And they come in so many colors that it's impossible not to find the right match for your kitchen.
---
Duhome Modern Round Velvet Bar Stools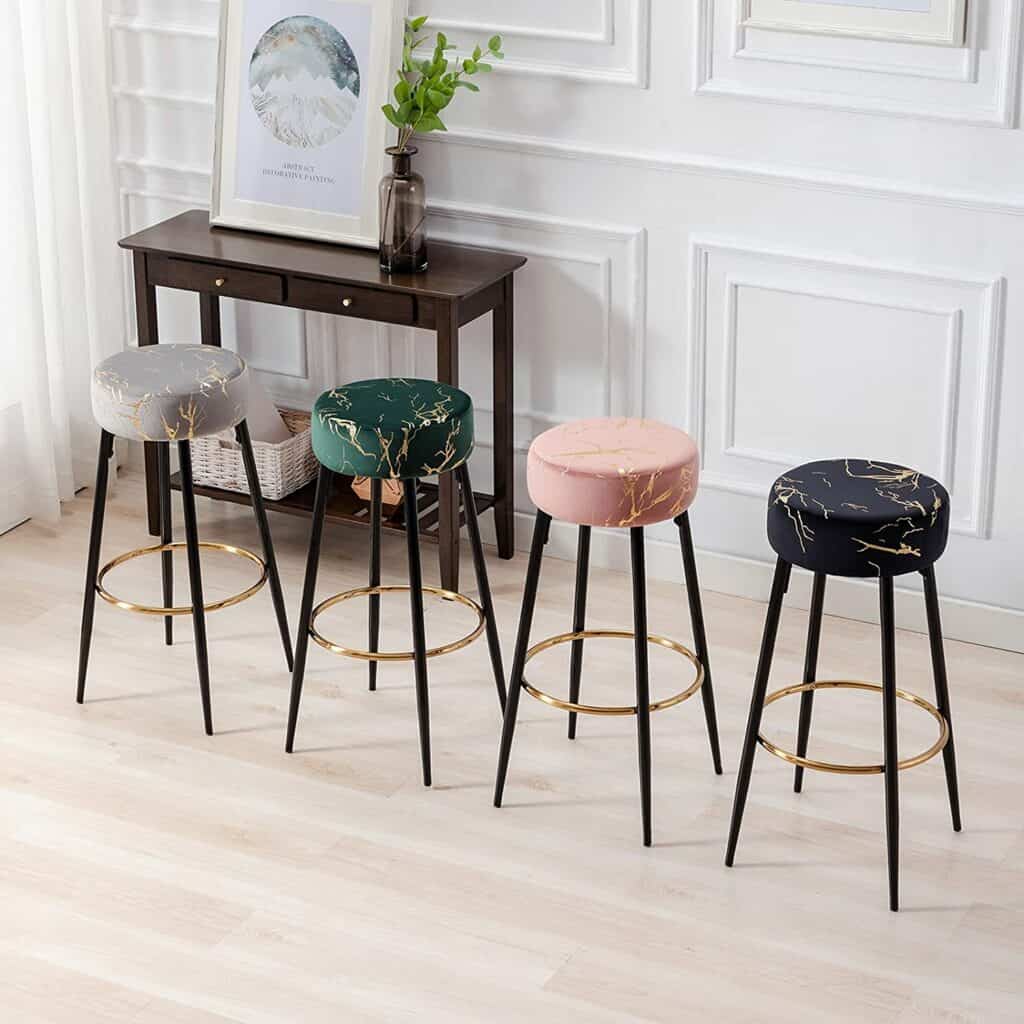 How about bringing more joy into your kitchen space by adding a set of plush bar stools?
They're ridiculously cute and comfortable — an serve as an open invitation to lounge and enjoy the simpler things in life.
From the golden metal accent to the round seat wrapped in velvet upholstery, these modern bar stools are bound to catch everyone's eye as soon as they step into the room.
You could easily use them as accent pieces to complement a lot of modern, mid-century, even maximalist interiors.
---
Signature Design by Ashley – Torjin Stool – Industrial Style Modern Bar Stools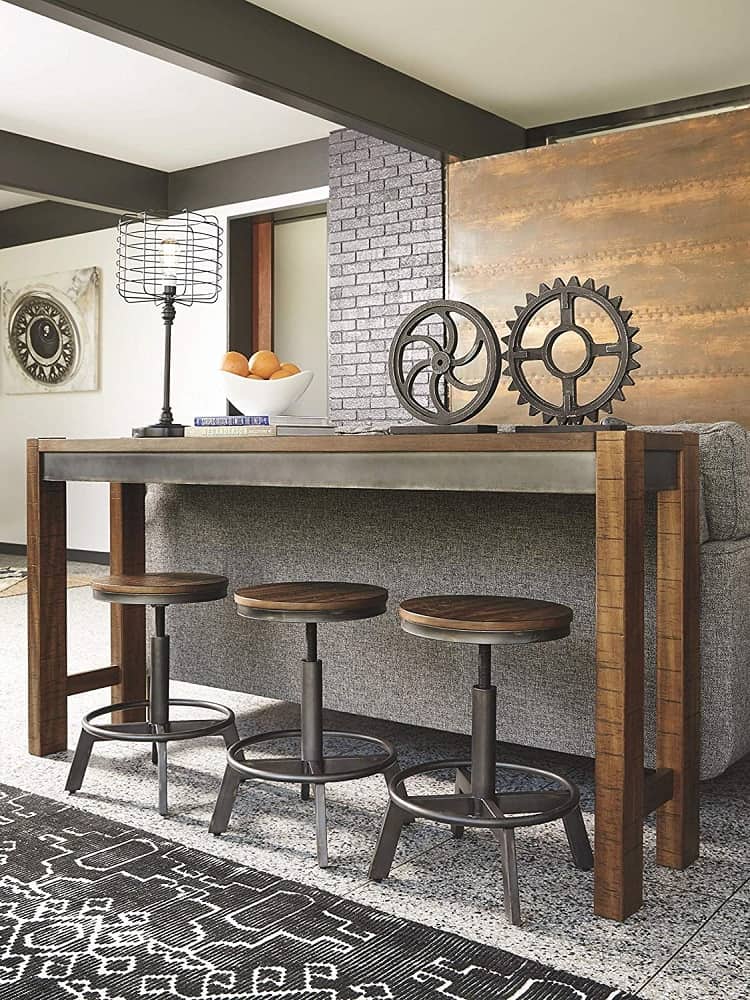 If you're a fan of the industrial design style, then you'll absolutely love these ultra-cool bar stools.
Made out of solid wood with a metal base for foot rest and adjustable height feature, these stools will make your place look cooler than ever. And if your kitchen is already fitted with some steampunk-inspired elements, like Edison light bulbs, the overall effect will be striking.
The choice of colors is on point: the brown and gray combo is the perfect blend for industrial-chic style to flourish. Plus, the planked look on the seat adds even more urban oomph to your décor, and the adjustable height makes it a good fit for all counters, regardless of height.
---
Christopher Knight Home Truda Mid-Century Modern Bar Stools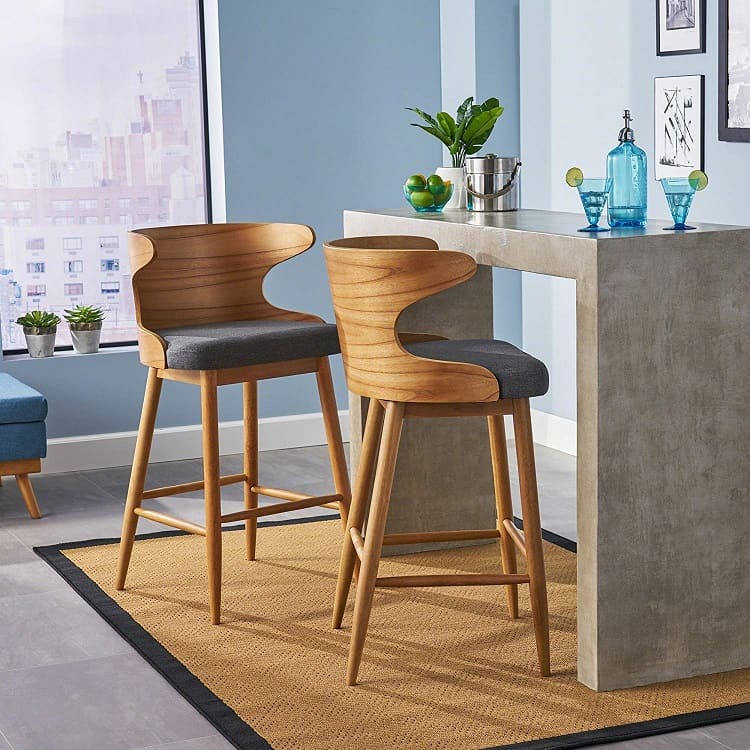 Want to turn your boring counter into a place where everybody wants to gather? Then you'll probably need some comfy and stylish bar stools with a touch of warmth, and these wooden chairs seem just right.
Since they're designed in mid-century modern style, these stools from Christopher Knight Home wonderfully complement almost any type of interior design. With extra plush cushion seats and a backrest, they are definitely an open invitation to long and interesting bar-side chats.
---
OFM 161 Collection Mid-Century Modern Bar Stool with Swivel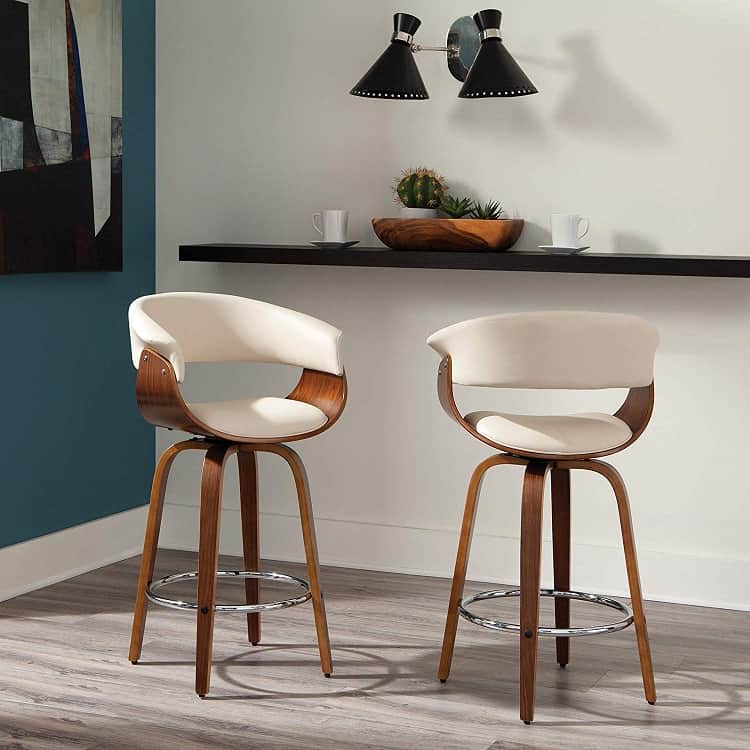 Need some chic and versatile stools that could seamlessly complement any decor? Look no further! These mid-century modern kitchen stools feature 360-degree swivel seats, covered with cushioned vinyl upholstery.
The curved bentwood seat back provides extra comfort and the vinyl makes them easy to clean. In Ivory, these stools are not just another place to sit, but statement pieces, and are sure to upgrade the look of your kitchen.
---
Leopard Shell Back Adjustable Modern Bar Stool with Swivel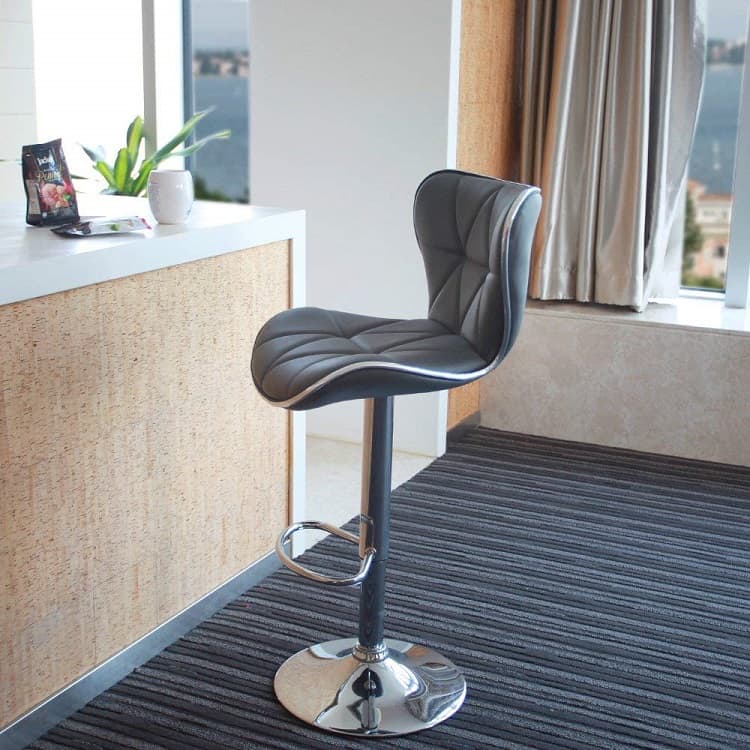 These contemporary stools will be a perfect fit for your modern interiors. Both stylish and comfortable, they feature 360 degree swivel seats that are also height adjustable.
Made out of heavy duty chrome, foam and PU leather, they are sure to offer a fresh, neat and modern look to your home.
---
Christopher Knight Home Ogden Bar Stool in Beige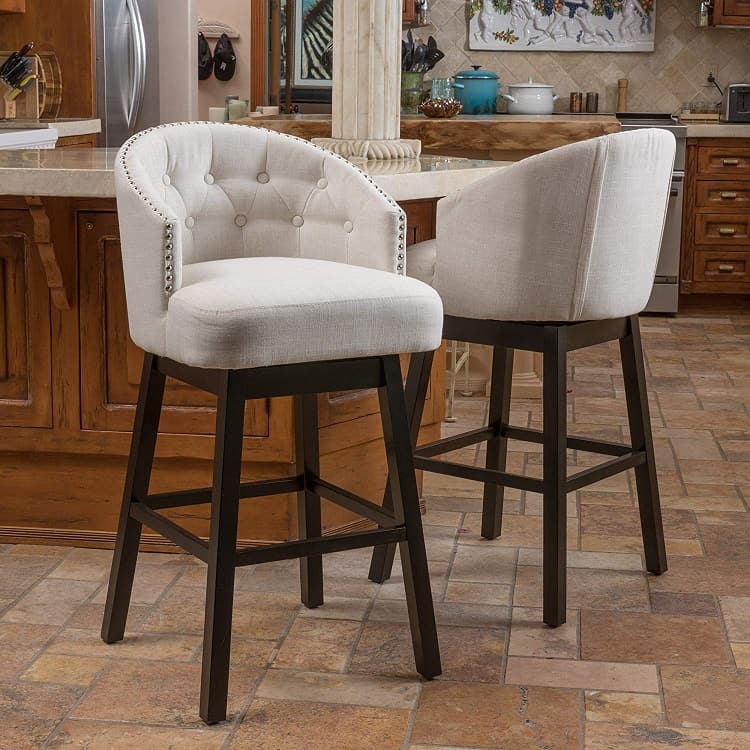 Regardless of the height of their counters, many people go for counter stools instead of high bar chairs. But that's only because they haven't yet seen these counter-stool-meets-bar-height chairs made by Christopher Knight.
Made out of sturdy wood and soft fabric, these stools exude beauty and comfort.
Maximize the seating in your house with a few Ogden bar stools and your counter will instantly turn into your squad's favorite place to gather.
---
So which bar stools do you love the most? If they're not already on this list, make sure to drop them in a comment and we'd be happy to add them.
More fancy stuff for your home
10 Beautiful Tiffany-Style Floor Lamps to Light Up Your Home
10 of the Most Stylish Minimalist Wall Clocks You Can Buy on Amazon
10 Unique Picture Frames and Holders to Create the Perfect Photo Wall
The 15 Best Luxury Candles on Amazon to Brighten your Home & Complement your Decor