*This article contains affiliate links
I'm a sucker for fancy candles. I remember a time when walking by the scented candles isle made me quicken my step before all the odors wrapped themselves around me like a sweet perfume I'd then be incapable of shaking off. But that only made me underestimate how wonderful they make your house smell.
After falling in love with scents of lavender, matcha, citruses and other fruit (with fancies names) and filling the house with small scented candles on the verge of burning out, I had to up my game to larger scented candles. And going into my options for larger jars, I found this wonderful new world of possibilities to play around with scented candles for home decor!
Using scented candles for home decor
I now use luxury decor candles (with shiny containers) to sprinkle little pops of color around the house, add some nice accents, soften the decor of more sober rooms in the house or simply to complement the existing decor in a flattering way.
And the terrific part is that, as soon as the wax runs out, there are so many different ways to use the jars. Throwing them away would be such a waste, even beyond the environmental impact; cause these luxury scented candles have the nicest tins that can easily be repurposed.
I personally use the tins and jars left after the candles have run their course as little planters. They're perfect for my succulents and they look adorable nested together or sprinkled around the house. That way, the scent of the candle may be gone, but I can still take advantage of the pop of color of the jar and continue using it for home decor.
Now, if you find yourself in need of inspiration for luxury scented candles on Amazon that can make your home pop, thought we'd round up some nice (and not overly pricey) luxury candles. Along with a detailed description and a handy Amazon link for you to buy them.
I know what you're gonna say: "Don't you want to smell the candles before you buy?" And the answer to that would be Hell No! I've made the mistake of doing that a few times, left the scented candles isle all dizzy from an array of sweet, stingy or sticky odors. I'm a big girl, I know what I like; I will read the description, make sure the candle isn't a danger to my health, find a jar that's pretty as hell, then have it delivered straight to my door, thank you.
NEST Fragrances Sparkling Cassis Classic Candle – Get it here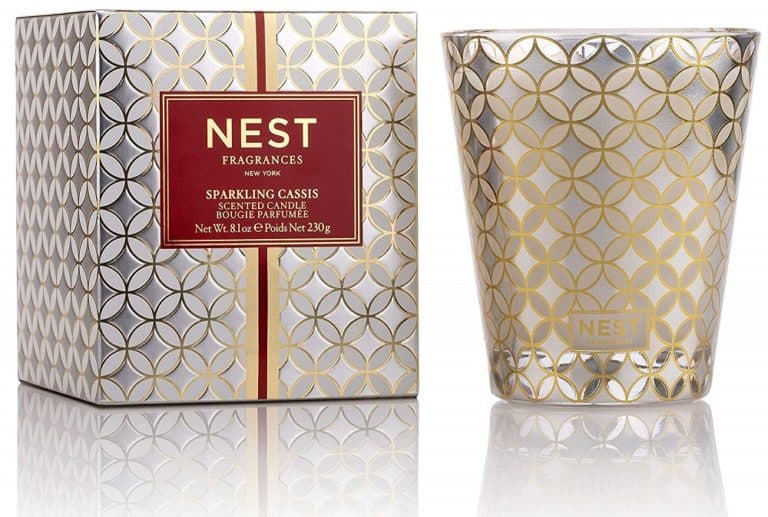 What makes it special
NEST's luxury candle comes in an elegant glass vessel meant to compliment the beauty of its surroundings. Which makes it the perfect addition to your living or dining room.
Scent
The sparkling essence of pink champagne is infused with hints of crème de cassis, frosted cranberry, and wild fig.
Style
The classic shape and modern stripe etching will complement any décor, and the gold detailing makes it a great accent piece — particularly if you have other nice golden accessories peppered around the house.
Skandinavisk Heia "Nourishment for the Soul" scented candle – Get it here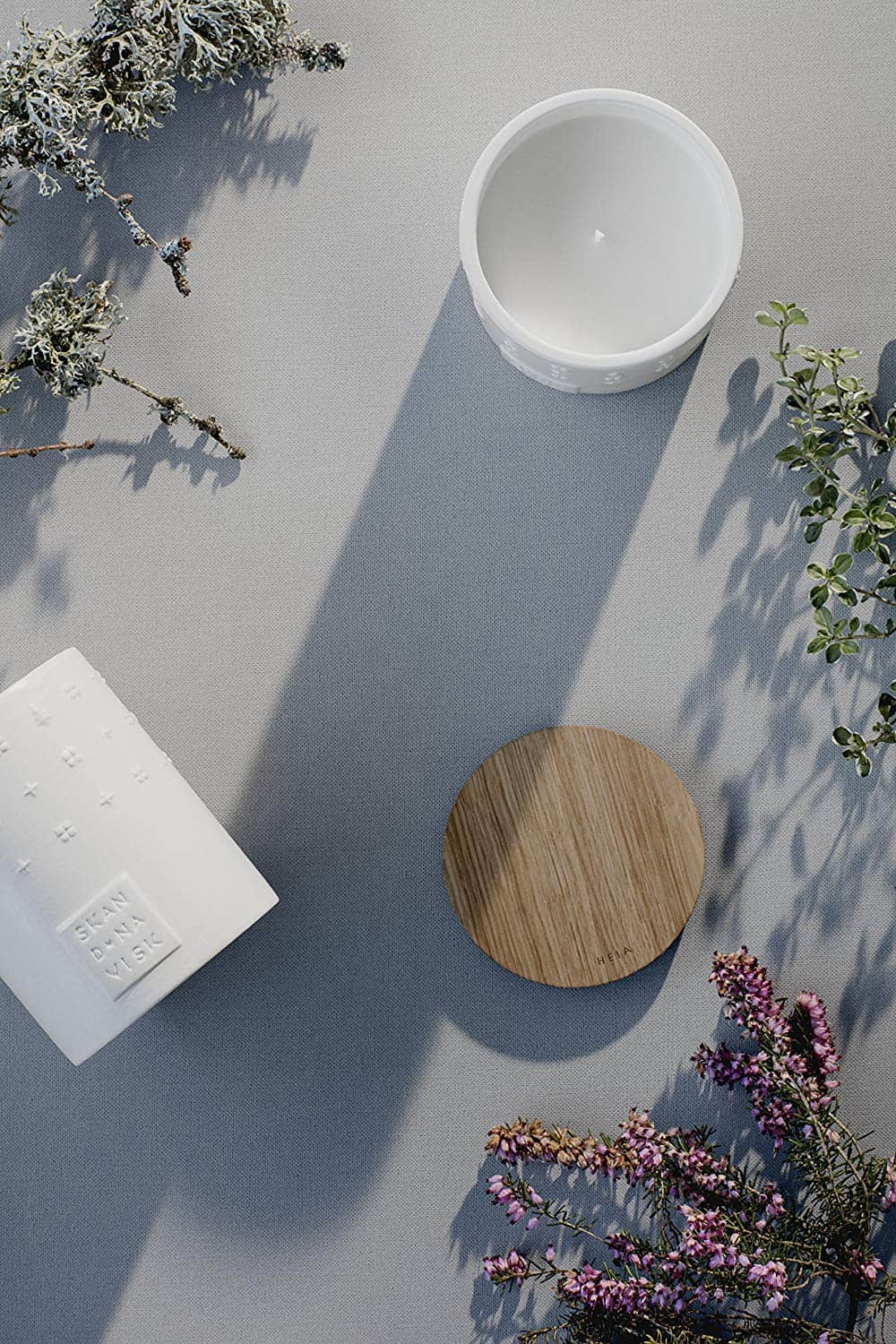 What makes it special
A treat for the minimalist, the Scandinavian-designed luxe candle is made from a blend of perfume and a rapeseed wax blend with a 100% cotton wick and engraved oak lid.
Scent
With its notes of heather and thyme, bearberry and leaf sap, the scent is touted as "nourishment for the soul", so that's a big promise to live up to.
Style
Minimalist design candle with an embossed ceramic vase and oak lid. A perfect fit for a modern home, as well as interiors with a bold color pallet, clean white design or predominant warm wood.
Yankee Candle Company Elevation Collection with Platform Lid – Get it here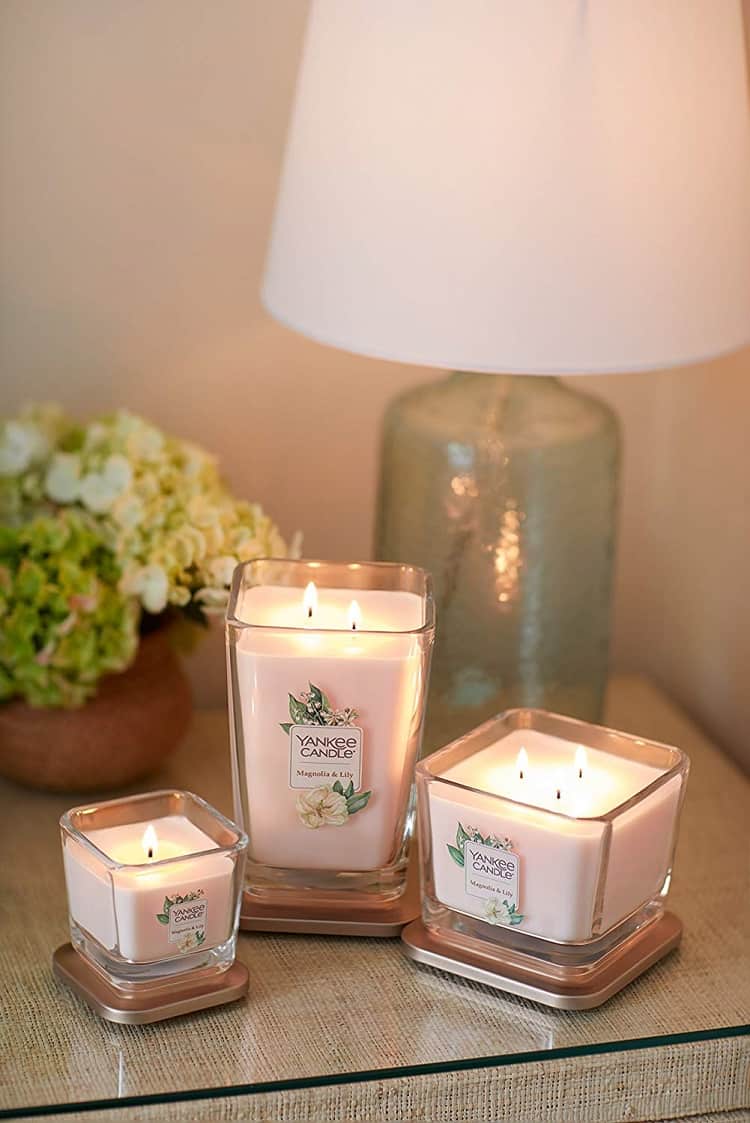 What makes this candle special
A luxury edition by the father of all candles, Yankee Candle, this collection comes with various stylish pieces that you can use to up your decor.
Scent
All candles in this collection have a distinct fragrance that blends the wonderful scent of supple magnolia blooms with citrus.
Style
With a versatile stile meant to complement rather than overshadow, these beautiful candles work well with any decor.
Paddywax Woods Collection Scented Soy Wax Candle in Mango Wood – Get them here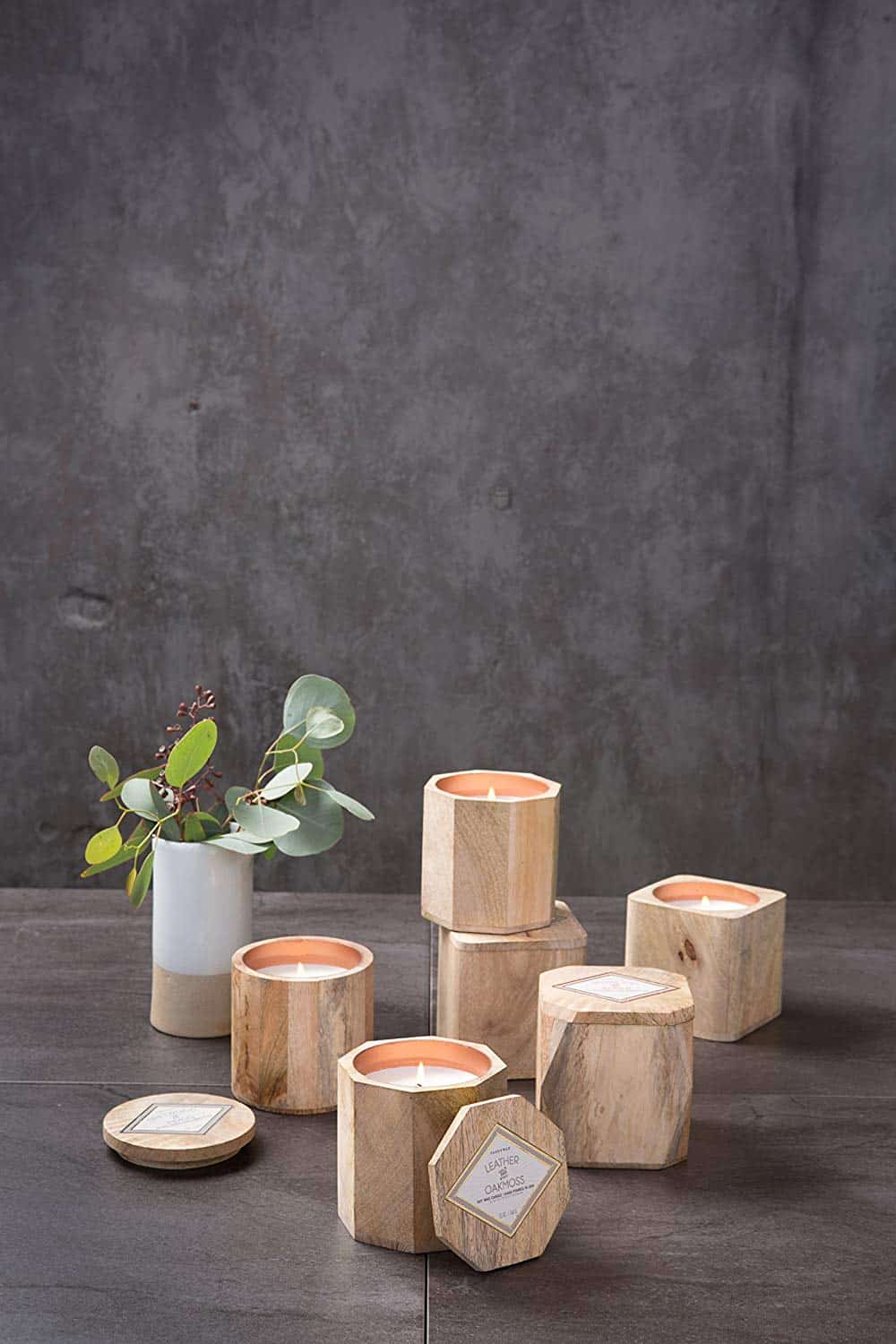 What makes it special
All the candles in Paddywax's Woods collection are gorgeous. And while they might not be a great fit for all households (sorry, girls, not every room can pull off little wooden accents), if you can make it work, surely it won't go unnoticed. These little cuties are what compliments are made for!
Scent
Using all natural fragrances, this candles will spread driftwood and indigo scents around your house
Style
With sustainable vessels wrapped in mango wood, these beautiful candles are a statement piece.
Paddywax Foundry Collection Scented Soy Wax Candle in Copper – Get it here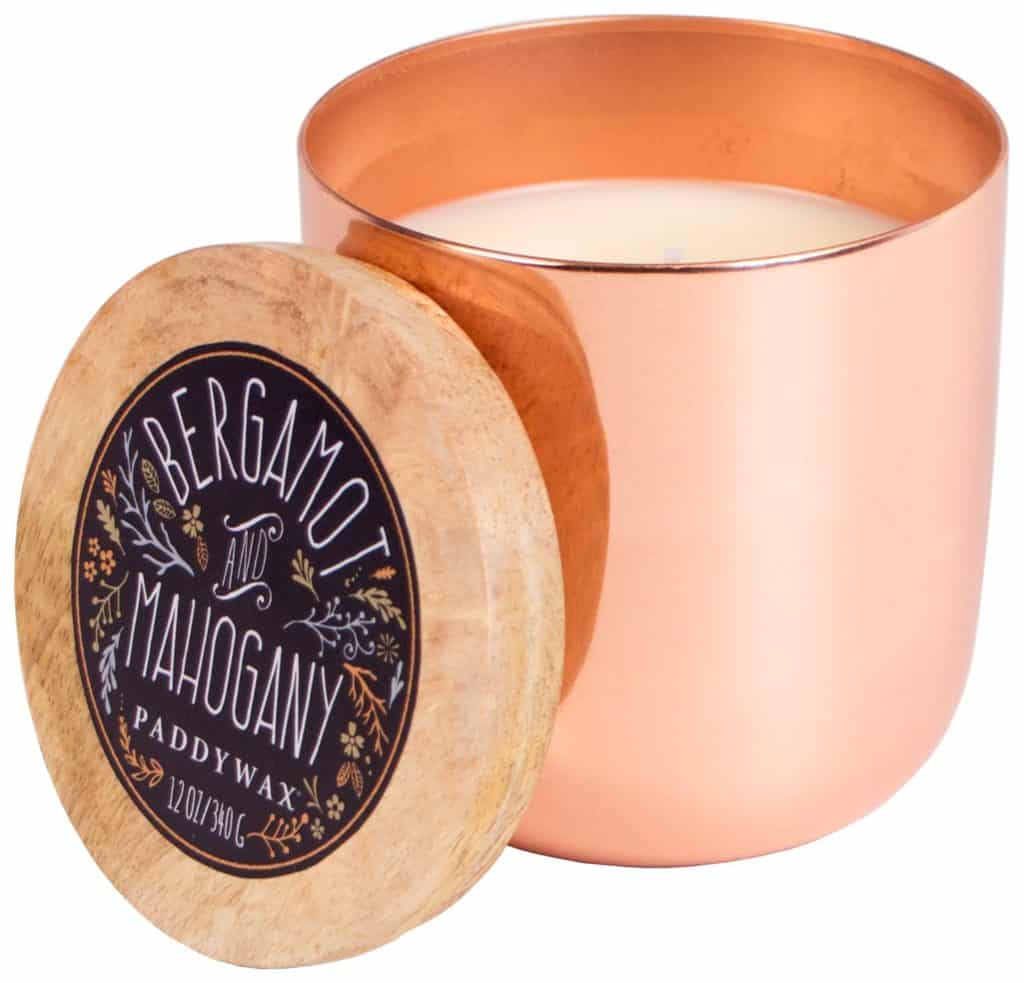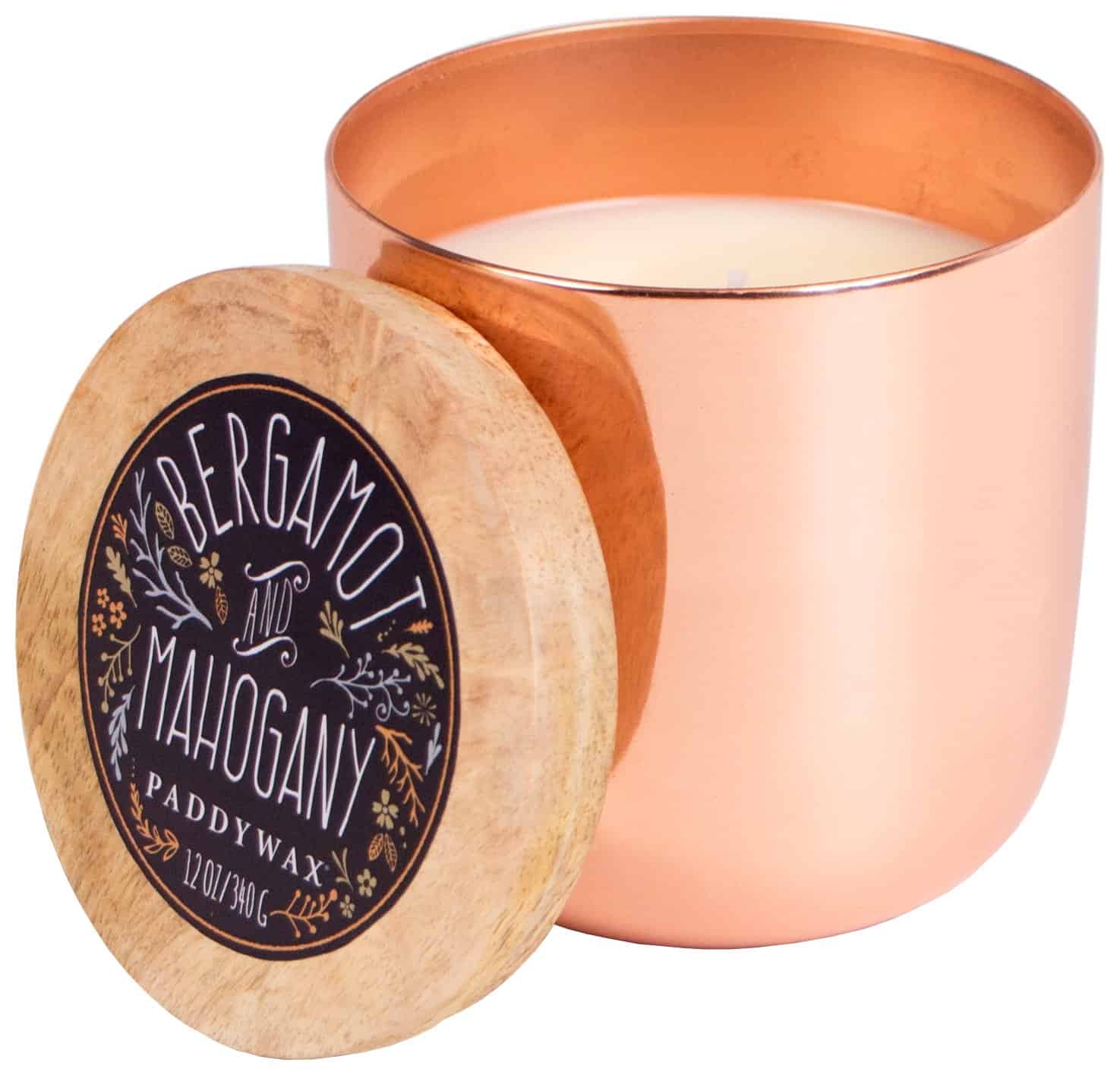 What makes it special
Okay, I'll just go ahead and admit it: I'm a sucker for copper accents around the house. And this candle is a nice pop of copper that can brighten any room.
Scent
Bergamot and Mahogany
Style
The stunning copper tin bowl with raw wood top is a glamorous addition to your home decor. The tin can be easily repurposed and used as a flower pot after candle runs out.
Malicious Women Candle Co – Adulting, Espresso Yo' Self Infused with Insufficient Funds – Get it here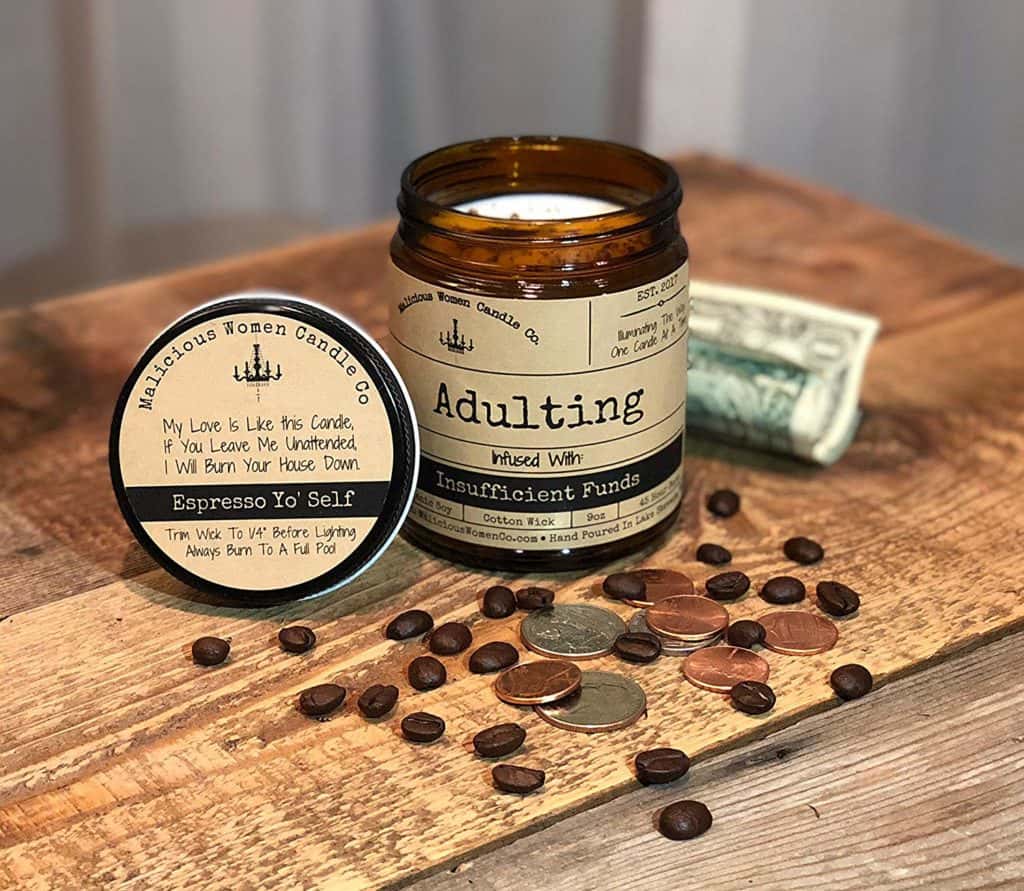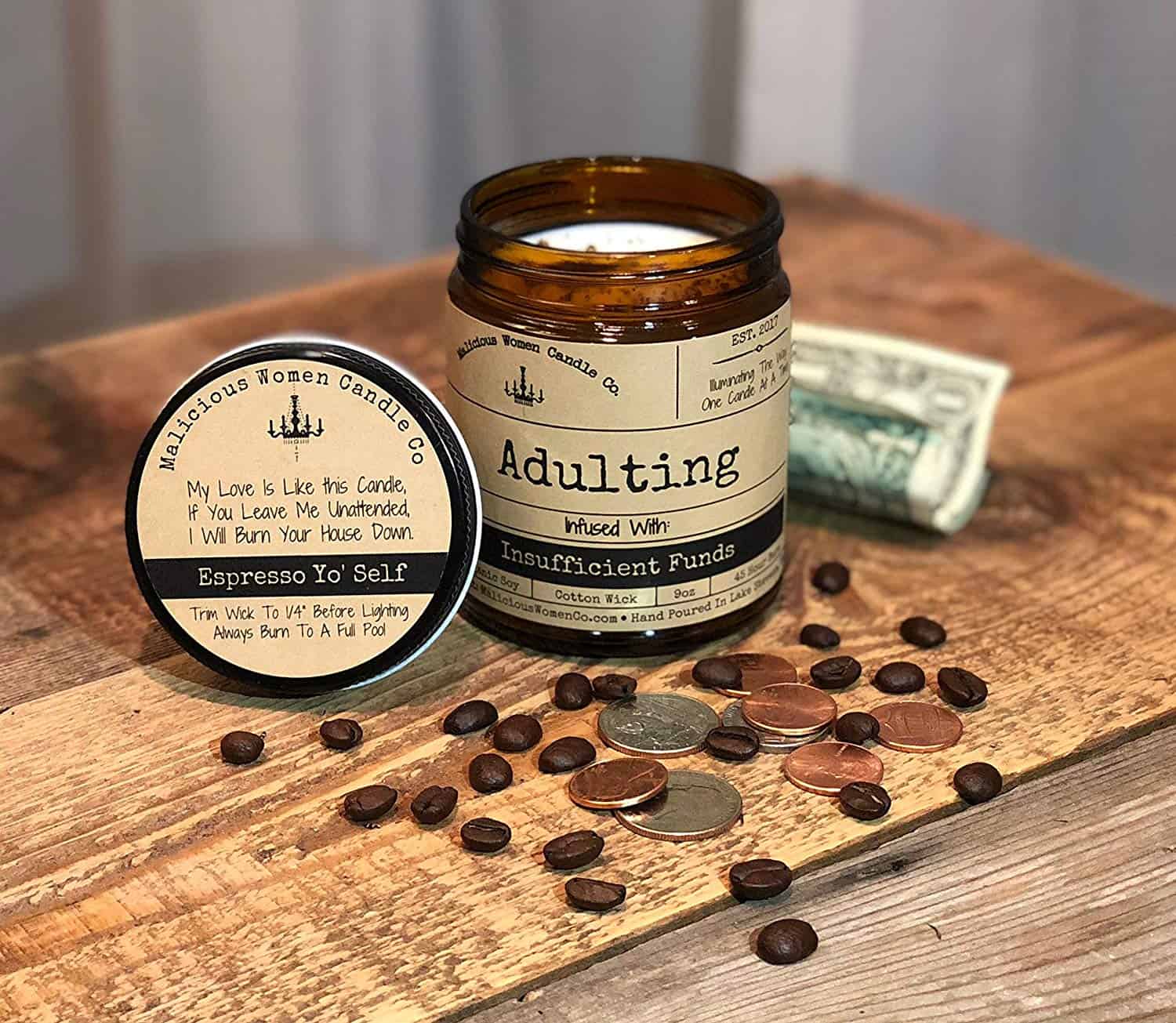 What makes this candle special
Well, we couldn't have a list full of candles meant to decorate your home without slipping one with a message… But instead of going for a generic inspirational message, the makers of this sassy candle thought it best to lighten up the mood. And we're so here for that!
Scent
Waking up to the rich warm smells of freshly brewed roasted coffee…nothing says good morning like a fresh espresso with just the tiniest hints of buttery caramel and a splash of vanilla cream give this robust coffee a balanced finish.
Style
Funny and utterly unapologetic!
Thymes – Frasier Fir Pine Needle Decorative Glass Jar Candle – Get it here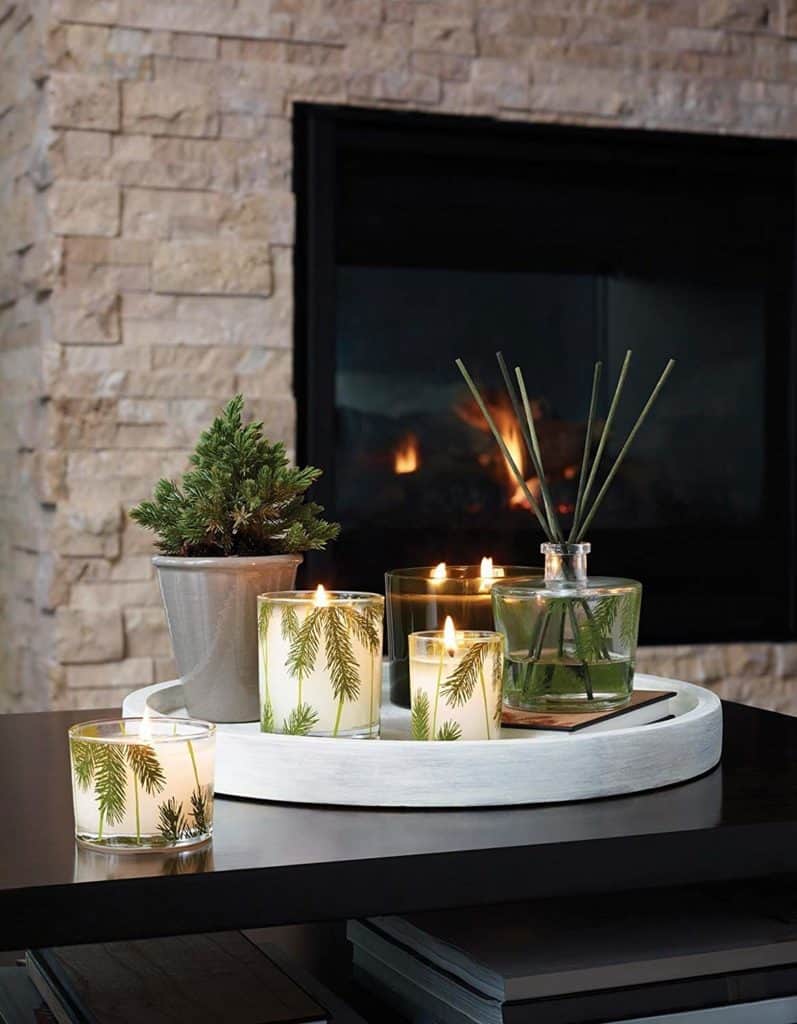 What's special about this candle
A luxury candle in its finest form! The Frasier Pine Needle is a vibrant addition that works great in any living room (and is a must-have around the holidays).
Scent
A mix of aromatic snap of crisp Siberian Fir needles, heartening cedarwood and relaxing sandalwood.
Style
The Thymes candle comes with a stylish glass container that's been prettied up with a fitting pine needle green decoration for a delicate pop of color.
Motini Cyclamen scented aromatherapy candle – Get it here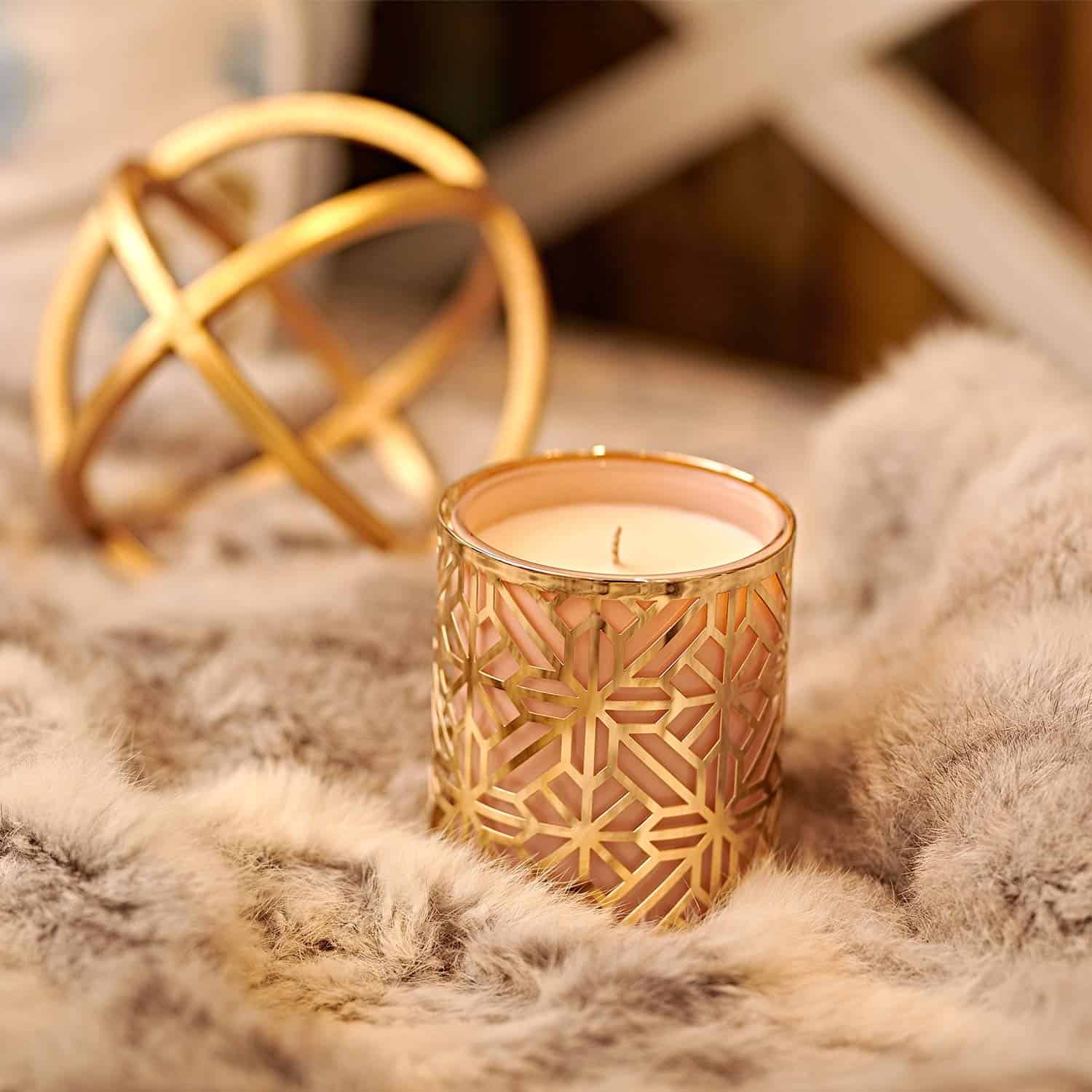 What's special about this candle
Crafted using 100% biodegradable soy wax and pure organic essential oil, this luxurious candle is a safe and elegant choice.
Scent
The candle captures the deliciously fragrant scent of cyclamens, making your home more cozy and inviting.
Style
With a glass container, nicely wrapped by an intricate metal molding, this scented candle is particularly appealing, adding a little glamour to your interiors.
Hearthfire by GWE – Sandalwood soy candle with crackling ASMR wick – Get it here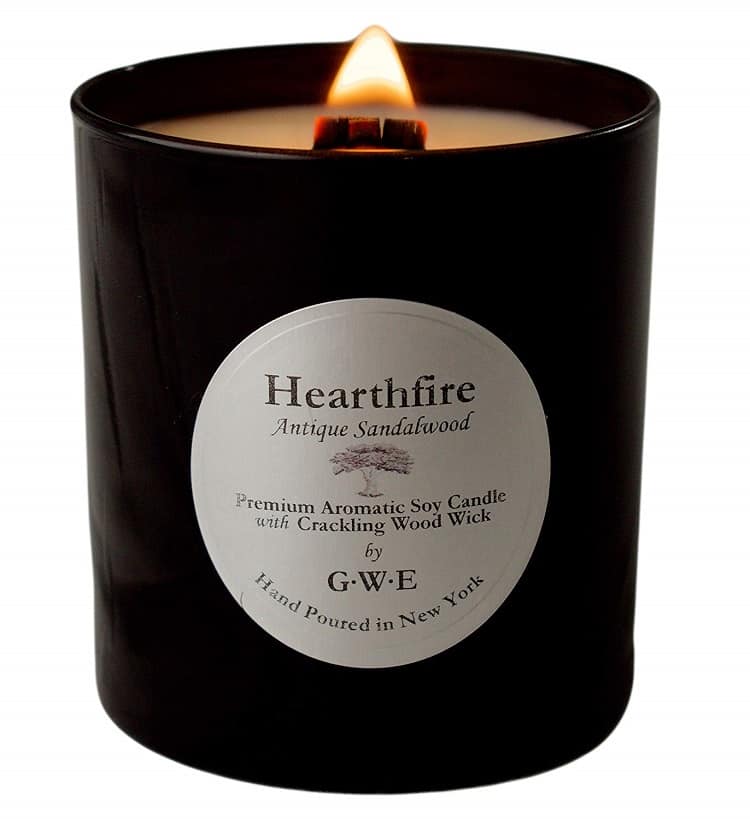 What's special about this candle?
It comes with a nifty ASMR wick — which burns with a crackling sound to give you the feeling that you're either relaxing next to a fireplace or a camp fire. The candle itself is made out of 100% premium soy wax and fragrance oils, making it a non-toxic, sustainable product.
Scent
Antique Sandalwood — a sweet and woody fragrance with a bright and fresh edge.
Style
Fit for a contemporary home style, the candle comes in a minimalist jar (smooth, straight with glossy black finish.
SKANDINAVISK BÆR (Berry) Scented Candle – Get it here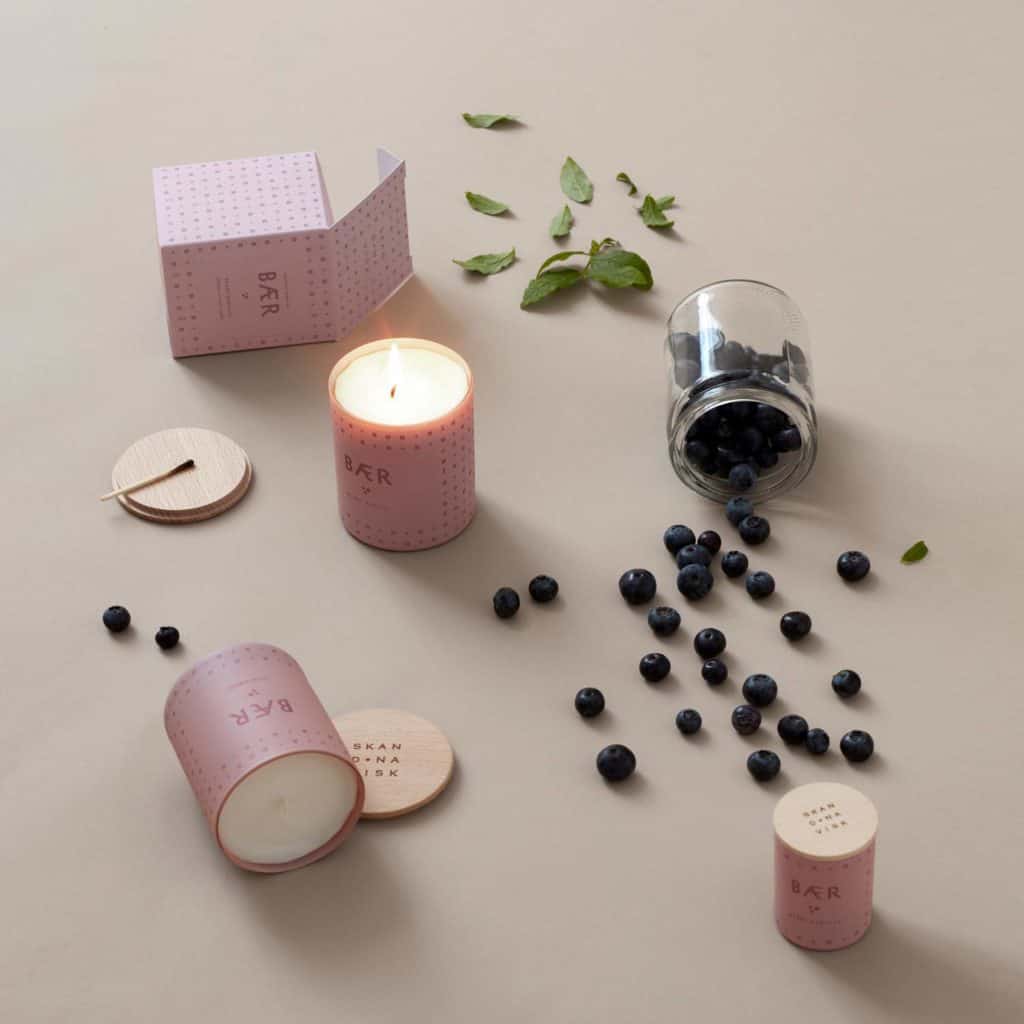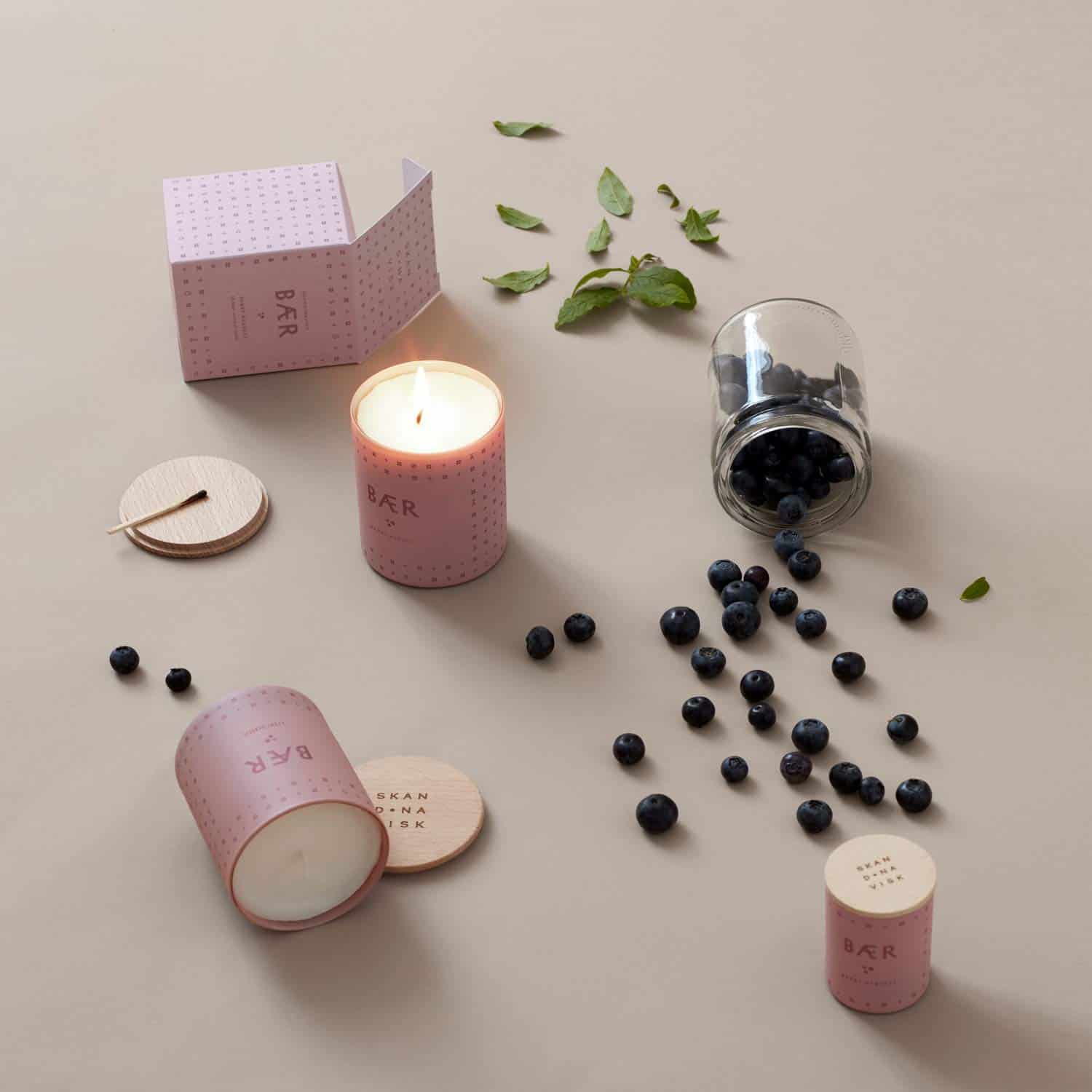 What's special about this candle
A personal favorite of mine (that's long been a living room staple) is this gorgeous candle from SKANDINAVISK. It's the most beautiful yet subtle accent you can add to any room.
Scent
The Berry Harvest candle combines notes of cloudberries, blueberries and lingonberries into a delicate perfume-like scent.
Style
Inspired by Danish design and Nordic simplicity, the minimalist-design votive candle comes in a beautiful painted glass container with an engraved beechwood lid.
Tocca Tahoe Nutmeg & Vanilla Candle – Get it here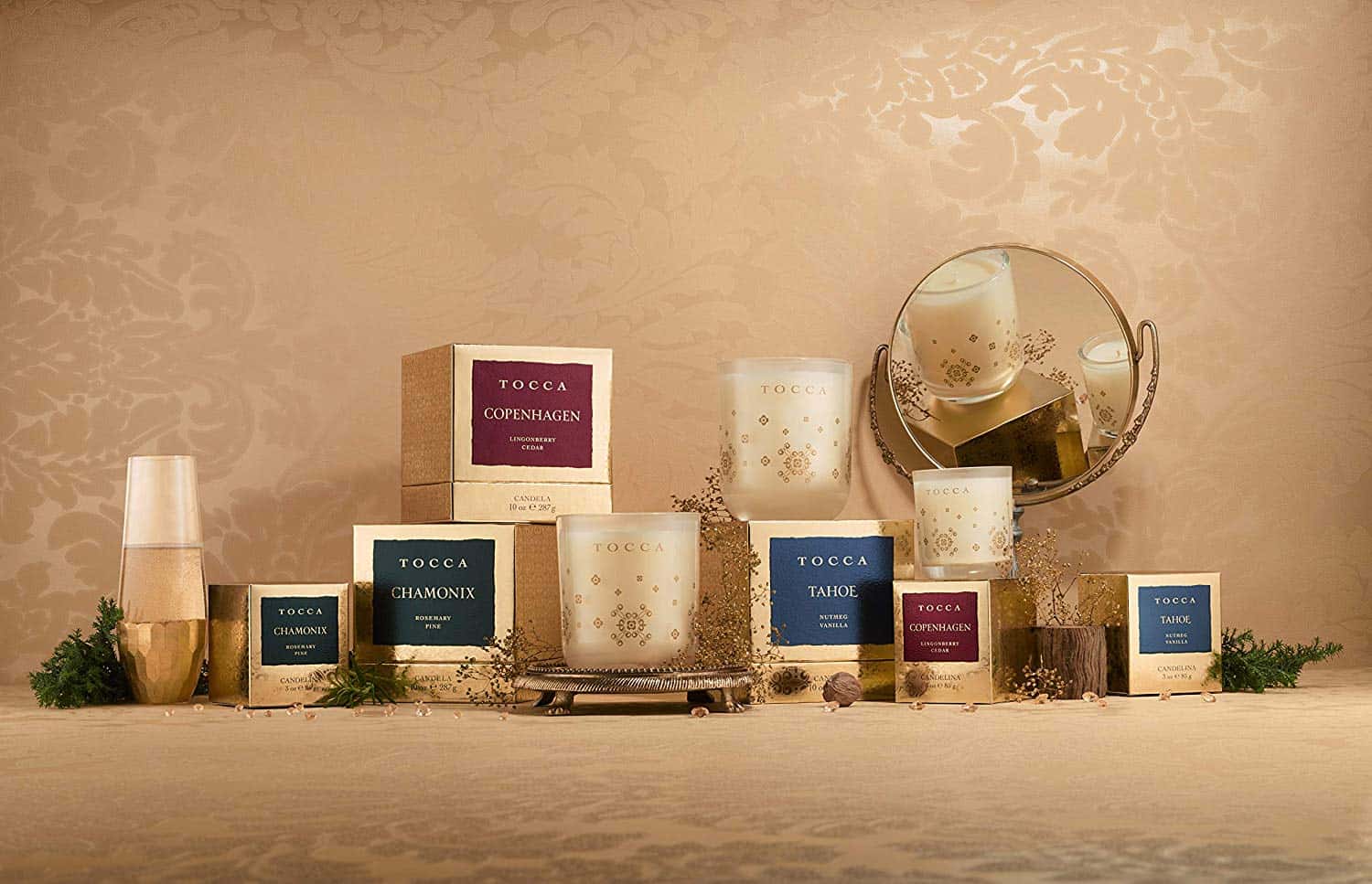 What's special about this candle
Tocca's uniquely beautiful candles steal the eye when incorporated in your home decor, adding a touch of luxury to your home.
Scent
This candle's rich fragrance comes from a beautiful blend of nutmeg and vanilla.
Style
Tocca's candles come in a luxurious tick frosted jar that can easily be repurposed to hold jewelry.
Benevolence LA Scented Candles Aromatherapy – Get it here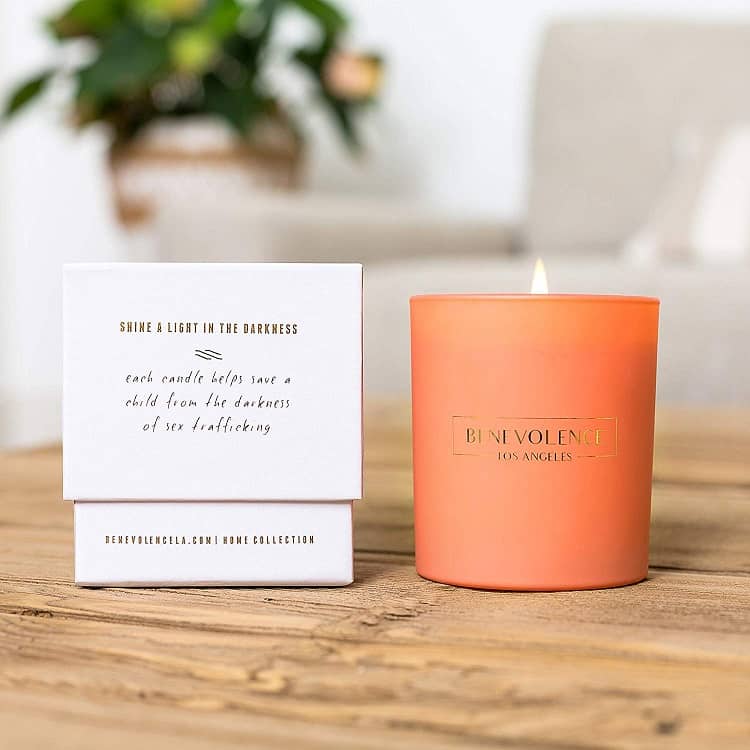 What's special about this candle
The makers of this candle believe in cultivating generosity with gifts that give back; and this candle is no exception, as its purpose is that of bringing light to the darkness of child abuse and trafficking. For each candle you buy, proceeds will go to Zoe International, an organization fighting against human trafficking that rescues children and helps them recover and find their paths.
Scent
Clementine scent comes with top notes of water lilly and orange, with base notes of lilac.
Style
With a cute matte coral glass paired with a dewy clementine scent, this playful scented candle is a great way to brighten a corner.
The Milkhouse Candle Creamery collection – Get it here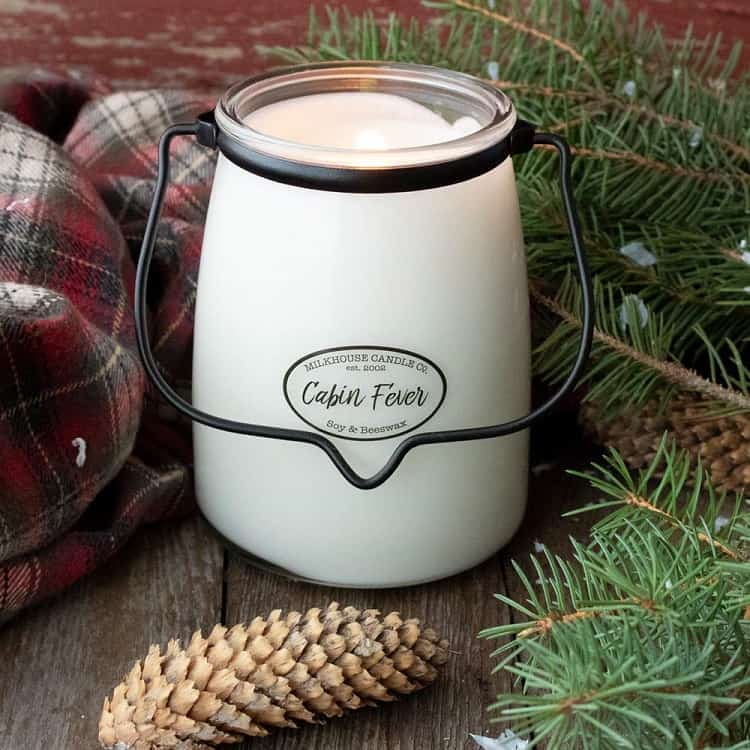 What's special about this candle
Possibly my favorite on this list in terms of creativity, the Milkhouse Creamery candles are as attractive as they are quirky. The candles are made in the U.S. using only wax made with soybeans grown in America's heartland, and trace their origins back to a small Iowa town.
Scent
This collection has close to 30 variations of scents (and some cute names for many of them), so you're bound to find one that you like.
Style
While admittedly a little more playful than luxurious, this unique candle will undoubtedly become a focal point. Its likeness with a milk bottle, makes it a great addition to your kitchen, where candles may feel out of place sometimes. But this one's unique style puts that issue to rest.
Posinda's Home Poured Coconut Lime Candle – Get it here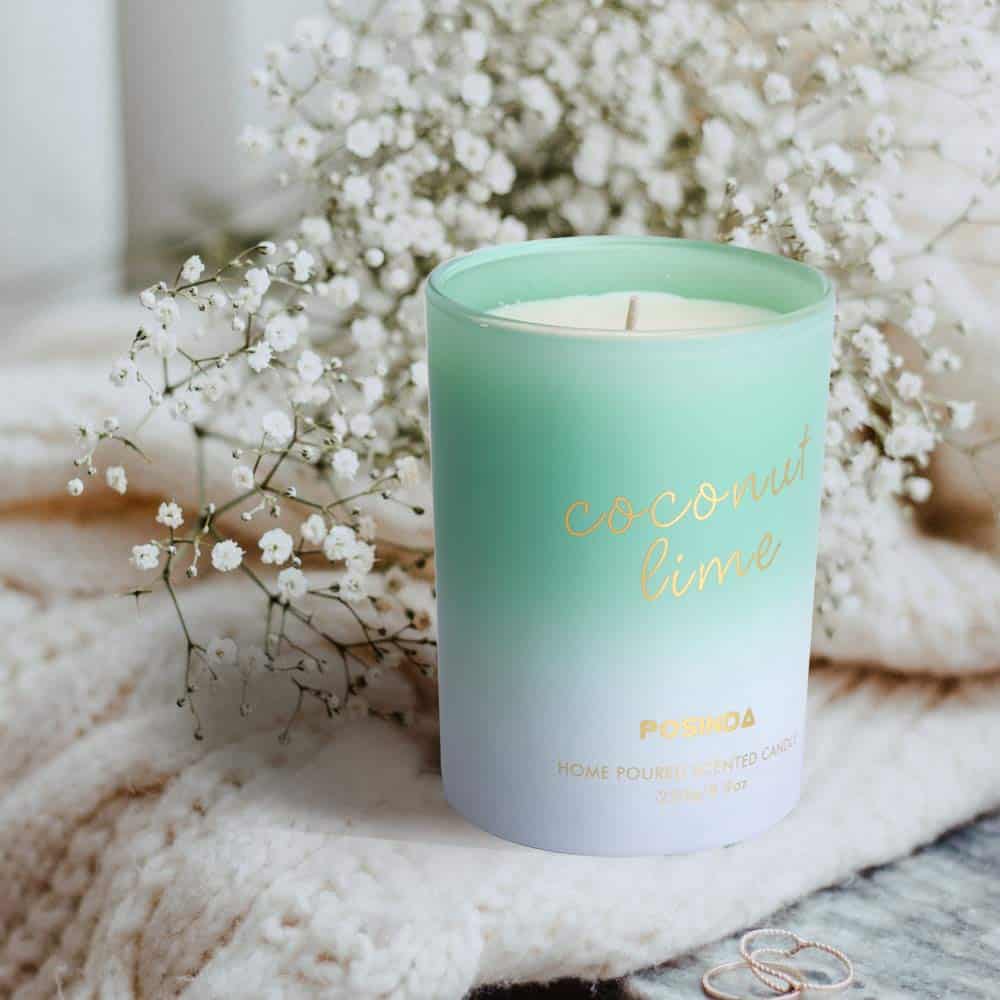 What's special about this candle
With its clean design and fresh scent, this candle works as a great addition to your shelves, one that you can quickly light up when in need of some relaxation and tranquility.
Scent
With a mostly fruity smell, blending coconut with the fresh scent of lime, this candle works wonders in relaxing the mind and releasing tension. The fruity scent is safe for adults and babies alike.
Style
The packaging for this luxury candle is precious; with a frosted glass container in a pretty green ombre and golden calligraphy writing, this candle is simply beautiful.
Paddywax Candles Sonora Collection Scented Soy Wax Candle – Get it here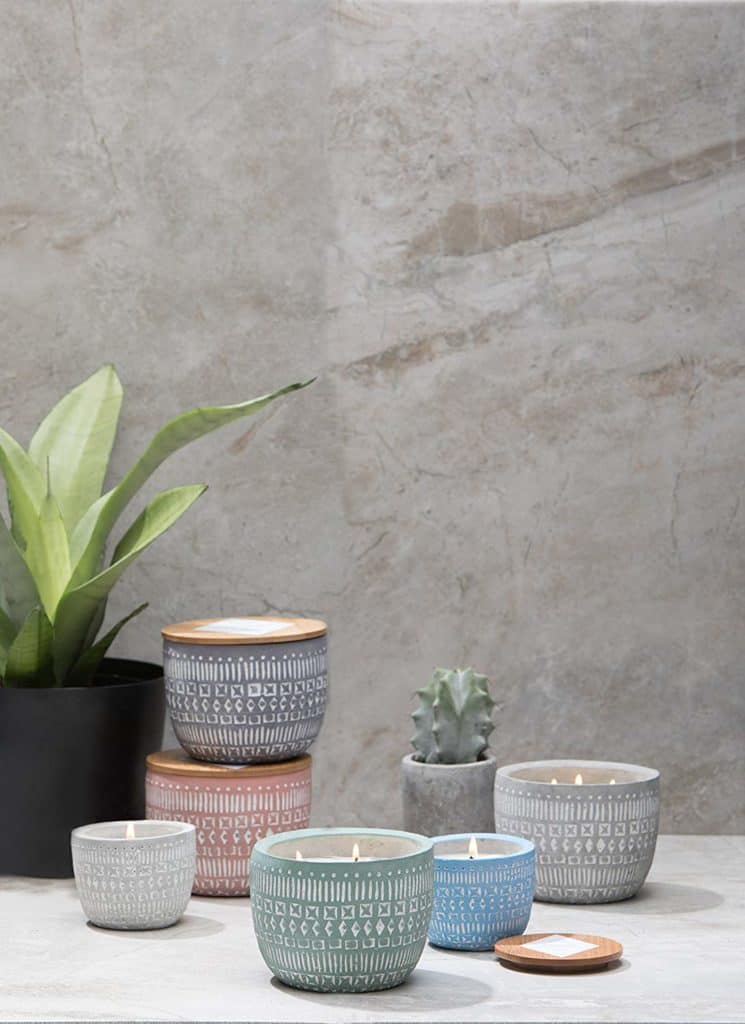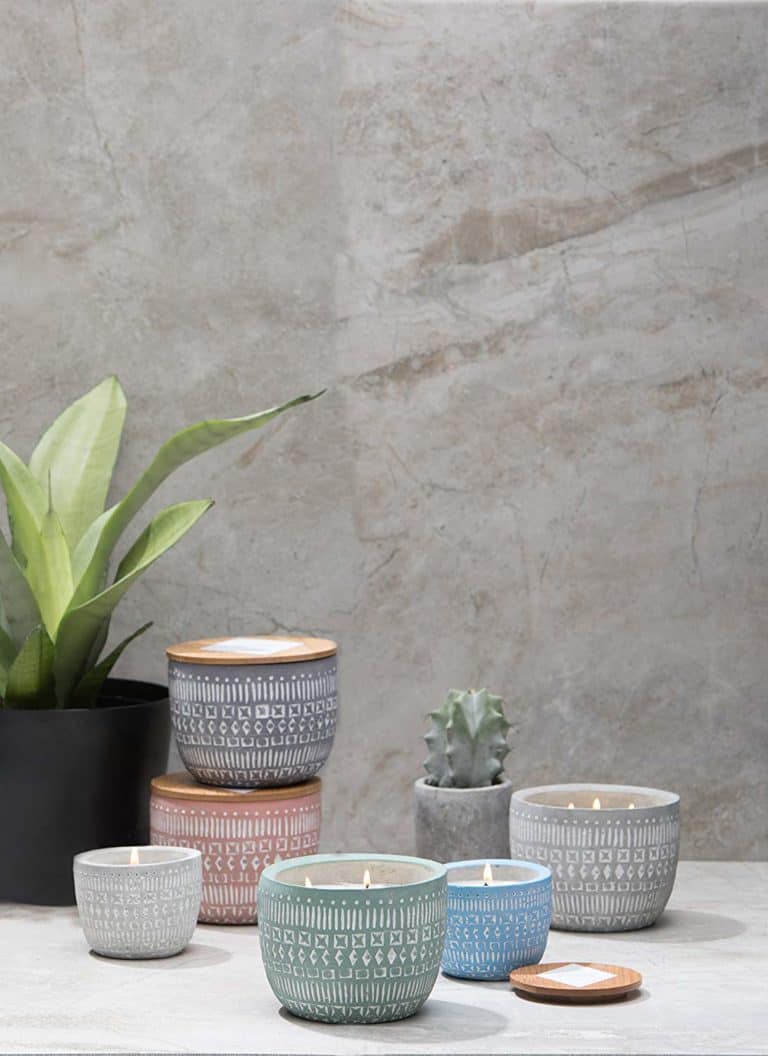 What's special about this candle
A great fit for a wide range of decor styles, these sturdy concrete candles are a great addition to your home.
Scent
Using all natural fragrances, the candle combines wildflowers and birch for a pleasant but not overbearing scent.
Style
Resembling beautiful, traditional pot plants (which gives you a great idea for future uses right there), this candle comes with a sturdy concrete vase with a nice pattern that can be easily paired with existing decor items
Everyday Luxe Bergamot Amber Scented 3 Wick Candle – Get it here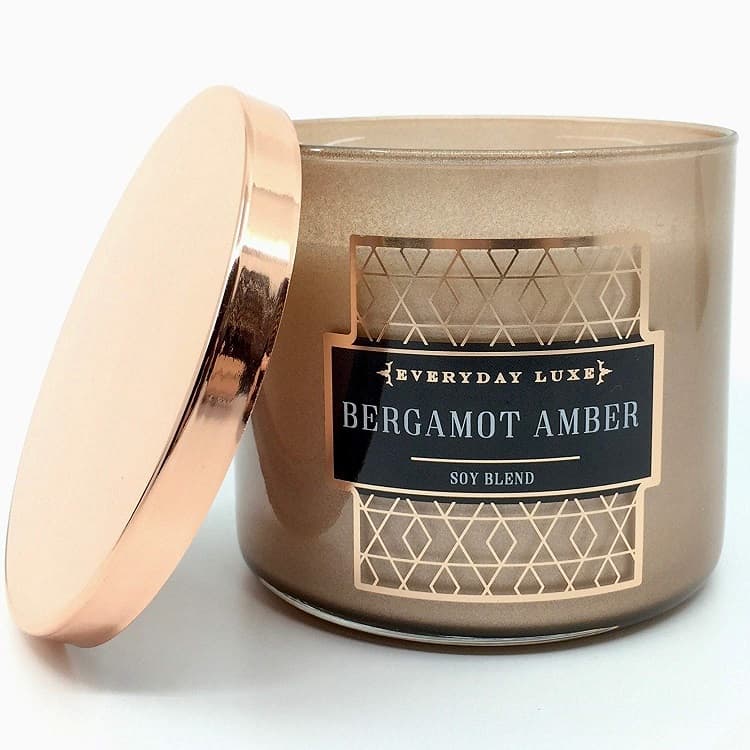 What's special about this candle
With its beautiful shimming taupe glass jar and rose gold lid, this luxury candle — and its
Scent
Bergamot leaves and juicy nectarine notes sitting atop a bouquet of iris petals, jasmine, and freesia. Layers of Baltic amber and tonka bean
Style
The elegant jar with luxurious rose gold touches can be easily used to add a note of sophistication to any room
Large Winter White candle tin by Illume – Get it here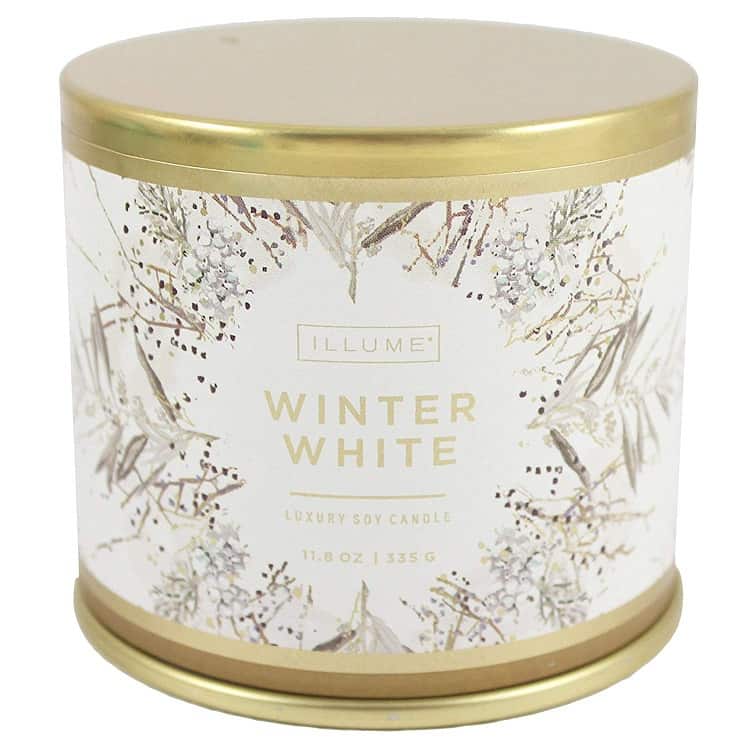 What's special about this candle
ILLUME scented candles are hand-crafted with essential oils to provide energizing scents and the cleanest possible burn.
Scent
Aromatic evergreen and frosted cypress are dusted with white peppercorn, spicy-cool cardamom, and a sparkling citrus nuance, perfectly wrapped in glowing amber
Style
With a design inspired by a retro cake tin — meant to complement the playful scents — this cute white tin works well with most interior styles.
Aromascape 3-Wick Scented Jar Candle – Get it here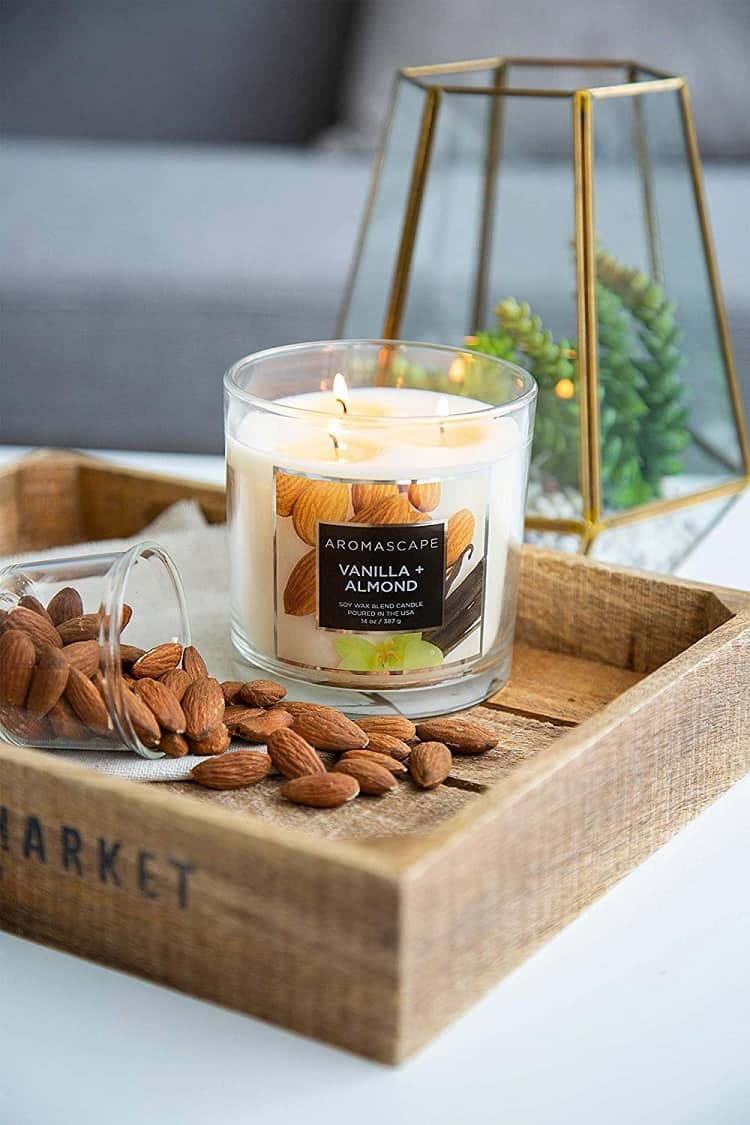 What's special about this candle
Any candle that comes with three wicks gets a plus from me!
Scent
With a wonderful blend of vanilla and almond, this candle's wonderful fragrance will quickly be carried through the entire house.
Style
The clear glass design comes with a minimalist lid; the color of wax was not altered with colors, so the candle can be easily paired with any design, regardless of style.
Which candles do you love having around the house? If they're not already on this list, make sure to drop them in a comment and we'd be happy to add them.