'Come on in! Roll some, smoke some with me,' he says as he invites the Architectural Digest team to show them around his $4.6 million house in the Sherman Oaks area of Los Angeles.
And that invitation was the perfect glimpse into what lay ahead for the team (and the viewers). Throughout the Arch Digest house tour, the "Black and Yellow" singer can't seem to go more than 50 seconds without mentioning his pot.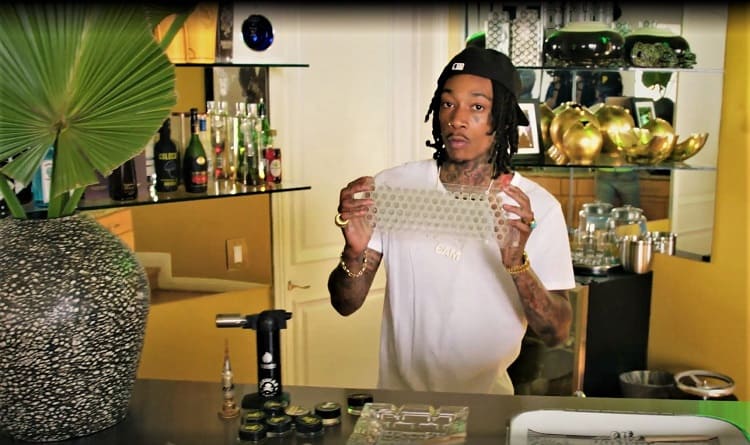 And you know that stuff is important to him not only because he's got his own strand named after him — the Khalifa Kush — but also because he has an entire wall in his house dedicated to honoring some of the most famous pot smokers in history.
Lining the walls of Wiz Khalifa's house, you'd see photographs of Snoop Dog, Bob Marley, Jimi Hendrix and Devin The Dude, to name just a few. He also shows off his joint roller that you can use to roll a hundred joints at one time. Daaamn. Too bad he doesn't do a demo.
But you can check the video down below to take a look at the most essential tools in his weed bar:
The Wiz Kid Effect
Pot may be important to him, but there's a lot more to Wiz Khalifa's house than smoking joints and partying.
Being a father to a 5-year-old boy is a responsibility he obviously loves and takes seriously. House selection really boiled down to finding a place his kid could easily play around in.
Major parts of the house are dedicated to play (and educational) areas for his son. The walls too are adorned with a lot of pictures of the father/son duo. But the most adorable such part is the car park — which comes with a special little area dedicated to his son's own tiny car collection, including an Impala sized for a 5-year-old.
An Ode to Self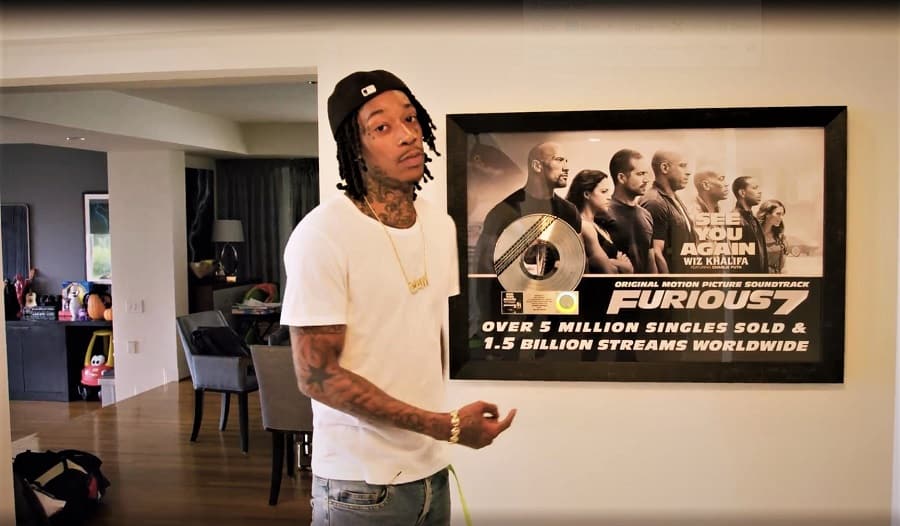 'If you ever break into my house and you walk in, you're gonna see this (Fast and Furious 7 poster) and you'd be like this is Wiz crib and you can't fucking mess with it.'
But in case you do miss the Fast and Furious poster, there are plenty of other reminders around the house too. From concert pictures to album covers to family photographs to imagery of his tattoos, you'd catch a glimpse of Wiz Khalifa in every corner of the house.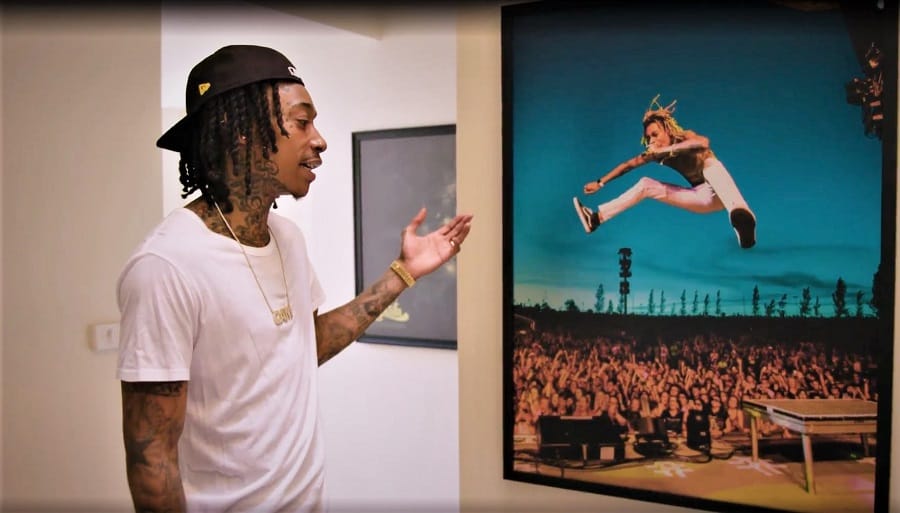 The Recording Studio
What is a successful rapper's home without a recording studio? Wiz too has a personal recording studio that he understandably calls his favorite part of the house.
Unlike the rest of the house, the recording studio is covered in dark walls, neon lights, fancy equipment and a somberness that demands you leave your party and your packets on the other side of the door.
The Modern Abode
All in all, Wiz Khalifa's home is a true reflection of everything he is and stands for. The modern interiors are fun and comfortable, and perfectly amalgamate his lifestyle as well as that of his son.
Michelle Silva, while designing and decorating his six bedroom house, really took into consideration his need for adult time and desire to dedicate most of the space to his son.
The stylishly modern interiors open up to rugged natural beauty outdoors. The heated pool surrounded by expansive views offers a great background to just chill in the pool, smoke a joint or jump on the trampoline.
Wiz also showcases his collection that includes three low-riders, an old-school El Camino 1969, three Impalas, newer muscle cars, a Benz and a Chevelle.
More celebrity cribs
Welcome to Hollyweed: Luxury Real Estate Developer Starts Building Weed Mansions for Celebrities and Athletes
See Inside Travis Scott's House: a $23.5M Ultra-Modern, Yacht-Inspired Mansion
Drake's Mansion in Toronto, the Star of his 'Toosie Slide' Video, Is Peak Luxury
50 Cent's House in Connecticut Sells After 12 Long Years on the Market