From professional wrestler to Hollywood's highest-paid actor, savvy businessman to prospective presidential candidate, Dwayne "The Rock" Johnson dons many hats.
These days he has well over 300 million Instagram followers, an envy-worthy film career, and his own tequila brand, but it wasn't an easy journey to the top. 
Believe it or not, Johnson started out as a college football player at the University of Miami and aspired to play it professionally. When that didn't pan out, he turned to the world of wrestling.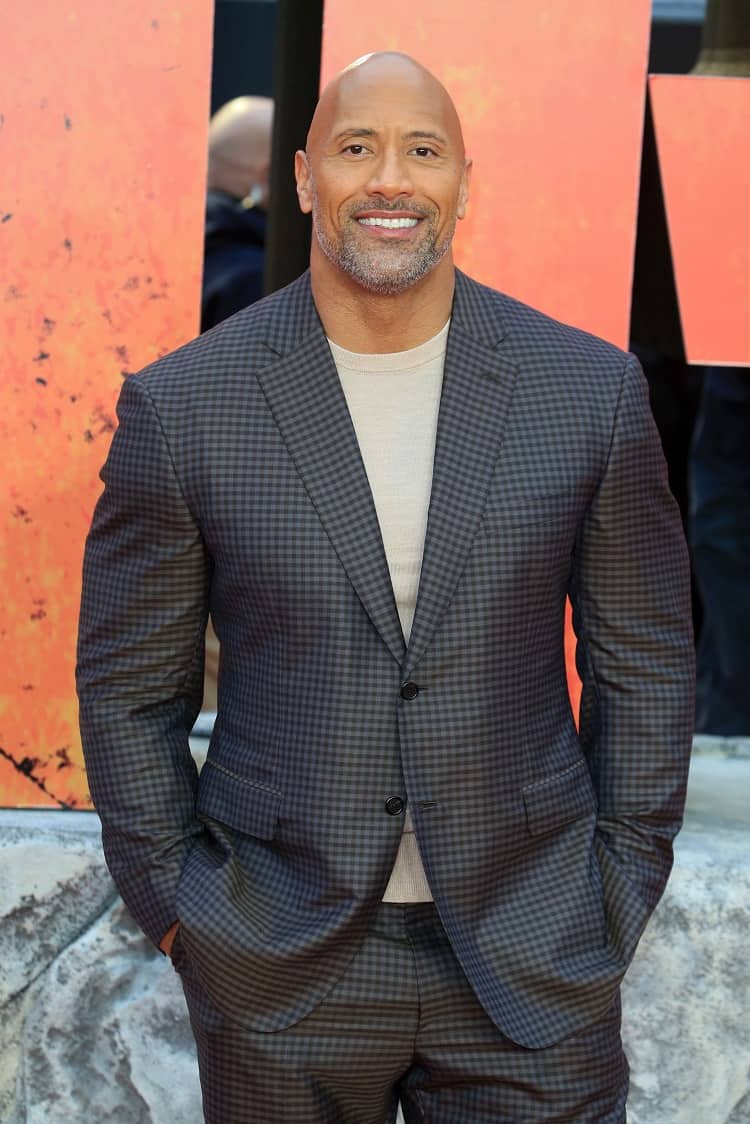 With his unmatchable techniques and endearing catchphrase (Can you smell what The Rock is cooking?), he became one of the most popular WWE wrestlers around.
In case you've ever wondered about his wrestling persona, The Rock's backstory is that he's an executive chef who specializes in Croquembouche (so that's what he was cooking).
Since then, Johnson has had a ROCKing Hollywood career, started his own production company, become co-owner of a football league, and been unstoppable!
The best part is that despite building a billion-dollar brand, he's still as humble and lovable as ever. But that doesn't mean he isn't living large!
Dwayne Johnson lives in a beautiful $27.8 million mansion in Los Angeles' exclusive Beverly Park neighborhood, along with wife Lauren Hashian and their adorable kids.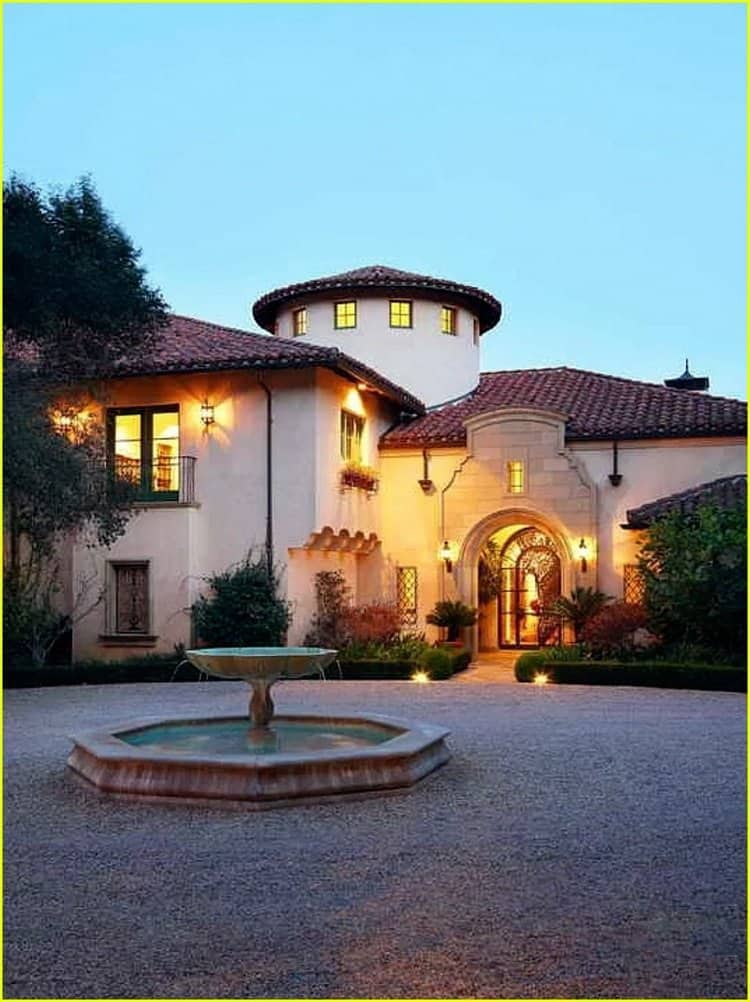 Dwayne Johnson's house has a star-studded past (and present)
The Rock bought his dream home from fellow actor and comedian, Paul Reiser, of Mad About You fame.
Before that, it was owned by musician and rock star Alex Van Halen, who built the breathtaking property in 1993.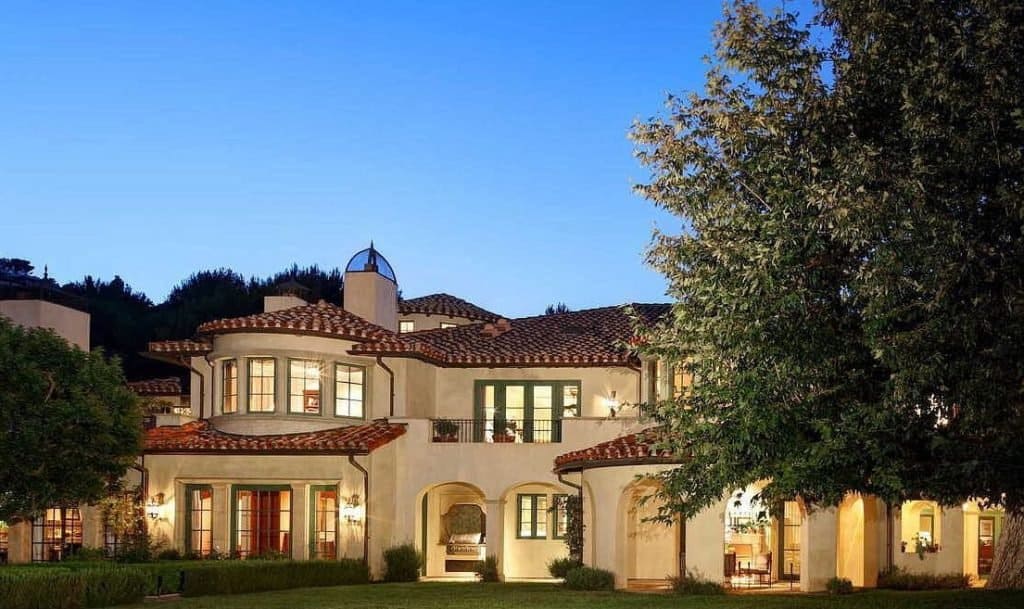 The house sits on 3.67 acres of land and is considered to be among the largest (and most private) properties in the neighborhood. And not just any neighborhood.
The Rock's house is set in Beverly Park, Los Angeles' most exclusive neighborhood, home to countless A-listers.
Johnson, one of the best-paid actors in Hollywood, has equally famous neighbors like Denzel Washington, Sofia Vergara, Eddie Murphy, Rod Stewart, and Adele, to name a few.
His estate was described as "a complete resort" in a previous listing and, after taking a look at it, we have to agree that it's indeed a palatial property worthy of the moniker.
Built in 1993, the Mediterranean-style abode — designed and renovated by architect Grant Kirkpatrick — features 6 bedrooms and 13 bathrooms spread across 17,630 square feet of space and two structures.
Dwayne 'The Rock' Johnson purchased it back in April 2021 for $27,750,000, a 7.5% discount from its ambitious $29,990,000 listing price.
We love the 'Tuscan feel' of the property
Located at the end of a quiet cul-de-sac behind massive iron gates, the private estate first wows visitors with its mature trees and manicured lawns.
The stunning olive tree-lined driveway leads to a pea gravel motor court that features a stone fountain.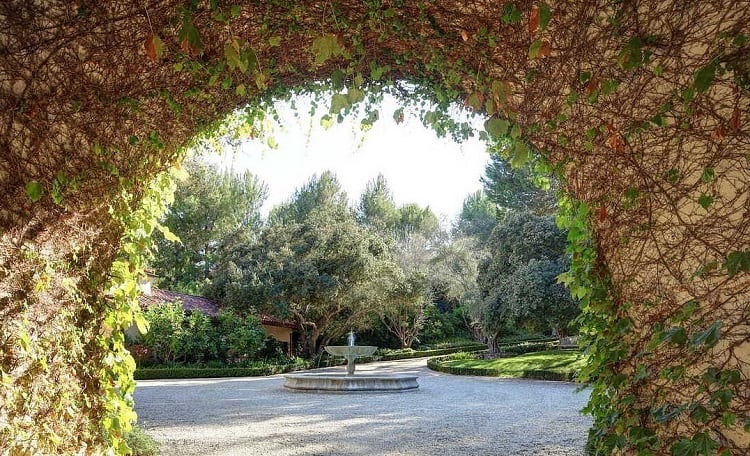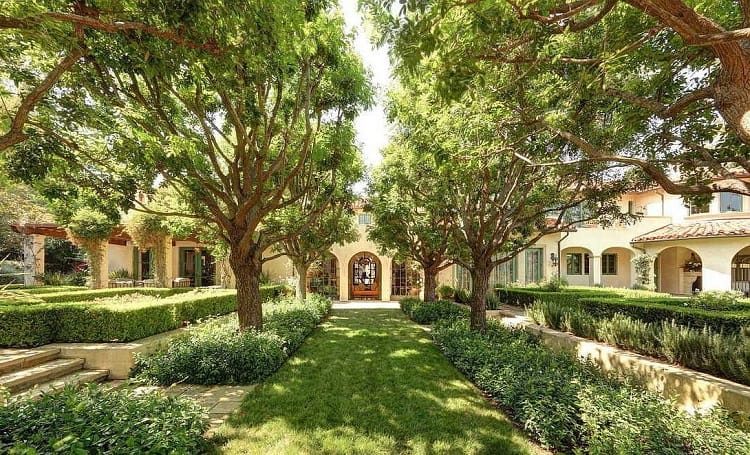 Adding to the Mediterranean vibe are a series of ivy archways, an eye-catching red-tiled roof, airy balconies, and covered loggias. There are also many gates for easy access in and out of the property.
Massive French doors open to the backyard and there are dreamy, serene trails all over. With so much natural beauty, it feels like a postcard from the Tuscan countryside.
The property has a colossal 18,000 square feet of living space spread across the main mansion as well as the detached 2,500-square-foot guesthouse.
What really makes this estate fit for a (scorpion) king are the top-notch amenities.
Think world-class gym, full-sized tennis court, movie theater, baseball diamond, a music studio that was originally installed by Van Halen, an elevator, indoor and outdoor swimming pools, and a spa — which makes it sound like an amazing private retreat.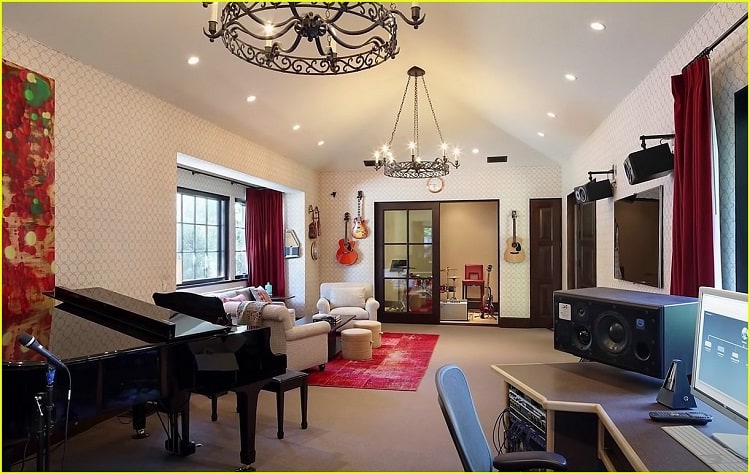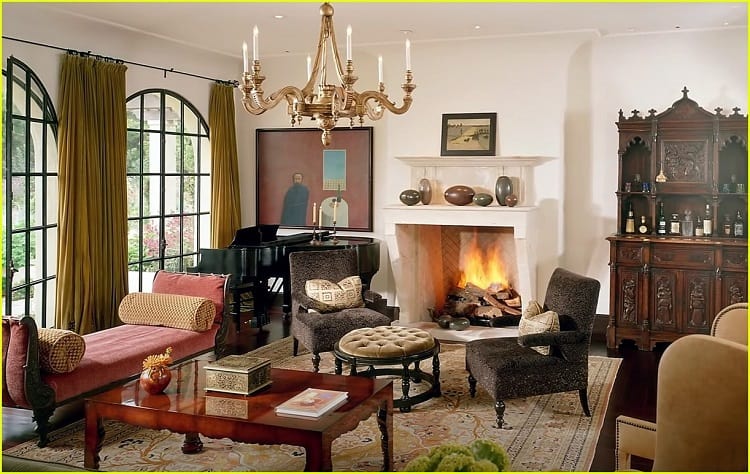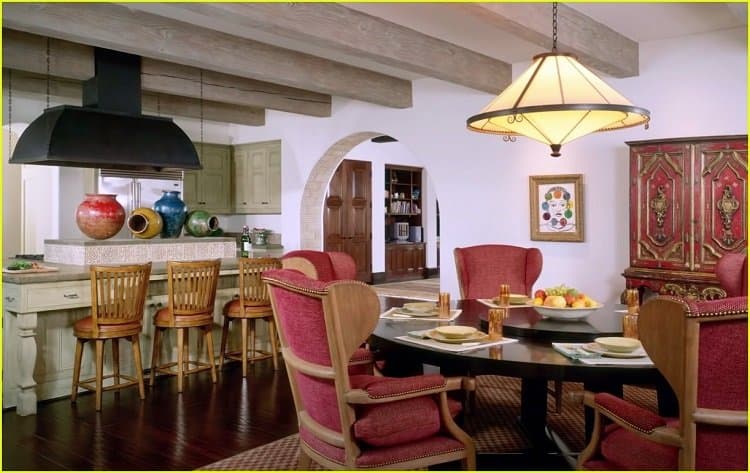 For a closer look at The Rock's house, head to his Instagram profile
Dwayne Johnson is many things but perhaps his most important role of all is being a loving husband and a doting dad-of-three.
His Insta page is a treasure house of precious moments with his family, especially his youngest daughters, Jasmine and Tiana.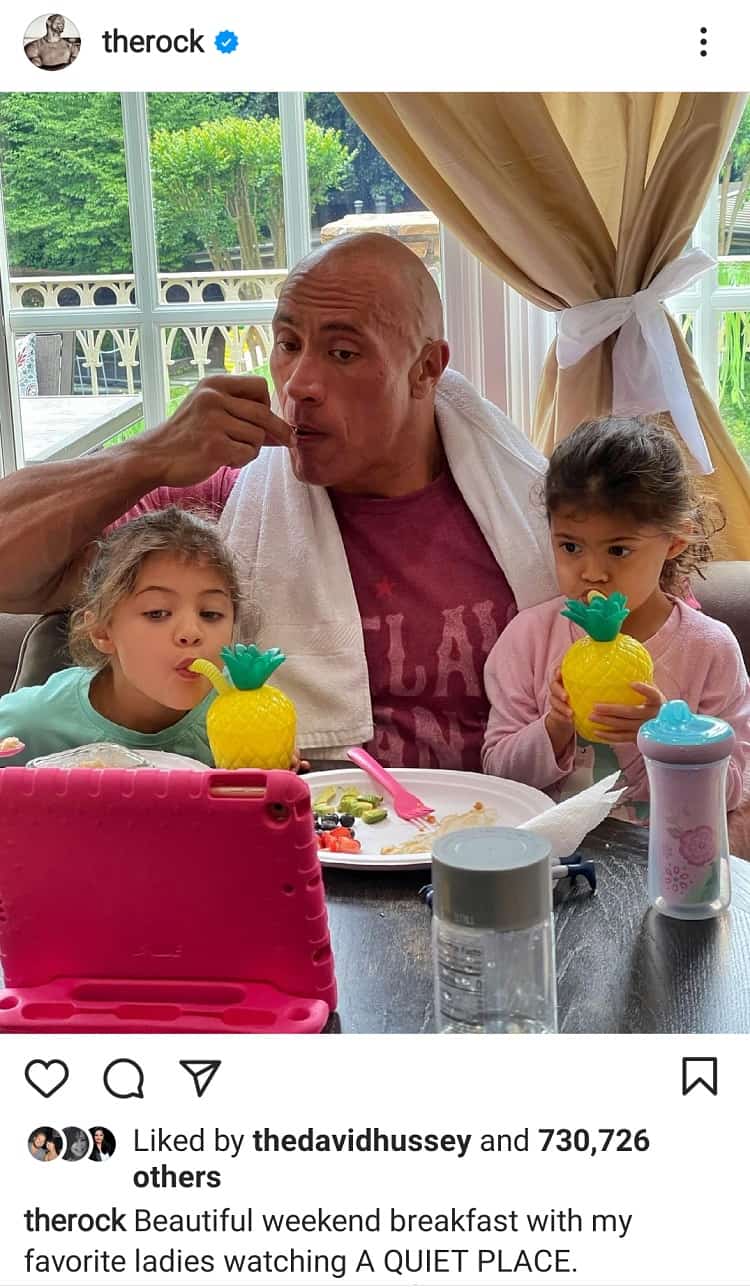 It also gives fans the chance to take a closer look at what the interiors of his home are like.
From his daughters' bedrooms, the chic living room, the gorgeous kitchen, and the perfectly pruned flower beds in the garden, Johnson and his wife seem to have impeccable taste when it comes to décor.
The front of the mansion features a large white door with pillars on either side that the family loves to decorate for the season.
Johnson's favorite feature in the house, of course, is the gym, which he has dubbed his "Iron Paradise."
When they're not in California, the family often spends time in Powder Springs, Georgia where the star owns a 45-acre equestrian estate — though not for long, as the property has been listed for sale.
With Johnson slated to make his DC debut as Black Adam soon, we can only see bigger and brighter things in his future! Which might just as well mean more stunning million-dollar homes for us to gawk at. So stay tuned!
Other beautiful celebrity homes
An inside look at Chrissy Teigen and John Legend's house, a Beverly Hills trophy home
Drake's Mansion in Toronto, the Star of his 'Toosie Slide' Video, Is Peak Luxury
Serena Williams' House in Florida is Bold and Beautiful, Just Like Her
Jay-Z and Beyoncé Live in a Bel-Air Mansion Fit for Royalty