Inspirational. There's no other way to describe Cardi B, the enigmatic, reigning queen of the hip hop world.
Hustling her way up from an Amish Market in Manhattan (where she worked as a cashier), Cardi B — by her real name, Belcalis Marlenis Almánzar — has carved her own unique path to success. Jumping from one role to another, the 27-year-old mega-star kept her eyes on her goals and worked relentlessly to get to the top of the most competitive industry in the world.
Since first bursting onto the scene in 2017, the rapper from South Bronx has slowly but surely won the hearts of millions of fans worldwide. She has been constantly making money moves, as she so prophetically sang in her first mega-hit, 'Bodak Yellow'. Shooting to fame on Instagram before this hit for her 'no filter' commentary, she has made brutal honesty a central part of her songs as well.
Riding high on the record-breaking success of WAP, her 2020 single, Cardi B has been keeping herself busy this past year, in the best way possible. The Grammy Award-winning rapper has been collaborating with and building a supportive and empowering tribe of breakthrough female musicians. You go, girl!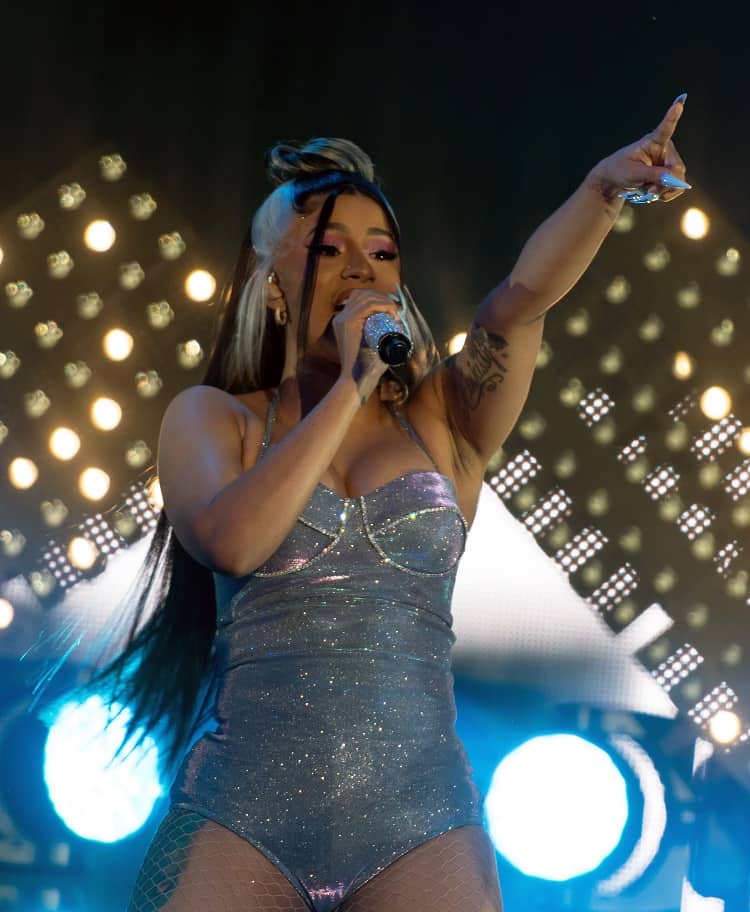 After rising to the top of the Billboard charts and riding over a tumultuous phase with her now-husband, fellow rapper Offset, Cardi began hunting for a home to call their own.
The girl from the Bronx was convinced by Offset that Atlanta was the city for them to build their future in, as he had grown up there and they had called it home for a while.
With the candor that is uniquely-Cardi, she kept her Instagram followers updated about her journey till she found what she had been looking for.
Cardi B's House in Atlanta: What Dreams Are Made Of
After what seemed like a lifetime, Cardi's house hunt finally came to an end at the end of 2019 when she and Offset finally found what she has repeatedly called their "Dream Home".
The clearly ecstatic Cardi shared their find on Insta with fans on just her second-ever visit to the mega-mansion set in the upscale Buckhead neighborhood of Atlanta.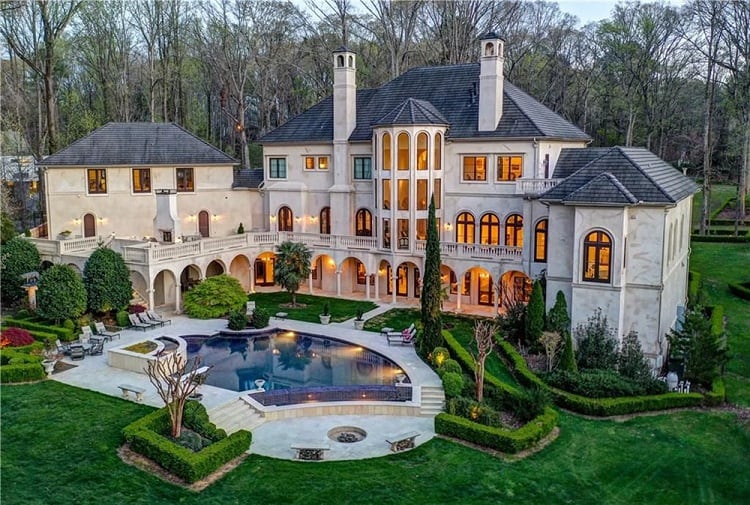 Set on a sprawling 6-acre private property, the mansion comes complete with 5 bedrooms, 7 bathrooms, 4 half bathrooms, a wine cellar with an 1800-bottle capacity, and even an underground shooting range! Yes, a shooting range!
Surrounded by trees and European-style hedges, you can see that the estate was designed with privacy in mind. Though it was built fairly recently in 2006, the large doors, open layout of each room, and tall columns with ornate designs take you back to an earlier time — and stand in stark contrast to the sleek, modern abodes of her fellow recording artists.
The home also comes with a garage that is listed for a capacity of 4 cars but looks like it could accommodate more. It's not hard to see why this three-story home caugh both Cardi B. and Offset's eyes after their arduous journey looking for the perfect home.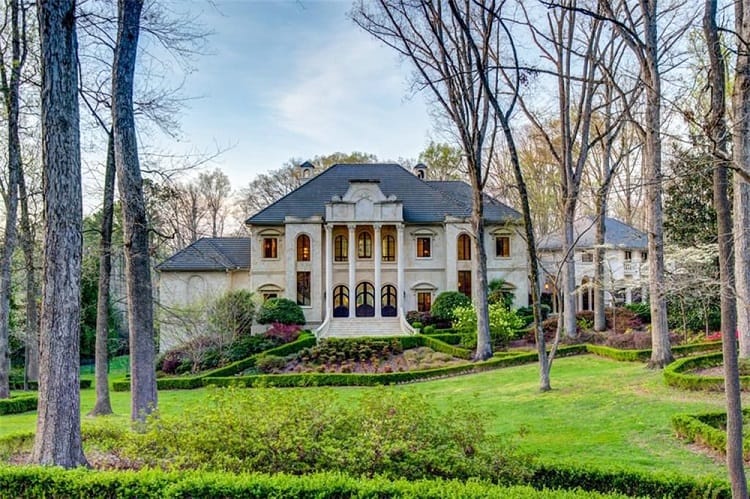 Living the Luxury Life in One of Atlanta's Most Desirable Areas
Offset and Cardi B live just north of Buckhead, in Sandy Springs — an inner ring suburb of Atlanta, Georgia — in a palatial abode they bought as a Christmas present for themselves in 2019.
While we don't know how much the couple ended up paying for the massive house, we do know it was listed for sale with a whopping $5.79 million price tag — though its European-inspired architecture, opulent interiors and endless list of amenities make it look like it would easily cost three times that amount.
Just as you walk past the grand entrance, you are greeted by a foyer that boasts a wide-open hallway into the 22,500 sq ft home. The oversized chandelier and a stylish winding staircase perfectly balance the vibes somewhere between a warm and inviting home and a palace fit for a queen.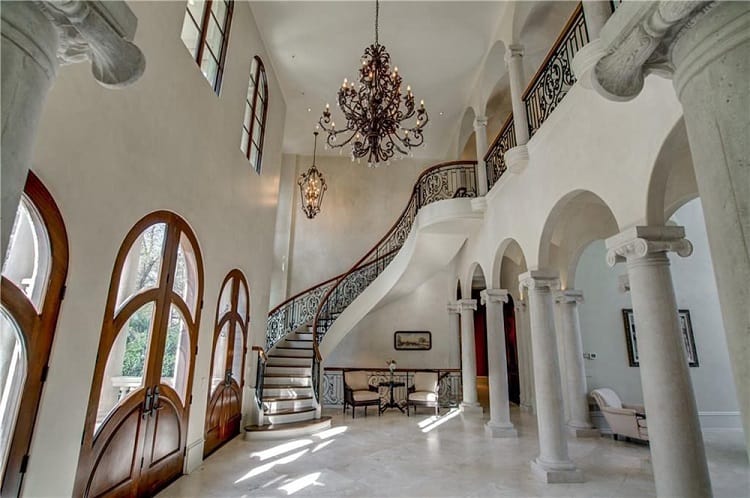 Unsurprisingly, the resplendent home comes with multiple living spaces.
An open-concept living room with full-length Juliet balconies overlooks the serene backyard and almost looks like it was designed as a set for one of Cardi's fancy music videos.
What's even more impressive about this space is that it seamlessly connects to another living room right by its side which offers a more intimate setting, with lower arched ceilings.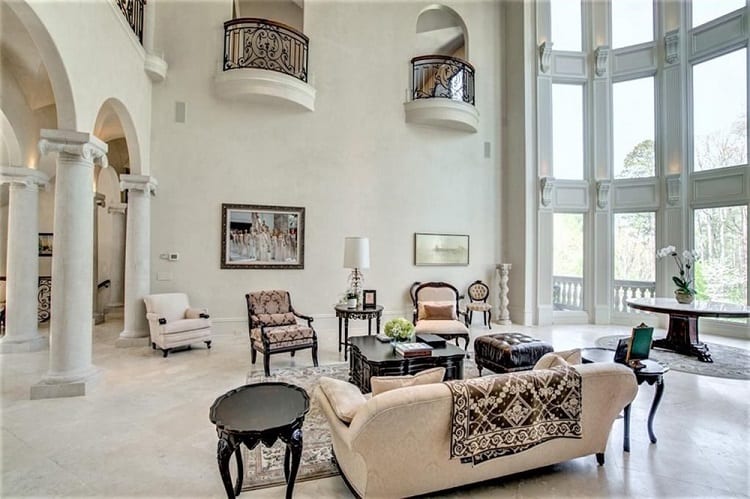 The rest of the house is just as lavish. The master bedroom with coffered ceilings looks more like a 7-star resort suite, having a separate seating room with its own fireplace and a spa-like en-suite master bathroom.
There are two separate walk-in closets, that open up into each other via a connecting passageway and are tall enough to require a ladder to reach the highest shelves.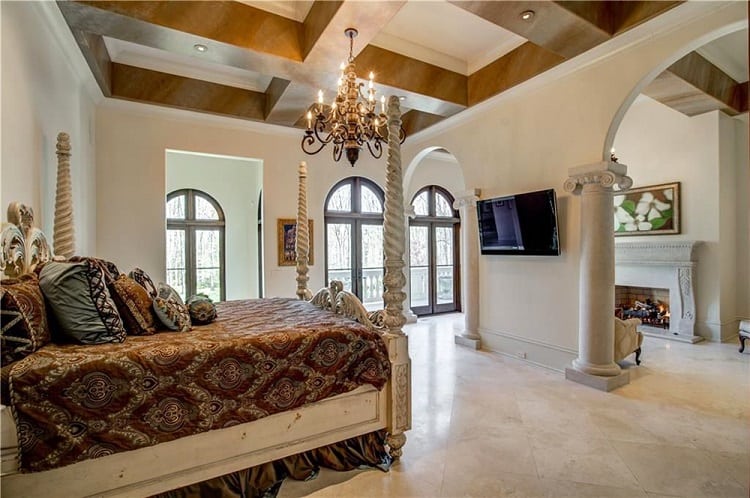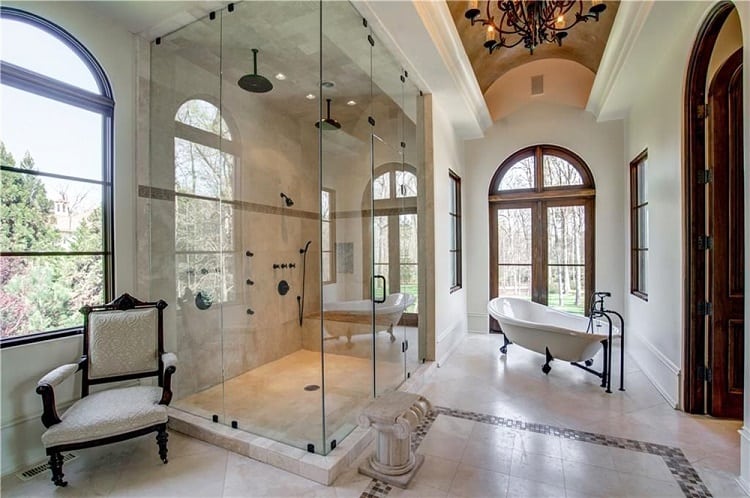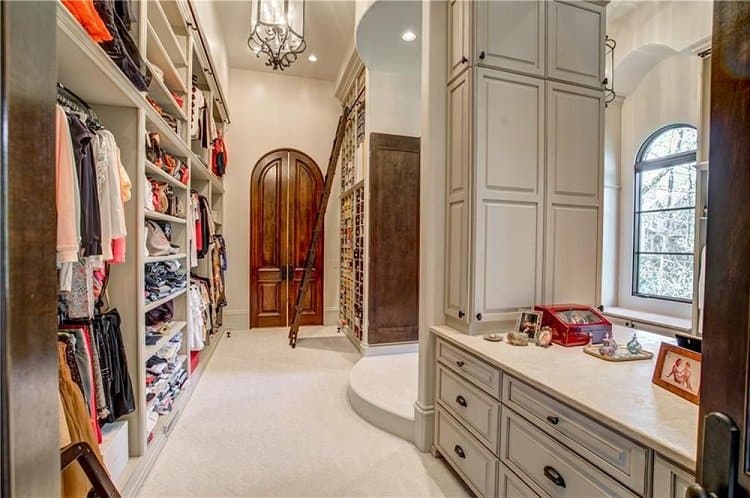 While the kitchen is adorned with ornate stained wood cabinetry and gleaming marble countertops, the dining area has a surprisingly warm and inviting feel despite its home-appropriate size.
Stepping into the cozy, wood-paneled home office, you'd be forgiven for thinking that you had traveled back in time to a bygone era of royalty. Rounding up the home is the massive basement with tall pillars that is taken up largely by Offset's 'man-cave' as he calls it and Cardi's make-up and dressing room.
But Wait, There's More…
Walking out towards the back, you realize that the chateau-style home wraps itself around a fan-shaped infinity pool.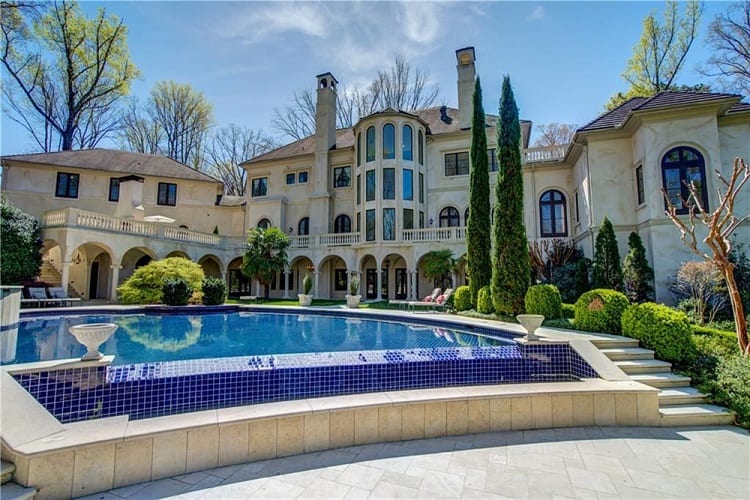 The space opens up into perfectly manicured lawns that lead to the densely forested surroundings, ensuring the kind of privacy that you'd want if you had paparazzi hounding every move you make. There is also an expansive back deck that overlooks the pool and offers majestic views of the entire property.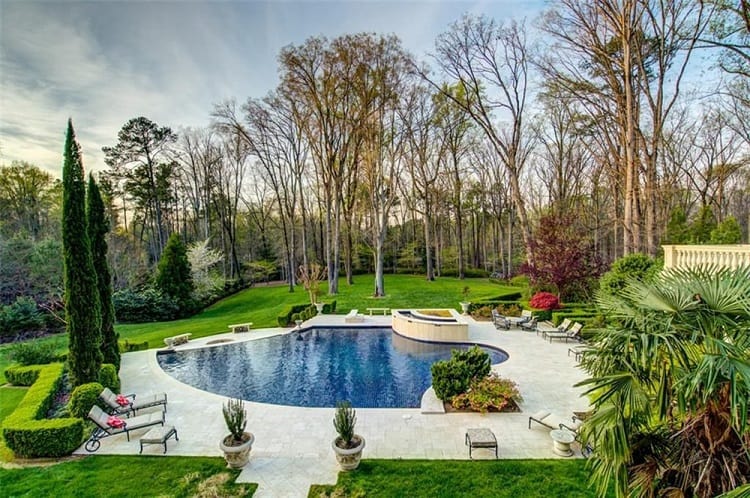 Finding the right home can be tough even for the lucky few who have endless options. So, it's no surprise that Cardi B took two years to find this palatial beauty that fit all her checkboxes (and then some).
Cardi B's House was Flooded by Hurricane Ida
As further proof that no one is safe from nature's wrath, Cardi B's house was damaged in the wake of Hurricane Ida — which hit Georgia at the end of August.
The rapper shared a video on Instagram of the water damage her house suffered from the storm that blew through the northeast. Cardi B's video showed water leaking into her home and pooling up in a hallway, and the star following the trail of water damage only to discover that her bathroom was partially flooded.
While the celebrity couple will likely have to redo their floors and possibly update their bathroom to fix any damage the water may have caused, we're happy to know they are both safe and that their lovely home will make a quick recovery. After all, it looks like their palatial mansion in Atlanta was built to last.
Lead image credits: property photo – Zillow.com, Cardi B – Katie Krause, CC BY 3.0, via Wikimedia Commons
More homes of hip hop royalty
Jay-Z and Beyoncé Live in a Bel-Air Mansion Fit for Royalty
Drake's Mansion in Toronto, the Star of his 'Toosie Slide' Video, Is Peak Luxury
Spotlight: The Razor House — Alicia Keys and Swizz Beatz' Crazy Mansion
50 Cent's House in Connecticut Sells After 12 Long Years on the Market