Highlights
One of the best-paid

and most popular rappers in the world, Travis Scott has a real estate portfolio to match

The rapper owns two sprawling mansions

: one in Los Angeles, Calif. and another in his hometown of Houston (Texas)

He has also previously co-owned

a Beverly Hills mansion with Kylie Jenner, the mother of his two children

Travis Scott's house in Los Angeles

, his most impressive property, is a futuristic modern mansion with a design inspired by luxury yachts

He paid $23.5 million

for the modern hilltop mansion in an all-cash transaction

One year later

, he also bought the modest property next door for $5.8 million (mostly for the land)

Prior to that

, he quietly purchased another 12,000-square-foot house in his hometown of Houston, TX, where he retreated after the Astroworld tragedy
---
After going halfsies with Kylie Jenner on the $13.5 million purchase of a Beverly Hills mansion — which they still co-own — Travis Scott made his official real estate debut with a bang.
In June 2020, the Astronomical rapper dropped a cool $23.5 million (IN CASH) on a massive mansion in the ritzy Brentwood neighborhood of Los Angeles.
And if you think that's a steep price to pay, know that the newly-built home had initially been listed for a hefty $42 million.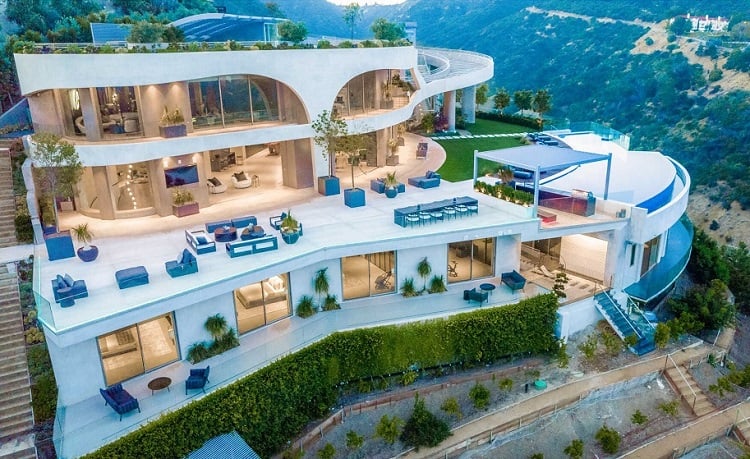 What makes Travis Scott's house command such mindboggling prices?
The 17,000-square-foot futuristic mansion is perched high atop the Los Angeles hills, and packs pretty much every luxury amenity you could think off (and some that wouldn't even cross your mind, like an underwater sound system for the infinity pool).
The rapper's L.A. mansion: A party-ready mammoth designed with wellness in mind
With a luxury yacht-inspired design, the property has been envisioned by Southern California-based architectural firm de Loren & Associates with an emphasis on wellness.
When it was first listed back in 2019, the all-star agent team in charge of marketing it touted the mansion as "a true triumph in design, crafted for its residents and guests to live a healthy lifestyle and enjoy special moments," Santiago Arana, Managing Partner at The Agency said at the time.
And while the wellness aspect is showcased heavily throughout the property, there's no denying that Travis Scott's house is a party monster.
The house has a total of seven bedrooms, eight bathrooms, and three powder rooms spread across three levels and 17,000 square feet of living space.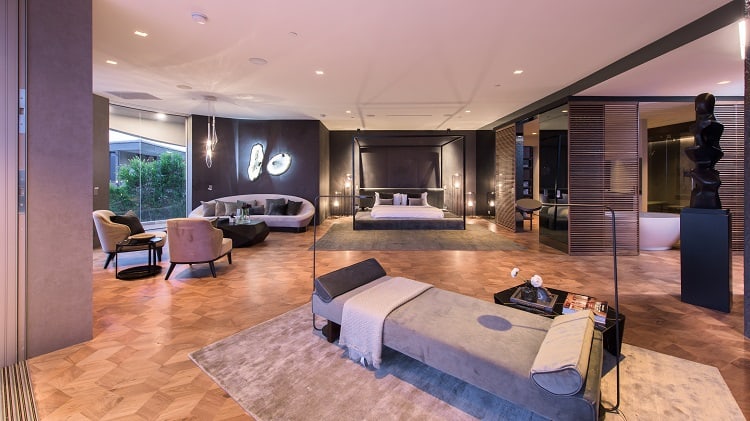 It comes with a massive list of upscale amenities, including a 610-bottle wine cellar, a movie theater, state-of-the-art gym, a 300 sq. ft. green wall and a lower-level entertainment area with a full bar, pool table and much more.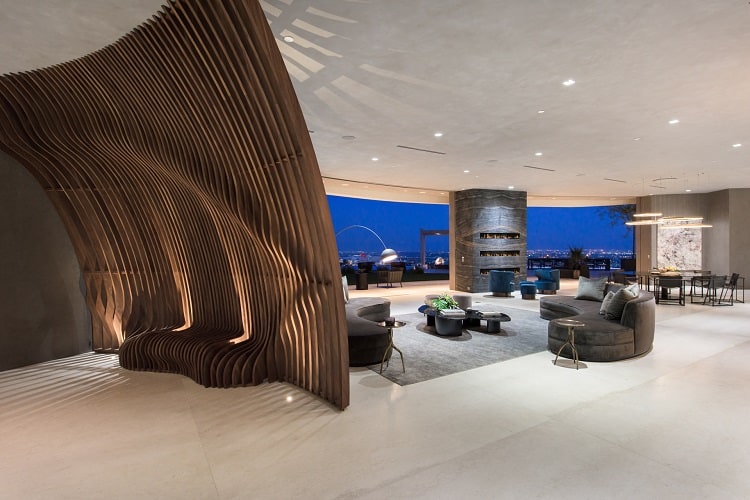 SEE ALSO: 12 most expensive rapper houses: Drake, Jay-Z, and Kanye in the lead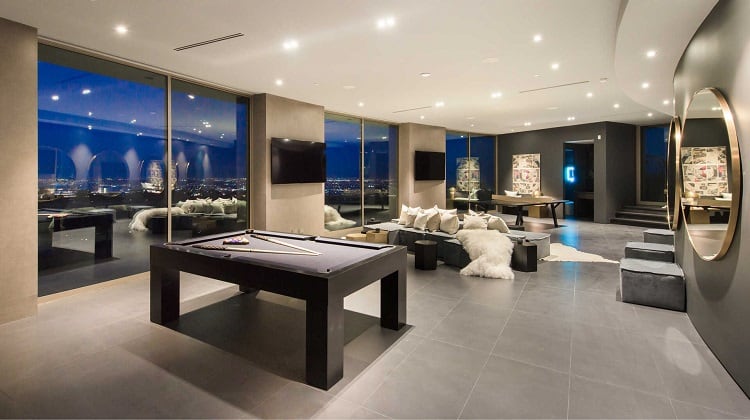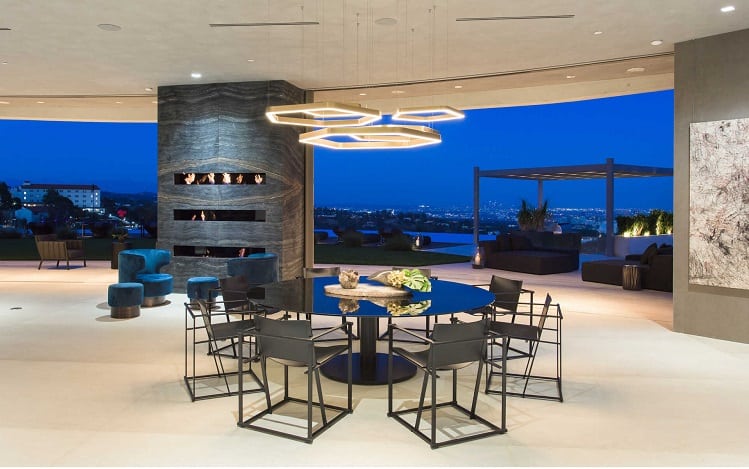 To add to the flair of the property, renowned Japanese artist Toshi Kawabata created three custom pieces for the home, including a rather unique curved walnut bar.
All marble elements were hand-selected and imported from Italy.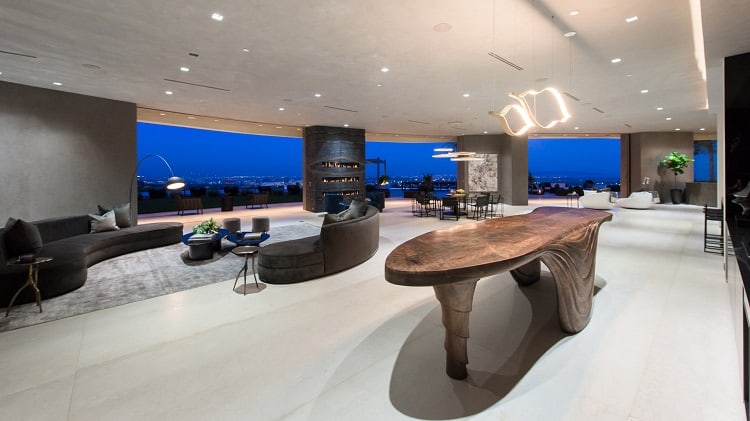 But don't let the special attention given to the interiors fool you.
The outdoor area is equally impressive, with its 10,000-square-foot garden featuring a 75-foot infinity edge pool that overlooks the hills.
The pool also has a killer underwater sound system for Scott to blast music during his pool parties.
For more relaxing activities, there's also a Jacuzzi, a tranquil 400-square-foot Zen garden, and a stunning water wall designed by Mario Romano.
Naturally, the outdoor space offers plenty of entertaining and dining space, so Scott will likely throw some memorable parties in his sprawling L.A. home.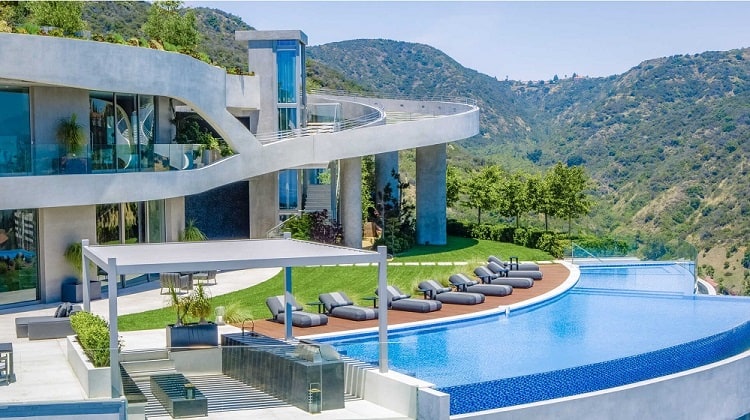 When it comes to parking, his guests can either use the three-car enclosed garage or the outdoor motor court that fits more than 15 cars.
Despite its already impressive size, the recording artist may have plans to enlarge it even more. One year after he bought his sprawling mansion, Travis also bought the property next door.
The real estate watchers at Dirt.com revealed that he paid $5.8 million for the next door abode, which has a single-story midcentury structure built in 1963. But it's likely that Scott was only interested in the land itself, which would enlarge his property to about 1.3 contiguous acres.
Travis Scott's house in Houston isn't too shabby either
It would seem that the Los Angeles mansion wasn't the first property the Astroworld rapper bought.
Back in 2016, Travis Scott surprised his parents with a killer Christmas gift:
"Gave my family a present I been working on my whole life. A home. Very thankful. Watch insta story for they reaction."

Travis Scott shared on Instagram
Not long after that, he went on to grab a posh crib for himself too, in the same location: his hometown in the Lone Star state.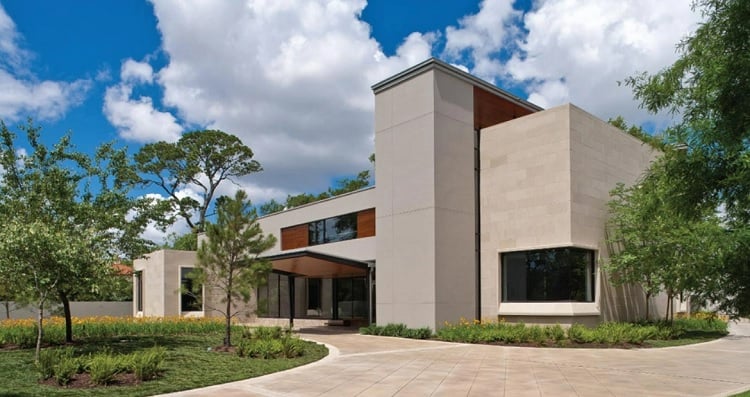 In 2019, the recording artist bought a modern Houston mansion that had been listed for $14.5 million (though we don't know how much the performer ended up paying for the house).
He managed to keep his Texas digs on the down-low until the Astroworld tragedy hit in 2021, when 10 of his fans died and hundreds were injured during his show.
SEE ALSO: Rapper Rick Ross' house in Atlanta is a 109-room beast of a mansion
After the festival, the star retreated to his Houston pad, with paparazzis following closely and giving away his Texas location.
Travis Scott's house in Houston was built in 2005 and sits on 1.5 acres in Houston's Museum District, Dirt reports.
The three-story main house has an impressive 12,000 sq. ft. of living space, 3 bedrooms and 8.5 bathrooms.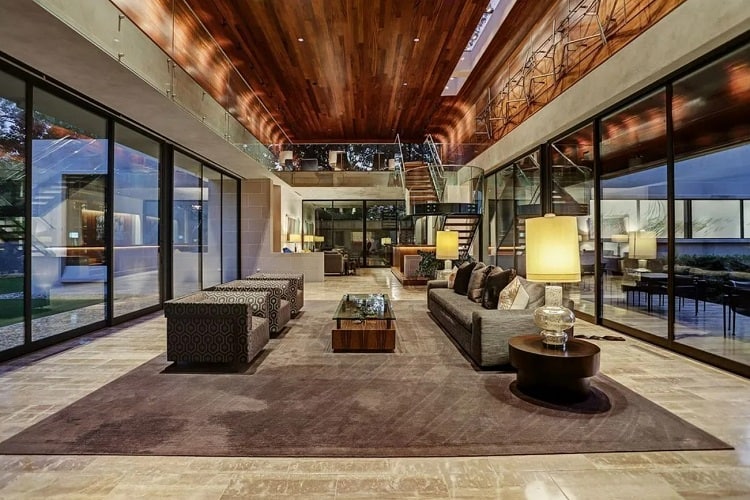 Anchored by a double-height living room, the house's interiors rival those in Scott's L.A. mansion, with sleek lines, plenty of sliding glass doors, and modern finishes.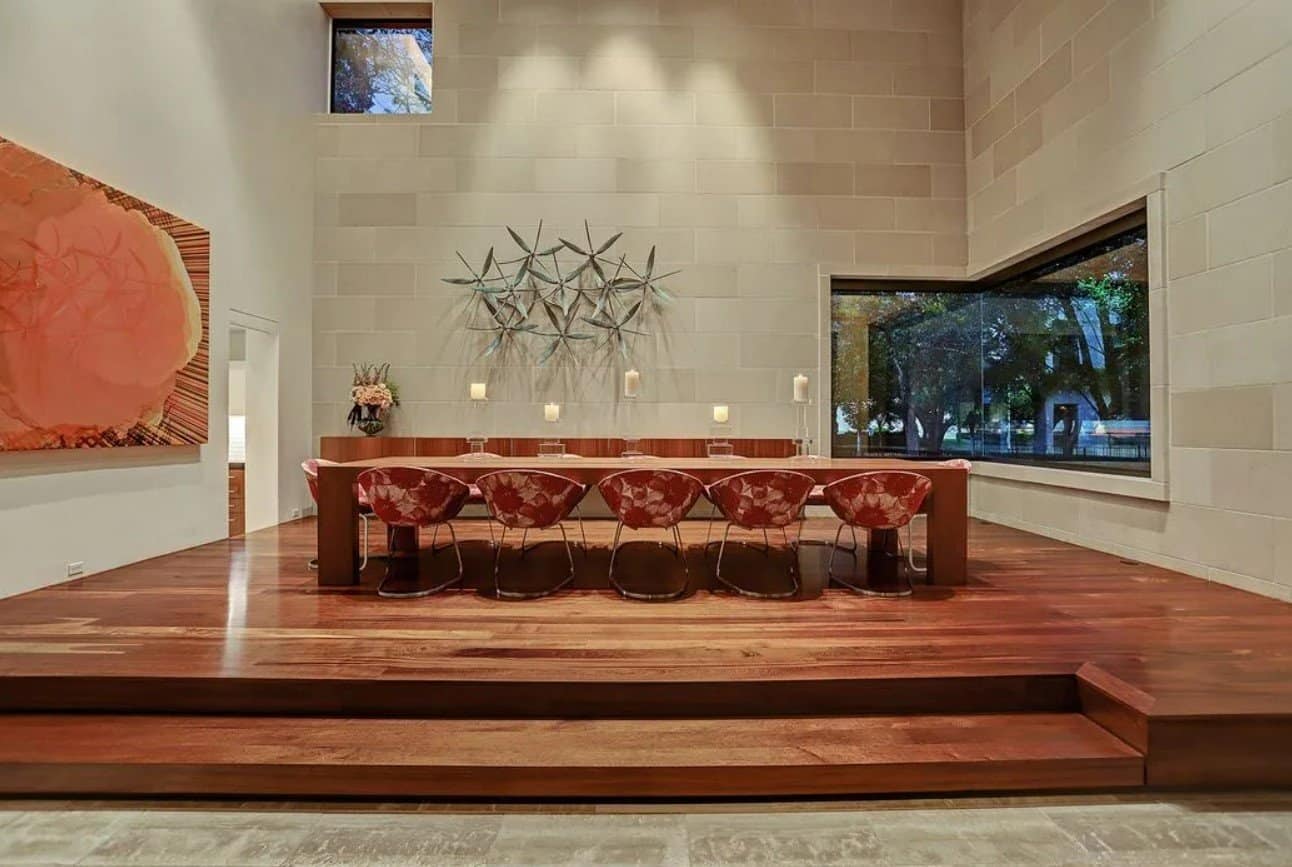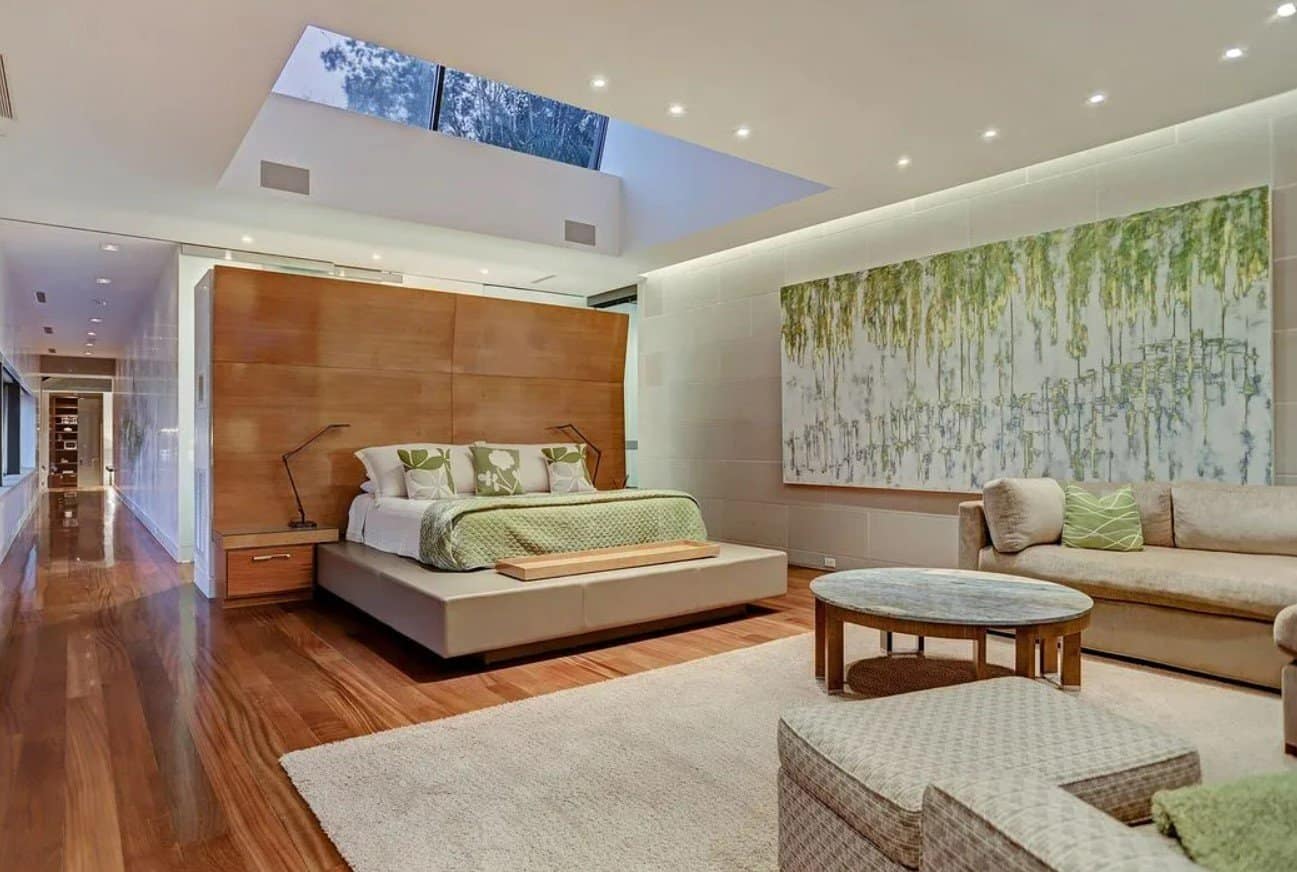 And the main house isn't the only structure on the property.
There's also a guest house and an outdoor entertainment pavilion on the property, as well as TWO swimming pools.
Travis Scott, by his real name Jacques Berman Webster II, is a massively successful rapper, singer, songwriter, and record producer, whose musical style has often been described as a fusion of traditional hip hop, lo-fi and ambient.
With an impressive net worth estimated at $60 million, the artist sold over 45 million certified records in the US alone by 2020, and has nabbed six Grammy Award nominations and won a Bilboard Music Award.
On a personal level, Scott had been dating reality star/entrepreneur Kylie Jenner, and the two share a daughter named Stormi and a baby boy.
While Travis Scott lives in his sprawling L.A. mansion, Jenner officially lives in Holmby Hills, which is just a short drive away from Scott's mansion in Brentwood.
More celebrity homes
The Scoop on Drake's House in Toronto, the Mansion in 'Toosie Slide'
Rapper Polo G Buys Million-Dollar Mansion Ahead of Album Release
Spotlight On: the Razor House — Alicia Keys and Swizz Beatz' Crazy New Mansion
Where does Ariana Grande live? The pop star's many luxury houses