Brentwood is one of Los Angeles' coolest neighborhoods, home to countless movie and music stars, upscale shops, glossy office buildings, and plenty of outdoor entertainment options.
It used to be one of Hollywood's best-kept secrets, but celebrities and celebrity scandals ultimately managed to put it under the spotlight.
A short history of Brentwood
Located in Westside Los Angeles, Brentwood was originally part of the Rancho San Vicente and Santa Monica land grant. At first, it was part of the small community of Westgate, only to later be annexed by the city of Los Angeles in 1916.
The neighborhood continued to develop over the years, even housing several of the Olympic games in 1932.
Celebrities like Joan Crawford, Steve McQueen, Bea Arthur and Marilyn Monroe used to live here, drawn by the laid-back appeal of Brentwood compared to other, more crowded parts of the city.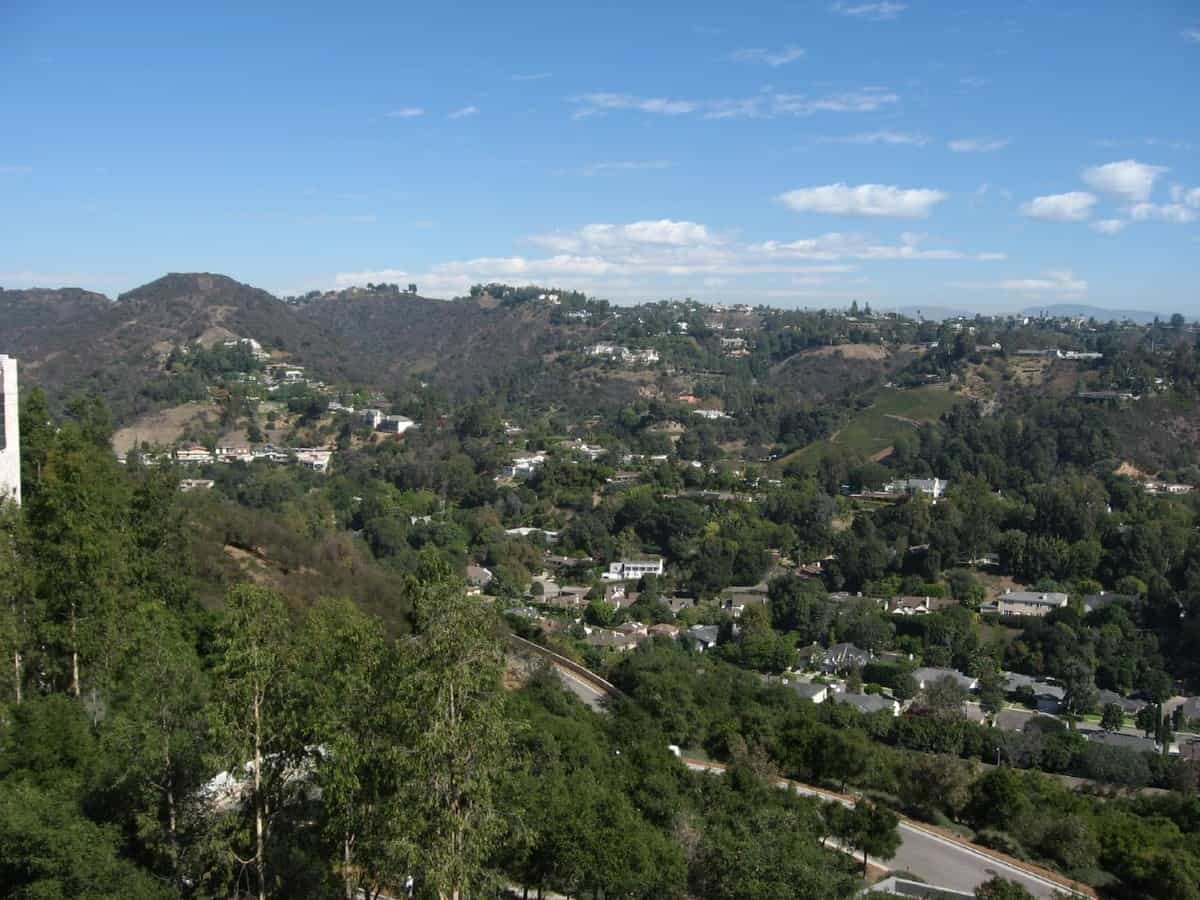 A dark page in the history of Brentwood turned in 1961, when a fire swept through the neighborhood, fueled by Santa Ana winds. The fire burned 16,000 acres of land, destroyed close to 500 homes, and caused roughly $30 million in damages.
Eventually, Brentwood was designated a Very High Fire Hazard Severity Zone by the State Cal-Fire Authority. The area spanning from Mulholland Drive to Sunset Boulevard is prone to heavy fires that spread rapidly through the hillsides.
Because of this, development in the hillsides and canyons of Brentwood has slowed down over the years.
The upside to this is the fact that estates are spread out, offering plenty of privacy and seclusion, which is exactly what Hollywood celebrities are looking for.
How Brentwood earned its fame
Among the A-list celebrities to call Brentwood home during the 1990s were O.J. Simpson and Nicole Brown.
The married celebrity couple shared a glamorous mansion at 360 N. Rockingham Avenue for many years, in a swanky part of Brentwood referred to by many as 'above Sunset.' Eventually, their marriage turned rocky, and Nicole moved 'below Sunset,' to a condo at 875 S. Bundy Drive, roughly 2 miles away from Rockingham.
At the time, Brentwood was an affluent but quiet and quaint neighborhood, where celebrities could relax and enjoy their privacy away from the hustle and bustle of downtown Los Angeles.
Then, in 1994, Brentwood suddenly became known around the world, after Nicole Brown's stabbing and the infamous O.J. Simpson trial that followed.
Police, journalists, paparazzi, O.J. fans and true crime fanatics alike flocked to Brentwood following the murders, and the quiet neighborhood streets suddenly turned busy.
Eventually, O.J. Simpson's house on Rockingham was demolished, and the property on Bundy Drive was renamed and redeveloped.
Brentwood, LA: The best of both worlds
Although Brentwood gained fame for all the wrong reasons, it's still to this day one of the safest neighborhoods in Los Angeles.
According to TripSavvy, crime is 44% lower in Brentwood than the L.A. County average.
Another big plus is that Brentwood boasts one of the lowest population densities in the city, making it highly appealing to both privacy-craving celebrities and families with children.
If you're thinking life in Brentwood sounds a bit boring nowadays, don't dismiss it just yet. There are plenty of entertainment options to enjoy in this neighborhood, from retail malls and high-end shops to a world-class museum and plenty of hiking and biking trails.
The neighborhood might enjoy a slower pace than other parts of Los Angeles, but it has a lot to offer its residents.
For starters, Brentwood is home to The Getty Center, a campus containing the Richard Meier-designed Getty Museum, as well as the Getty Research Institute, the Getty Conservation Institute, the Getty Foundation, and the J. Paul Getty Trust.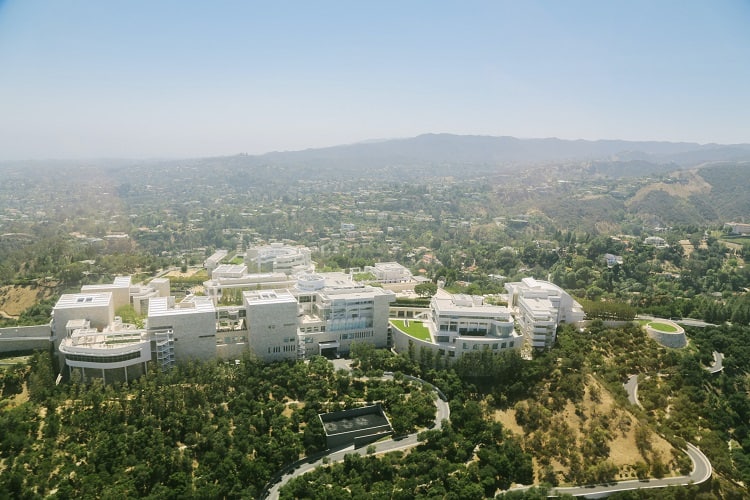 The campus cost $1.3 billion to develop and opened to the public in 1997, offering gorgeous views of Los Angeles.
A previous version of this article displayed an aerial photo of the Getty Center. This content has been removed due to copyright infringement.
For architecture aficionados, there's also the George Sturges House, a 1,200-square-foot home designed by Frank Lloyd Wright, and Paul R. Williams' Hunt Residence, which was designated a Los Angeles Historic-Cultural Monument.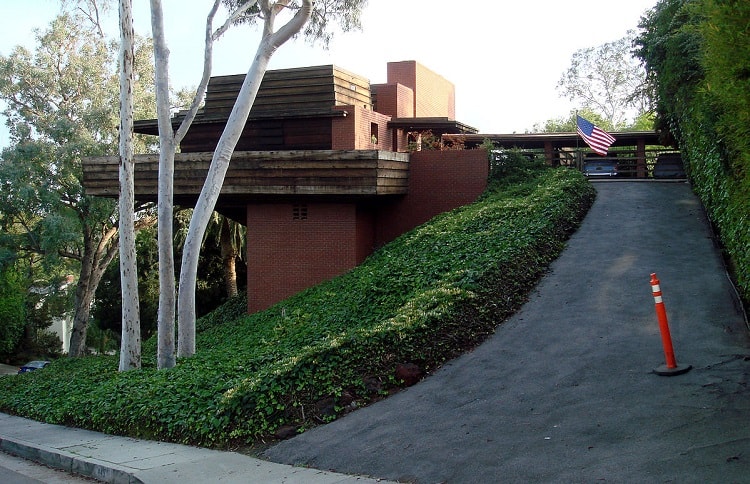 More entertainment options in Brentwood are to be found at the Skirball Cultural Center, the Brentwood Country Club, the Brentwood Country Mart, or Bristol Farms.
The community enjoys several local traditions every year, such as the raising of the maypole on the lawn of the Archer School for Girls or the decorating of coral trees along San Vicente Boulevard with Christmas lights.
Living in Brentwood
Looking at some of the residents of Brentwood, which include Arnold Schwarzenegger, LeBron James, Travis Scott, Tobey Maguire, and music mogul Scooter Braun, you might think it has to be an extremely expensive place to live.
You're not wrong; the median home value in Brentwood is $1,440,370, while the national median is $184,700.
Renting a place in the neighborhood will cost you around $2,330, while the national median rate is roughly $950. The median household income in Brentwood is $154,159, according to Niche.com, while the national number rests at $55,322.
The high cost of housing in Brentwood didn't go unnoticed by the local government, though.
As of June 2020, 20% of multifamily units in the neighborhood qualified for Fannie Mae loans, while the starting price for studio and one-bedroom units was within $100 of HUD vouchers in Los Angeles. This means that not only celebrities can live in Brentwood nowadays.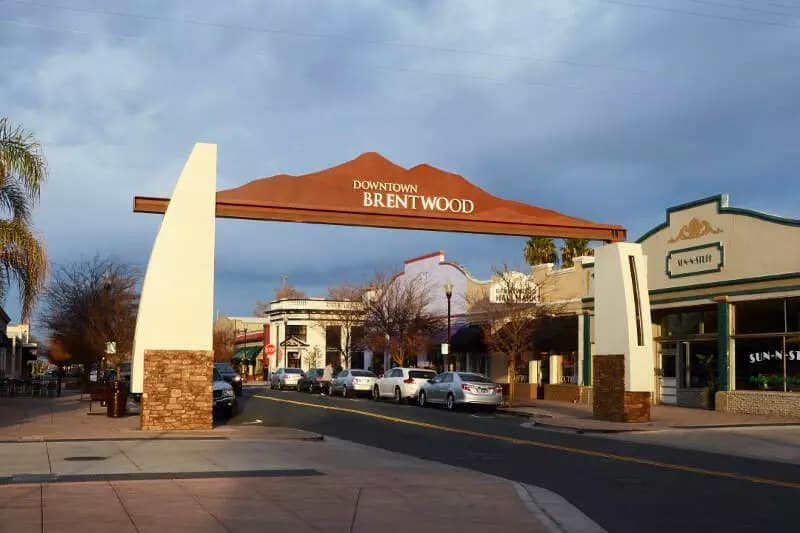 How to get to Brentwood
If you're thinking of checking out the neighborhood for yourself to see what all the fuss is about, or maybe you're planning on doing a bit of celebrity sighting, then you'll be happy to learn that Brentwood is just 25 minutes from downtown L.A. and just 20 minutes from LAX.
The location is unrivaled. Brentwood is bordered by Mulholland Drive to the north, Wilshire Boulevard to the south, Sullivan Canyon/Westridge Trail to the west, the San Diego Freeway to the east, and the Santa Monica city limits to the southwest.
The roughly 235,000 Brentwood residents enjoy plenty of upscale restaurants, designer stores, and specialty food shops. There are also numerous parks and hiking and biking trails for those who enjoy the outdoors and want to stay active.
Brentwood was named one of the best neighborhoods to live in Los Angeles, one of the best neighborhoods to raise a family in Los Angeles, and one of the best neighborhoods for young professionals by Niche.com in 2020.
It's definitely the place to be in Los Angeles. And speaking of raising families: Jay Pritchett's house in Modern Family is actually set in Brentwood, and you can drive by it if you ever go visit.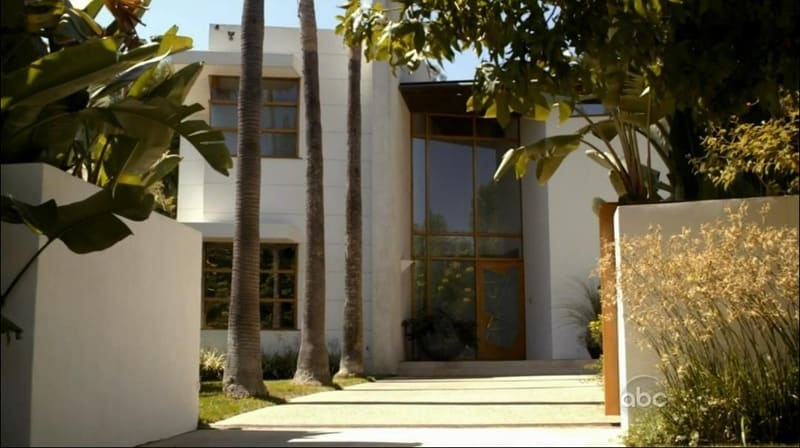 Other highly desirable areas
What Makes Encino Such a Great Place to Live?
Beverly Park, a Privacy Haven for Hollywood's Biggest Celebrities
The Pocket-Sized Community of Montecito is Home to Some of the Biggest Celebrities (and a Couple of Royals)
10 Major Celebrities — and Celebrity Couples — Who Call Beverly Hills Home