For the longest time, luxury homes were synonymous with opulence, deriving their worth from their lavish interiors, massive scale, and over-the-top features. But gone are the days when oversized crystal chandeliers were crowning living spaces and imposing staircases with intricate wrought-iron railings were the pinnacle of luxury.
Modern luxury is devoted to the creation of beauty and function, with livable, inviting spaces dethroning Gilded Age-worthy interiors and overt opulence.
In fact, the shared point of aesthetic reference for the modern luxury space is centered on minimalism, with spaces that cater to both the physical and mental wellbeing of its residents. And we've found the best example of that: a newly built contemporary masterpiece that recently came to market in the coveted Brentwood neighborhood of Los Angeles.
The $70 million home is a modern architectural feat that's just as striking and spectacular as it is warm and inviting. Credit for that goes to the powerhouse team behind the project, which consists of award-winning architect Noah Walker, AD 100 interior designer, Jamie Bush, and renowned landscape designer, Christine London LTD, who all worked together to bring this tour de force to life.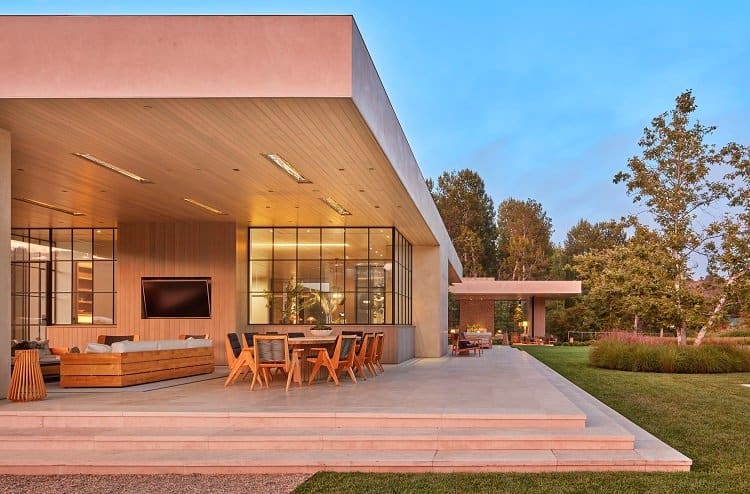 A 19,000-square-foot architectural marvel
A long private driveway leads to the tiered property, where the expansive home immediately makes an impression with its contemporary yet warm appearance, clean lines and abundant natural materials.
Set on a sprawling four-acre lot, the house offers six bedrooms and 12 bathrooms alongside many recreation rooms — all spread across approx. 19,000 square feet of indoor space.
The Brentwood property has 270-degree views of the city, ocean and canyon, and a long list of amenities that include a theater room — with acoustical wall paneling and a commercial cinema-quality projection system — a gym with a steam room, a 75-foot indoor lap pool, outdoor architectural pool and dual offices.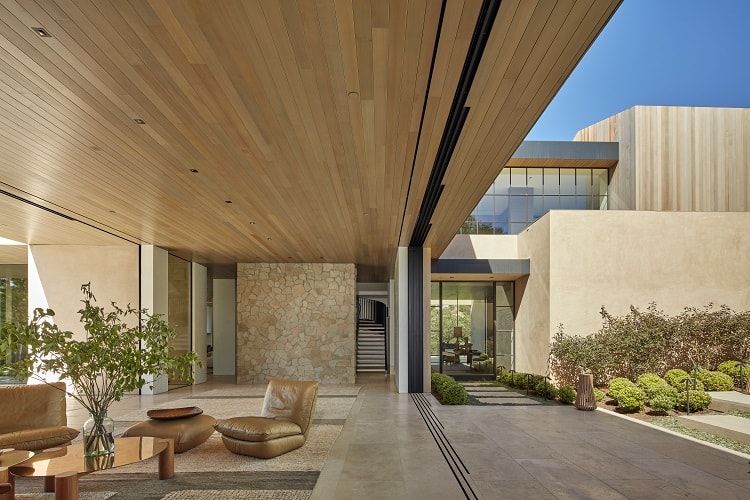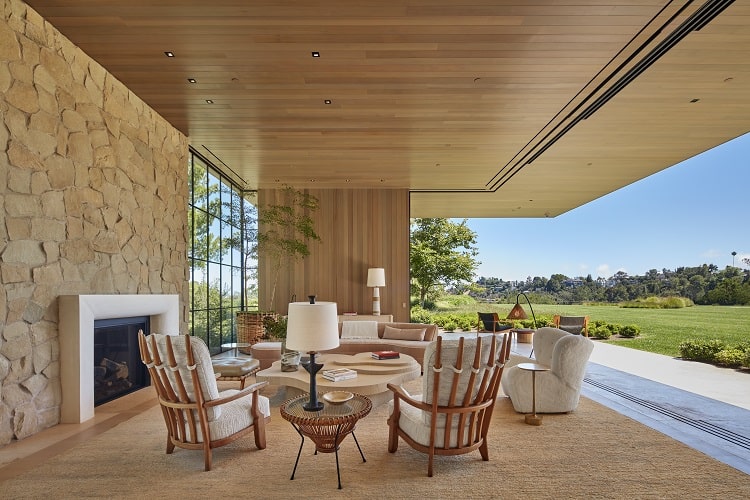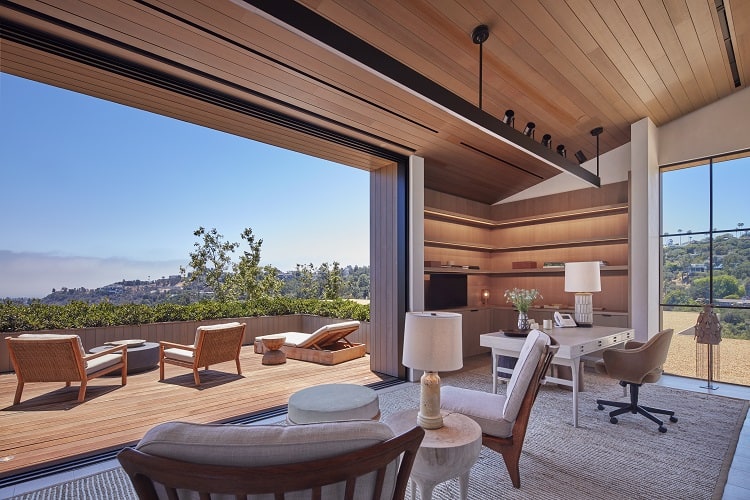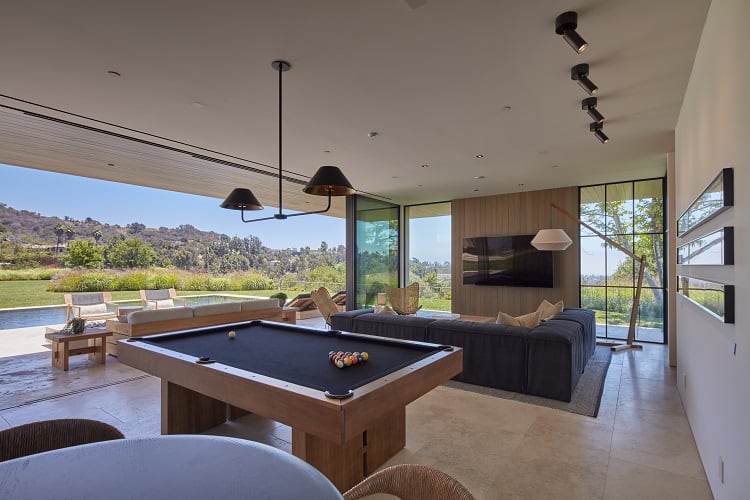 Warm interiors create a sophisticated yet inviting space
Credit for the perfectly appointed interiors goes to Jamie Bush, who is recognized for his ability to blur the lines between the architecture of a building and its interior design.
Jamie's designs have been featured in over 70 publications worldwide including Architectural Digest, Interior Design, Vogue, Elle Décor, Wall Street Journal, Los Angeles Times as well as several coffee table books.
His design style, combined with Noah Walker's approach to architecture — centered on creating modern structures that are warmly minimal with careful considerations of light, space and the unique qualities of each project's location — created a truly outstanding home.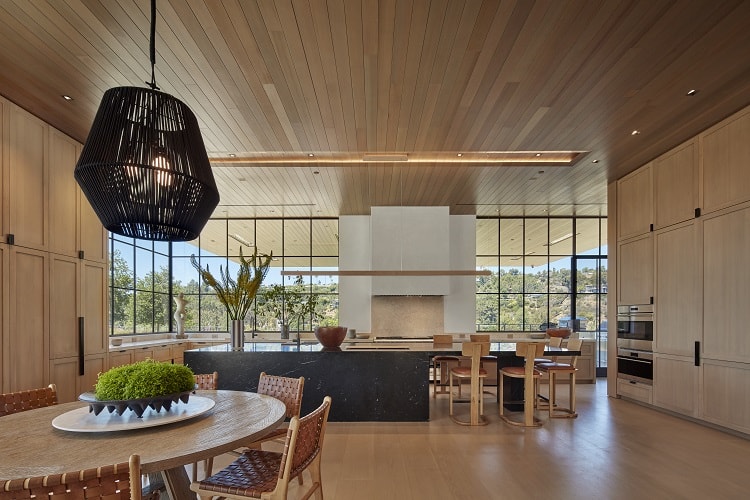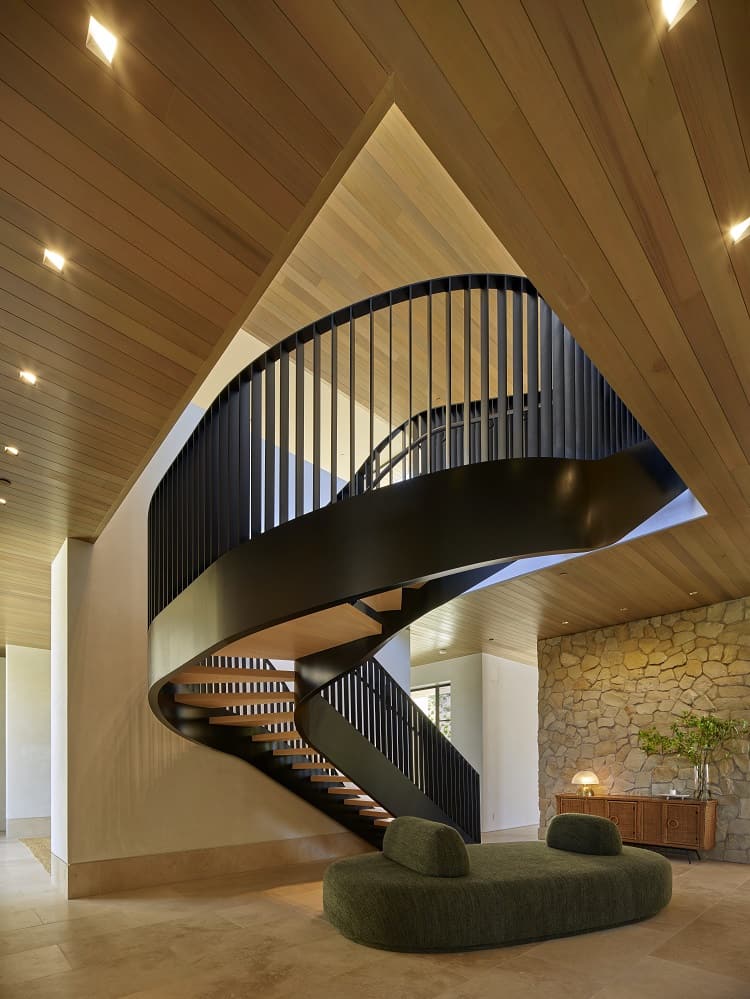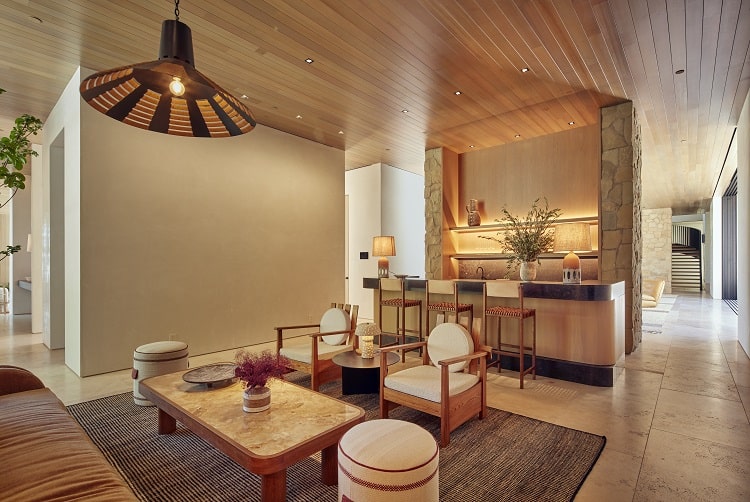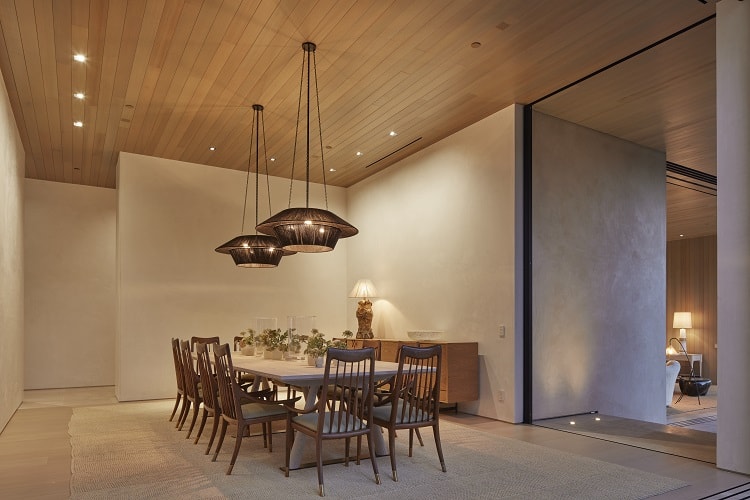 The primary suite has its own separate wing
The entire home has been envisioned as a relaxation oasis. But just in case that's not enough, the primary suite has been contained in its own wing, to ensure maximum privacy.
Sliding doors open to balconies overlooking the large grassy yard, presenting views that extend across the canyon to the ocean. The primary suite has Poliform walk-in closets — one with a vanity — and a sitting area separated by a double-sided fireplace.
Its ensuite bathroom includes dual vanities and a freestanding tub, a chaise lounge and a connected outdoor lounge seating area. Each additional bedroom suite includes its own marvelous views and impeccable design; the upper level has two additional bedrooms with Juliet balconies and the lower level's two bedrooms open to beautifully landscaped gardens and walkways.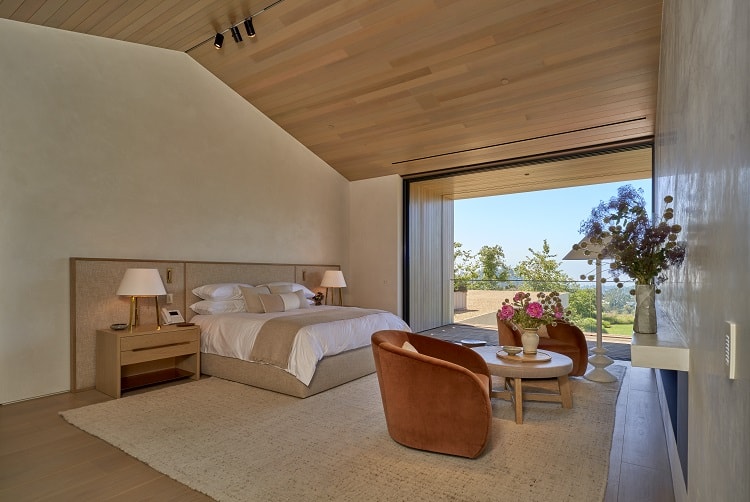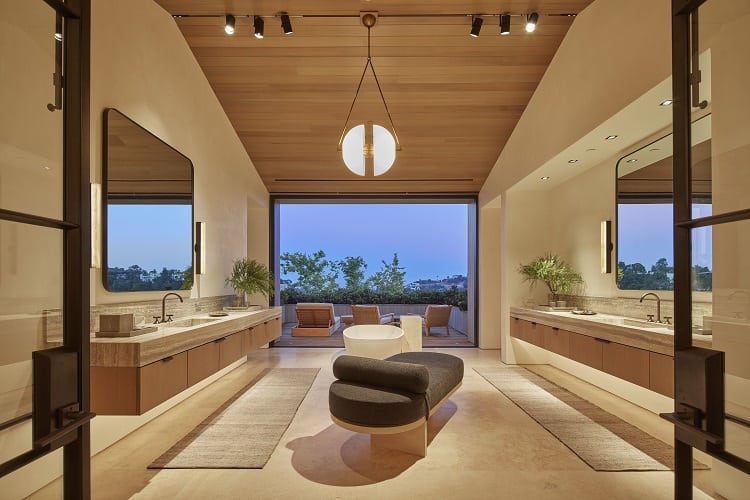 On the market for $70 million
The newly built 19,000-home has been recently listed for sale with an ambitious $70 million asking price.
Blair Chang with The Agency has been tasked with finding a buyer, a very inspired choice seeing that his expertise and sales track record made him one of the highest producing real estate agents in the country (according to RealTrends + Tom Ferry America's Best Real Estate Professionals' ranking), bringing in $141,870,500 in sales volume last year alone.
And given the price point, along with the property's stellar attributes, we're going to keep an eye on this one. Celebrities have long been snapping up homes in the Brentwood area, with A-listers like Travis Scott, Reese Witherspoon, Channing Tatum, and Mötley Crüe drummer Tommy Lee buying homes here recently. We wouldn't be at all surprised if this architectural marvel manages to attract new star power to the area.
More luxury homes
Blogger Ashley Petrone of Arrows & Bow Is Selling Her Charming, Custom-Designed House
Jeweler to the Stars Pascal Mouawad Wants $15.75 Million for His Luxury Bel-Air Mansion
$38 Million Rosenthal Estate Has Its Own Vineyard and an Orchard with 600 Avocado Trees
What Happened to the Hollywood Hills Mansion from Netflix's 'Selling Sunset'?