If you've spent any time watching reality TV over the last 10 years, you'll certainly recognize the iconic location for The Bachelor and The Bachelorette.
Having hosted this popular television series for well over a decade, this gorgeous Mediterranean-style villa with its manicured rose bushes, glamorous swimming pool and romantic garden set up is a real-life fairy tale.
Referred to nonchalantly by contestants as "The House", this glamorous Californian villa is home to many memorable sets.
From the much-anticipated Rose Ceremony Room (the family den) to the iconic wet and sparkly driveaway (thanks to the efforts of a production assistant equipped with a hose) where guests arrive and are greeted, there is no shortage of recognizable dream-locations in this family home.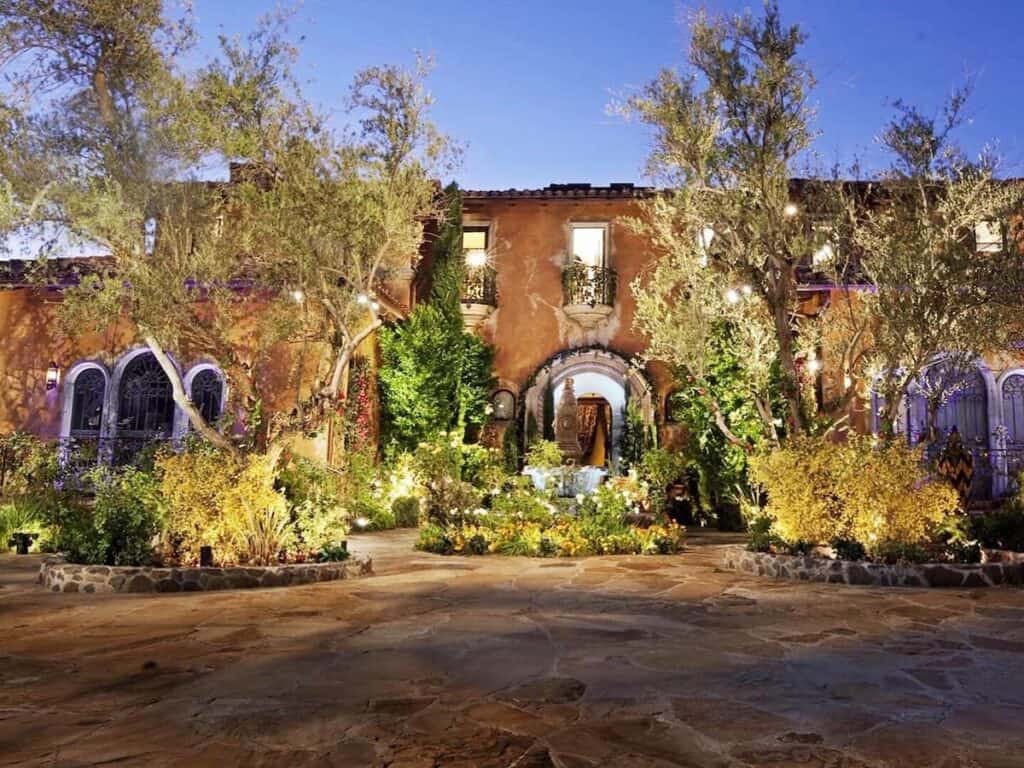 But, is the Bachelor/Bachelorette Mansion real and can you visit it in person?
The short answer is yes: the Bachelor Mansion does exist in real life, and you can visit it and stay in it – if you're willing to fork out nearly $6,000 a night.
Recently listed on AirBnb, the mansion (which is actually called Villa de La Vina in real life) was officially opened to the public in 2020 as a holiday home, a wedding venue or for corporate functions if you can afford it. And that's mostly because filming for the iconic reality show had to be moved elsewhere during the pandemic.
The most recent season was filmed at the La Quinta Resort and Club in California's Coachella Valley so that the cast and crew can remain within a COVID-free bubble. That freed up the property, which was turned into a vacation rental for the time being.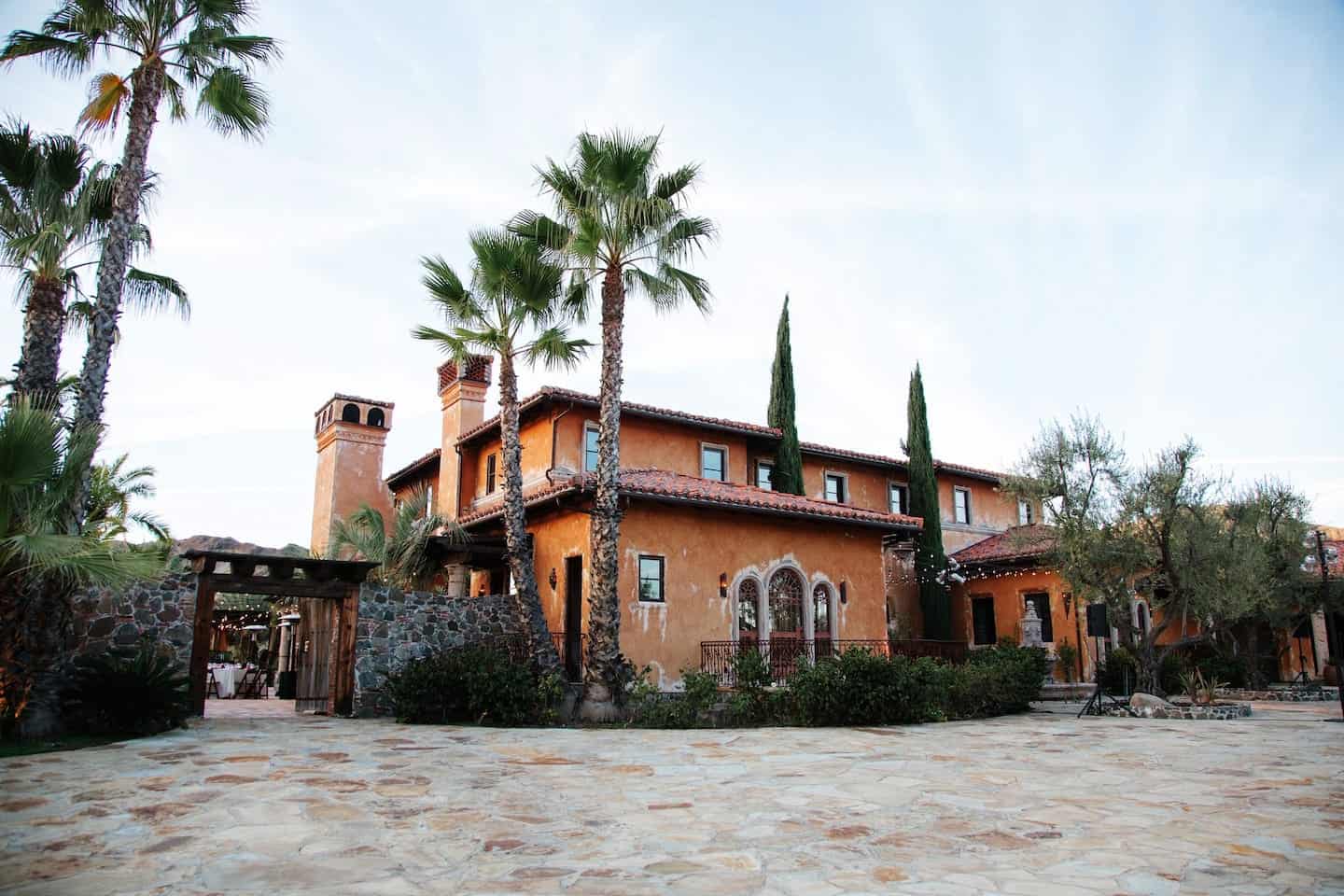 But regardless whether it resumes its on-screen role later on, this magnificent property will forever be The Bachelor Mansion in our book.
"Will you accept this rose?" Welcome to The Bachelor Mansion
Spread over 10 sprawling acres in the scenic Agoura Hills — a city in the Santa Monica Mountains region of Los Angeles County, California — the mansion was built by the Haraden family in 2004.
Marshall Haraden (contractor and president of the Marshall Group) and his family vacate their private home twice a year for a total of 42 days when the Bachelor film crew come in and production starts.
The enormous mansion reportedly has 10,000 square feet of interior space and an additional 20,000 square feet of exterior space. Inside, there are over half a dozen bedrooms and nine bathrooms, with the interiors being meticulously repainted ahead of every series. Outside, there is a glistening infinity pool and plenty of nooks and crannies for romantic rendezvous.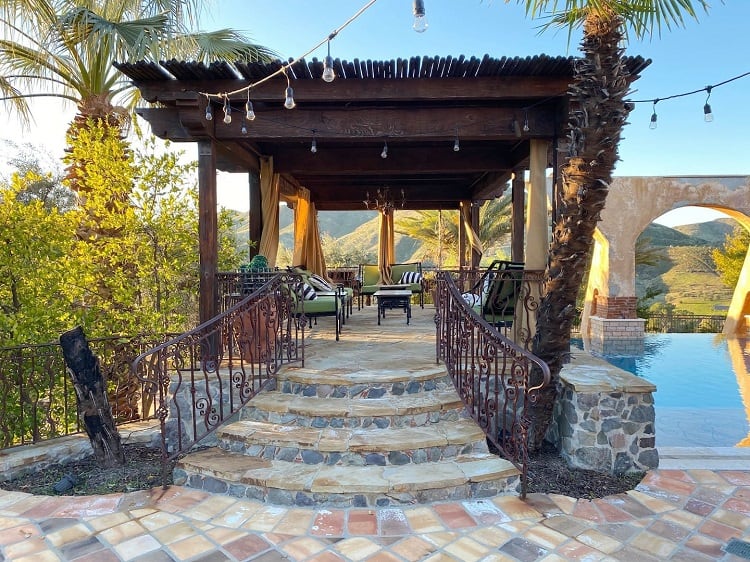 So, how much of it is real?
The interesting part is that while the Bachelor Mansion is foreign enough for viewers to imagine as a family residence, it can even be tough to recognize by the family that lives in it.
That's because, ahead of every series, the production team comes in to perform a dramatic makeover to match that year's theme. According to Haraden, the interiors of the house have been repainted well over 40 times during the time the show has been hosted here.
"Everything leaves—everything that's not tied down, that's not part of the home. Curtains, TVs, pots and pans, clothes—everything in one day goes out. And then they take two weeks to put it together the way they want it, and they shoot for X amount of days, and then they spend two weeks to put it back."

Marshall Haraden, owner of the house used for most of the seasons of both The Bachelor and The Bachelorette
The house has plenty of room(s) for romance
Just in case you've ever wondered, The Bachelor mansion has 7 bedrooms, three of them packing king-sized beds, three hosting queen-sized beds, and another one with a smaller double bed — sleeping a total of 13 guests.
As the AirBnB listing proudly mentions, the house offers access to "one of the most famous pools in the world", as well as two jacuzzies, a pool table, hand crafted furniture, a bar, eye popping views, and a great deal of outdoor space.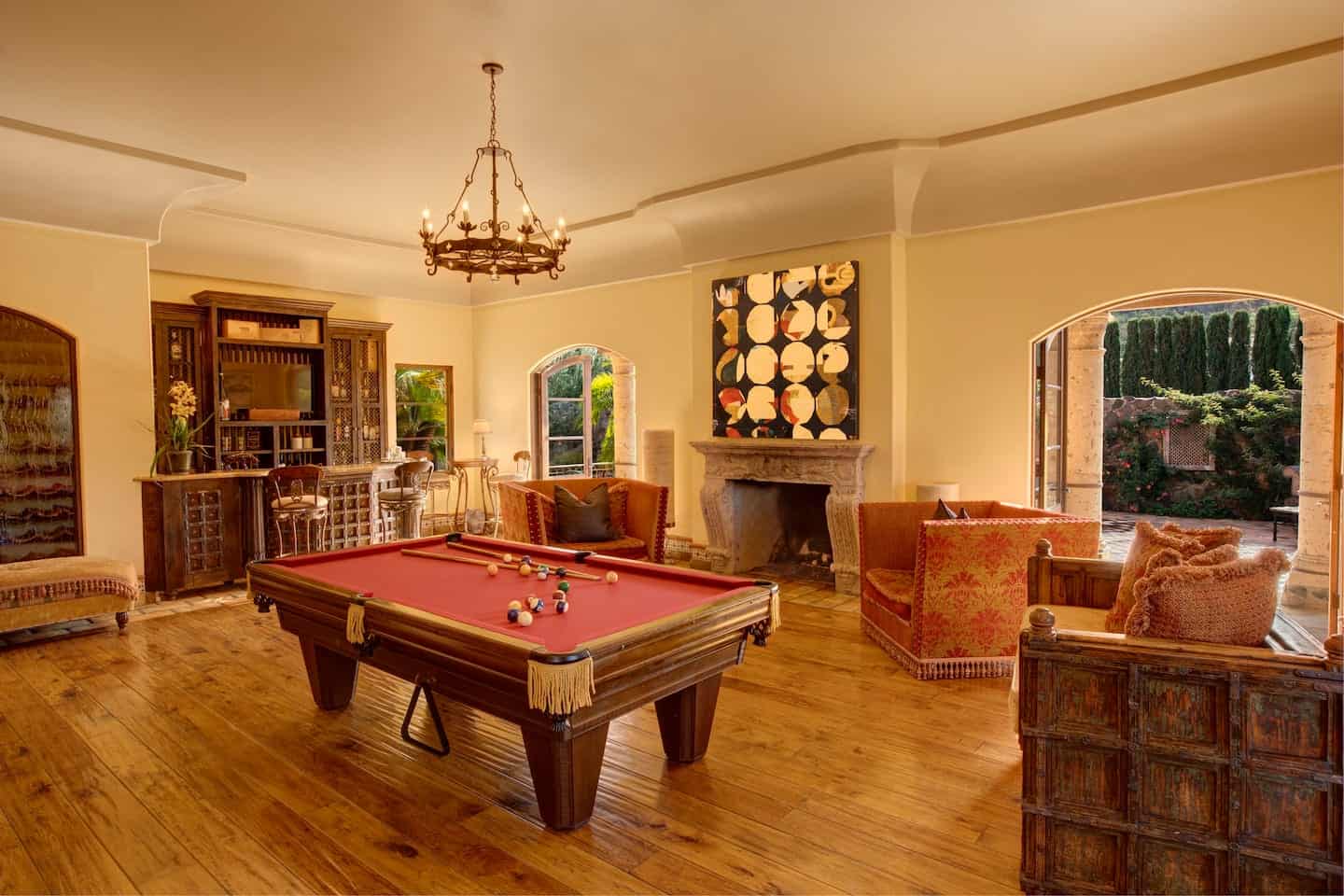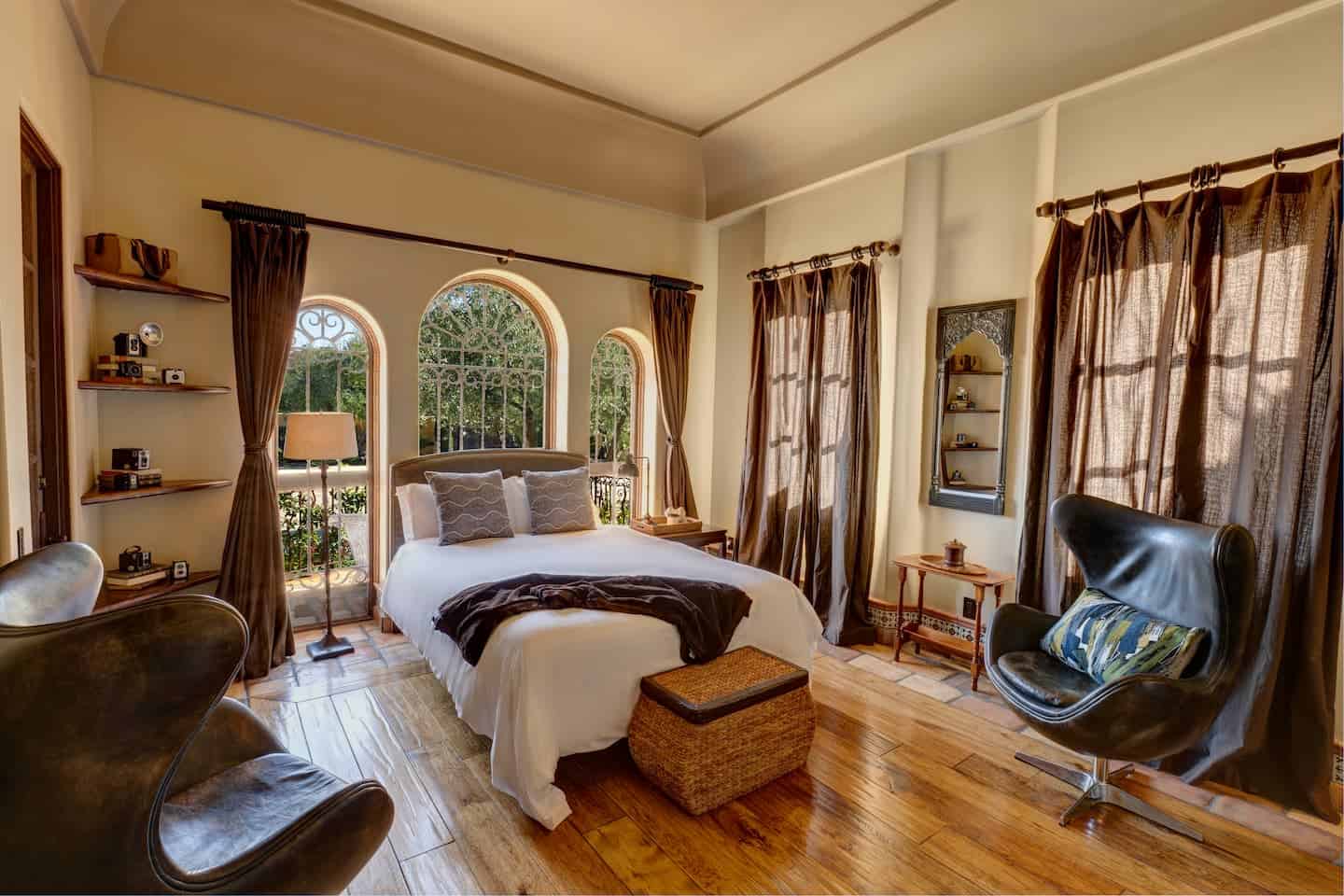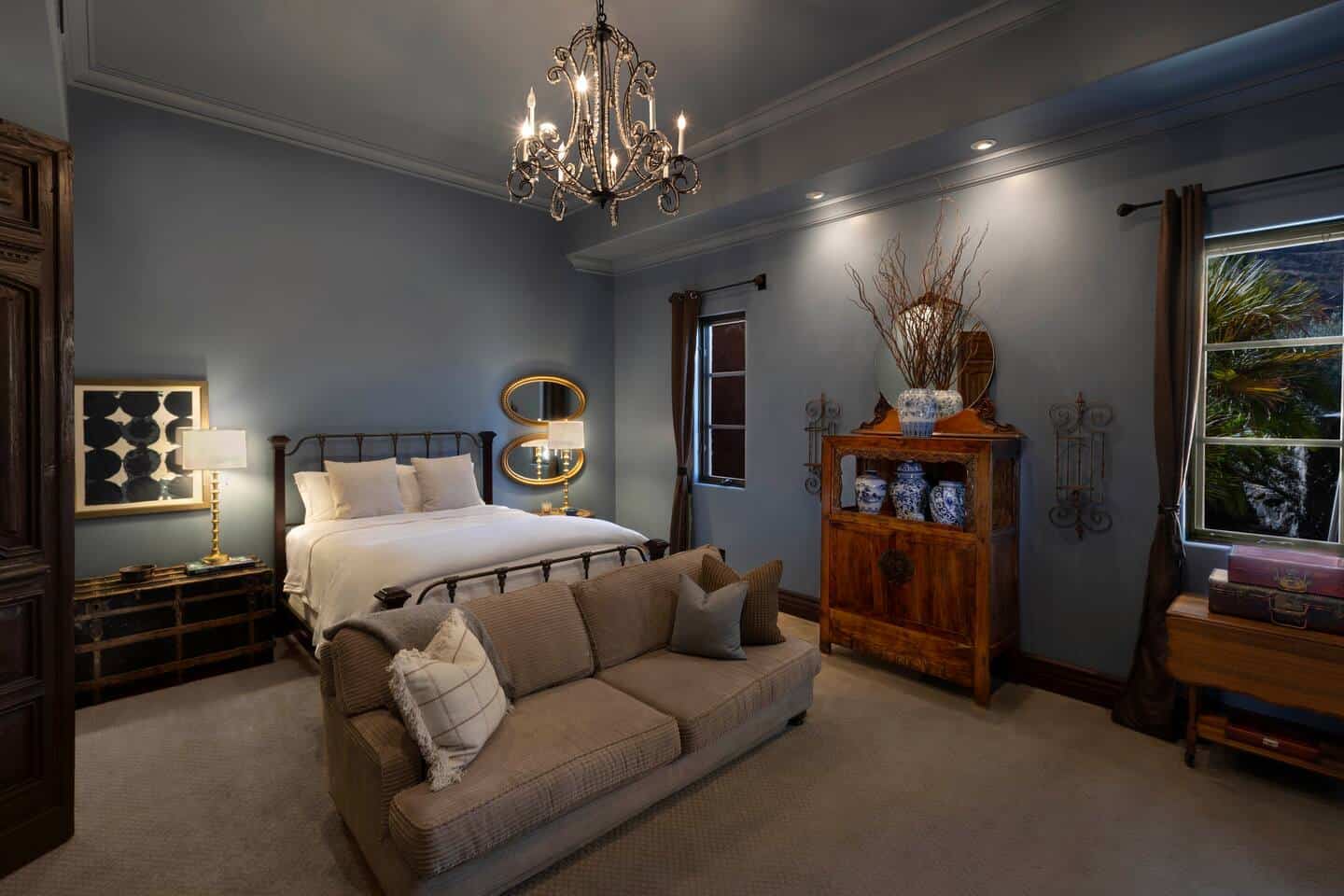 To match the type of service offered to The Mansion's reality stars, added perks like chef service or chauffeur car service are also available to those that book a stay at Villa de La Vina.
So if you're looking to spark some romance in an idyllic setting (with a stellar track record when it comes to match-making), we can't think of a better choice.
Check out these other famous TV homes
Is the Building from The Circle Real? Here's Where You'll Find the Cool Apartments from the Show
Every Celebrity House Featured on Netflix's Show, 'Get Organized'
The Picture-Perfect Houses of Wisteria Lane in 'Desperate Housewives'
The Real-Life Homes from Modern Family — and Where to Find Them