If you've been anxiously waiting for travel to resume so you can discover new, amazing places, you're not alone.
After a homebound 2020 and an equally rocky start to 2021, people all over the world are excited to start travelling the world and experience new cultures, great food, and amazing places.
And Netflix found a way to guide enthusiastic travelers (or at least help us experience new destinations from the comfort of our own couches), launching a brand new show that takes us on a mesmerizing trip around The World's Most Amazing Vacation Rentals.
With a quirky and fun cast that includes vloggers Megan Batoon and Jo Franco, as well as Million Dollar Listing star Luis Ortiz, the show explores killer vacation rentals all over the world — some affordable, some pricey, but unique and breathtaking nonetheless.
After travelling the world with Jo, Megan, and Luis, we took each luxury or unique vacation rental featured on the show (including some of the most affordable options), and ranked them — mostly based on their dreaminess factor. Of course, that's mostly according to personal preferences (and we might be a little biased and fall for luxury homes, since it's in our DNA), so your own ranking might look a little different.
But regardless of which vacation rental lands the top spot in your book, here are the most incredible properties featured on The World's Most Amazing Vacation Rentals.
#1 Beckham Creek Cave Lodge in Jasper, Arkansas
In an outdoor enthusiast's dream location — Jasper, Arkansas — whose mountains span across five states, there's this striking luxury property that makes for an out-of-this-world vacation stay: a whole mansion built inside a cave.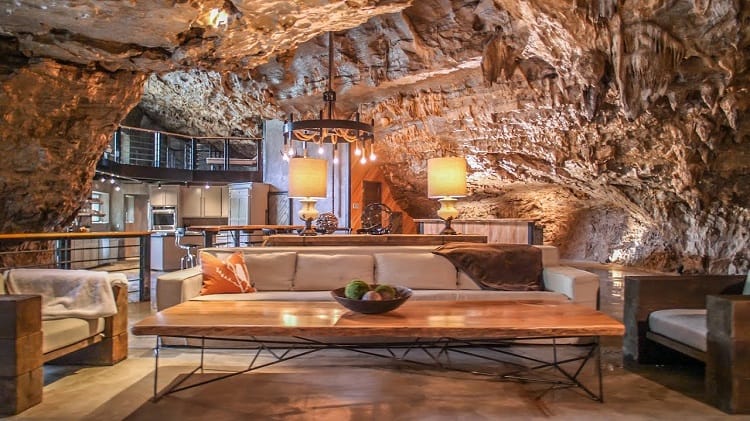 Beckham Creek Cave is a 6,000-square-foot luxury rental built inside an actual cave, with a creek flowing underneath it. It was first developed in the 1980s, but its history goes way back centuries, with its stalactites and cave walls dating back for thousands of years.
The cave mansion has 4 bedrooms, 4 baths, and sleeps up to 12 guests. It's completely secluded on 256 acres of land, with its own private helipad. While a night's stay is by no means affordable (it costs around $1,500/night), it's unbeatable if you're looking for an absolutely spectacular rental. Among some of its most unique features: real rock formations serving as ceilings and walls, and an all-natural Spanish piano waterfall that anchors the living area.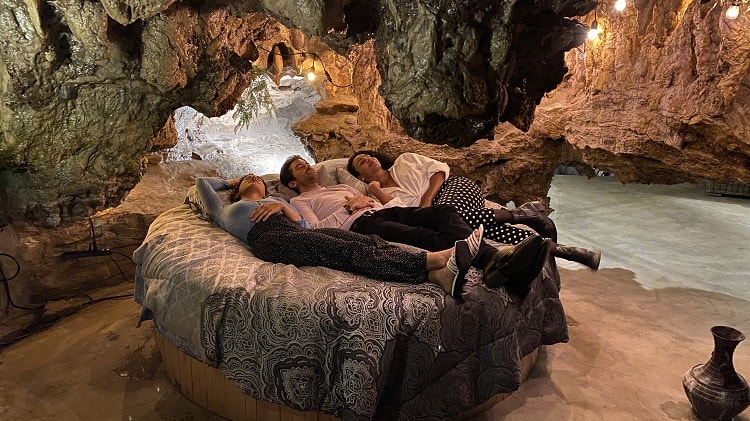 Even the bathrooms are perfectly incorporated in the stone cave. Among the many unique amenities specific to this luxury cave rental is that it offers sound therapy (known to do wonders to relieve stress), thanks to the extraordinary acoustics of the place.
#2 The PlayHouse in the Berkshires
Staying at a place where Nikola Tesla and Westinghouse used to hang out? That, in itself, makes for one hell of a vacation story. But this property takes things a step further.
Inventor George Westinghouse built the house in the 1880s for his son, who loved theater, which is why the place is called the Playhouse. The 220-acre property sits behind a gated entrance, at the end of a long driveway with mature trees. It's surrounded by farmland which provides fresh food for guests for a true farm-to-table experience — making it a great choice for those looking for a culinary experience to complete their stay.
With very tall ceilings, supported by wood beams and a welcoming lofted space, the PlayHouse welcomes up to 20 guests. It has two kitchens, 6 bedrooms, 5 baths, a bright, modern décor, and an entertainment area in the basement that puts the 'play' in Playhouse.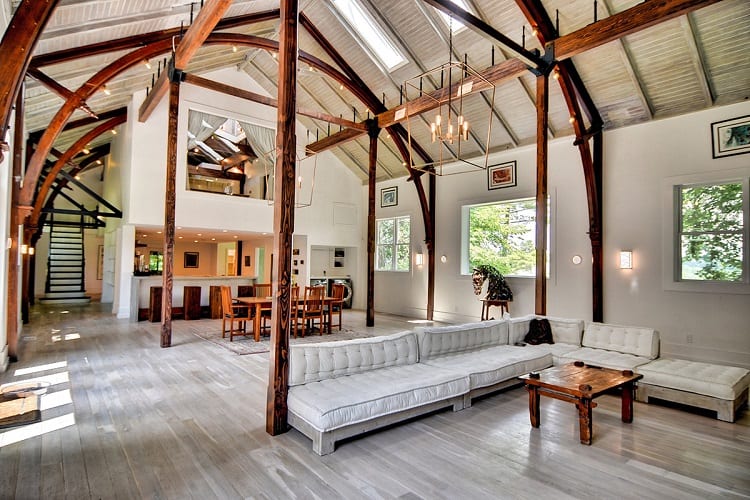 The striking property still has its original 19th century exposed wooden frame and many vintage fixtures that are perfectly paired with modern design elements. The theatrical aspect is also reflected in the dramatic bedroom which has a tall windowed ceiling that floods it with light, and a soaking tub that overlooks the living room below (with curtains that can be drawn for privacy).
Another reason it ranks so highly on our list: This was one of the first buildings in America powered by AC electricity, then in 1917 it was sold to the Vanderbilts and became part of the Vanderbilt estate.
#3 The Arkup in Miami
Heading over to Miami, FL — the cruise capital of the world — the show's hosts stay at a futuristic, state-of-the-art floating mansion docked in prime Miami waterfront that took our breath away.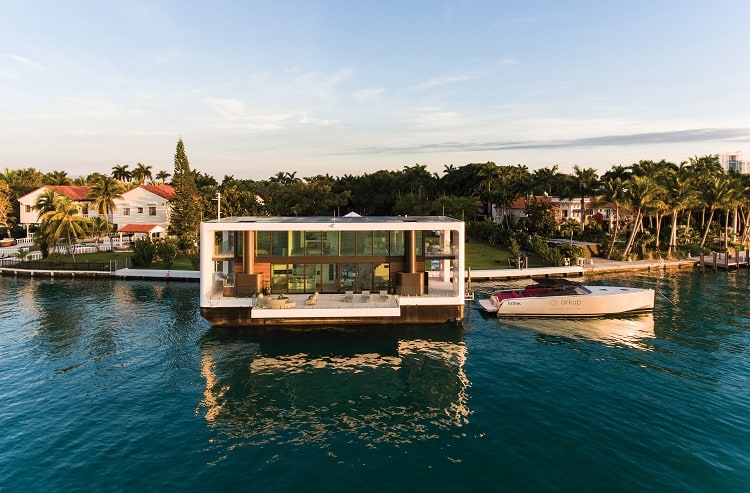 The incredible 4,300-square-foot floating mansion has 4 bedrooms (surrounded by large windows instead of walls, to maximize the water views), 4.5 bathrooms, and a large deck that offers an impressive 1,750-square-foot of outdoor space.
The Arkup sleeps up to six guests, with rates starting at $2,000 per night. For an extra fee, you can even take it out for a ride on the bay.
Fun fact: guests that enjoy their stay at the Arkup — and have deep enough pockets to consider buying their own floating mansion — can have one custom-built for them, with pricing starting at $5.5 million.
#4 The Butterfly House in Bali
In a rural 16-acre mountain Bali retreat consisting of 5 unique rice terrace rentals set right in the middle of the jungle, there's this magical place aptly called the Butterfly House.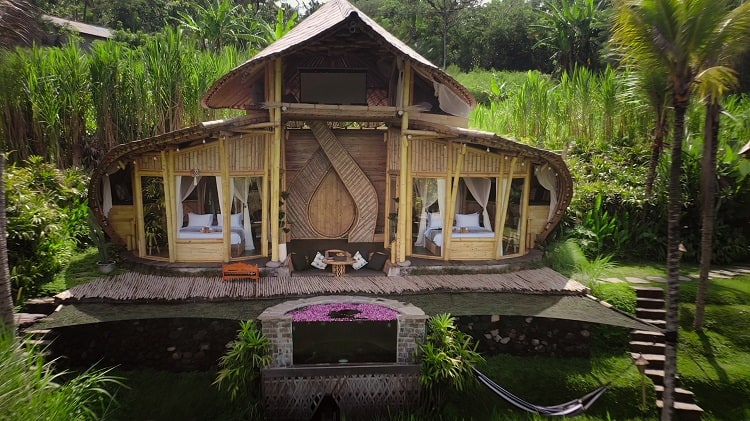 Made entirely out of bamboo, the charming Butterfly House has two bedrooms, one bathroom, and can fit 4 guests for about $375/night.
With an incredibly creative staircase (that also masks a beautiful bathroom surrounded by banana leaf walls), a private screening room, and a see-through lounging net that offers views of the surrounding rice terraces and picture-perfect nature views, this vacation rental seems like a true paradise. To top things off, there's also an outdoor shower secluded in the middle of the jungle. Talk about a unique vacation stay.
#5 Quetzalcoatl's Nest in Mexico City
And since we're talking unique vacation stays, nothing beats sleeping inside of a snake. Set the outskirts of Mexico City, in a 50-acre nature-inspired sculpture garden with impeccably landscaped grounds, a reflecting pool and a greenhouse, we find this unique apartment building in the shape of a snake. All in all, there are 10 apartments at Quetzalcoatl's Nest, two of which happen to be vacation rentals.
The architect behind the unique project — organic architect Javier Senosiain, whom the team actually gets to meet during their stay here — was inspired by the work of Anthony Gaudi, and the end result is striking, giving out a vibe of Salvador Dali meets Tim Burton. Senosian named it after a serpent god with wings in Mexican culture.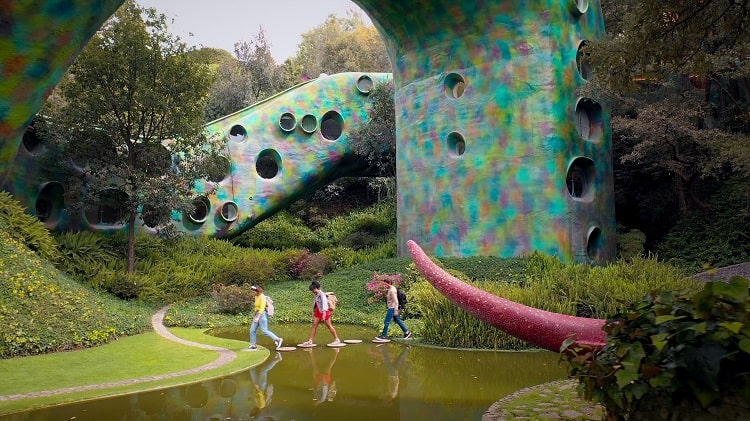 The apartment the Most Amazing Rentals crew stays in has 2,200 square feet, 5 bedrooms, 4 baths, sleeps 8 guests, and has prices starting at $325/night. With its unique architecture, round windows, curved features, and the mesmerizing sculpture garden outside, Quetzalcoatl's Nest makes you feel like you're in a storybook. Plus, how many people get to say they've slept in the belly of a snake?
#6 Noku Beach House in Bali
Louis' pick for the Bali experience sits on one of the most popular Bali beaches, called Seminyak (or, how he calls it, the Cancun of Bali) and is the only beach house in the area.
But the term beach house makes it sound a little more modest than it actually is. A revolving door leads into a huge modern villa designed specifically to entertain large parties. It has 6 beds, 10 baths, can sleep 14 guests and rents for about $4,000/night.
Among the Noku Beach House's most distinctive features: it has 30,000 curated plants and a poolside pavilion made of a 150-year old pier salvaged from Borneo. It also comes with a 20-person staff, including a private chef and bartender.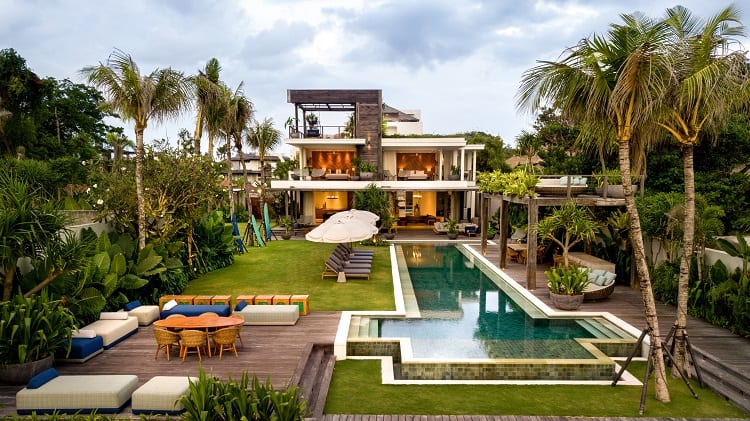 And the coolest thing of all: it serves its guest a floating breakfast in the pool, which means you get to enjoy a culinary feast along with your morning dip — all the while looking out into the Indian ocean. Talk about an experience.
#7 Cuvée's Royal Island in the Bahamas
What's better than a luxurious beach house? An entire private island with an all-inclusive resort at your disposal.
Cuvée's Royal Island is a completely private 430-acre island with a 15-person staff, including a personal concierge and private chef. The ultimate private resort (that can only be rented by one party at a time) includes 5 beachfront bungalows with 8 bedrooms, 9 bathrooms, and can sleep up to 18 guests.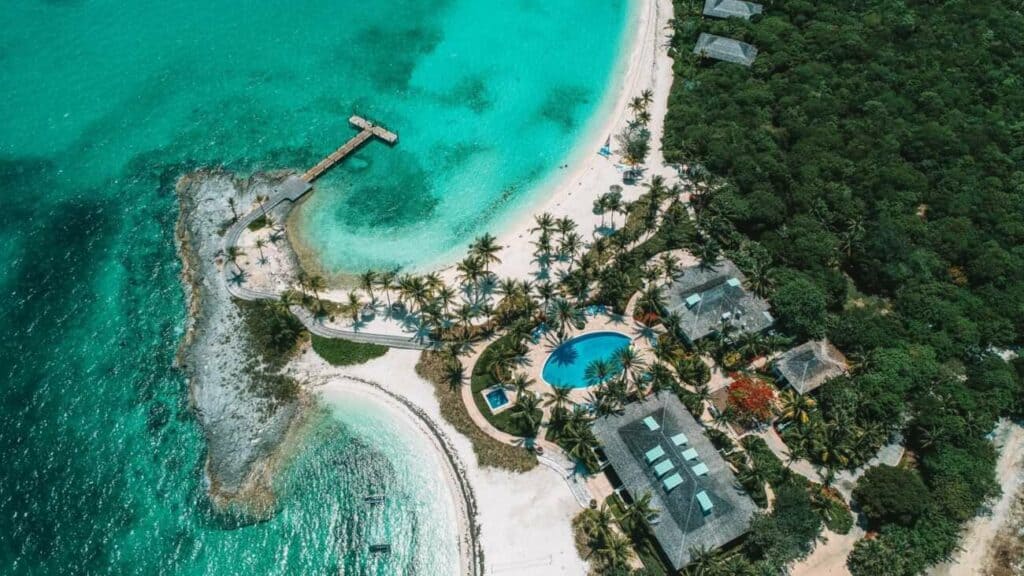 Located in one of the most beautiful emerald coves ever, the property is completely secluded. The bungalows themselves are 700-sq-ft+ villas with dark wood and rattan finishings and handcrafted teak wood walls. Each bungalow opens up to beautiful ocean views, and outside their doors are the most amazing beaches with clear blue waters and white sand.
Set only one hour away from Miami, this private paradise doesn't come cheap — rates start at $15,000/night — but the price includes all the food, drinks and activities. The rates include a beach club with beachfront restaurant and driftwood bar where a gourmet feast welcomes guests.
#8 Hale 'Ae Kai in Hawaii
And since we're talking secluded paradise settings, it only makes sense for the next spot on our list to go to this exotic destination.
The most exclusive property in the entire islands of Hawaii (according to Luis), this hidden gem on the island of Kauai is accessed by private helicopter, which drives through the mesmerizing Waipo'o Falls.
Set on top of a cliff looming over the ocean, the resort-style property is hidden behind a gated entrance, and is set at the end of a long palm tree-lined driveway. Inspired by flowing Balinese design, this estate has 4 villas, 6 baths, and has access to a secret beach. It can sleep up to 8 guests, with pricing starting at $12,000/night.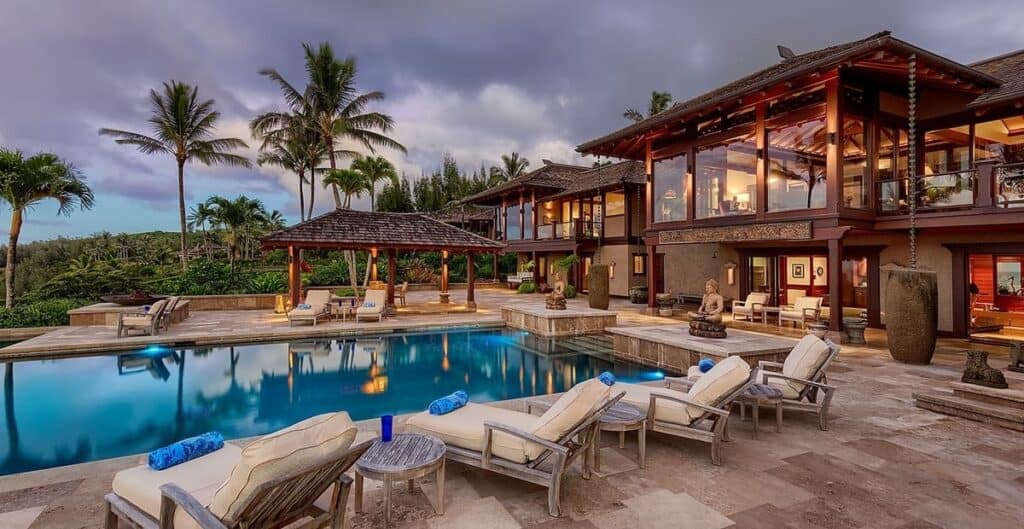 The property's name is reflective of its unique charm, as Hale 'Ae Kai stands for 'where land meets the sea'. It's divided in 4 pavilions, with pavilion #1 having 8,000 square feet of interior space, including a living room, dining room, kitchen. Then there's the master bedroom pavilion, which is completely separate to the side. Two other pavilions with en suite bathrooms and direct ocean views are on the other end, with elevated wood bridges connecting the pavilions.
And if the paradise setting isn't reason enough, you'd maybe be drawn by the sheer star power of the area; many celebrities own homes on the island of Kauai, including Pierce Brosnan or Drew Barrymore. However, it's this ultra-luxurious vacation rental that commanded the highest sale price when it last sold in 2018 for $46.1 million (a record for Hawaii).
#9 The Angeleyes yacht on the Caribbean sea
What beats an oceanfront view? All around ocean views! And that's one of the coolest things about staying on a yacht — which you can rent for about $10,000/night.
The Angeleyes is an 85-foot luxury yacht built wider and taller than your average yacht to add to the level of comfort it offers its guests. It fits 5 bedrooms (or staterooms, which is a more common name for yacht bedrooms), 5 baths, and can sleep up to 10 guests (with an additional 4 crew members).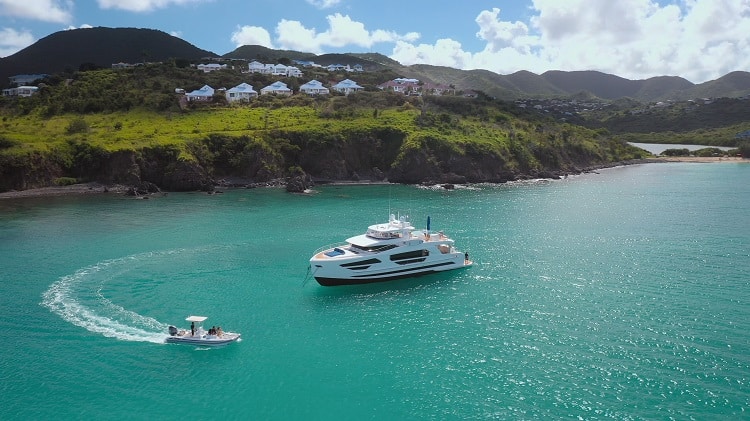 A party-perfect boat valued at approximately $6 million, Angeleyes makes for an unforgettable vacation stay. On top of the unobstructed ocean views, sea breeze and unique experience, the Angeleyes has perfectly appointed interiors, including a living room with floor-to-ceiling glass to take in the water views. Plus, all water sports activities are included in the price.
#10 Seasons Niseko in Japan
A party palace hidden in the snow that comes with a private Michelin-star chef? Sign us up!
The gourmet food and ski resort known as Seasons Niseko is an ultra-luxurious vacation stay — and its price reflects that: it goes for about $5,500/night. The price includes an expansive lodge with almost 8,000 square feet of living space, 5 bedrooms, 5 baths, an indoor heated swimming pool, and a fully appointed chef's kitchen.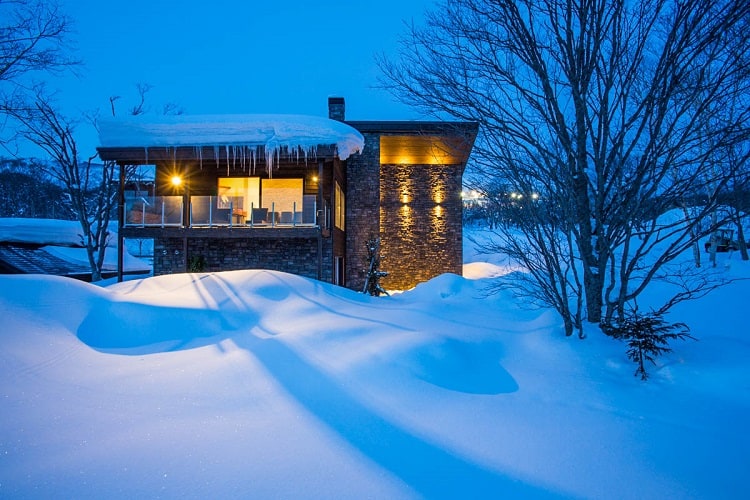 A total of 13 guests can stay here and enjoy the chalet's many entertainment options, which include a screening room, fully-stocked bar, pool table, and an massive wine cellar (with 1,000 bottles) tucked under the floor. The mountain chalet is perfectly appointed with world-class furnishings and amenities — including Italian designer furniture, floor-to-ceiling windows all around the main bedroom to take in the views, an entertainment area with a life-sized polar bear and fire place.
A stay at the Seasons Niseko includes a chauffeur, private Michelin-star chef, and a 24-hour concierge. The gourmet food stands at the center of the experience, using locally sourced ingredients that are known to be among the best-tasting in all of Japan. And if somehow amazing food isn't your thing, know that the lodge is right next to world-class ski slopes.
#11 The Bolt Farm Treehouse near Charleston, South Carolina
Now for what's arguably the most romantic destination out of all the rentals featured on The World's Most Amazing Vacation Rentals: A luxury treehouse retreat that specializes in romantic getaways for couples, a place for partners to connect with nature and each other at the same time.
Located on Wadmalaw Island, just outside of Charleston (which is actually where you'll find the house in The Notebook movie), it's part of a retreat with 4 private treehouses, each more charming that the other.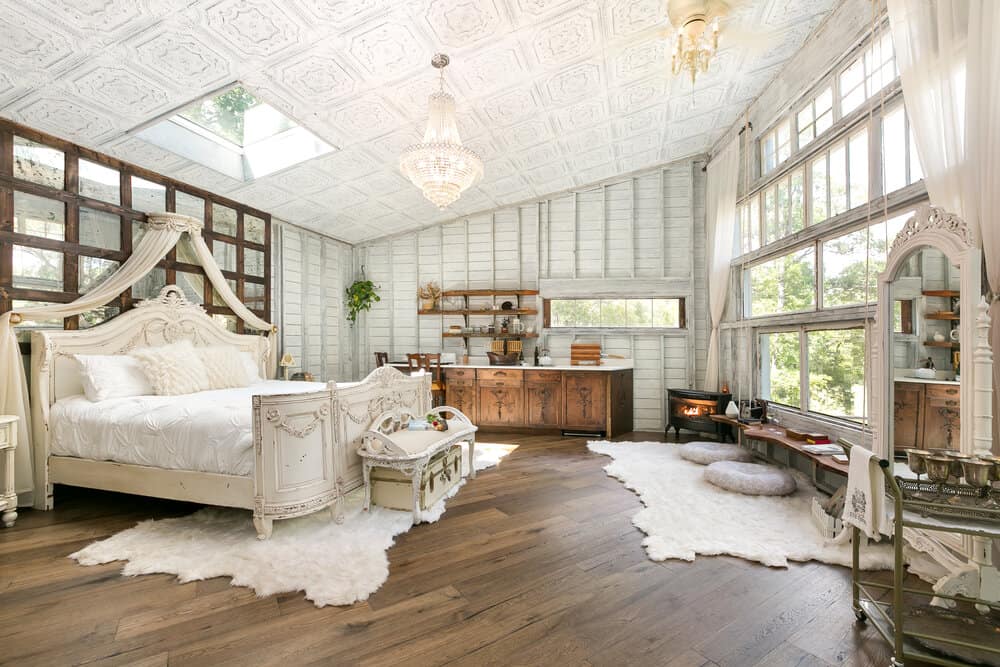 The Bold Farm has an idyllic location on 30 acres of South Carolina tidal-water views, and each custom-designed residence comes with 1 bedroom and includes amenity decks (think outdoor swinging bed, cooking area — with a pizza oven, a jacuzzi) with outdoor showers and double claw-foot tubs placed one next to another (you know, in case you want to hold hands while taking a romantic outdoor bubble bath).
For $500/night, the dreamy treehouse sleeps 2 guests in a most intimate, intricate and romantic room. As a testament to its eternal dedication to loving couples, the treehouse bathroom walls are adorned with love letters that go back to the 1940s. Awww…
#12 The Sitka Lighthouse in Alaska
A small coastal fishing village in Sitka, Alaska, is home to a most charming lighthouse rental. The Sitka Lighthouse is one of the only properties in the world where you can stay in a lighthouse on a private island.
This one-of-a-kind property has 2 bedrooms, 1.5 baths, can sleep 6 guests, and starts at $650/night. The Lighthouse was purchased and remodeled in 2018, with a nice little outside deck with a fire pit that overlooks the lake, with the foggy mountains in the distance.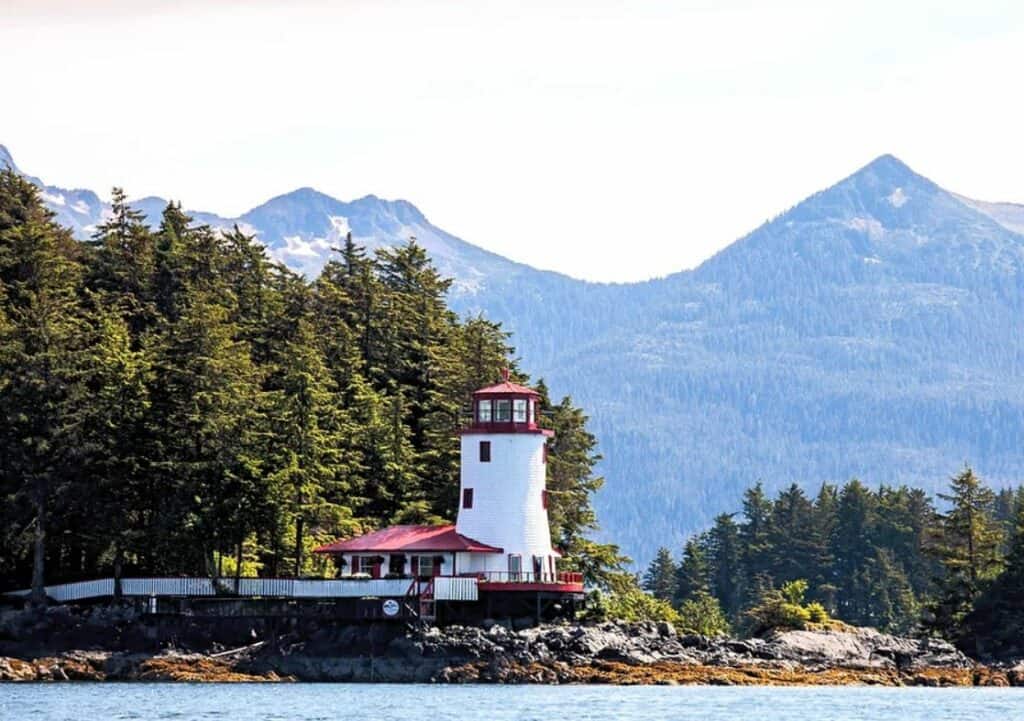 Stranded on its own one-acre private island, the lighthouse is even more unique when you step inside, as its interiors are both cozy and imposing, with many of its furniture pieces being made from reclaimed ship material.
It has an original wood staircase (that was once part of a ship), a repurposed ship wheel table, round walls, and bright interiors to compensate for the gloomy outdoors. Bunkbed mimic the sleeping structure of boats and there's also an upstairs secret 360 room with all-around windows that serves mainly as a meditation room.
#13 Tordrillo Mountain Lodge in Alaska
Set on the Kenai Peninsula in Alaska, Judd Lake is an adventurer's paradise, with water sports, paddling in salmon-packed waters and extraordinary mountain climbing adventures.
And within this rugged Alaskan wilderness, there's a 5-star lodge where up to 12 guests can enjoy a unique stay. The Tordrillo Mountain Lodge has 6 beds, 7 baths, and spans 5,600 square feet, with its windows overlooking beautiful mountain views.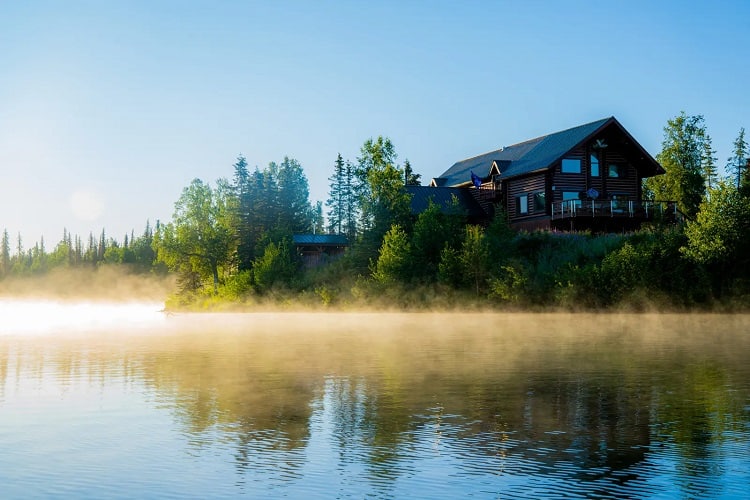 For guests who'd like to play it safe and spend a little more time indoors rather than going on an outdoor adventure, the luxury lodge offers some cool amenities to kill time, including a fully stocked bar and a copper soaking tub outside.
#14 The Alpaca Treehouse in Atlanta
One of my personal favorites, this tree house in an alpaca retreat in the middle of Atlanta — where you'd be sharing the backyard with 4 alpacas and 5 llamas (all rescues) — is definitely one of the most unique rentals featured on the show.
The tree house is tucked away in an 80-year-old bamboo forest, in a magical setting. The 240-square-foot, two-story treehouse has two beds, 1.5 bathrooms, sleeps up to 4 guests, and goes for $380/night. It is 100% made out of restored materials, has a wraparound terrace, and a hanging Bali bed underneath it.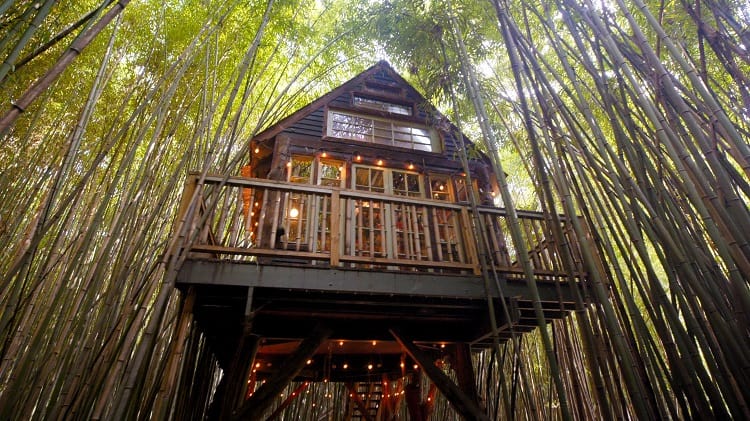 Inside, you'll find warm, inviting interiors surrounded by glass and warm wood and lofted bedrooms suspended at the top of the tree house. And, to make your stay here truly unforgettable, you can opt for some unique activities — like llama yoga.
#15 The 4-story Bird House in Bali
Rising 25 feet above a dense jungle, the 4-story tree house aptly called 'the Bird House' is definitely a rare gem.
It fits up to 8 guests, has one bedroom (or rather, nest pad, as they're called on the show) on each of its "floors", with a so-called "penthouse" at the top with a lovely chandelier and a 50-foot bed the size of the entire 'floor'.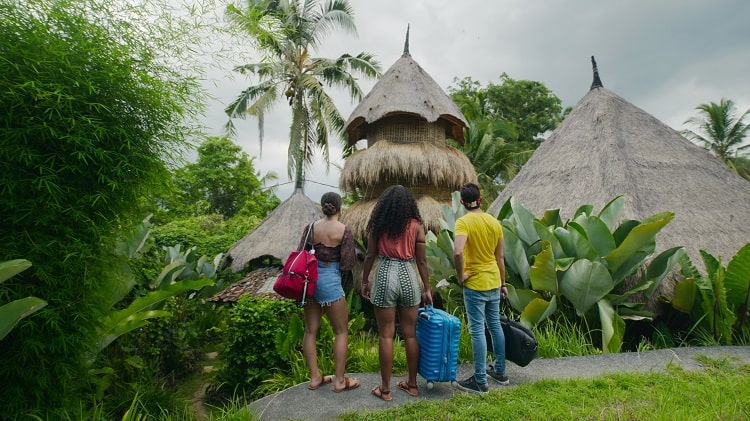 With open-air showers, a beautifully-designed communal lounge with a salt water pool and a bar, this vacation rental makes for an unforgettable experience. And the best part: it will only cost you about $24 per bed/night.