Nicholas Sparks is known for making people cry. Not because he's a bad guy though. Sparks is one of the most famous contemporary romance writers, with 11 of his bestselling novels turned into box office hits.
And while they are all quite swoon-worthy, none of them can compete with The Notebook, the 2004 movie starring Ryan Gosling and Rachel McAdams that became one of the most heartwarming love stories of our time.
The movie introduced us to a poor country boy named Noah, as he meets Allie, a girl from a wealthy family who spends the summer in his hometown on Seabrook Island, South Carolina.
They fall head over heels in love with each other but, in typical fashion, her parents don't approve of their relationship. Things go downhill from there, but you probably know that already. 
There are many unforgettable moments from the Notebook — Allie and Noah lying on the road, their chats in the nursing home, and that kiss, of course.
But if you love beautiful houses as much as we do, it's the beautiful house that Noah rebuilt for Allie that sticks with you long after you finish watching the movie. 
Which begs the question: is it a real house? And did they actually restore it for the movie? Let's find out the story behind the now-iconic house in The Notebook.
The Notebook house, said to be on Windsor Plantation
The house on Windsor Plantation plays a key role in the movie. During their summer together, Noah takes Allie to the plantation and tells her about his dream to buy and restore it one day.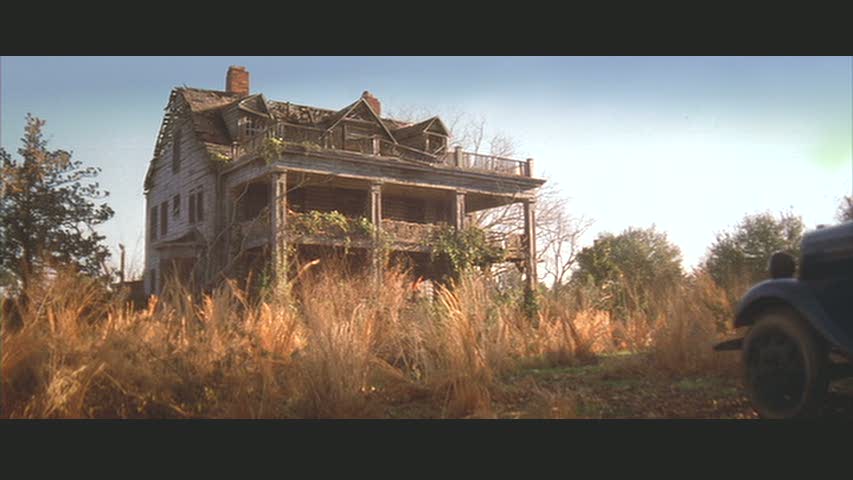 As they imagine their future together, Allie tells him she would love to live in a big white house with blue shutters, a room overlooking the river so that she could paint, and a porch wrapped around the house where they can drink tea and watch the sunset. 
The very same day, Allie's parents find out about her relationship with Noah, and all hell breaks loose.
The sweethearts part ways, and when Noah sees Allie 14 years later, she's engaged to someone else. Noah, who's still in love with Allie, goes a little overboard and uses all the money he set aside to make their dream come true — renovate the house on Windsor Plantation. 
Winning a woman's heart by renovating a house is quite an unconventional move, but props to Noah for remembering exactly what Allie wanted.
When the house is ready, it's everything she has dreamed about and more. He puts it on sale, and people flock to the plantation offering him huge sums of money. But Noah has no intention to sell the house — he just wants Allie to notice it. 
Noah's plan works out, and Allie comes to see him at the plantation. Not sure if it was Ryan Gosling's face that convinced her to leave her fiancé for Noah or that gorgeous house he rebuilt for her, but it was definitely a persuasive combo.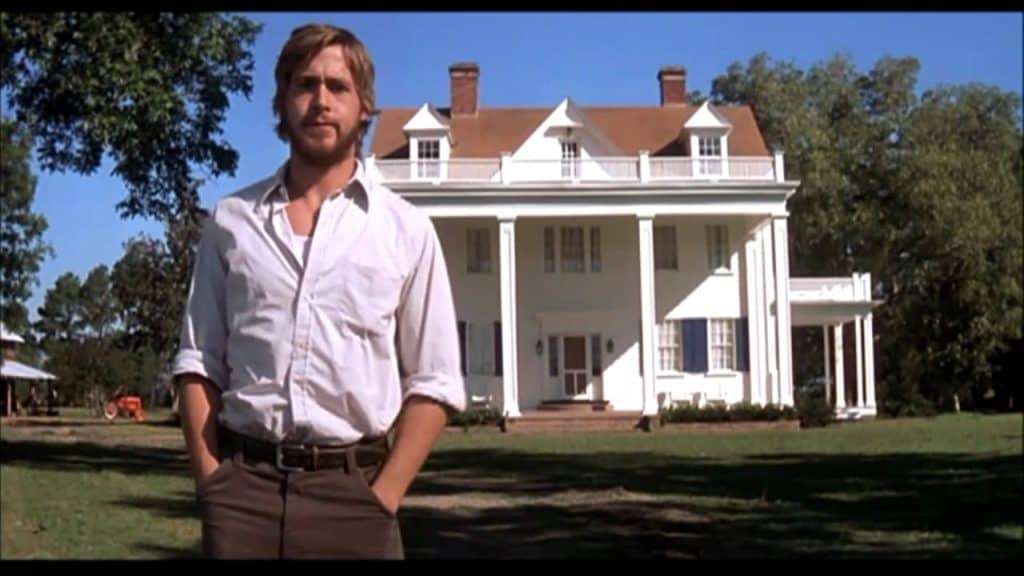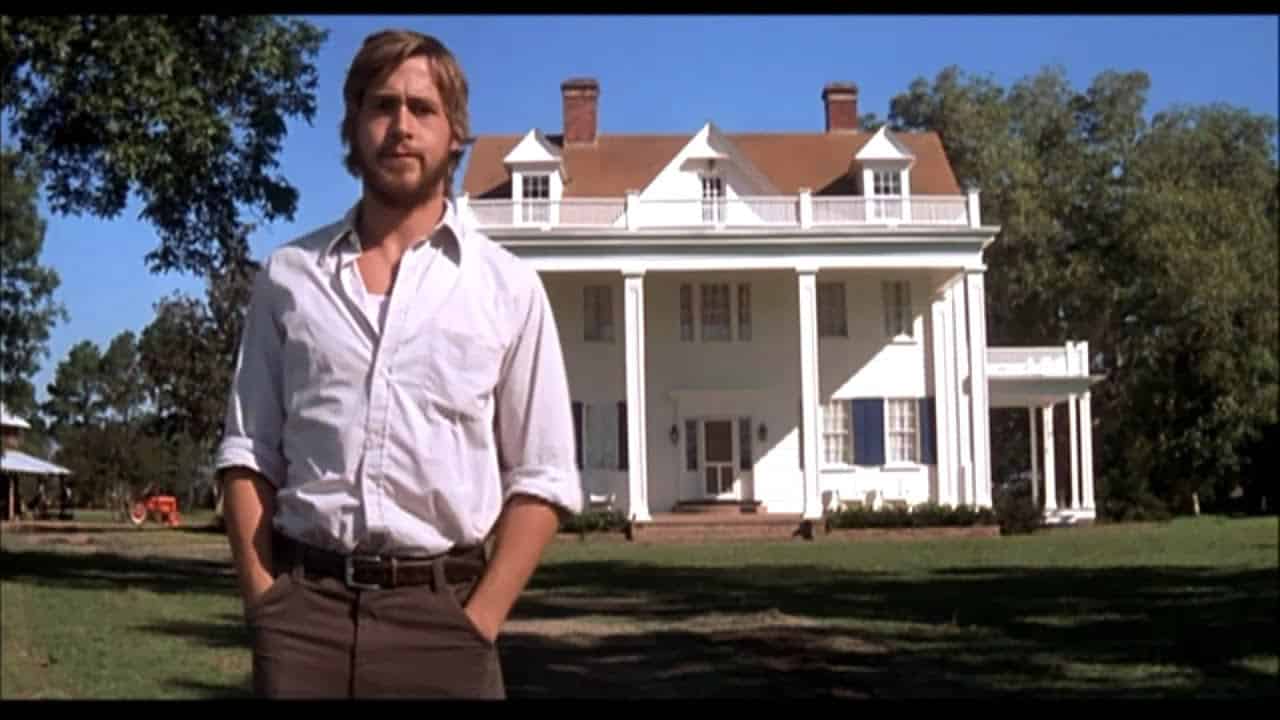 More stories you might like
You'll find the real-life house near Charleston, SC
Alright, back to reality where handsome men don't renovate houses to make our childhood dreams come true.
Much of the film's plot takes place in and around Seabrook Island, a real-life town among South Carolina "sea islands." It is located 20 miles southwest of Charleston, South Carolina. However, none of the actual filming took place in the Seabrook area. 
The house we see in the movie, both before and after the makeover, is located on Wadmalaw Island in Charleston County, South Carolina — another "sea island" that's slightly closer to Charleston.
When the filmmakers started working on the movie, they considered buying an abandoned house and restoring it as they proceeded with the shooting.
But once they saw the house on Martins Point Plantation, they knew they had already found exactly what Allie wanted.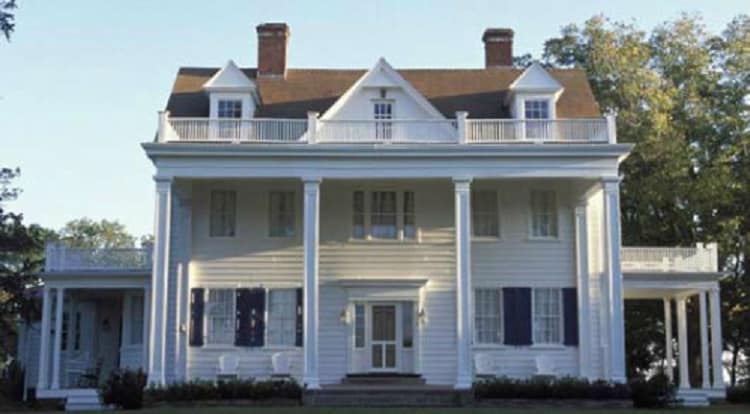 While shooting the scene where Noah first shows the house to Allie, the mansion's exterior was masked and heavily distressed to make it look old and run-down.
When Noah's renovation project is over, we see the house pretty much as it is today. The production team only added a side porch and the blue shutters to match Allie's vision for the house.
Although in the movie Noah says the house was built in 1772, the 4,255-square feet house on Martins Point Plantation was built a century later, in 1875.
Since it's private property and a family home, we can't give away the address, but we can tell you that the house has 5 bedrooms and 4.5 bathrooms. Also, according to the current owners, the interior hasn't changed much since the 19th century and retains many of its original details.
It's also important to mention that the scenes inside Noah's house were shot elsewhere, with only exterior shots (and porch scenes) being filmed at the Martins Point Plantation in South Carolina.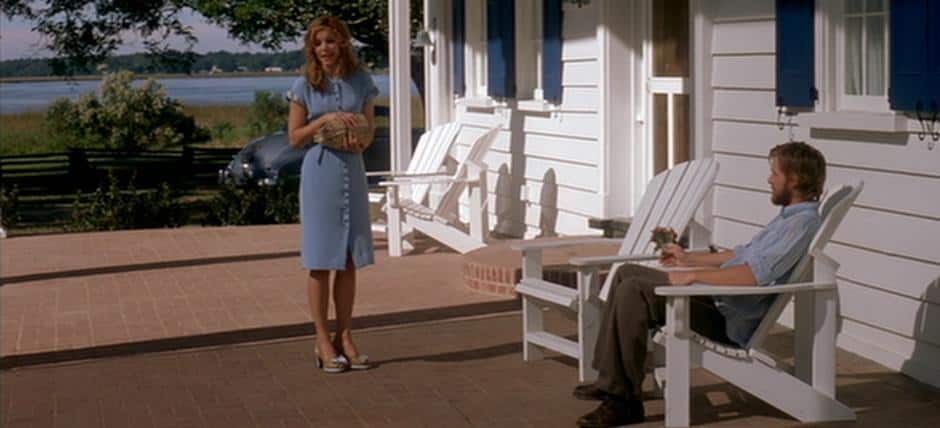 Unfortunately, Ryan Gosling didn't actually restore anything. But he did build the table we see in the scene where Noah and Allie reunite and have dinner together. So that counts, doesn't it?
More movie & TV homes
Is It Real? Edward Cullen's Sleek Glass House in the Twilight Saga
Does Jackson Maine's House from 'A Star Is Born' Exist in Real Life?
Are They Real? The Opulent Homes in 'Bridgerton'
Here's the Estate that Served as Inspiration for "The Great Gatsby's" Opulent House in the 2013 Movie