I need to confess. Since its release back in December 2006, I've seen The Holiday approximately seventy-five times! (Yes, it gets at least five watches every. single. Christmas.).
I can quote entire scenes, I know the score by heart, and I've lost count of the many occasions I've rocked out to Mr. Brightside in sync with a slightly inebriated, cardigan-clad Cameron Diaz!
What can I say, it's the ultimate Christmas and New Year flick, plus it's not only the romances, stellar cast, and wickedly funny script that keep me coming back year after year.
Both Amanda and Iris's houses are all of my Christmas real estate wishes come true so, naturally, I had to track them down! 
Amanda's sprawling Los Angeles mansion
I'm very happy to report that Amanda's gorgeous Tuscan-style LA home is totally real!
The exterior scenes where we see Amanda and Ethan's breakup, Miles and Iris's first meeting, and her adorable leap for joy on discovering the property has a pool, were all filmed at a stunning seven-bedroom property located at on Orlando Road in San Marino, California.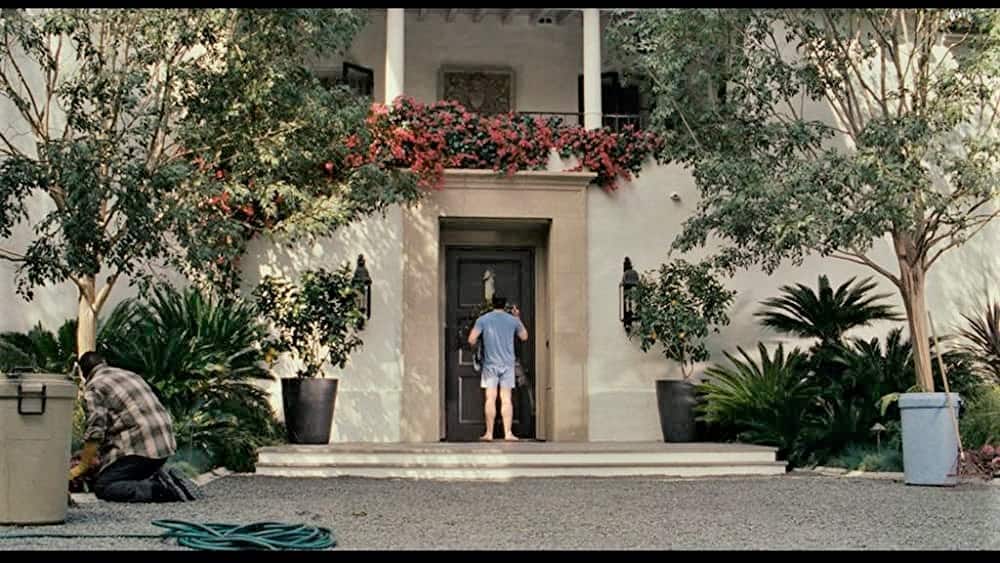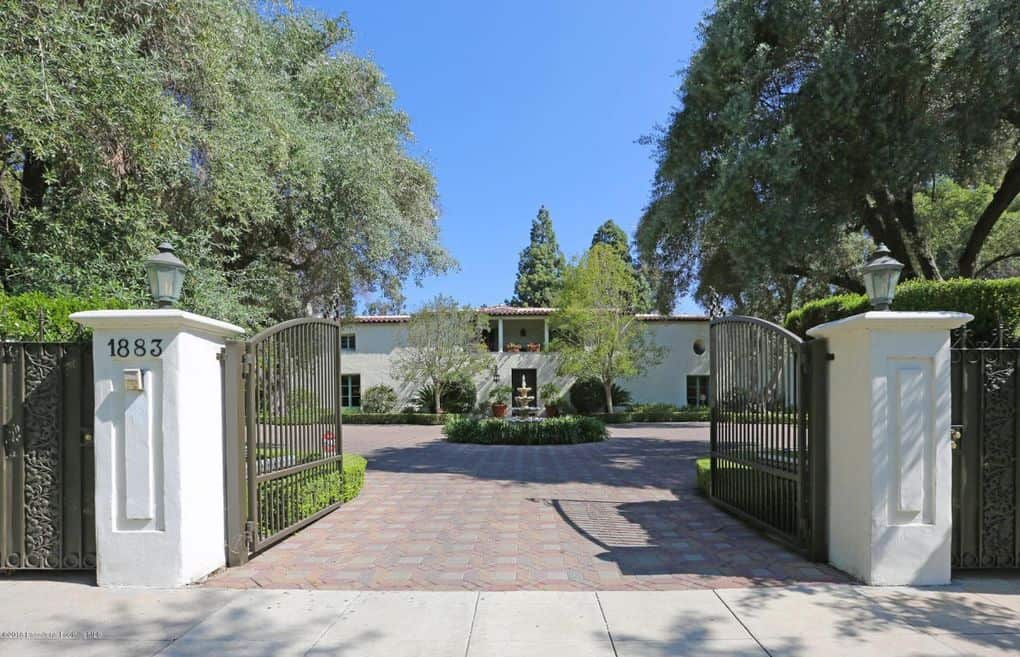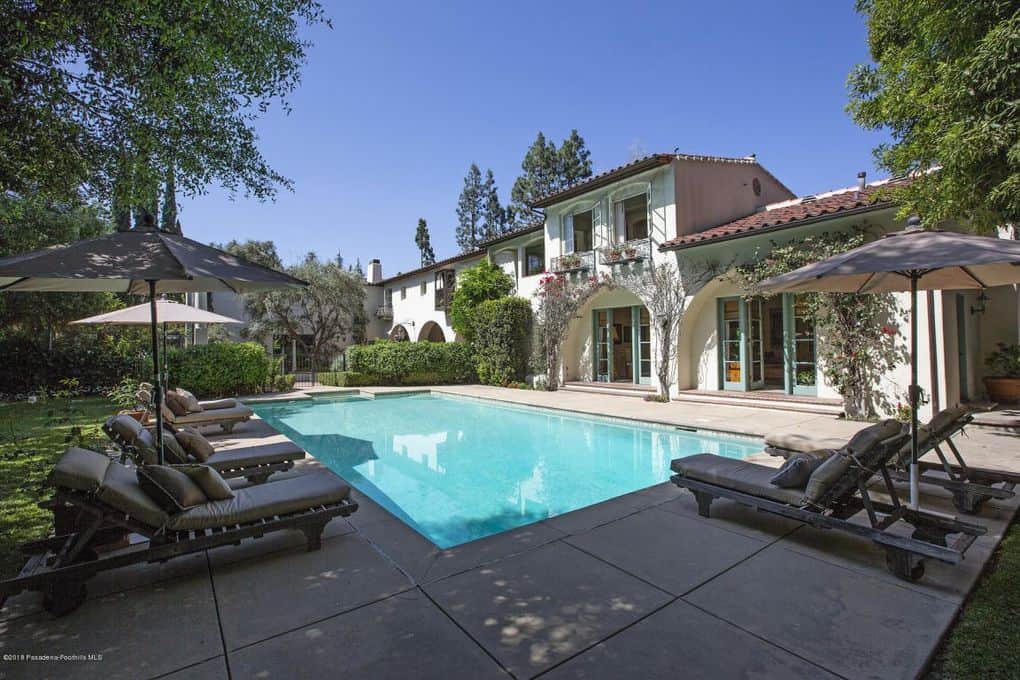 However, despite the recognizable exterior, if you look at photos from inside the house, you'll notice that these aren't the super-posh, modern interiors we see in the movie.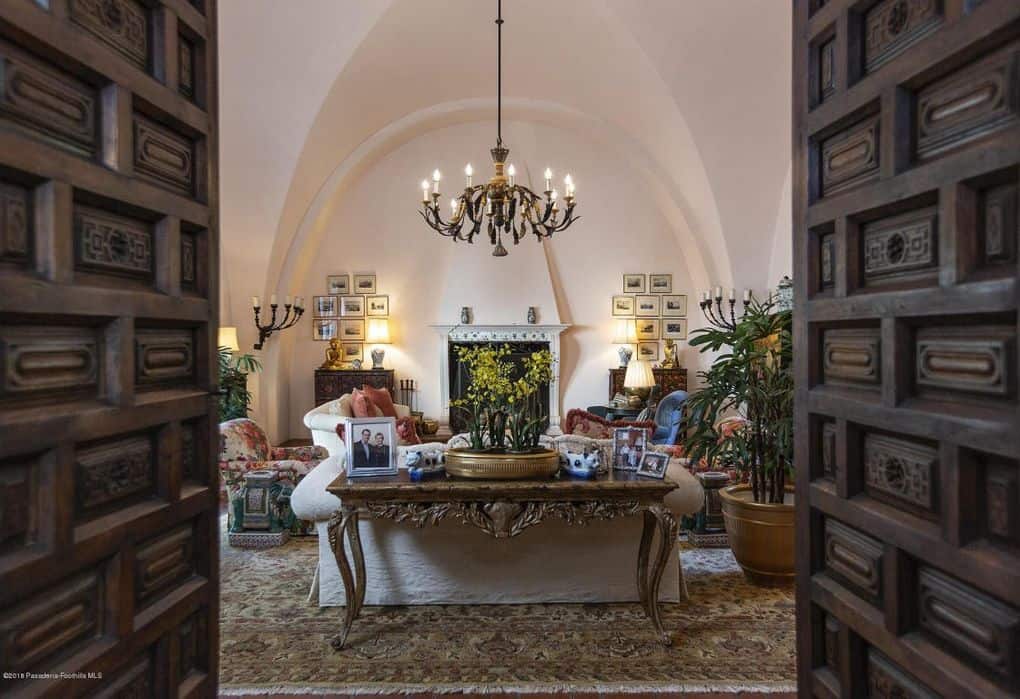 That's because all of the scenes inside Amanda's home were filmed on a specially constructed soundstage at Sony Studios' Culver City lot.
The expansive set was almost 8,000 square feet which according to IMDB cost a whopping 1 million dollars to construct! And that was of course without a roof, any exterior walls or heating, plumbing, or electricity. 
From the impressive open-plan kitchen and chic, yet cozy living area to the state-of-the-art gym and impressive gated driveway landscaped to perfection, Amanda's house is pretty much the perfect getaway home.
It even boasts an envy-inducing media room complete with thousands upon thousands of classic movies and an enormous television to watch them all on.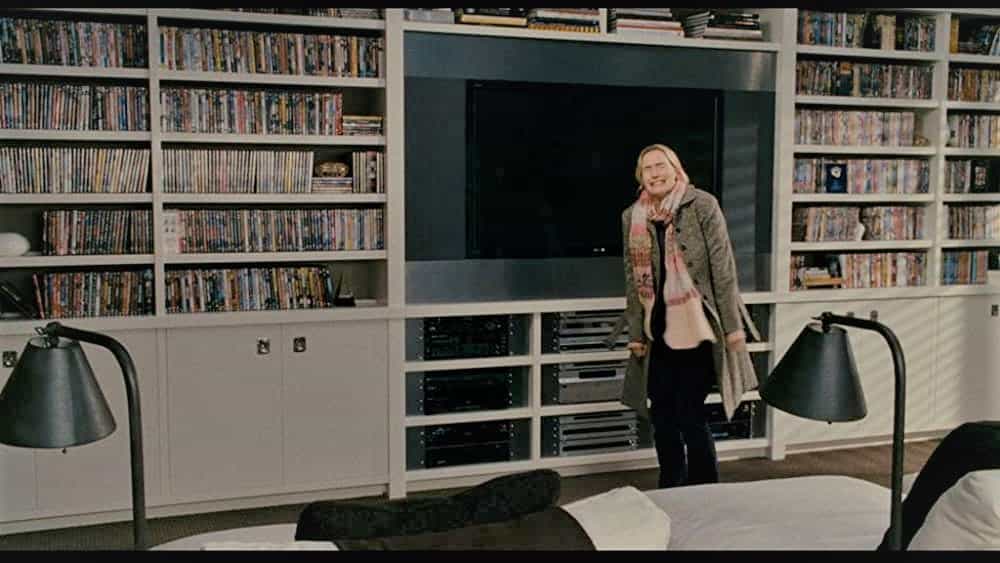 Fun fact, as Iris browses Amanda's alphabetized movie collection on her first full day at the house, a case for the movie Enigma, which Kate starred in back in 2001 can be seen on the right-hand side of the shot!
Iris' sweet Surrey cottage
"I must say, your house looks idyllic. Just what I need."
Sorry to be the bearer of genuinely bad news but Rose Hill cottage doesn't exist. How did it look so real in the movie, you ask? Well, because it was… sort of.
The outer shell of Iris' picture-perfect stone-clad home (inspired by Honey Suckle Cottage in Holmbury, St Mary) was built from scratch — stone wall, garden gate, and front yard included!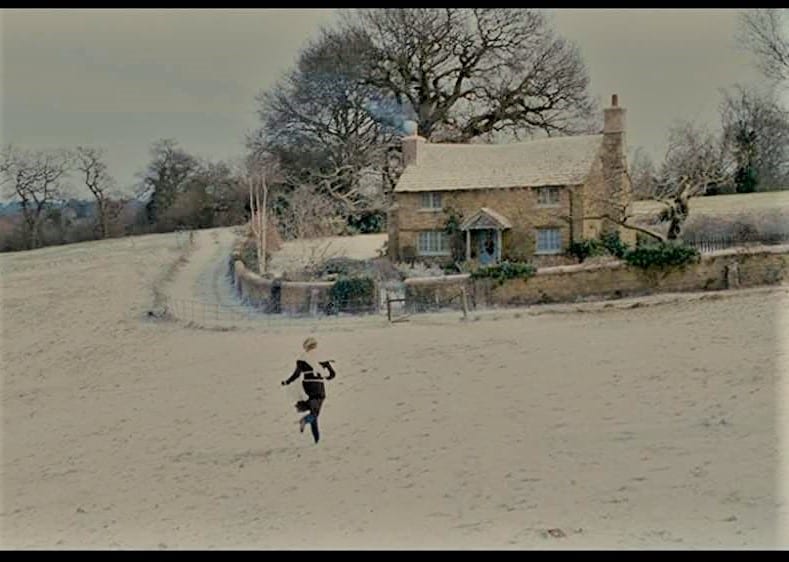 Amazingly, it took production just a couple of weeks to construct and a total of four weeks to fully landscape and make sure the house and its surrounding area looked genuinely like a 200-year-old property. 
The inside of the home, like Amanda's, was filmed on a soundstage, but that could never make me love those snuggly beamed ceilings, the cozy open fireplace, and her teeny-tiny bath any less!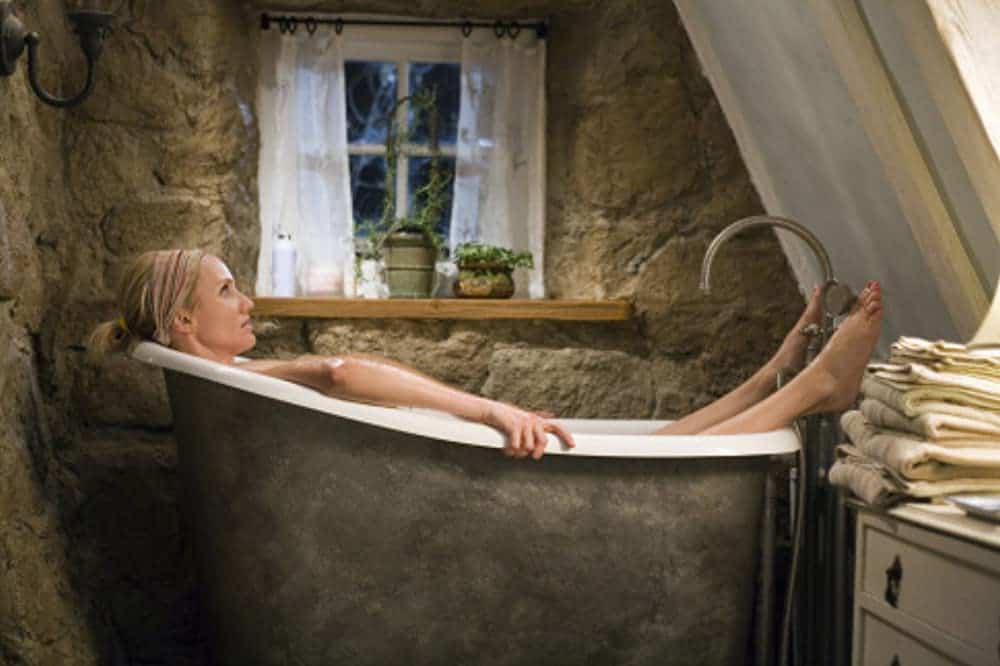 More swoon-worthy homes and locations from 'The Holiday'
Our leading ladies may have had the prettiest homes of all, but the beauty of this movie doesn't stop there!
Graham's English manor home
Just like Amanda and Iris' homes, the interior scenes for Graham's breath-taking rural home were created and filmed on the soundstage at Sony.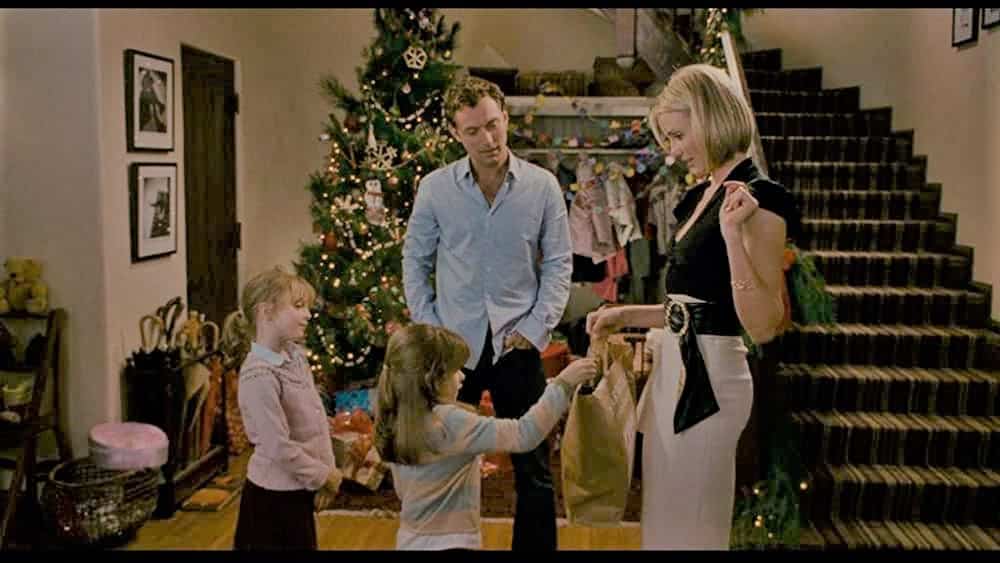 The outside, however, is very real. The property used for exterior shots is called The Mill House and it stands overlooking the River Wey in Tilford, Surrey. It has five bedrooms, a drawing-room, a family room, a breakfast room, a cloakroom, a study, and more.
It even boasts formal gardens and a paddock! No sign of Graham's cow though…
Arthur's house
Another real home! Arthur's property is located on Rockingham Avenue in Brentwood California.
For anyone taking notes, that's nowhere near the home used for Amanda's house but hey, movie magic! The 22 room home which was owned for 40 years by the late comedienne Phyllis Dillier, was chosen for its 'Old Hollywood' vibe. 
Miles' house
Miles's ultra-modern home is arguably one of the best-looking residences in the whole movie. And, you guessed it, it really exists!
The three-bedroom Ohara house, built in 1959, was designed by modernist designer Richard Neutra and is located on a pretty hillside in Silver Lake. Unlike the other homes in the movie, interior scenes for Miles' home were also filmed there!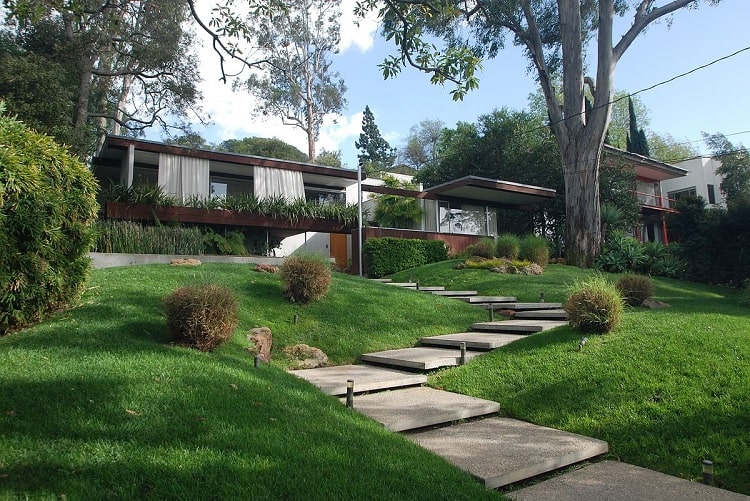 The quaint & Christmassy Surrey village
If you fancy cruising around tiny snow-filled lanes in search of way too much party food and wine for one person like Amanda, you can!
The scenes around Rosehill cottage were filmed in some of the most photographed villages in Surrey, England, including Godalming and Shere. The latter in particular proving particularly beautiful.
Thinking you've seen this heavenly little village somewhere before? You probably have! Shere has featured in an impressive number of Hollywood blockbusters over the years including, Four Weddings & A Funeral (1994), Bridget Jones: The Edge Of Reason (2004), The Wedding Date (2005), The Mummy (2016), and Disney's live-action Beauty And The Beast (2017). Honestly, the list goes on and on!
The video shop
Though there's now a bank in its place, the video store where Iris and Miles browse the shelves to find movies on Arthur's list was once a real Blockbuster video located in Brentwood, LA.
Some movie cases even had to be removed as both Winslet and Black had starred in some of the films! 
Fascinatingly, this scene (just like many of the lines during Jude Law's Mr. Napkin Head impression and Miles' 'accidental boob graze') was largely improvised by Jack Black as he picked up DVD cases and proceeded to sing the theme songs to Kate Winslet's character.
The now-famous cameo from Dustin Hoffman was also completely unplanned. Hoffman happened to be having lunch in the area and upon seeing all the cameras and crew set up, decided to stop by to see what was happening. He and Nancy Myers are old friends and together, they decided to write him into the scene!
The White Horse pub
The White Horse, Graham's preferred watering hole and place where he re-unites with Amanda after thinking she had gone back to LA, is a very real country pub also located in the village of Shere.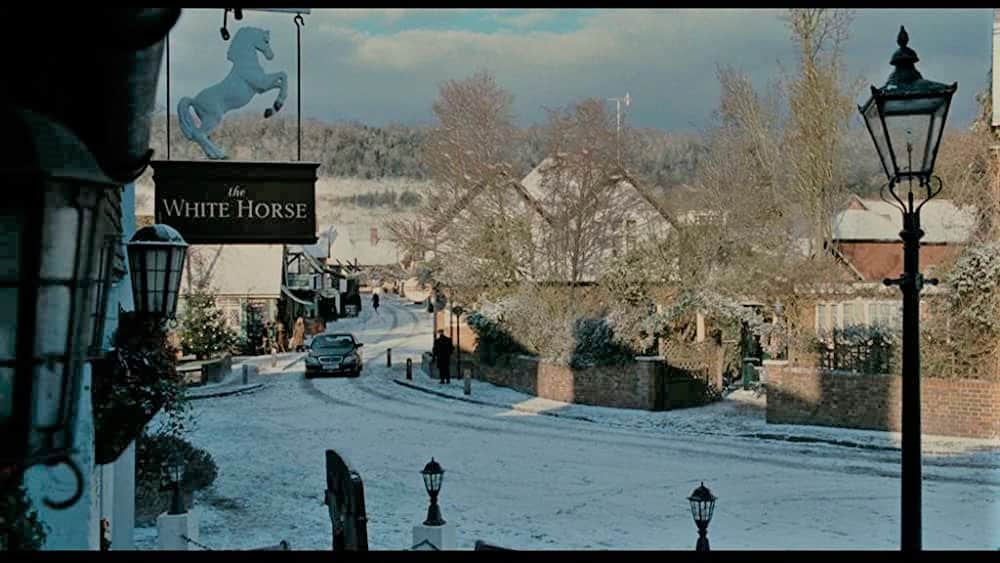 Plan your own holiday
So, if you're planning a trip to England and hope to see all of the filming locations in their white Christmassy glory, it could just happen. Whilst filming in Surrey, production had arranged faux snow for their month-long shoot but it ended up snowing for real three times whilst they were there!
If the UK's out of the question, you could always sign up for your very own house swap. The site Amanda and Iris use in the movie, homeexchange.com, actually exists!
Now, if you'll excuse me, my 76th re-watch is well overdue. Happy Holidays!
More memorable homes from your favorite holiday movies
The Real-Life Home Alone House: Then and Now
Tracking Down the Caldwell House and Other Cool 'Happiest Season' Locations
Is the 'Gilmore Girls' House Real? Lorelai And Rory's Cozy Stars Hollow Home
Where is Dunnock Manor, the Sprawling Family Home in 'Father Christmas is Back'?