For this article, we partnered with Brookdale Senior Living, the largest operator of senior housing in the U.S. Pictured above, Brookdale Lake Highlands in Dallas, TX. To find similar housing options in your area, click here.
Each and every one of life's milestones can seem daunting at first.
Buying a home, starting a family, changing careers, or hanging up the hat and retiring can all be intimidating, yet immensely rewarding life events.
Moving into a retirement community isn't much different; it's a change that comes with extra joy, good company, and plenty of accessible activities, as well as a more carefree lifestyle that makes way for happiness and fulfillment.
But how do you know which senior housing community is the best fit?
If you're considering helping a loved one find a new place to call home in a senior living community, but aren't fully sure what criteria to pay attention to, we're here to help you navigate this search and make an informed decision.
After all, this move is all about finding support, comfort and peace of mind.
With this in mind, let's look at some key aspects that you should take into consideration when choosing a senior living community.
There are several types of senior living communities
First off, it's important to understand that there are different types of senior living communities, each catering to specific needs based on the assistance and overall health requirements of their residents.
To pick the right one for your loved one, you'll want to make sure the community offers the proper level of care — or just the right amount of independence — so that your family member can thrive and live out a happy, healthy retirement.
#1 Independent living communities — for active, social retirees
Questions to ask yourself: Is your loved one able to care for him or herself? Would they like to be surrounded by friends their own age? Do they enjoy participating in social activities and having easy access to age-appropriate amenities?
If the answer is Yes across the board, independent living communities are the way to go.
Think of them as housing arrangements designed exclusively for older adults, where they can spend time with like-minded individuals and engage in tons of activities tailored to their interests and activity levels. They'll enjoy the privacy of their own home and have access to suitable amenities.
After a lifetime of caring for a home, children, and grandchildren, independent living communities also provide a well-deserved break: things like housekeeping, meals, and transportation are taken care off, allowing your family member to focus exclusively on relaxing, socializing with others, and enjoying a carefree life.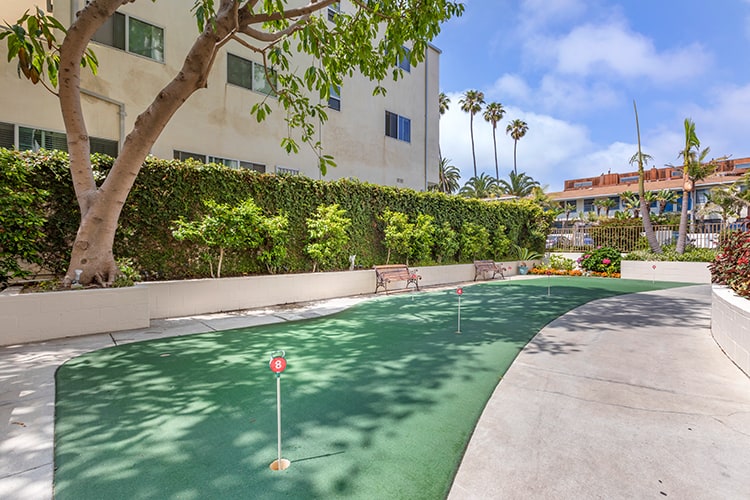 And while the residents enjoy an independent lifestyle, there's usually staff on-site to provide help and assistance, if needed.
#2 Assisted living communities — for those that need a little help, but still maintain their independence
Questions to ask yourself: Does your family member need help with daily tasks? Are they still somewhat active and have control over their mental faculties? Would they benefit from senior wellness services, like specific dietary needs or dedicated social activities?
Then you should be looking into assisted living communities, which provide a little more support for daily activities (including things like bathing, dressing, using the toilet or taking medicine), but that otherwise allow for an independent, fulfilling lifestyle.
Assisted living doesn't provide intensive hands-on care or skilled nursing care, but offers a full range of services for seniors who are no longer able to live alone.
They won't have to worry about maintaining a home, will have plenty of opportunities to socialize with others and not feel lonely or isolated, and you can rest assured that there's someone assisting them with their daily needs.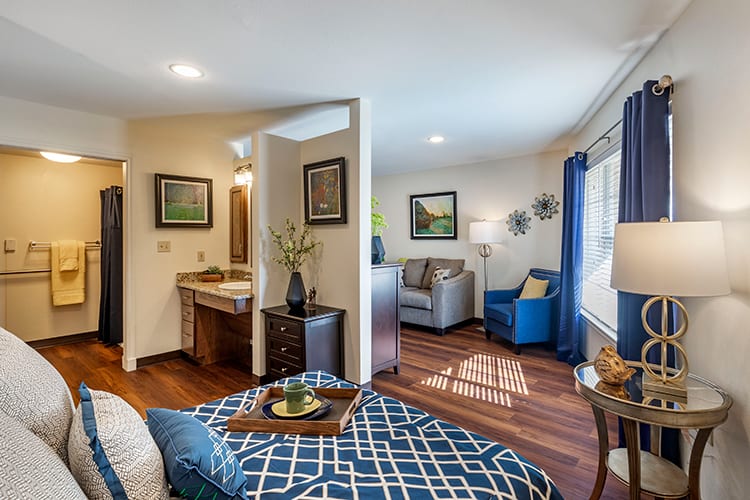 #3 Memory care communities — when your loved one needs extra care and a safe environment
Questions to ask yourself: Does your family member suffer from Alzheimer's or other forms of dementia? Do they need regular supervision and specialized help? Are you concerned about their safety and quality of life?
Dealing with dementia and memory loss is incredibly difficult, both for those living with it and their loved ones.
Memory care communities are a safe, healthy living accommodation that provides a uniquely designed environment that focuses on improving quality of life, reducing confusion, and meeting dietary needs.
Here, your parent or spouse with declining mental faculties can have staff on-site 24 hours a day  — trained in dementia care — in a safe and secure environment.
They'll also be able to participate in group activities that won't overwhelm them and get mental stimulation through specially-designed programs and brain games.
Look at all the available amenities
The best part about living in a community is having access to a bunch of amenities that wouldn't otherwise be available when living at home.
These perks can make all the difference for seniors, who are far more likely to be withdrawn and avoid long walking distances — which can severely limit the types of activities they can access.
Senior living communities offer lots of common areas for their residents to socialize (think game rooms, arts and crafts rooms, woodshops), facilities for them to exercise and stay healthy (swimming pools, spas, fitness centers) and lots of other perks like barbershops and beauty salons, libraries, green spaces, and even on-site chapels.
In warmer climates, like the West Coast, outdoor facilities take center stage, as fresh air activities can contribute significantly to keeping seniors healthier and happier longer.
To give you an idea of what to look for, take a cue from Brookdale Senior Living, whose Los Angeles area communities offer a wide range of outdoor amenities including walking paths, courtyards and gardens, fishing ponds, and outdoor pools.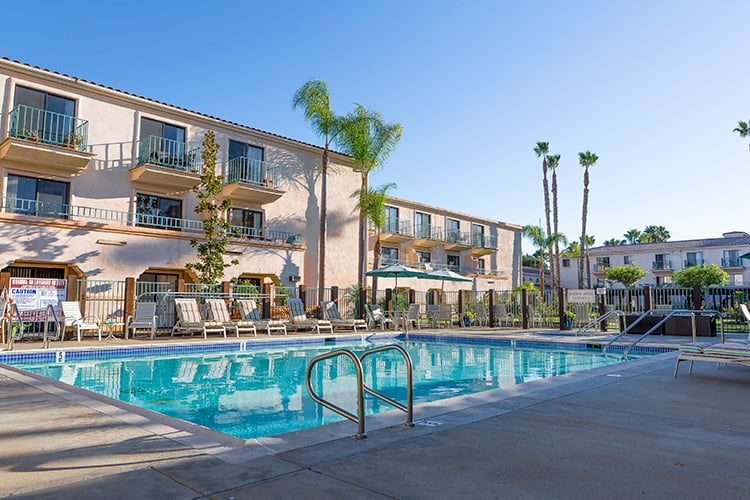 Make sure the community you're considering has the best mix of amenities for your loved one, based on their individual preferences.
It can make a world of a difference and give them lots of things to look forward to when waking up in the morning.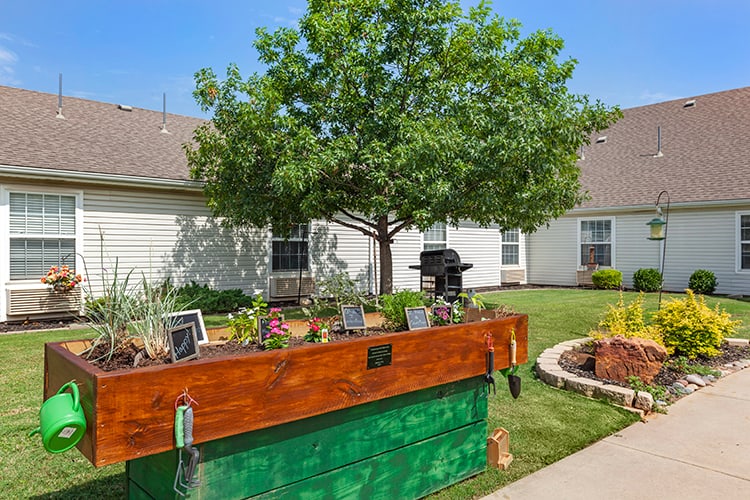 Focus on activities & entertainment
Regardless of the level of care they provide, the best senior living communities offer a good choice of activities for seniors to engage in and enjoy themselves — tailored to their interests and activity levels.
Think game nights, exercise classes, field trips, support and discussion groups, and workshops, to name just a few. You'll want to pay particular attention to this if you want your loved one to thrive and love their new home.
You'll also want to ask about the types of entertainment the community offers or has offered in the past, to give you a good idea of how residents get to spend their time.
Some communities invite stand-up comedy or drama groups to perform or have visiting choirs, others throw dancing soirees, pool parties, or hold art shows and movie screenings.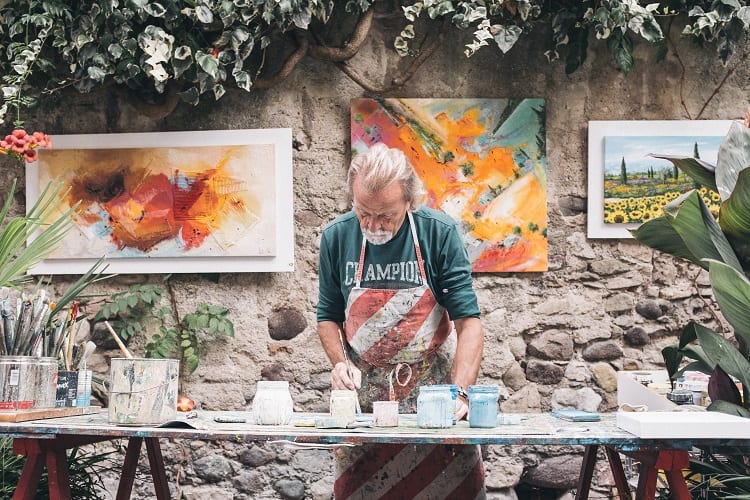 The range of activities and entertainment options available will give you a great idea if a particular community is a good fit for your family member (and whether you can picture them being happy in that environment).
See what's on the menu
Not only is nutrition crucial in maintaining your loved one's health and strength, but meals are an important part of their day and social routine.
So you'll want to make sure they have access to tasty, varied meals that are appetizing and will cater to their preferences and tastes.
After all, access to ready-cooked meals and proper nutrition is one of the main draws of moving into a senior living community, so you don't have to worry if your aging parents take care of their diet and have professionals pick up the slack instead.
Many facilities, like Brookdale's Dallas-area communities, know how important this aspect is and list their daily menu online, giving you a great idea of the type of food they provide for their residents.
Look for healthy, appetizing options and a variety of choices — that are bound to make your loved one look forward to each meal of the day.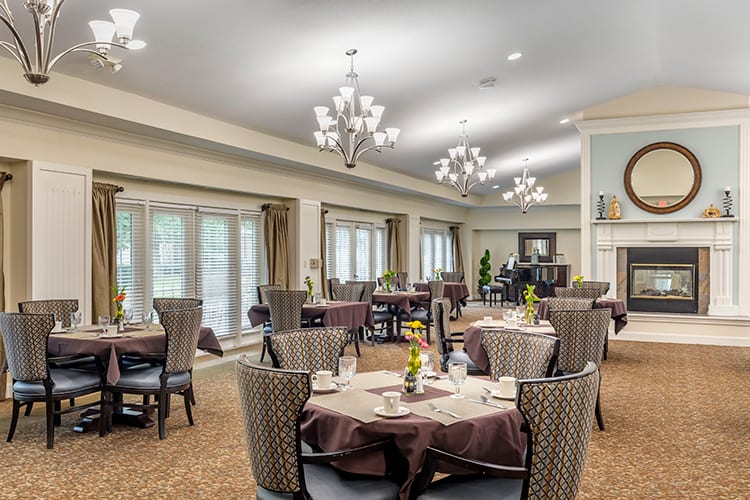 Make sure it's safe and reliable
Naturally, you'll want to rest assured that your loved one is safe and that the people in charge of their care are trained, reliable and certified professionals.
Make sure to ask about the community's history, how long it's been operating, whether or not it is licensed, and if it follows the rules and regulations set forth by the federal government.
Pick senior living communities with tradition and a long history of catering to seniors in a professional, caring way.
After all, you're not just looking to provide your family member with good care, but you're also giving yourself some much-needed peace of mind that your aging parent or spouse is being taken care of by the best professionals out there.
Disclaimer: This article was sponsored by Brookdale Senior Living. While this is a paid article, its contents reflect our honest opinion and our reporting on the topic has not been influenced.