Nestled in the center of the Mediterranean is the Maltese archipelago of Malta, Gozo, and Comino.
Malta, the largest of the three islands, enjoys sunny days and blue skies and beams with history and traditions, making it one of the most sought-after vacation destinations — and an ideal place to own a vacation home.
First inhabited around 5900 BC, Malta has had a turbulent past and this small yet strategically placed island changed hands a number of times over the centuries.
Having been colonized by the Roman Empire, Aghlabids, the Kingdom of Sicily, Swabians, the Aragonese and eventually the Spanish, it wasn't until the Order of St. John took hold of the archipelago in 1530 that the island found its footing and truly started to flourish. 
Over the course of The Order's two-century rule, incredible architectural feats were accomplished as the "Knights of Malta" built churches, schools, fortifications and palaces – many of which are still standing today.
One such palace (or more popularly referred to as a Palazzo) is an outstanding 17th Century residence nestled in the heart of Lija, a traditional town in Malta, known as one of 'the three villages' with its main entrance along an avenue lined with oleander trees and a beautiful view.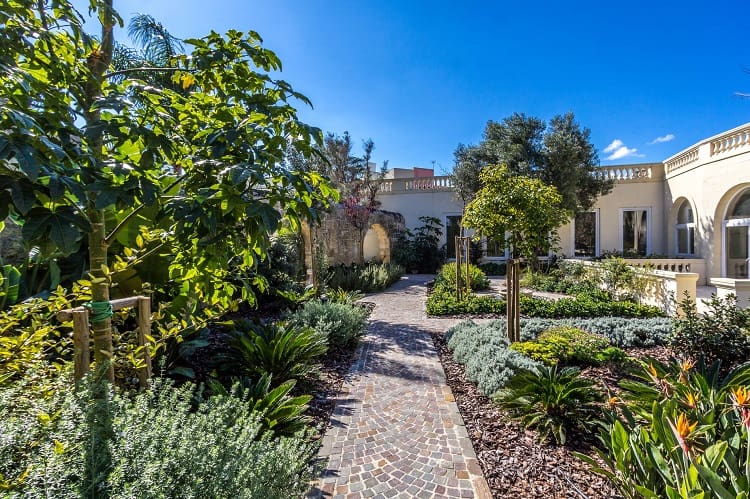 Inside one of Malta's historic Houses of Character
Wonder through Lija and you will find winding streets and pretty alleys with overgrown Ivy and Bougainvillea vines threatening to reclaim their territory.
Beautiful and historic Houses of Character (a cornerstone of Maltese architecture, which refers to spectacular homes mainly built in the 17th and 18th century) line the streets with traditional Town Houses and grand Palazzos dotted in between.
Lija indeed boasts wonderful homes with large gardens and orchards. Renowned for its citrus-flavored honey, it is no mystery why the village's adage is 'Suavi Fructu Rubeo' meaning'with tasty fruit I blossom'. 
It then comes as no surprise that this magnificent Palazzo — which is reminiscent of days gone by — has a grand entrance and is flanked by immaculately manicured formal gardens and an amazing citrus grove, home to mature orange, lemon, pomegranate and tangerine trees.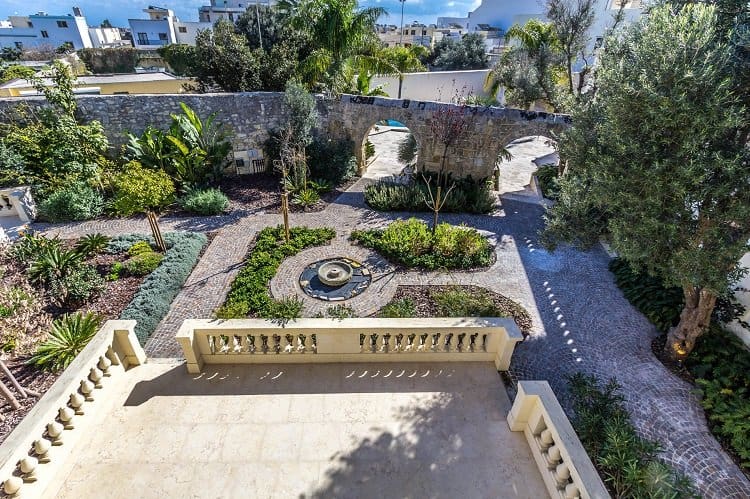 The property has been meticulously converted to embrace today's modern standards while maintaining the beautiful features of traditional stately homes.
All in all, the Palazzo boasts 750sqm of living space (which translates into well over 8,000 square feet), prestigious marble and travertine floors, vaulted ceilings, wooden beams, fireplaces, stone and garigor stairwells, thick walls and stunning open spaces that give this Palazzo an opulent feel while at the same time lending itself to luxurious yet comfortable living.
With finishing touches made by a leading architectural firm — who worked alongside the world-renowned Renzo Piano in the regeneration of the UNESCO World Heritage Capital City of Valletta — this amazing residence has entertaining spaces that can fit entire banquets and receptions (both indoors and outdoors).
In fact, the palazzo has a massive 1,500-square-foot (140 sq. meters) room that can be accessed from the formal garden, pool area, as well as the kitchen. The impressive entertaining space has floor-to-ceiling windows and impressive views of the formal garden.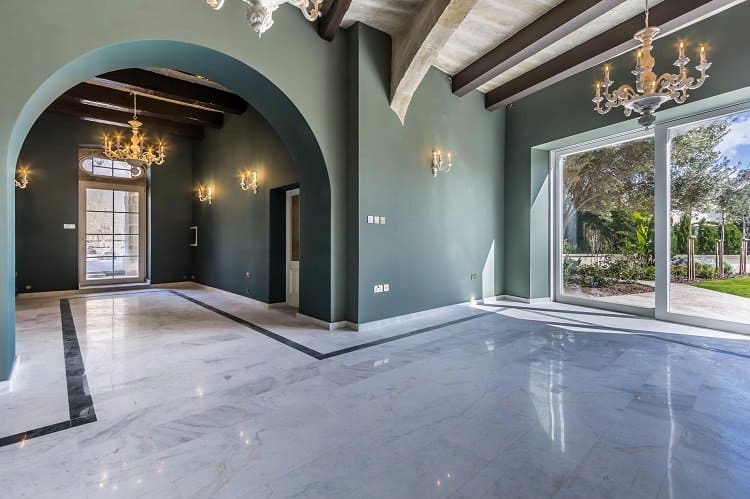 A sweeping driveway leads to the main entrance where you will be greeted with a rush of sophisticated elegance in the form of a beautiful hallway leading onto an open space formal sitting room, a lavish dining room, an informal living room, a mesmerizing state-of-the-art kitchen designed by one of the leading designers in the UK, and a complete guest bathroom.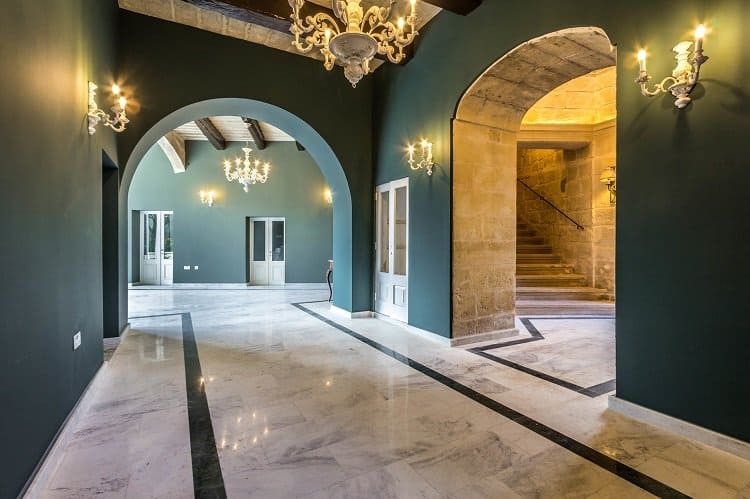 In total, this incredible property comes with 7 bedrooms and 6 bathrooms, and a study that leads out onto yet another terrace overlooking the citrus garden and is directly accessible through a garigor — a traditional winding stone stairwell — which is strategically placed near the main entrance, lending itself to private meetings where guests can enter without the need to go through the main residence. 
There's also a sumptuous master suite with a spacious walk-in closet, gorgeous bathroom and a private terrace overlooking the formal gardens and pool beyond.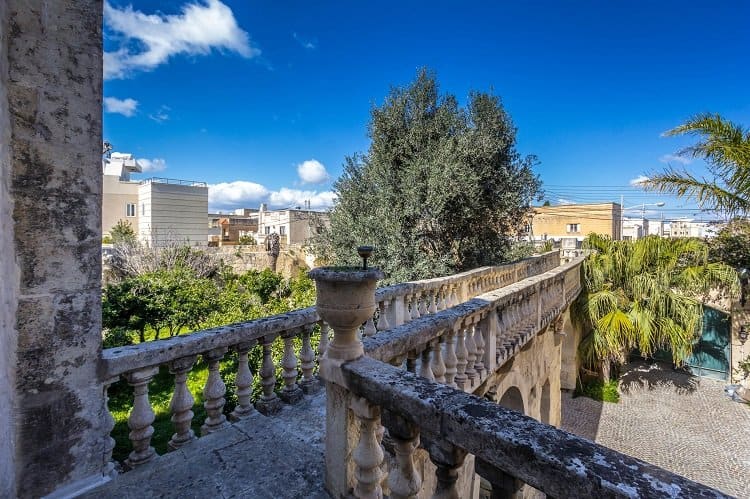 Historic charm meets modern luxury living
Josabeth Cassar, an Agent at Malta Sotheby's International Realty describes the property as a "property of opulence" — and rightfully so.
An entertainer's dream, this Palazzo boasts a gorgeous swimming pool with a salt water filtration system and extensive deck area ideal for entertaining — which comes with an adjoining kitchenettefor preparing drinks and treats for the guests.
Traditional features adorn this property as an authentic stone stairwell leads to the Palazzo's own small chapel.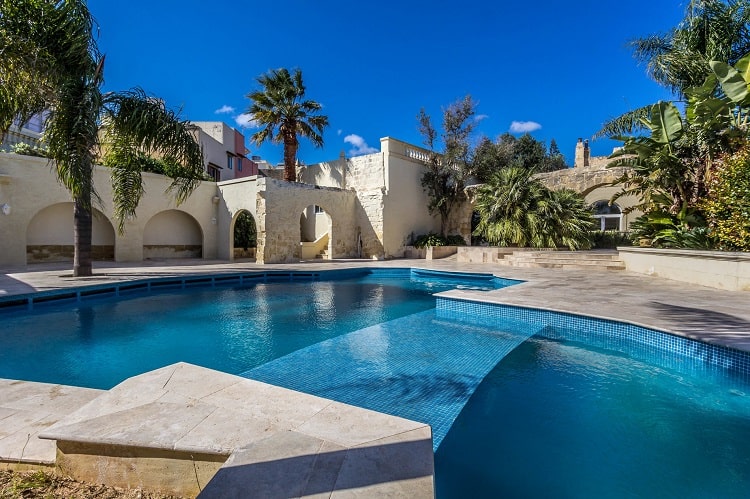 The property has a separate guest flat with three rooms, a dedicated kitchen and its own courtyard, making it the perfect accommodation for visitors or staff quarters. There's also a second study off the formal entrance which could be ideal as a security or house manager's office.
Other amenities worth mentioning: a wine cellar, a carport for six to seven cars accessible through a private lane and a gated driveway along with a state-of-the-art video surveillance system with two separate entrances.
To bring the Palazzo into the modern age, the property has been fitted with a Smart Home KNX system controlling entry points, underfloor heating, air conditioning, internal and external lighting, and a music system ventilation system.
The remarkable conversion of this 17th century palazzo was a labor of love, and it shows. The owners' main goal was to transform this wonderful property into a home that is self-maintained and eco-friendly in all aspects. Old world charm and modern comforts have truly blended together in perfect union and the result is an exceptional home worthy of modern-day royalty.
More luxury international properties
Breathtaking Dolce & Gabbana Villa on Sicily's Idyllic Stromboli Island
German Designer Guido Maria Kretschmer's Spanish Villa in Mallorca
Prince's Beach House in the Caribbean Finds New Owner, Changes Name to Emara Estate
The private homes aboard the NJORD Superyacht