Model/actress Nicole Nagel, best known for her roles in ER and Suddenly Susan has just listed her Brentwood home for $11.995 million. And it's far from your ordinary celebrity home.
Dubbed Constellation 167, the house is an architectural marvel that features a stellar design, standing out like a huge piece of artwork compared to the traditional homes that line the family-friendly neighborhood.
The dome-shaped structure marks the first residence designed by famed architect Eric Owen Moss, who is known for daring and unconventional works.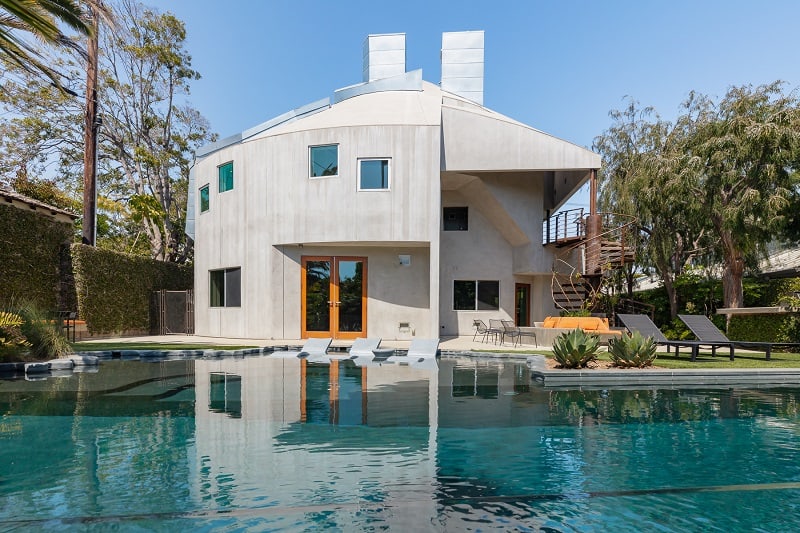 Its striking design has attracted several big names in both screen and publication. The house has appeared in TV shows like Curb Your Enthusiasm and Star Trek. It has also been featured in The New York Times and included in the book 100 of the World's Best Houses.
Nagel won a precedent-setting case against the original homeowners
In 2013, the house garnered attention when Nagel successfully won a legal dispute against its initial owners, who had concealed well-known structural flaws during the property's sale.
According to reports, the original owners knew that the house was suffering from mold and structural damage caused by water but still sold the property without informing Nagel.
In the arbitration, Nagel was granted $4.5 million in compensation, along with attorney's fees. Nagel's case became a precedent and led to additional protections for home buyers and creditors in the state.
Following this, Nagel restored the property thoughtfully, making sure to preserve the home's unique qualities. The reconstruction took four long years to finish but paid off big time, as it increased the house's value by millions more.
Why Constellation 167 is a "love letter to geometry"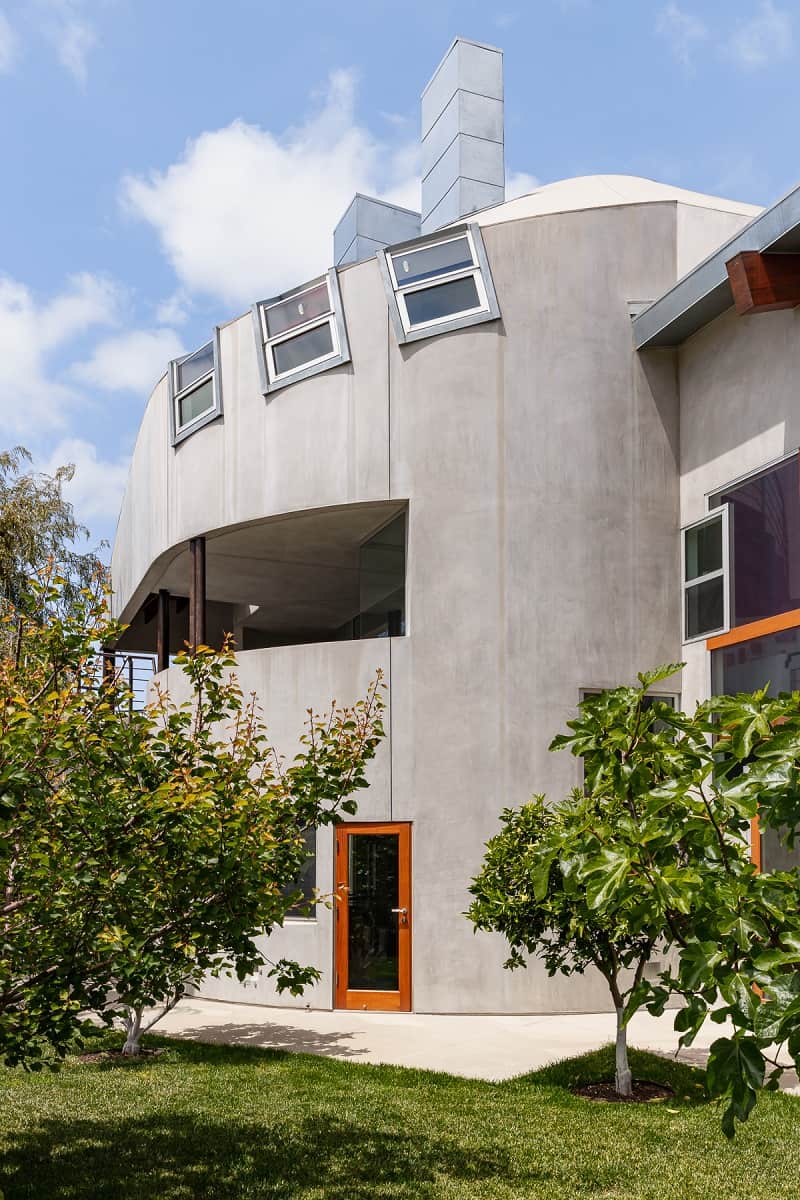 The first-ever residential project by world-renowned and widely published architect Eric Owen Moss, known for his experimental and daring commercial architectural endeavors, the futuristic-looking abode is said to be a "5,476-square-foot love letter to geometry."
From the outside, the house looks more like a contemporary art sculpture than a family home.
Its exteriors showcase edgy details, a stucco finish, tilted windows, and a curved, asymmetrical roofline.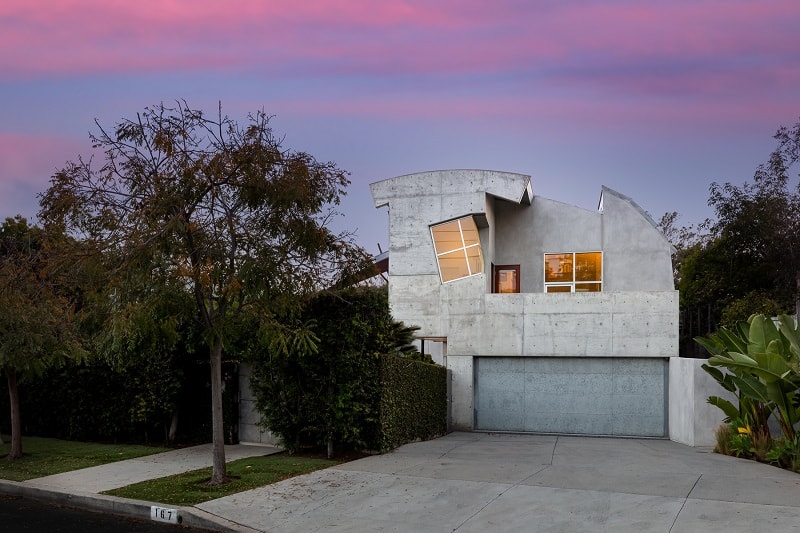 But looks can be deceiving and while its exteriors are avant-garde, the inside offers a lot of coziness.
The interiors boast vast living spaces, with expansive white walls and lots of natural light coming in from its large windows and many skylights. The inside also showcases unique details, with unconventional staircase layouts spread over its levels, uneven pathways, and a jagged steel fireplace.
Throughout the generous 5,476 square feet of living space, we find four bedrooms, five bathrooms, a large dining room, a well-equipped kitchen, and a dramatic 2.5-storey living room.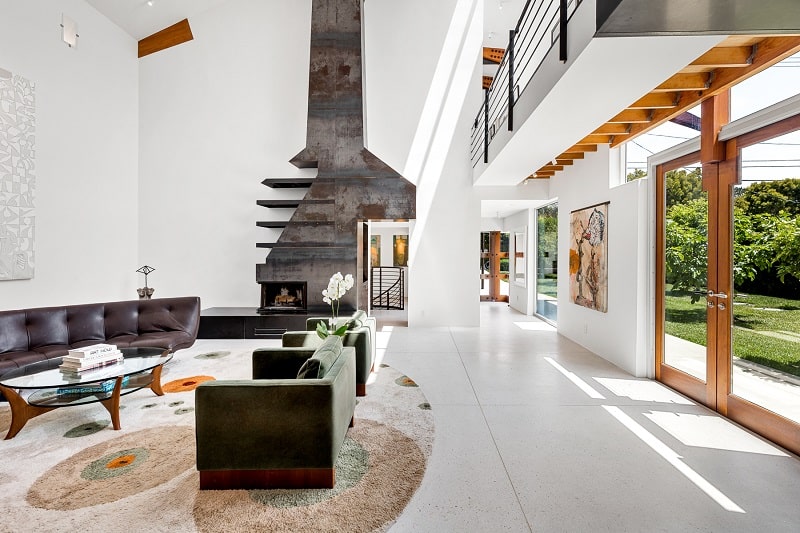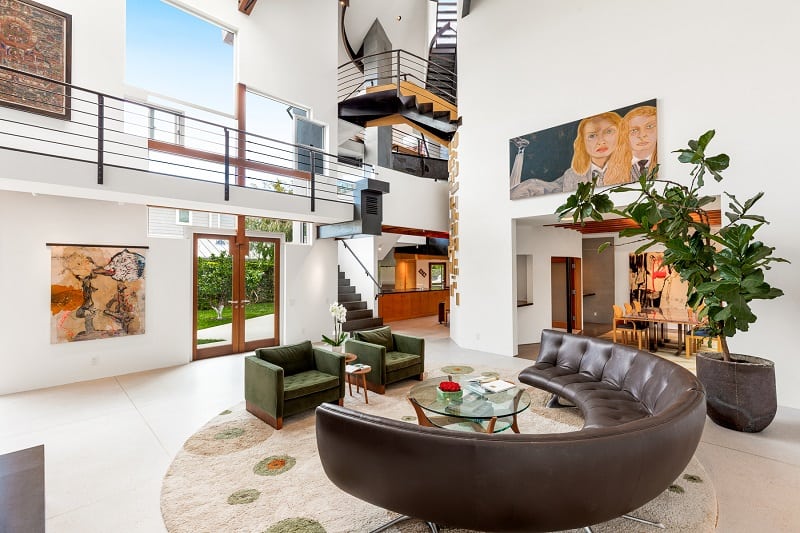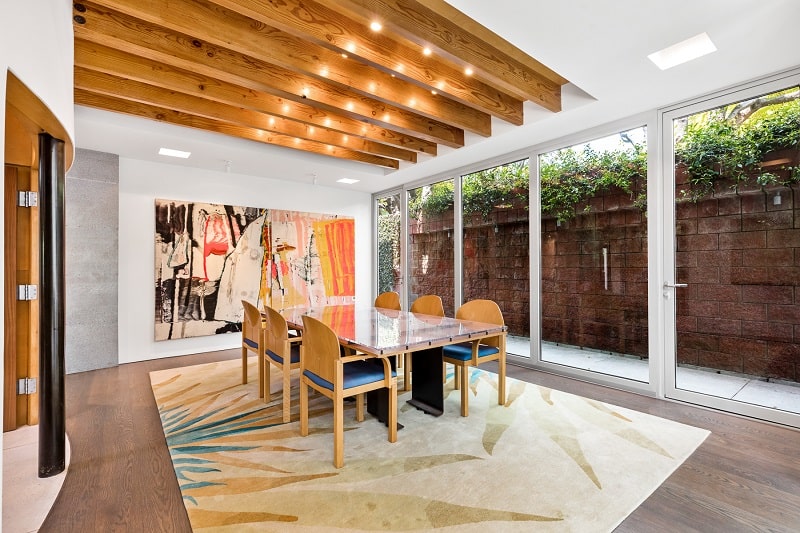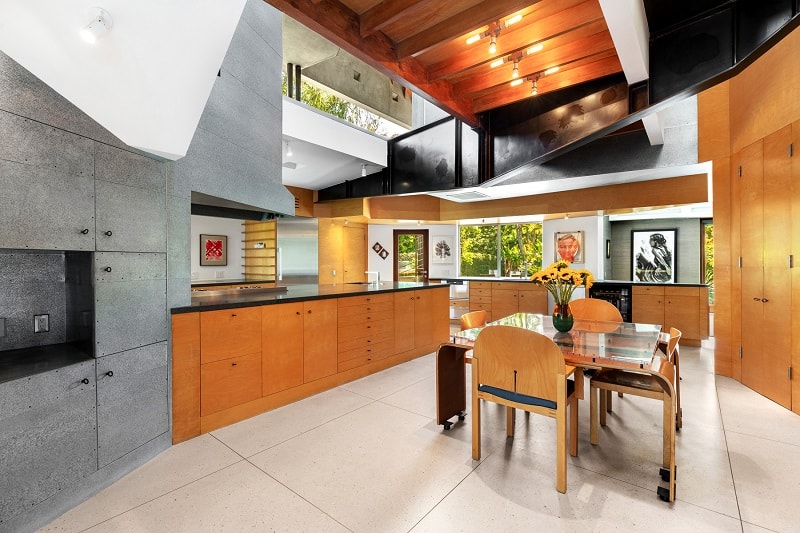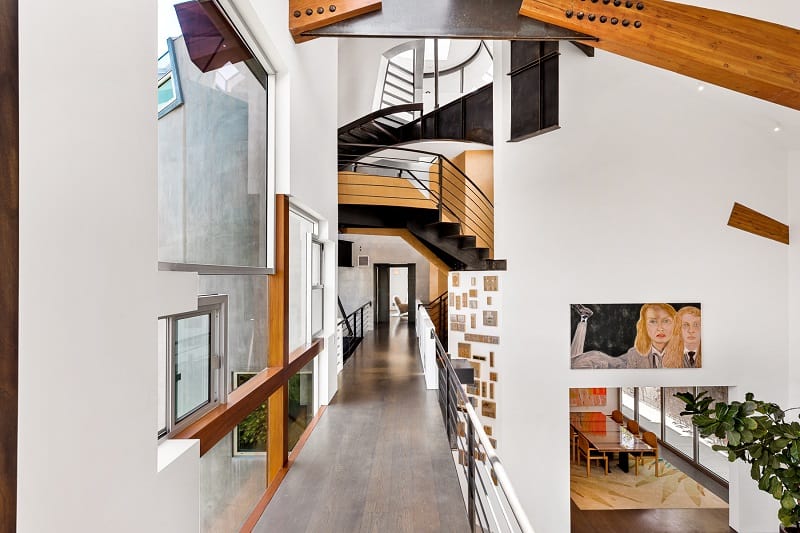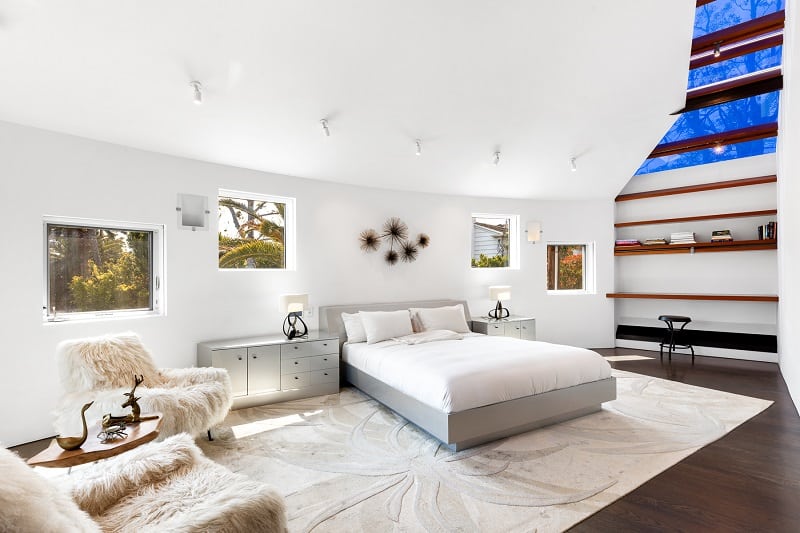 One of its most notable upgrades is the backyard, which has been improved with a lagoon-like swimming pool and a lush forest garden featuring lime, lemon, peach, plum, nectarine, orange, fig, avocado, mango, and pomegranate trees that fill the side yard.
Nagel commissioned Moss to design this special area and the whole thing cost over half a million dollars. The lagoon-style pool also has a jacuzzi and is finished with underwater speakers and drought-tolerant greenery.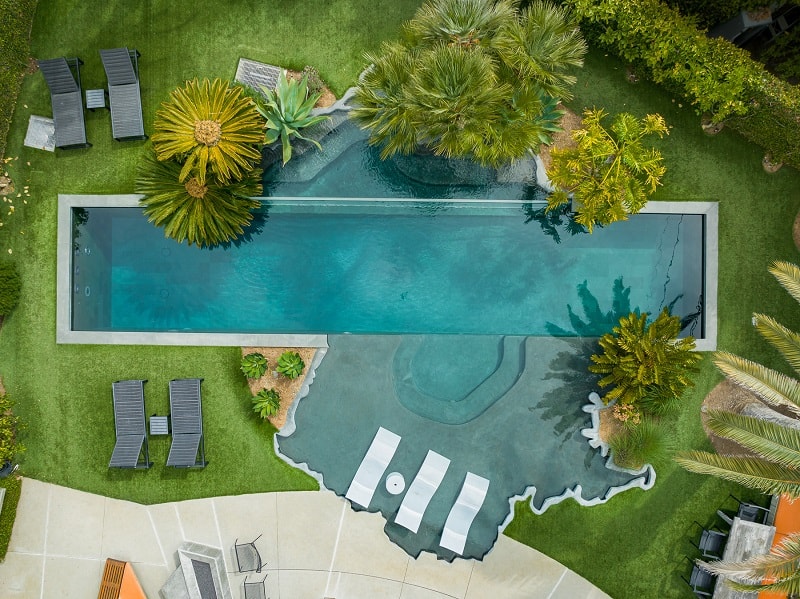 Nagel has described the home as a "meeting of geometrics, many shapes, forms and materials that come together in an extraordinary way. It is truly one of a kind, like a painting. I've seen people walking or driving by pause for a few minutes to take in the architecture and design and try to understand the geometry."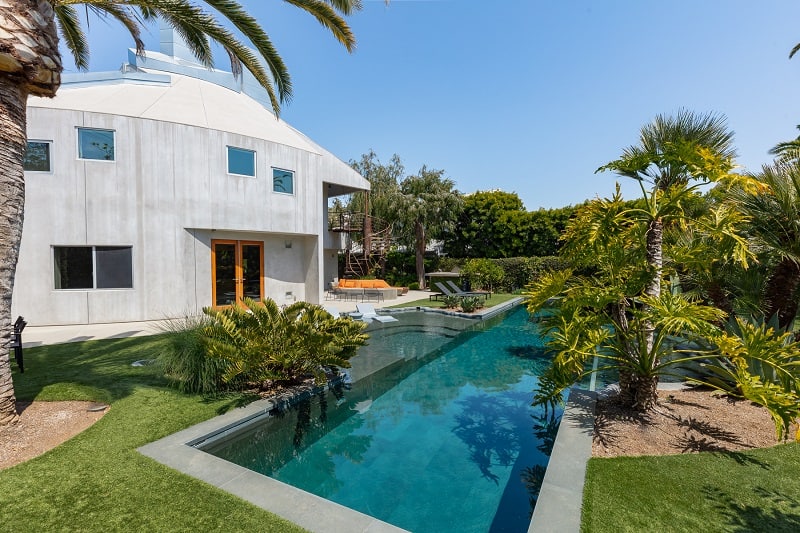 The unique property is listed with Sally Forster Jones and Tamara Bakir with Sally Forster Jones Group at Compass; and Marc de Longeville with Vista Sotheby's.
More stories
Jim Carrey's house in Brentwood gets $2.4M price cut, now listed for $26.5 million
Why Brentwood is one of Los Angeles' most glamorous neighborhoods
Inside Travis Scott's Houses: a $23.5M Ultra-Modern Brentwood Mansion & Hip Houston Pad