One of the biggest entertainers of the past few decades, Jim Carrey's name is most often associated with the iconic roles he's played over the years.
From playing Stanley Ipkiss in The Mask, to Ace Ventura: Pet Detective, The Cable Guy, How the Grinch Stole Christmas, Bruce Almighty, Carrey's name is synonymous with joy and laughter — even though his more serious roles in movies like Eternal Sunshine of the Spotless Mind earned him great critical acclaim.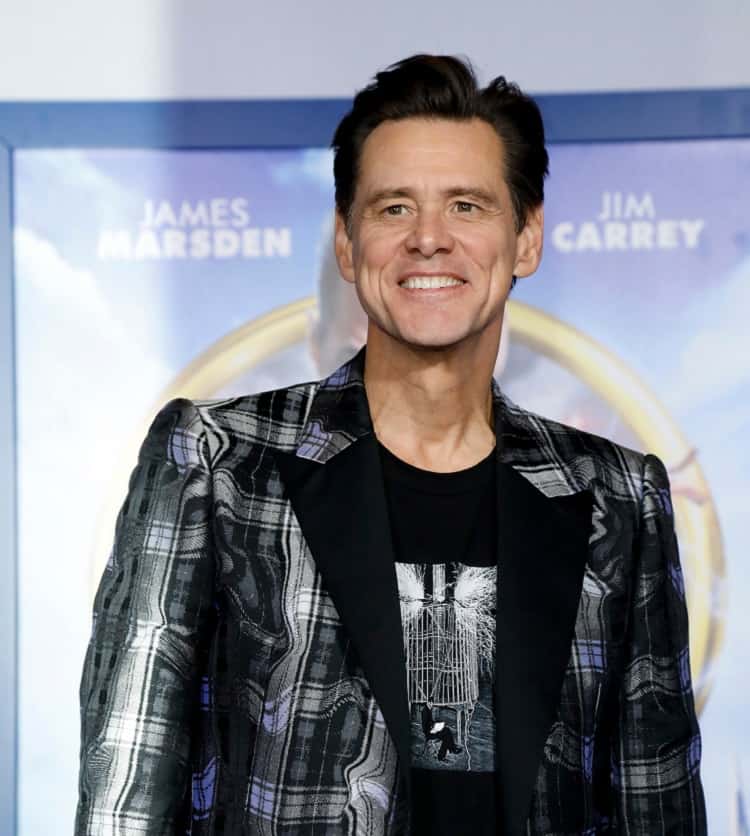 If you've ever wondered what Jim Carrey's home looks like, now's your chance. You're about to get a sneak peek inside the famous Hollywood actor's Los Angeles home of 30 years.
But, it won't be his home for much longer, because he's put it up for sale.
Initially listed for a whopping $28.9 million in early February with Janelle Friedman of Sotheby's International Realty, the funnyman's longtime home has since seen its price slashed to $26.5 million.
The Wall Street Journal was the first outlet to report on the property, with Carrey telling the Journal that the home has served as 'a place of enchantment and inspiration' for him since he first bought it back in 1994.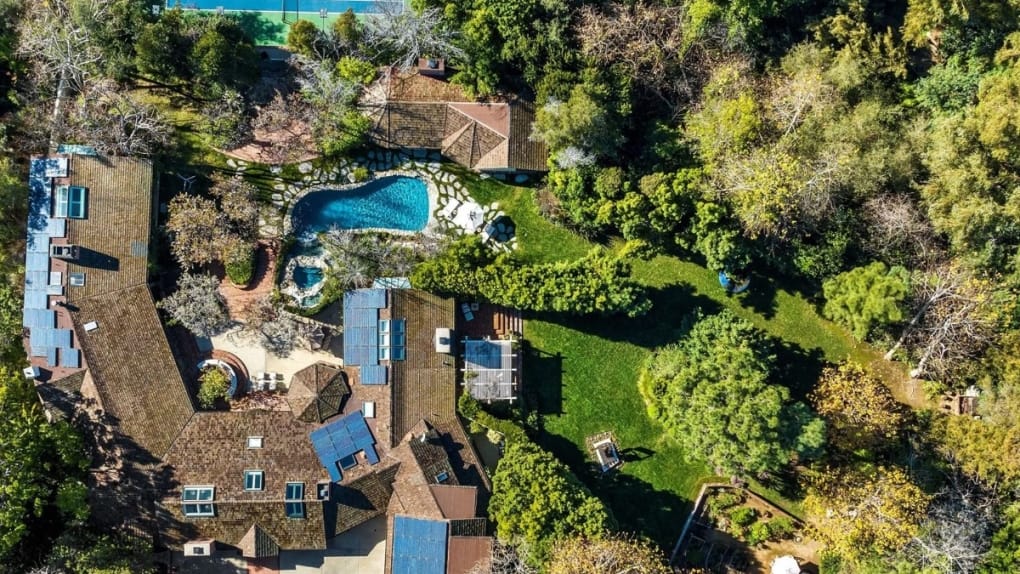 He described how 'every night, the owls sang me lullabies and every morning I sipped my cup of joe with the hawks and hummingbirds, under a giant grandfather pine.'
However, the A-list actor and comedian doesn't spend much time there nowadays, and wants someone else to enjoy it. Carrey told the Journal that he's ready for 'Ch-ch-ch-changes!,' as David Bowie once put it.
Jim Carrey first purchased the house on Tigertail Road in L.A.'s posh Brentwood neighborhood in 1994, around the time of the release of Ace Ventura: Pet Detective.
At the time, he paid $3.8 million for the ranch-style property, which would translate to roughly 7.7 million today. That's nowhere near the $26.5 million price tag the property is asking for, but there's a reason why it's so pricey. 
The 12,704-square-foot home features 5 bedrooms, 9 bathrooms, and sits on 2 acres of land. It's set behind more than 280' of hedged frontage, making it a perfect choice for celebrities looking for some peace and quiet.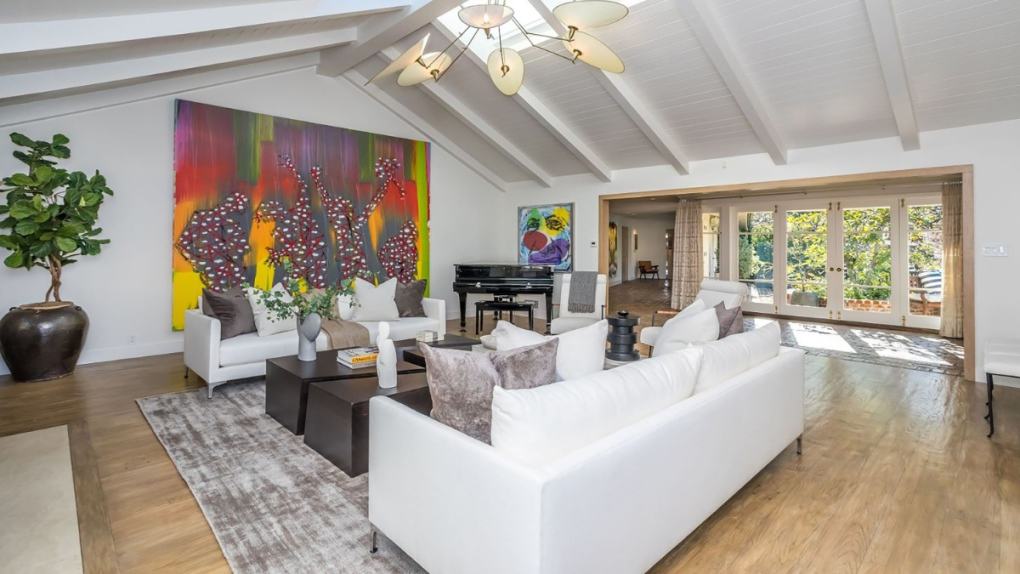 It was originally built in 1951 as a one-story, ranch-style property with loads of privacy.
The interiors are open, airy, and flooded with natural light, and the living, dining, and family rooms offer beautiful views and are ideal for small family gatherings or nights spent with friends. There are a total of 5 fireplaces in the house, and numerous glass doors that open to a spacious courtyard patio.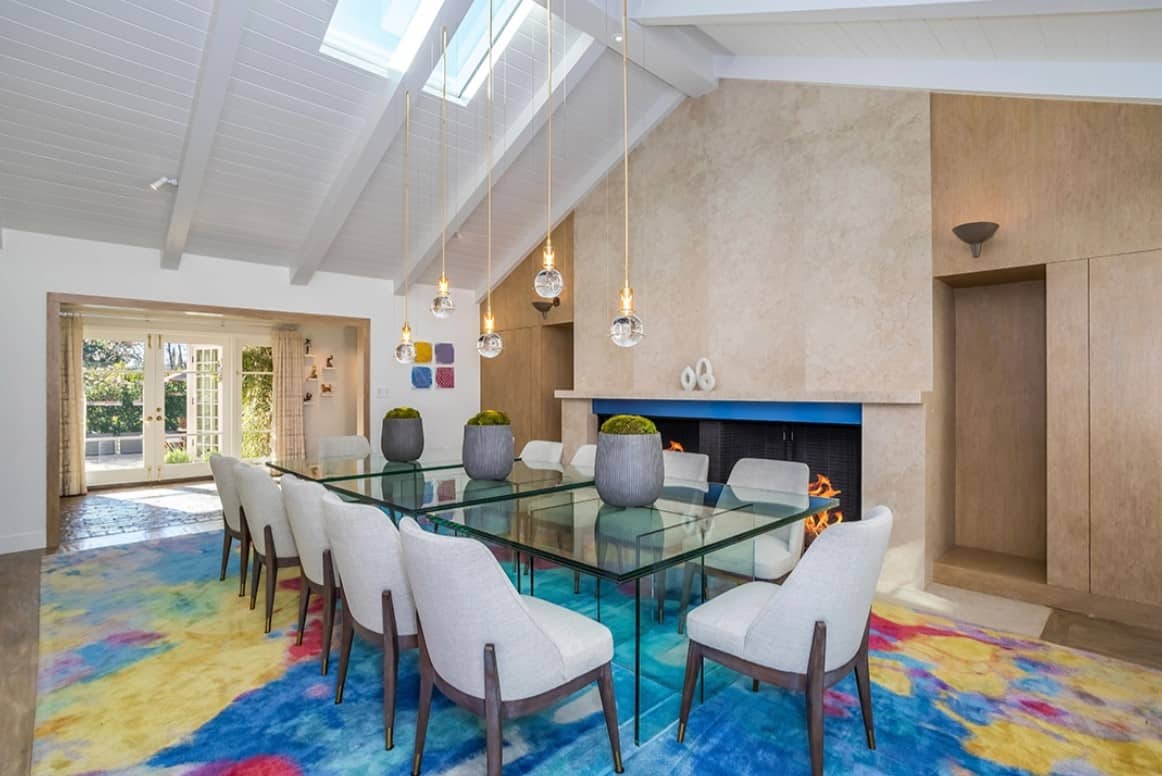 The chef's kitchen features ample cabinetry and high-quality appliances, as well as an indoor BBQ and a circular breakfast room overlooking pear trees. 
SEE ALSO: Adam Sandler's house was a $12 million gift for his wife, Jackie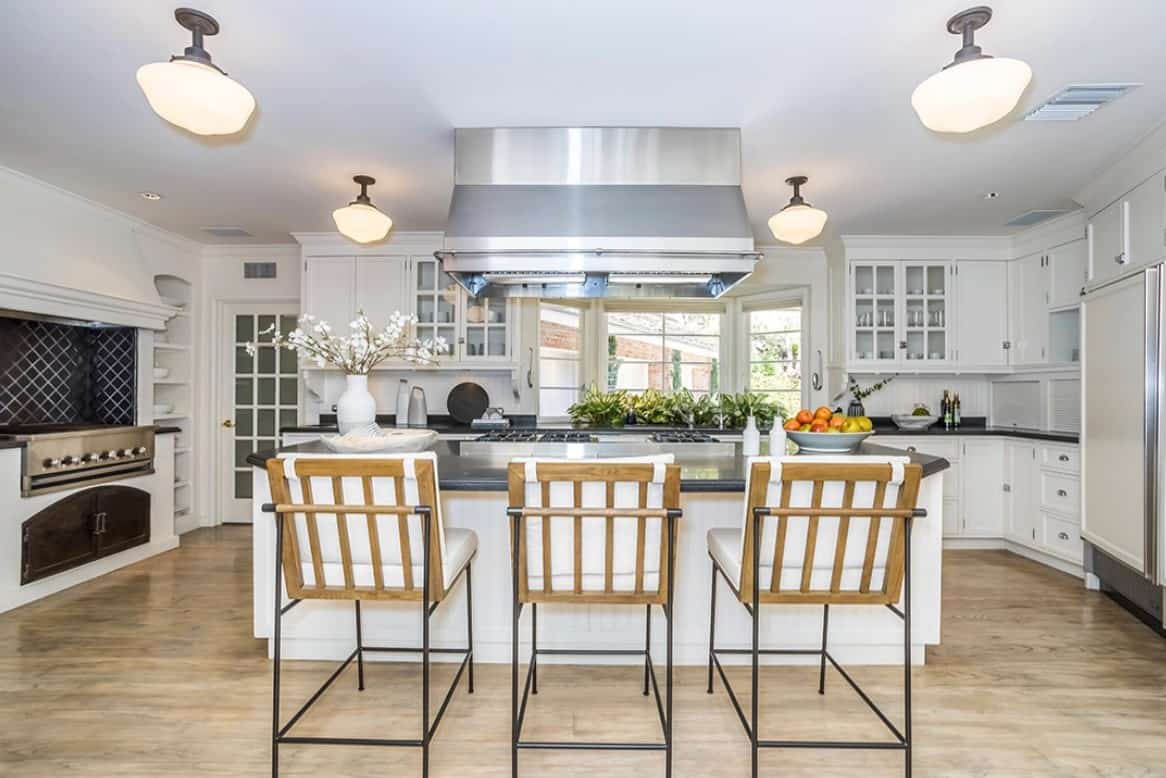 The owner's suite also features a fireplace and a cozy sitting area, as well as a private, covered balcony with views of the entire property. The suite also incorporates a wonderful wood-paneled bath with a fireplace and a soaking tub – perfect for unwinding after a long day.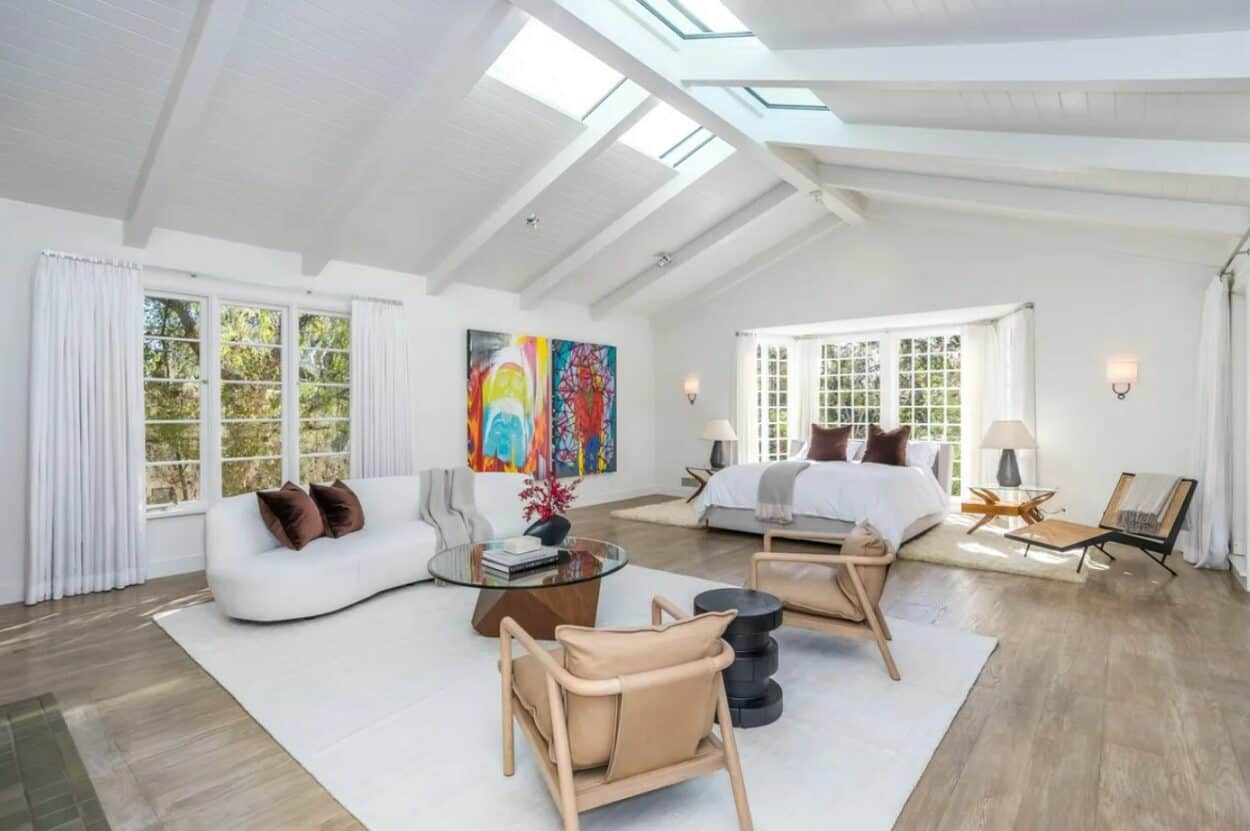 Amenities at Carrey's home include central air, a large gym, a home office, and ensuite secondary bedrooms. But the most fascinating room of the house is the Art Deco theater/screening room, which is decorated with some of Carrey's beloved costumes from his iconic movies.
They include the Santa Claus costume from The Grinch, as well as his Riddler costume from Batman Forever, among other trophies and memories. Unfortunately, those don't come with the house…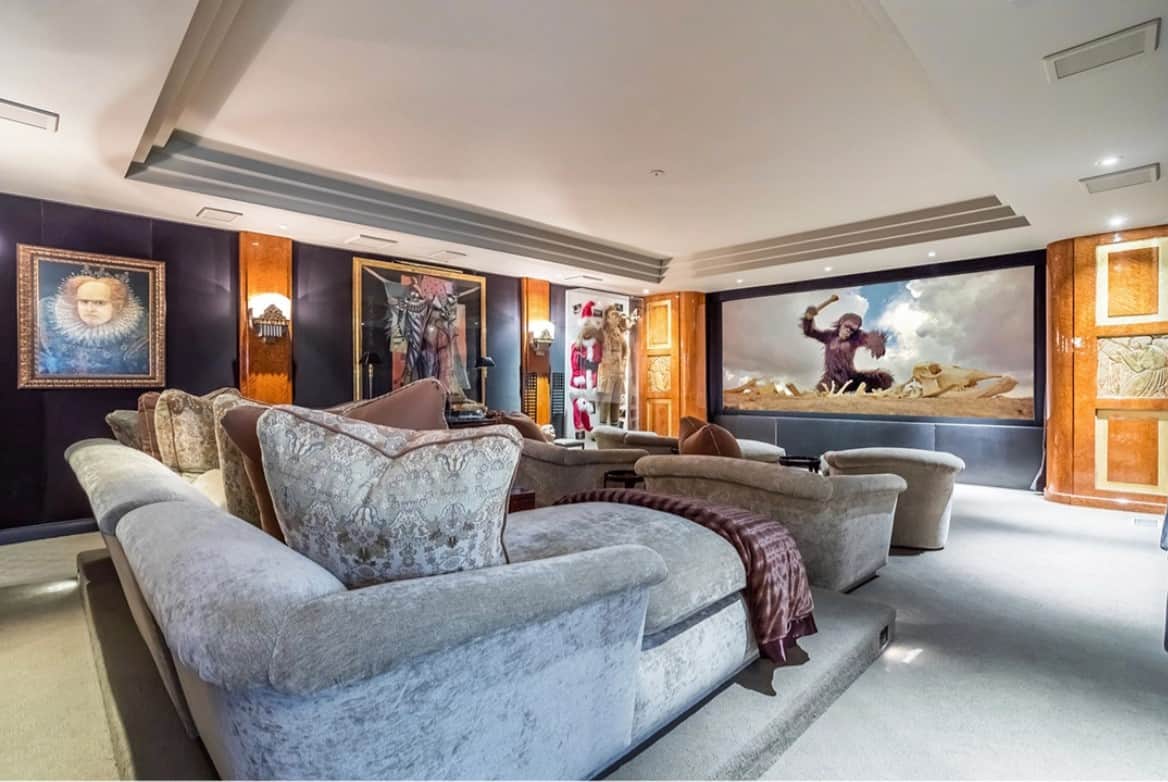 Outside, there are 2 acres of lush landscaping, with mature trees, a waterfall pool and spa, a pool house with a bar, a fireplace, a north-south tennis court, a vegetable garden, a yoga/meditation area, and a separate infrared sauna and steam rooms.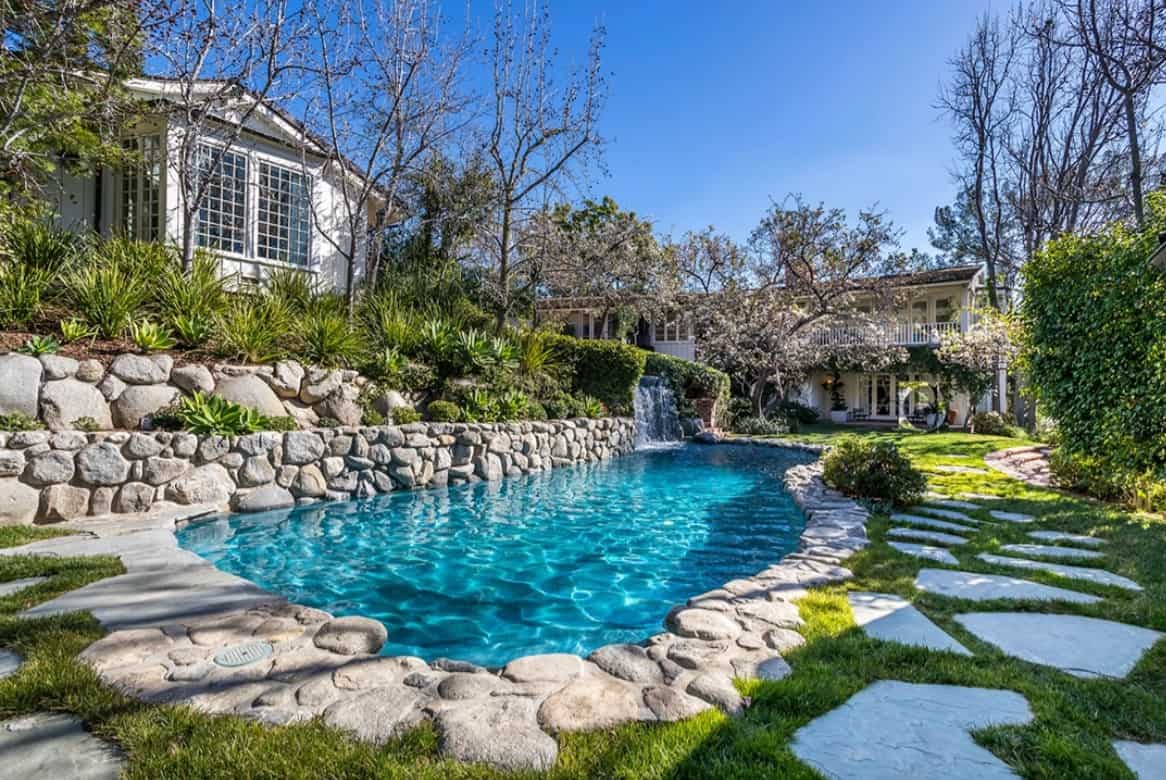 This is a one-of-a-kind property that doesn't hit the market very often, and a once-in-a-lifetime glimpse inside the home of one of the most legendary artists of our time.
For $26.5 million, one lucky buyer could join the high-profile roster of Brentwood residents, which includes names like Arnold Schwarzenegger, LeBron James, Travis Scott, or Tobey Maguire.
More celebrity homes
Inside Mark Wahlberg's house, a stately $79.5M mansion in Beverly Park
Sandra Bullock sells 91-acre compound with organic avocado, citrus orchards for $5.6 million
Michael B. Jordan's house hits the market for $12.995 million
Bob Hope House in Palm Springs, an architectural masterpiece