Adam Sandler might be known as the king of laid-back fashion but when it comes to his real estate portfolio, this funnyman does not play around.
The 56-year-old actor, best known for his comedic roles in timeless flicks like Big Daddy, The Waterboy, Happy Gilmore, Mr Deeds, The Longest Yard, Grown Ups, is now starring in the hyped Netflix-made action-comedy Murder Mystery 2, which reunited him with his co-star, former FRIENDS actress Jennifer Aniston.
But his foray into drama didn't go unnoticed either, with Sandler's masterful performance in the Safdie brothers' Uncut Gems (2019) gaining him widespread critical acclaim, with several critics deeming it the best of his career. He followed that up with a nuanced performance as a weary, unfulfilled scout in 2022's Hustle, earning further praise for his dramatic delivery.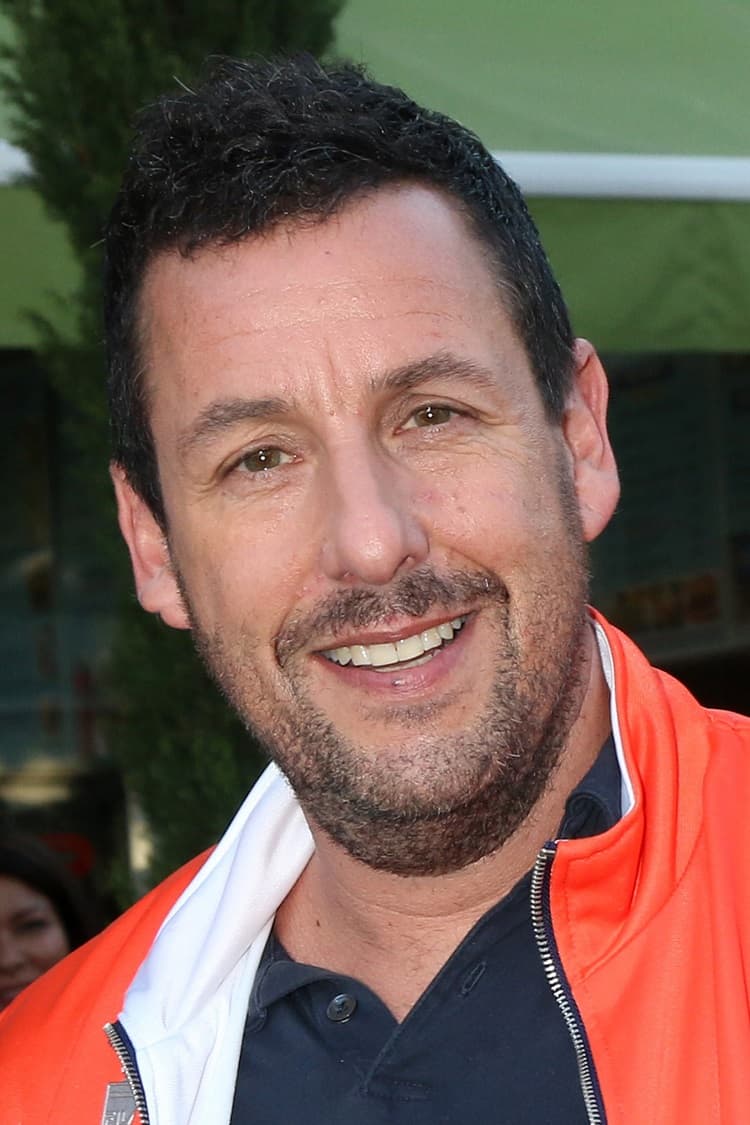 Given his thriving acting career, it's no wonder that the prolific actor has amassed an impressive array of properties amounting to well over $40 million — and that's in the Los Angeles area alone!
With countless successful movies under his belt and a net worth of over $400 million, Sandler has been collecting prime properties all over the country, with purchases to grow his investments and others driven by matters of the heart.
That's right, it turns out that the funnyman is quite the romantic! For proof, look no further than the actor's main residence in L.A., bought specifically to make his wife happy.
Adam Sandler's house, formerly owned by Goldie Hawn and Kurt Russell, was bought as a gift for his wife, Jackie
His main residence in Los Angeles is a token of love for his wife, Jackie Sandler.
According to reports, Adam bought the house simply because his wife was in awe of the mansion, which was formerly owned by the legendary Hollywood couple Goldie Hawn and Kurt Russell.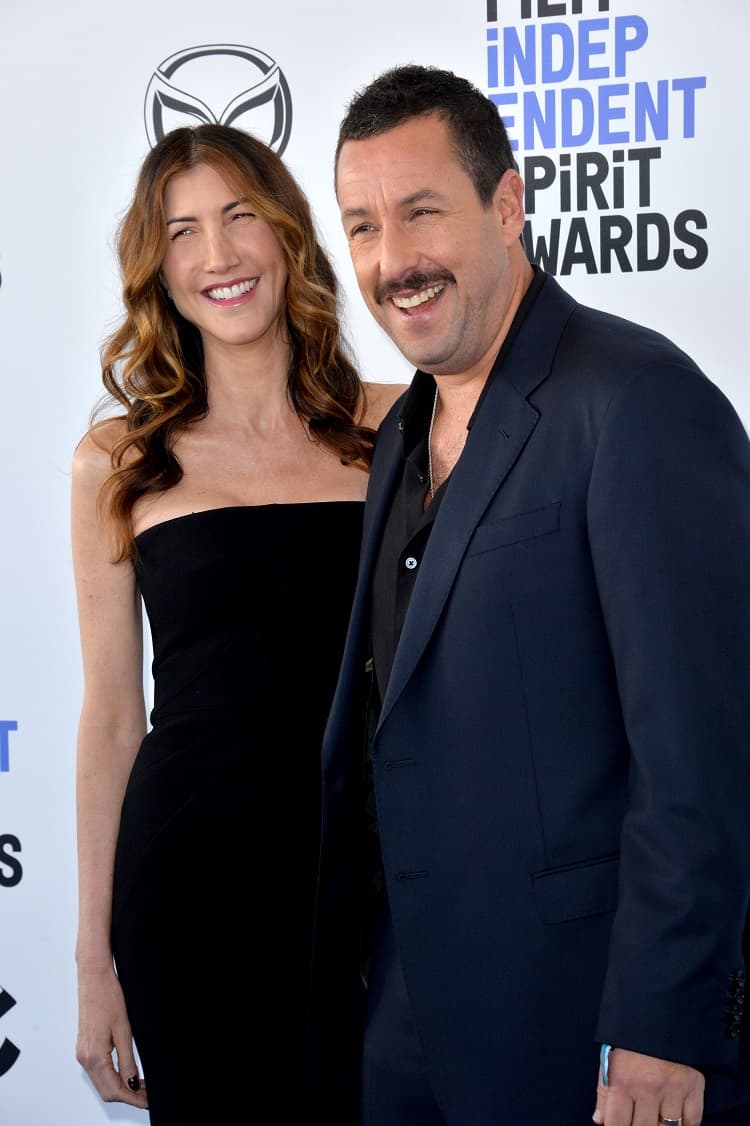 The Sandlers attended a New Year's Eve party in the mansion back in 2004 and Jackie just fell in love with it. Without even seeing beyond the kitchen, Sandler snagged the property before it ever officially hit the market.
Adam explained that Erin, the wife of Goldie's son, Oliver Hudson, is best friends with Jackie. They attended the New Year's eve party and he heard his wife longing for the house.
SEE ALSO: Robert Downey Jr.'s unconventional houses are a sight to behold
"I was sitting in the kitchen having a nice time and we were looking for a house and my wife was like, 'I want this house'," reports Express. "Goldie was selling it and I don't like to look around too much and so I was like, 'Alright, you want it, let's get this one'."
Adam then dropped a cool $12 million for the Pacific Palisades mansion — a grand gesture that his wife surely loved!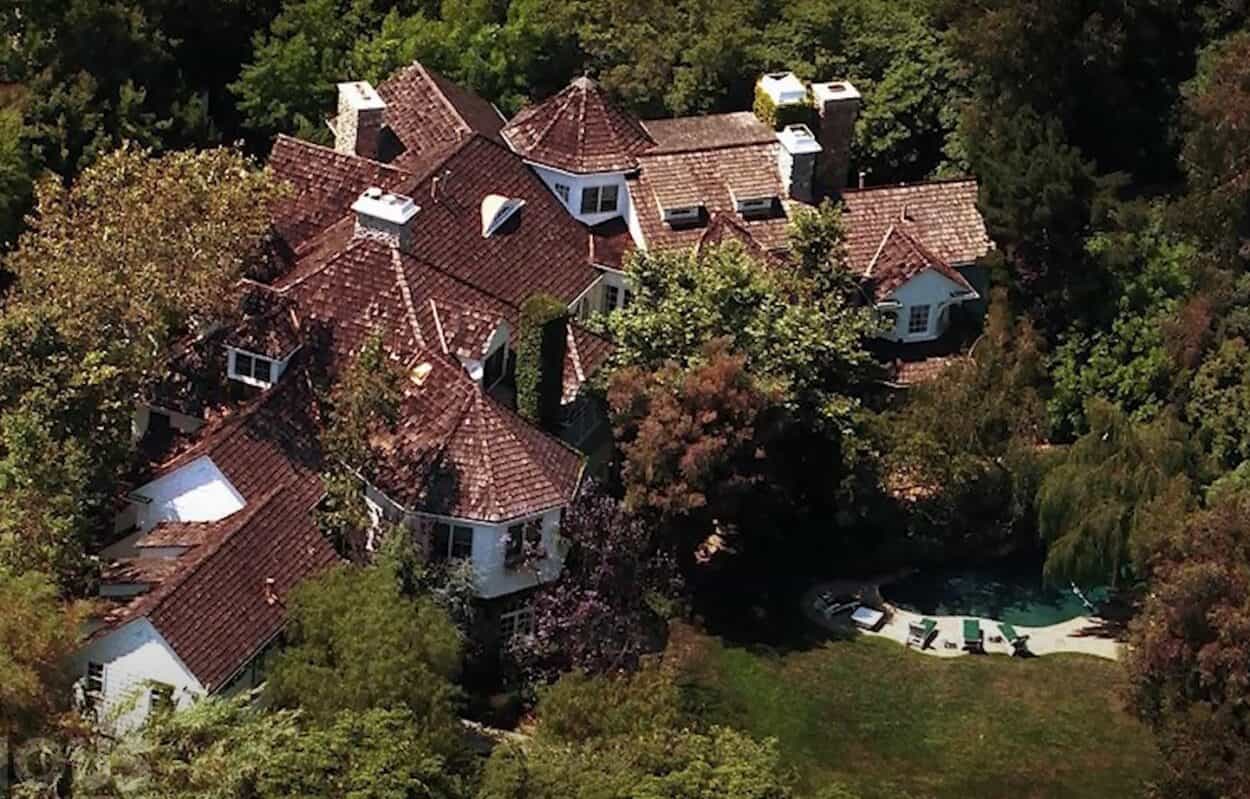 The sprawling mansion boasts 13,000 square feet of space, with 14 bedrooms and 7 bathrooms.
The property was originally built in 1990 and sits on an exclusive street in the affluent neighborhood of Pacific Palisades, set about 20 miles west of Downtown Los Angeles.
The estate has a huge backyard that's lined with tall trees and landscaping in all corners. Sandler also later purchased the adjoining 4-bedroom house, which is almost 4,000 square feet, bringing the total of the combined properties to about $28 million.
The expansive property boasts stunning outdoor amenities. There's a pool, spa, and a sports area with a basketball court for Sandler, who loves shooting hoops with his famous friends. The massive backyard is also perfect for hosting guests and the Sandler's extended family, who often stays with them.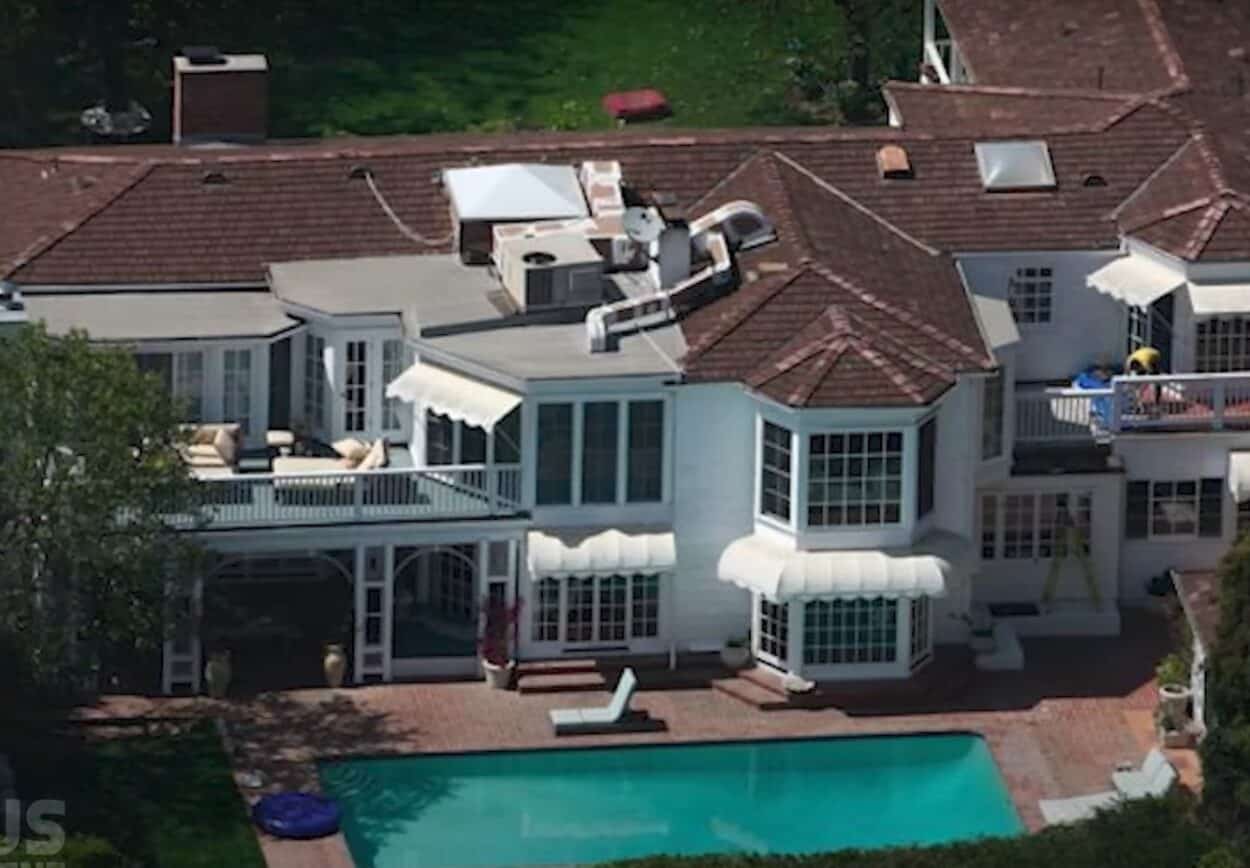 As the mansion is located in an exclusive area, Adam and his family can enjoy the privacy that they need. Some of his famous neighbors include Steven Spielberg, Arnold Schwarzenegger, Tom Hanks, and Rita Wilson.
The couple also bought a more modest home in the same neighborhood
The actor's latest acquisition is a surprisingly modest home in Los Angeles. Located in the same affluent Pacific Palisades neighborhood, near his main residence, the 1,840-square-foot house is set on a corner lot of a cul-de-sac.
Sandler spent $4.1 million for the traditional ranch-style home, which has three bedrooms and two bathrooms. 
WEDDING SINGER TURNED FLIPPER! I got your market slow down right here, baby! Funny guy, Adam Sandler just dropped $4-Mil for a tear down in Pacific Palisades, upping his real estate portfolio to $40-million! Way to "Hustle," Adam! #marinorealestate https://t.co/AuEtdLxna8

— Mark Marino | Realtor (@MMarinoRealty) October 11, 2022
The charming abode was originally built in 1947 but has since been updated with a more modern style. Its exterior displays a rustic design, white wooden shingles, blue shutters, and a blue front door. The front of the house is lined with perfectly manicured hedges and a grassy lawn.
Inside, the home has beautiful hardwood floors and white molding on the walls. The spacious living room has a big fireplace and the formal dining room features a candle-style crystal chandelier.
The all-white kitchen looks simple but elegant, with white stone table countertops and stainless steel appliances. Its primary bedroom is equipped with a roomy bathroom with dual vanities, a shower, and a bathtub.
SEE ALSO: Inside Mark Wahlberg's house, a Beverly Park mega-mansion that just sold for $55M
The fenced backyard is the perfect place to host small barbecue parties. It even has a lemon tree in the center to provide shade for guests.
The actor owns quite a few vacation homes
When the Sandlers need a break from their regular routine, they head over to one of their many vacation homes. They have a lovely beachfront property in celebrity-friendly Malibu, which isn't too far away from their main house. Adam, Jackie, and their kids are often spotted vacationing in this area.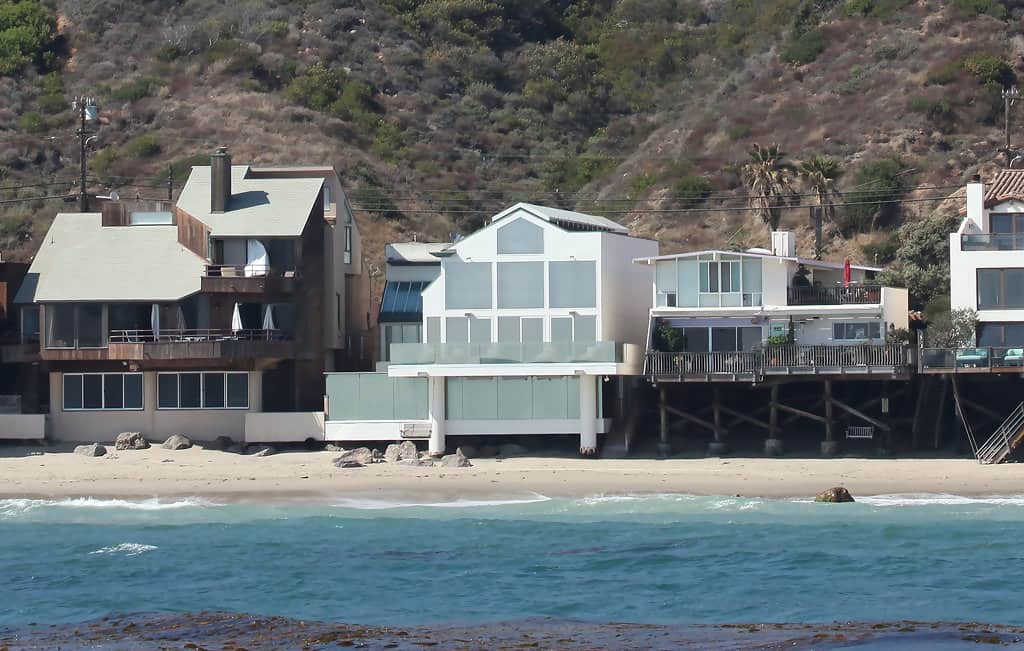 He purchased the property in 2001 for less than $4 million and its value has now increased to an estimated $6 million. It was originally built in 1947 and has 1,315 square feet of space.
The gorgeous beach house has three bathrooms and three bedrooms, with a large patio for entertaining friends and family. With large glass windows, the house also offers wonderful views of the beach.
Sandler has another beachfront property in the Highland Beach area of Boca Raton, Florida. It has been speculated that the 2,600-square-foot condo was actually bought for his mom. Another generous gift from the Sandman!
More stories you might like
Robert Downey Jr.'s unconventional houses are a sight to behold
See Gwyneth Paltrow's house in Montecito, her "Forever, Forever Home"
Jim Carrey's house of 30 years is now on the market for $29M
Dwayne 'The Rock' Johnson's house is a striking $27.8M mansion