After a year-long run on the market, Mark Wahlberg's mansion — set in the most exclusive enclave on the West Coast, North Beverly Park — finally found its new owner.
An unnamed buyer paid $55 million for the palatial abode, which offers 30,500 square feet of living space, 12 bedrooms, and 20 baths, along with an endless list of amenities (which we're going to delve into in just a bit).
And while the final selling price is impressive, to say the least, it's a major discount from the property's initial asking price. Wahlberg's house was first listed in early 2022 for a whopping $87.5 million before the price was reduced to $79.5 million late last year.
The palatial abode of one of Hollywood's biggest stars
With an estimated net worth of $400 million, Mark Wahlberg is one of Hollywood's richest stars.
The actor first broke into the public scene back in 1991 with his hip-hop group, Marky Mark and the Funky Bunch, before moving on to a widely successful movie career.
Shaking off the Marky Mark moniker, Wahlberg became a household name, starring as a leading man in blockbuster movies spanning genres like comedy, drama, and action movies.
From modern-day classics like The Big Hit (1998), Three Kings (1999), Planet of the Apes (2001), and The Italian Job (2003), to recent blockbusters like Transformers: Age of Extinction (2014), Pain & Gain (2013), and Spenser Confidential (2020), Mark Wahlberg won fans over with his witty comebacks — which also delivered fan-favorite comedic performances in movies like Daddy's Home (2015), Ted (2012), and their sequels.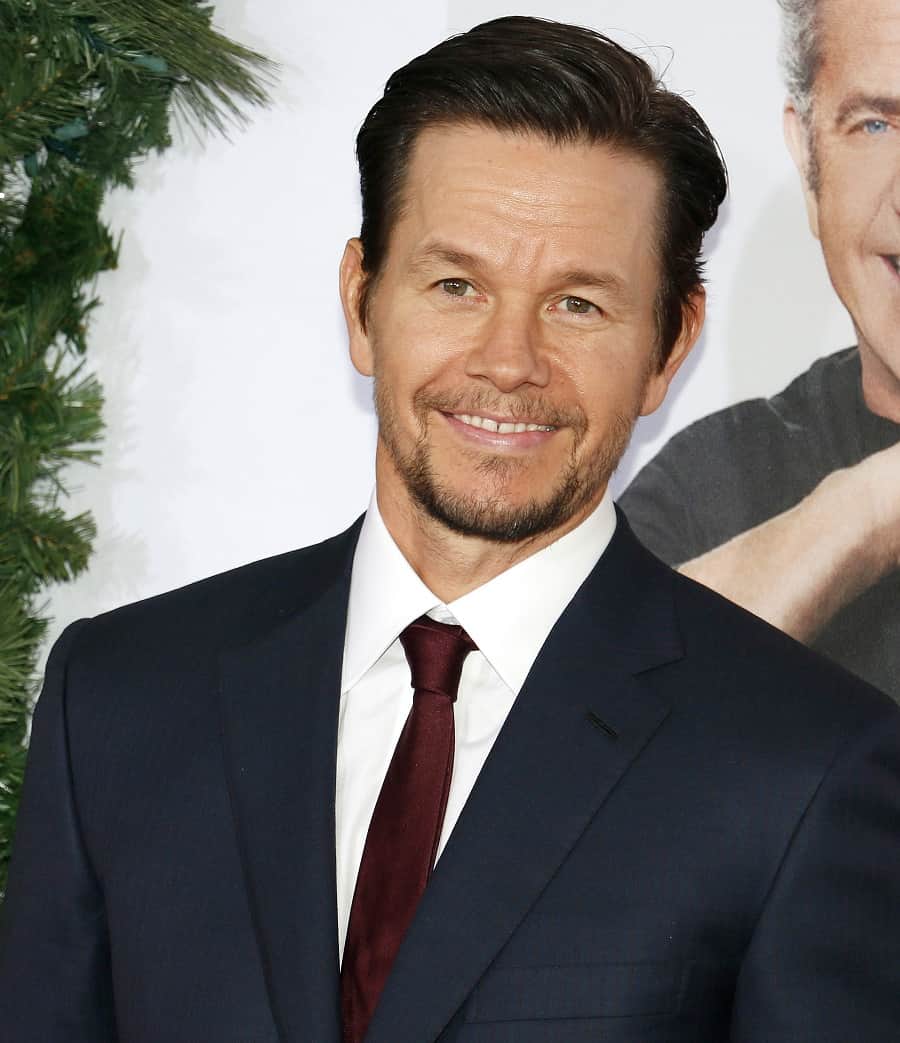 Starring alongside Hollywood's biggest names, including George Clooney, Denzel Washington, Will Ferrell, Anthony Hopkins, Mila Kunis, Dwayne 'The Rock' Johnson, Christian Bale, and Charlize Theron, among others, the former rapper/underwear model has received multiple accolades for his performances.
These include a BAFTA Award for Entourage, and nominations for two Academy Awards (The Departed, The Fighter), three Golden Globe Awards, nine Primetime Emmy Awards, and three Screen Actors Guild Awards.
Beyond his stellar acting career, Wahlberg also served as an executive producer for some widely successful HBO series, including Entourage, Boardwalk Empire, and Ballers.
But his business endeavors extend beyond the movie & TV scene. He owns two production companies, a water company, a clothing line, gym brand (F45), and he's also a co-owner of the Wahlburgers chain alongside his brothers, Paul and Donnie Wahlberg — though this too seeps into his acting career, as the actor starred in the reality TV series Wahlburgers, centered around it.
Needless to say, an endless list of achievements — paired with million-dollar earnings — have cultivated Mark Wahlberg's taste for luxury and fine living.
And if his $2 million car collection or his luxury watch collection (consisting mostly of Rolex and Patek Philippe timepieces) won't convince you of that, his palatial house in Los Angeles' most exclusive neighborhood will do the trick.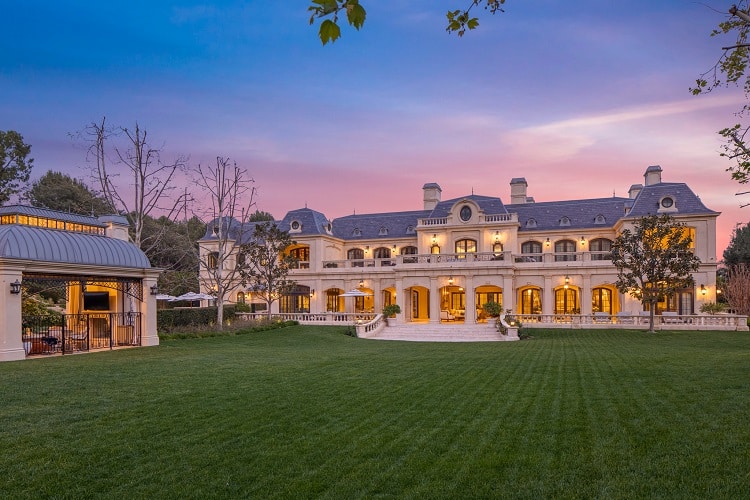 Mark Wahlberg's house, a Richard Landry-designed mega-mansion that up until recently was on the market asking a mindboggling $79.5 million, has found its new owner with a buyer swooping in to take it off the Uncharted actor's hands at a major discount.
Mark Wahlberg's house, a palatial mansion in L.A.'s most exclusive enclave that just sold for $55 million
While celebrities notoriously live in sprawling multi-million-dollar homes with the finest amenities and more rooms than we can count, Mark Wahlberg's house is so out-of-this-world that it puts even the most expensive celebrity homes to shame.
Built in 2014, the chateau-like home sits on a sprawling 6-acre lot in North Beverly Park, the most exclusive gated community in Los Angeles — if not the entire West Coast.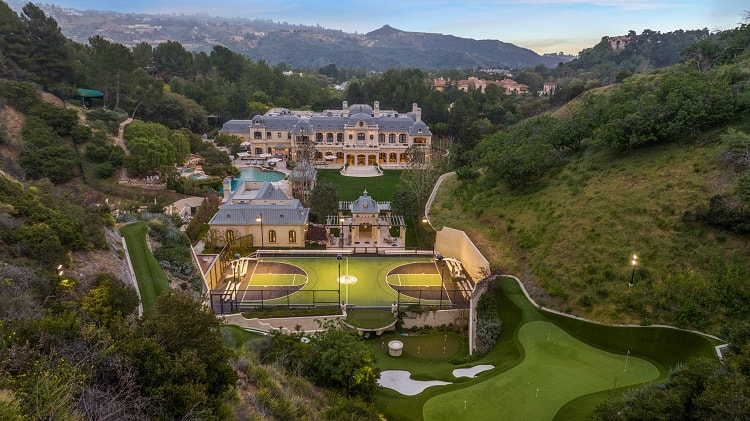 The land alone is worth a pretty penny, as it's one of the biggest parcels of land in the upscale Beverly Park community, which is home to countless A-listers and business moguls.
To put things into perspective, a 2.9-acre undeveloped plot of land in Beverly Park (less than half the size of Wahlberg's property) was listed last year for $29.5 million — which amounted to roughly $10 million/acre.
The mansion was designed by Canadian architect and celebrity-go-to designer Richard Landry, who is known for creating residential masterpieces for some of the biggest names in Hollywood, all palatial abodes that have rightfully earned him the moniker of 'King of the Megamansion'.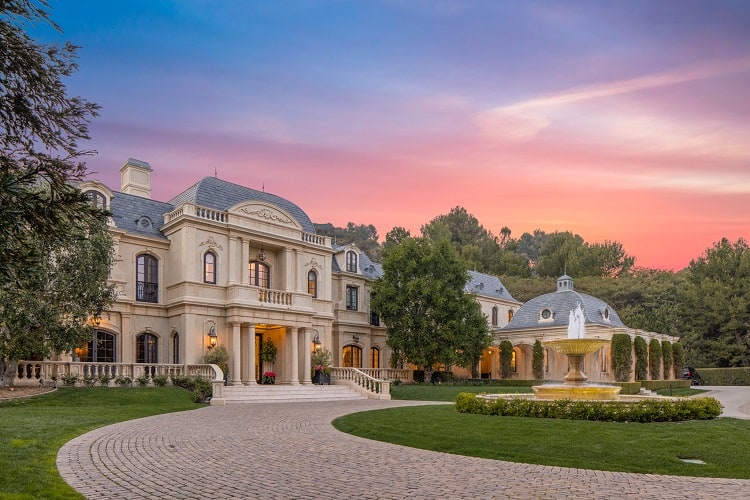 Taking inspiration from old European châteaux, Landry built an imposing structure that oozes luxury and sophistication both inside and out.
Wahlberg's mansion has 12 bedrooms and 20 bathrooms
Matching the grandeur of the property's grounds, the mansion itself offers an impressive 30,500 square feet of luxuriously appointed living space.
Visitors are greeted by a 2-story entry lobby that leads to the stunning living room and dining room, where coffered ceilings loom over the several fireplaces and arched doors.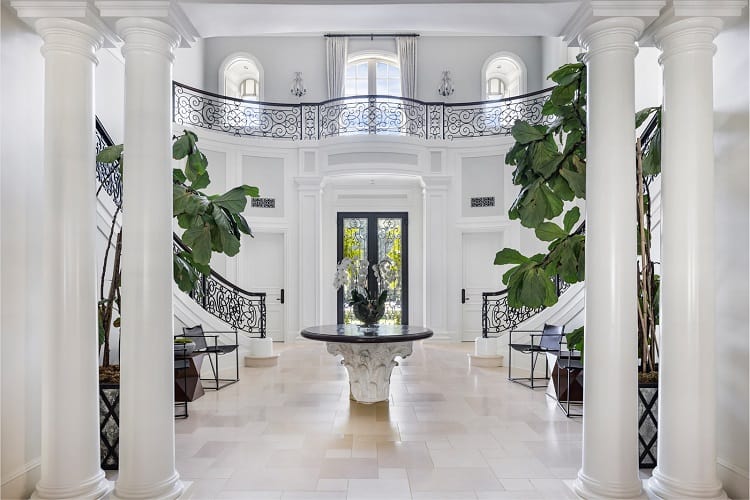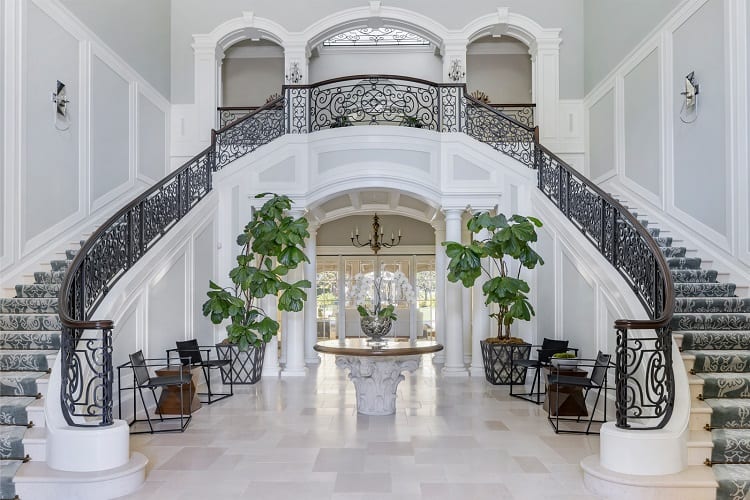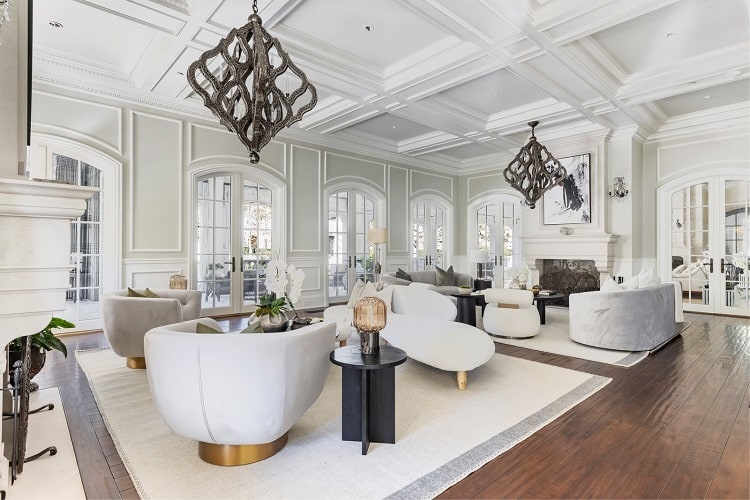 SEE ALSO: Mark Wahlberg's former home — with a two-story gym — wants $28.5 million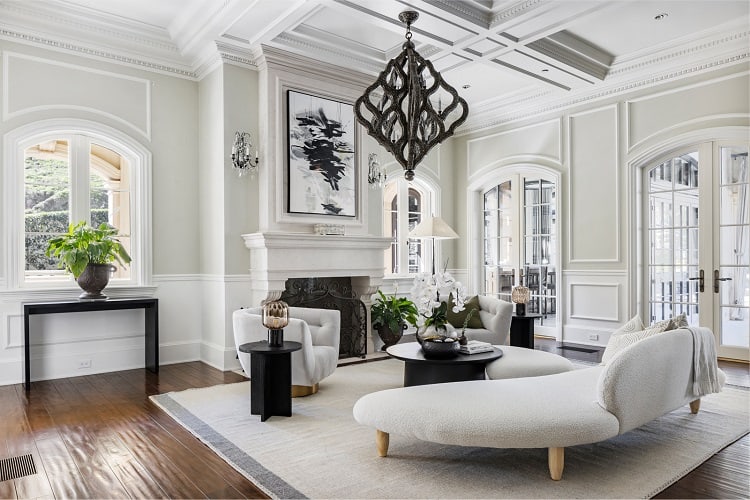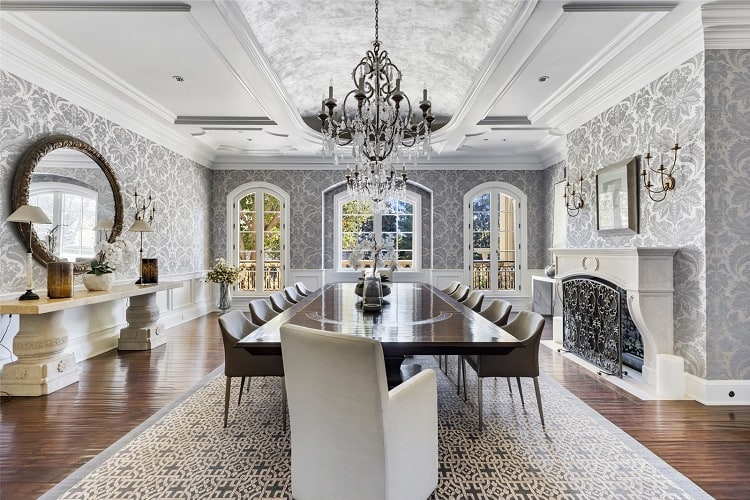 The main level also includes an enormous kitchen/family room complex that comes with pantries, a separate prep kitchen, and staff quarters and offices.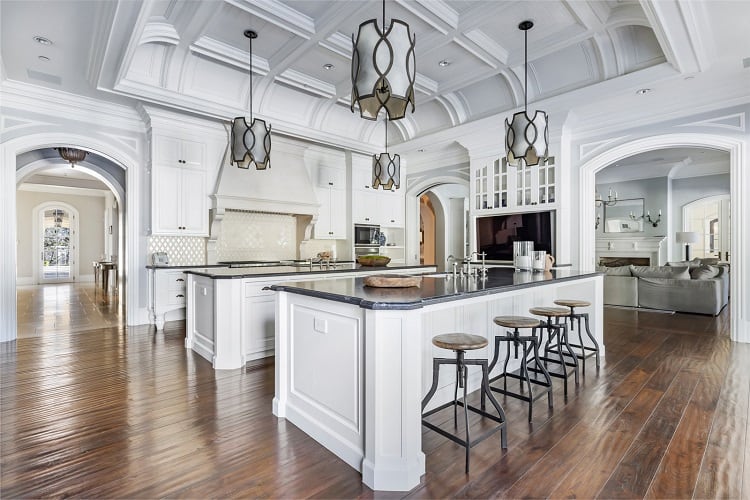 Also on this floor, there's a breathtaking 2-story paneled library.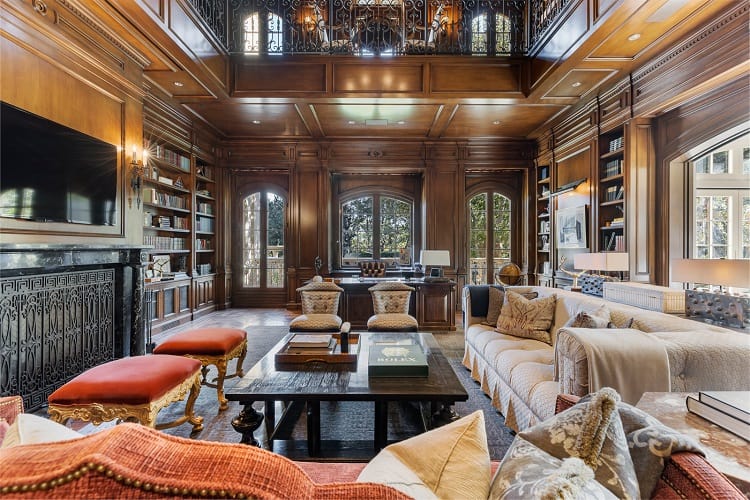 Moving on to the bedrooms, Mark Wahlberg's house comes with enough sleeping quarters and bathrooms (12 bedrooms and an impressive total of 20 baths) to fit his entire family — and that's no easy task, as there are quite a few Wahlbergs to host.
Wahlberg himself is a father of four, sharing daughters Ella Rae and Grace Margaret, and sons Michael and Brendan with wife Rhea Durham. But he also comes from a large family and has seven siblings (his parents, Alma and Donald Wahlberg had 9 children, with Mark's sister, Debbie, sadly passing away in 2003 from a heart attack at the age of 43 — on the same day his daughter Ella was born).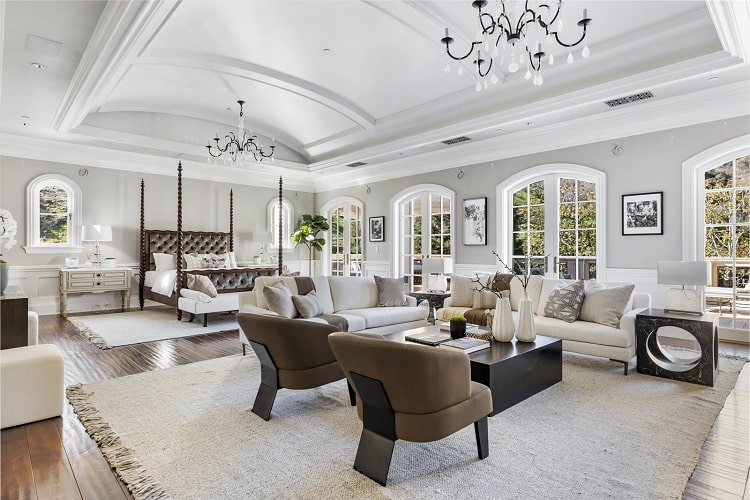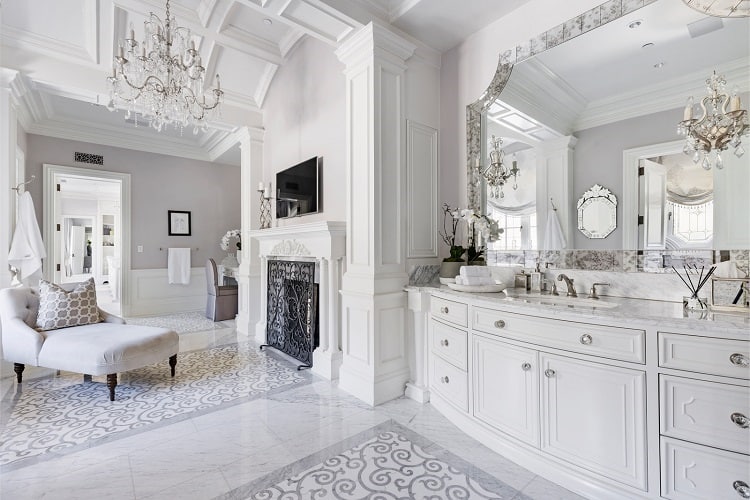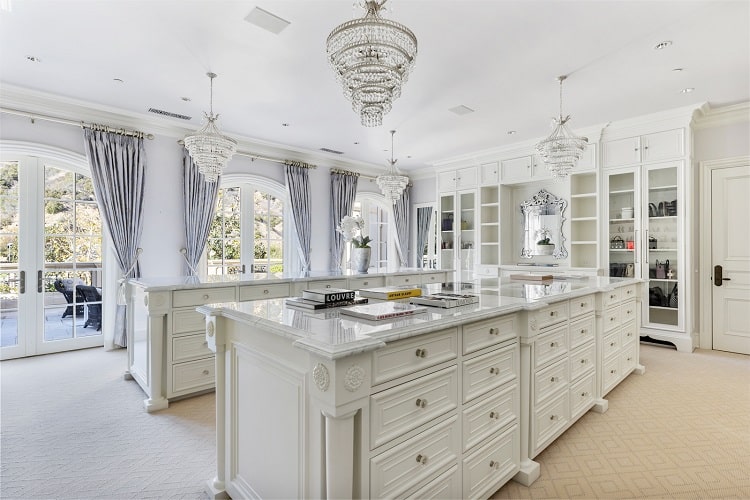 Needless to say, it makes sense for family get-togethers to have taken place at Mark Wahlberg's house, where there's plenty of space for all the Wahlbergs.
Amenities abound, both inside and out
The lower level of the mansion is where all the fun's at.
This is where we find an amazing home theater, a wine/cigar cellar and smoking lounge, and Mark Wahlberg's gym — a pro-level space fitted with all the equipment the actor needed to beef up for his action flicks.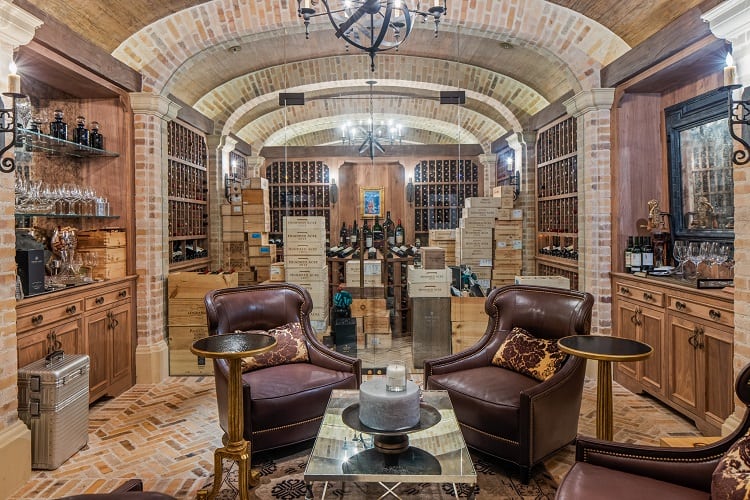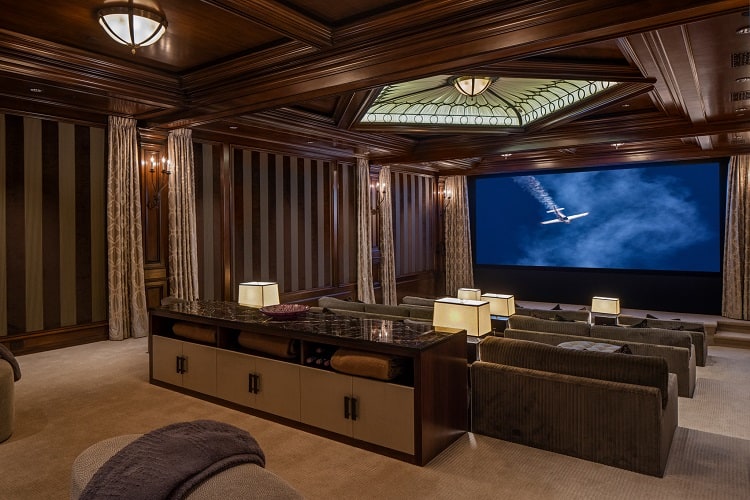 Wahlberg's workout regimen is notoriously hardcore, and he's known for starting his day as early as 2:30 am to kick off his daily schedule with a hearty breakfast and plenty of time set aside for his exercise routine, followed by a cryo chamber recovery.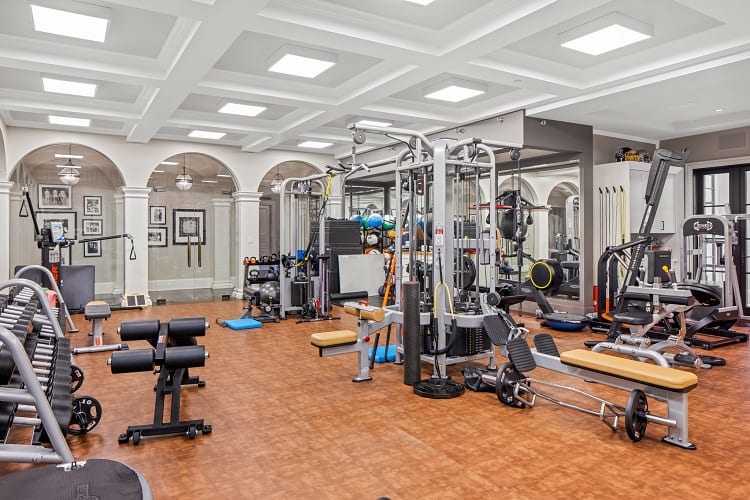 He also famously sets aside time each morning to golf. And there's plenty of room for that on the grounds of his Beverly Park mansion.
Wahlberg's former house has a 5-hole golf course and golf driving range (a driving range is an area or a facility where golfers can practice their golf swing).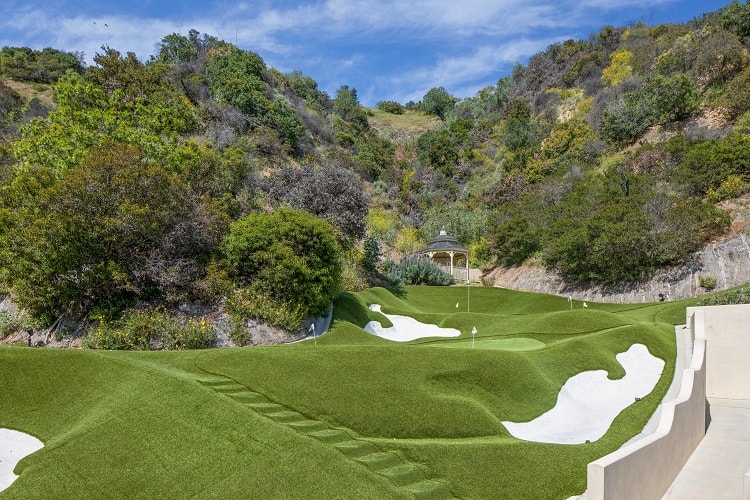 But that doesn't even scratch the surface when it comes to outdoor amenities.
Mark Wahlberg's mansion is surrounded by manicured gardens and features a resort-like grotto pool, skate park, and guest house, all set amidst total privacy. Like the listing points out, it's a complete "private country club".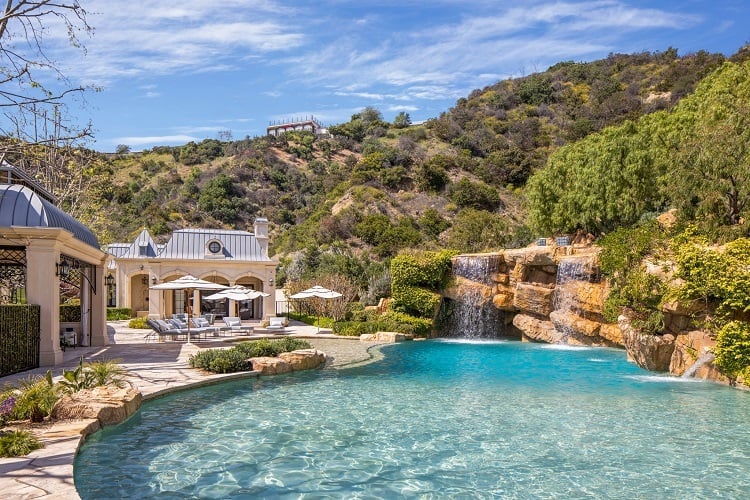 $50+ million sales are no rare occurrence in the upscale Beverly Park neighborhood
After flaunting it on the market for the better part of last year with a staggering $87.5 million asking price, the Uncharted actor took it off the market back in October 2022, citing concerns about rising interest rates.
But soon enough, Wahlberg's mansion was relisted with a new asking price of $79.5 million, with Carl Gambino of Compass and Kurt Rappaport of Westside Estate Agency, Inc. holding the listing.
While the discount wasn't high enough to attract a buyer, the property's run on the market was strikingly similar to that of former neighbor Sylvester Stallone, whose equally luxurious Beverly Park mansion (also designed by Richard Landry) was initially listed for $110 million before a few price cuts and a steep discount convinced Grammy Award-winner Adele to buy the house for $58 million.
According to the Los Angeles Times, the same day Wahlberg's house sold for $55 million, another neighboring property traded hands for a similar price tag.
Villa Firenze, a Beverly Park mansion that was once listed for $165 million, sold for $52 million.
Much like Mark Wahlberg's house, Villa Firenze had an ambitious asking price of $120 million when it was last listed in 2022, with the final sale price falling short of bringing in major profits for its owner, who paid $51 million for it at an auction a few years prior.
More celebrity homes you might like
Dwayne 'The Rock' Johnson's house is a striking $27.8M mansion
Where does Arnold Schwarzenegger live?
Michael B. Jordan's house hits the market for $12.995 million
Wayne Gretzky's house in California, designed by 'Megamansion King' Richard Landry