Lead image credit: Jeremy Blair/The Luxury Level & Kris Krüg via Wikimedia Commons
Canadian ice hockey legend Wayne Gretzky is looking for a buyer for his sprawling Colonial Revival-style estate in Thousand Oaks, Calif.
The gated (and highly private) compound has 13,000 square feet of luxury living space spread across a 6-bed, 8-bath main house and two guest houses, which Gretzky and his wife, Janet, are hoping will fetch them $22.9 million.
Gretzky is parting ways with the Thousand Oaks home for the second time, after first selling it in 2007 to baseball star Lenny Dykstra, who went bankrupt just a few short years later. At the time, Wayne Gretzky and his wife, Janet, moved to Arizona where Gretzky was coaching the Phoenix Coyotes.
More than a decade later, when the property came back on the market, the couple couldn't resist the appeal of the home that they had built for themselves, so they bought back the estate.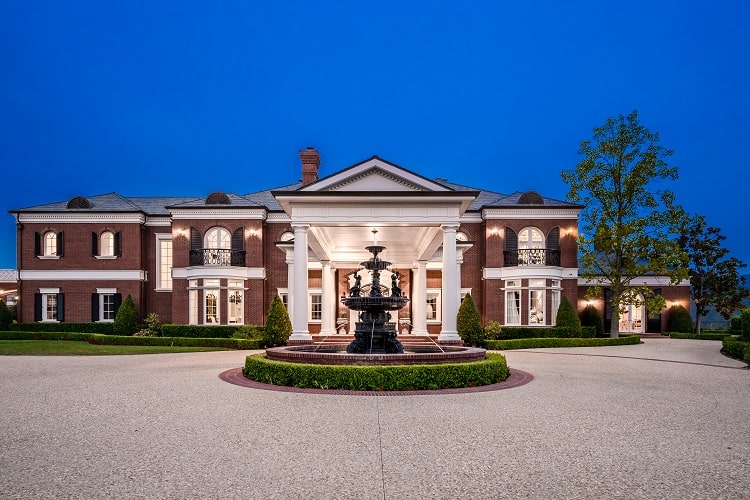 Emotional connection aside, it's easy to see why the ice hockey star and his wife wanted their old home back. The property sits on a 6.5-acre promontory within the prestigious Sherwood Country Club Estate — a premier lakeside, gated community near Los Angeles.
More sports celebrity homes
Past its gated entrance, there's a motor court with stunning 360-degree panoramic views of the Santa Monica Mountains and Lake Sherwood, pairing stunning views with the ultimate privacy.
And we haven't even gotten into the merits of the house itself, which is a timeless gem that's bound to win the heart of anyone that crosses its doors.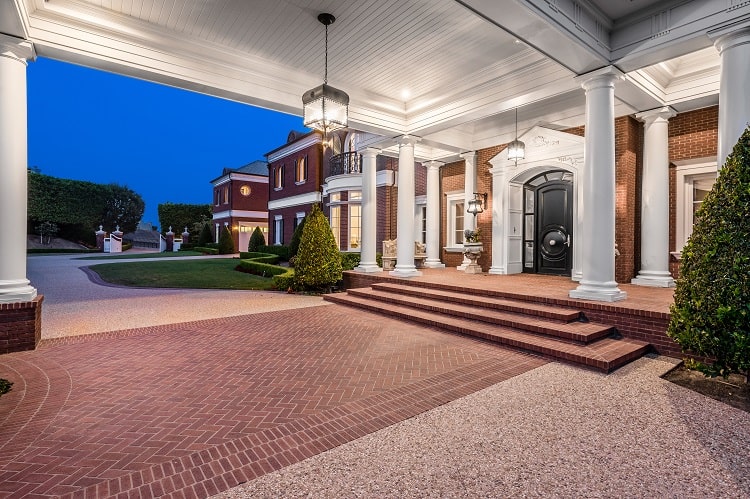 Gretzky's house was designed by "Megamansion King" Richard Landry
The home was designed by renowned architect Richard Landry who, just like Gretzky, is a Canadian-born sensation. Famous for his high-end residential projects, Landry has designed over 500 private homes, including some for Michael Bolton, Rod Stewart, and Tom Brady, boxing legend Sugar Ray Leonard as well as other athletes, celebrities and corporate moguls.
This, along with his ultra-luxurious designs, earned him the nickname of "The King of the Megamansion".
Best described as timelessly elegant, the Colonial Revival-style estate boasts exquisite craftsmanship wherever you look.
At the entrance, you're greeted by a dramatic entryway with crown moldings, a sweeping staircase, and arched doorways that lead into the formal space, with a chandelier-topped living room and a beautiful, marble-decked chef's kitchen.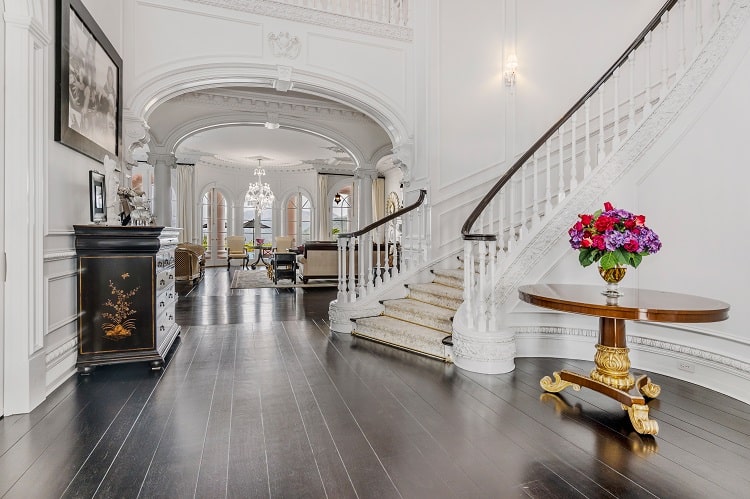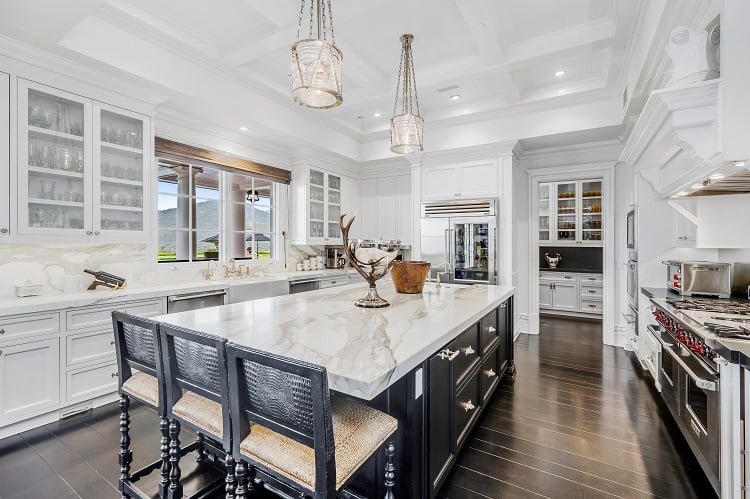 As expected, the former NHL player's house comes with a mile-long list of amenities, including a primary suite with a sitting room and dual baths, screening room, fitness facility, billiards room, office, championship tennis court, outdoor entertainment area, wood-burning pizza oven, wood and gas barbecue, and formal gardens.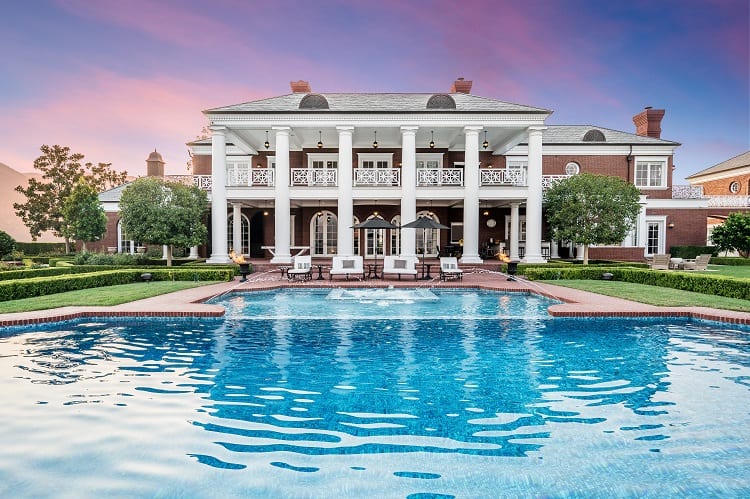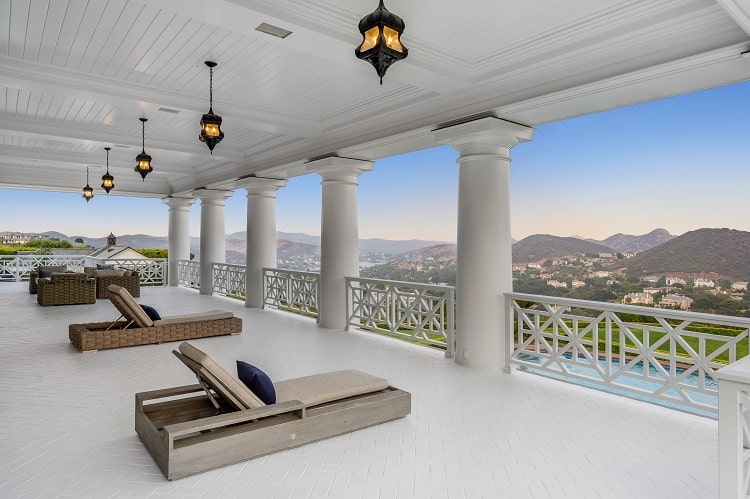 This is the 2nd time Gretzky is selling the mansion
Funny story: the NHL Hall of Famer and his wife Janet built the Colonial-style mansion soon after his retirement in 1999.
They then sold the property in 2007 to Lenny Dykstra, a former professional baseball center fielder who played in Major League Baseball for the New York Mets and Philadelphia Phillies. Dykstra paid $18.5 million for 6.5-acre property.
Following Lenny Dykstra's very public financial fall, the opulent estate went into foreclosure and, after switching owners a couple more times, landed right back in Gretzky's arms — who swooped in and bought it back for $13.5 million in 2018. Which means he basically he got it back for $5 million less than he had sold it for a decade earlier.
If the home sells for an amount even remotely close to the current asking price of $22,900,000, Gretzky stands to make a huge profit — for the second time. To lock in that goal, he hired Arvin Haddad with The Agency to help him sell the property.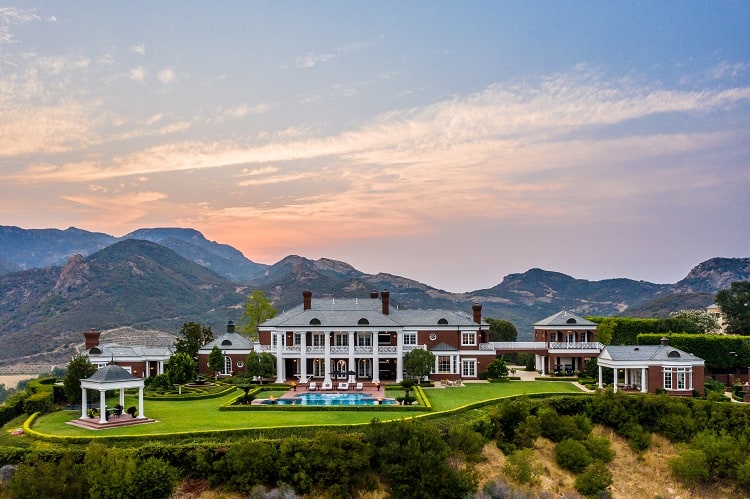 Nicknamed "The Great One", Wayne Gretzky has often been hailed as the greatest hockey player ever by many sportswriters, players, and the NHL itself. He played 20 seasons in the National Hockey League for four teams from 1979 to 1999.
After retiring from the NHL, Wayne Gretzky went on to coach and used the earnings from his highly prolific career to built a business empire.
He's now said to be worth $250 million, and has invested in many sports teams over the years. Gretzky is also a partner with First Team Sports, a sports equipment manufacturer. 
More beautiful celebrity homes
The Fabulous Homes of Your Favorite F1 Drivers
Serena Williams' House in Florida is Bold and Beautiful, Just Like Her
The Playboy Mansion: Hugh Hefner's Party Home is Now Part of Modern History
Where does LeBron James live?