The only way to describe this 23-time Grand Slam singles title winner is BADASS!
Since falling in love with tennis at the age of four, Serena has slowly grown to become one of the best athletes of our time.
She's also a highly successful businesswoman with her own clothing line called S by Serena, a philanthropist, and a lover of art. She's even founded Serena Ventures, a company that invests in founders who believe in changing the world. This woman can really do it all, can't she?
Despite being a busy-bee on the field and at home, let's not forget that Serena also found the time to twerk alongside Beyoncé in Lemonade. She truly is an icon!
Recently, the star athlete opened up her waterfront home to Architectural Digest and we can't wait for you to take a look. It is an absolute grand slam!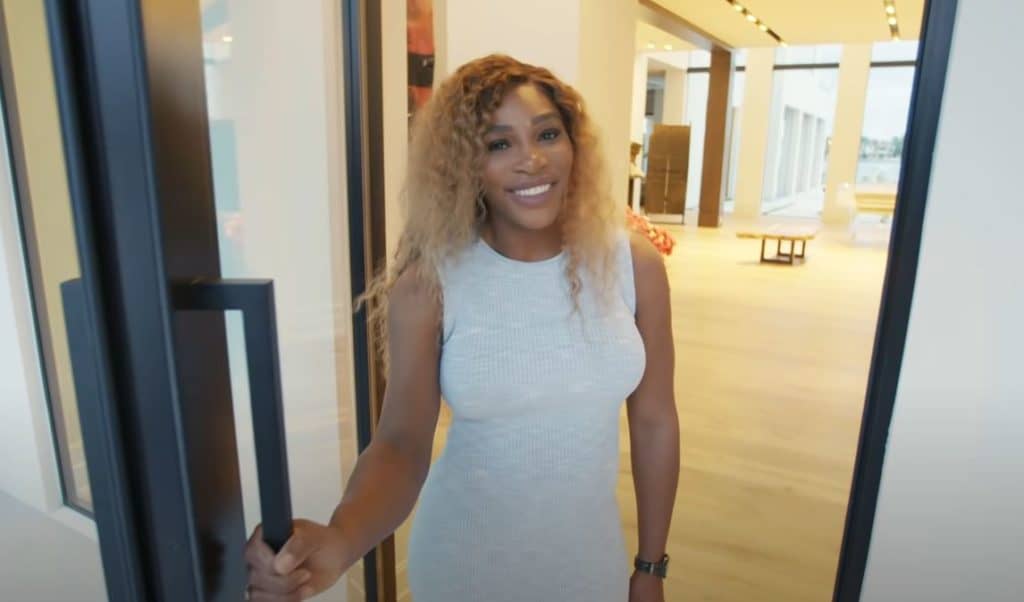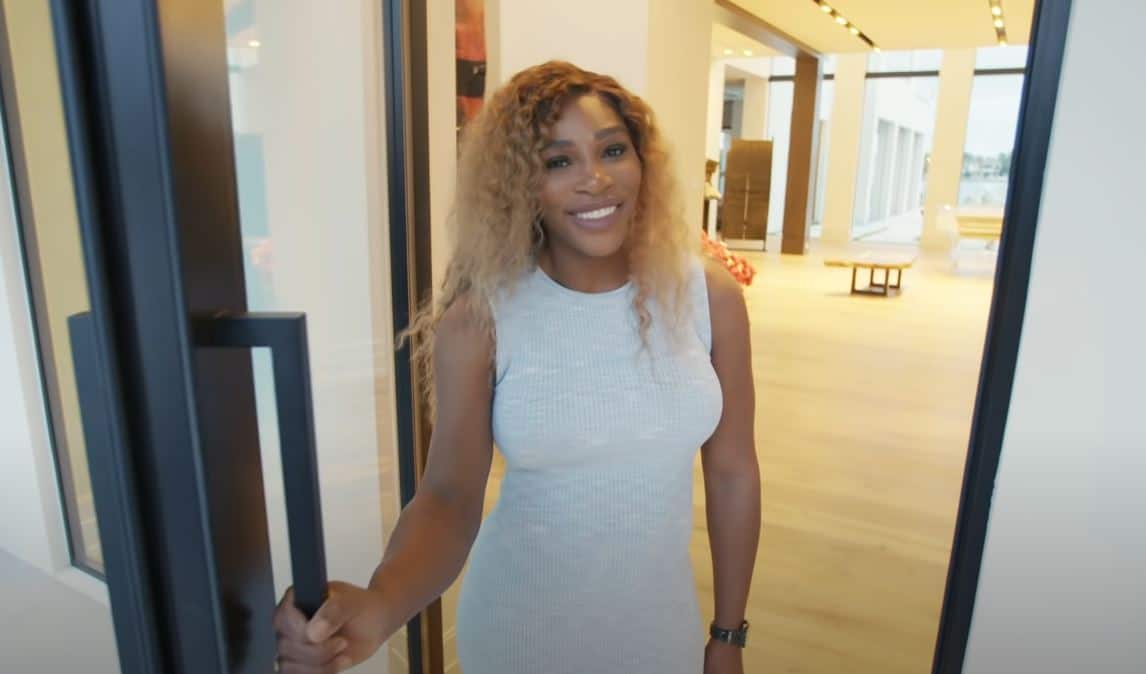 The tennis star's interiors bear the signature of sister Venus Williams
Buying the 14,500-square-foot property in the north of Miami was an emotional milestone for Serena Williams. It was the first time in over 20 years that she wouldn't be living with fellow tennis champion and sister, Venus.
This was going to be her first home with husband Alexis Ohanian and daughter Olympia and naturally, it had to be very special. So, who better to design it than sister Venus herself?
Venus owns an interior design firm called V Starr Interiors and in Serena's words, the team taught her not to be afraid to "have something just totally different, unexpected, or whimsical". Venus and her team completely transformed the Spanish Mediterranean-style estate into her dream home.
It defines "livable luxury" but is still all about family which was one of the most important aspects for Serena. But you don't have to take our word for it. You can take the tour yourself:
There's no formal living room
The biggest difference between Serena's home and most other houses is that there is no formal living room. Since Serena loves art, she decided to forego a living room and just have an art gallery instead!
Yep, you read that right. The space features works of some of her favorite artists including Radcliffe Bailey, Leonardo Drew, Titus Kaphar, and even has one of her own paintings.
There's also a library, a see-through piano, and other eclectic pieces that showcase her personality.
Of course, there's also a trophy room because what good would a tennis champion's home be without a trophy room?
The room features trophies from some of Serena's wins including an Australian Open trophy, a US Open trophy,  her Wheaties boxes, and a  Wimbledon trophy.  Oh, the stories that room could tell….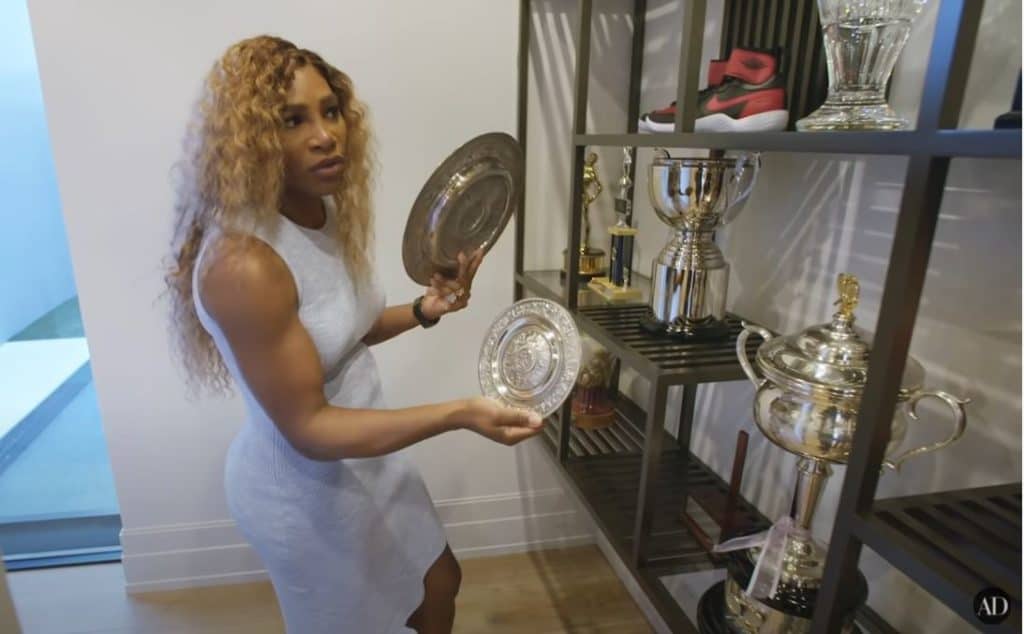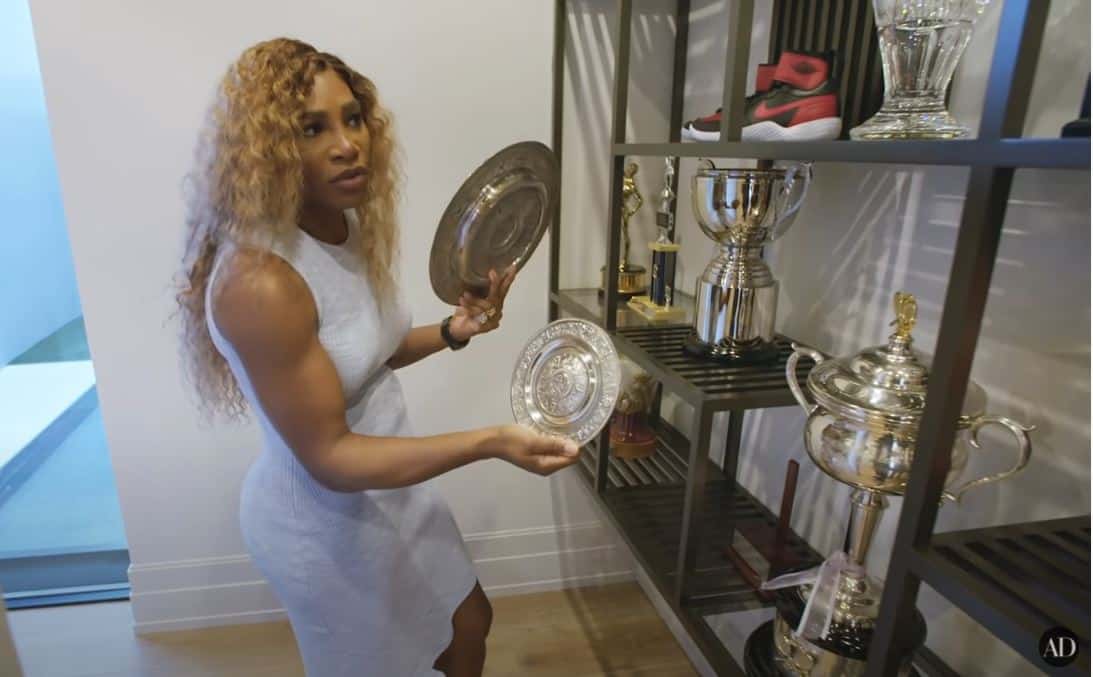 Serena is the self-proclaimed cook of the family
Serena enjoys cooking for her family and so, the kitchen design was extremely important to her.
The V Starr team designed the space after consulting with Serena's private chef and it is fitted with a trapezoidal table, the finest appliances including Gaggenau ovens, an Officine Gullo cooktop, and bespoke black and gold marble backsplash in a diamond-pattern mosaic.
Their dining space also has a wow factor thanks to the grouping of pendant lamps above the table and artwork made by the tennis star.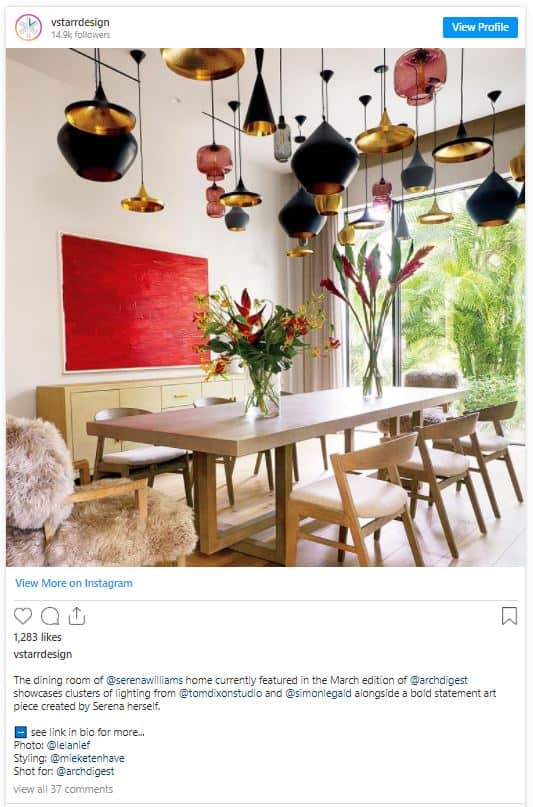 Don't miss these other beautiful celebrity homes
There's so much more to love about Serena's eclectic home
With 28-foot-tall windows that let in plenty of sunlight, heated bathroom floors, a massive wine cellar, a sauna in the gym, a lovely terrace with an infinity pool, and a 620-square-foot closet, Serena's home is everything you'd imagine it to be.
The one noticeably missing feature is a tennis court. As Serena told AD, she believes in separating her home and work and loves to sit still and not do anything when she's home. 
The one truly extravagant room is daughter Olympia's room complete with a pink custom-designed castle bed featuring a built-in slide and a one-of-a-kind chandelier by Josh Fradis. 
"She goes down the slide every night while we're thinking, 'Man, we shouldn't have done that, because now at bedtime, she just wants to slide,'" Serena joked during the AD interview. "But whatever makes her happy makes me happy."
The Karaoke room is the pièce de résistance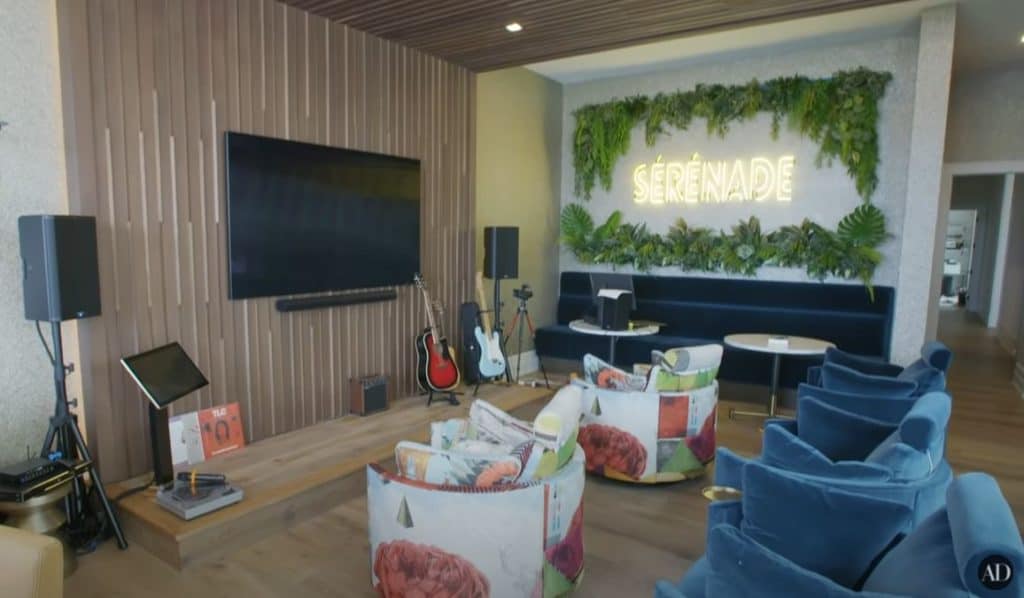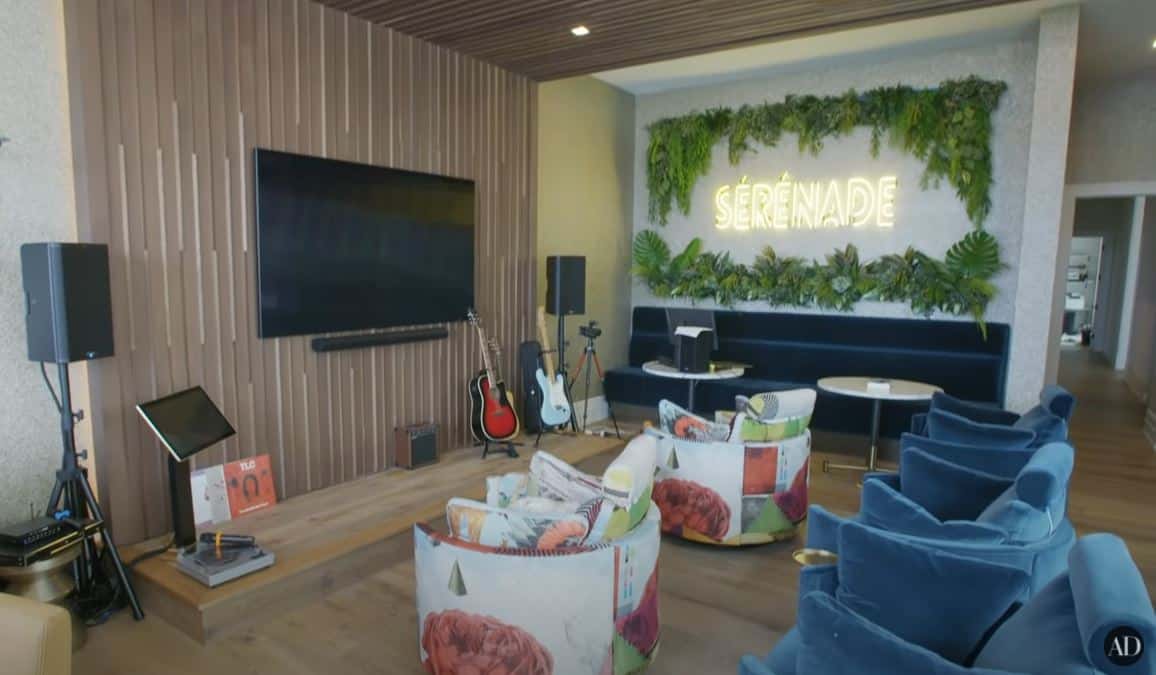 It's no secret that Serena loves to sing and dance. Apparently, after winning the U.S. Open, the world champions would celebrate in a private karaoke room in Manhattan. So, naturally, the star had to have one right in her home.
The karaoke room also works as a media room, bar, and club room.
It features a stage where mother and daughter often perform together, plush blue chairs, a customized neon sign that reads "Sérénade" which is the name of Serena's karaoke persona, and a popcorn machine.
There are a couple of house rules. No Bohemian Rhapsody and No I Will Survive to name a few. According to the fierce sisters, the karaoke room is reserved for serious singers only!
More sports celebrity homes
Naomi Osaka's Houses and Budding Real Estate Portfolio
Maria Sharapova's Japanese-Inspired House on the Beach is a Minimalist's Dream Come True
Basketball Legend Michael Jordan is Selling His Famous Chicago-Area House
Shaquille O'Neal's OG Home in Orlando — with the Superman Bed