NBA superstar Shaquille O'Neal is known to have one of the craziest celebrity homes of all time: a sprawling, 31,000-square-foot megamansion he picked up in 1993 when he was a rookie with the Orlando Magic.
The mansion, which served as Shaq's home for the past 30 years, is truly one of a kind. And that's not just because Mr. O'Neal has very particular tastes — which are nonetheless showcased throughout the property — but because the home was never a financial investment for the Hall of Famer.
And while Shaq has repeatedly tried to sell the property — it was last listed in 2019 for $22 million — in the end, it wasn't meant to be and the basketball star decided to sell his Los Angeles home instead.
According to his former listing agent, Dustin Fealy with The Agency South Florida, the NBA star spared no expense in fitting his longtime Orlando-area house. "This was home to him, cost did not matter when it came to the security and comfort of his family."
Set in Windermere, Florida, Shaq's home comes with 12 bedrooms (including that iconic Shaq bed), 15 baths, a media room with a bar, a entertainment room with game tables and a wet bar, a few other unique amenities, and a Superman-themed bed.
O'Neal routinely took reporters on tours of the house, and even shot an episode of "MTV Cribs" there when, he introduced us to Shaq-apulco: his 95-foot long swimming pool with a large waterfall spilling over boulders and a swim-up bar.
Briefly listed earlier this year for a mind-boggling $28 million, Shaq's house is now back on the market with fresh representation — with upscale brokerage The Agency now handling the listing — and a new price: $21,990,000. Scroll down for more details.
Definitely not your ordinary house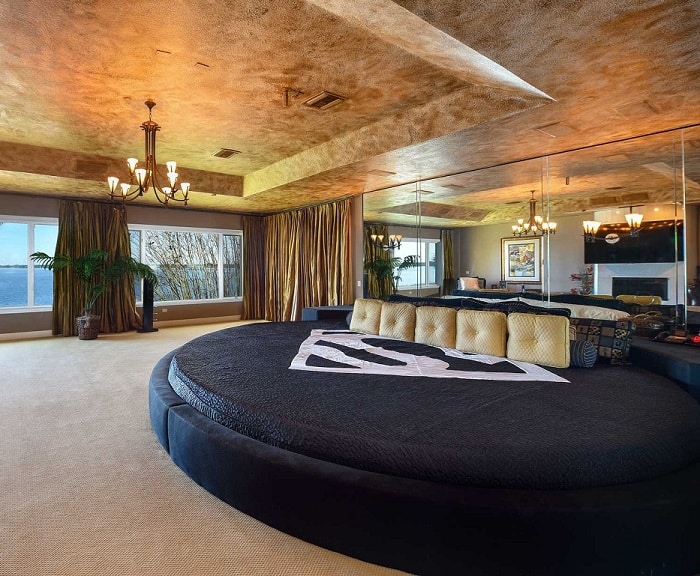 Needless to say, Shaq's massive Lake Butler home — set within the Isleworth private golf community in South Florida — is sized to accommodate a big family, stand to show the 28 rooms (!)
Believe it or not, the impressive size of the house pales in comparison with some other unique features.
The NBA superstar's house comes with some unusual yet charming rooms, including a temperature-controlled, cedar-planked humidor with wine storage and an aquarium-style room with a triangular tank.
Yet most striking is the wall mural of a true-to-size tractor-trailer barreling toward the interior of the room on an expressway. And, of course, Shaq's oversized Superman bed, pictured above.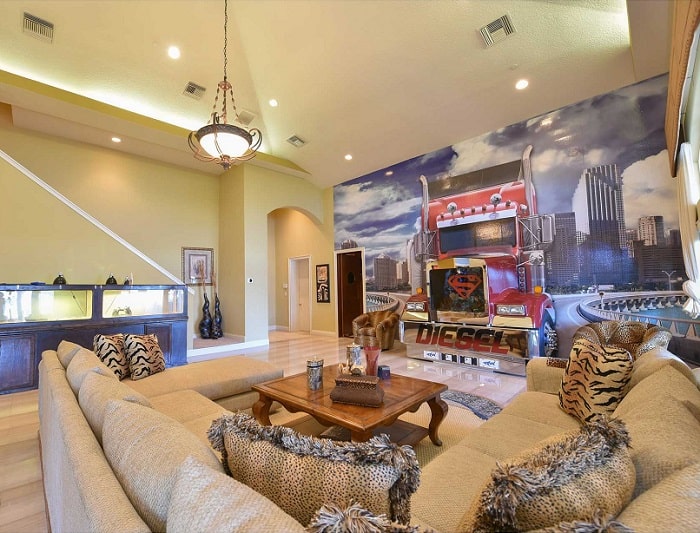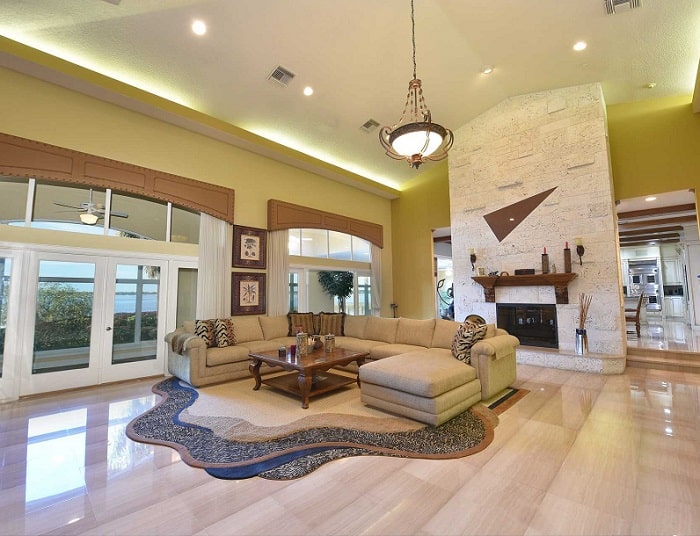 Shaquille O'Neal's house also comes with two garages that together fit 17 cars, one a show-car garage with a fitness center and the other with dance and recording studios — making you think back to Shaq's rap releases in the 1990s.
Unsurprisingly, the lakeside mansion includes a 6,000-square-foot indoor basketball court fit for basketball royalty, but does come with a rather unique "aquarium-style room" with a saltwater triangular fish tank.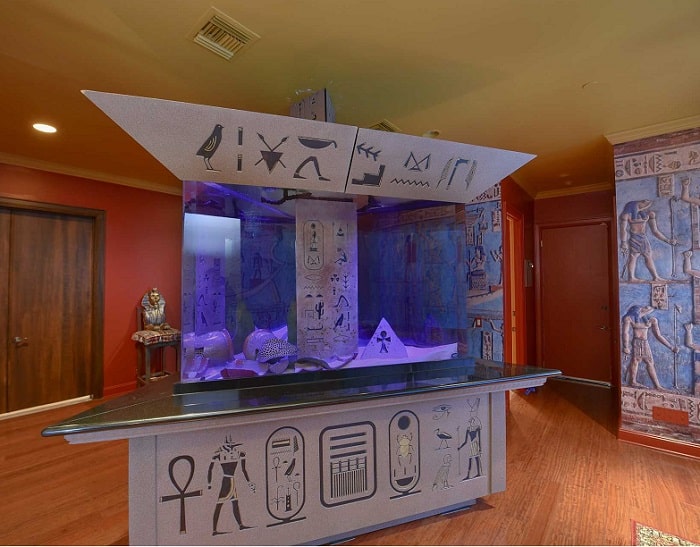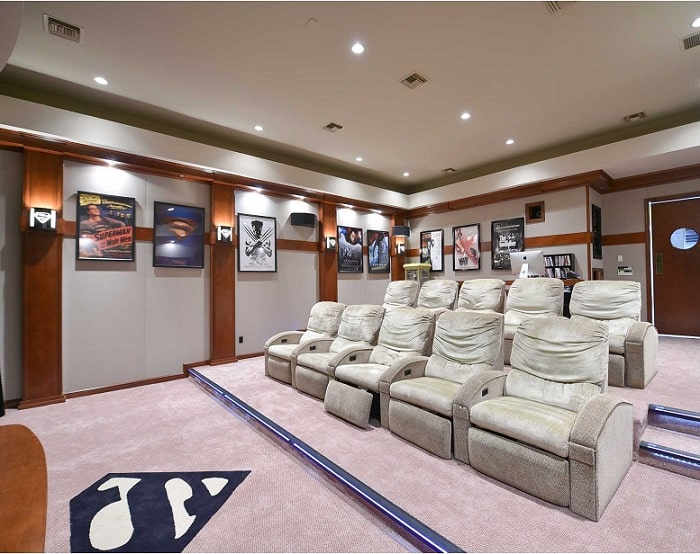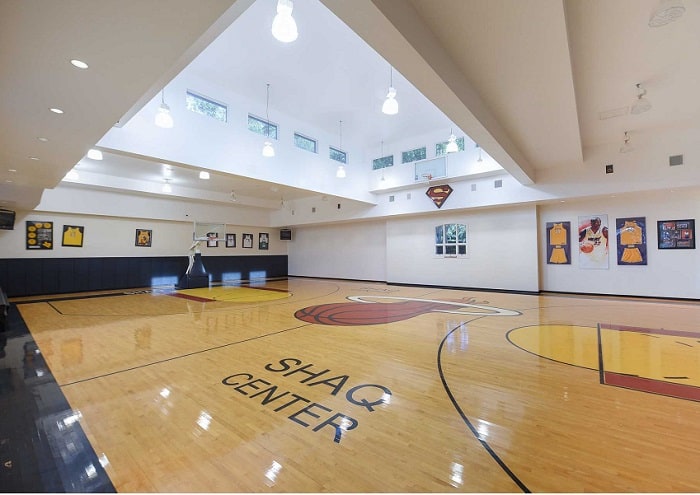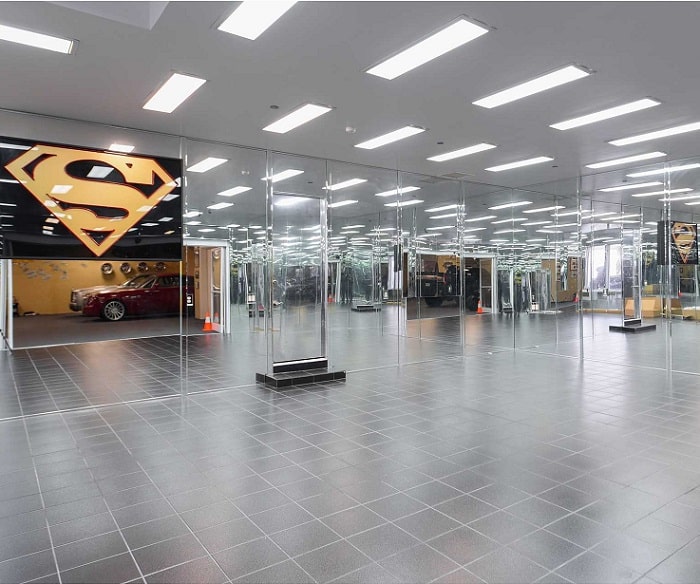 The grandeur doesn't stop with the interior, though.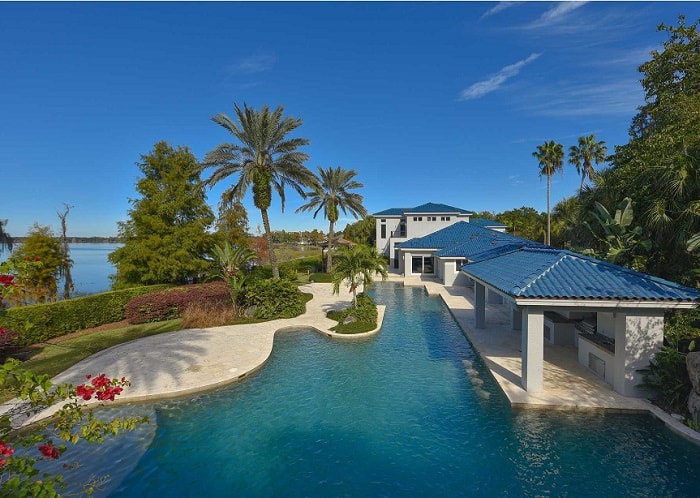 Shaq nicknamed his party-perfect outdoor area "Shaq-apulco" quite aptly.
The 95-foot long swimming pool has a large waterfall spilling over boulders and a swim-up bar. All of this looks out over the lake, the long private pier with boathouse, and the life-size statue of Shaq's favorite comic book character: Superman.
Oh, and did we mention that the property boasts 700 feet of prime Lake Butler frontage?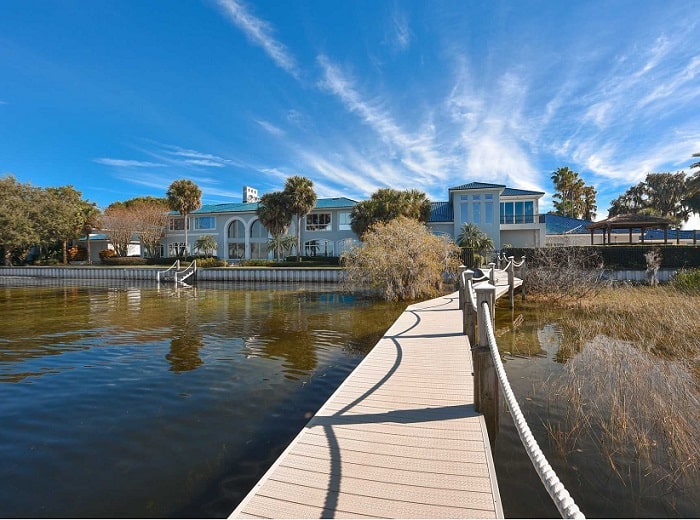 Shaq's latest attempt to sell the house
Initially brought to market in May 2018 with an ambitious listing price of $28 million — likely priced aggressively in order to leave room for negotiations — Shaquille O'Neal's house kicked off 2019 with a whole new marketing strategy.
With new representation, in the hands of upscale brokerage The Agency, who specializes in million dollar homes and celebrity estates, Shaq's home relisted with a more realistic price tag of $22 million.
But even the lowered listing price failed to attract a serious buyer, so Shaquille O'Neal quietly took the property off the market and is now back to enjoying his longtime home.
More sports celebrity homes:
Check Out Michael Jordan's House in Chicago: On the Market for $15 Million
Netflix Documentary Sparks Renewed Interest in Aaron Hernandez' Former Home
Serena Williams' House in Florida is Bold and Beautiful, Just Like Her
Houston Rockets Guard Ben McLemore is Selling His Los Angeles House