NBA superstar Shaquille O'Neal is known to have long owned of the craziest celebrity homes of all time: a sprawling, 31,000-square-foot megamansion he picked up in 1993 when he was a rookie with the Orlando Magic.
The mansion, which served as Shaq's home for close to 30 years, is truly one of a kind.
Not just because Mr. O'Neal has very particular tastes — which are nonetheless showcased throughout the property — but because the home was never a financial investment for the Hall of Famer.
According to his former listing agent, Dustin Fealy with The Agency South Florida, the NBA star spared no expense in fitting his longtime Orlando-area house.
"This was home to him, cost did not matter when it came to the security and comfort of his family," Dustin Fealy told Fancy Pants Homes.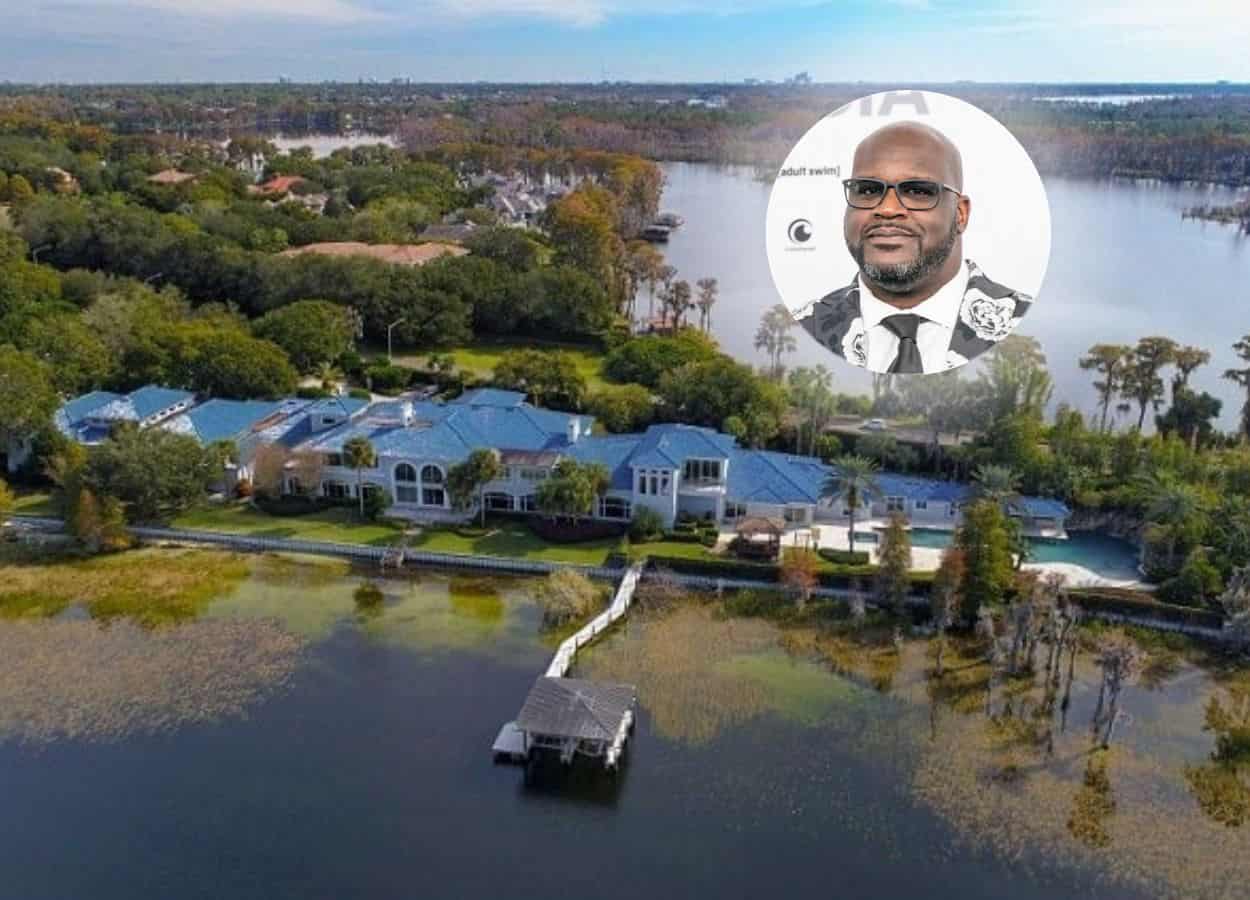 Set in Windermere, Florida, Shaq's house from his Orlando Magic days has 12 bedrooms (including that iconic Shaq bed), 15 baths, a media room with a bar, an entertainment room with game tables and a wet bar, a few other unique amenities, and a Superman-themed bed.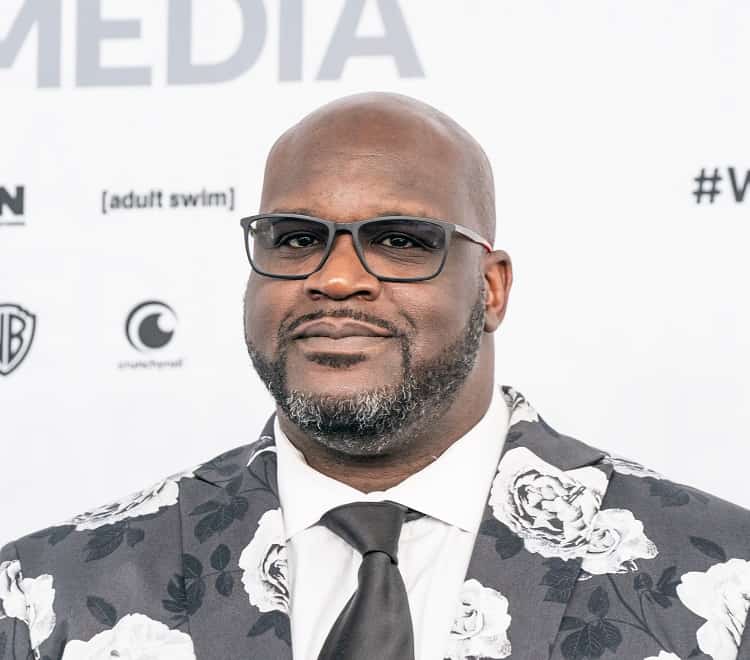 O'Neal routinely took reporters on tours of the house and even shot an episode of "MTV Cribs" there when he introduced us to Shaq-apulco: his 95-foot-long swimming pool with a large waterfall spilling over boulders and a swim-up bar.
Once listed for a mind-boggling $28 million, Shaq's house finally found a new owner in 2021, when it sold for $11,000,000.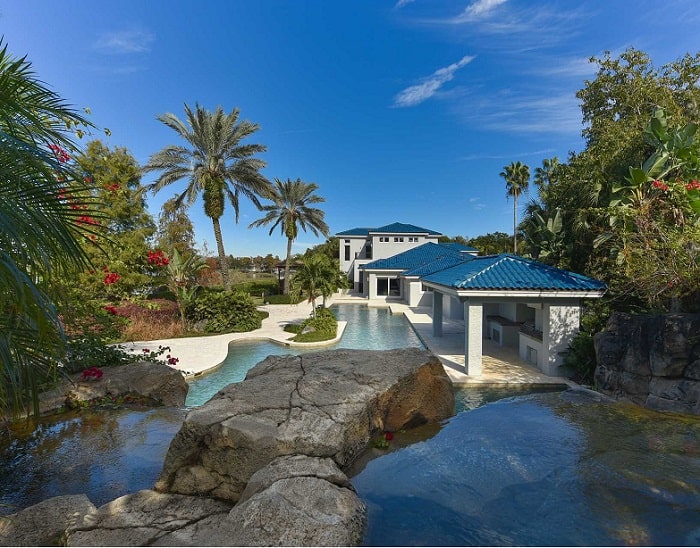 And while the NBA superstar might not own it anymore, the Windermere, Florida property will forever be associated with its larger-than-life former owner.
If you're binging HBO's documentary Shaq and want to get a feel for the lavish life Shaquille O'Neal was living at the height of his career, we're here to give you all the deets — and offer a peek inside the now-famous Shaq house.
Shaq's house in Orlando: Far from your ordinary home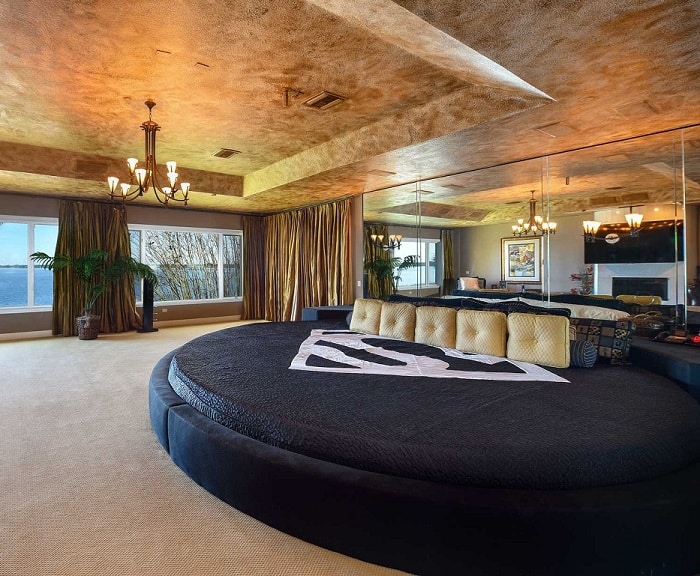 Needless to say, Shaquille O'Neal's massive former Lake Butler home — set within the Isleworth private golf community in South Florida — is sized to accommodate a big family, as evidenced by its whopping total of 28 rooms (!)
Believe it or not, the impressive size of the house pales in comparison with some other unique features.
The NBA superstar's former home had some unusual-yet-charming rooms, including a temperature-controlled, cedar-planked humidor with wine storage and an aquarium-style room with a triangular tank.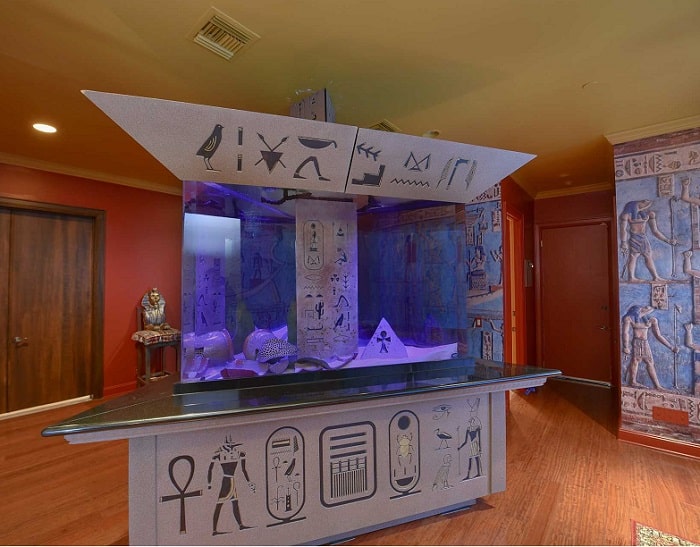 Yet most striking of all is the wall mural of a true-to-size tractor-trailer barreling toward the interior of the room on an expressway. And, of course, Shaq's oversized Superman bed, pictured above.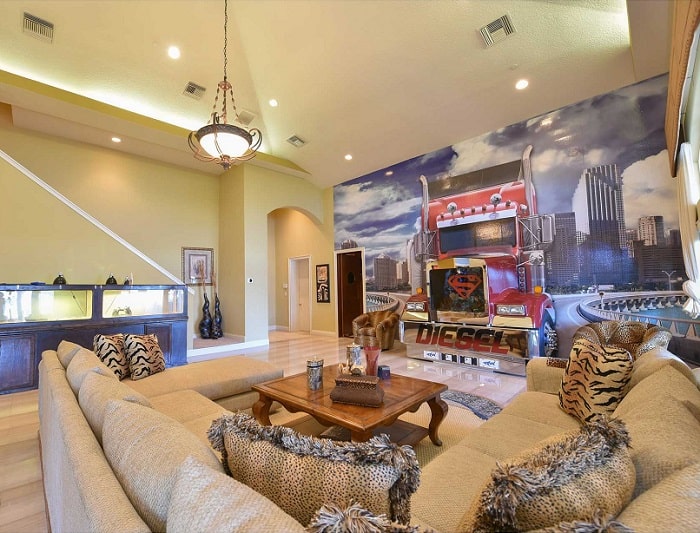 SEE ALSO: LeBron James' houses, including his $36 million Beverly Hills abode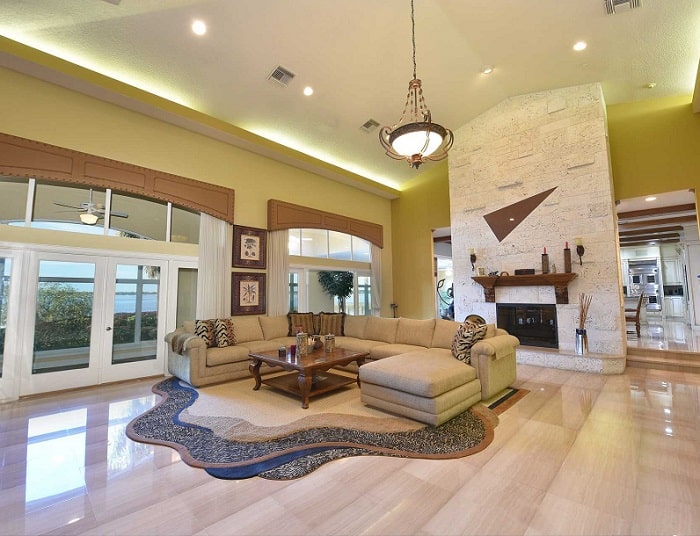 Shaquille O'Neal's house also comes with two garages that fit 17 cars, one a show-car garage with a fitness center and the other with dance and recording studios — making you think back to Shaq's rap releases in the 1990s.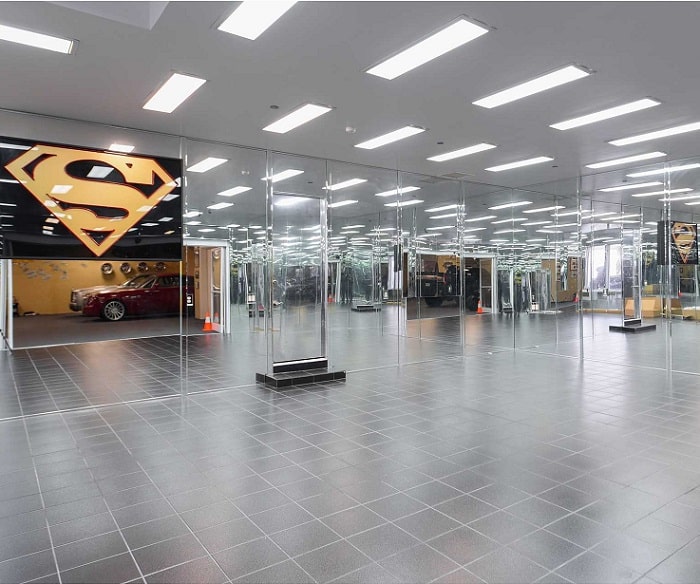 Unsurprisingly, the lakeside mansion includes a 6,000-square-foot indoor basketball court fit for basketball royalty but does come with a rather unique "aquarium-style room" with a saltwater triangular fish tank.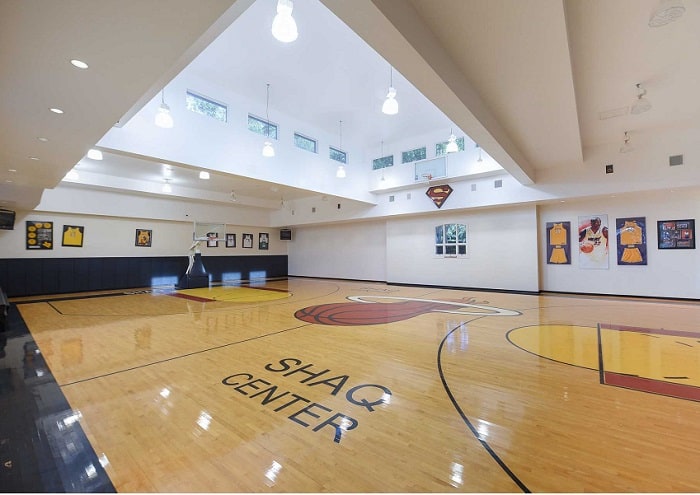 There's also a Superman-themed movie theater that was fitted with posters of Shaq's favorite movies.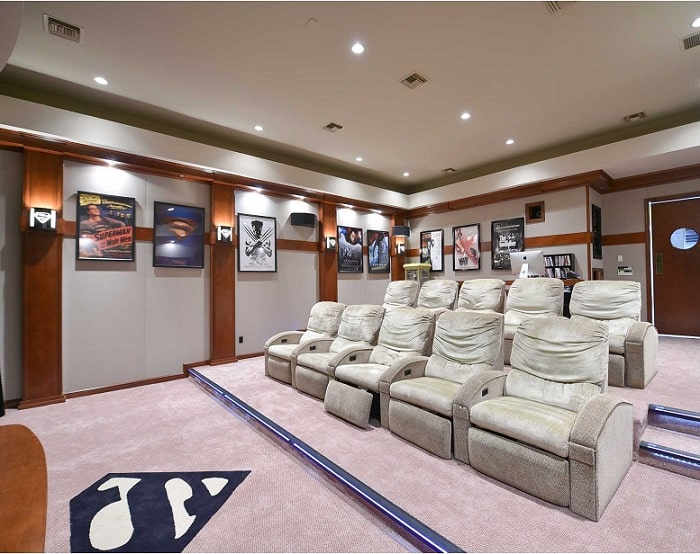 The grandeur doesn't stop with the interior, though.
Shaq nicknamed his party-perfect outdoor area "Shaq-apulco" quite aptly.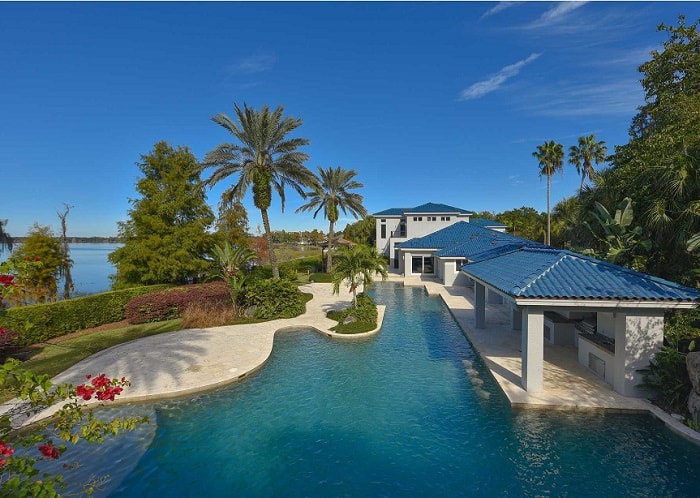 The 95-foot-long swimming pool has a large waterfall spilling over boulders and a swim-up bar. All of this looks out over the lake, the long private pier with a boathouse, and the life-size statue of Shaq's favorite comic book character: Superman.
Oh, and did we mention that the property boasts 700 feet of prime Lake Butler frontage?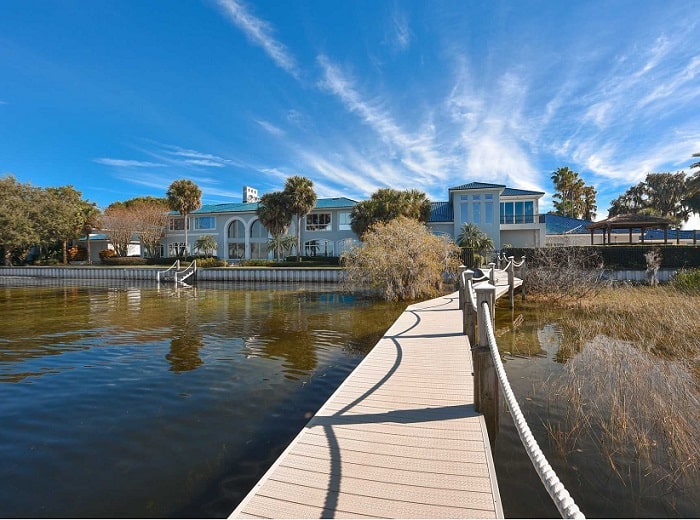 Shaq's house finally sold in 2021
Initially brought to market in May 2018 with an ambitious listing price of $28 million — likely priced aggressively in order to leave room for negotiations — Shaquille O'Neal's house kicked off 2019 with a whole new marketing strategy.
With new representation, in the hands of upscale brokerage The Agency — the real estate firm that stars in Buying Beverly Hills — who specializes in million-dollar homes and celebrity estates, Shaq's home relisted with a more realistic price tag of $22 million.
But even the lowered listing price failed to attract a serious buyer, so Shaquille O'Neal quietly took the property off the market for a while. It was later re-listed for $16,500,000, but the major discount didn't do the trick either.
However, Shaquille O'Neal finally found a buyer for his longtime home in late October 2020, when he sold his Orlando estate for $11,000,000 (a 33% discount).
While that's a far cry from its 2018 asking price of $28 million, it still marks a significant profit for the former NBA player — who paid $3,950,000 for the property back in 1993, public records show.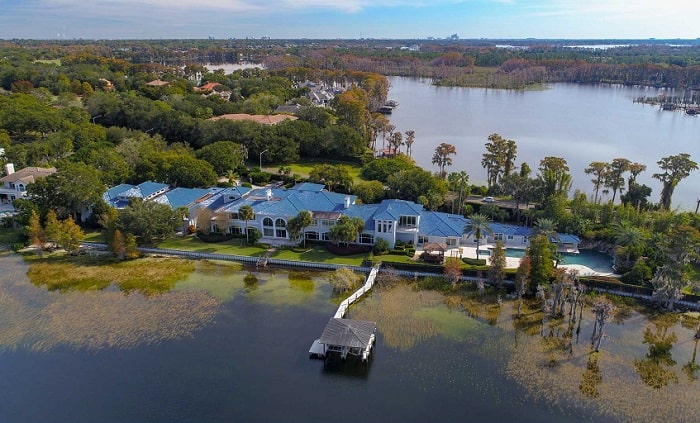 Where does Shaquille O'Neal live now?
With an estimated net worth of $400 million, the former Orlando Magic/Los Angeles Lakers/Miami Heat player (who also had shorter stints playing for the Phoenix Suns, Cleveland Cavaliers, and Boston Celtics) bought many homes throughout the years.
He owned homes in Florida, Nevada, Georgia, California, and Texas.
According to Realtor.com, O'Neal has a soft spot for the Peach Tree State, where he owns three homes in the Atlanta suburb of McDonough.
But the most recent addition to the NBA great's real estate portfolio is a stately Texas mansion in the Dallas suburb of Carrollton, TX, making Shaq one of the many celebrities that live in Texas.
Bought soon after selling his Orlando-area spread, Shaquille O'Neal's new home has five bedrooms and seven baths, and is anchored by a great room with a soaring ceiling, gas fireplace, and wall of windows overlooking the pool.
While we don't know how much O'Neal paid for his Dallas-area home, we know that the property was listed for $1,224,900. The Instagram post above shows Shaq with his Dallas realtor, Zac Gideo, celebrating the NBA star's purchase of his new Texas home.
Shaq's move to Texas was likely driven by his business plans of bringing Shaq's Big Chicken to San Antonio — a city dear to his heart, as the four-time NBA champion spent part of his childhood here, playing basketball at Cole High School — along with other locations in Texas.
* Editor's note: This article was initially published as a news piece when Shaquille O'Neal's house was relisted in early 2019. It has since been updated to include new information about the sale of the property and Shaq's move to Texas.
More sports celebrity homes
Michael Jordan's House in Chicago: On the Market for $15 Million
Netflix Documentary Sparks Renewed Interest in Aaron Hernandez' Former Home
Where does LeBron James Live Now? A Look at the NBA Superstar's Impressive Homes
Serena Williams' House in Florida is Bold and Beautiful, Just Like Her