There's a rootin' tootin' good time happening in Texas. And several celebs have jumped on the saddle and joined the rodeo.
From its lower taxes and warm weather to its diverse range of amenities and attractions, many famous people that live in Texas also love its privacy and less intrusive lifestyle.
Not to mention, oodles of VIPs are moving to the Lone Star State for its relatively low cost of living compared to other states. Texas has lower taxes compared to other states, including no income tax, making it particularly appealing to high-earning individuals.
So saddle up as we're about to take a look at the top 14 biggest celebrities who live in Texas. From the Supernatural leading men that joined the long list of celebrities that live in Austin, Texas, to the former NBA star who recently gave up sunny Florida, here are some of the biggest VIPs who live in the Lone Star State.
Mark Cuban
Shark Tank star Mark Cuban has a real estate portfolio fit for a king.
While the billionaire loves his swanky vacay digs in California, he spends the majority of his time at his home in Texas.
Located in upscale Preston Hollow in Dallas, Mark Cuban's chateau-style home is bigger than 5 basketball courts! And wait till you see his swanky vacation home in California. https://t.co/al8QqMNAgf

— Fancy Pants Homes (@FancyPantsHomes) March 21, 2023
As the owner of the Dallas Mavericks, Cuban can watch all the home games since he lives in the posh Preston Hollow neighborhood of Dallas.
Back in 1999, soon after Yahoo.com acquired his company, Broadcast.com, for $5.7 billion, Cuban bought himself the sprawling mansion — reportedly paying $13 million for the property.
Joining the ranks of celebrities that live in Texas, Cuban fell in love with the French chateau-style home that is built out of stone and sits on a massive property spread across 7 acres of land.
Spanning 23,676 square feet in size, Cuban's Texas mansion features 10 bedrooms, 16 bathrooms, 5 wet bars, 5 fireplaces, an expansive wine cellar, in-ground swimming pool, a spa, a basketball court, and even a full-sized tennis court.
** See our feature article on Mark Cuban's house in Dallas and swanky vacation home in California**
And for those out-of-town guests that want to catch a basketball game, there is also a cozy 3-story guest house on Cuban's posh property.
---
Matthew McConaughey
Academy Award-winning actor Matthew McConaughey and his model wife Camila Alves are raising their three children in his home state.
Born in Uvalde, the Magic Mike star is proud to be one of the most famous people that live in Texas.
The Alves-McConaughey family of five live in the Rivercrest area of Austin, Texas, within close proximity to both downtown Austin and Lake Austin — giving them access to the best ATX has to offer.
Their 10,800-square-foot Spanish-Mediterranean style mansion boasts 8 bathrooms, 7 bedrooms, a guest house, and 7 boat slips near the lake.
Although they used to call California home, Alves says they left the Golden State due to the lack of privacy.
"We lived in Malibu for many years and having the paparazzi outside our door every day – every single day – when that becomes your normal, you don't realize how much that's actually affecting the things you do until you actually leave and get out of it," Alves told HELLO!
She added: "The kids get to have a private way of growing up. So, from that perspective, it was very important."
---
Joe Rogan
Podcasting has its privileges. After sealing a deal for over $100 million with Spotify, Joe Rogan has become the most popular — and best-paid — podcaster on earth.
And just like Matthew McConaughey and his family, The Joe Rogan Experience host moved his family from California to Austin, Texas.
Cashing in his podcasting pennies, the former Fear Factor host took up residence with this family of five in a gorgeous Texan estate — a $14.4 million mansion that had previously been owned by designer Benjamin Wood.
The Rogan family became part of the "mass exodus out of California" due to the Golden State's lockdown rates and COVID-19 responses, lack of rain, homelessness epidemic, overpopulation, and increased taxes.
According to the father-of-three, the Lone Star State — and the multi-million dollar dream house he found there — is a far more appealing alternative and the perfect place to call home.
** See inside Joe Rogan's house in Austin, a stunning a $14.4M lakeside retreat**
Nestled in the outskirts of Austin, the 10,980-square-foot lakeside mansion features 8 bedrooms, 10 bathrooms, a home gym, a fully-equipped podcast room, and over 300 feet of water frontage on Lake Austin.
The Rogans also enjoy an outdoor pool which includes a stonework patio and plenty of shade for those hot Texas summers.
---
Erykah Badu
Born in Dallas, Erykah Badu is staying true to her southern roots and is raising her 3 children in her hometown.
"I'm from South Dallas," the mother-of-three told Texas Monthly.
She added: "It's such a big part of my life; my grandmother still lives in the house I grew up in. Her house is right in front of Interstate 45. My great-grandmother Odessa Gipson—it was her house as well.
Boasting over 5,000 square feet of living space and a home studio —or "badudio" as she calls it— Erykah Badu's house in Dallas offers 4 bedrooms, 3.5 bathrooms, 3 fireplaces and spectacular views of White Rock Lake.
The Queen of Neo Soul purchased the home for $3.1 million.
---
Tommy Lee Jones
Academy Award-winning actor Tommy Lee Jones and wife Dawn Laurel are enjoying life on a 3,000-acre cattle ranch in Texas.
As an eighth-generation Texan, the Men in Black star moved back to his roots after living in New York City, Los Angeles and Florida, Wide Open Country reports.
Happily joining the ranks of celebrities that live in Texas, Jones says life is grand in the Lone Star State.
"In the summers, we'll work cattle, and then at about seven o'clock at night, we'll start playing polo," the Golden Globe winner told Texas Monthly.
He added: "We'll play until about nine, and then when we're done, we put the meat on the fire and watch the dark come. It's a good life. Everyone is happy."
While the exact location of the ranch is not publicly known, Jones has previously owned property in San Antonio and his hometown of San Saba.
---
Jensen Ackles
Supernatural hunk Jensen Ackles and his equally talented wife, One Tree Hill alum Danneel Harris, are raising their 3 children in Texas.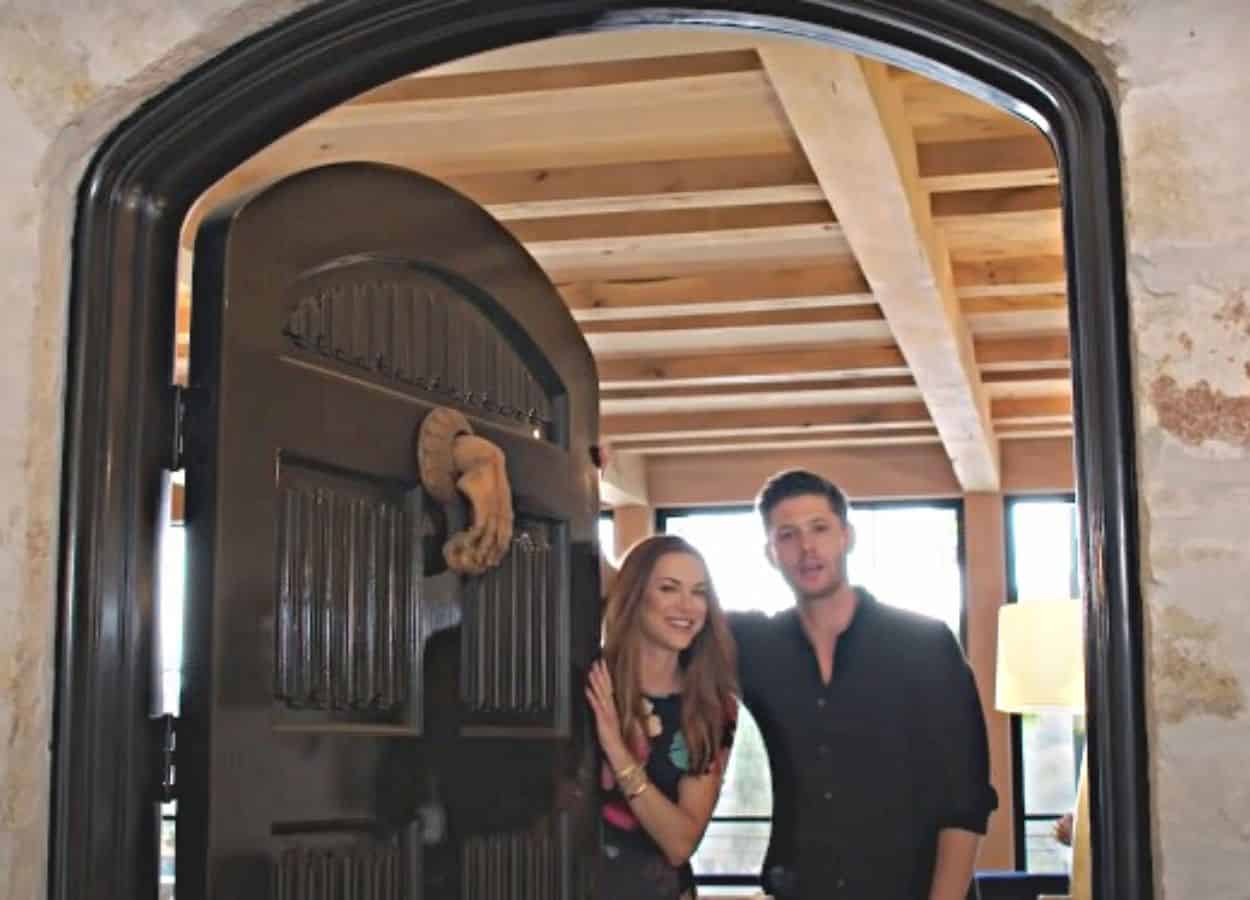 Joining the growing list of celebrities that live in Austin, Texas, the Harris-Ackles family of five are living the dream in a stunning lake house.
Spanning 7,500 square feet, the Austin home offers 5 bedrooms, oodles of color, and texture, plenty of woodwork, and a stunning sunken living room.
** See inside Jensen Ackles' house in Austin, a dreamy lake-side retreat**
"The hand-scraped wood floors undulate quite heavily, and we've got these giant beams and wood all around that feel like you're in the hull of a giant ship," Ackles said of their beautiful living space.
"What that does is it creates an amazing acoustic sound," he continues. "We've always had music in our lives, and we wanted to pass on that tradition."
---
Jared Padalecki
Nothing can stand between the Winchester brothers — and that includes state lines.
It then comes as little surprise that Jensen Ackles' Supernatural costar and longtime BFF, Jared Padalecki, also lives in Austin, Texas.
The Gilmore Girls alum and wife Genevieve are raising their 3 children in his home state.
Born in San Antonio, Padalecki and his family-of-five love the "slower pace" of life in the Lone Star State. After selling their home in Los Angeles, the Padaleckis set down roots in Austin.
They purchased the home in 2012 and have spent years renovating and making it their dream modern farmhouse.
"We didn't want it to feel cavernous," the actor shared with AD.
He added: "A lot of homes in Texas focus on making it as big as possible, with two-and-a-half-story grand entrances. That's fine if that's your thing, but it is not our[s]. We would rather it feel like a little crab shell."
---
Shaquille O'Neal
NBA superstar Shaquille O'Neal has owned homes in Florida, Nevada, Georgia and California.
And he's just joined the growing list of famous people that live in Texas.
The most recent addition to the NBA great's real estate portfolio is a stately Texas mansion in the Dallas suburb of Carrollton.
Shaq's new home has 5 bedrooms and 7 baths, and is anchored by a great room with a soaring ceiling, gas fireplace, and wall of windows overlooking the pool.
While we don't know how much O'Neal paid for his Dallas-area home, we know that the property was listed for $1,224,900.
** Take a tour of Shaq's longtime house in Orlando, with the Superman bed**
His move to Texas was likely driven by his business plans of bringing Shaq's Big Chicken to San Antonio — a city dear to his heart, as the four-time NBA champion spent part of his childhood here, playing basketball at Cole High School — along with other locations in Texas.
---
50 Cent
Born in New York City, rapper 50 Cent made the big move down south and is now one of the biggest celebrities who live in Texas.
In 2021, the Grammy Award-winning singer took to Twitter to share his news.
I Love NY, but i live in Houston now i'll explain later.🚦Green Light Gang 💣BOOM💥 pic.twitter.com/z6FAkAYwB4

— 50cent (@50cent) May 4, 2021
"I Love NY, but I live in Houston now I'll explain later. Green Light Gang. BOOM," he tweeted.
Sporting an Astros ball cap, the father-of-two also shared screenshots of his latest series Confessions of a Crime Queen.
Since then, the Houston Astros announced a multi-year partnership with the rapper, his Sire Spirits company, and the G-Unity Foundation.
Until 2019, Fifty owned a sprawling Connecticut mansion he bought from Mike Tyson back in 2003. After his first five years of ownership, he tried parting ways with the 50,000-square-foot mansion, listing it for $18.5 million, but no buyers were willing to take it off his hands.
12 years — and many price cuts — later, 50 Cent sold his palatial Connecticut estate, which sits on 17 acres and includes a pool, grotto, pond, and a basketball court, among others.
** See inside 50 Cent's former 50,000-square-foot mansion in Connecticut**
The sprawling property sold for $2.9 million — significantly less than the initial $18.5 million ask (84% less, to be more precise).
---
Emma Stone
Arizona native Emma Stone is among the newest celebrities that live in Austin, Texas.
The new mom and husband Dave McCary are raising their daughter in the Lone Star State.
After living in Los Angeles and New York City, the Academy Award-winning reportedly actress shelled out a small fortune for the Austin estate.
The 1.2-acre property boasts 5,000 square feet of living space. The mansion offers elegant brick and white columns and stunning crepe myrtle trees that decorate the motor court.
The posh property also includes a pool, formal gardens, and a detached garage building that likely includes some sort of guest/chauffeur quarters.
---
Willie Nelson
Born in Abbott, Texas, country crooner Willie Nelson has stayed put in his popular home state.
While he owns a luxurious vacation home in Maui, the country superstar has long been calling Texas home, and every long-term resident of the Lone Star state has at least heard about Willie Nelson's house, widely known as Luck Ranch.
As one of the most famous people that live in Texas, Nelson has lived on his 300-acre Spicewood, Texas, property since 1983.
Spanning 13,691 square feet, the plush property in Spicewood remains Nelson's primary residence.
Built in 1983, Willie Nelson's Luck Ranch boasts 4 bathrooms, a swimming pool, and 300 acres of land for his numerous rescue horses.
The iconic singer also owns The Pedernales Country Club, a golf course less than 10 minutes from his Texas estate.
---
Alex Jones
Far-right radio host Alex Jones owns 5 homes in Austin.
As one of the most controversial celebrities that live in Austin, Texas, Jones is a huge fan of the popular city.
The director of InfoWars, who is worth an estimated $7.5 million, owns 2 condos in the downtown-adjacent South Lamar neighborhood of Austin.
The Texas Homes of Disgraced Conspiracy Theorist Alex Jones https://t.co/4ggK4QD1GU pic.twitter.com/5u5d1NUXak

— Thomas Salzman #realtor (@CoolSfl) August 12, 2022
The father-of-two also has a luxurious waterfront property overlooking the Colorado river with a private boat dock, sauna and basketball court.
Jones also owns a 4-bedroom home just outside Austin. As well, the controversial radio host owns a 5,500-square-foot Spanish villa-style home overlooking Austin's famous Barton Creek Greenbelt.
Jones, a conspiracy theorist, faced legal troubles stemming from his claims about the Sandy Hook Elementary school shooting in 2012.
As The New York Post reported, Jones transferred ownership of the Barton Creek estate, which is worth an estimated $3.5 million, to his wife Erika Wulff Jones. Jones' father is also listed as a beneficiary of one of his condos.
---
Adrian Grenier
Born in New Mexico, Adrian Grenier is one of the newest celebrities that live in Texas.
The Entourage star opened up about leaving Hollywood for Austin, saying that it was a no-brainer to leave Los Angeles.
"I bought a place in Austin five years ago and a year ago I decided to move here permanently," he shared.
"I had friends here, I ran a business here, and liked the pace. Austin is cosmopolitan without being snooty; it's earthy," he said. "People are smart and successful but they don't flaunt it. There is nothing to prove, people accept you and it felt good right away."
And it sounds like his love for Mother Nature inspired his big move.
"I have been doing environmental work for the last 20 years, I've started organizations and run non-profits, all designed to tell people to live more in line with nature – and yet, I wasn't living that way," he shared. "In many ways, I reached the apex of that promise – if you work hard, you become famous, then you make a lot of money… but it was lackluster at the top."
Now settled right outside of Austin, the actor is loving the farm life in Texas. He's already "planted a fruit forest" and plans to get his "pond back into balance so we can fish from it."
Much like other stars– including Robert Downey Jr and Terminator star Arnold Schwarzenegger — who turned their homesteads into petting farms or veritable zoos, he also plans to "create a wildlife sanctuary" on the farm and have "llamas or alpacas, maybe some goats – not for a livestock operation but to keep the grass down."
---
Scott Eastwood
Suicide Squad star Scott Eastwood is also a proud resident of Texas.
The lookalike son of legendary actor Clint Eastwood is among the growing celebrities that live in Austin, Texas.
In 2018, the Wrath of Man actor took to Instagram to share his relocation news.
"I said goodbye to California and moved to Texas. Couldn't take the crowds anymore. Now everyone can surf even with no ocean," he captioned the image of himself hitting the waves.
Once he was all settled in, he couldn't help but gush about the Lone Star State."The people," Eastwood said of his favorite thing about living in Austin. "Everyone makes everyone feel at home. Everyone's polite. It's great."
More stories you might like
The Biggest Celebrities that Live in Atlanta & their Million-Dollar Mansions
5 of the Biggest Celebrities Living in Calabasas, One of LA's Most Affluent Neighborhoods
16 Biggest celebrities who live in Beverly Hills
17 Biggest celebrities that live in Malibu & their mansions