Ah, the lifestyle of the rich and famous…
If you're a Netflix fanatic like us, you've probably binged shows like Selling Sunset or The Real Housewives of Beverly Hills, meaning you already have an idea of what life is like in sunny Los Angeles — and its ritziest surroundings.
The truth is, Cali living is just about as glamorous as you're imagining. Just by walking on the streets of L.A., you're bound to bump into Hollywood celebrities at some point in the week — and there's no place with bigger odds for celeb spottings than Beverly Hills.
Biggest celebrities living in Beverly Hills, California
If you've ever wondered what celebrities live in Beverly Hills, we're here to solve that mystery for you. Because it's not just housewives who live here if you know what we mean (we're looking at you, RHOBH fans).
Some of the most famous people in the world reside in Beverly Hills, and we're about to give you a run-down of our favorites.
After a little bit of real estate detective work, we've compiled a list of celebrities who live in Beverly Hills at the moment – they do tend to move around a lot. If you're planning a visit and are thinking of taking a tour of celebrity homes in Beverly Hills, then make sure these next Hollywood stars — and power couples — are on your list.
John Legend and Chrissy Teigen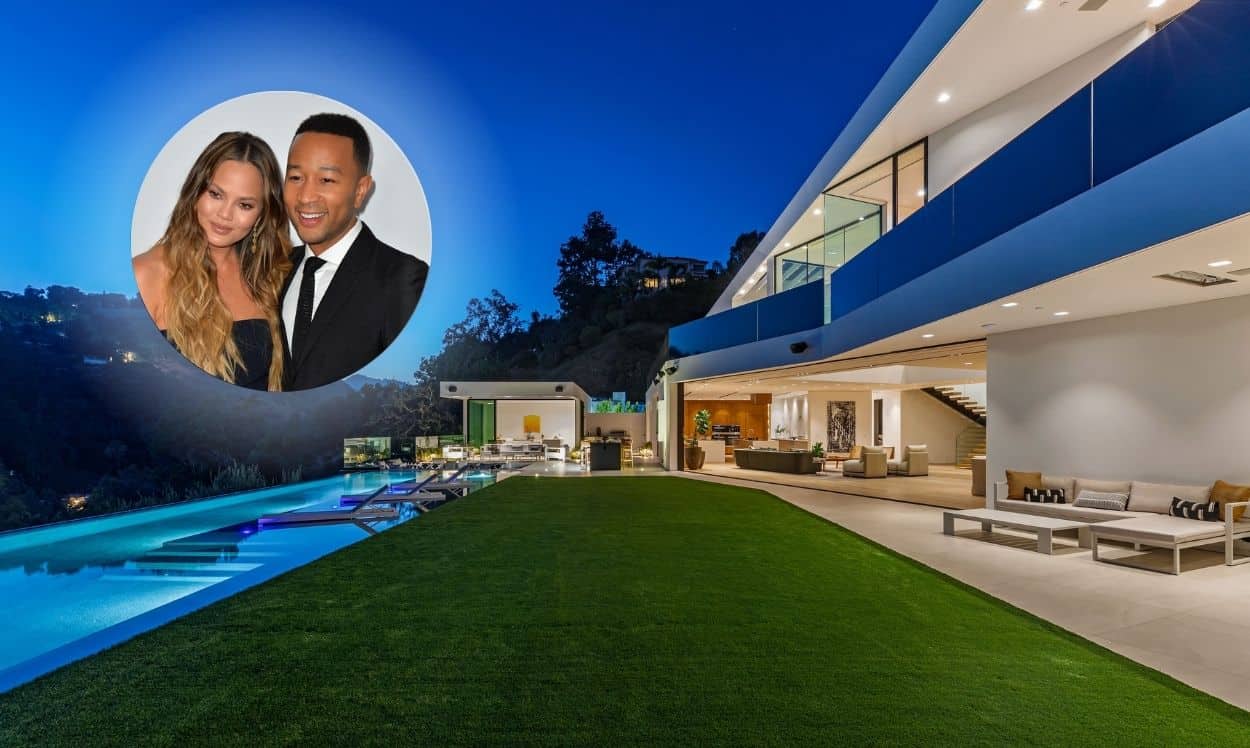 Celeb power couple John Legend and Chrissy Teigen paid $14.1 million to buy Rihanna's former home in Beverly Hills back in 2016. The couple and their two children made the most of their stunning home during Covid19 lockdown and shared jaw-dropping images of the family hanging out at the property.
But the couple was soon ready for a change, and they listed their long-time home for close to $24 million in the summer of 2020. They found their new dream home pretty quickly, and it was another Beverly Hills gem that cost them $17.5 million – a price worth paying for the zip code alone (90210).
The couple's new home features 6 bedrooms, 9 bathrooms, a 10,700-square-foot open floor plan, and 24-foot ceilings. They also get panoramic city-to-sea views from almost every corner of the house – a pretty nice upgrade, if you ask us.
SEE INSIDE: Chrissy Teigen and John Legend's house, a Beverly Hills trophy home
---
Ashton Kutcher and Mila Kunis
A sporadic Shark Tank host and savvy investor, Ashton Kutcher knows how to wisely invest his growing fortunes. And it's no surprise that the former That 70s Show actor, along with his equally (if not more) talented wife joined the ranks of celebrities living in Beverly Hills.
Mila Kunis and Ashton Kutcher live in a striking hilltop farmhouse that overlooks the rest of Beverly Hills. The two have taken the farmhouse life seriously and set out to turn their million-dollar property into a fully sustainable farm.
Fun fact: Ashton Kutcher (@aplusk) and Mila Kunis have the sustainable L.A. farmhouse of your dreams (and ours, too, for the record).

The design-obsessed couple gave us a tour of their six-acre property for the cover of our June issue: https://t.co/DDOzrGEiSr pic.twitter.com/5LS1WPYu7c

— Architectural Digest (@ArchDigest) May 18, 2021
KuKu Farms, as the couple lovingly call their homestead, now features a well — that irritates the land — and a corn field, on top of a sprawling garden full of squash, tomatoes, lettuces, and more.
But don't let that fool you into thinking the property is a rural farmstead. In fact, it's one of the most beautiful celebrity homes in Beverly Hills, proving that style and sustainability are not mutually exclusive.
---
Jack Nicholson
Jack Nicholson owns many properties across the country, but his long-time residence is located in Beverly Hills, on the notorious Mulholland Drive.
The multiple Academy Award winner is a veteran Beverly Hills celebrity resident, having first bought his property in 1969, purchasing additional parcels over the years to expand its footprint. He even bought Marlon Brando's former neighboring home in 2005, razed it, and had it rebuilt.
Nicholson's Beverly Hills home is also famous for darker reasons. It's here that director Roman Polanski reportedly abused an underage girl, while Nicholson and his then-girlfriend Anjelica Houston were away.
The original house that used to stand on the site burned down, and various other incidents took place on Mulholland Drive, leading some to claim that the entire area is cursed. Maybe that's what inspired David Lynch to make a movie about it.
---
Taylor Swift
Taylor Swift's Beverly Hills abode is in a league of its own. The singer paid $25 million for movie mogul Samuel Goldwyn's home back in 2015 — yeah, that Goldwin, you know, of Metro Goldwyn Mayer?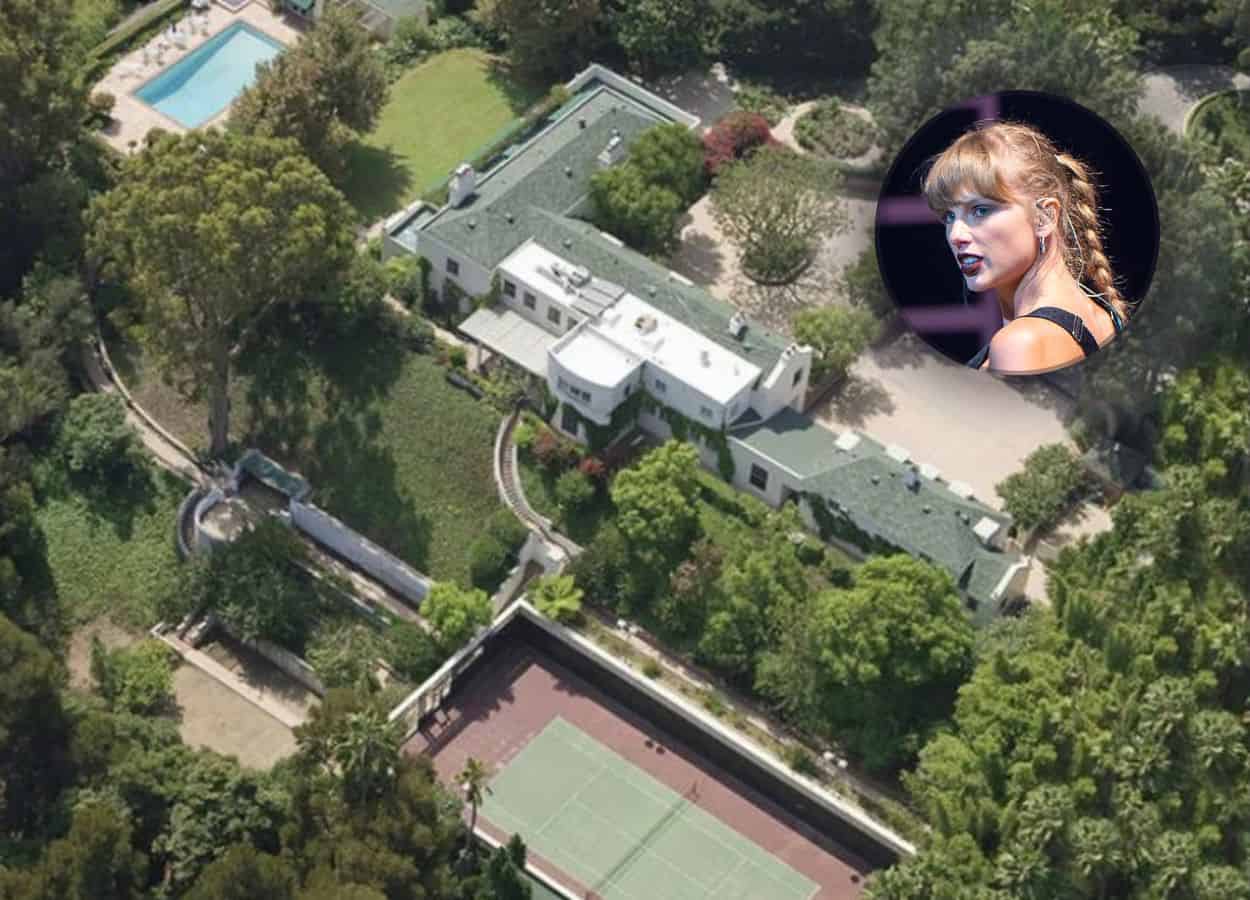 Swift's mansion was actually granted landmark status in 2017, which means the young musician now owns a piece of Hollywood history. The property has never before been owned by someone not part of the Goldwyn family, so Swift is also writing history, if you think about it.
The 10,982-square-foot mansion is to be restored to its former glory, with the approval of the Beverly Hills City Council, of course.
The singer also owns a sprawling house in Rhode Island, which got a shout-out on her 2020 album, Folklore, with the song The Last Great American Dynasty paying tribute to the wealthy (and eccentric) socialite who owned the house before her.
SEE ALSO: Taylor Swift's Holiday House — Home to "the Last Great American Dynasty"
---
Adele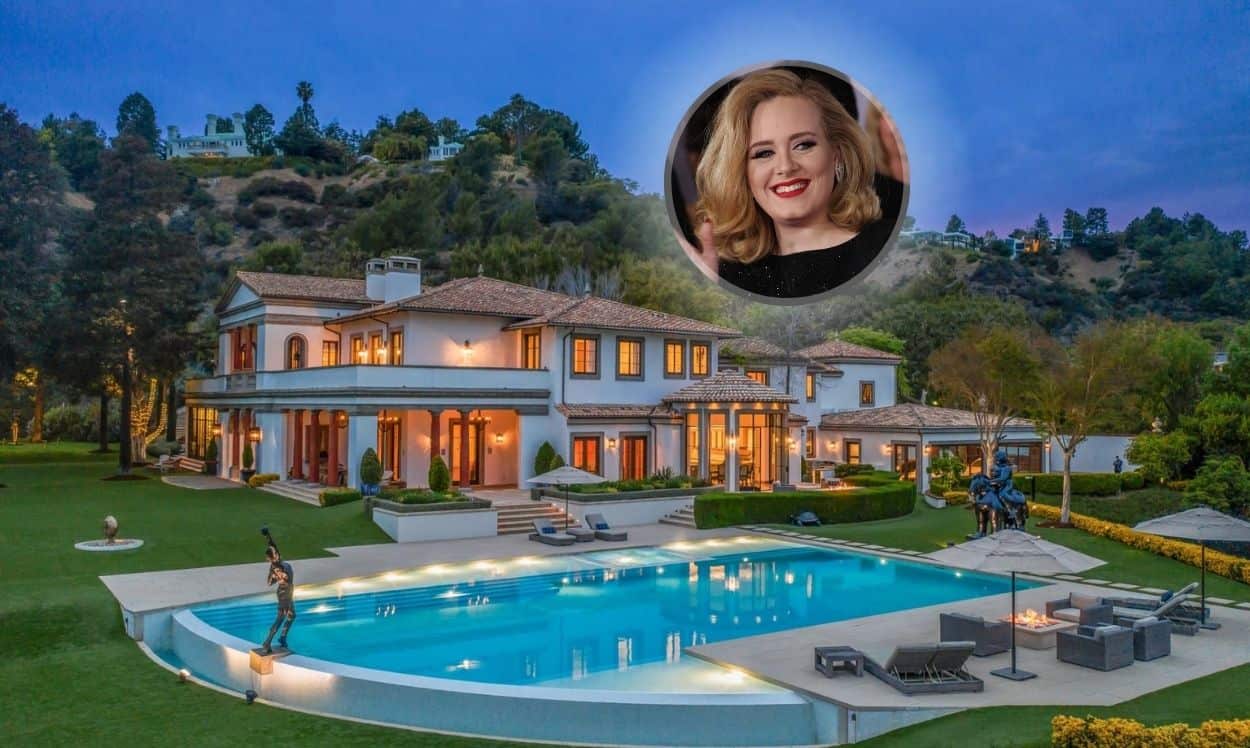 Grammy-winner Adele is another Brit who has a thing for California living. The singer purchased her first home in Beverly Hills in 2016 for $9.5 million, and her second in 2018, after splitting from husband Simpon Konecki.
She didn't venture very far to find her second home, though, as the two properties are across the street from each other. Adele's second Beverly Hills abode cost her $10.65 million and was built back in 1961 in the gated community of Hidden Valley. It was previously owned by film producer Michael Hertzberg, according to the L.A. Times.
But the singer didn't stop there.
Adele added another stunner to her real estate portfolio in 2022, when she shelled out $58 million for a property previously owned by Sylvester Stallone.
Adele's sprawling mansion boasts the iconic 91210 zip code and is located in Beverly Park, which is still pretty close to Beverly Hills if you ask us. The new luxurious estate is now her home base, although she continues to own several properties in Beverly Hills.
SEE INSIDE: Adele's house in Beverly Park, the $58M 'house that Rocky built'
---
Sandra Bullock
Actress Sandra Bullock is also part of the elite group of Hollywood stars who reside in Beverly Hills. Our beloved Miss Congeniality paid $16.9 million in 2011 for a seven-bedroom mansion right next door to Ricky Martin.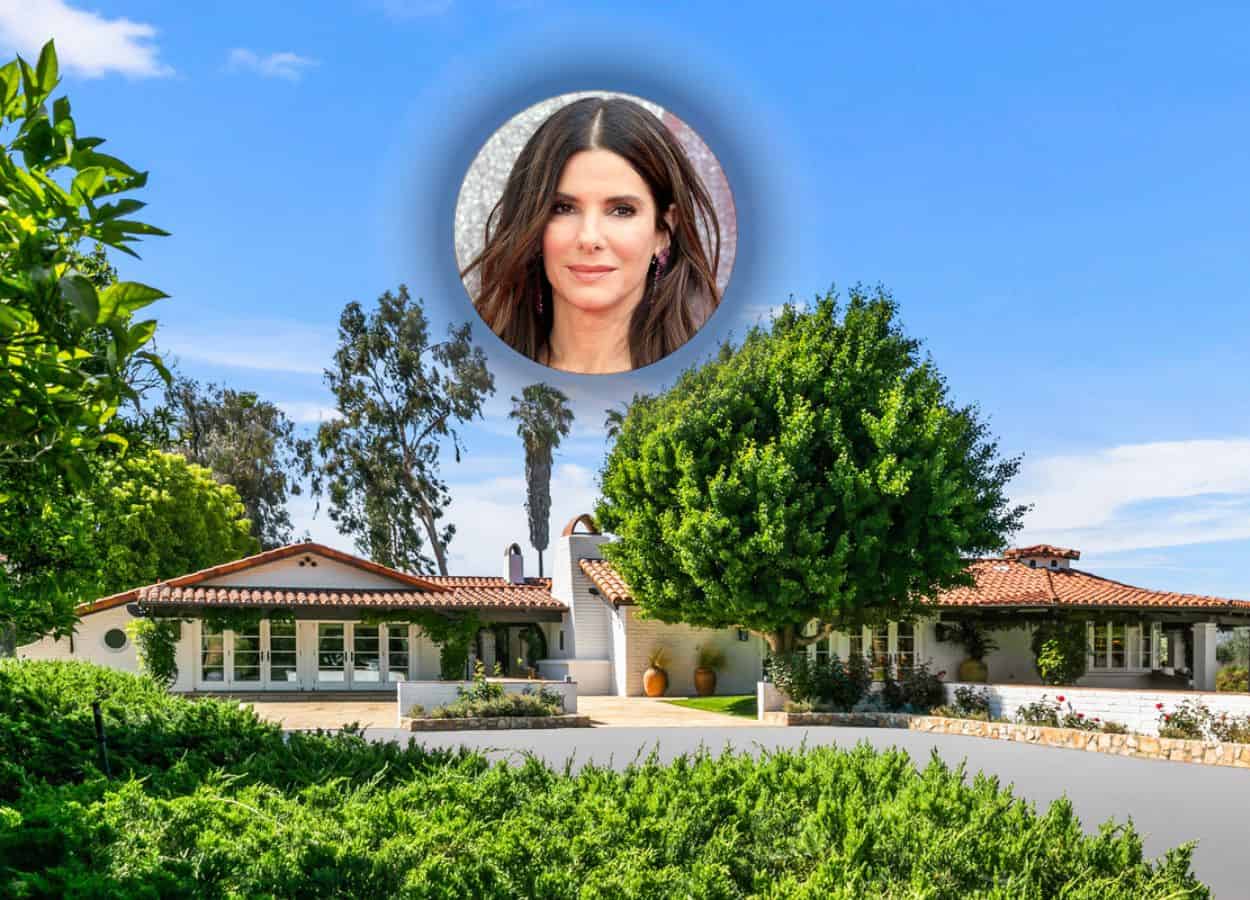 Bullock also used to own a 3,153-square-foot home right above the Chateau Marmont on the Sunset Strip, which she rented out for a whopping $18,500 per month. She reportedly had enough of her role as landlord and sold that property in 2018.
An avid real estate investor and collector, Bullock has an impressive real estate portfolio to her name. While her current home base is in New Orleans, Louisiana, Bullock also spends time at her residences in Beverly Hills, Malibu, Austin, and New York City, to name just a few.
In early 2021, the actress paid $2.7 million for a 1946-built bungalow nestled in the mountains above Beverly Hills. The multi-acre property features 3 bedrooms, 3.5 bathrooms, a swimming pool with a waterfall, and gorgeous views. The Hollywood actress likes to keep her personal life private, so there's no telling how much time she gets to spend at each of her various properties.
---
Jennifer Lawrence
Hunger Games star and Hollywood darling Jennifer Lawrence moved into her gorgeous Beverly Hills home back in 2014. The luxurious five-bedroom home came with a price tag of over $8 million, and an impressive list of previous homeowners, which includes Jessica Simpson and, shocker, Ellen DeGeneres.
The property boasts a romantic, European-inspired vibe, which you might not have expected from a strong personality such as Lawrence. The actress enjoys beautifully landscaped grounds, a koi pond, a swimming pool, and even a home gym. No wonder she's in such good shape.
---
Nicole Kidman and Keith Urban
Actress Nicole Kidman and her husband, country singer Keith Urban purchased their current Beverly Hills residence in 2008 for roughly $4.7 million, adding to their already heavy portfolio of real estate.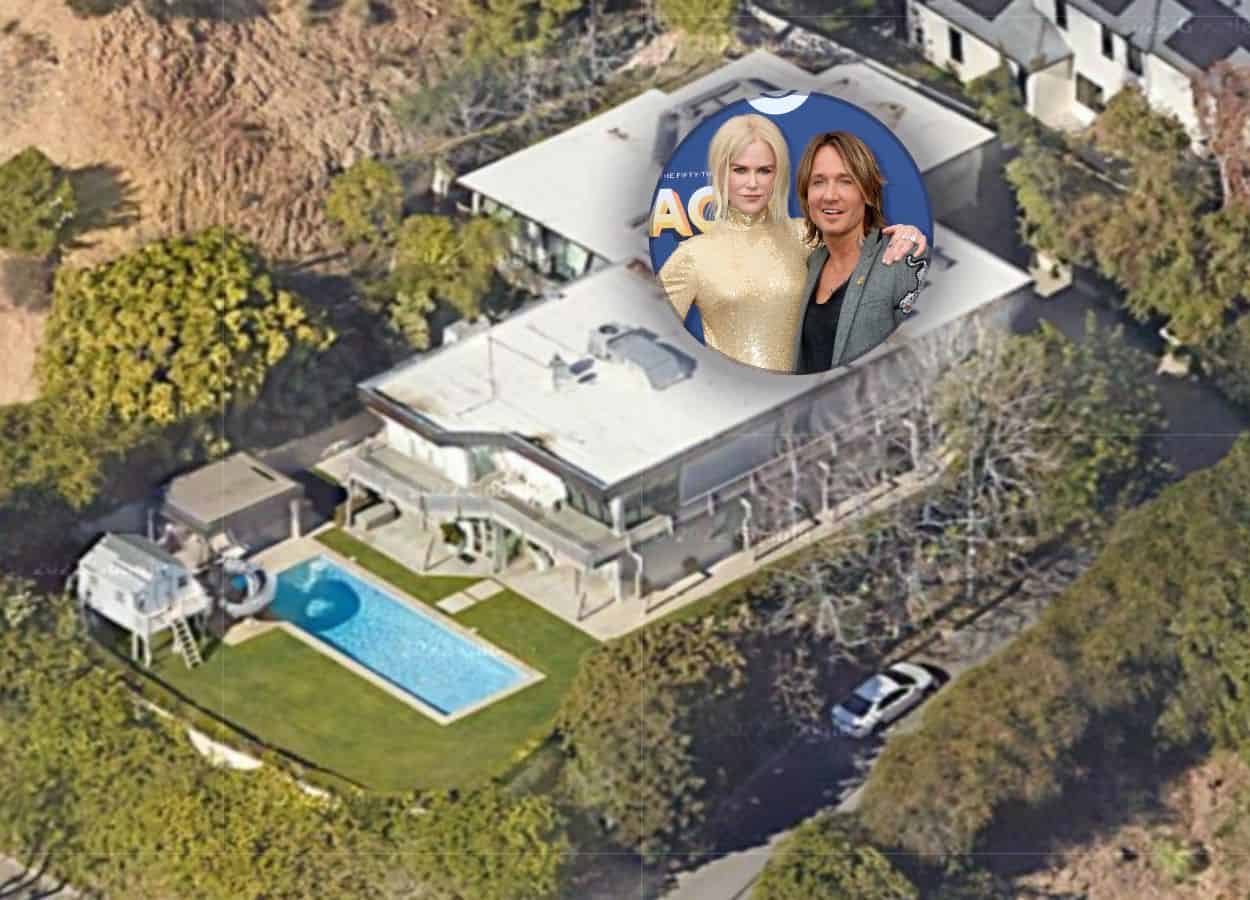 Since the acquisition, Kidman and Urban upgraded the property to include fun amenities for their children, including a jungle gym, a pool slide, and a chic cabana.
Their main residence is still in Nashville, but they own properties across the U.S., and their Beverly Hills mansion is reportedly one of their favorites. We say reportedly, because the couple is very private, and not much is known about their whereabouts. Even the interior of their Beverly Hills home remains a mystery, but we can safely suspect that it's nothing short of glamorous.
---
Jason Statham and Rosie Huntington Whiteley
Next up on our list of Beverly Hills A-listers is probably the most good-looking couple on the planet. British movie star Jason Statham and supermodel Rosie Huntington-Whiteley settled in Beverly Hills in 2015, when they paid $13 million for a stunning five-bedroom mansion.
Their incredibly beautiful home was designed by Jenni Kayne, and is a perfect mix of contemporary architecture and timeless elegance. We wouldn't have expected any less from the Victoria's Secret model, as her taste is always impeccable.
You can take a peek inside the couple's Beverly Hills mansion by watching Vogue's 73 Questions With Rosie Huntington-Whiteley video:
Not to mention that Statham is a passionate houseflipper. The couple and their young son spent lockdown at their modern mansion, where Rosie even filmed several Youtube videos sharing her beauty and style tips.
---
Kendall Jenner
Kendall Jenner's art-filled Beverly Hills home is so gorgeous that it was even featured in Architectural Digest. The supermodel gave us all a sneak peek inside her sprawling, $8.55 million Mulholland Estates home that was once owned by Hollywood bad boy Charlie Sheen.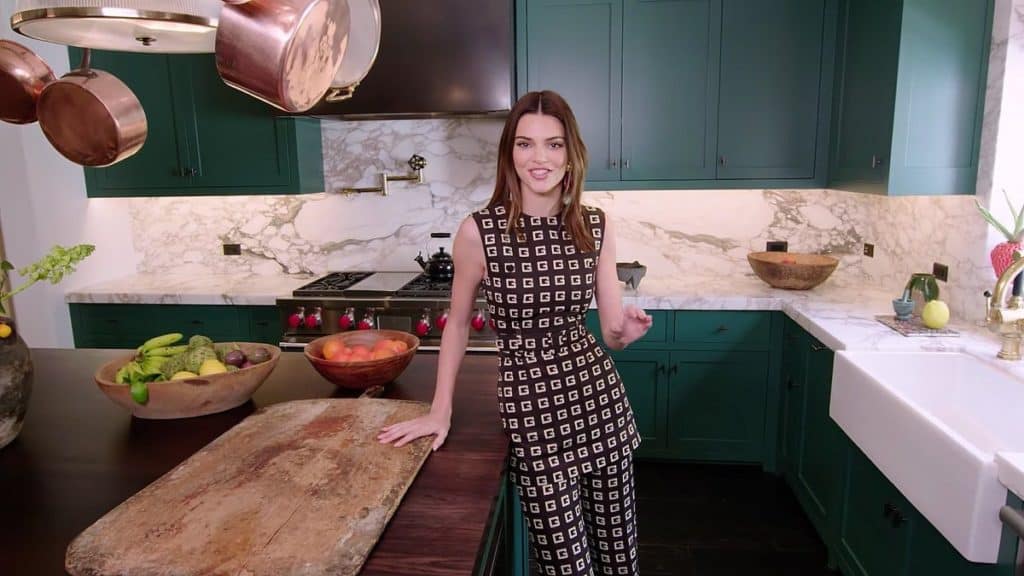 Jenner purchased the house back in 2017, and she listed a team of experts to help her redesign it to her heart's desire. The result is a cozy, serene, and quiet escape from Jenner's busy daily life, and a perfect retreat away from the prying eyes of the media.
The 6,625-square-foot home features meditation corners, a peaceful backyard, and an art studio where Jenner gets to unleash her creativity.
SEE ALSO: Keeping Up With the Incredible Homes of the Kardashians – the 2023 edition
---
Jeff Bezos
Amazon CEO Jeff Bezos is another celebrity with an impressive real estate portfolio under their belt. But this one is on an entirely different level, because Bezos owns the most expensive property in Beverly Hills, and probably one of the priciest in California.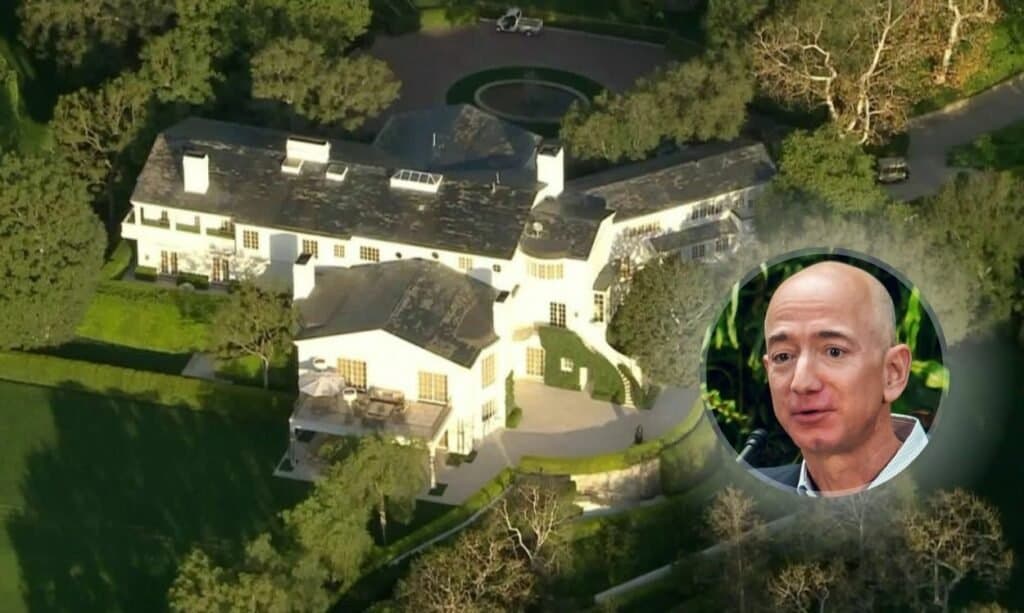 Bezos paid a whopping $165 million for the Jack Warner Estate, previously owned by David Geffen, in early 2020. It was a record sale for a private residence in Los Angeles County, and one of the priciest residential sales in the country.
The Warner Estate was built back in the 1930s and is a one-of-a-kind historic gem worthy of Great Gatsby-style parties. Since purchasing the luxurious mansion, Bezos invested heavily in upgrades, adding a pool house, a powder room, and more high-end amenities.
---
Lizzo
In October 2022, acclaimed singer and songwriter Lizzo paid $15 million to snag Harry Styles' former luxury mansion in Beverly Hills. The house was built in 2019 and boasts the legendary 91210 zip code, as well as 5,300 square feet of living space, 3 bedrooms, and 4 bathrooms.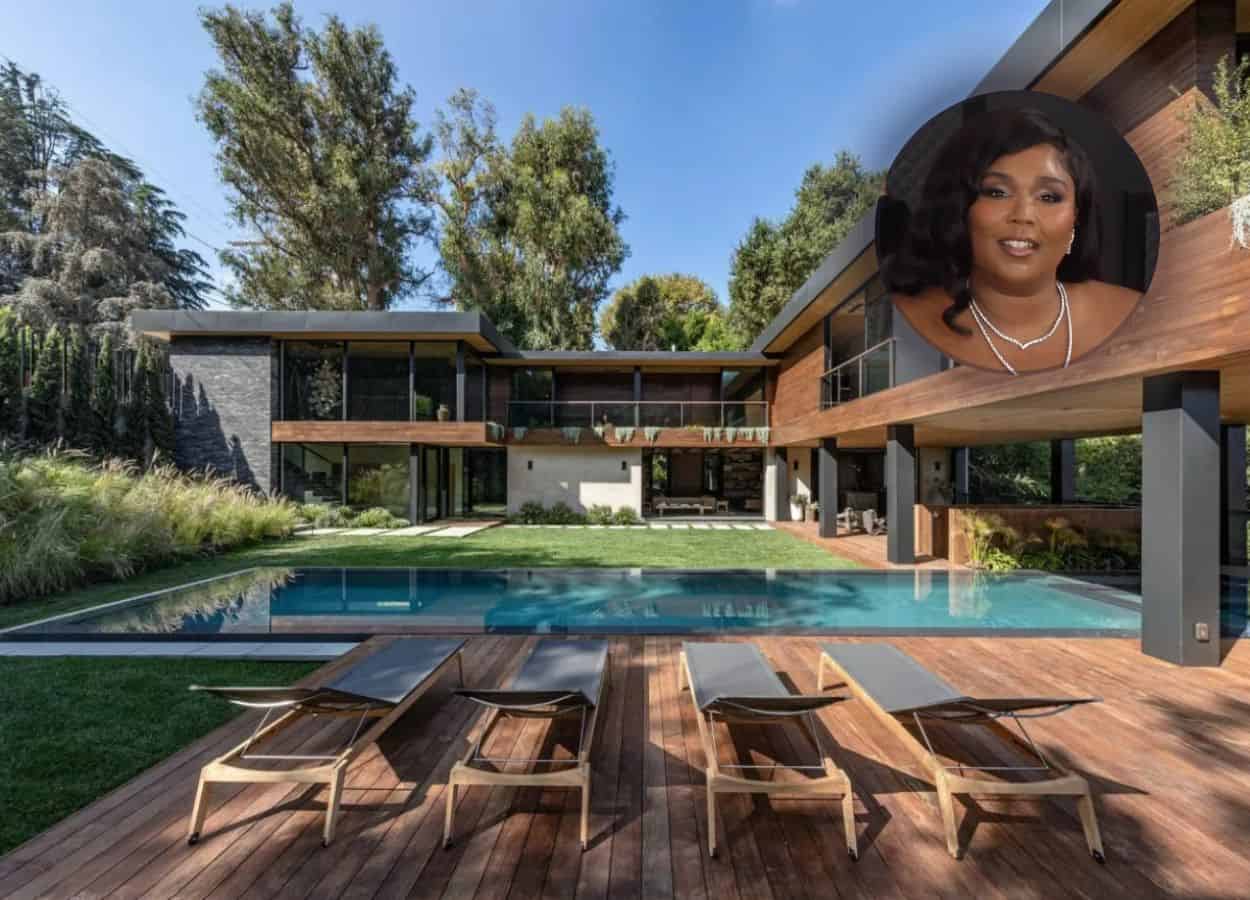 Nestled in a private, gated community perched in the mountains atop Beverly Hills, Lizzo's new home was owned by singer Harry Styles from 2014 to 2016. Since then, the property was remodeled and upgraded to meet the needs of modern A-list buyers like Lizzo.
The musician has not been shy about showing off her new digs, posting content on social media of her enjoying her stunning home theater or gorgeous infinity pool.
See inside: Lizzo's house in Los Angeles, a $15M luxe 'treehouse' with a celebrity past
---
Rihanna and A$AP Rocky
Rihanna made the news rounds in 2023 after headlining the Super Bowl halftime show, reaching another level of awesomeness in her career. Luckily, she's got quite a few luxury properties to retreat to and unwind after an adrenaline-driven show.
The singer boasts quite an extensive real estate portfolio, splitting her time between her properties in Beverly Hills, Century City, the Hollywood Hills, and Barbados.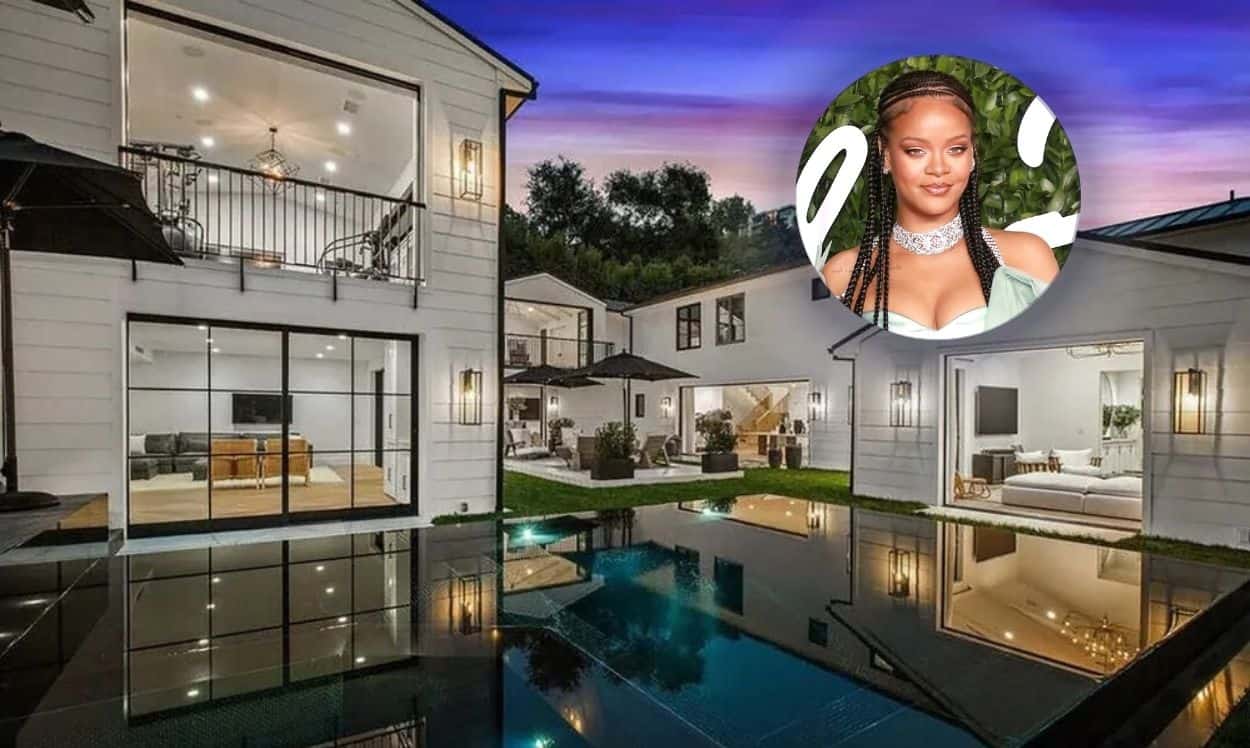 Rihanna had a busy year in 2020, purchasing a five-bedroom mansion in Beverly Hills' 91210 zip code for $13.8 million. Just months later, she paid $10 million for another four-bedroom mansion right next door. This investment might be a sign that this is where the singer and her partner, Asap Rocky, plan to settle down and raise their growing family.
The 7,600-square-foot home was built in 1938 and features 5 bedrooms, 7 bathrooms, huge walk-in closets, marble bathrooms, large private terraces, and stunning views. But above everything, the property offers privacy from the inquisitive eyes of the paparazzi.
Who knows, the house next door could house a recording studio, additional security and staff, or more baby rooms!
SEE INSIDE: Rihanna's house in Beverly Hills
---
These are just some of our favorite celebrities who live in Beverly Hills. This eclectic enclave is a magnet for Hollywood stars, so the list could go on and on, but we'll stop here – for now. Stay tuned for more celebrity-related real estate coverage on Fancy Pants Homes!
More celebrity homes you might like
Where Does Lady Gaga Live? Check Out Her 'Gypsy Palace' in Malibu
See Travis Scott's House: a $23.5M Ultra-Modern, Yacht-Inspired Mansion
Cardi B's House in Atlanta is Pure Old-World Luxury
The Alluring History of Hugh Hefner's Playboy Mansion