"Change is exciting!" That's what Heather Dubrow said as she bid adieu to her stunning mansion, Chateau Dubrow.
The Real Housewives of Orange County star, and her husband Terry Dubrow of Botched, have been one of the most iconic couples in the franchise.
The dynamic duo shared some of their most intimate moments in the series — from tense fights to family vacations, and the construction of the iconic Chateau Dubrow.
With a combined net worth estimated at around $100 million, the power couple had the financial freedom to spare no expense when it came to building their dream home. And that's exactly what they did (and are about to do again).
Now that they've parted ways with their palatial Newport Beach mansion — and splurged on a lavish Roberto Cavalli Penthouse at The Century in Los Angeles — Terry and Heather are looking to embark on their biggest real estate adventure yet: turning the former De Laurentiis estate in Beverly Hills into their new dream home.
But before we go into the specifics of their soon-to-be forever place, we'd be remiss not to mention how successful their former home's transformation was — and how much money it earned them.
How Terry and Heather's Chateau Dubrow took shape
In season 11 of RHOC, the Dubrows documented the construction of the mansion.
The jaw-dropping home sits on a 40,000-square-foot property in the tony enclave of Crystal Cove in Newport Beach, offering majestic views of the ocean. While it was Terry who found the prime spot of land, Heather was the one in charge of the design and decor.
"With this house she said, 'Here's the deal. I'm going to build this house, but I don't want to hear anything from you at all.' And so that was the rule," Terry shared with Architectural Digest.
With 22,000 square feet of living space, the palatial estate is decked out with the most luxurious features, starting from the eye-catching exterior, which Heather compares to that of The Breakers, the luxury Palm Beach resort.
Inside, there are 7 bedrooms, 14 bathrooms, and amenities that are fit for even the pickiest A-listers. Some of its most notable areas include the 24-seater private movie theater, a champagne wall, a glowing basement, and an outdoor BBQ pavilion.
The construction of Chateau Dubrow was finished in 2015 but it wasn't until season 16 that they gave an exclusive tour of the place.
Selling Chateau Dubrow (and why Heather tried to keep the $55 million sale a secret)
While the mansion was "perfect in so many ways", as Terry described it in a past episode, the couple sold the property for a whopping $55 million in October 2022, represented by powerhouse realtor Josh Altman — a reality star in his own right, leading the cast of Million Dollar Listings LA.
The massive deal was the third-highest sale in the history of Orange County at the time.
According to Terry, he used to think that this would be their home forever, "I used to feel like I wanted to be buried in the backyard. I never wanted to leave." His feelings changed after their kids moved out for college.
For her part, Heather was thrilled to close the deal. However, she kept the record-breaking sale a secret for fear of being judged by her circle. "It feels like if I tell some of my friends something positive that's happened to me, I'm bragging," she explained in the confessional.
Later on, she decided not to hold back anymore and posted a celebratory dance with her husband on Instagram, with a caption that said they felt like they were in their "honeymoon stage" all over again.
The couple bought a $14 million "crash pad" at The Century
Following the sale of Dubrow Chateau, the couple purchased a chic penthouse in The Century for $14 million — which you may have caught even if you're not a RHOC fan, as the sale was also featured in Season 6 of Selling Sunset (Heather Rae El Moussa assisted Terry and Heather in the purchase).
The chic abode — dubbed "the Roberto Cavalli Penthouse", for good reason — serves as the couple's pied á terre, which they stay at for a couple of nights a week.
The penthouse sits 38 floors up, boasting views of the Hollywood sign and the surrounding ocean. Featuring three generously sized bedrooms and three-and-a-half bathrooms, this unit was purchased fully furnished.
What makes it ultra unique is that it was the first ever home in the US designed by fashion icon Roberto Cavalli. So it only makes sense for it to be owned by one of our favorite reality TV housewives.
With a masterful fashion designer at the helm of its design, it's no wonder the condo is dripping with luxury. Some of its most notable features include a lavish bar, chandeliers with custom Murano glass, and a beautiful balcony with views of the city and the iconic Hollywood sign.
While significantly smaller than Chateau Dubrow, the couple has been enjoying their "crash pad" like newlyweds.
"I'm in a very transitional stage in my family's life," Heather explained at BravoCon22. "What I would say is, just like when you first get married and you're having those conversations about where you're gonna go, what you're gonna do with your lives, we're kind of having, like, a second moment of that."
Heather Dubrow's new house — and passion project
Heather also announced that work on her new dream house is already underway.
The Dubrows bought a $16 million estate in Beverly Hills, which belonged to Hannibal producers Dino De Laurentiis and his equally famous producer-wife, Martha.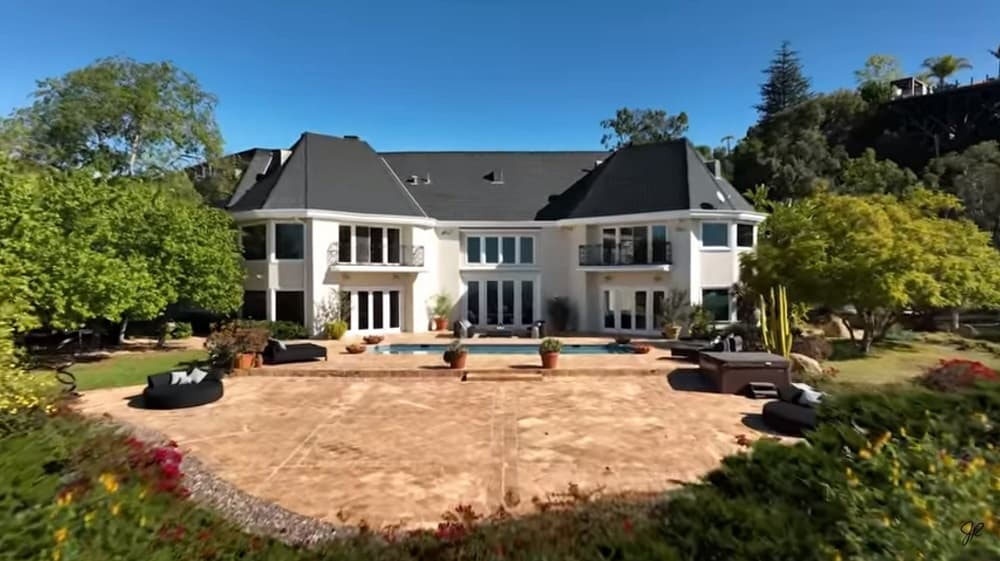 Per Heather's Instagram post, it should take around three years to finish this house project. Seeing the success of Chateau Dubrow, we're pretty sure this one's going to be equally spectacular, especially since the property itself will give the reality show star a lot to work with. Here's everything we know about the sprawling estate.
The De Laurentiis estate in Beverly Hills
Heather Dubrow's new house, also known as the Dino De Laurentiis estate, is the former Beverly Hills home of legendary Hollywood and Italian film producers Dino and Martha De Laurentiis.
Credited with bringing Italian cinema into the American mainstream, Dino De Laurentiis (who is also the grandfather of former Food Network star Giada De Laurentiis) worked on more than 500 films, including Serpico (1973), Conan the Barbarian (1982), Blue Velvet (1986), the remake of Flash Gordon (1980); David Lynch's Dune (1984), and more iconic movies — including the first Hannibal Lecter film, Manhunter (1986), and the sequels Hannibal (2001) and Red Dragon (2002), and the prequel Hannibal Rising (2007).
In 1990, he married Martha Schumacher, who produced many of his films beginning in 1985, and the two formed the Dino De Laurentiis Company (DDLC). After Dino passed away in 2010, Martha inherited the Beverly Hills estate and held on to the property until she passed away in late 2021, after which it was listed for sale for a hefty $37.5 million.
Sitting on a nearly 8-acre plot with breathtaking views of the city and ocean below, the property is anchored by a 6,000-square-foot main house originally built in 1946.
After a few price adjustments that saw the listing price go down to $19.5 million, the Dubrows paid $16.1 million for the 5-bedroom, 4-bath home, which amounts to $2,777/square foot.
Talking about her new house, Heather shared with Kelly Ripa and Mark Consuelos on LIVE with Kelly and Mark that there's a lot of work to be done on the property, far more than on any other home she's worked on revamping in the past.
"There's a lot going on. But what's cool is that I've never done a remodel to this extent before, and what I love about it is that it's like a puzzle… I love it! And it's like 8 acres, and it's the city and the ocean, and it's so gorgeous! I'm so excited!"
The hosts of the daytime talk show pointed out the celebrity-heavy history of the house and the many Hollywood heavyweights that crossed its doors, with Heather chiming in that "De Laurentiis' granddaughters have stories about Cary Grant being in the kitchen, and I think Lana Turner and her husband had owned it for a time, so there is so much iconic Hollywood history there, I am just thrilled".
Needless to say, we're excited to see how Terry and Heather will transform this 1940s home into their own dream property.
More stories
Where do the 'Real Housewives of Beverly Hills' Live?
Paris Hilton's multi-million-dollar houses with husband Carter Reum