Cue up your favorite girlboss anthem, because the high-powered female brokers at the Oppenheim Group are back!
And along with them come more million-dollar deals and all the drama you'd expect from the Netflix series best described as 'Real Housewives meets Million Dollar Listing.'
Spicing things up these past couple of seasons are two new additions to the Selling Sunset cast, joining familiar faces like Chrishell Stause, Mary Fitzgerald, Emma Hernan, Heather Rae El Moussa, Amanza Smith, and Chelsea Lazkani. And if S07 is any indication, we might see Cassandra Dawn joining (and adding to the drama) soon.
O Group veteran Nicole Young stepped into the limelight in Season 6 (after she'd only made brief appearances in past seasons, including a memorable one in Season 2 when she officiated Mary and Romain's wedding), alongside model-turned-real estate agent Bre Tiesi.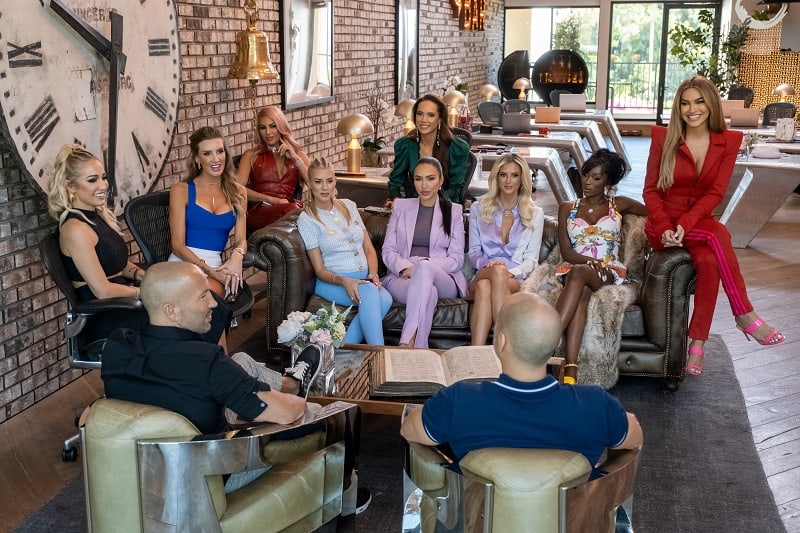 For those of us keeping up with celebrity news, Bre was already a familiar face, as the ambitious real estate agent was holding headlines last year after having a baby with Nick Cannon.
In Season 7 of Selling Sunset, Bre also set the internet ablaze after her little comment about a brief past romance with Creed star Michael B. Jordan (whose former house looks like it was plucked right out of the glitzy reality show), later saying she hadn't realized the cameras were rolling. Suuure…
But despite the show's new additions, what we're most excited to see are more jaw-dropping mansions and multi-million-dollar homes — and there's no shortage of those in the new season.
So we took it upon ourselves to track down all the spectacular houses in Selling Sunset Season 7, and give you a breakdown of their impressive features, endless lists of amenities, and upscale features.
We've also spotted a couple of houses that we've previously written about — and know for a fact that they had famous past owners, one of them being actor James Franco's old house — and we have all the dirt of past season houses as well. So let's get to it!
The spectacular houses in 'Selling Sunset', Season 7
Readcrest Dr. house in Beverly Hills
Kicking off the season strong, Bre, Amanza and Emma get together in a newly listed $15,995,000 mansion that's the epitome of modern luxury.
"One of my friends is the listing agent," Bre tells us, giving away that the Oppenheim Group members aren't her only reality star/real estate agent friends. The listing was actually held by Million Dollar Listing LA star Josh Altman, who's also made appearances on Keeping Up with the Kardashians and Giuliana and Bill on the E! network.
Price (on the show): $15,995,000
Specs: 5 bedrooms, 6 bathrooms, 9,400 square feet
Amenities: entertainment lounge, gym, an infinity edge pool and spa, multiple wrap-around terraces, rooftop patio
Other notable features: Perched in the hills of the premier Crest Streets of Beverly Hills overlooking city, ocean & canyon views
Status update: While Selling Sunset has it priced at $15,995,000, the Readcrest Dr. house's asking price was actually $15,888,888, public records show. And we're using the past tense to refer to it, as the contemporary mansion has already found a buyer and is Pending Sale. After the sale goes through, we'll be quick to update the article and let you know what the final sale price was.
---
Halvern Dr. house in Brentwood
The luxurious $26M mansion Mary and Nicole visit in Brentwood at the beginning of the first episode is also a Josh Altman listing.
Price (on the show): $26,000,000
Specs: 8 bedrooms, 16 bathrooms, 12,800 square feet
Amenities: several living rooms, multiple bars, a theatre room, game room, gym, office, multi-level outdoor entertaining space, infinity edge aqua pool and spa
Other notable features: a guest house with an additional 1 bedroom and 1 bathroom
Status update: Last priced at $25,000,000, the sprawling Brentwood house did not manage to find a buyer, and was later offered as a rental at $155,000/mo. And it likely found its newest resident, as the property has been off the market since July 19, 2023.
---
Mirror Lake Dr, where Emma takes Josh Richards
Toured with Emma's successful 20-year-old client Josh Richards (who's actually quite the celebrity in Canada, where I live, with over 25 million followers on TikTok alone), Mirror Lake Dr. is quite the stunner. Here are the specs:
Price (on the show): $6,939,000
Specs: 6 bedrooms, 8 bathrooms, 7,005 square feet
Amenities: a master suite with views of the Hollywood sign, an infinity-edge pool and spa adorned with sleek black marble, an entertainer's basement with a wet bar, a fully-equipped gym, and home theater
Other notable features: 14-foot ceilings, elegant marble-clad fireplaces, a floating staircase flanked by a verdant moss wall
Status update: Co-listed by Danielle Peretz of The Beverly Hills Estates and George Ouzounian with The Agency (you know, the competing brokerage with a similar Netflix reality series), the property is still on the market, but with a reduced asking price of $6,299,000.
---
The iconic Sheats-Goldstein Residence
An O Group-worthy anniversary (especially one as important as celebrating 10 years of massive growth) needs a special location.
And real estate-wise, it doesn't get any more special than the Sheats-Goldstein Residence, one of LA's most unique — and desirable — houses.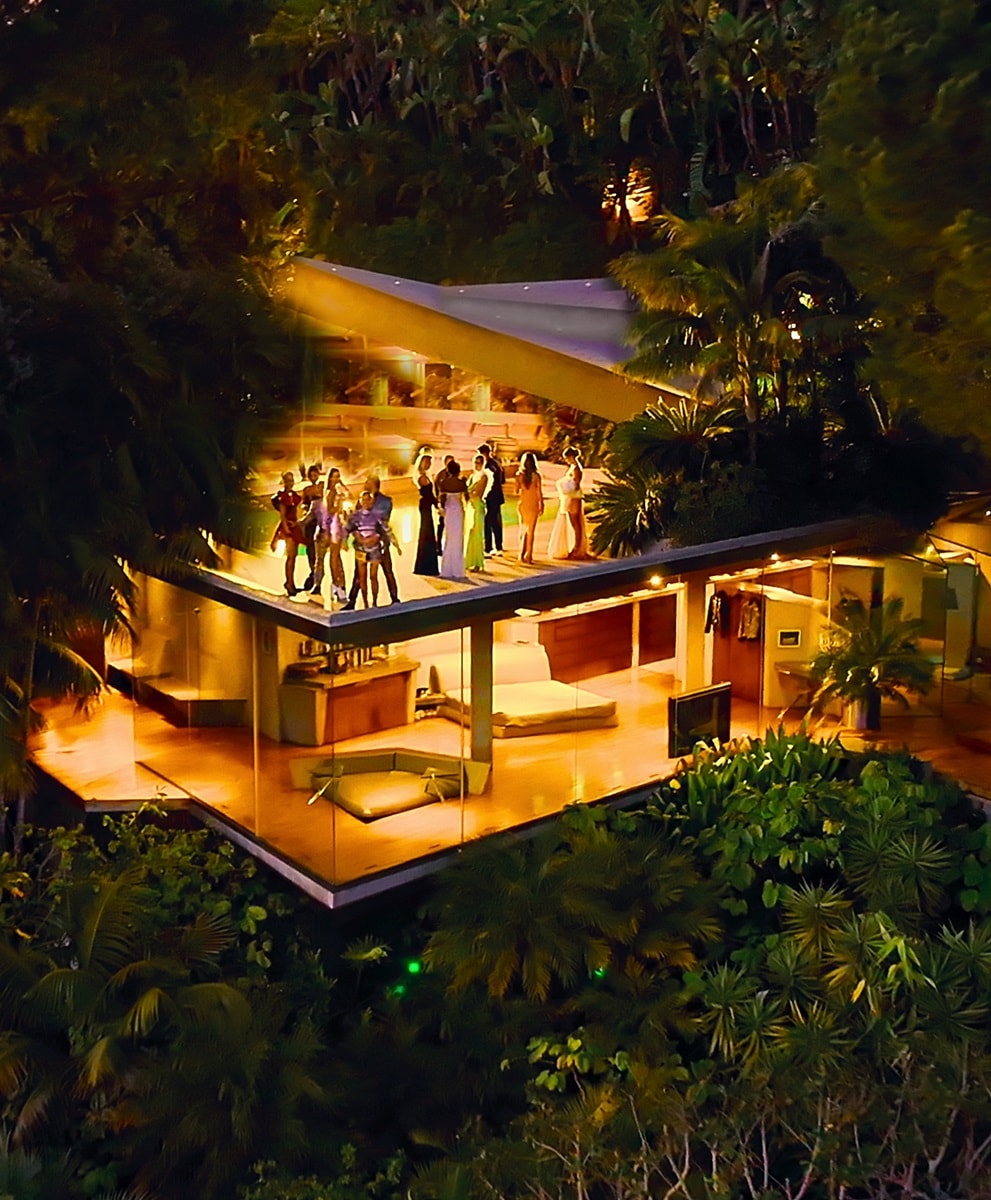 With a unique design by American architect John Lautner, and a touch of glam by owner James Goldstein, this futuristic mansion is an iconic Hollywood landmark – and a popular hangout spot for celebs.
If you're not familiar with John Lautner's iconic Beverly Crest mansion, or with the estate's flamboyant owner, then you're definitely missing out — and we've written a dedicated article covering everything you need to know about the Sheats-Goldstein residence (and its eccentric owner).
---
Brett's $50 million penthouse
The uber-expensive penthouse Brett shows to Chelsea and Bre is set in the coveted 8899 Beverly building, designed by the famed Olson Kundig as a tribute to Los Angeles.
A collection of 40 Tower Residences and 8 Rosewood Homes in the heart of West Hollywood's Arts and Design District, the building is as selective as it is expensive, prompting Brett to rightfully say that "This is probably, without exaggeration, the nicest condo in Southern California."
It was even featured in Architectural Digest, and you can take a full tour here.
Price (on the show): $50,000,000
Specs: 4 bedrooms, 6 bathrooms, 6,500 square feet
Amenities:  a 2,782-square-foot wraparound terrace overlooking L.A., and all the upscale amenities of the building itself
Other notable features: 14-foot ceilings (highly uncommon for condos, regardless of their price range), private elevator & guest waiting area
Status update: A little trickier to track down, but there's no indication that this lavish penthouse is still on the market. Former Million Dollar Listing NY star Fredrik Eklund's team is in charge of selling all the units in the building, and their website no longer shows a $50 million penthouse listed (or anything else close to that price point). We also wouldn't have missed such a high-profile sale, so it's safe to assume the sprawling unit hasn't found a buyer.
---
Rivas Canyon Rd in Pacific Palisades
Previewing it for one of Chrishell's clients (who has "a growing family and a nice budget", in Amanza's own words), the girls head off to celebrity favorite Pacific Palisades, where they tour a striking contemporary home built in 2018.
Price (on the show): $20,500,000
Specs: 8 bedrooms, 12 bathrooms, 12,000 square feet
Amenities: two full kitchens, a humidor, grand bar, home office/library, and screening room, and an Island Stone pebbled pool and spa
Other notable features: it sits on approximately 1.9 acres of land with ample mature landscaping, and it also has a detached home office/guest house, a 3-car garage, and a large motor court plus a second driveway
Status update: last listed by Nicholas O'Malley of Coldwell Banker Realty, the property was taken off the market in late June 2023.
---
Via de la Paz, also in the Palisades
In episode 3, Season 7 of Selling Sunset, Bre goes to the Palisades to tour a 4,200-square-foot home done by the same developer who built Alesso's house.
Here's everything we know about the property:
Price (on the show): $6,275,000
Specs: 5 bedrooms, 6 bathrooms, 4,200 square feet
Amenities: gourmet kitchen and breakfast area with a large butler's pantry, an elegant living room with a private patio, a stately dining room
Other notable features: a lively family room that opens out to the expansive yard with pool/spa, and BBQ area
Status update: Clear even from the show that the property was never listed with the O Group, the Pacific Palisades mansion sold in February 2023 for $6,000,000 (4.4% less than the asking price). Jacqueline Chernov with Compass was the listing agent.
---
Chelsea's $10M Mulholland listing
Brett and Jason brought Chelsea on a $10 million listing — much to Bre's dissatisfaction, who thought she'd be a better fit to handle the high-priced property.
Price (on the show): $9,995,000
Specs: 6 bedrooms, 9 bathrooms, 10,847 square feet
Amenities: sparkling pool, spa, waterfall, outdoor bath, cabana, and sports court, and parking for 20+ cars
Other notable features: located on the famous Mulholland Corridor. It also has two oversized living rooms, soaring 16 ft. vaulted ceilings, and dramatic high arched walkways
Status update: When it comes to real estate, Chelsea Lazkani does not play around. Staying true to the promise she made Brett and Jason, Chelsea delivered and found multiple potential buyers for the Mulholland Drive house, which sold for $10,000,000 (that's $5k over the asking price after a higher offer fell out of escrow).
---
The house Garrain Jones visits
The Encino house Amanza tours with her friend, motivational speaker Garrain Jones.
Possibly the most emotionally charged property visit, as the longtime friends have known each other since way before they were famous, with Garrain telling Amanza that "I think the last time I saw you I was living in an abandoned building", hinting at the hard times he's been through before becoming a successful author and coach and traveling the world doing motivational speeches.
Price (on the show): $5,995,000
Specs: 6 bedrooms, 6.5 bathrooms, 6,250 square feet
Amenities: floating office/library with glass wall looking over the pool, elevator, rooftop deck, pool house
Other notable features: a dreamy backyard with an infinity pool & spa large built-in BBQ with grill & sitting area, waterfalls, a huge wood deck for entertainment
Status update: After a $100,000 price drop that saw its price revised to $5,895,000, the Encino house still hadn't attracted a buyer and was taken off the market in June 2023. It is now being offered as a luxury vacation rental.
---
Somma Way, the $59 million mansion
Alongside industry heavyweight Shawn Elliot, the team steps inside an ultra-luxurious compound dubbed The Estate on Somma — touted as "one of the most spectacular private residences in the world", per the listing.
Price (on the show): $59,000,000
Specs: 8 bedrooms, 21 bathrooms, 41,000 square feet
Amenities: a 36-person theater, multiple kitchens, six bars, a professional basketball court, 1200 bottle wine cellar with a wine tasting room, and a recording studio
Other notable features: a 75 indoor pool, sauna, steam room, hair salon and fitness studio, multi-level terraces
Status update: As is to be expected with a property in this price range, not much has changed for the $59 million Somma Way house. It's still on the market and hasn't had its price altered — though it's worth noting that before being featured on Selling Sunset, the massive Bel Air house had previously been listed for a whopping $78,000,000.
---
Chrishell's listing, staged by Nicole
This is the house Chrishell shows to Nikki Glasser, a popular stand-up comedian, actress, podcaster, radio host, and television host (who Jason admits is his favorite stand-up comedian).
The Queens Rd house that Nicole stages and preps for Chrishell's return to work after her medical intervention may be on the lower end of the price ranges the O Group accustomed us with, but is actually a beautiful Hollywood Regency-style abode that dates back to 1948 that has been wonderfully restored by renowned AD100 designer Tim Corrigan.
Price (on the show): $3,595,000
Specs: 2 bedrooms, 3 bathrooms, 2,307 square feet
Amenities: two fireplaces, dual master suites (one on each floor) each equipped with their own ensuite baths, a private yard that features a large pool and a built-in BBQ
Other notable features: the property has recently undergone an artful restoration by renowned AD100 designer Tim Corrigan
Status update: While Nikki Glaser didn't buy the property, Chrishell's listing didn't linger on the market at all. Thanks to her hard work and Nicole's impeccable staging, the Selling Sunset house on Queens Rd quickly sold for $3.3 million (though it is worth noting that the sale price is -5.6% lower than the asking price).
---
The $12M Beverly Hills Post Office listing
On the heels of Chelsea's successful sale (she closed on a $22 million and the $10 million Mullholand listing, claiming the title of "queen bee" of the office), Jason brings her aboard a $12 million, architect-owned listing that doesn't fail to impress.
Price (on the show): $12,000,000
Specs: 5 bedrooms, 7 bathrooms, 7,000 square feet
Amenities: a sprawling great room with a fireplace that has a built-in fully equipped bar with temperature-controlled wine storage, a sophisticated chef's kitchen, a primary suite with a private terrace, showroom closets & dual bathrooms
Other notable features: towering ceilings and sliding walls of glass, a resort-caliber pool & spa, and entertainer's terraces with cascading waterfalls
Status update: Still on the market for $11,999,999, the Angelo Drive listing is also being offered as a rental, asking $35,000/mo.
---
Chrishell and Bre's 'safe word' house
The Beverly Hills house Bre takes Chrishell to visit — and they're both taken aback by how impressive it is in real life — is a beautifully updated contemporary home known as BEVEL that was actually built in 1960 (though you could never tell, thanks to the ultra-stylish upgrades).
While talking to Bre and Chrishell, Ori, the designer of the elegant home, admits that he draws his inspiration from luxury hotel designs — as his father used to develop hotels — creating spaces that envelop guests in utter luxury. It then comes as little surprise that the house's primary bathroom is touted as "probably the most beautiful bathroom in all of Los Angeles".
Price (on the show): $13,498,000
Specs: 5 bedrooms, 7 bathrooms, 5,872 square feet
Amenities: 7-foot-tall dual gates that open to a roundabout, a 26′ deck, a movie theater, and a glass-enclosed gym overlooking a 45-foot custom zero-edge infinity pool
Other notable features: a striking primary suite with an oversized primary closet and a jaw-dropping bathroom with a fireplace and a retractable ceiling
Status update: The BEVEL house is still on the market, though its price saw some adjustments since Season 7 of Selling Sunset filmed its scenes here. First reduced a few months back, the "safe word" house's price now sits at $11,998,000.
---
The $100 million house in Cabo
When Brett and Jason fly the team to Mexico to show them the new Oppenheim Group office in Cabo, they make sure the accommodations are on point.
The O Group stays at Cielito del Mar in Cabo San Lucas, a sprawling three-acre oceanfront property that is, in Brett's own words, "the most expensive house in Cabo". And there's good reason for that, as Casa Cielito is the last remaining original Chileno Bay Estate from Baja's Golden Age — upgraded for modern-day living
While not technically a listing, as Cielito del Mar is a vacation property, we did find some interesting facts about it.
Price (on the show): $175,000/week; accommodates up to 18 guests
Specs: 8 bedrooms, 9 bathrooms, 3 acres
Amenities: it has its own secluded beach, pool with an integrated jacuzzi overlooking the ocean, state-of-the-art kitchen, onsite butler, cook, maids, and a new SUV for guests
Other notable features: perched on its own point into the rocks of Chileno Bay Cove, no neighbors on either side, just panoramic ocean views
---
Diamante Beach Estates, the $40M Cabo house
The $40 million Cabo listing is one of the largest, most unique homes in all of Cabo. And since the listing is about to expire — and Brett is hoping that the O Group can land it — he takes the girls on a tour of the impressive estate.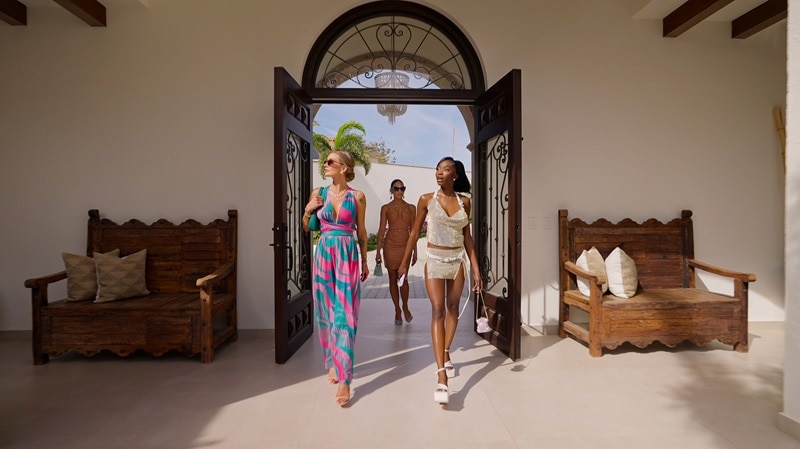 Price (on the show): $40,000,000
Specs: 8 bedrooms, 16 bathrooms, 28,000 square feet
Amenities: pickleball court, nine-hole putting green, four hot tubs, a basketball court, bowling alley
Other notable features: terrace fireplace, outdoor courtyard, two-car garage and golf cart garage, gourmet kitchen, media room
Status update: Since the O Group was simply attending a broker's open, trying to get an in with the property's owners and hopefully land the listing, there isn't much to report here. All we can say, thanks to an announcement that Brett makes later on, towards the season's end, is that the Oppenheim Group landed the listing and that it's actually priced at $35 million, not $40.
---
Bre's 'swaggy' $5.8M house in the Hills
Bre's client, Ashley, is looking for a second home in Los Angeles, and the former model has just the thing: a picture-perfect contemporary home on Viewside Terrace with killer views. It also comes with some celebrity name-dropping, as the house was previously rented to award-winning singer/songwriter Lana Del Rey.
Price (on the show): $5,800,000
Specs: 4 bedrooms, 4.5 bathrooms, 2,900 square feet
Amenities: primary suite with Venetian Plaster fireplace, walk-in closet & a wraparound balcony with sweeping views, another massive outdoor terrace, yard with pool
Other notable features: completely reimagined by Ameen Ayoub Design Studio, a leading design and development office in Los Angeles
Status update: This one is a little bit trickier to figure out, as the last sale/listing activity for the Viewside Terrace property dates back to before Bre joined the Oppenheim Group. Public records show that the house sold in May 2022 for $5,700,000, with Jason taking credit for the sale.
Our theory is that the new owner isn't using it as a residence and might be open to selling it, and that's why Bre is giving tours of the property — even though it hasn't been publicly listed for sale in a year and a half.
---
The pocket listing Bre and Emma visit
I knew this house looked familiar.
The former Beverly Air Rd bachelor pad-turned-inviting home that Bre's friend, Amanda, shows the two O Group agents in Beverly Glen is actually jeweler-to-the-stars Pascal Mouawad's house.
Mouawad is most famously known for his 10-year collaboration with Victoria's Secret — and for designing the famed Fantasy Bras that crowned each year's collection — and for his role as the jeweler to Middle Eastern royalty that extended to UK royalty (Kate, the Duchess of Cambridge, has been seen wearing Mouawad jewelry) and Hollywood A-listers and influencers (including Kendall Jenner and Gigi Hadid).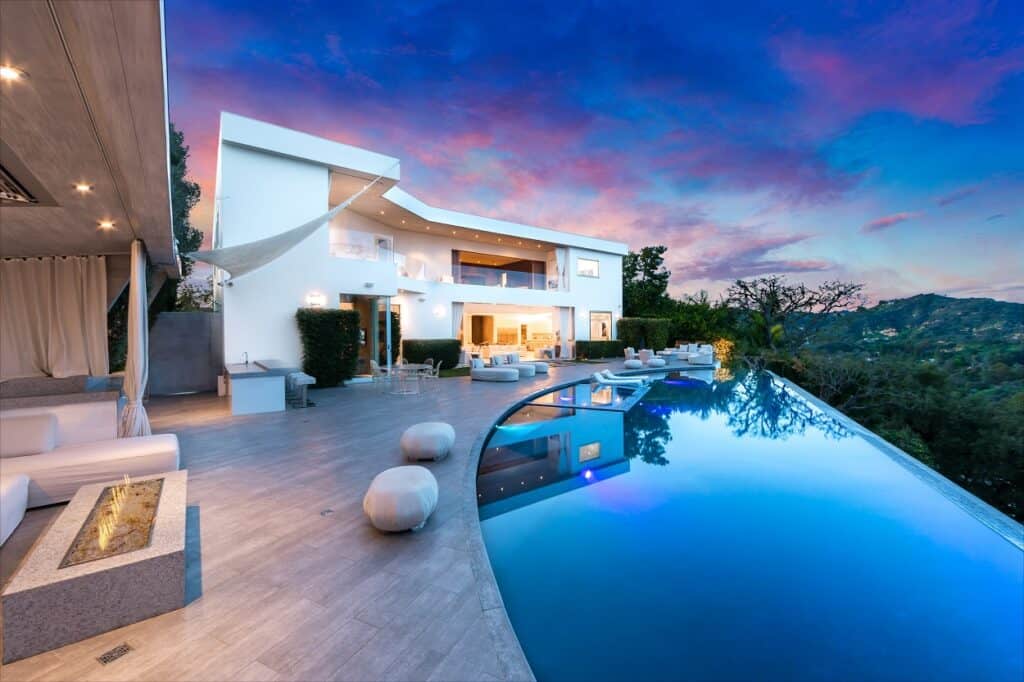 Price (on the show): $14,995,000
Specs: 6 bedrooms, 9.5 bathrooms, 9,310 square feet
Amenities: a vacuum elevator, home theater, and massive dual closets, a gated circular motor court that fits 10 cars + an oversized 3-car garage
Other notable features: anchored by a state-of-the-art open floor plan, the home has a grand open kitchen/family room, with a breakfast nook that has seating for 10
Status update: Despite Amanda's best efforts to tone down the bachelor pad feel of the property, the Beverly Glen house is still on the market, though the asking price has been slightly reduced to $14,350,000.
---
The $7.5M Marmont Lane house on the Strip
The Sunset Strip house Amanza is previewing for one of her clients (with Mary by her side) is a meticulously designed abode set directly across the street from the iconic Chateau Marmont.
And once again, it's a property we know all too well — we've written extensively on it back in the day, as it was home to actor James Franco.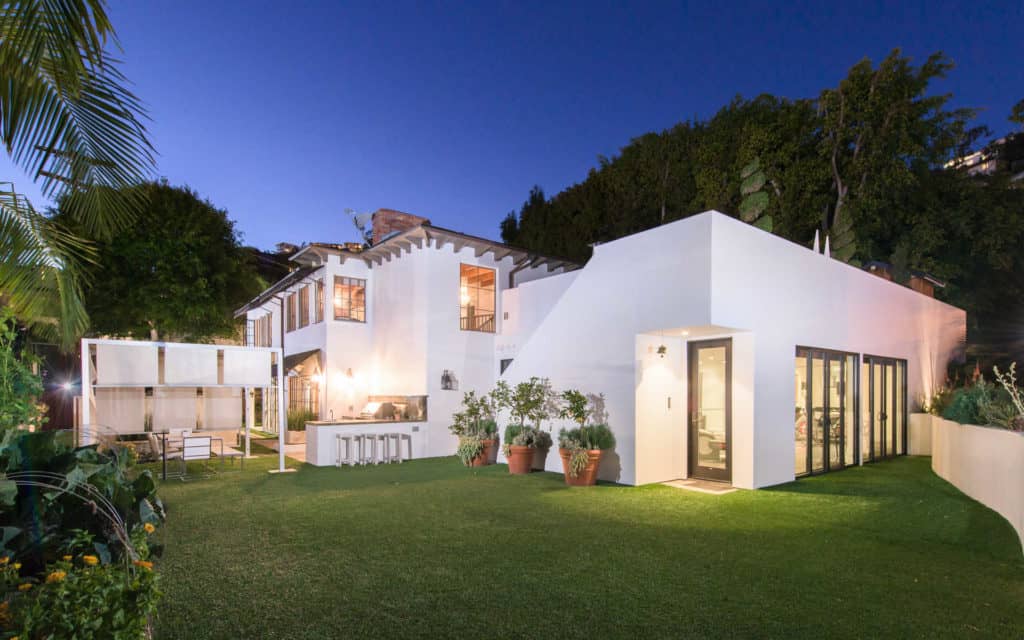 Price (on the show): $7,500,000
Specs: 3 bedrooms, 5 bathrooms, 5,215 square feet
Amenities: it sits on more than a quarter of an acre with a swimming pool, an outdoor dining area, and a rooftop deck.
Other notable features: built-in cabinetry, high-end finishes, dark-stained floors, and wood-beamed ceilings throughout, plus it neighbors the world-famous Chateau Marmont
Status update: James Franco's former house isn't publicly listed for sale, and hasn't been since we covered its $4.65 million sale back in 2020. So it's safe to say that Amanza's client did not purchase the Marmont Ln house.
---
Cassandra's potential listing in Bel Air
The Siena Way house where Jason and Chelsea meet Cassandra (who's yet to land the listing, but is touring the property)
Price (on the show): $ To Be Determined
Specs: 5 bedrooms, 8 bathrooms, 7,266 square feet
Amenities: opulent living/dining rooms, library, office, study, wine cellar, lower level game room with a bar, a one-acre Japanese garden
Other notable features: it's a historical legendary estate designed by William J. Gage & Harry G. Koerner
Status update: As Cassandra mentions, the property was on the market but its current agents didn't secure a buyer, so the owners were shopping around for new agents. Originally priced at a whopping $39,995,000, the Bel Air house had its price reduced to $36,950,000 before being taken off the market in March 2023. It is now being offered as a rental for $70,000/mo.
---
Season 6 houses
If you haven't had enough real estate eye candy, take a look at all the homes from the previous season of Selling Sunset.
From sprawling penthouses to massive mansions, Season 6 brought us plenty of million-dollar homes to daydream about — and even had us revisit some past favorites, like Chrishell Stause's beautiful home in Hollywood Hills.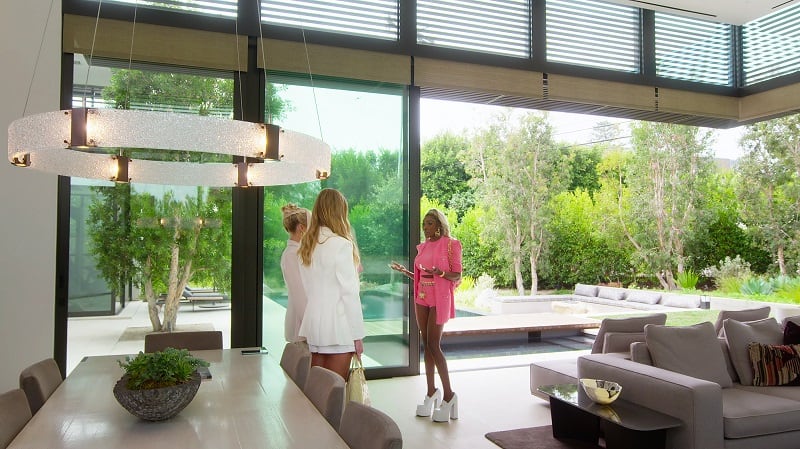 And since luxury real estate is our obsession, we couldn't help ourselves and tracked down all the Selling Sunset houses that graced our screens in Season 6 of the hit Netflix show.
With the exception of Chelsea's Santa Monica listing, which we couldn't find as there weren't many details available (or maybe Chelsea didn't land the listing?), and Nicole's West Hollywood listing, here's a quick update on all of the houses featured last season, along with property photos and videos that allow you to take a closer look at these phenomenal estates.
Saint Ives Place, West Hollywood – Harry Styles' former house
An impressive property with celebrity pedigree, this West Hollywood manse was the perfect location to kick off Season 6 of Selling Sunset.
Previously owned by As It Was hitmaker Harry Styles (who bought and sold quite a few Los Angeles-area mansions over the years, including one that later became Lizzo's house), Emma's listing has a phenomenal location and all the luxury amenities you'd expect from a former celebrity pad.
With 4 bedrooms, 6 baths, and 4,401 square feet of living space, the Netflix-features Saint Ives Pl. is ideally located behind private gates right above the Sunset Strip — which means it offers beautiful panoramic views that extend from Downtown L.A. to the ocean.
At the time Selling Sunset filmed its Season 6 episodes, the property was listed for $7,995,000. Not to spoil anything for Netflix fans (as Harry Styles' former house may make a comeback in the next season), but the property is still on the market, with a slightly reduced price.
We've also learned that the property is available as a rental asking a whopping $1,500 PER DAY.
---
Lloydcrest Drive in Beverly Hills, Emma's $18,995,000 listing
We're suckers for striking modern mansions, and the Lloycrest Dr house on Selling Sunset is right up our alley.
The 5-bed, 9-bath house, which comes with a coveted address (it's set in the prestigious Crest Streets in Beverly Hills), was listed for just under $19 million.
Hardworking Emma had already secured a buyer for the modern Beverly Hills spread, but the sale fell through as the buyers were not happy with how much they'd have to pay for fire insurance, which ran high even for a property this size (the show mentions that the cheapest fire insurance for the house would be 200,000/year – yowza!)
(Spoilers ahead) Fast-forward to now, Lloydcrest Drive is still on the market, though at a significantly lower price point. The property — which offers 10,359 of living space, a massive 2,000 sq. ft. primary suite with a private glam room and hair salon, a gourmet kitchen, and a 20-person home theater with a bar, among others — is currently listed for $12,995,000.
---
Jason Oppenheim's two $7.5M penthouses on Hollywood Boulevard
After his Season 5 breakup with Chrishell, O Group co-founder Jason Oppenheim threw himself into work — specifically, converting four condo units on Hollywood Blvd. into two spectacular penthouses with massive rooftop decks and the finest luxury finishes.
As mentioned on the show, Jason sunk nearly $10 million of his own personal money into the project, and he's looking to cash out by listing each of them for a whopping $7.5 million.
(Spoiler) The two penthouses are still on the market following Selling Sunset's Season 6 premiere, though the smaller of the two — both units have 3 beds and 4 baths, but one is slightly larger at 3,820 square feet versus 3,580 sq. ft. — has seen its price drop by $500,000. It's now listed for $6,995,000 (and as a rental for $49,900/mo), while the larger unit retains the original $7,495,000 asking price and a $49,900/mo rent price.
---
Micah's Hillside Ave house
Micah, the developer behind the impressive Lloydcrest Drive property we mentioned earlier, was also selling his original home — and had enlisted Emma to be his agent for this one too.
Set on the same prime Hollywood Hills street as the unforgettable $40 million Hillside house from Season 1 and 2, the 5-bedroom, 5-bath home comes with 4,840 square feet of luxurious living space, an open floor plan with floor-to-ceiling sliding glass doors, and a King Kong statue(?) guarding the pool area.
Remember when Emma said how flattered she was that Micah was entrusting her with the sale of this home? Well, turns out he was right to do so (Warning, spoilers ahead): The Hillside Ave house from season 6 of Selling Sunset sold for more than the asking price.
Listed for $5,495,000 in August 2022, the 5-bedroom spread sold for $5,726,000 a few months later, in November 2022 per public records. Way to go, Emma!
N Stanley Ave, the black house on Billionaire's Row
For this one, we didn't have to do much research, as we extensively covered this beauty when it came to market last year.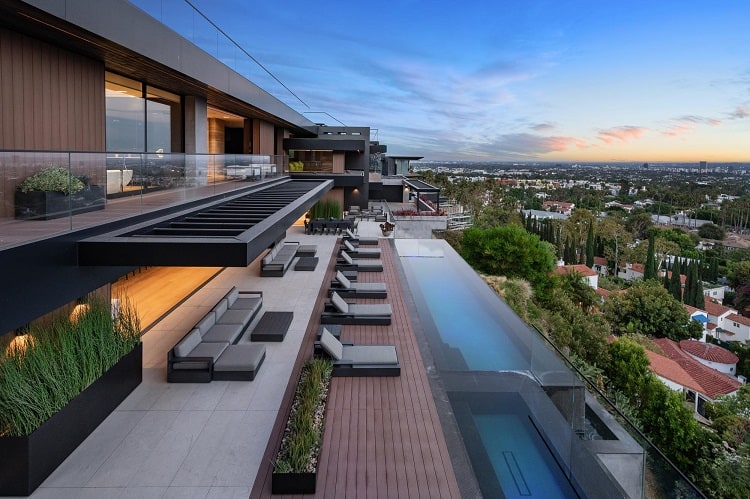 Definitely one of the most impressive houses featured on Season 6 of Selling Sunset, the newly-built N Stanley property that Heather and Bre visit together is nestled in the hills above Sunset Strip, in the coveted 'Billionaire's Row'.
Priced at a cool $24.995 million, the plush property offers all the bells and whistles you'd expect from an ultra-luxurious L.A. listing. And a few extras that probably wouldn't have crossed your mind.
Offering panoramic views of DTLA, the Pacific Ocean, and the canyon, the spec house offers 6 beds, 9 baths, and nearly 10,365 square feet of living space. It also has a custom home theater, fitness center, wine cellar, second living room, and all the finest custom finishes.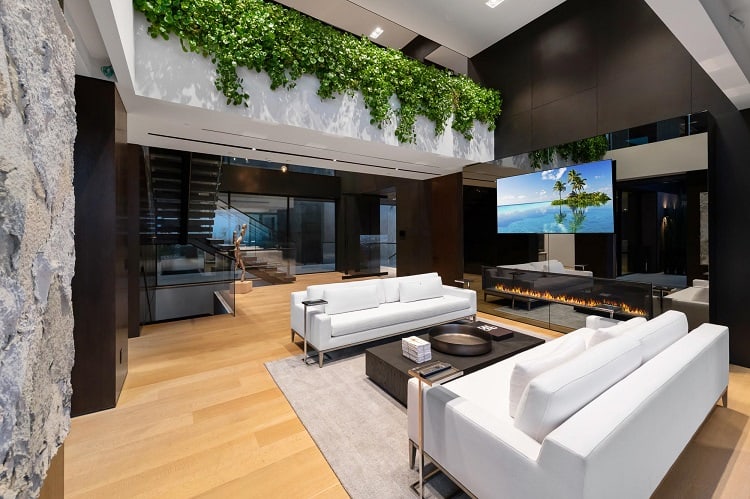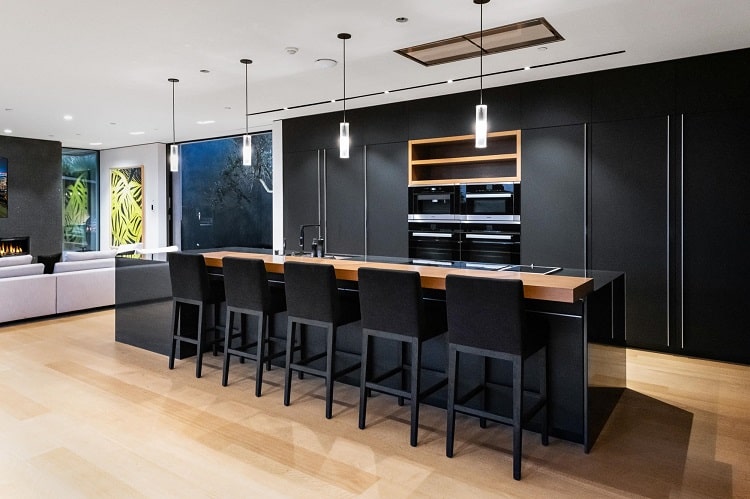 The sophisticated smart home also features museum-quality crystals sourced from around the world and placed with extraordinary care throughout the home to energetically enhance the luxury residence. Take a closer look at this stunning Hollywood Hills mansion.
Now, while on the show we see Bre and Heather touring the property (and later, Bre showing the house to her client, Adam), the black N Stanley house from Selling Sunset's season 6 was never listed with the Oppenheim Group.
The listing agents for the property are Camellia Yeroomian of The Agency (the other luxury brokerage that has its own Netflix series, Buying Beverly Hills) and Monty Abramov of The Beverly Hills Estates. Which means it isn't a spoiler if we reveal that the fabulous mansion is still on the market, boasting a slightly altered listing price of $22 million.
---
300 The Strand, Chelsea's $22M listing in Manhattan Beach
Set on a corner lot facing one of California's best beaches, 300 The Strand is a rare oceanfront listing with all the bells and whistles its high price point commands.
With 4 bedrooms, 9 baths, and 4,440 square feet of modern coastal living space — plus a Strand-front patio, and a sports court with basketball hoop and a private, heated entertainment terrace with in-ground spa, fire pit and BBQ — Chelsea's 300 The Strand listing is definitely one of the most impressive properties featured in Season 6 of Selling Sunset.
Related: Manhattan Beach's priciest listing is a $36M modern mansion with luxury resort vibes
A few months after the season filmed, the oceanfront home in Manhattan Beach is still on the market, looking for either a buyer (it's still listed on the O Group's website for $21,999,000, though it's worth noting that other industry websites no longer have it listed for sale) or a renter (it also appears as a $55,000/mo rental on popular real estate websites like Zillow or Realtor.com).
---
The Woodvale Road property in Encino
Heading over to Encino, new O Group agent Bre Tiesi is hoping to land a phenomenal listing set on Woodvale Road.
The newly built, 8-bedroom, 14-bath property is the pinnacle of luxury, offering over 21,000 square feet of meticulously crafted and designer done living space.
With stand-out features like a chef's prep kitchen, home theater, professional gym, full spa, hair salon, elevator, temperature-controlled wine storage, 14-car garage that doubles as an event space, outdoor basketball court, and fabulous detached two-story guesthouse, the Woodvale Road property was priced at $25 million, and Bre was eyeing the ultra-generous $750,000 commission she would make from the sale.
(Spoiler ahead) However, a little bit of research shows that Bre did not in fact land the Encino listing. Public records for the property show that it did find a buyer though — even if the O Group was likely not involved in the transaction.
The Encino mansion ended up selling in February 2023 for a cool $17,500,000, a price point that made it one of the biggest transactions in the family-friendly Encino neighborhood.
---
The Benedict Canyon house Mary was eyeing for one of her clients
For one of her clients — a couple from the UK who works in events and needs plenty of space and a large backyard — Mary was touring a stunning Beverly Hills property aptly dubbed Jardin de los Suenos (the House of Magical Gardens).
The newly designed Benedict Canyon house on Selling Sunset comes with 6 bedrooms, 7 full baths and one half-bath, and a generous 7,000 square feet of living space.
With extra tall ceilings (14-foot ones for the common spaces, and a 23-foot ceiling in the formal entry foyer) paired with equally tall windows and sliding glass doors, the property perfectly embodies the indoor-outdoor Cali living.
2231 Benedict Canyon Dr Beverly Hills from Barcelo Photography Inc. on Vimeo.
Also featuring a total of 5 fireplaces, a 200-bottle temperature-controlled all-glass wine storage room, and a media/screening room, plus a one-bedroom guest house, it's no surprise that the property didn't linger on the market for too long.
(Spoiler alert) Listed for $8,999,995 in late July of last year, the property was sold a couple of months later for almost full ask: $8,956,000. Unfortunately, it doesn't seem like Mary's clients were the lucky buyers. Public records show that a different brokerage was attached to the sale.
---
The Oak View Drive house in Encino that Chrishell visits
On Episode 5, S06 of Selling Sunset, we join Chrishell for a property visit that brings us back to Encino to tour a 7-bedroom, 9-bathroom house on Oak View Drive.
Boasting the "best views in Encino", the 7,003-square-foot home had been completely re-imagined by the developers, who invested about $1 million in property upgrades before listing it themselves.
Featuring beautiful cedar and oak detailing, a perfectly-appointed kitchen, a 1,000-square-foot primary bedroom with a large bathroom, and an infinity pool (plus a quirky neon sign that says "I Licked It So It's Mine") the Oak View Drive house also got Amanza and Heather's seal of approval.
What happened to it since that episode was filmed? (Potential spoilers ahead) While Chrishell mentions that she does have a client that's looking for something in this price range (especially if the developers/listing agents are willing to adjust the price, if needed), it seems that the property may have not been a good fit after all.
Listed for $7,895,000 million at the time of filming, the Encino house is still on the market — but has recently been re-listed at a revised price of $6.5 million. Take a closer look (swipe for more pics):
---
The sleek $33M Londonderry Place mansion Bre tours with her client
Bre means business! Her drive to sell eight-figure properties leads to her showing a striking $33 million mansion to one of her clients, Telli Swift, the fiancée of championship boxer Deontay Wilder.
One of the most bonkers mansions we've seen this season, the Londonderry house blends black and gold finishes throughout its 14,000 square feet of living space.
With 6 bedrooms, 8 baths, and soaring 30-foot ceilings, this sleek Selling Sunset mansion has an endless list of amenities, including a spa wellness retreat with a cryo chamber, hot yoga and salon, and a two-level glass-bottomed pool.
The striking property was also featured in Architectural Digest a few years back, with its unique amenities and aesthetic appeal attracting over 4.5 million views on YouTube.
(Spoilers) At the time of writing, the Londonderry house is no longer on the market, per public records. However, since no sale was recorded in the meantime, it could very well be that the property is still up for grabs but held as a pocket listing by one of L.A.'s top luxury brokerages.
---
Poo Bear's house at Zorada Court
Once again courting her many famous friends, we see Bre touring music producer Poo Bear's house in Los Angeles, a 5-bedroom, 5.5-bath modern retreat overlooking Nichols Canyon.
Poo Bear and his wife, Ashley, are looking to list the property as they're moving to Miami and Bre is hoping to get the listing, which could potentially earn her a $297,000 commission.
Beyond the property's many attributes, Poo Bear's house is also where music history has been made. The music producer/songwriter has collaborated with some of the biggest names in the music industry, including Justin Bieber, Chris Brown, Usher, Skrillex, and J Balvin, with many of their famous songs being written in this house.
In fact, the white piano (that comes with the house) is where Justin Bieber's Yummy was created, Poo Bear shares.
Related: Where does Justin Bieber live? His many houses — both past and present
As for what happened to the property after its Selling Sunset appearance (warning, spoilers ahead): after first being listed in November 2022 for $8,900,000, Zorada Ct's price was dropped to $7,995,000 in early February 2023, only to sell less than two months later for $6,850,000. No O Group agent was involved in the transaction, neither on behalf of the seller nor of the buyer.
---
Chelsea's listing at 15th Street in Manhattan Beach
Taking us back to dreamy Manhattan Beach, Chelsea walks us through her 3-bed, 4-bath listing with easy beach access.
While the first offer Chelsea got for the property was fairly low ($3.6 million), she knew she priced the house right and wasn't going to budge until she got the offer up for her client.
And she stayed true to her words, selling the 3-story for $3,900,000 — just $50k shy of the initial asking price of $3,950,000. Way to go, Chelsea!
---
The Beverly Boulevard condo Heather tours for Heather and Terry Dubrow
Leading the home search for Real Housewives of Orange County star Heather Dubrow and her husband, plastic surgeon and Botched co-host, Terry Dubrow, Heather tours a $17,500,000 condo at 8899 Beverly Boulevard, hoping she will land her biggest sale to date.
Accompanied by Brett, Heather walks us through the 4-bed, 4.5-bath condo with jaw-dropping views and resort-level amenities.
See also: Terry and Heather Dubrow's house, post-Chateau Dubrow
However, we learn later on that Terry and Heather Dubrow didn't purchase the place, but they did 'settle' on an equally expensive penthouse set in the coveted Century building known as the Cavalli Penthouse (due to its many upscale furnishings that bear the signature of Roberto Cavalli).
Heather wasn't the only one to land a killer commission though. (Potential spoiler) The $17.5 million penthouse from Selling Sunset was sold a few months later (at full ask), with none other than Brett Oppenheim repping the buyer.
---
Elvis' honeymoon house
Okay, so this isn't an O Group listing, we know. But how can we write an article about all the phenomenal luxury listings featured in this season of Selling Sunset without at least mentioning Elvis and Priscilla's honeymoon house?
An iconic Palms Springs property, the futuristic residence was actually built in 1960 by pioneering Modernist architect William Krisel.
At the time, its spaceship-like design earned it the moniker "The House of Tomorrow", but that didn't last long, as Priscilla and Elvis Presley famously celebrated their honeymoon here in 1967 — after which it became widely known as "Elvis' Honeymoon Hideaway".
Related: Graceland, Elvis Presley's house in Memphis – everything you've ever wanted to know
Last year, the property had a brief stint on the market, listing in early October 2022 for $5,650,000. Unsurprisingly, a month later, the King's honeymoon house was already sold at full ask.
---
The Brentwood house Bre shows Saweetie
Heading over to celebrity-friendly, suburban Brentwood, Bre takes us — and her friend, rapper Saweetie — on a tour of a 7,401-square-foot beauty priced at a cool $8,800,000.
The 5-bedroom, 7-bath home at 19th Helena Drive sits on a quiet cul-de-sac and boasts beautiful architectural details. With an expansive open floorplan on the main floor, inviting (and ultra-private) bedrooms shielded by the lush landscaping, and a lower level designed for entertainment — featuring a plush theater and deluxe wet bar, opening directly to the impressive pool with spa, green lawns, barbecue area, and built-in firepit — the house does seem to be a perfect fit for Saweetie.
(Potential spoilers) However, despite Bre's excellent match-making, it wasn't a done deal. Public records show that the property did indeed sell, but the sale closed in late March 2023 and doesn't show Bre or any other Oppenheim Group agents associated with the transaction.
The selling price was $7,000,000, considerably lower than the $8.8 million ask mentioned on the show. Fun fact: the property was actually first listed for a whopping $12,949,000.
---
The house Heather and Bre visit on Sunset Plaza Dr
The last property of this season takes us to Sunset Plaza Dr, where a new-to-market 3-bed, 4-bath listing needs to be assessed by Bre and Heather, to see if it's a good fit for their clients.
Listed for $4,995,000, the 3,364-square-foot bachelor pad has a massive primary bedroom suite that gets several "Oh my gosh" out of Heather, which isn't an easy feat given the type of properties she's used to.
This sleek contemporary home located above the Sunset Strip showcases jetliner panoramic views from Downtown to the ocean. It then comes as little surprise that the home also has multiple outdoor decks and a rooftop deck to capitalize on those extraordinary views, as well as an infinity edge pool with a private Baja deck and swim-up bar.
As for what happened to it (Potential spoilers), the Sunset Plaza Dr property sold in April 2023 for $3,150,000. While it may not have been a good fit for any of Heather or Bre's clients, the O Group did get a significant commission out of the sale, as Jason Oppenheim was the listing agent for the property.
Admittedly, while watching the show, I felt like there were fewer properties and considerably more drama than in previous seasons. However, after writing about each Selling Sunset house that graced our screens in Season 6 of the hit Netflix docu-soap, I realize there were quite a few show-stopping mansions for us to daydream about. Hope we're going to get to see some of them return in Season 7.
Editor's note: While we did our best to identify all the properties featured on Selling Sunset, there's always a possibility that we've missed something. If you spot anything that's off, or you have an inside tip on one of the properties, drop us a line anytime at hello (at) fancypantshomes.com
>> Follow us on Google News for more stories like this, in real time
More stories you might like
What happened to Hillside, the $40 million house from 'Selling Sunset'?
Bling Empire's Kane Lim Lists $1,888M House with Selling Sunset's Chrishell Stause
Chrishell Stause's House is a $3.3 Million Midcentury Ranch in Hollywood Hills