Cue up your favorite girlboss anthem, because the high-powered female brokers at the Oppenheim Group are back!
And along with them come more million-dollar deals, some fresh new faces, and all the drama you'd expect from the Netflix series best described as 'Real Housewives meets Million Dollar Listing.'
Spicing things up this season are two new additions to the Selling Sunset cast, joining familiar faces like Chrishell Stause, Mary Fitzgerald, Emma Hernan, Heather Rae El Moussa, Amanza Smith, and Chelsea Lazkani.
O Group veteran Nicole Young steps into the limelight (after she'd only made brief appearances in past seasons, including a memorable one in Season 2 when she officiated Mary and Romain's wedding), alongside model-turned-real estate agent Bre Tiesi.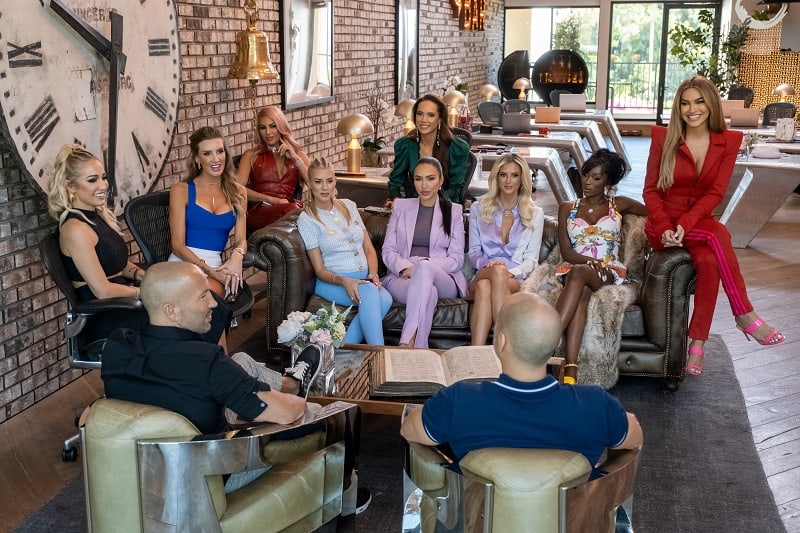 For those of you keeping up with celebrity news, Bre might already be a familiar face, as the ambitious real estate agent was holding headlines last year after having a baby with Nick Cannon.
We also get to meet Jason Oppenheim's new girlfriend, Marie-Lou Nurk, and Chrishell Stause's partner (later turned wife), G Flip. But despite the show's new additions, what we're most excited to see more jaw-dropping mansions and multi-million-dollar homes — and there's no shortage of those in the new season.
So we took it upon ourselves to track down all the spectacular houses in Selling Sunset Season 6, and give you a breakdown of their impressive features, endless lists of amenities, and upscale features.
The spectacular houses in 'Selling Sunset', Season 6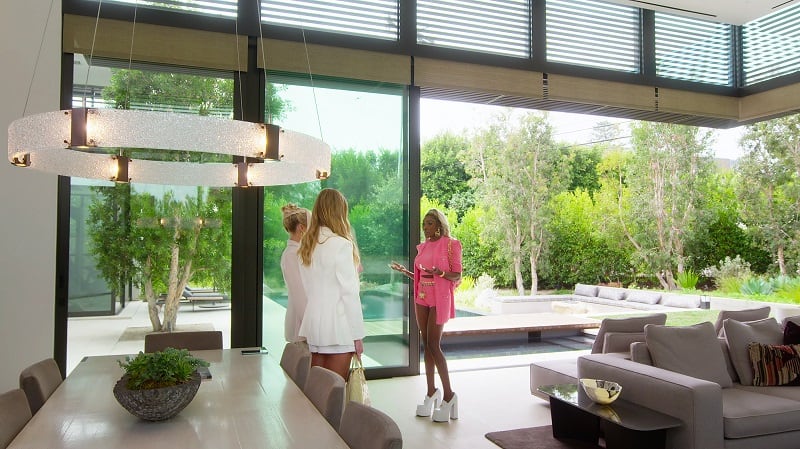 Selling Sunset doesn't disappoint when it comes to real estate eye candy. From sprawling penthouses to massive mansions, Season 6 brought us plenty of million-dollar homes to daydream about — and even had us revisit some past favorites, like Chrishell Stause's beautiful home in Hollywood Hills.
And since luxury real estate is our obsession, we couldn't help ourselves and tracked down all the Selling Sunset houses that graced our screens in Season 6 of the hit Netflix show.
With the exception of Chelsea's Santa Monica listing, which we couldn't find as there weren't many details available (or maybe Chelsea didn't land the listing?), and Nicole's West Hollywood listing, here's a quick update on all of the houses featured this season, along with property photos and videos that allow you to take a closer look at these phenomenal estates.
Bonus: before we go into the houses that made their way on-screen, we'd like to take a second to applaud the Netflix production crew's choice when picking the shooting location for promotional images.
The posters for Selling Sunset's sixth season were shot at the iconic Sheats-Goldstein Residence, an architectural marvel and Hollywood landmark designed by lauded architect John Lautner.
Saint Ives Place, West Hollywood – Harry Styles' former house
An impressive property with celebrity pedigree, this West Hollywood manse was the perfect location to kick off Season 6 of Selling Sunset.
Previously owned by As It Was hitmaker Harry Styles (who bought and sold quite a few Los Angeles-area mansions over the years, including one that later became Lizzo's house), Emma's listing has a phenomenal location and all the luxury amenities you'd expect from a former celebrity pad.
With 4 bedrooms, 6 baths, and 4,401 square feet of living space, the Netflix-features Saint Ives Pl. is ideally located behind private gates right above the Sunset Strip — which means it offers beautiful panoramic views that extend from Downtown L.A. to the ocean.
At the time Selling Sunset filmed its Season 6 episodes, the property was listed for $7,995,000. Not to spoil anything for Netflix fans (as Harry Styles' former house may make a comeback in the next season), but the property is still on the market, with a slightly reduced price.
We've also learned that the property is available as a rental asking a whopping $1,500 PER DAY.
---
Lloydcrest Drive in Beverly Hills, Emma's $18,995,000 listing
We're suckers for striking modern mansions, and the Lloycrest Dr house on Selling Sunset is right up our alley.
The 5-bed, 9-bath house, which comes with a coveted address (it's set in the prestigious Crest Streets in Beverly Hills), was listed for just under $19 million.
Hardworking Emma had already secured a buyer for the modern Beverly Hills spread, but the sale fell through as the buyers were not happy with how much they'd have to pay for fire insurance, which ran high even for a property this size (the show mentions that the cheapest fire insurance for the house would be 200,000/year – yowza!)
(Spoilers ahead) Fast-forward to now, Lloydcrest Drive is still on the market, though at a significantly lower price point. The property — which offers 10,359 of living space, a massive 2,000 sq. ft. primary suite with a private glam room and hair salon, a gourmet kitchen, and a 20-person home theater with a bar, among others — is currently listed for $12,995,000.
---
Jason Oppenheim's two $7.5M penthouses on Hollywood Boulevard
After his Season 5 breakup with Chrishell, O Group co-founder Jason Oppenheim threw himself into work — specifically, converting four condo units on Hollywood Blvd. into two spectacular penthouses with massive rooftop decks and the finest luxury finishes.
As mentioned on the show, Jason sunk nearly $10 million of his own personal money into the project, and he's looking to cash out by listing each of them for a whopping $7.5 million.
(Spoiler) The two penthouses are still on the market following Selling Sunset's Season 6 premiere, though the smaller of the two — both units have 3 beds and 4 baths, but one is slightly larger at 3,820 square feet versus 3,580 sq. ft. — has seen its price drop by $500,000. It's now listed for $6,995,000 (and as a rental for $49,900/mo), while the larger unit retains the original $7,495,000 asking price and a $49,900/mo rent price.
---
Micah's Hillside Ave house
Micah, the developer behind the impressive Lloydcrest Drive property we mentioned earlier, was also selling his original home — and had enlisted Emma to be his agent for this one too.
Set on the same prime Hollywood Hills street as the unforgettable $40 million Hillside house from Season 1 and 2, the 5-bedroom, 5-bath home comes with 4,840 square feet of luxurious living space, an open floor plan with floor-to-ceiling sliding glass doors, and a King Kong statue(?) guarding the pool area.
Remember when Emma said how flattered she was that Micah was entrusting her with the sale of this home? Well, turns out he was right to do so (Warning, spoilers ahead): The Hillside Ave house from season 6 of Selling Sunset sold for more than the asking price.
Listed for $5,495,000 in August 2022, the 5-bedroom spread sold for $5,726,000 a few months later, in November 2022 per public records. Way to go, Emma!
N Stanley Ave, the black house on Billionaire's Row
For this one, we didn't have to do much research, as we extensively covered this beauty when it came to market last year.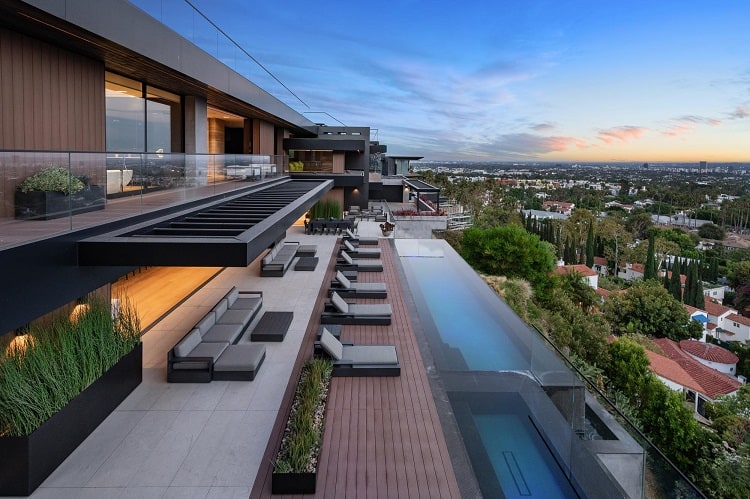 Definitely one of the most impressive houses featured on Season 6 of Selling Sunset, the newly-built N Stanley property that Heather and Bre visit together is nestled in the hills above Sunset Strip, in the coveted 'Billionaire's Row'.
Priced at a cool $24.995 million, the plush property offers all the bells and whistles you'd expect from an ultra-luxurious L.A. listing. And a few extras that probably wouldn't have crossed your mind.
Offering panoramic views of DTLA, the Pacific Ocean, and the canyon, the spec house offers 6 beds, 9 baths, and nearly 10,365 square feet of living space. It also has a custom home theater, fitness center, wine cellar, second living room, and all the finest custom finishes.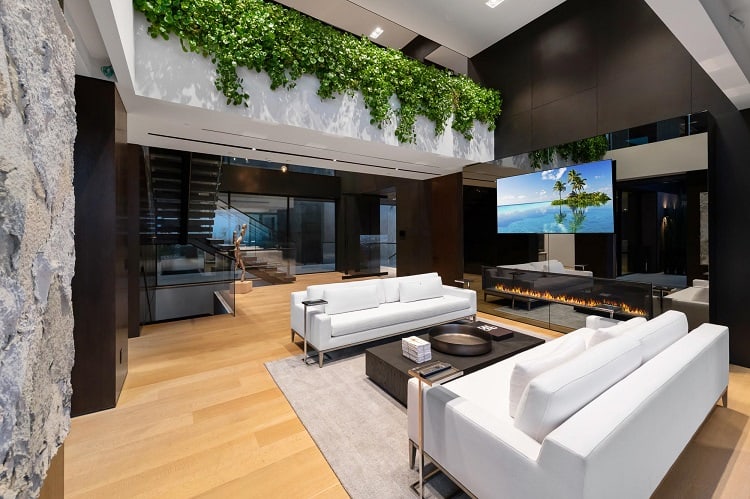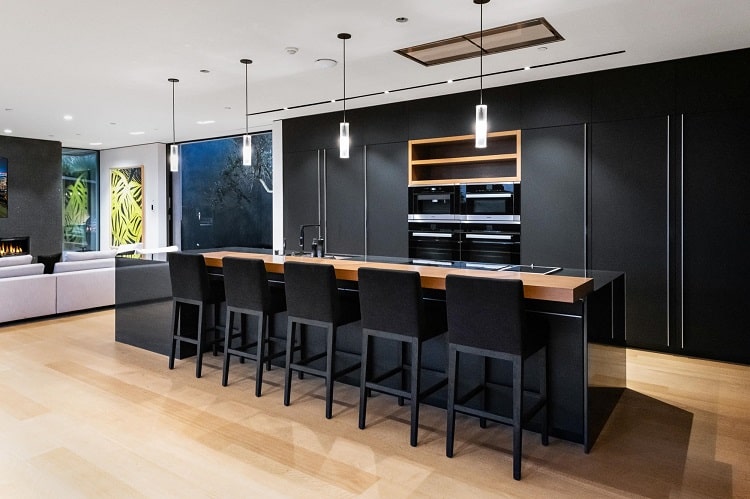 The sophisticated smart home also features museum-quality crystals sourced from around the world and placed with extraordinary care throughout the home to energetically enhance the luxury residence. Take a closer look at this stunning Hollywood Hills mansion.
Now, while on the show we see Bre and Heather touring the property (and later, Bre showing the house to her client, Adam), the black N Stanley house from Selling Sunset's season 6 was never listed with the Oppenheim Group.
The listing agents for the property are Camellia Yeroomian of The Agency (the other luxury brokerage that has its own Netflix series, Buying Beverly Hills) and Monty Abramov of The Beverly Hills Estates. Which means it isn't a spoiler if we reveal that the fabulous mansion is still on the market, boasting a slightly altered listing price of $22 million.
---
300 The Strand, Chelsea's $22M listing in Manhattan Beach
Set on a corner lot facing one of California's best beaches, 300 The Strand is a rare oceanfront listing with all the bells and whistles its high price point commands.
With 4 bedrooms, 9 baths, and 4,440 square feet of modern coastal living space — plus a Strand-front patio, and a sports court with basketball hoop and a private, heated entertainment terrace with in-ground spa, fire pit and BBQ — Chelsea's 300 The Strand listing is definitely one of the most impressive properties featured in Season 6 of Selling Sunset.
Related: Manhattan Beach's priciest listing is a $36M modern mansion with luxury resort vibes
A few months after the season filmed, the oceanfront home in Manhattan Beach is still on the market, looking for either a buyer (it's still listed on the O Group's website for $21,999,000, though it's worth noting that other industry websites no longer have it listed for sale) or a renter (it also appears as a $55,000/mo rental on popular real estate websites like Zillow or Realtor.com).
---
The Woodvale Road property in Encino
Heading over to Encino, new O Group agent Bre Tiesi is hoping to land a phenomenal listing set on Woodvale Road.
The newly built, 8-bedroom, 14-bath property is the pinnacle of luxury, offering over 21,000 square feet of meticulously crafted and designer done living space.
With stand-out features like a chef's prep kitchen, home theater, professional gym, full spa, hair salon, elevator, temperature-controlled wine storage, 14-car garage that doubles as an event space, outdoor basketball court, and fabulous detached two-story guesthouse, the Woodvale Road property was priced at $25 million, and Bre was eyeing the ultra-generous $750,000 commission she would make from the sale.
(Spoiler ahead) However, a little bit of research shows that Bre did not in fact land the Encino listing. Public records for the property show that it did find a buyer though — even if the O Group was likely not involved in the transaction.
The Encino mansion ended up selling in February 2023 for a cool $17,500,000, a price point that made it one of the biggest transactions in the family-friendly Encino neighborhood.
---
The Benedict Canyon house Mary was eyeing for one of her clients
For one of her clients — a couple from the UK who works in events and needs plenty of space and a large backyard — Mary was touring a stunning Beverly Hills property aptly dubbed Jardin de los Suenos (the House of Magical Gardens).
The newly designed Benedict Canyon house on Selling Sunset comes with 6 bedrooms, 7 full baths and one half-bath, and a generous 7,000 square feet of living space.
With extra tall ceilings (14-foot ones for the common spaces, and a 23-foot ceiling in the formal entry foyer) paired with equally tall windows and sliding glass doors, the property perfectly embodies the indoor-outdoor Cali living.
2231 Benedict Canyon Dr Beverly Hills from Barcelo Photography Inc. on Vimeo.
Also featuring a total of 5 fireplaces, a 200-bottle temperature-controlled all-glass wine storage room, and a media/screening room, plus a one-bedroom guest house, it's no surprise that the property didn't linger on the market for too long.
(Spoiler alert) Listed for $8,999,995 in late July of last year, the property was sold a couple of months later for almost full ask: $8,956,000. Unfortunately, it doesn't seem like Mary's clients were the lucky buyers. Public records show that a different brokerage was attached to the sale.
---
The Oak View Drive house in Encino that Chrishell visits
On Episode 5, S06 of Selling Sunset, we join Chrishell for a property visit that brings us back to Encino to tour a 7-bedroom, 9-bathroom house on Oak View Drive.
Boasting the "best views in Encino", the 7,003-square-foot home had been completely re-imagined by the developers, who invested about $1 million in property upgrades before listing it themselves.
Featuring beautiful cedar and oak detailing, a perfectly-appointed kitchen, a 1,000-square-foot primary bedroom with a large bathroom, and an infinity pool (plus a quirky neon sign that says "I Licked It So It's Mine") the Oak View Drive house also got Amanza and Heather's seal of approval.
What happened to it since that episode was filmed? (Potential spoilers ahead) While Chrishell mentions that she does have a client that's looking for something in this price range (especially if the developers/listing agents are willing to adjust the price, if needed), it seems that the property may have not been a good fit after all.
Listed for $7,895,000 million at the time of filming, the Encino house is still on the market — but has recently been re-listed at a revised price of $6.5 million. Take a closer look (swipe for more pics):
---
The sleek $33M Londonderry Place mansion Bre tours with her client
Bre means business! Her drive to sell eight-figure properties leads to her showing a striking $33 million mansion to one of her clients, Telli Swift, the fiancée of championship boxer Deontay Wilder.
One of the most bonkers mansions we've seen this season, the Londonderry house blends black and gold finishes throughout its 14,000 square feet of living space.
With 6 bedrooms, 8 baths, and soaring 30-foot ceilings, this sleek Selling Sunset mansion has an endless list of amenities, including a spa wellness retreat with a cryo chamber, hot yoga and salon, and a two-level glass-bottomed pool.
The striking property was also featured on Architectural Digest a few years back, with its unique amenities and aesthetic appeal attracting over 4.5 million views on YouTube.
(Spoilers) At the time of writing, shortly after Season 6 of Selling Sunset aired, the Londonderry house is no longer on the market, per public records. However, since no sale was recorded in the meantime, it could very well be that the property is still up for grabs but held as a pocket listing by one of L.A.'s top luxury brokerages.
---
Poo Bear's house at Zorada Court
Once again courting her many famous friends, we see Bre touring music producer Poo Bear's house in Los Angeles, a 5-bedroom, 5.5-bath modern retreat overlooking Nichols Canyon.
Poo Bear and his wife, Ashley, are looking to list the property as they're moving to Miami and Bre is hoping to get the listing, which could potentially earn her a $297,000 commission.
Beyond the property's many attributes, Poo Bear's house is also where music history has been made. The music producer/songwriter has collaborated with some of the biggest names in the music industry, including Justin Bieber, Chris Brown, Usher, Skrillex, and J Balvin, with many of their famous songs being written in this house.
In fact, the white piano (that comes with the house) is where Justin Bieber's Yummy was created, Poo Bear shares.
Related: Where does Justin Bieber live? His many houses — both past and present
As for what happened to the property after its Selling Sunset appearance (warning, spoilers ahead): after first being listed in November 2022 for $8,900,000, Zorada Ct's price was dropped to $7,995,000 in early February 2023, only to sell less than two months later for $6,850,000. No O Group agent was involved in the transaction, neither on behalf of the seller nor of the buyer.
---
Chelsea's listing at 15th Street in Manhattan Beach
Taking us back to dreamy Manhattan Beach, Chelsea walks us through her 3-bed, 4-bath listing with easy beach access.
While the first offer Chelsea got for the property was fairly low ($3.6 million), she knew she priced the house right and wasn't going to budge until she got the offer up for her client.
And she stayed true to her words, selling the 3-story for $3,900,000 — just $50k shy of the initial asking price of $3,950,000. Way to go, Chelsea!
---
The Beverly Boulevard condo Heather tours for Heather and Terry Dubrow
Leading the home search for Real Housewives of Orange County star Heather Dubrow and her husband, plastic surgeon and Botched co-host, Terry Dubrow, Heather tours a $17,500,000 condo at 8899 Beverly Boulevard, hoping she will land her biggest sale to date.
Accompanied by Brett, Heather walks us through the 4-bed, 4.5-bath condo with jaw-dropping views and resort-level amenities.
However, we learn later on that Terry and Heather Dubrow didn't purchase the place, but they did 'settle' on an equally expensive penthouse set in the coveted Century building known as the Cavalli Penthouse (due to its many upscale furnishings that bear the signature of Roberto Cavalli).
Heather wasn't the only one to land a killer commission though. (Potential spoiler) The $17.5 million penthouse from Selling Sunset was sold a few months later (at full ask), with none other than Brett Oppenheim repping the buyer.
---
Elvis' honeymoon house
Okay, so this isn't an O Group listing, we know. But how can we write an article about all the phenomenal luxury listings featured in this season of Selling Sunset without at least mentioning Elvis and Priscilla's honeymoon house?
An iconic Palms Springs property, the futuristic residence was actually built in 1960 by pioneering Modernist architect William Krisel.
At the time, its spaceship-like design earned it the moniker "The House of Tomorrow", but that didn't last long, as Priscilla and Elvis Presley famously celebrated their honeymoon here in 1967 — after which it became widely known as "Elvis' Honeymoon Hideaway".
Related: Graceland, Elvis Presley's house in Memphis – everything you've ever wanted to know
Last year, the property had a brief stint on the market, listing in early October 2022 for $5,650,000. Unsurprisingly, a month later, the King's honeymoon house was already sold at full ask.
---
The Brentwood house Bre shows Saweetie
Heading over to celebrity-friendly, suburban Brentwood, Bre takes us — and her friend, rapper Saweetie — on a tour of a 7,401-square-foot beauty priced at a cool $8,800,000.
The 5-bedroom, 7-bath home at 19th Helena Drive sits on a quiet cul-de-sac and boasts beautiful architectural details. With an expansive open floorplan on the main floor, inviting (and ultra-private) bedrooms shielded by the lush landscaping, and a lower level designed for entertainment — featuring a plush theater and deluxe wet bar, opening directly to the impressive pool with spa, green lawns, barbecue area, and built-in firepit — the house does seem to be a perfect fit for Saweetie.
(Potential spoilers) However, despite Bre's excellent match-making, it wasn't a done deal. Public records show that the property did indeed sell, but the sale closed in late March 2023 and doesn't show Bre or any other Oppenheim Group agents associated with the transaction.
The selling price was $7,000,000, considerably lower than the $8.8 million ask mentioned on the show. Fun fact: the property was actually first listed for a whopping $12,949,000.
---
The house Heather and Bre visit on Sunset Plaza Dr
The last property of this season takes us to Sunset Plaza Dr, where a new-to-market 3-bed, 4-bath listing needs to be assessed by Bre and Heather, to see if it's a good fit for their clients.
Listed for $4,995,000, the 3,364-square-foot bachelor pad has a massive primary bedroom suite that gets several "Oh my gosh" out of Heather, which isn't an easy feat given the type of properties she's used to.
This sleek contemporary home located above the Sunset Strip showcases jetliner panoramic views from Downtown to the ocean. It then comes as little surprise that the home also has multiple outdoor decks and a rooftop deck to capitalize on those extraordinary views, as well as an infinity edge pool with a private Baja deck and swim-up bar.
As for what happened to it (Potential spoilers), the Sunset Plaza Dr property sold in April 2023 for $3,150,000. While it may not have been a good fit for any of Heather or Bre's clients, the O Group did get a significant commission out of the sale, as Jason Oppenheim was the listing agent for the property.
Admittedly, while watching the show, I felt like there were fewer properties and considerably more drama than in previous seasons. However, after writing about each Selling Sunset house that graced our screens in Season 6 of the hit Netflix docu-soap, I realize there were quite a few show-stopping mansions for us to daydream about. Hope we're going to get to see some of them return in Season 7.
Editor's note: While we did our best to identify all the properties featured on Selling Sunset, there's always a possibility that we've missed something. If you spot anything that's off, or you have an inside tip on one of the properties, drop us a line anytime at hello (at) fancypantshomes.com
More stories you might like
What happened to Hillside, the $40 million house from 'Selling Sunset'?
Bling Empire's Kane Lim Lists $1,888M House with Selling Sunset's Chrishell Stause
Chrishell Stause's House is a $3.3 Million Midcentury Ranch in Hollywood Hills
'Harry & Meghan' was filmed in this stunning $33.5 million Montecito house