Ranked as the most-visited privately owned home in the United States, Graceland attracts over 600,000 visitors a year and is one of the music world's most important and beloved landmarks.
Rivaling some of the most famous homes in the entire country, such as the Biltmore Estate in North Carolina, Hearst Castle in California, and the White House in Washington, D.C., Graceland is a stately 13.8-acre estate in Memphis, Tennessee.
Graceland was owned by none other than rock 'n roll superstar Elvis Presley. The King's only child, Lisa Marie Presley, inherited the grand estate after his death in 1977.
Following Lisa Marie Presley's untimely death in January 2023 (Elvis' granddaughter was only 54 years old), the estate became the subject of a heated legal battle.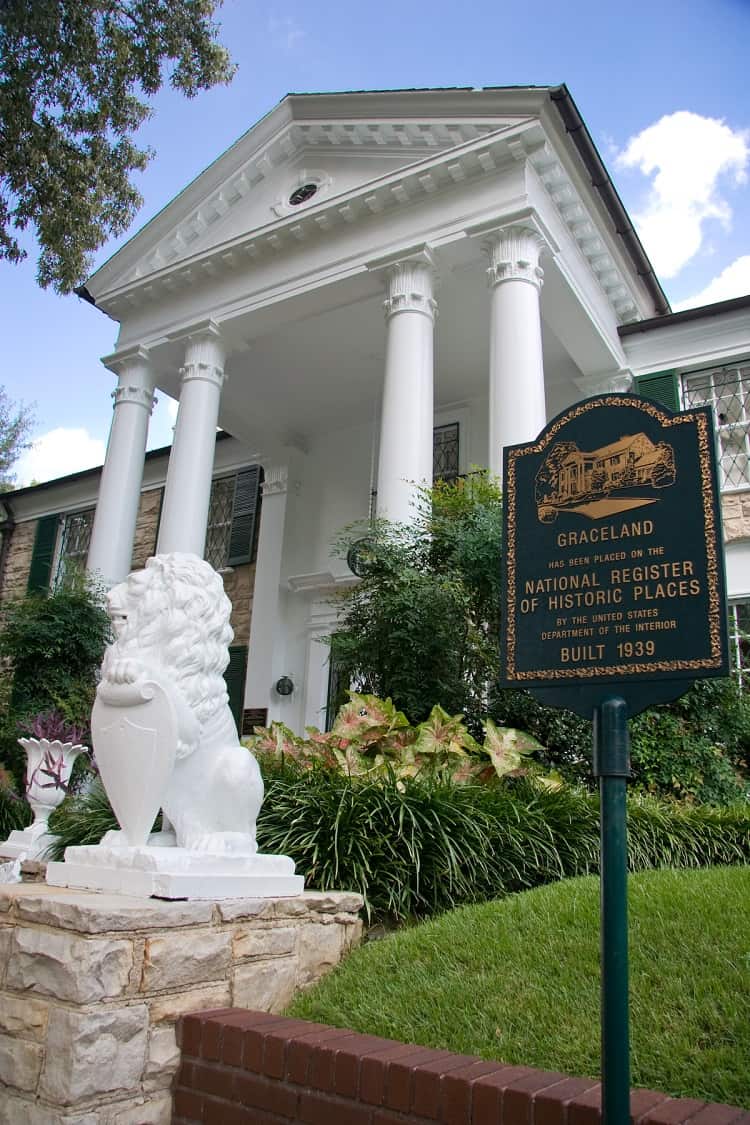 Priscilla Presley (Lisa Marie's mother) is engaged in a bitter legal battle with her granddaughter over the will of Elvis Presley's only child.
According to the New York Times, mere weeks after Lisa Marie's passing, Priscilla went to court to challenge the validity of documents that say her granddaughter, the actress Riley Keough, is now the sole trustee of the family trust — of which Graceland is a part of.
SEE ALSO: What happened to Michael Jackson's house, Neverland Ranch?
And while we don't know who will assume ownership of Elvis' house after the legal proceedings are through, we thought we'd take a look at the storied history of Graceland and answer some lingering questions fans might have about the iconic celebrity home.
The King's home & a pilgrimage site for millions of Elvis fans
Now a bucket-list destination for millions of Elvis Presley fans around the world, the 1939-built mansion houses an incredible collection of mementos that tell the story of Elvis's career and personal life.
Located nine miles south of central Memphis in the Whitehaven neighborhood, Graceland is now a museum open to the public and has been declared a National Historic Landmark.
All shook up you've never been?
We won't be cruel! Let's put on our blue suede shoes and walk through the experience of Elvis's Graceland.
From when Elvis bought it, to who owned it before, to what it's worth now, you'll see why the King couldn't help falling in love with his sprawling Memphis estate. So let's shake, rattle and roll our way inside the famous Presley family home.
Who owned it before Elvis? And why is it called Graceland?
Before the King took up residence in the treasured Tennessee estate, Graceland was owned by Stephen C. Toof, founder of S.C. Toof & Co., the oldest commercial printing firm in Memphis.
Toof bought the property where the mansion would later be built in 1894 and named it after his daughter, Grace. The estate remained in the family for decades. When Grace died, the property was passed down to her niece Ruth Moore, a Memphis socialite.
In 1939, Ruth and her husband Thomas Moore built a 10,266-square-foot Colonial Revival style mansion designed by architects Furbringer and Ehrman.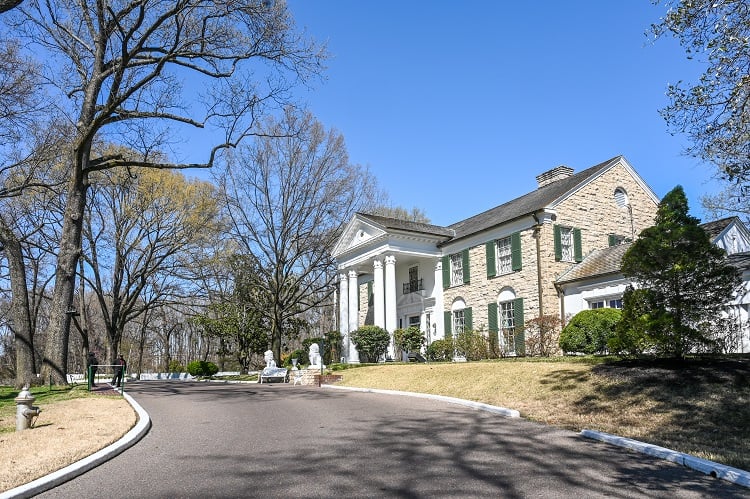 The stately mansion would be called none other than Graceland, in honor of the late aunt who passed down the property.
After living in the mansion for 18 years, the Moores left the building. They sold the estate to a (rather famous) home-buyer looking for a remote Memphis mansion.
As the story goes, Elvis asked his parents Vernon and Gladys Presley to find a "farmhouse"- like property to purchase. The King was beginning to rise in his fame, and his modest house in central Memphis was becoming a hub for fans and journalists.
Not the ideal place to hang a pair of blue suede shoes!
SEE ALSO: Where Does Tina Turner Live Now? Her Swiss House and $76 Million 'Weekend Retreat'
So he gave his parents a budget of $100,000 to find the perfect remote property. At that time, Graceland was located in southern Shelby County which was considered way outside Memphis' main urban center.
And it was the perfect fit for the King.
On March 19, 1957, Elvis purchased the Graceland estate for a somewhat modest $102,500.
Who has lived at Graceland?
Just one year after setting up residence at Graceland, Elvis' mother died in 1958 at the age of 46. His father remarried in 1960 to Dee Stanley, both of whom lived at Graceland for a while.
But Elvis still loved his mother tender and true, and when family politics got a little too complicated, Vernon, Dee and her three children relocated to a house alongside the estate.
On May 1, 1967, Elvis married Priscilla Beaulieu who lived at Graceland with her new hubby for five years. The couple's daughter Lisa Marie was born on February 1, 1968, and spent the first years of her life on the estate until her parents divorced in 1972.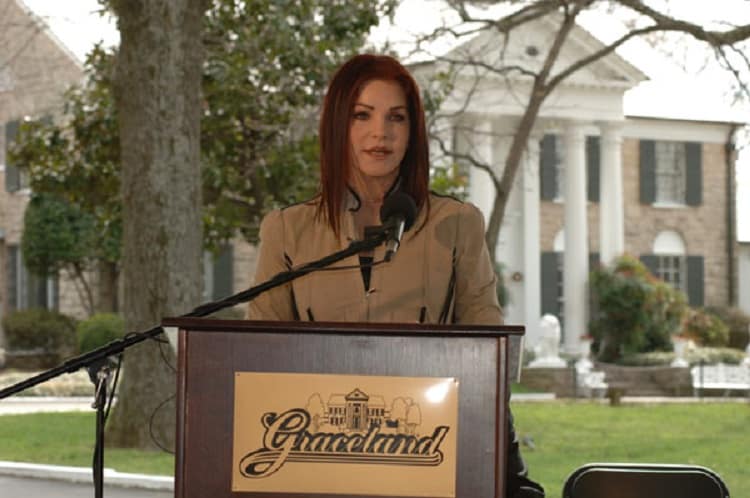 How long did Elvis live at Graceland? And is he buried there?
The pop superstar officially left the building on the day of his untimely death, August 16, 1977.
With the cause of death cited as cardiac arrhythmia, Elvis took his last breath at the tender age of 42 while at Graceland.
On August 18th, a private funeral was held at Graceland with the casket placed in front of the stained glass doorway of the music room.
Fans can visit the King's gravesite at the Meditation Garden, located at Graceland. As well, Elvis' parents and his grandmother Minnie Mae Presley are also buried in the same garden, which is located next to the mansion.
In 2023, Lisa Marie Presley has also been laid to rest there next to her son, Benjamin Keough, who died by suicide in 2020.
SEE ALSO: Mark Twain's houses: From his Connecticut mansions to the NY brownstone known as 'The House of Death'
Fans can also pay their respects at the memorial gravestone for the King's stillborn twin brother, Jesse Garon, also at the site. 
What happened to Graceland after Elvis' death?
After his death, Elvis' father Vernon served as executor of his estate. When Vernon died two years later, Priscilla was chosen to serve as the estate executor for Elvis' only child, Lisa Marie, who was 11 years old.
As it turns out, running Elvis's Graceland required a fortune.
Just to upkeep the estate every year, it cost $500,000 (not to mention the taxes which were more than the yearly upkeep), and since Lisa Marie's inheritance was a mere $1 million, Priscilla had to come up with a Plan B.
Every bit the smart businesswoman, Priscilla sought out the help of Jack Soden, a CEO who was well-versed in running famous houses/ museums.
And their brilliant minds made for a mind-blowing moneymaker.
When Graceland was opened to the public on June 7, 1982, the estate made back all the money it had invested in the first month alone.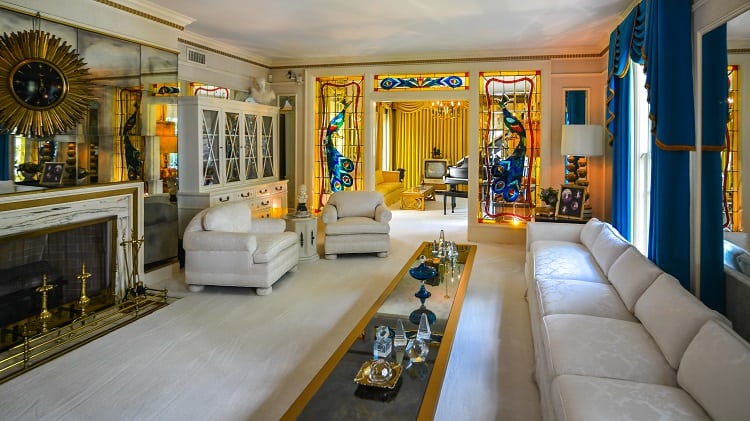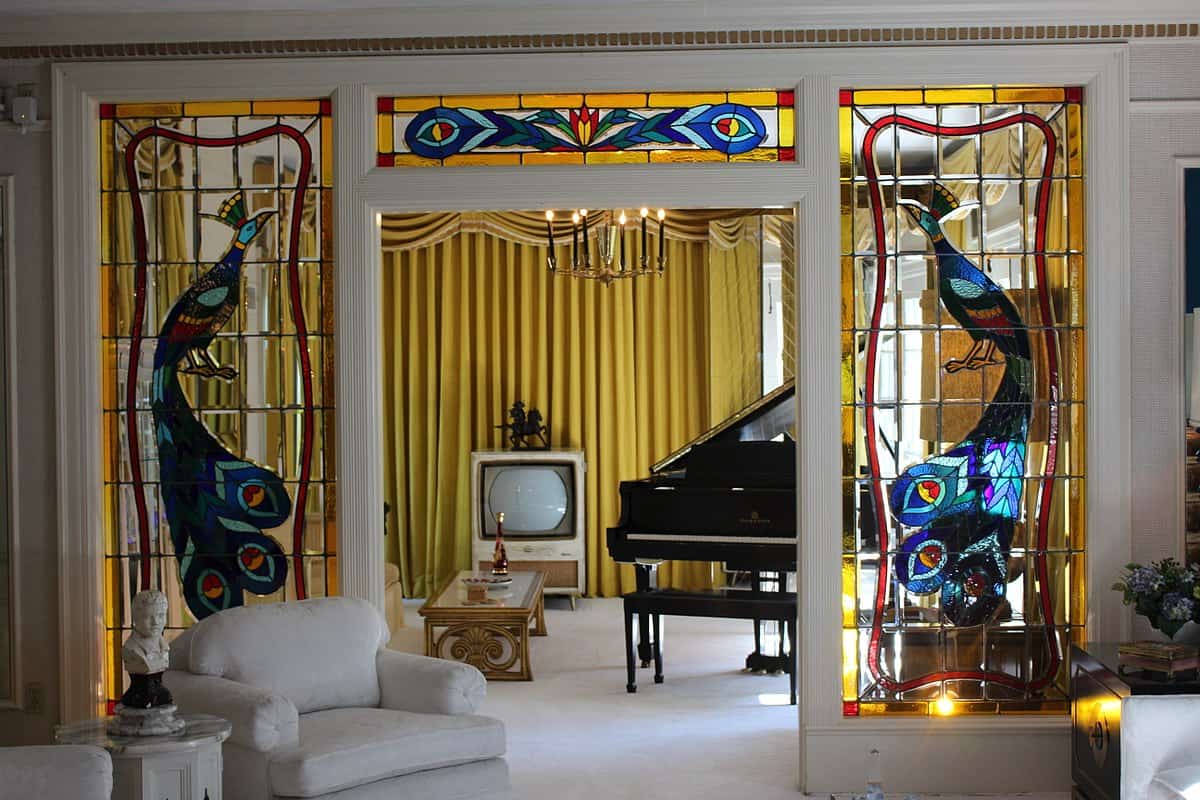 Priscilla then became the chairwoman and president of Elvis Presley Enterprises, a.k.a. EPE, until Lisa Marie reached adulthood.
What is Graceland worth today?
Priscilla's keen business sense paid off.
On her 25th birthday in 1993, Lisa Marie inherited Graceland, which had grown to an estimated $100 million due to its profitability.
As the only heir to her famous father's legacy, Lisa Marie became more closely involved with EPE, of which she was owner and Chairman of the Board until February 2005 when she sold a major interest in the company.
Since opening to the public, Graceland has hosted more than 20 million visitors and brings in $10 million annually.
Lisa Marie's ties to her family home
Up until her death in early 2023, Lisa Marie Presley retained 100% sole personal ownership of Graceland Mansion itself and its over 13-acre original grounds. She was also the owner of her famous father's personal belongings — costumes, wardrobe, awards, furniture, cars, etc.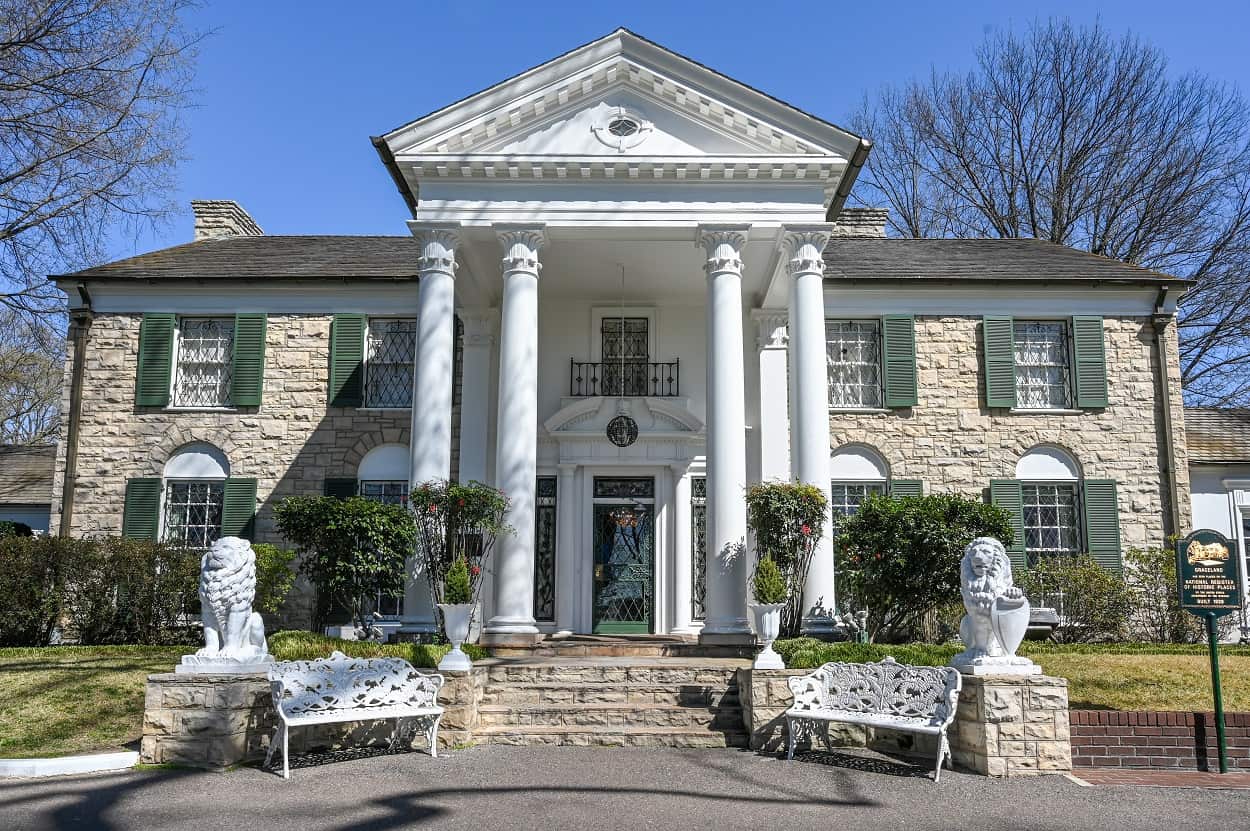 As the sole owner, Lisa Marie has made the mansion and Elvis' belongings permanently available for tours of Graceland and for use in all of EPE's operations.
"I was born in Memphis and it was my home," Lisa Marie once shared with NBC.
The only child of Elvis was always proud of keeping her famous father's memory alive at Graceland.
"It's got a very special energy there, when you go," Lisa Marie said of Graceland. "It's like a time capsule: nothing's been changed or moved since 1977. It's like a time warp and the energy is still very much there. You can feel it. It's from the essence of that time period. It's a very special place."
And when visiting hours are over, Lisa Marie has been known to take off her blue suede shoes for awhile.
"It shuts down quite nice at night," Lisa Marie said. "I have family that I love very much who live there in Memphis. When I go to Memphis, I visit (Graceland). We have dinner there."
She added: "I'm usually there after hours, typically, but occasionally while tours are happening."
But did she stay overnight? "I have stayed there in the past," she admitted, "but not recently, no."
Unfortunately, Lisa Marie Presley will never get a chance to step inside her beloved Graceland mansion. But Elvis' house carries on the legacy of the Presley name — and will forever be home to the King and his entire family, both those are still among us, and those long gone.
More iconic homes
What Happened to Michael Jackson's house, Neverland Ranch?
The Iconic Beverly House: where Jackie O & JFK Honeymooned, 'The Bodyguard' was Filmed, and where Beyonce Shot 'Black is King'
The Playboy Mansion: Hugh Hefner's House is Now Part of Modern History
The Complete History of The Spelling Manor, Now Back on the Market Asking $165 Million