There are many iconic properties around the world that have stood the test of time, but few as unique or as titillating as the massive estate located at 10236 Charing Cross Road in Los Angeles, most commonly known as the Playboy Mansion.
A few decades ago, Hugh Hefner's pleasure palace was widely known as one of the country's most notorious party homes, with everyone from celebrities to lusting teenagers yearning for an invitation to party alongside Hef's bunnies.
Now, its wild party days are long behind it, and the provocative appeal of the Playboy Mansion might have died down over the years, particularly after Hefner's passing in 2017.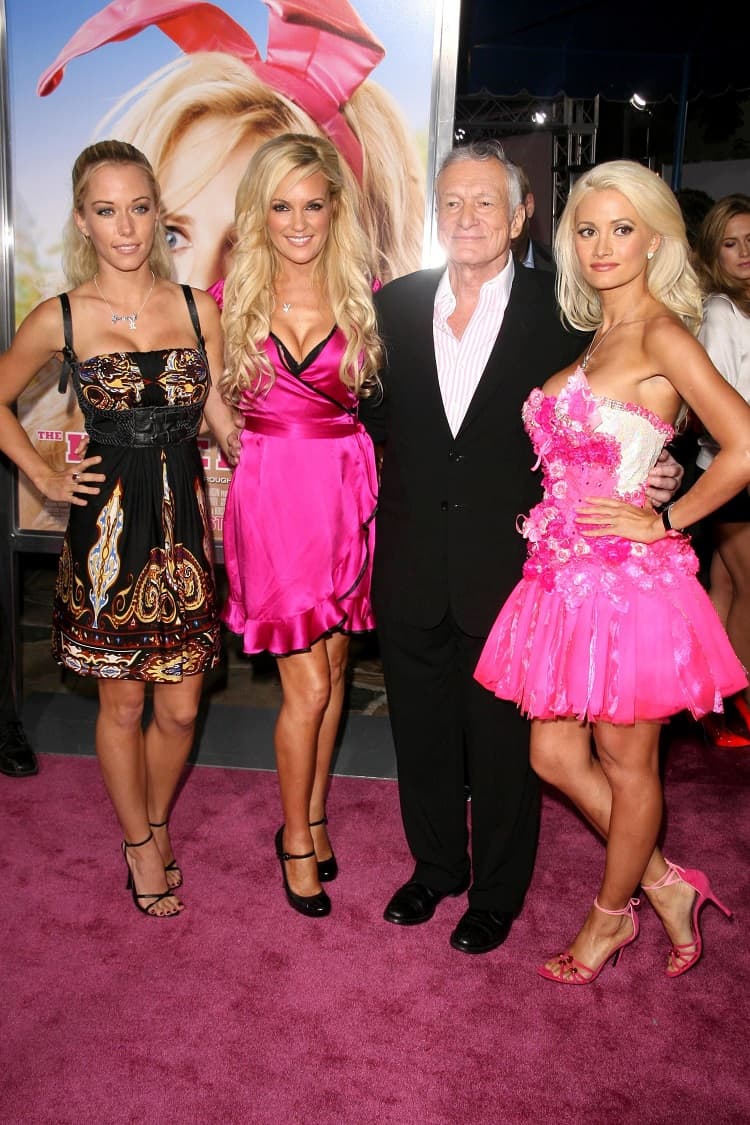 Yet it continues to fascinate. And documentaries like Secrets of Playboy: Hugh Hefner's Dark Empire (2022) and Playboy: Inside the Playboy Mansion (2002), keep shedding light on the many outrageous and harrowing things that took place behind the estate's gates.
But that's not something for us to comment on; our fascination is with the property itself. Especially since there's no other place like it in the world.
The Charing Cross Rd. property has become an iconic staple in Los Angeles, one of the most famous addresses in the world, and the embodiment of the glamour and decadent lifestyle of the rich and famous (pre-Me Too, one might add).
Despite its notoriety, the Playboy Mansion might still hold some untold secrets.
We're going to bring you up to speed with everything you need to know about this iconic mansion — and even slip in some real-life accounts from people who attended the infamous parties. But beware, some of the things we're about to tackle are not for the faint of heart.
The first Playboy Mansion was set in Chicago
Some of you might be surprised to learn that the massive estate in Los Angeles is not the first Playboy Mansion that Hugh Hefner has owned.
In fact, Playboy Magazine used to be headquartered in Chicago in the 1950s and 1960s. As was Hefner's first party home.
Hugh Hefner bought the 70-room, 30,000-square-foot mansion at 1340 North State Parkway in Chicago's Gold Coast District in 1959. This property served as the original Playboy Mansion — and it also featured the original 'grotto' in the basement, which included a swimming pool and an attached bar, perfect for parties.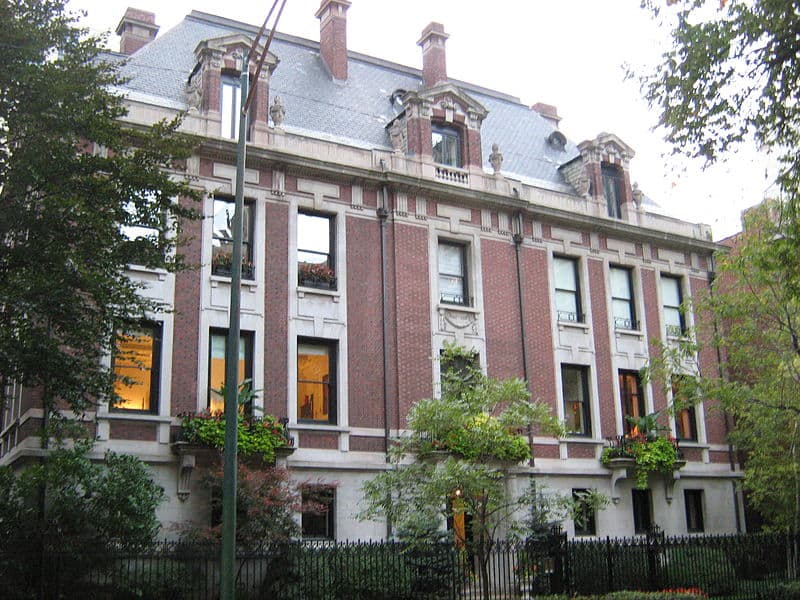 The house also featured an 'inviting' message on the front door, which said 'If you don't swing, you don't ring.' That should give you an idea of what went on inside Hefner's Chicago home.
There was also a bowling alley, a game room, bedrooms for Hefner's Chicago Playboy Club Bunnies, and apartments occupied by close friends or employees.
Fun fact: one of the doors from the original Playboy Mansion is now in Michael Jordan's house (and it's one of the basketball player's most treasured collectibles).
Bobbie Arnstein, Hefner's assistant (and close friend), also lived at the mansion. She was later convicted on drug charges in 1974 and sentenced to 15 years in prison but ended up committing suicide in 1975.
The media frenzy that came with the trial forced Hefner to leave Chicago and move to Los Angeles, where he would live until his death 43 years later.
Hefner bought the L.A. property later known as the Playboy Mansion for a record sum in 1971
We're not sure whether this actually happened or it's just a piece of Playboy folklore, but legend has it that in 1971, Hefner's girlfriend Barbi Benton came upon a 5.7-acre estate in Los Angeles.
She convinced Hefner to purchase it, and he ended up paying $1.1 million for it, which at the time was the priciest home sale in Los Angeles County. The rest is, as they say, history.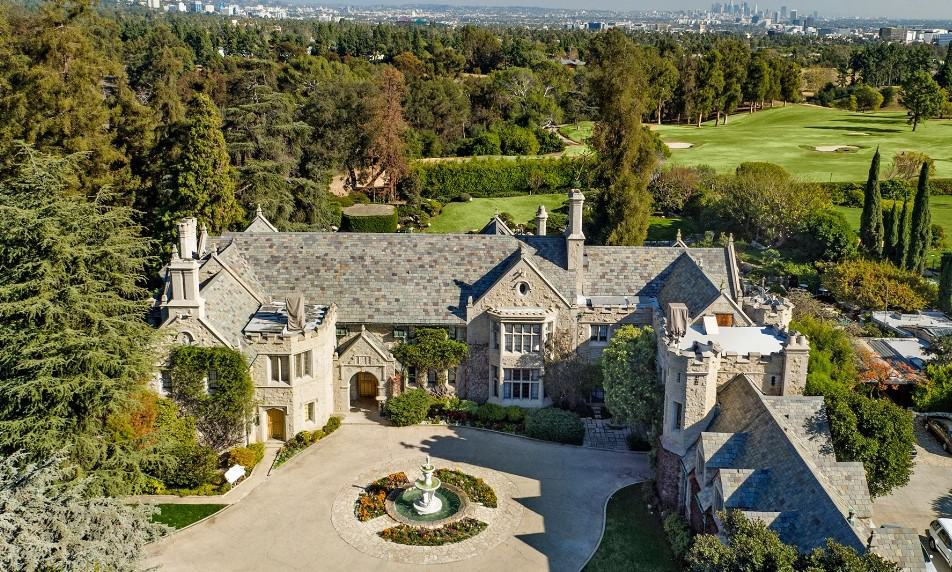 The Playboy founder lived at the mansion until his death, surrounded by friends, celebrities, and lots of exotic animals — and we're not talking about his Bunnies.
The house is so big and hosted so many people and events that it required a staff of 80 full-time employees, including chefs, butlers, security, plumbers and electricians, landscapers, and even zoo staff.
You heard that right. The Playboy Mansion is one of very few L.A. homes to actually have a zoo license. Hefner also went all the way to impress his guests, featuring aviaries and arboretums filled with exotic birds, monkeys, and all kinds of animals.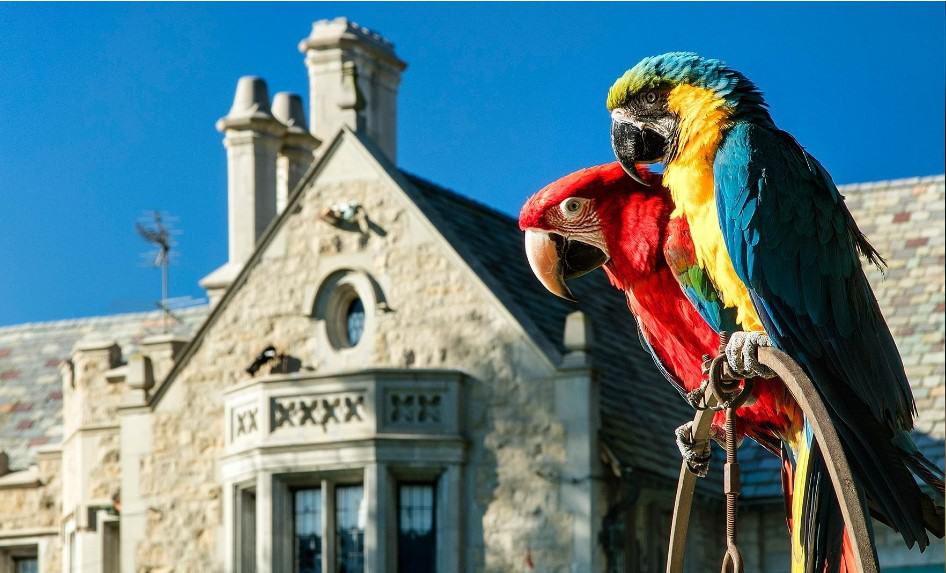 The mansion is also the only private home in Los Angeles to have a permanent fireworks permit, which only added to the glitz and glam of the parties that took place there. Hefner also put on impressive fireworks shows each year on the fourth of July.
A 29-room house with an endless list of sexy amenities
If you thought exotic animals and fireworks shows were enough for Hugh Hefner, think again.
Much like the other sprawling mansions of Holmby Hills, the Playboy Mansion featured an endless array of jaw-dropping amenities, including a wine cellar with a Prohibition-era secret door and alarm and a movie screening room with a built-in pipe organ. Is that it? Not even close.
The Playboy Mansion doesn't feature a game room, oh no. There is an actual separate game house on the north side of the premises, dedicated entirely to games and entertainment.
There are also three zoo/aviary buildings, a pet cemetery, tennis and basketball courts, and a lot of bedrooms.
All in all, the Playboy mansion has an impressive total of 29 rooms, spread across 21,987 square feet of living space, which housed Hefner and some of his favorite Bunnies, as well.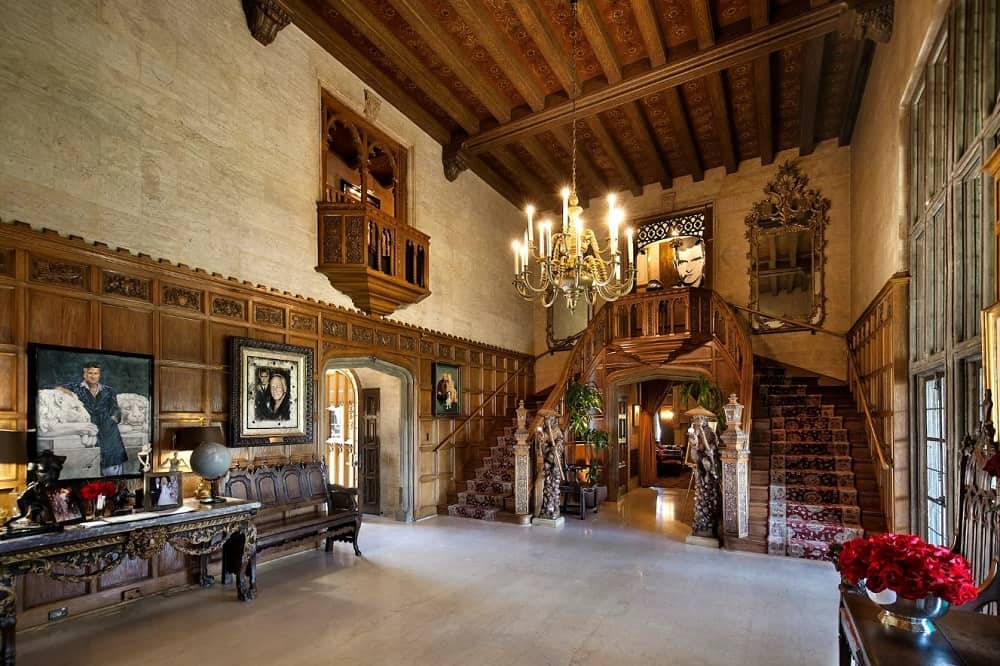 The master bedroom actually takes up two floors and was heavily renovated over the years. The west wing of the mansion was home to the editorial offices of Playboy Magazine.
The property also features a catering kitchen, wine cellar, home theater, gym, tennis court a four-bedroom guest house.
The infamous Playboy grotto
Now, this all sounds lovely and fun, but the main attraction at the Playboy Mansion can be found outside.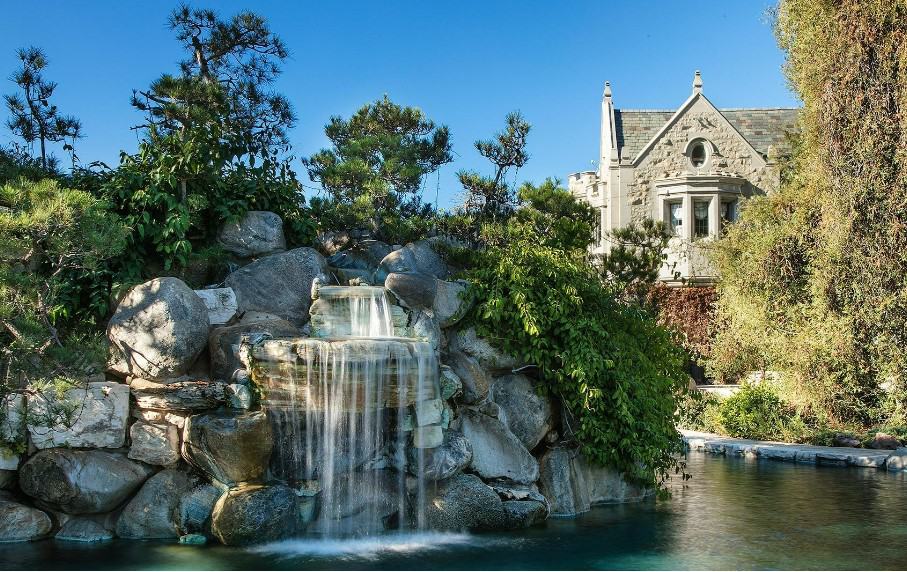 The notorious 'grotto' features a waterfall, a patio and barbecue area, a sauna, a basement gym, a large koi pond, citrus orchards and even a small forest. This swimming pool area has seen endless evening parties that stretched out to the morning hours, and it's also seen a few controversies.
In 2011, Hefner hosted a fundraising event at the mansion, and many of the guests had a fun poolside time, enjoying the grotto.
Shortly after, 23 guests fell ill, and the L.A. County Department of Public Health found bacteria that causes Legionnaires' disease in the whirlpool at the Playboy Mansion. Talk about a memorable party.
Who owned the Playboy Mansion? Past and present
Another interesting tidbit about the Playboy Mansion is the fact that Hugh Hefner never really owned the property himself.
It was actually owned by Playboy Enterprises, and Hefner's name was never even on the deed. He leased it from his own company for a modicum of $100 per year.
Back in 1996, Hefner also purchased the mansion next door, which is a mirror image of the Playboy Mansion layout, only on a smaller scale. He used it as the home of his then-separated wife Kimberley Conrad and their children. Daren Metropoulos, co-owner of Hostess Brands, purchased that property in 2009 for $18 million.
Fast forward to 2016, one year before Hefner's death, when the Playboy Mansion was put up for sale — for a whopping $200 million. The property was not to go to his sons, but to the same Daren Metropoulos who owned the house next door.
Metropoulos paid a staggering $100 million for the Playboy Mansion; the sale was subject to the condition Hefner was allowed to rent the house for the rest of his life, for $1 million per month.
There's a new playboy on the Westside. Daren Metropoulos closes a $100-million deal for the iconic Playboy Mansion: https://t.co/NHlj7dLoJN

— Los Angeles Times (@latimes) August 16, 2016
Following Hefner's passing, Metropoulos has big plans for the Playboy Mansion. He intends to rebuild the property and connect it to the house next door, thus creating a massive combined estate.
Both mansions were designed by Arthur R. Kelly, and they both have a common boundary with the Los Angeles Country Club.
No matter what the future holds, the Playboy Mansion will live on in infamy.
The Playboy Mansion owner entered into an agreement with the City of Los Angeles to protect the estate from demolition, permanently. This decision will stay in place even if the mansion sells to another owner, so it's safe to say that it's left a definite mark on American history, a mark that will never be erased.
Real-life accounts from people who visited the Playboy Mansion
While the mansion's crazy party days are long gone, they live on in the memories of the many people who attended glamorous events during Hugh Hefner's reign.
And we wanted to share some of their stories — including the things they've seen or experienced while visiting the Playboy Mansion in its heyday.
"In the late 1970's I visited the Playboy Mansion for a party/fundraiser for feminist causes that Hugh Hefner was hosting in an attempt to obscure the sexism promoted by his magazine. Surreally enough, I attended as a reporter for The Lesbian Tide, a paper catering, as you might imagine, to lesbians.
I had a marvelous time swimming naked in the vast swimming pool which featured some water slides exiting from a mountain-like structure in the center of the pools.
Within this structure was a room with stacks of fluffy white towels kept warm under heating lamps. Quite luxurious… I also remember a bizarre object with all sorts of handles sticking out of it which was apparently a structure on which one could adopt all sorts of uncomfortable and bizarre sexual positions.
A couple of creepy guys asked if I would like to try it out. I ignored them, got dressed and returned to the banquet area for another round of excellent food. In their defense, they had seen me swimming naked and may have assumed I was part of the entertainment.
It was a very odd combination of feminists and creeps at that party… Hefner himself, while trying his best to seem sincerely interested in women's rights (to be infinitely exploited), exuded creepiness, as one might expect."
– shares Cerridwen Fallingstar, a former reporter-turned-book author (www.theheartofthefire.com)
---
"I went to events at the Playboy Mansion twice, once in 2002 and once for the Halloween Party in 2009.
They were dramatically different events. The Mansion had what seemed to be a permanent event space outside of the actual Mansion, where Hefner lived. I never saw any of the guests at these events actually going into the Mansion itself. The event space appeared to be a large tent, which was adjacent to the famous Grotto and pools, as well as the Zoo on the property.
The first party in 2002 was a corporate-style event for what I believe was Smirnoff Vodka. It was fairly sedate. Bus shuttles picked guests up from a parking lot near the UCLA campus and brought you up to the Bel Air mansion. You passed a sign which read "Playmates at Play" on the road up, which was a mock yellow "street directions" sign.
I remember the party being largely a lot of men looking around for the wild time to start which never actually started. A small handful of people were dancing, maybe 4-5… A few Playmates seemed to be there to work the event by giving tours of the grounds, which included the Zoo, where I remember the Spider Monkey cage being open.
The Playmate giving us the tour exclaimed that the cage should be closed and she called for a maintenance person. We were able to enter the cage, where dozens of Spider Monkeys were looking down on us from above. I remember the Zoo also reportedly had a Gibbon but didn't actually see it.
The grounds of the Mansion had Birds of Paradise freely roaming and they were quite beautiful.
You could enter the Grotto, which was empty and seemed to be made of rocks, or faux rocks, and which was underground. Basically a small indoor pool. The humidity in the room was high and my glasses fogged over when I entered.
The tour brought us also to the Playboy Club House, which had pool and pinball machines, including a Playboy-themed pinball game. There (were) side rooms in the Club House, which were set up for sexual dalliances. They had mirrored walls and floors that appeared to be covered in gold-colored velvet and which were spongy, like giant mattresses.
The second party was the Halloween Party in 2009 and it was everything you imagined happening at the Playboy Mansion, for better and worse. There were likely a few thousand people, many in costumes. The only celebrities I noticed were Pauley Shore and porn star Ron Jeremy, who was next to me at the bar.
There were numerous men and women swimming naked in the main pool and also in the Grotto, where a couple openly had sex on the side of the Grotto. Naked models dressed in bodypaint walked around taking pictures. A few rock bands and rap acts played, none of which I was familiar with.
Hugh Hefner was at this party, accompanied by Playmates who were dressed as prison guards. Hefner wore black and white prison stripes, dressed as their prisoner. He looked either bored or tired, but he was also running with the Playmates to get through the crowd… Spry into his 80s.
The Halloween decorations were elaborate and cool. The lawns outside the Mansion were decorated with faux gravestones, and there was a full haunted house that had been built next to the mansion, which you could walk through and get chased by people in monster costumes."
– shares writer, blogger and indie filmmaker Terry Keefe, who attended two separate events at the Playboy Mansion
---
"I've been to the Playboy Mansion numerous times as a guest/model (both inside and outside) for various parties from Kandyland to Halloween and Playboy Golf.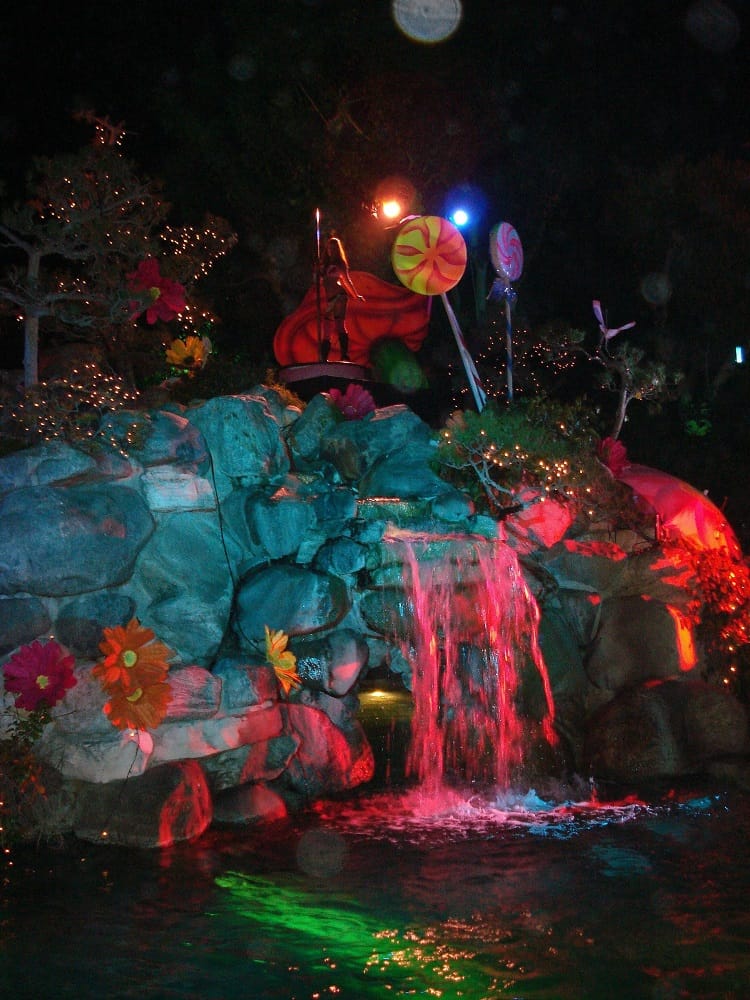 Obviously, it's decadent decor and food with free-flowing alcohol but what has stuck with me is the many friendships with girls from across the country that I made. A lot of us still stay in touch. As well as all of the celebrities I've seen attend and perform there.
It's one of the few places where you don't just get the opportunity to see them perform but to party on stage with them, like I did with Snoop Dogg."
– says Eve Dawes, a model-turned-fashion and lifestyle blogger who regularly attended events at the mansion
---
"My company has thrown parties at the Mansion for various product launches so I've been there three times in the 1990s-early 2000s.
Of course the Grotto is famous so I had to check that out. And there is a completely carpeted room. Game room is fun and there are lots of places where they keep animals, like the aviary. Peacocks roam the grounds.
I saw Paul Stanley there. Each party had a different vibe. Some were just mellow, but the one with Paul Stanley was at night and they were having a celebrity auction. Girls walking around with painted clothing."
– says Rita Tennyson, a PR specialist whose company was regularly planning events at the Playboy Mansion
---
Frequently asked questions
Where is the Playboy Mansion?
The infamous estate is located at 10236 Charing Cross Rd, Los Angeles, California 90024, in Holmby Hills, a highly luxurious enclave close to Beverly Hills that's home to some of Los Angeles' most opulent homes.
Who owned it?
While Hugh Hefner was always the face of the Playboy Mansion, the magazine mogul never owned the property outright. The mansion was actually owned by Playboy Enterprises, and Hefner leased it from his own company for a modicum of $100 per year. 
Who owns the Playboy Mansion now?
Daren Metropoulos famously paid $100 million for the Playboy Mansion in August 2016. Metropoulos, the new Playboy Mansion owner, is the son of the son of billionaire investor Dean Metropoulos, and a principal at Metropoulos & Co. He also served as co-CEO of Pabst Brewing Company and was an Associate Producer on Tarantino's Once Upon a Time in Hollywood.
How big is the mansion?
Set on a sprawling 5.7-acre lot in Holmby Hills, Los Angeles, the Playboy Mansion has an impressive total of 29 rooms — one more unique than the other.
How much is the Playboy Mansion worth now?
According to public records, the Playboy Mansion's last tax assessment (2022) places the property's worth at $109,364,616
Can you visit it?
Unfortunately, the Playboy Mansion is not open to the general public and is now a private property that can only be visited if you are personally invited by owner Daren Metropoulos.
More iconic homes
Michael Jackson's house, Neverland Ranch, looks very different today
The Beverly House, also known as The Godfather house