Many iconic Los Angeles locations made their way into Quentin Tarantino's ode to 1960s Hollywood.
The 3-hour masterpiece walks its viewers through the Playboy Mansion and its notorious wild parties, the Vine Theater on Hollywood Boulevard, Casa Vega, a legendary San Fernando Valley red-leather-booth Mexican restaurant.
Also making an appearance is Musso & Frank's Grill, an iconic dining place that opened in 1919 and became a Hollywood favorite after introducing its exclusive Back Room in 1934.
But none of these settings sat at the center of the movie.
Instead, Tarantino reserved the most… action-packed scenes for Rick Dalton's house, conveniently located right next to Roman Polanski's home.
So now, in light of the Once Upon a Time in… Hollywood documentary Sony released two weeks ahead of the Oscars, we thought it'd be the perfect time to find out more about Rick Dalton's house.
Was it a movie set built specifically for the scenes they shot there, or was a real-life house used for the scenes? Let's find out, shall we?
Rick Dalton's house neighboring Roman Polanski
First off, there's something we need to get out of the way (*spoilers ahead).
As opposed to other characters in Tarantino's movie like Sharon Tate, Roman Polanski, or Charles Manson, the character played by Leonardo DiCaprio, Rick Dalton, is purely fictional.
And while there's a lot of speculation that the character was based on a real-life actor — many saying Dalton's relationship with Cliff Booth is based on Burt Reynolds and his longtime stunt double Hal Needham — what we know for a fact is that there was no Rick Dalton living on Cielo Drive, next to Polanski, when the murders happened.
If you want to learn more about the real course of events that took place at Cielo Drive, our Sharon Tate murder house article will paint you a clearer (albeit terrifying) picture.
Now, while Rick Dalton's character may have been fictional, the house he owned in Los Angeles is very real.
However, while the movie places it on Cielo Drive in Benedict Canyon, in the west-central part of the Beverly Crest neighborhood of Los Angeles, bordering Beverly Hills, the house used in the movie is actually located in the San Fernando Valley.
Rick Dalton's house in Once Upon a Time in… Hollywood is located at 10969 Alta View Drive in Studio City.
The house tucked away behind it at 10974 Alta View Drive stands in for the Polanski-Tate home in the movie, as the real Cielo Drive home was demolished years ago, with Nine Inch Nails frontman Trent Reznor serving as the house's final tenant.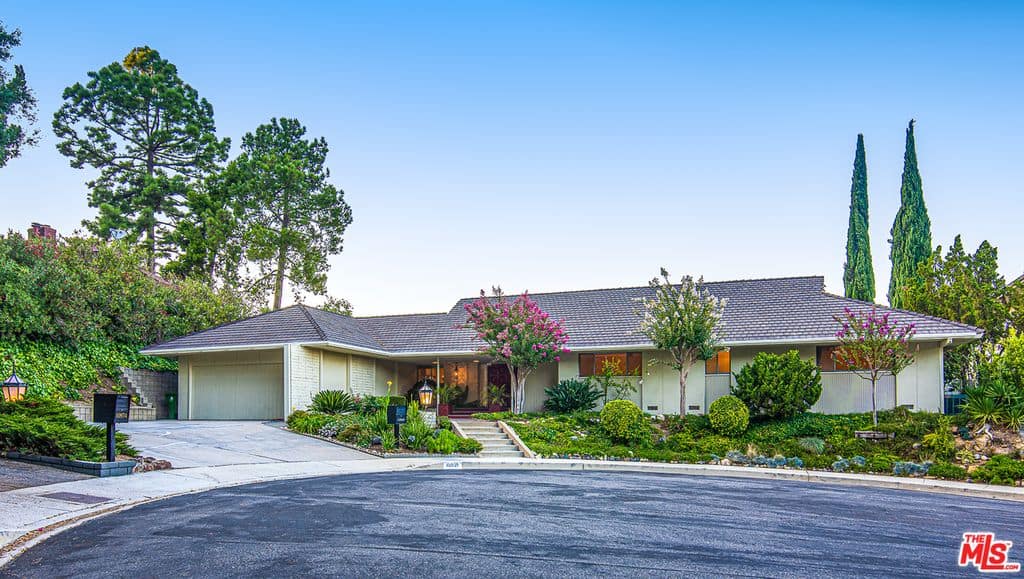 The 2,630-square-foot home in Studio City was actually built in 1964, five years before the events take place in the movie.
According to Zillow.com, the property has 3 bedrooms and 3 bathrooms, with an "open and spacious layout, with a sumptuous patio that overlooks a shimmering heated pool make this home perfect for for all who enjoy taste."
Or, maybe just someone who really, really enjoyed that scene of Rick Dalton grabbing his prop flamethrower out of storage to deal with the intruder in his pool.
The property, however, is not for sale.
Zillow estimates its value to be around $2 million (though Zillow's Zestimate tool is known not to return the most accurate values).
Either way, while it served as a great fit for Rick Dalton's late '60s digs, Rick Dalton saw homeownership — to be more precise, owning a home in Los Angeles — as a way to prove he belong.
Not quite sure the Studio City house would do it for him in today's Los Angeles.
Now, if all this talk got you curious about the supporting character's digs, Cliff's trailer home in the movie seems to stand alongside the old Van Nuys Drive-In.
This was a real venue which used to stand at 15040 Roscoe Boulevard in the Valley until being demolished in the 1990s and was re-created for Tarantino's picture.
More homes from movies
Does Jackson Maine's House from 'A Star Is Born' Exist in Real Life?
John Wick's House is as Mysterious as Our Favorite Badass Character
Tony Stark's cabin from 'Avengers: Endgame' is on Airbnb for $1,000/Night
Skyfall, James Bond's Childhood Home in the Scottish Highlands