here were many memorable moments in the Netflix/ESPN collab documentary The Last Dance, the popular and somewhat controversial miniseries that took an in-depth look at the Chicago Bulls' dynasty through the lens of the final championship season in 1997-98.
But fans who thought they were catching brief glimpses of Michael Jordan's house during his interviews for The Last Dance were sorely mistaken.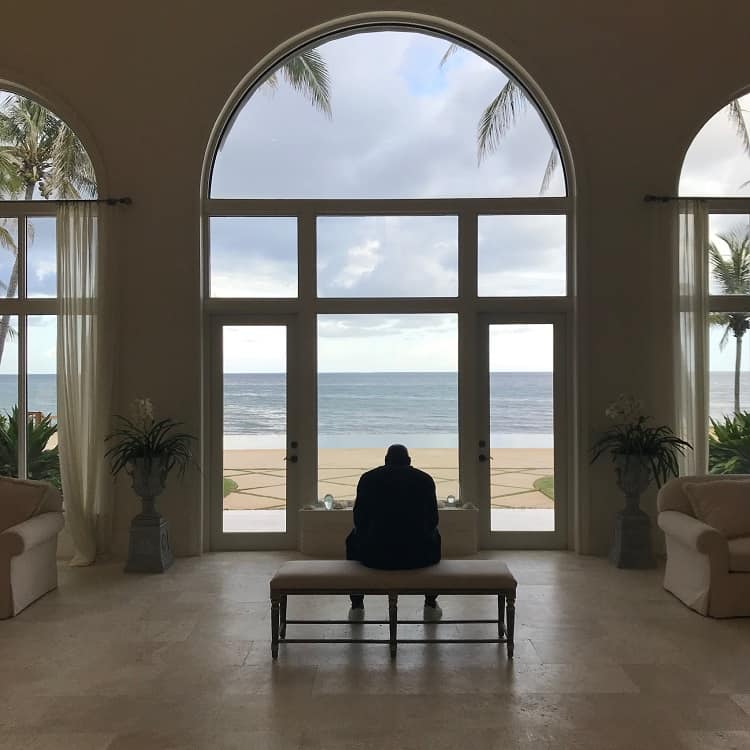 The basketball legend, famous for his privacy, did not invite the filming crew (or the show's audience, for that matter) into his personal home, but instead chose to film his interview in three separate locations — one more lavish than the other.
Nevertheless, if you've taken notice of the palatial houses Michael Jordan was filmed in, and thought they might be rooms in his actual residence, know that the real thing is even more impressive.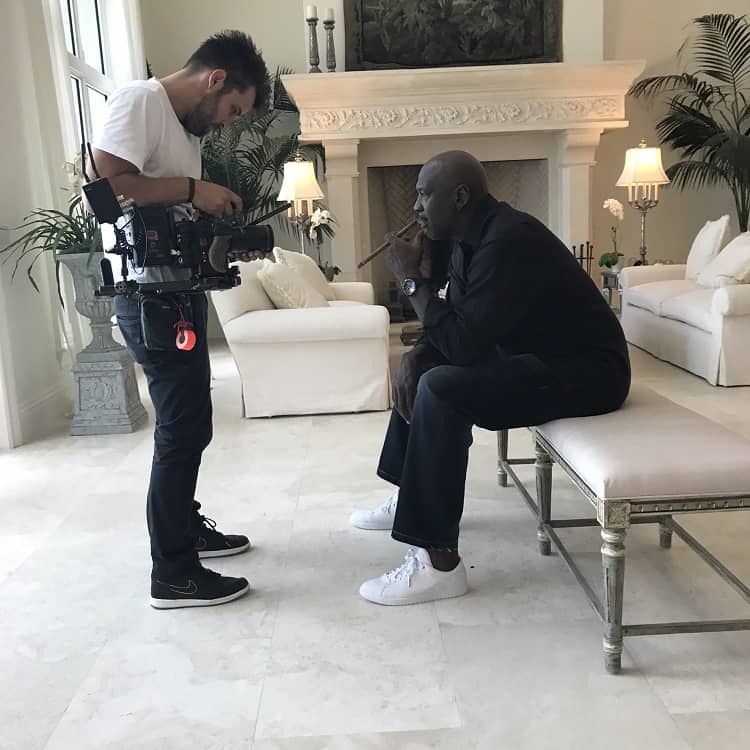 And we know that for a fact, as Michael Jordan's house outside of Chicago — often referenced in the miniseries, particularly as the home court for Jordan's Breakfast Club pre-practice workout — is on the market, with Katherine Malkin of Compass in charge of the listing.
Michael Jordan's house has been on the market for well over a decade
The house — along with the 7-acre property it sits on — has been Michael Jordan's home since 1991, when he won his first of six NBA championships playing for the Chicago Bulls.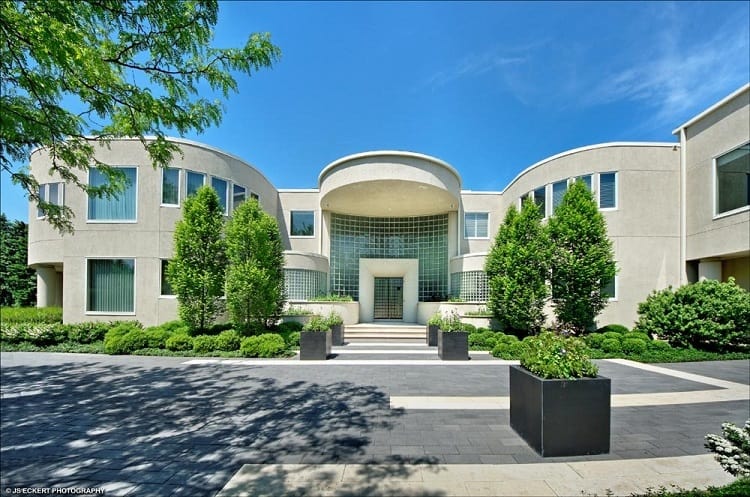 At the time, the basketball legend and his then-wife, Juanita Vanoy, paid $2 million for the property. They later invested heavily into customizing and upgrading the 9-bedroom home, adding unique features — including a pool anchored by a grass island.
Following Jordan's divorce from Vanoy, the Bulls player decided to part ways with the two-story home.
He first listed it for sale in 2012 with a whopping $29 million asking price, but the Highland Park home failed to attract interested buyers.
What followed was a streak of price adjustments: according to the New York Post, one year after the property first hit the market, in 2013, the price fell to $21 million. It was then relisted the same year for $16 million, followed by another price drop a year later.
Jordan has not budged on the price since it hit $14.8 million in 2015. And we think we know why, as the numbers have a special meaning for the 14-time All-Star player.
The numbers in the property's listing price — 1 4, 8 5 5, 0 0 0 — add up to 23, Jordan's basketball jersey number (also proudly plastered on the property gates).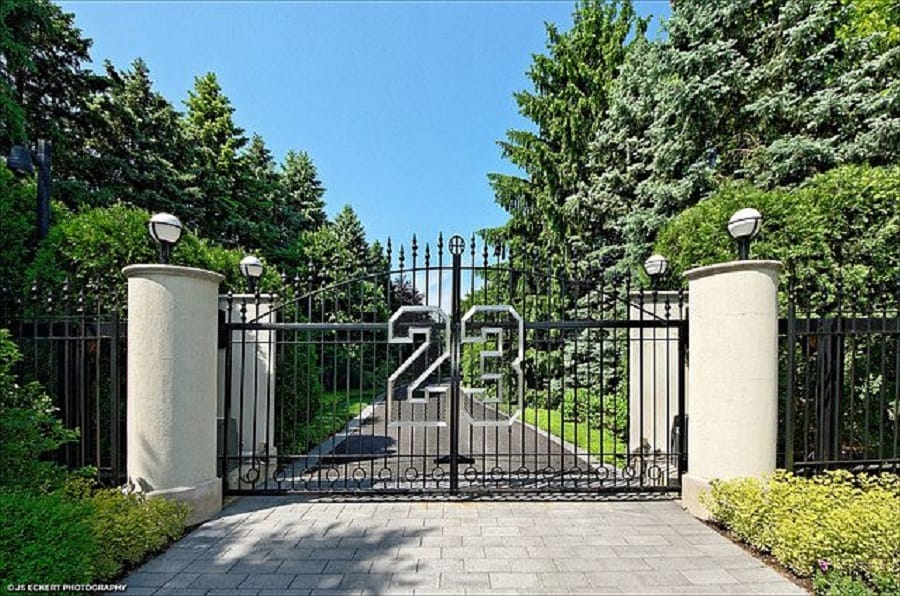 And while that might sound hefty, as the listing notes, the property has been fitted with every conceivable luxury amenity.
Jordan's house was custom-built for the basketball legend
The NBA superstar's home was built at the height of his career and comes with 9 bedrooms, 14 parking spaces, and some pretty out-of-the-ordinary customizations — including a door taken straight from the original Playboy mansion.
Jordan himself had the entire home built from the ground up over the course of four years, finishing construction in 1995.
The massive 56,000-square-foot house then went through another extensive renovation a few years later, in 2009.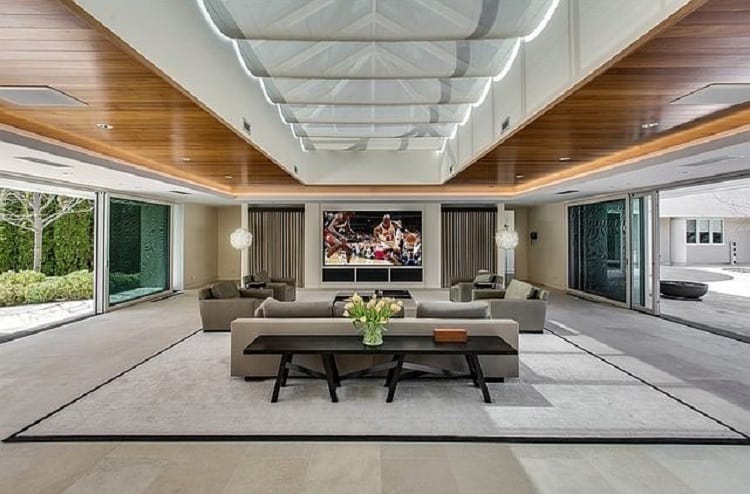 Across its generously sized three levels, Michael Jordan's mansion has five fireplaces, large skylights that bathe the rooms in natural light, a gourmet chef's kitchen, and a movie theater.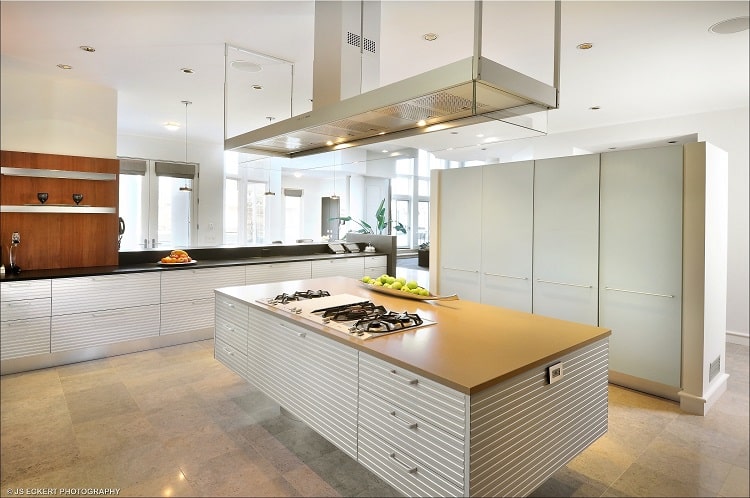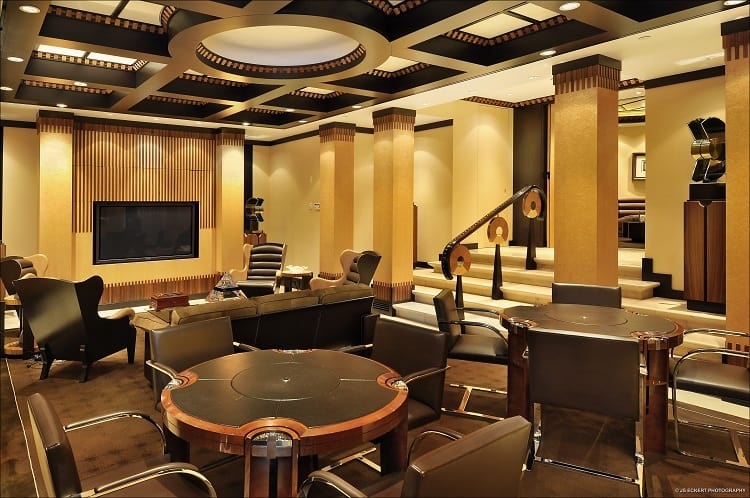 Unsurprisingly, the custom-designed home includes a regulation-sized basketball gym. But there's also a circular infinity pool, putting green, tennis court, and cigar room, each with Jordan's signature touch.
There's also a three-bedroom guesthouse on the premises — which likely saw its fair share of sports celebrity guests over the years.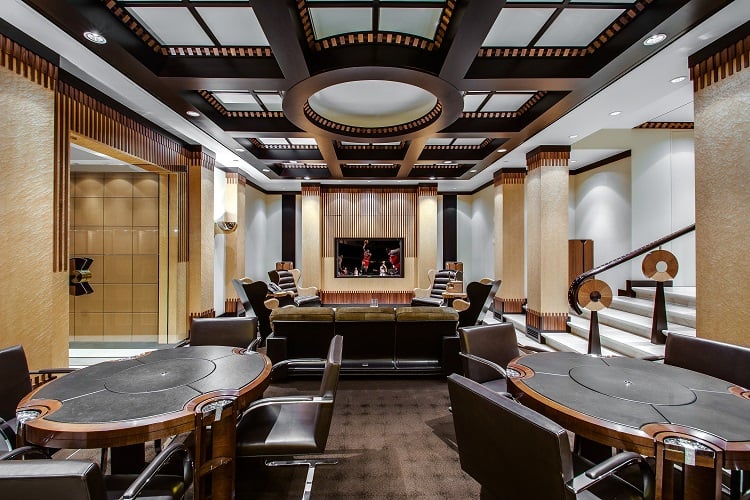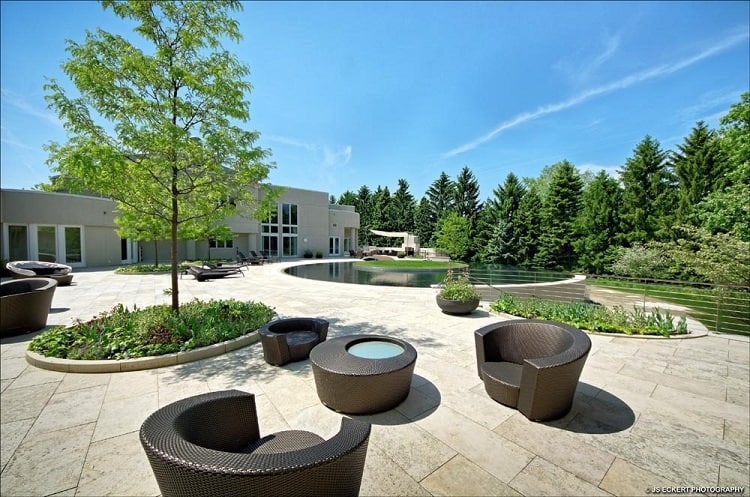 The Chicago-area house is part of basketball history
Despite Jordan's private nature, his Chicago-area home ended up playing a crucial part in the success of his team — and even inspired a new generation to strive for greatness.
The 56,000-square-foot property is located in Highland Park, a community set 25 miles outside of Chicago.
And Michael Jordan was not the only member of the Bulls to call Highland Park home; Scottie Pippen, Toni Kukoc, B.J. Armstrong, and even GM Jerry Krause all lived in the area, as it was within proximity to the team's practice facility in neighboring Deerfield.
Which means it only made sense that Michael Jordan's house would serve as the location of the Breakfast Club — Jordan's pre-workout routine, where Scottie Pippen, Ron Harper, and Randy Brown would join him as early as 5 a.m. to get in some serious reps (before chowing down on a big breakfast and heading for regular practice).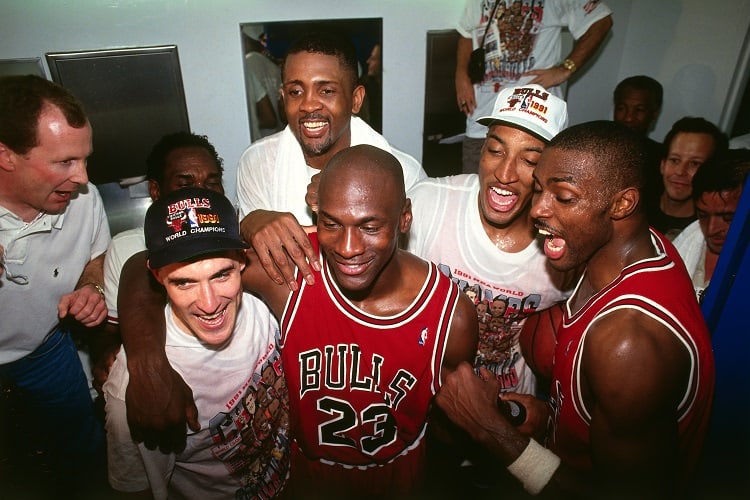 Impressive as it may be, MJ's house seems to have had the biggest impact on Derrick Rose — the only other player in Bulls franchise history (besides Jordan) to win both the Rookie of the Year and MVP Award.
In an interview, Derrick Rose opened up about the time in high school when he got to visit Michael Jordan's house and the impact it had on him; Rose, who was friends with Jordan's two sons, was living in Englewood, one of Chicago's most precarious neighborhoods.

After seeing the house Jordan's family lived in, he distinctly remembers telling himself that one day, he too will live in a lavish home and get his mom out of poverty.
Derrick Rose went on to become the first Bull since Jordan to make an All-Star team.
Why has Michael Jordan's house lingered on the market for such a long time?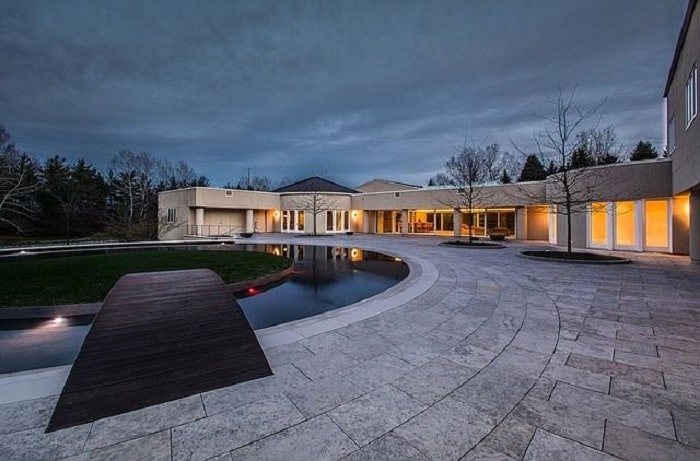 First off, there's one thing we need to get out of the way: million-dollar homes often take a long time to sell — and the higher the price point, the longer the quest to find the right buyer.
Regardless of the celebrity status of their owners, mansions priced over $10 million dollars — especially those set outside of luxury hot spots like Los Angeles or New York City — take years to find the right buyer. Just ask 50 Cent, whose massive compound in Farmington, Connecticut took 12(!) years to sell.
Then, there's also the level of customization. Michael Jordan spent millions to customize the home to his liking, but individual tastes don't always match those of interested buyers.
In fact, the more customized the home is, the harder it is to find the right buyer for it. The best example is Shaquille O'Neal's longtime home in Florida, which bounced on and off the market for years.
Shaq's house lingered on the market after first listing for $28 million — likely priced aggressively in order to leave room for negotiations. A few price drops later, Shaquille O'Neal finally found a buyer in late October 2020, when he sold his Orlando estate for $11,000,000.
As for Jordan, he clearly isn't hurting for cash — the former Chicago Bulls player has a net worth estimated at $3 billion — so he's unlikely to compromise and sell his Chicago home for anything less than he thinks it's worth.
And he's got plenty of other sprawling properties to call home while he's offloading his Highland Park abode.
Jordan owns homes throughout the U.S.
Fitting for one of the greatest NBA players of all time, Michael Jordan owns many houses around the country, from Illinois to Florida, North Carolina, and Utah.
He picked up two large properties in North Carolina, a state dear to his heart for several reasons. In addition to owning their NBA team, the Charlotte Hornets, Jordan often calls North Carolina his home state — he spent his childhood living here after his parents moved to the Tar Heel State when he was just a toddler.
Michael owns a 6-bedroom lakefront home in Cornelius, NC, and another luxury condo in downtown Charlotte.
He also famously owned a vacation home in Utah, just outside the ski haven of Park City. However, he also listed the four-acre mountain property — which was built into a hillside overlooking the Glenwild Golf Course and the surrounding mountains — for sale back in 2019 for $7.5 million. Since Utah is a non-disclosure state (which means property sales are not a matter of public record), we don't know whether Michael ended up selling the house. We can only confirm that it's no longer on the market.
As for where Michael Jordan lives these days, the All-Star player is spending his retirement in a lavish 28,000-square-foot mansion in Jupiter, Florida.
Jordan's house in Florida is set inside the prestigious golfing community of The Bear Club in Jupiter, one of the world's most elite private clubs. Notable past residents include tennis stars Venus and Serena Williams, golfers Luke Donald, Ernie Els, and Michelle Wie, among others.
The sprawling property sits on 3 acres and is surrounded by tall trees and lush landscape, to protect the baseball legend's privacy.
According to local experts, who have followed MJ's house renovation (he invested millions into upgrading and customizing the property), the 2013-built house has 11 bedrooms, a 2-story guard house, a guest house, a pool house, an athletic wing with a basketball court, and a workout facility.
*This article was first published on June 25, 2020, and was recently updated to reflect the current state of the property.
More sports celebrity homes
Where does LeBron James Live Now? A Look at the NBA Superstar's Impressive Homes
Wayne Gretzky's $22.9M Home Designed by 'The Megamansion King'