Bringing a dozen strangers from different parts of the US together on a picture-perfect Greek island, Surviving Paradise — Netflix's most recent answer to the question "What reality show can we get people hooked on?" — is best described as Survivor with influencers.
Promised the summer of a lifetime, the contestants are in for a huge surprise as soon as they reach their destination.
Instead of living it up at the luxury clifftop villa overlooking the ocean, they're banished to the wilderness of the forest nearby and have to face a series of challenges (and lots of scheming) to earn their cozy spot inside the villa.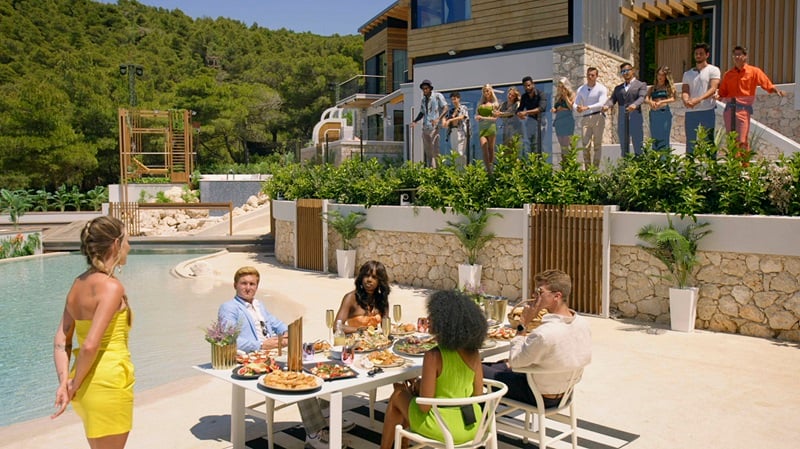 At stake is a $100,000 cash prize for those who manage to form the right alliances and move from the outdoor camp back into the villa — and stay there until the end.
The reality series was filmed in Lefkada, an idyllic Greek island in the Ionian Sea known for its soft-sand beaches, rich, blue waters, and picturesque traditional villages.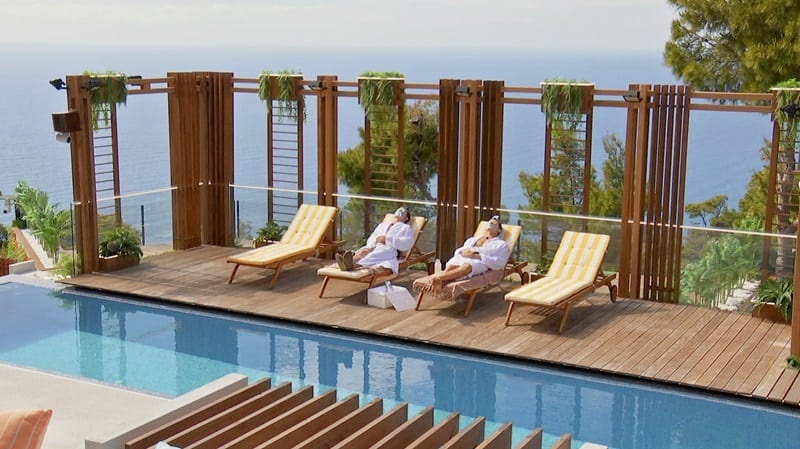 And while there's no shortage of luxury villas on the beautiful Greek island, the producers made sure to pick one of the most impressive ones, to make the contestants' efforts worthwhile.
Located in Porto Katsiki in Lefkada, Greece the Surviving Paradise villa is known as Noiya and consists of a main house and three standalone glass studios.
With 8 bedrooms and 9 bathrooms, the luxury house can accommodate up to 16 guests, who also get to enjoy its many amenities, which include two swimming pools, a basketball court, and unobstructed sea views.
The villa's description on The Thinking Traveller summarizes it best:
"Ensconced in the fragrant, emerald green pine woods of Lefkada's southwestern promontory, Noiya occupies a panoramic position that has few rivals. Down below are two of the island's most iconic beaches, and the charming seafront village of Vassiliki is close by, but once settled in, you may feel little inclination to leave behind the inspiring contemporary design, the luxurious touches, attentive service, and the splendid array of amenities that make Noiya such a joy to experience."
Now try re-reading that description (particularly that last part, about having "little inclination" to ever leave the villa) through the contestants' eyes.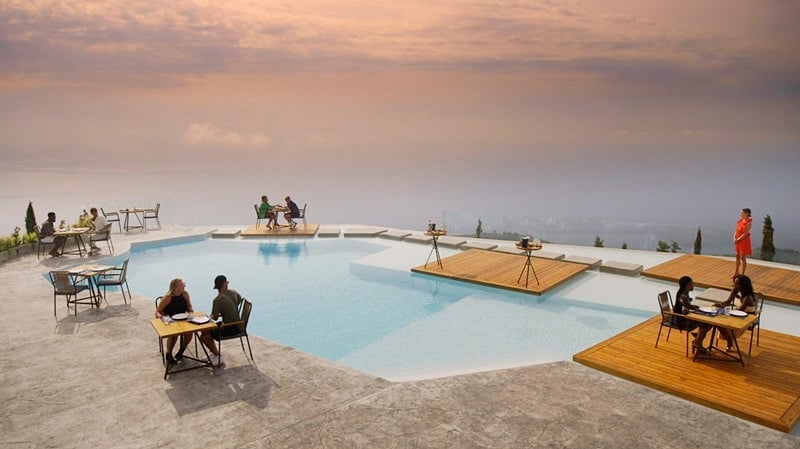 The property is also for sale — though the contestants wouldn't be able to afford it even if they all were to win the cash prize and pool the money together.
The villa appears to be listed for sale on the Barnes International Realty website with a €4,300,000 price tag. That's a little over US$4.5 million. Mrs. Marika Dimitriadou holds the listing.
Renting it doesn't come cheap either. A one-week stay at the Surviving Paradise villa costs between €13,000 and €32,000, which means groups can pay up to $34,000 to spend a week here.
So if you'd like to spend your next getaway with friends here, maybe ask a few (or a dozen) extra guests to join and split the costs; I hear there's also an outdoor camp nearby that can accommodate people who aren't welcome in the villa.
This isn't Netflix's first production shot primarily in Greece.
Glass Onion: A Knives Out Mystery was filmed in Porto Heli, Greece, with an equally impressive villa serving as Miles Bron's Glass Onion house (though the glass onion portion on top was added with CGI), as was the 2021 drama/thriller Beckett, the first Netflix movie shot entirely in Greece.
More stories
Where is The Circle filmed? We found the apartment building in real life
Roses, Breakups & Makeups: We Take a Look Behind the Scenes at The Bachelor Mansion