LA Lakers superstar LeBron James is winning on and off the court.
Not only did he star in one of this year's biggest movies, picking up where Michael Jordan left off by starring in Space Jam: A New Legacy, but also setting new records: James became the first player in NBA history to accumulate $1 billion in earnings as an active player.
Nicknamed "King James", LeBron is widely considered one of the greatest players in NBA history, and is the only player to have won NBA championships with three different franchises (the Cleveland Cavaliers, the Miami Heat, and the Lakers).
James' many achievements extend off the court too.
He's an actor (Trainwreck, Space Jam: A New Legacy), producer (he won two Sports Emmy Awards as an executive producer), part owner of leading soccer team Liverpool FC (his team won the 2018–2019 UEFA Champions League and 2019–2020 Premier League) and a well-known philanthropist (he founded the LeBron James Family Foundation, which so far opened an elementary school, housing complex, and community center/retail plaza in his hometown of Akron).
Naturally, the basketball icon also has an impressive real estate portfolio. So just in case you were wondering where LeBron James lives, and just how lavish his digs are, we've put together a complete complete breakdown of King James' homes in California.
After leading the Miami Heat and Cleveland Cavaliers to NBA titles, the father-of-three signed with the Los Angeles Lakers in 2018. After that, the James family-of-five packed up and moved to the West Coast.
So where's a four-time NBA champ to live? A look at LeBron's first California property
After selling his Miami waterfront mansion for $12.75 million in 2015, James moved out west when he joined the Lakers.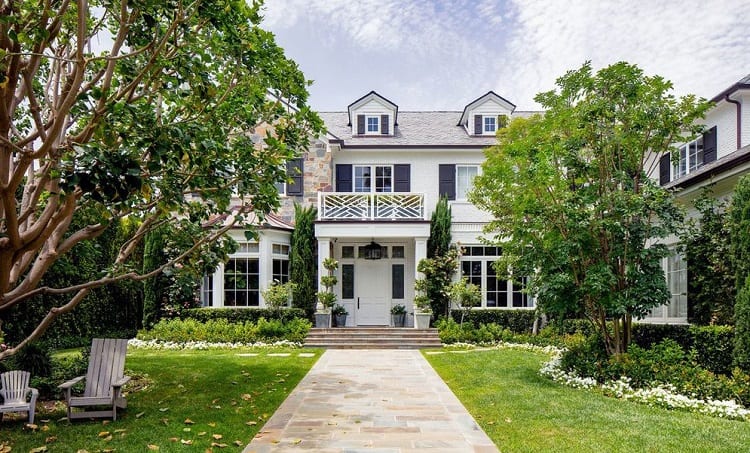 Actually, that's not the full story. The four-time NBA MVP purchased his first California property before the move, when he was still playing for the Cleveland Cavaliers, Dirt.com reports. 
Back in October 2015, King James bought a Brentwood mansion for $21 million on Rockingham Drive — the same street that became infamous a couple decades back due to fellow athlete O.J. Simpson, who was living here when he led the police on a horribly slow chase down the I-405 leading back to his Brentwood home.
It's no surprise the NBA superstar picked this area (for both his first and second Los Angeles homes). Brentwood is one of LA's leading neighborhoods, home to various Hollywood celebs, a world-class museum, and plenty of local attractions.
But LeBron didn't hold the property too long. Five years after he bought it, the property was listed for sale.
Although James was asking $20.5 million for the Brentwood estate that he hadn't lived in for years, it sold for $19.6 million in September 2021 in an off-market deal to Hon "Alexander" Shing, founder of the LA-based real estate investment firm Cottonwood Management.
A quick peek at his recently sold Rockingham Rim Brentwood home
I'm sure this was a tough goodbye!

Spanning 9,440 square feet, the 2011-built mansion sits on the coveted Rockingham Rim area of Brentwood.
The palatial property includes six bedrooms, oakwood floors, detailed ceilings, multiple fireplaces, a paneled library, a gym, elevator, media room and two family rooms, to name a few of the fab features.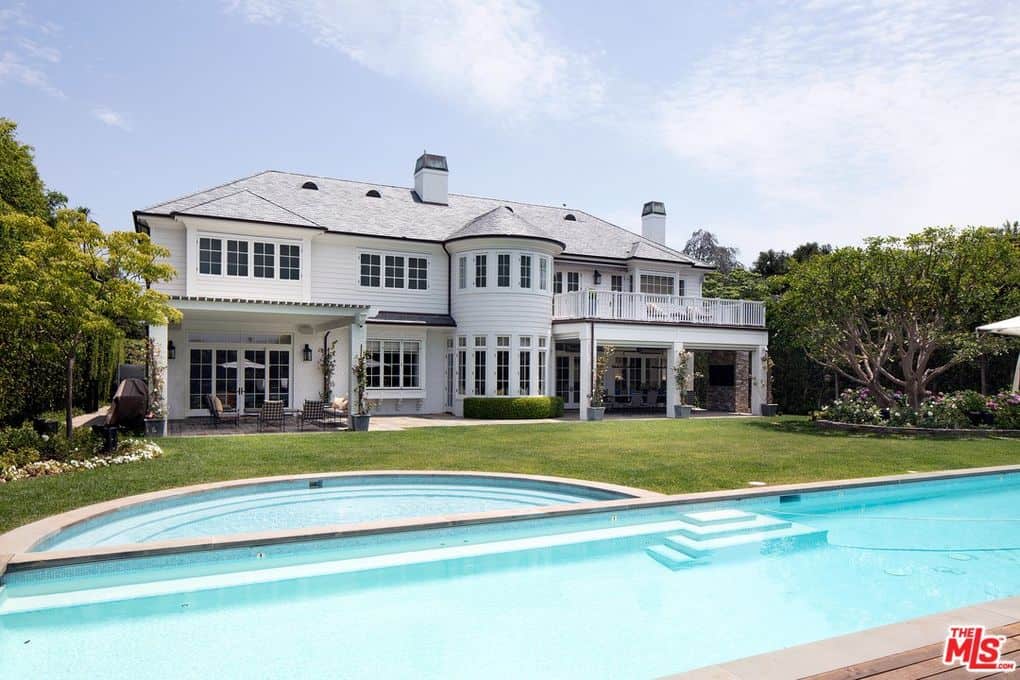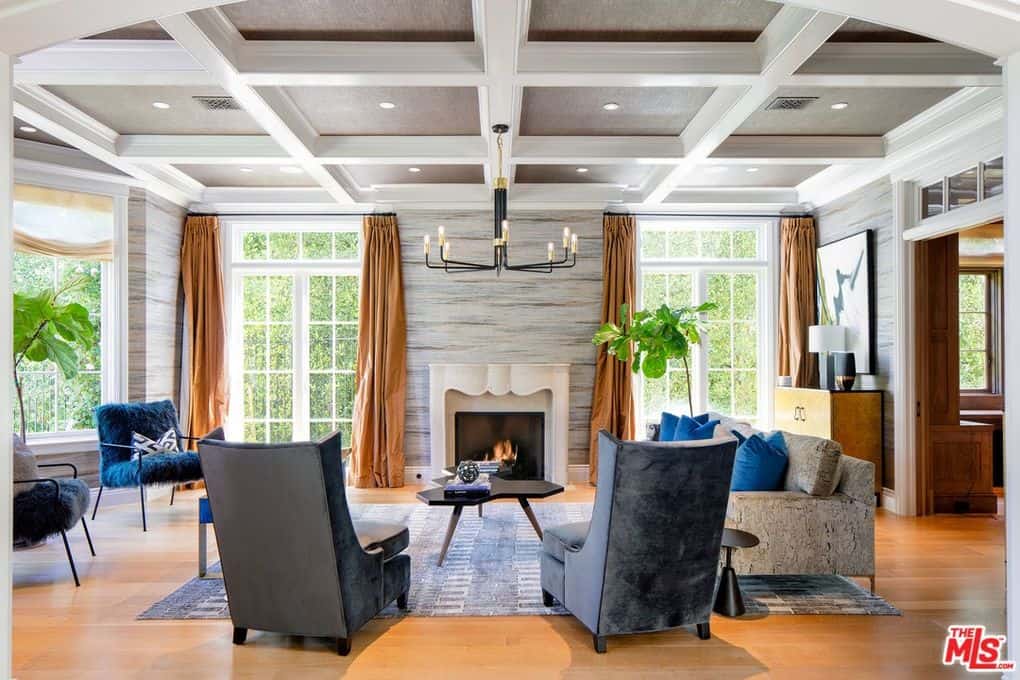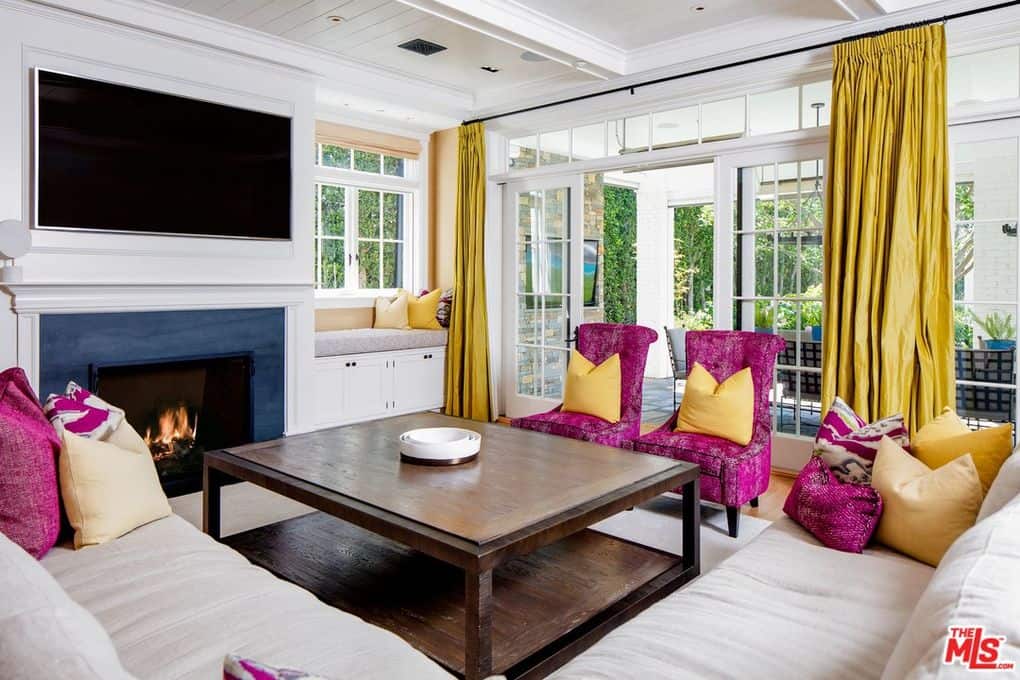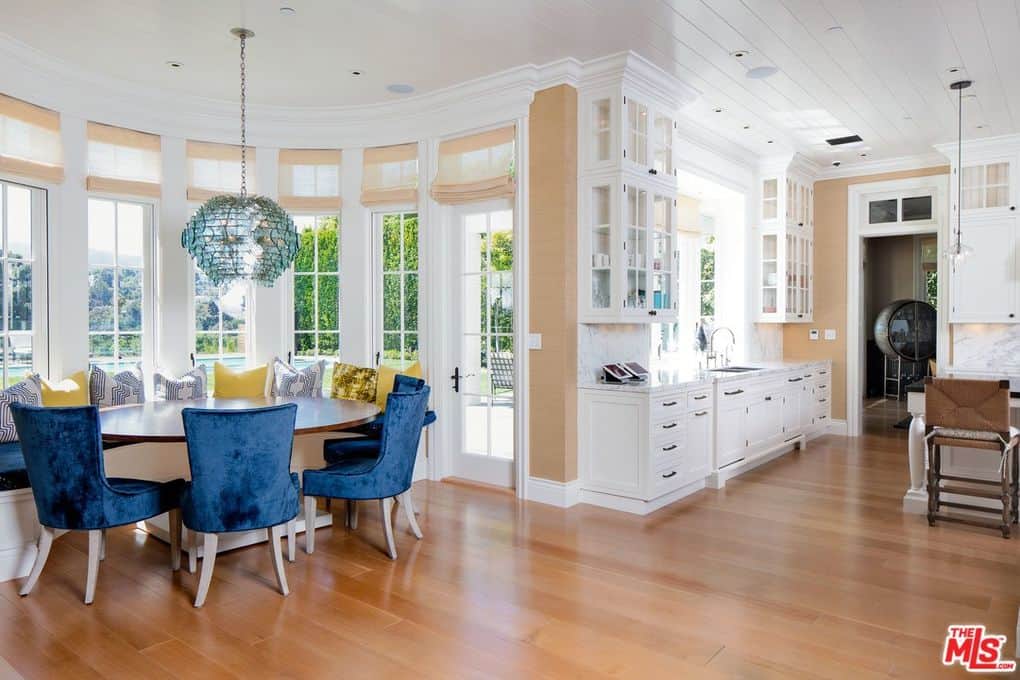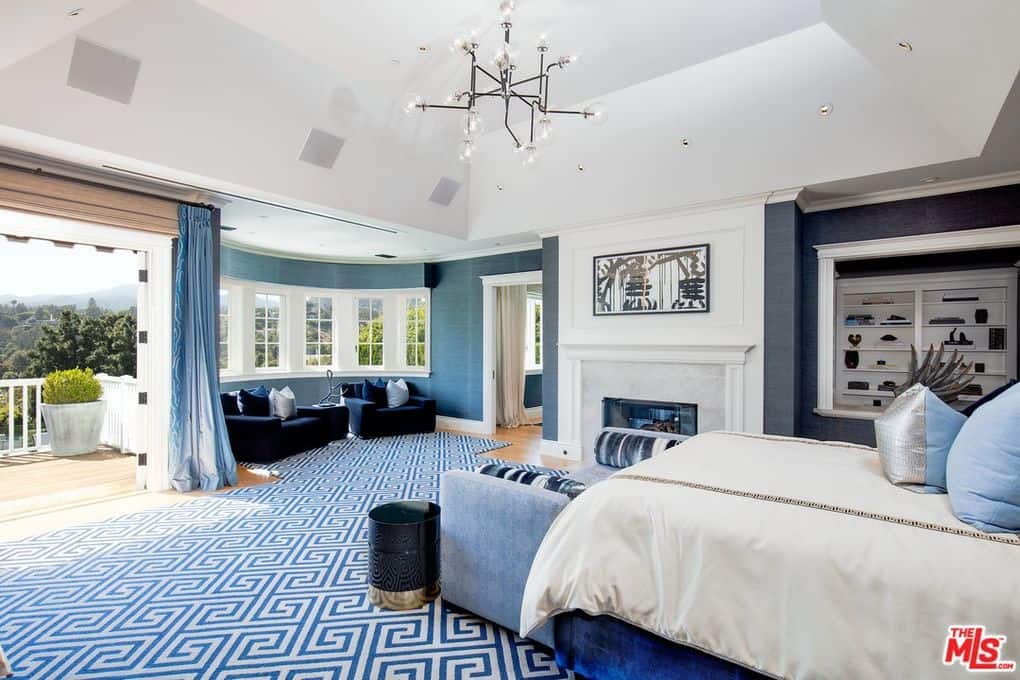 Not to mention the luxe outdoor amenities such as the infinity pool and spa, a pool-side cabana, resort-like grounds and (of course) a basketball net at the end of the driveway.
So where does LeBron James live now?
As it turns out, the Space Jam star also bought his second Los Angeles home while still playing for Cleveland. In 2017, James bought a new spec mansion in Brentwood for $23.5 million.

Set on Tigertail Road, one of most prestigious streets in Los Angeles, LeBron's pad spans 15,846-square-feet and opens up to beautiful views spanning from downtown Los Angeles to the ocean.

The impressive property features eight bedrooms, French oak and marble throughout, a wet bar and giant home theater, an indoor-outdoor gym, a steam room and sauna.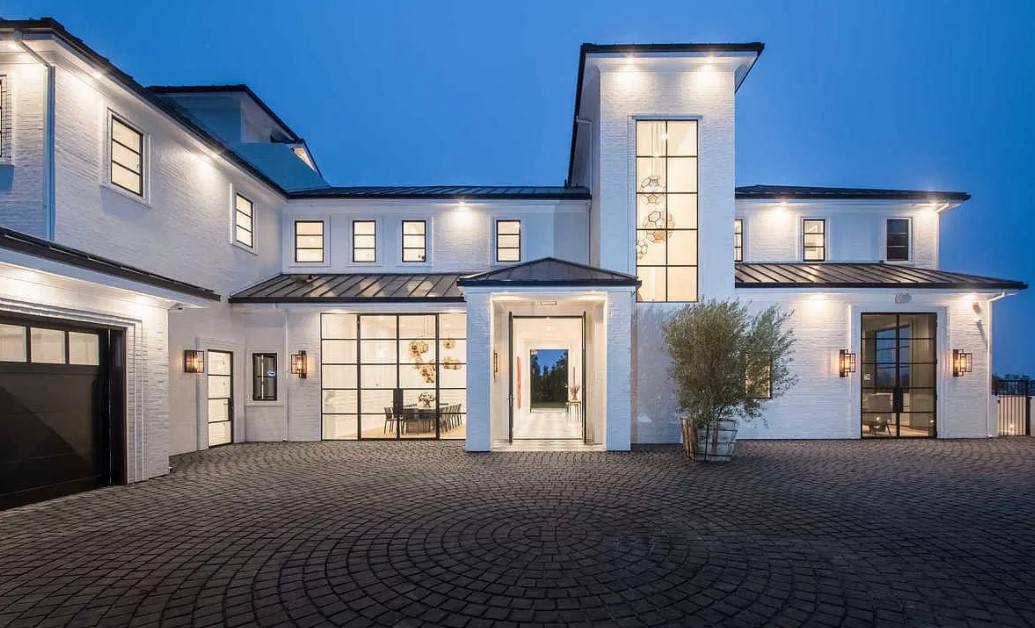 Combining a warm, traditional-style exterior with the highest caliber of contemporary European finishes, including soaring, 14-foot ceilings and antique reclaimed marble floors sourced from villas in Spain, the mansion is a thing of beauty.
Designed with entertainment in mind, LeBron's house has an expansive daylit lower level which holds a fully-soundproofed theater with a massive screen and professional sound system, as well as a 1,500-bottle wine cellar and wine tasting and cigar lounge with Casino-grade, air purifying technology.

Outside, the posh property boasts an oversized swimming pool and spa and grassy fields for days. There's also a private driveway studded with 100-year-old, imported Sevillano olive trees that leads to a grand, cobblestone motor court.
Zip code envy! It's not just Brentwood, but also Beverly Hills for King James
James' enviable real estate portfolio doesn't end there.
In 2020, the basketball superstar purchased a pricey pad in Beverly Hills for a whopping $36.75 million, Los Angeles Times reports.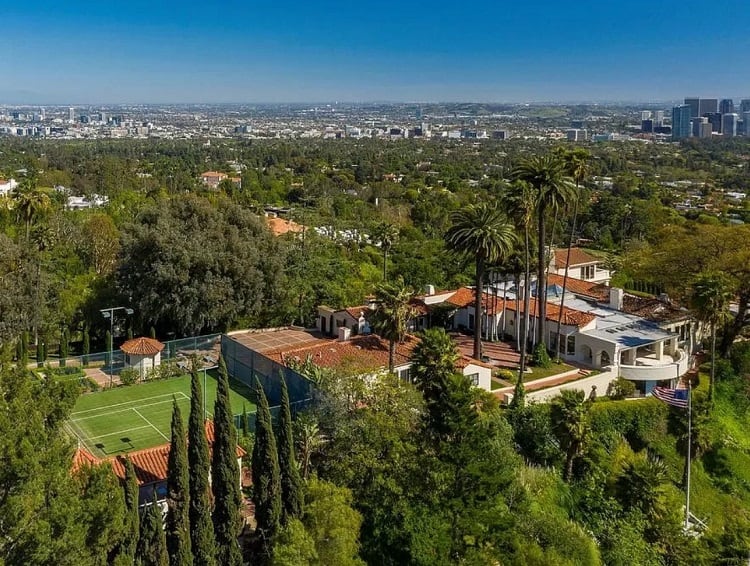 The palatial property was sold by the estate of Lee Phillip Bell, co-creator of The Young and the Restless, who died in 2020. But there's more star power to this Old Hollywood home.
The hilltop 90210 compound sits on a 2.5-acre property and was built back in 1934. The mansion, once owned by Hugh Hefner and occupied by Katharine Hepburn, boasts four bedrooms, eight bathrooms, and 9,146 square feet of living space.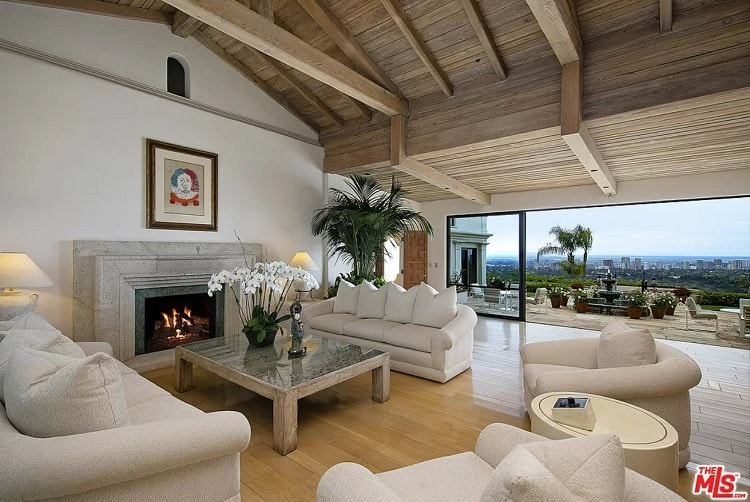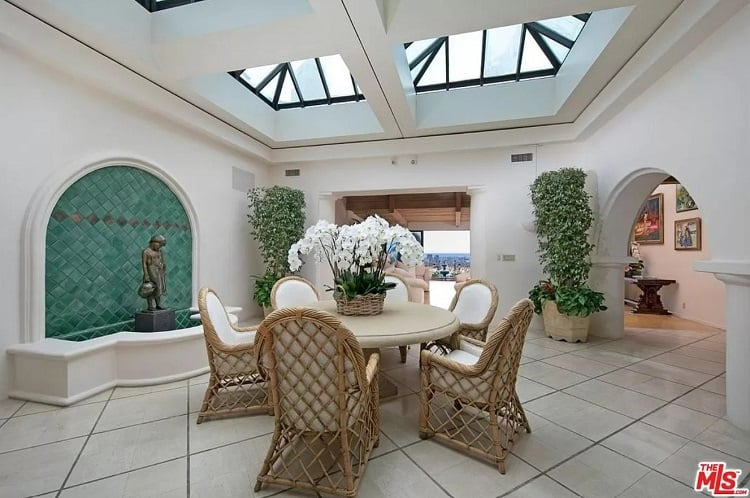 The main house contains two suites, multiple entertaining areas and seven fireplaces, with its rooms opening up to striking, unobstructed views.
Including not one, but two guest houses, the Mediterranean-style home also features a hedge-lined driveway and palm-topped motor court to greet residents and guests in style.
The posh property also includes a screening room, a lighted tennis court, pool, and pool house with two bathrooms, all in a dramatic, private unparalleled setting — fit for a King.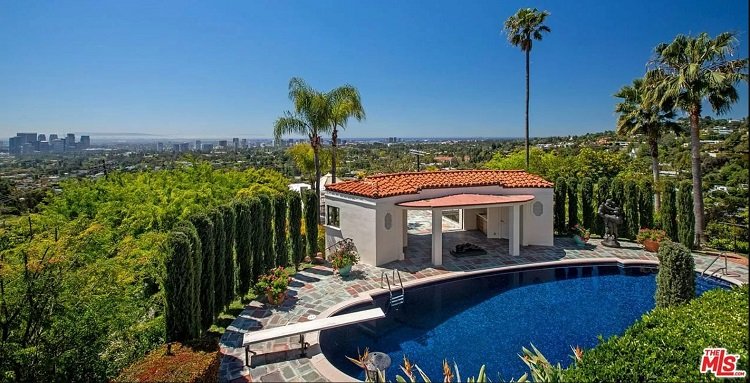 More sports celebrity homes
Basketball Icon Michael Jordan is Struggling to Find a Buyer for His Longtime Home Near Chicago
Serena Williams' House in Florida is Bold and Beautiful, Just Like Her
Wayne Gretzky 's $22.9M California Home Designed by 'The Megamansion King'
5 Fabulous Homes of Your Favorite Formula 1 Drivers